Defending World Champion Alvaro Bautista, riding his Aruba.it Racing Ducati Panigale V4 R, was quickest in World Superbike Free Practice Two Friday afternoon at Circuit de Barcelona-Catalunya, in Spain.
In spite of having 250 rpm less to work with, Bautista's best lap time was a 1:41.486, which topped his teammate Michael Rinaldi's 1:41.836.
Jonathan Rea, using an extra 250 rpm on his Kawasaki Ninja ZX-10RR, was third-fastest in the session with a 1:42.015.
American Garrett Gerloff was fourth with a 1:42.235 on his Bonovo Action BMW M 1000 RR. In combined times, however, Gerloff ranked 10th on Friday.
More, from a press release issued by Dorna:
Ducati 1-2 on Day 1 of the Prosecco DOC Catalunya Round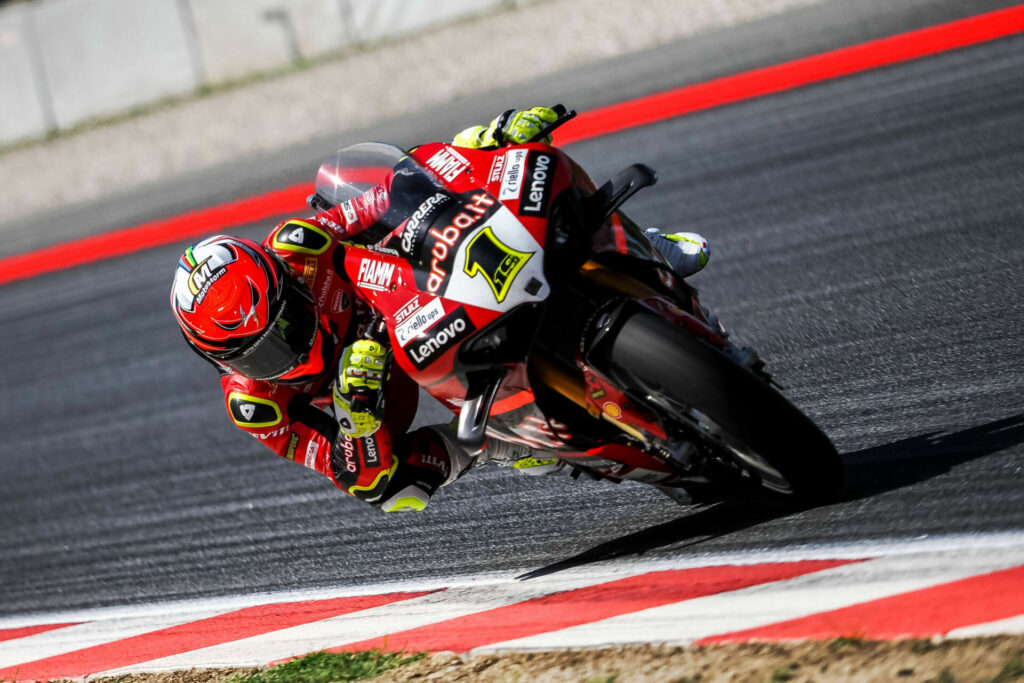 Alvaro Bautista leads teammate Michael Ruben Rinaldi on Friday at the Circuit de Barcelona-Catalunya. The Championship leader was 0.147s quicker than Rinaldi.
P1 | Alvaro Bautista | Aruba.it Racing – Ducati | 1'41.486s
"For sure, I think it has been very positive especially because we were focused on race pace. In the morning, I tried the new spec that Pirelli brought here on the front. I didn't have really good feedback on the tyre, but the bike was working more or less like normal. We decided to use it for the race distance to see how it was at the end. It was quite consistent, but the feeling was not too good from the beginning. Also, on the rear with the SCX tyre, it was maybe not the best moment to use it, but we wanted to use it just to see how it was for the race distance. I felt a big drop this morning so, in the afternoon, we used the SC1 on the front; I like this tyre. Suddenly, I found a good feeling with the bike and the bike worked like it did in the test or the other rounds. In the rear, with the 800, we did 16 laps and it was better than the SCX in the morning. The grip was not very different, but I think the tyre life was a bit better, I could be more consistent with the lap times. I was able to do many mid-1'42s, which is a good pace especially because this afternoon the conditions were a bit difficult. With this heat, the grip is very low, and you have to be very precise."
"I saw the lap times from the other riders and I think my teammate, Rinaldi, can fight for victory. We can't forget Toprak and Jonathan. Maybe today they were not super fast in race pace but tomorrow and on Sunday they will be there. We have to pay attention to Aegerter. He had a really impressive pace and also Lecuona. They are two riders who can fight, at least, for a podium."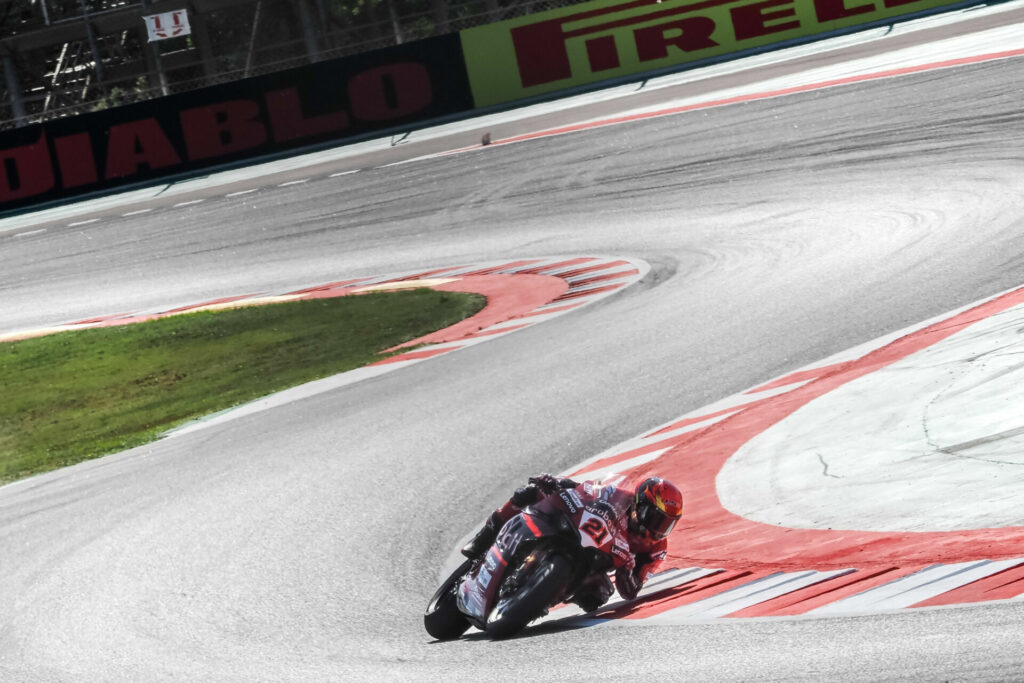 Michael Ruben Rinaldi finished second on Friday with a fastest time of 1'41.633s set in the morning session.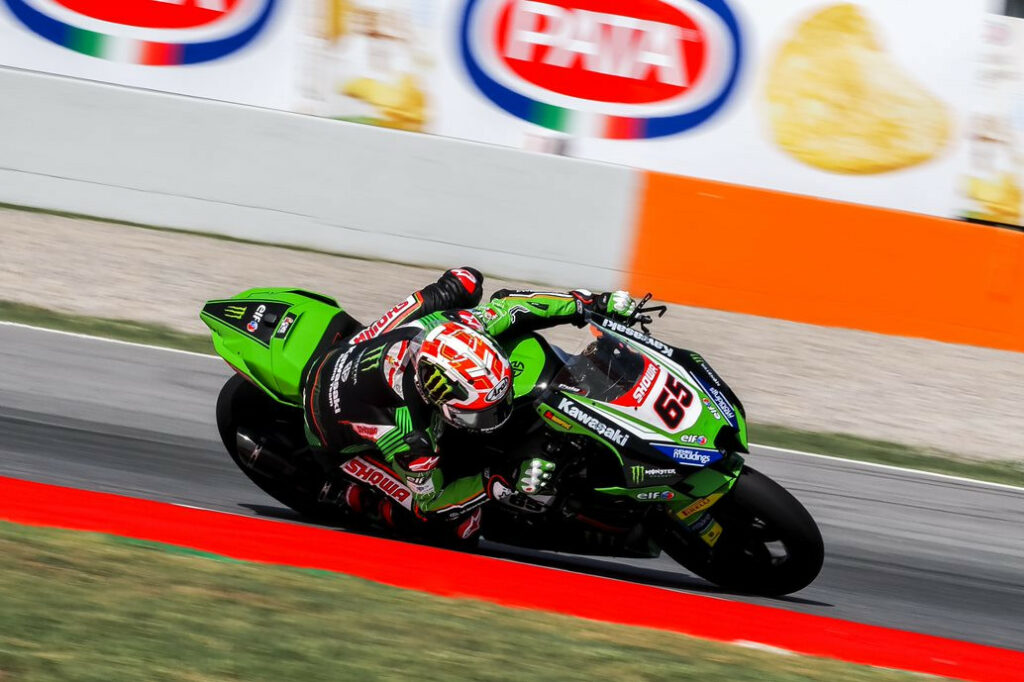 Jonathan Rea concluded Friday's running in third place only 0.166s behind Bautista. He was one of many riders unable to improve in the afternoon session.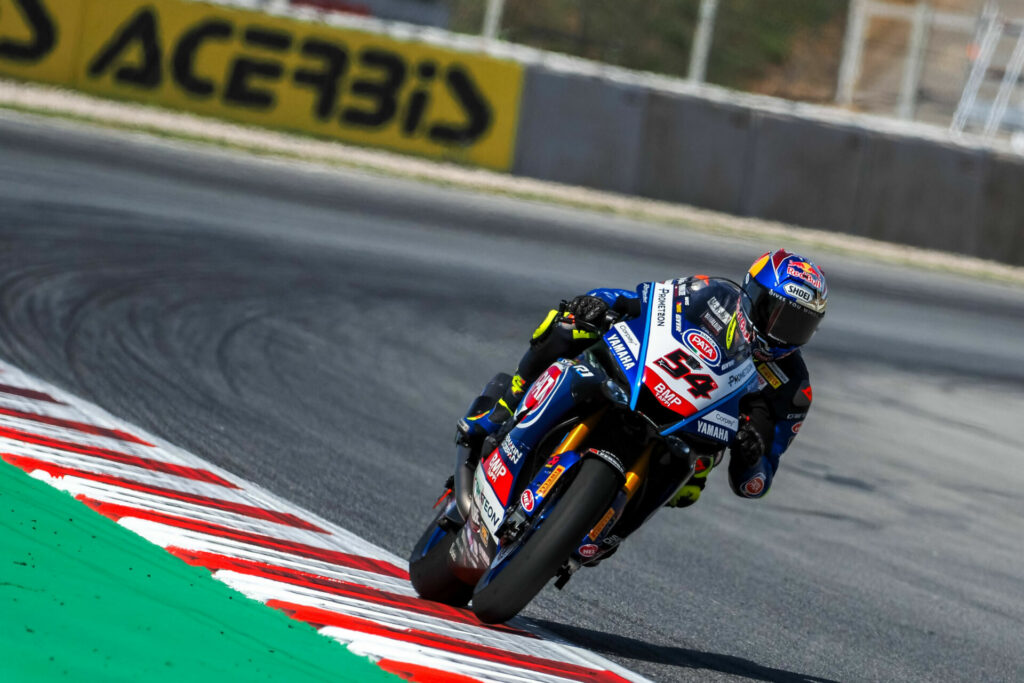 Toprak Razgatlioglu set the fourth fastest time on Friday with a 1'41.652s. The Yamaha rider set his fastest time in the morning session, as did his teammate Andrea Locatelli who completed Friday's top six despite a crash in FP2.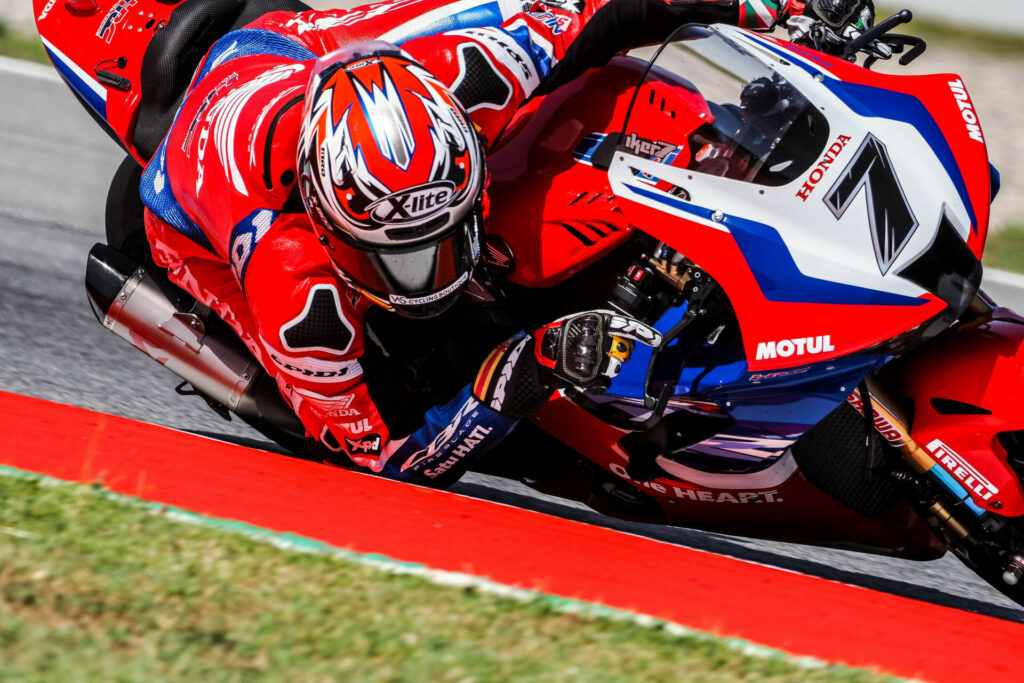 Local rider Iker Lecuona was fifth for Honda with a 1'42.068s. Teammate Xavi Vierge was eighth despite a crash in FP1.
WorldSBK Friday Report
The sun shone strongly at the Circuit de Barcelona-Catalunya for the 2023 MOTUL FIM Superbike World Championship on Friday, with the field taking to the circuit with a track temperature approaching 50 degrees. Come the end of the day, it was Alvaro Bautista (Aruba.it Racing – Ducati) who was in a league of his own, with a strong lap time at the end of the session being the icing on top of a strong race run cake.
With an additional 20 degrees of track temperature, it was somewhat unsurprising to see the Ducatis so strong on Friday afternoon. Alvaro Bautista remains the rider to beat over the long distance however, with a strong race pace in the morning and in the afternoon, with a run of 14 laps achieved in the 1'42s in FP1, more than his rivals. In the afternoon, Bautista did a 16-lap run, all of which were in the low-to-mid 1'42s before going out and setting a 1'41.486 to set the outright best time of the day, which will certainly make his rivals sit up and look. Teammate Rinaldi was second at the end of the day but didn't improve his time at the end. Fastest in the first session in the morning, Michael Ruben Rinaldi came out the blocks fighting from the start and that translated into the afternoon too, as he was once again one of the riders to beat. Jonathan Rea's (Kawasaki Racing Team WorldSBK) afternoon wasn't as strong as his morning session, with Rea outside of the top ten in 11th place for a lot of the session before ultimately finishing third. Due to everyone else struggling to better their opening time, Rea took third overall, but he'll be fighting for the podium or the top five if race pace from the afternoon is anything to go by.
As for the blue corner, Toprak Razgatlioglu (Pata Yamaha Prometeon WorldSBK) was third on the combined times but was inside the top five throughout FP2, as he enjoyed the heavy braking areas of Turn 1 and Turn 10. The Turk hasn't won in Barcelona but will hope that he can turn that around this weekend. Teammate Andrea Locatelli's afternoon saw him strong inside the top nine but he crashed at Turn 5. Losing the front, it was a typical Turn 5 tumble, but it was a costly error, as a new SC0 tyre needed to be tested and time is always of the essence. At the end of the day, Razgatlioglu was third and Locatelli remained sixth.
It was a strong opening day for Iker Lecuona (Team HRC) and Honda, as they always shine in Barcelona – whether it is testing or not. Lecuona's pace was in the 1'42s, and a solid effort will hope to be rewarded throughout the remainder of the weekend. As for teammate Xavi Vierge, he crashed in FP1 at Turn 1 but remounted but he wasn't quite there in the afternoon, down in 12th, one place behind teammate Iker Lecuona. Come the end of the day however, they were still fifth and eighth and that will be filling Leon Camier's team with confidence going forwards.
WorldSBK action resumes on Saturday with FP3 from 09:00 (Local Time), followed by Tissot Superpole at 11:10 and Race 1 at 14:00.
More, from a press release issued by GYTR GRT Yamaha:
AEGERTER AND GARDNER FOCUSING ON RACE PACE ON DAY 1 IN BARCELONA
Dominique Aegerter and Remy Gardner returned to action on May 5th at the Circuit de Barcelona-Catalunya, finishing 7th and 12th on combined times.
The GYTR GRT Yamaha pair enjoyed good weather conditions in the first Free Practice session. Aegerter and Gardner primarily focused on long-distance runs using the same tyres for the whole session, showing speed throughout the 45-minute practice. The Swiss rider placed himself 7th (1'42.084), with his Australian teammate 11th (1'42.649).
Later, in the hotter Free Practice 2, the #77 and the #87 kept trying to gain maximum potential for the race, with Gardner practicing once again with used tyres, using one set for the session. His teammate, Domi, also went for longer runs to be ready for the long-distance race. Aegerter still managed to put his name inside the Top 5 (1'42.305), while the Australian was 15th (1'43.202). Neither improved on their morning lap times.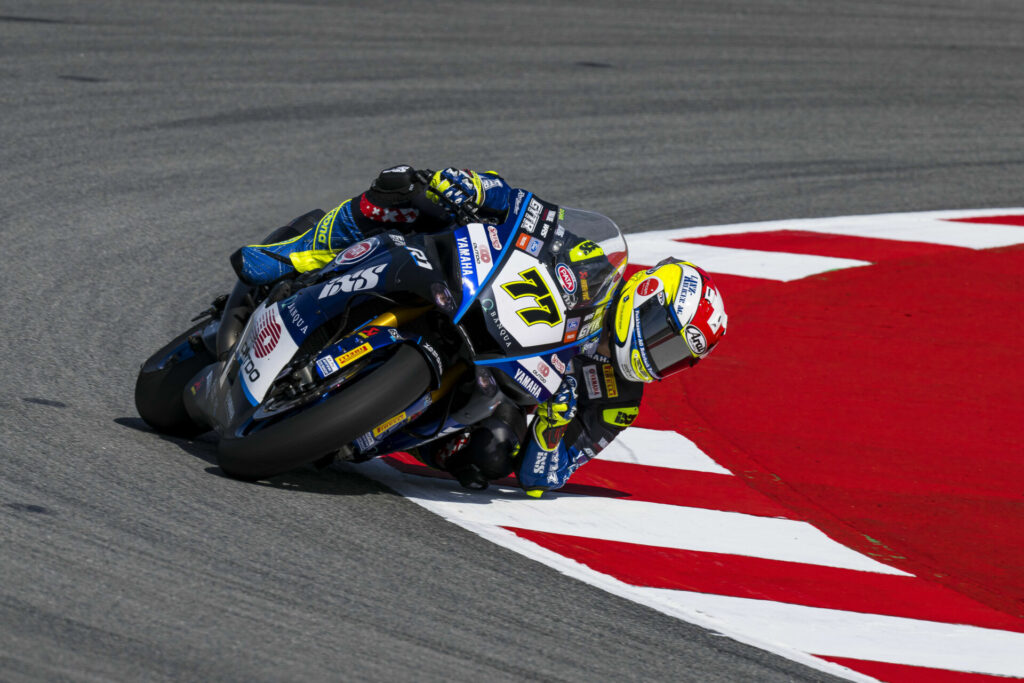 Dominique Aegerter
P7 (1'42.084)
"It hasn't been a bad Friday. Our main focus was on longer runs to be as ready as possible for the long races. We know the last laps here will be crucial because we've seen it in the past, and honestly our race pace was solid. I hope we can make one more step forward and have a good qualifying session, as starting near the front would help us manage the races better."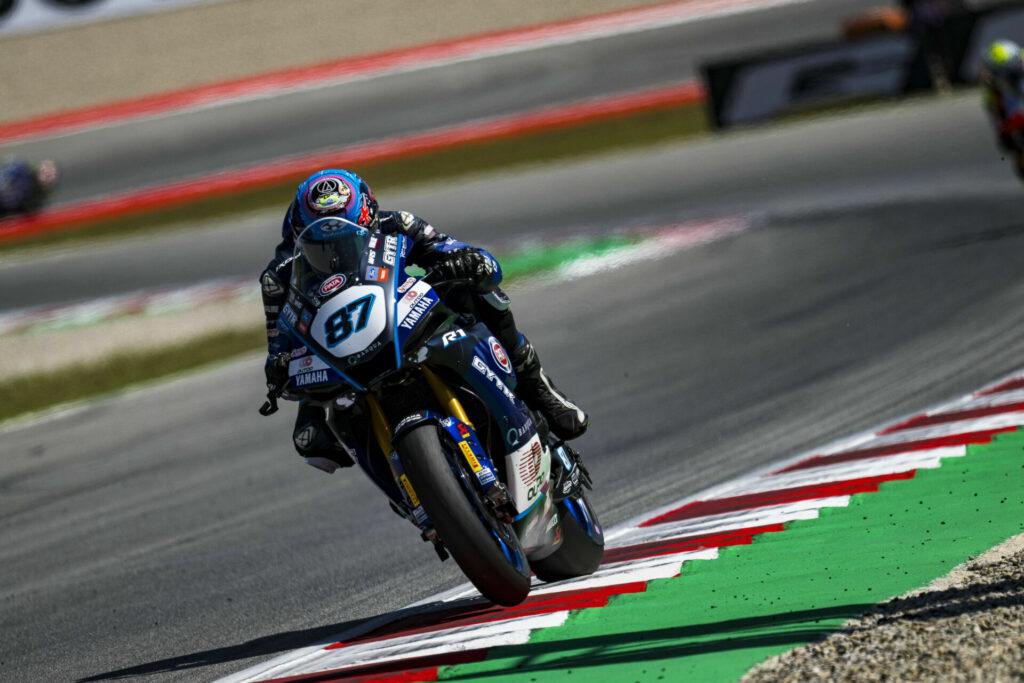 Remy Gardner #87
P12 (1'43.202)
"It wasn't the easiest day to be honest; we had a small issue in the early stages of FP2, and then when I went out again it was tough to manage the tyres. Anyway, we just focused on race pace today, and we'll keep working on analysing the data we have as we know consumption will play a key role here."
More, from a press release issued by Kawasaki:
Rea Third Fastest On Day One In Catalunya
Jonathan Rea and Alex Lowes took part in the first day of track action at their KRT squad's home WorldSBK round in Barcelona- Catalunya, with Rea finishing up third quickest and Lowes ninth overall.
Warm and dry weather was the backdrop to Friday's opening action at the Montmelo circuit near Barcelona with the second free practice session in the afternoon proving to be hotter than the first. The track temperature almost reached 50°C in FP2.
Rea was to finish up on the 'virtual' overnight front row thanks to his 1'41.652 time from the morning session, which was held in relatively cool conditions.
Lowes worked on his race pace from the start and like his team-mate Rea he set his best single lap time in the morning session, when the track temperature only rose to 35°C.
Each rider's technical staff will now combine the experiences and information from practice day one at the 4.657 long Montmelo circuit with the data they collected during a private test here a few weeks ago to come up with the best possible set-up to take on the first challenge of a 20-lap Race One on Saturday May 6.
Sunday May 7 will feature the ten-lap Tissot-Superpole race and then the final full distance Race Two, over 20 laps.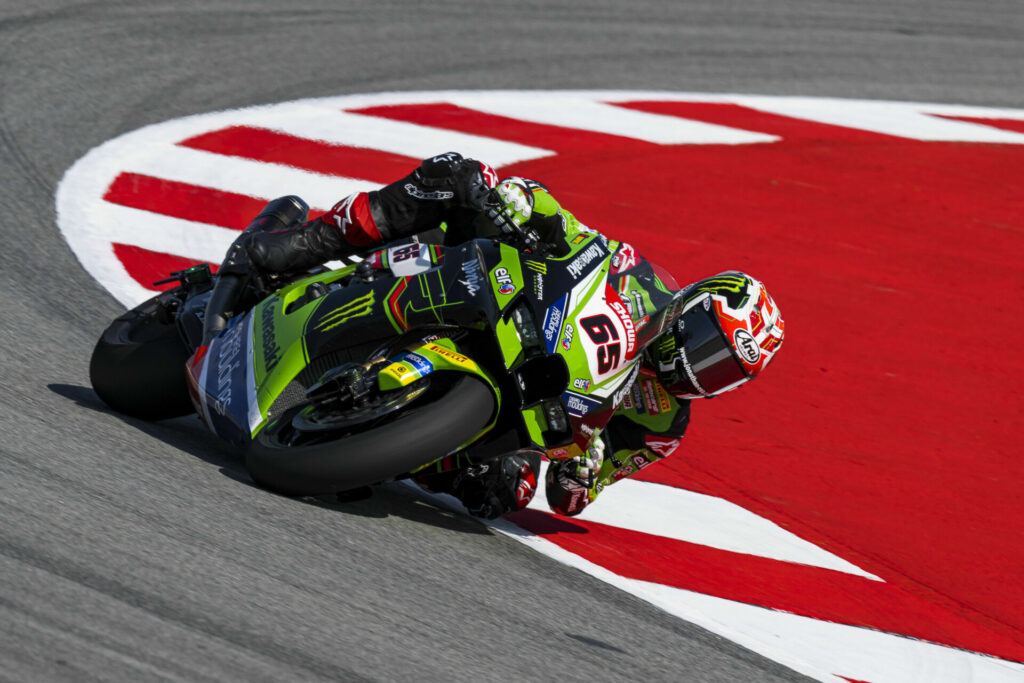 Jonathan Rea, stated: "We used something on the bike today to change the front geometry. It was a strange day for me because I had mixed feelings this morning. The temperature was lower and I was relatively fast but I didn't have a really good feeling. It seemed like I was competitive, even with some laps in the tyres, as I had a similar drop to our main rivals. We pursued that new set-up into the afternoon but I didn't feel good on the bike. The feeling to get to the apex at the end of the braking stage meant I had no confidence. The heat just amplified that problem. It was a bit frustrating today but we had to try something, so tomorrow we will try to improve on the base that we had at the test."
Alex Lowes, stated: "We worked on our race distance set-up today, on used tyres, but clearly in these hot conditions we are struggling. We need to have a good chat with the guys in the team and try to make a plan of how we can improve for Saturday. Both our front and rear tyres are not lasting the distance and we are using the hardest solutions. So we have to think about some things for the first race tomorrow."
Young Czech rider Oliver König (Orelac Racing Movisio Kawasaki) was 18th from 25 riders after one day of practice in Catalunya. Isaac Vinales (TPR by Vinales Racing Kawasaki) was 22nd and Tom Sykes (Kawasaki Puccetti Racing) was 24th after the first two practice sessions.
More, from a press release issued by Yamaha:
Pata Yamaha Prometeon WorldSBK Put to Work in Friday Free Practice
Toprak Razgatlıoğlu and Andrea Locatelli completed a productive opening day at Circuit de Barcelona-Catalunya, at the fourth round of the 2023 FIM Superbike World Championship today.
The Pata Yamaha Prometeon WorldSBK crew put their heads down and got to work over two 45-minute Free Practice sessions, in search of set-up and strategies to manage tyre life on the Calatan circuit's long, demanding corners. Diligent work ethic trumped outright lap time once again, as both riders focused on long-run pace for the three points-paying races to take place this weekend.
The afternoon was punctuated only by a small low-side crash on entry into Turn 5 for Locatelli, who was able to recover his R1 WorldSBK to the pit box quickly to minimise time lost during the session. He finished the day sixth overall, with teammate Razgatlıoğlu also finishing a solid fourth.
Tomorrow starts bright and early in the Spanish sunshine with pit lane open for Free Practice 3 at 09:00 local time (CEST), followed by Superpole qualifying at 11:10 and Race 1 at 14:00.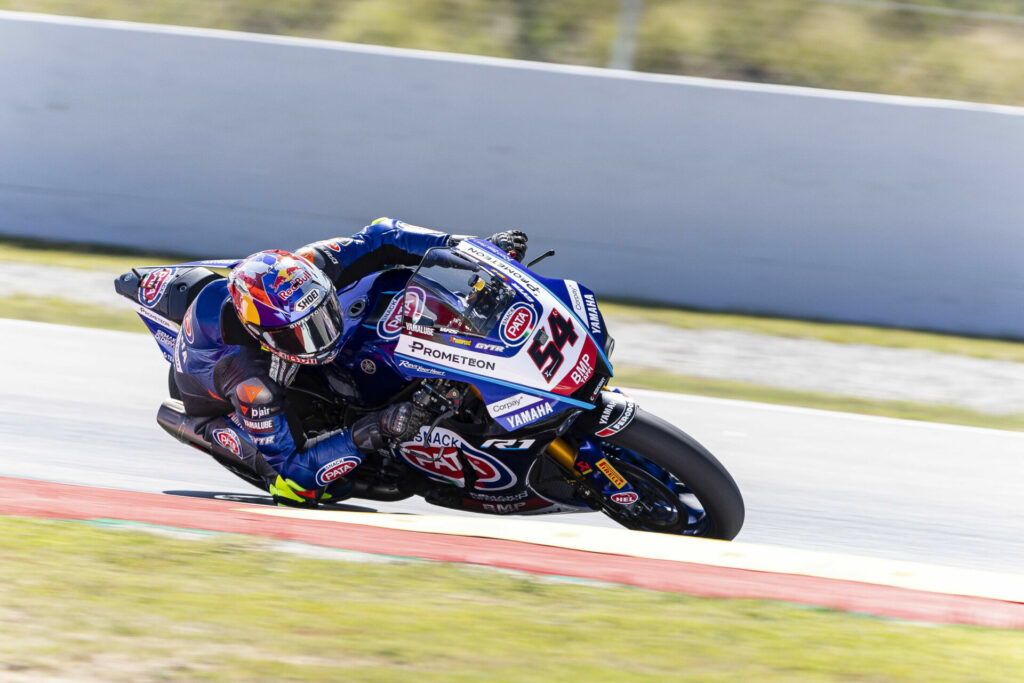 Toprak Razgatlıoğlu: P4 – 1'41.719
"First I say that this morning we did not start really strong, but now I am feeling my bike is much better. Maybe also I am not really strong on this track, but I try my best – this track has many long corners, you know – not like my stop-go style! But I try to change my riding a little bit, just try to keep more speed in the corner, more flowing. I did a race simulation in FP2, it was not bad! We did good lap times for 17 laps and it looks better than last year, but we will see in the race – the race is always more difficult! I am just fighting for the podium, we will try to follow Bautista as close as possible – first is important qualifying, I need pole position again!"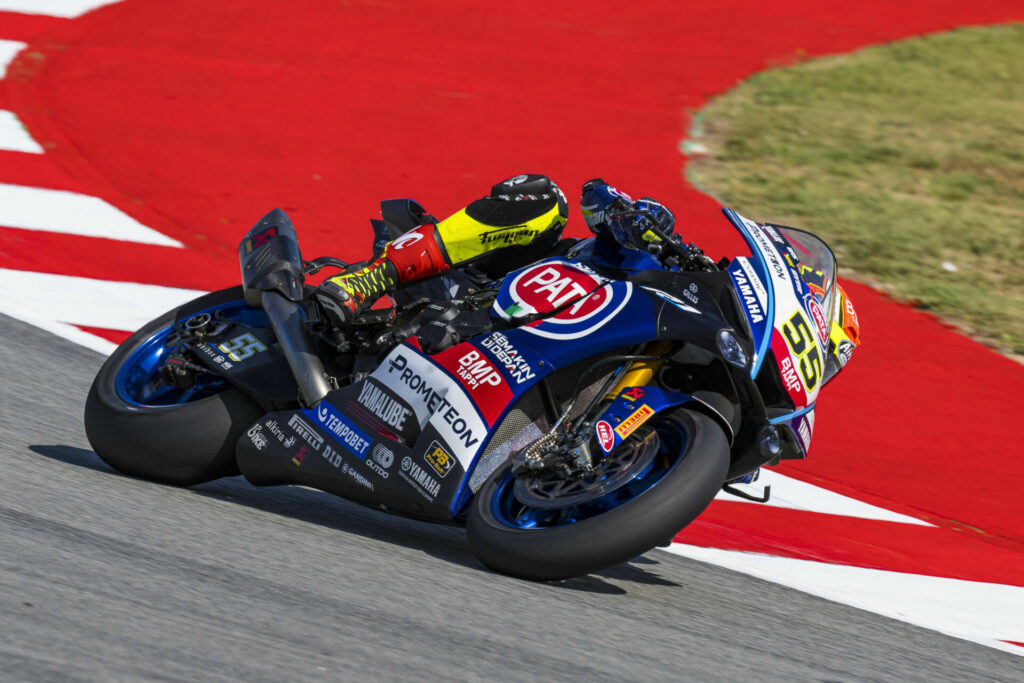 Andrea Locatelli: P6 – 1'42.079
"A bit difficult today, especially in FP2 – the temperature on track was higher but the feeling on the bike was not so bad, more or less similar to FP1, but when I tried to do the long run I crashed in Turn 5, so unfortunately we lost a little bit of the opportunity to work a lot to understand the tyre for the race. But anyway, we just need to know what we want to do for tomorrow – which is to find a little bit more feeling, especially in the front and to try to stop the bike a bit better. We will see what we can do in FP3, and then we will wait to see what is possible in Race 1. For sure, it will not be easy with the track temperature, but we will try to be ready and fight for the podium!"
Paul Denning – Team Principal, Pata Yamaha Prometeon WorldSBK:
"There's no avoiding the fact that Barcelona has always been a tough track for us to perform at our best level, but today, the team and our riders have responded really positively to the challenge – and we've had a solid start to the weekend. Our outright pace is not bad and this afternoon's very near race distance long run with Toprak was a big improvement on where we were last year. Loka had a small crash at Turn 5 – it's easy to make a mistake on the downhill, off-camber turn in to that particular corner – but the positives are that he was completely unharmed, and that we were able to fix the bike quickly enough to get him back out to finish the session at a decent level. A better start today than perhaps expected – well done to the whole group and the riders, we'll keep pushing tomorrow and try to maximise the results."
More, from a press release issued by Team HRC Honda:
Nothing to choose between Lecuona and Vierge at Barcelona home track
Team HRC riders Iker Lecuona and Xavi Vierge are out at the Circuit de Barcelona-Catalunya, their home track, for the fourth round of the 2023 Superbike World Championship. Separated by just 27 thousandths of a second in terms of lap time, both made a solid start for at their home track.
Despite having jumped straight back on the CBR1000RR-R after riding the HRC MotoGP bike just last weekend, Iker was immediately up among the frontrunners during Friday morning's FP1, showing consistent pace and setting a number of fast laps. His best time, a 1'42.068, saw him place fifth at the end of this first phase. Team-mate Vierge also made good progress throughout the 45-minute session, a fastest time of 1'42.095 securing him eighth. This, despite the fact that an innocuous crash in the final minutes prevented him from further improving on this time.
The second session ran in sunny conditions much like FP1 but on much hotter asphalt (49°C). Focusing largely on their race pace on used tyres, both feel optimistic heading into the weekend. Thanks to their best times set during the morning's session, Lecuona rounded out day one in fifth position in the combined standings, closely followed by Vierge in eighth place.
Tomorrow will see Team HRC return to the Barcelona track for Superpole and the first of the races making up this fourth championship round.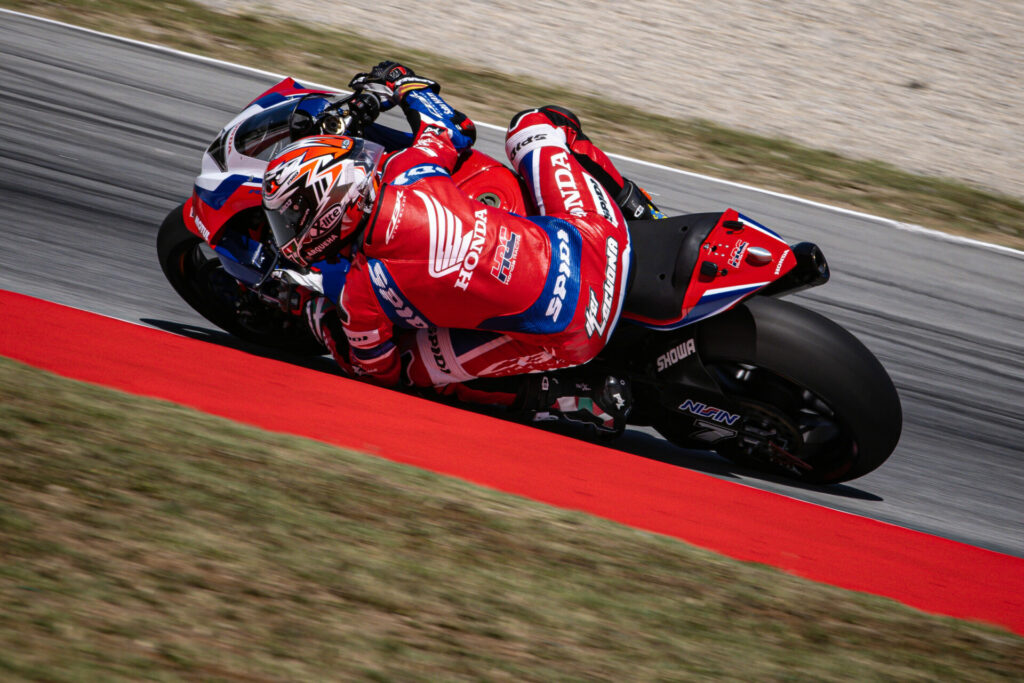 Iker Lecuona  7
P5 
"I'm happy to be back here with my team and bike. We arrived having already done a lot of setup work during the recent test we had. To be honest, after spending the last weekend in MotoGP I was expecting to need a bit more time to regain that WorldSBK feeling and so I was surprised to feel comfortable and fast after just four or five laps. It was a very good session and we just weren't able to find the feeling with a different tyre spec, basically because it's the first time we're trying it after having missed the chance to use it during testing due to my crash. In the afternoon I spoke with my crew chief and basically changed the plan entirely, because I thought we should focus on working on race distance. It was something I had been thinking all day and we're very happy with the outcome of the afternoon's session because there was much less of a drop compared to last year, despite the fact that the temperature was higher and that I always lapped alone. So I'm very happy and we will now analyse the data and see if there is any fine tuning we can do to further reduce the tyre drop. I want to thank the team for their hard work and tomorrow we go again!"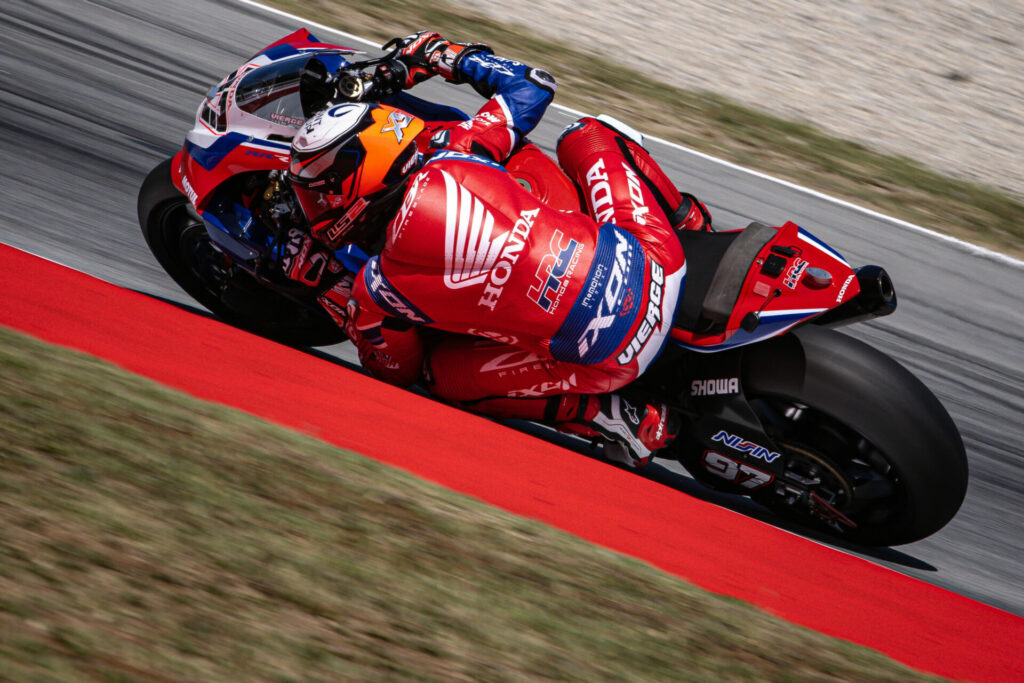 Xavi Vierge  97
P8
"It has been a good day for us, and I had good feeling right from the start despite a small crash in FP1. It was insignificant, in fact it was good to find the limit early, if anything. Thanks to the team because they repaired the bike in time for FP2 and that session also went well. We completed two long runs to try and understand our pace in such hot conditions and the feeling was not so bad. As ever, we need to improve a bit with the new tyres, but the race pace is there so I'm happy with how day one has gone. Now we'll see if we can make another little step forward tomorrow. As always, our first target for Saturday is to do as well as we can in qualifying."
More, from a press release issued by team Go-Eleven:
TOUGH START FOR GO ELEVEN, UNEXPECTED GAP AT THE END OF DAY 1- MONTMELO'!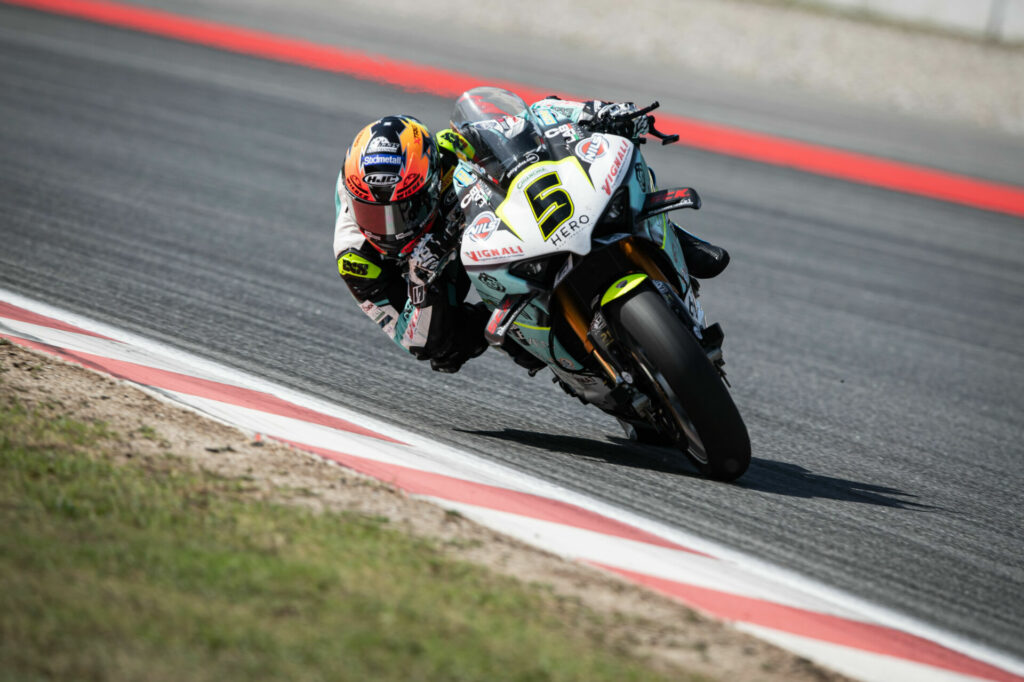 Really tough Friday on the Barcelona track! Unexpected difficulties since the morning, a lack of grip that creates more than a few headaches for the Ducati Go Eleven, without finding, so far, an important solution. Certainly, on the Catalunya circuit, we expected a different day, both in terms of gap and feeling. But it's only Friday, and there's still plenty of time to improve and rebuild a good performance.
FP1 took place in almost perfect conditions, 20 degrees in the air, warm sun that welcomed all the WorldSBK protagonists. Philipp entered on the rear SC0, trying to gain confidence and find a good set-up to work on over the weekend. Right from the start he complained about a big lack of grip, which generated excessive rear sliding; Montmelò is a very particular track from this point of view, every year it throws the riders into a crisis both in terms of race management and set-up. Already in the morning it was possible to understand that the big difference will be made at the end of the race, by managing the drop of the tyres well. At the end of the morning session, a new rear tyre solution was tested, which did not provide a huge difference in terms of performance.
Free Practice 1:
P 1   M. Rinaldi   1.41.633
P 2   J. Rea   + 0.019
P 3    T. Razgatlioglu   + 0.088
…
P 15   P. Oettl   + 1.725
For FP 2, the Team tried to make some changes to the balance of the bike, working on the rear shock, swingarm and heights. In the first stint he completed the tyres used in FP 1, then in the final stages the time attack meant an improvement in performance, but without being able to make an impact. Laptime is still too high compared to our reference group, it will be essential to work well in the evening to find some new solution to be evaluated tomorrow. Even more with the high temperatures, the second half of the race will prove be critical. Still to understand the best compound over the long distance. To move up the rankings, the only way is to work, to analyze well the data we have collected, remaining focused and determined.
Free Practice 2: 
P 1    A. Bautista    1.41.486
P 2    M. Rinaldi   + 0.350
P 3    J. Rea    + 0.529
…
P 16   P. Oettl   + 1.948
Philipp Oettl (Rider): "Today it's a difficult day for us, I think the others have a small advantage due to the recent tests here, at Montmelò, but we have room for improvement. We keep working, to achieve a good solution for tomorrow, the drop of the tyre will be really important tomorrow and on Sunday. I think we made a small step forward in the FP 2, but now we have to do another one in the right direction!"
More, from a press release issued by PETRONAS MIE Racing Honda Team:
PETRONAS MIE Racing Honda team prepares for the Barcelona races
The PETRONAS MIE Racing Honda team is back in action at a hot and sunny Circuit de Barcelona-Catalunya in Spain, the stage for this weekend's fourth Superbike World Championship round.
During the day's first free practice session, riders Hafizh Syahrin, who turned 29 today, and Eric Granado made gradual progress, the pair now feeling increasingly confident aboard their CBR1000RR-R machines. Keen to do well at his home round, Granado (who lives in Barcelona) made a good step in the final minutes of the session, a fastest time of 1'43.423 moving him up into sixteenth place. Making changes to the setup throughout the course of the first practice, Syahrin set a best of 1'43.576 to close a little over a tenth from his team-mate in eighteenth place.
Back out for free practice 2 a little later in the day and on hotter asphalt, both riders continued to work hard, focusing largely on the tyres considering that tyre wear is a particular issue at this track, and even more so in high temperatures.  Although neither was able to improve on their earlier FP1 references, due largely to the higher track temperatures, both Granado (17th) and Syahrin (19th) feel prepared for the weekend's races, the first of which will play out tomorrow afternoon after the Superpole qualifying session.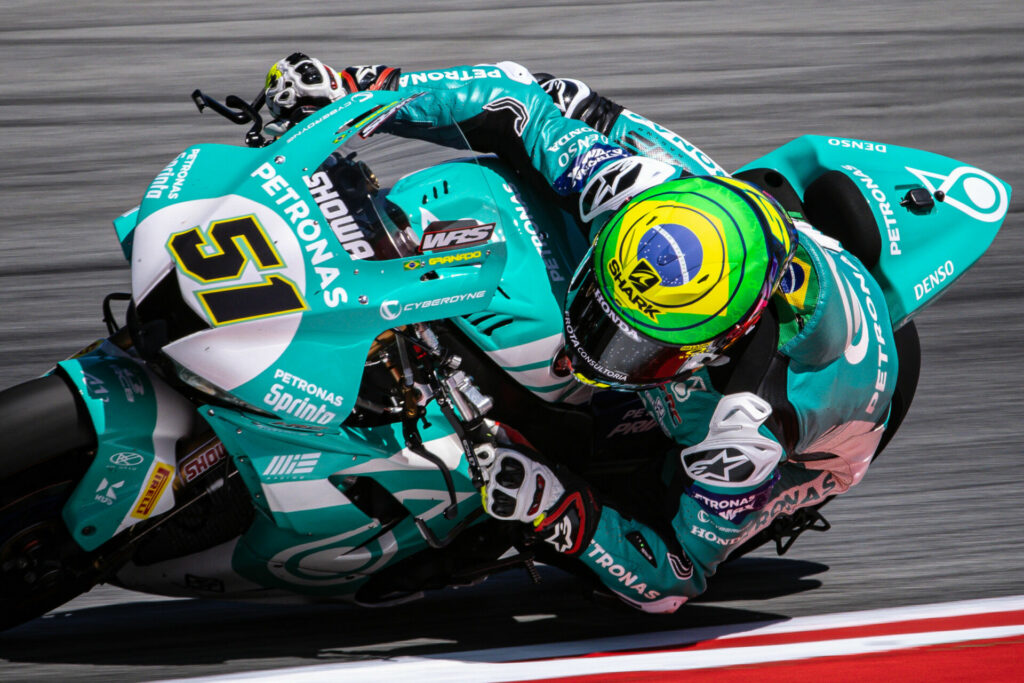 Eric Granado P17
"We've worked to prepare for the races, testing the different tyre options that we have available because Barcelona is a very unique track in terms of tyre wear. it's also very hot this weekend so we're focusing a lot on this aspect in order to have a good setting for the races. I'm pleased so far and tomorrow we have another practice in which to continue to work so that we have a good bike for race 1. The track is 50°C this afternoon, hotter than we expected, and races in conditions like this are always tough, not just physically but also on the tyres so it's really important to prepare in this area so that we can get to the end of the race in decent shape."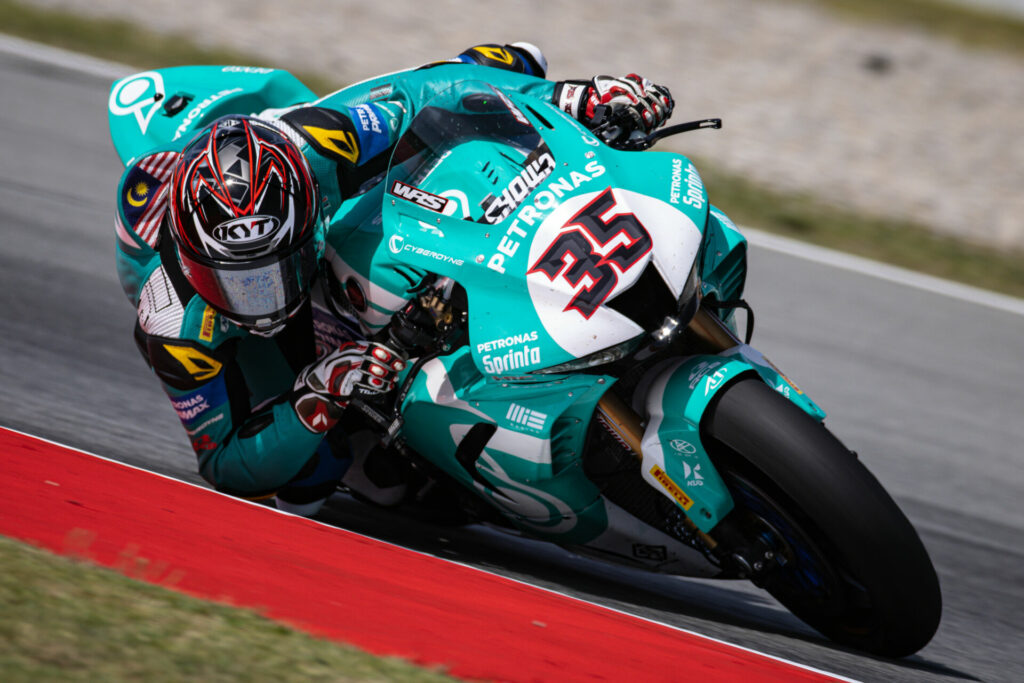 Hafizh Syahrin P19
"We've made a good start, but I feel like there are still some points where we can improve and find another few tenths. With the feeling I have right now, I believe we can be in the points zone this weekend. I've been quite consistent despite the hot conditions, so if we can take another small step technically in tomorrow's FP3 and in qualifying, then hopefully we can run a good race. The conditions are unexpectedly hot, but it is the same for everyone of course, so we'll do our best. It's my birthday today so it's nice to be racing here on my birthday weekend."