More, from a press release issued by Dorna WorldSBK Press Office:
Lecuona leads Rinaldi and Razgatlioglu in Friday Free Practice
The Spanish Rookie topped the combined timesheets in a strong showing from Honda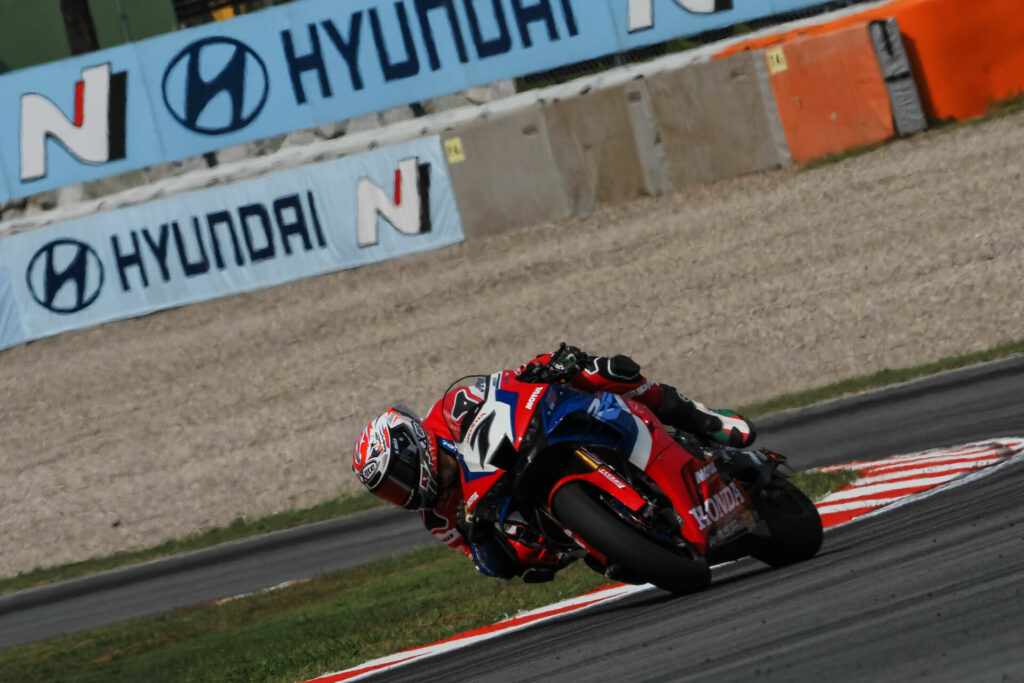 Friday highlights – WorldSBK 
P1 – Iker Lecuona (Team HRC)
Lecuona led FP1, half a second quicker than the rest of the field. Despite being 12th in the afternoon session, his fastest lap from FP1 allowed him to keep first place in the timings.
He set his lap time on the soft 'SCQ style' front tyre in the morning session and was not able to improve in the afternoon session.
"P1 on this first day is not 100% real but it's true that I have the speed. I worked alone all day. In the morning, in FP1, I put the SCQ tyre on because we need some data for the Superpole Race. I also used the SCX where my lap time is three tenths slower than Toprak and Rinaldi. I go close, I go alone, and I feel confident. In FP2, I worked for the race. I used just one set of tyres, the SC0, so the hard one just because Rinaldi won here last year by three seconds using it. We want to try. I feel good, I feel strong. We will see. Alvaro went very fast; I checked his pace and it was amazing. I'm very close to Jonny. We will see tomorrow, with the weather conditions, anything can happen. In Superpole, the realistic goal is to stay in the first two rows for the first time. I think I have the speed. In the race, I feel confident and strong, and my pace is similar to Jonny. I know Kawasaki struggle here a lot. Maybe we have the chance to fight for the podium."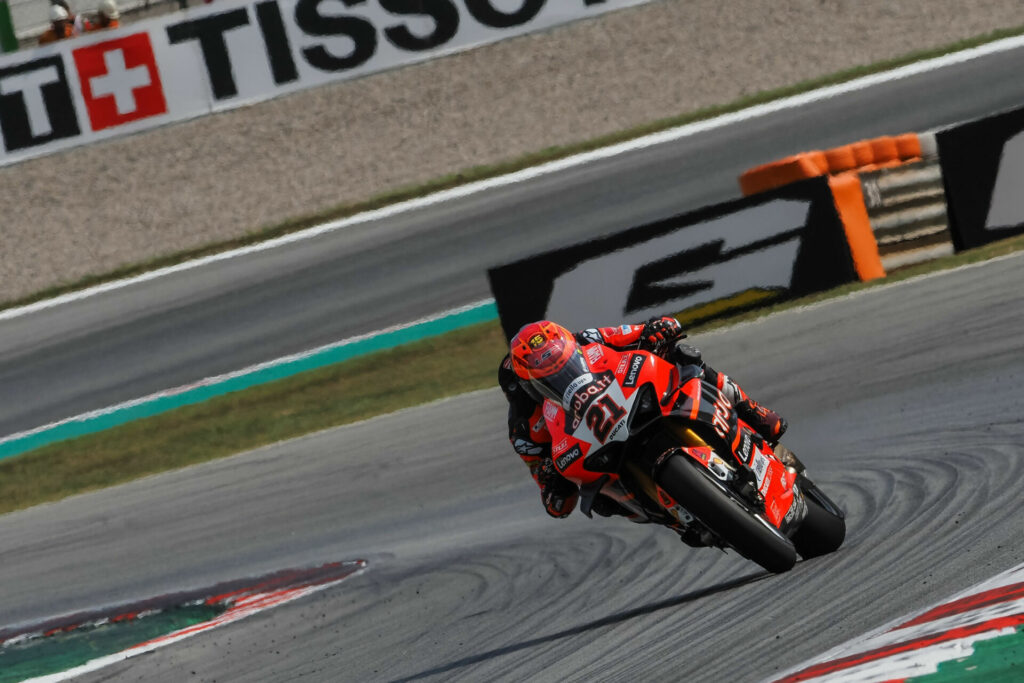 P2 – Michael Ruben Rinaldi (Aruba.it Racing – Ducati)
Rinaldi was the lead Ducati rider in second in the combined classification.
He set his fastest time in the morning session, 0.535s behind Lecuona's best time.
"It was a different Friday because the forecast for this weekend is strange, it looks like it will rain. So, we had to try every tyre that Pirelli bring us only in two sessions. This was our plan, not working too much on the set up or the electronic. In the end, we improved a little bit in those area. This morning, we tried the SCX and then B0800 rear tyre and this afternoon, I used only one set of tyrse to try to make race distance. I'm really happy about our pace and our speed but of course we can always improve a little bit. I think we are quite consistent."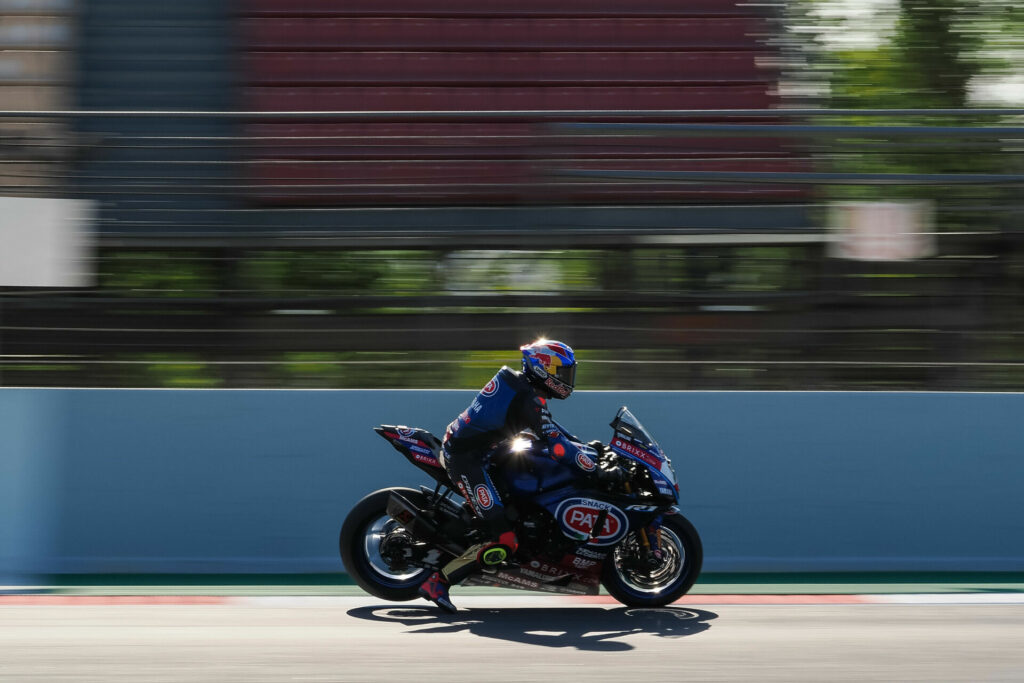 P3 – Toprak Razgatlioglu (Pata Yamaha with Brixx WorldSBK)
Razgatlioglu's best time of 1'41.991s meant he was third overall at the end of Friday.
He wasn't able to improve his best time in the afternoon, being only sixth in FP2.
"It was a good Friday for me. In every session, we tried to find a good set up for the race. But tomorrow, I think it will rain, and we will need to try some new set ups. We're happy. The Ducati are very fast, but we'll keep fighting in the race. For me, it's a positive Friday. In FP2, we tried this new set up and I tried the shorter race simulation and I understood what was working or not. It was good to find the set up for this race. The afternoon was very positive. It looks like we are ready to race, our pace is not bad. I think we'll be fighting for the win again."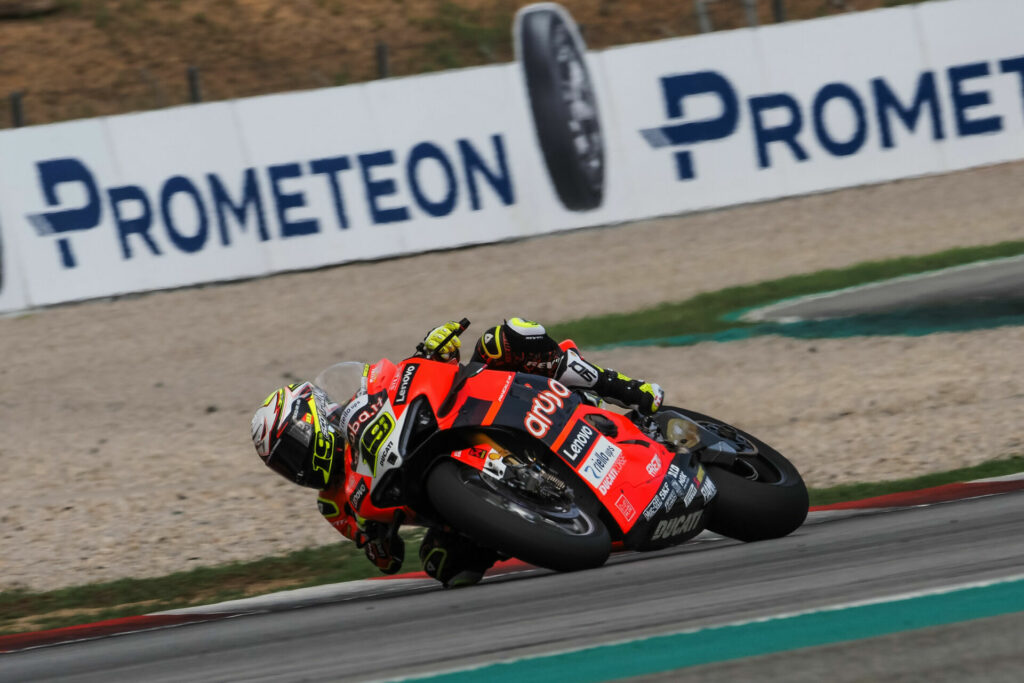 P4 – Alvaro Bautista (Aruba.it Racing – Ducati)
Bautista was quicker in the afternoon session, setting a best time of 1'42.018s putting him in fourth place overall.
He ran a 15-lap race run at the start of FP2, 14 of them were in the 1'42s – most of them in the middle.
"Things have been very positive because we could do both practice in dry conditions. At the end of FP2, there were some drop of rain, but it didn't change our plans. I'm happy with the feeling of the bike. In the morning, we tried different front tyres and also the rear from Magny-Cours. With the rear, I didn't have the same feeling as in Magny-Cours. With the front, I didn't really have good feedback in the morning but in the afternoon, we came back to our front base tyre and I felt much better. We also tried the SCX tyre and I tried to manage the tyre to do many laps in a row. The feeling was not bad. We worked a lot with the electronics, to use less power and a bit more TC control, to save the life of the tyre more than looking at the performance. We were consistent for 15 laps without destroying the tyre. So I'm happy because I've felt good also on the front."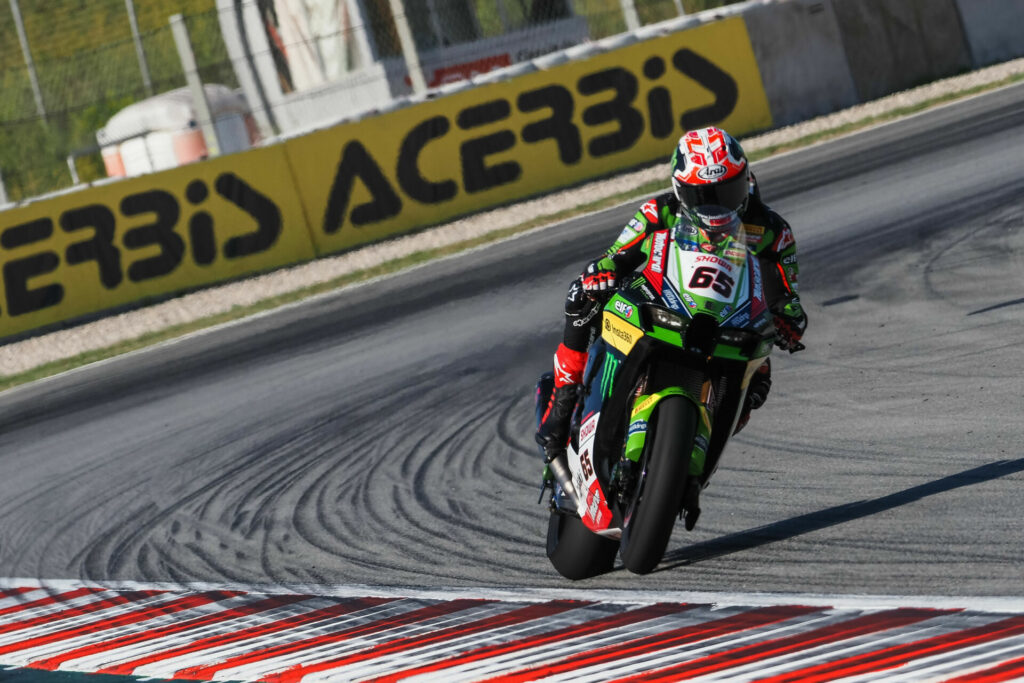 P5 – Jonathan Rea (Kawasaki Racing Team WorldSBK)
Rea finished fifth overall, only 0.040s behind Bautista's best time, and 0.662s behind Lecuona.
He also did a 15-lap race run but was only into the 1'42s on four laps, with the final two of them being towards the high end.
"Friday was not so bad. I was working a lot to try and understand the tyre. We know Barcelona is a difficult track. There is always some tyre drop. The first lap is always very fast and the last lap have some drops. So it was trying to understand the bike in different situations. In the afternoon, I was able to do a longer run to understand where that was coming, how we could adapt the bike for FP3 tomorrow. You never know if the rain is coming here. Let's say in the wet it's more of a lottery, because you can have wet, wet-wet, you can have drying wet, wet with drying line, … you never know how to deal the perfect set up. In the dry it's clearer, you understand from Friday where you're going to be, things to work on. But we'll try to make the best possible."
P6 – Andrea Locatelli (Pata Yamaha with Brixx WorldSBK)
Locatelli was sixth overall, but was third in FP2, just 0.067s from the top time.
"I'm really happy about the first day. The feeling with the bike was immediately really good, especially in FP1. Today, the feeling was a bit different in FP2 and also it wasn't easy to do a lap time. But again, the feeling was not so bad and I think we have a good base set up here in Barcelona, especially after the test here in August. We worked very well, we were really fast here. Today I'm really happy and I have a lot of confidence with the bike so I want to continue on this line. Tomorrow we have the first race and it will be important to be in front. I think in the last rounds, we understood a bit more about the bike and also how we can do to use the new tyre, it was a difficult moment but today we have a good reference and we understand much."
To note:
Xavi Vierge (Team HRC) was also impressive as he was fifth in FP2, finishing in seventh place overall.
Scott Redding (BMW Motorrad WorldSBK Team) was the lead BMW rider in 10th place.
WorldSBK action resumes on Saturday from 09:00 (Local Time), followed by Tissot Superpole at 11:10 and Race 1 at 14:00.
More, from a press release issued by GYTR GRT Yamaha WorldSBK Team:
DECENT FP1 SESSION FOR GYTR GRT YAMAHA WORLDSBK TEAM ON FRIDAY AT CATALUNYA
The GYTR GRT Yamaha WorldSBK Team returned to action today at Circuit de Barcelona-Catalunya, with Garrett Gerloff going eighth fastest in the Free Practice 1, while Kohta Nozane was 14th.
In the opening session, American rider Gerloff enjoyed a decent run, firing in a 1'42.683, with his Japanese teammate recording a 1'43.473.
Later in the afternoon, both Gerloff and Nozane's main focus was on long runs to extract maximum potential for the races, meaning they did not improve their times from this morning. The #31 was 13th fastest (1'42.904), despite being just 0.9s off the top, while the #3 was 18th (1'43.599), with a small crash at Turn 10 hampering his session.
Therefore, Gerloff ended the day 11th fastest on combined times, with Nozane 17th. The two GYTR GRT Yamaha WorldSBK Team riders will be back tomorrow, firstly with FP3 at 09:00 local time (GMT+2), then with the Tissot Superpole at 11:10 and Race 1 at 14:00.
Garrett Gerloff:
"To be fair it wasn't a bad day. We started with the Magny-Cours base set-up, and then made a couple of changes. Honestly, I liked it, but we have some homework to do if we want to close the gap to the guys ahead. It also looks like we should be mindful of the weather as we might have rain for tomorrow."

Kohta Nozane:
"Overall, I'm feeling good on the bike and that's what matters the most. Unfortunately, the position is not that good, but there are positives and things to work on for tomorrow. I'd like to say sorry to the team for the crash at the end of the session while I was going faster. Let's keep an eye on the weather for tomorrow, we should be ready for any condition."
More, from a press release issued by Team HRC:
Lecuona leads the way at home track Catalunya; Vierge also on pace
Round eight of the 2022 Superbike World Championship is now underway, with Team HRC in action at the Circuit de Barcelona-Catalunya and particularly eager to perform at what is a home track for both Iker Lecuona and Xavi Vierge.
The factory team completed Friday's free practice sessions with Lecuona and Vierge determined to make the most of this initial track time. With the forecast threatening rain in the afternoon and Lecuona keen to get as much information as possible, he put in a soft rear tyre towards the end of the morning session. With this solution, he closed with a best of 1'41.396 to place first overall. On the other side of the garage, Vierge and his crew focused on some setup details that he was not perfectly comfortable with, in the meantime setting a 1'42.744 with which he placed tenth.
The afternoon's second practice brought progress on both sides of the garage, whether in terms of lap times, race preparation or both. Vierge, happy with the morning's work outcome, improved on his earlier time by around half a second, a best of 1'42.221 projecting him towards the top of the timesheets. Fifth at the end of this session, the Spaniard positioned seventh in the day's combined standings.
Lecuona meanwhile used the afternoon session to make some fine adjustments ahead of tomorrow's Superpole and first race. Although he did not improve on his lap time in FP2, neither did anyone else, which meant that his best time of the morning remained the overall fastest time of the day, a positive result for Team HRC as it heads into Saturday.
Iker Lecuona  7
P1 
"P1 at the end of the first day here in Catalunya is a very nice feeling but not a totally "real" result. Having said that, it's very real that I have good speed, having ridden alone during both sessions and worked well with the team in the garage. We put the qualifying tyres in during FP1 because we wanted to collect some data for tomorrow's Superpole and didn't want any rain to prevent us from doing that in the afternoon. With race tyres, my pace is just around three tenths of a second slower than that of Toprak and Rinaldi. Alvaro is on another level though; his pace is just amazing. I spent the sessions lapping alone and this gives me confidence for tomorrow. In FP2 I just worked to prepare for the race, using only one set of tyres, the hard one, and I felt good. But we will see tomorrow, because anything can happen, also considering the unstable weather forecast for the rest of the weekend, which means the track could change a lot and the conditions become trickier."
Xavi Vierge  97
P7 
"It's a good feeling to be back starting a racing weekend at a track we know, after three rounds at brand-new ones, because we've been able to focus solely on ourselves and on the bike setup. So it's been a positive Friday for us, especially in FP2 because in FP1 we struggled a bit at the beginning with braking. In the afternoon, on the other hand, everything worked perfectly, the team did a great job and I felt really good with the bike. Even using just one set of tyres, I was able to set a very good lap time. Our first goal now is to improve in qualifying to try and start somewhere on the first three rows and then of course to finish the races, after two DNFs at Magny-Cours. We know that we have the pace, so finishing the race will translate into a good result. It would be fantastic to score a great result in front of my home crowd."
More, from a press release issued by Kawasaki:
Rea Fifth On Opening Day In Catalunya
The KRT riding duo of Jonathan Rea and Alex Lowes placed fifth and eighth respectively on the combined timesheets at the Circuit de Barcelona-Catalunya, after the first day of on-track action at their team's home circuit.
Rea was second fastest in the afternoon FP2 session but a fall of light rain with a just a few minutes to go prevented several riders from improving on their best FP1 times around the 4.657km long circuit. There were also several different front and rear tyre options for the riders to evaluate at a circuit which has a reputation for accelerated tyre wear compared to come other venues.
There was one clear leader on day one, local rider Iker Lecuona, but the margins between the next best times were much closer, all of which augurs well for Rea's race ambitions when the points scoring competition starts for real on Saturday.
Rea rode with one of his main championship rivals, Alvaro Bautista, for some laps in the FP1 session, as they both exited pitlane at the same time.
Lowes was looking good for a top five finish but he just touched the green-painted track limits area on the outside of Turn 13 and lost one lap time from his official record, He had just passed the finish line under a chequered flag on that lap, losing his subsequent even faster lap time. As a result Alex had to rely on his morning session time which left him in eighth place
Now Rea and Lowes will face FP3 qualifying on Saturday morning, to be followed by Superpole qualifying for final grid positions, and then the full distance Race One.
Jonathan Rea, stated: "We had to compare two front tyres, back-to-back, and two rears. We know this track consumes tyres for everybody. I felt good with my ultimate pace and we just need to improve the consistency. Alvaro is very strong, and it seems they started in a really good way. In some areas we need to make the bike a little bit easier to ride, so that when the tyre drops I am not fighting with the bike so much, especially in stopping and turning. We have a few areas to look at tomorrow thinking about tyre conservation in a long race. I did a long run in the afternoon, three laps short of race distance, and the drop was less severe than last year."
Alex Lowes, stated: "Overall today was good but we struggled a little bit with front tyre wear after 11 or 12 laps, so this is something we need to focus on. The front grip seemed to drop quite a lot for me. The rear, not so much. I did a really fast lap at the end of the day, but rolled out on the green track limits paint, and I just caught the chequered flag too. I didn't realise and the next lap was even faster, which would have put us in the top three. Our new tyre performance is quite good, but we need to work a little bit on used tyres. But it's great to be here at the team's home race. They have lots of people here, friends and family, so the atmosphere is great. I am looking forward to the first race tomorrow."
Lucas Mahias (Kawasaki Puccetti Racing) was 13th in the early weekend rankings, setting his personal best in FP2.
Rookie WorldSBK rider Oliver König (Orelac Racing VerdNatura) was a noteworthy 18th of the 24 WorldSBK riders, with Oscar Gutierrez (Team Pedercini Racing Kawasaki) 22nd.
More, from a press release issued by Yamaha:
Pata Yamaha with Brixx WorldSBK Completes Competitive Friday Free Practice in Barcelona
Toprak Razgatlıoğlu and Andrea Locatelli both finished firmly in the mix for the podium positions during Free Practice for the eighth round of the 2022 FIM Superbike World Championship at Circuit de Barcelona-Catalunya in Spain today.
Locatelli was third quickest in this afternoon's crucial 45-minute FP2 session, of which track conditions most typically reflect what can be expected for the weekend's main points-paying races, setting a lap time of 1'42.085, just 0.067s from current championship leader Alvaro Bautista.
The 25-year-old Italian was P6 in the overall combined times, while teammate Razgatlıoğlu finished the day P3 having set a 1'41.991 during FP1 this morning.
Rain is due overnight in Montmeló and with showers forecast throughout tomorrow, the weather will be anyone's guess until lights out for Race 1 at 14:00 (CEST). There will be one last chance to test tyre combinations and dial in each rider's race set-up over 30 minutes during Free Practice 3 at 09:00 before another nail-biting 15-minute Superpole qualifying at 11:10.
Toprak Razgatlıoğlu: P3 – 1'41.991
"For me, it was a positive Friday because we try every session for a good set-up for the race but tomorrow, I think maybe rain! Anyway, we try some new set-up and we are happy. Okay, we see Ducati is very fast but we keep fighting for the race. In FP2, we tried a new set-up and we are working – also I just try a shorter race simulation to understand the bike how it is working or not. Now, it looks like we are ready to race, the pace looks not bad and I hope we are fighting for the win again. At this track, it's important to keep the rear tyre and I hope for good weather tomorrow but we will see!"
Andrea Locatelli: P6 – 1'42.085
"I'm really happy about today because the feeling on the bike was really good, especially in FP1. In FP2 the condition was a bit different and to do a good lap time was difficult, but actually the feeling was not so bad and I think we have a good base set-up for here in Barcelona – especially after the test in August. We worked really well and were really fast here. So today, I'm happy and I have a lot of confidence with the bike, so I want to continue in this way and try to push because tomorrow we have the first race and it is important to try to start in front. I think in respect to the last few rounds, we understand a little bit more around the bike and how to use the new tyre compound. We're working well and today we have a good reference and data to compare. For me it's a good point to restart!"
More, from a press release issued by Team Go Eleven Ducati:
PHILIPP OETTL CONFIRMS TOP TEN IN DAY 1 AT MONTMELO'!
First day in Montmelò, bad weather spared WorldSBK giving (almost) a full day of sunny action. The riders were able to complete the planned work, taking as much information as possible in view of the races.
In FP 1 Philipp immediately became familiar with the Catalan track, finding a good feeling with his Ducati V4-R. In the first few steps he showed a clean riding, which gave him the Top 8 until the middle of the session. The Go Eleven Team completed the work with used tyres, not using the soft on the final, like some riders did, which generated large, but not entirely truthful gaps. The race pace shown seemed good when compared with the opponents, being at ease even after some changes made on the rear.
In FP 2 the German rookie tested a pair of new tyres, with different compounds than in the morning. Although the feeling was good again, and the best lap arrived at the end of the stint, he missed a few tenths on the fastest lap. At the second exit, he managed to drop below 43.0, despite a not perfect first sector, which was then counterbalanced by a very effective last part of the track, in line with the top 5. Overall, the behavior of the bike is in line with what was requested by Oettl, and the tyre drop looks pretty good. Philipp has not yet tried the SCQ, which here in Barcelona seems to provide strong extra grip, and if the weather holds up, he will be able to test it tomorrow morning. In the event of a dry race, the goal of fighting in the Top Ten seems realistic.
Philipp Oettl (Rider): 
"I think today it was a positive day, I did many fast laps in a row, but I think it will be also possible to improve tomorrow. We will see in which conditions we will have to race, if dry or wet, but our base is good by now. Riding with the others I found out how to be faster in some areas, especially in sector 4, changing the line compared to what I did in the test and this morning. I am quite optimistic for the next days here in Barcelona!"
More, from a press release issued by Aruba.it Racing Ducati:
Rinaldi (P2) and Bautista (P4) protagonists in Friday free practices for Catalunya Round at Barcelona. Bulega third despite a difficult day in WorldSSP
An extremely positive free practice day for the Aruba.it Racing – Ducati riders.
Michael Rinaldi and Alvaro Bautista ended the Catalunya Round Friday in second and fourth position respectively after working consistently and incisively in both FP1 and FP2.
Michael Rinaldi got off to a strong start in the morning practice; he was able to hold the lead in FP1 for a long time until Lecuona set his (Honda) fastest time (although with the SCQ tire).
In the afternoon the Italian rider worked with his team mainly on tire choice and set-up ahead of the weekend's races.
The race pace recorded by Alvaro Bautista in FP2 (P1) was extremely incisive. Like his team-mate, the Spanish rider also completed many laps trying out different solutions in terms of tires.
P2 – 1'41.931 (+0.535)
Michael Rinaldi (Aruba.it Racing – Ducati #21)
"We did a good job ahead of the race taking into account what the weather variables might be. I'm satisfied with how things went and the feeling I had in both sessions. We were fast even though we didn't try the time attack and that is a good sign".
P4 – 1'42.018 (+0.622)
Alvaro Bautista (Aruba.it Racing – Ducati #19)
"It was a positive Friday. We worked a lot on tire choice, tried different tire solutions, and managed to gather some very interesting data. The race pace was incisive and consistent, especially in FP2. We don't know what kind of weather we will find tomorrow, but we are ready and we have confidence whatever the conditions are."

WorldSSP
A very difficult day for Nicolò Bulega. Following a crash in FP1, in FP2 the Aruba.it Racing WSSP team rider had to deal with technical issues that did not allow him to put together a good number of laps in FP2. Returning to the track for the final run, however, Bulega managed to set the second fastest time (P3 in the combined standings).
P3 – 1'45.522 (+1.015)
Nicolò Bulega (Aruba.it Racing WSSP #11)
"I'm quite disappointed because I wasn't able to put many laps together today. The only positive note is the time I finished FP2 in second place setting a good lap time. This gives us confidence ahead of qualifying and tomorrow's race".