Four BMW M 1000 RRs at MotorLand Aragón: BMW Motorrad Motorsport enters the crucial phase of preparations ahead of the 2021 WorldSBK.
BMW Motorrad WorldSBK Team, Bonovo MGM Racing and RC Squadra Corse complete intensive tests in Alcañiz, Spain.
Preparation for the start of the FIM Superbike World Championship at the same venue in two weeks.
Marc Bongers: "Overall I am happy and I am very much looking forward to finally race".
Alcañiz. With two weeks to go until the start of the 2021 season in the FIM FIM Superbike World Championship (WorldSBK), BMW Motorrad Motorsport has entered a crucial phase of preparations. MotorLand Aragón, the Spanish circuit that will host the opening races of the year, was the venue for this week's intensive tests with the new BMW M 1000 RR. Among those attending were the factory team, the BMW Motorrad WorldSBK Team, with riders Tom Sykes (GBR) and Michael van der Mark (NED), as well as the two BMW satellite teams: Bonovo MGM Racing with Jonas Folger (GER) and RC Squadra Corse with Eugene Laverty (IRL).
The test was primarily used to test further developments and fine-tune the bikes to the individual needs of the riders ahead of the start of the season. Working closely together, and blessed with ideal conditions in the Spanish sun, the teams and riders gained a lot of valuable information for their final preparations.
WorldSBK kicks off the 2021 season with a double-header. The action takes place from 21st to 23rd May at MotorLand Aragón. Round two of the season follows just one week later (28th to 30th May), at Estoril, Portugal.
Quotes after the test at MotorLand Aragón.
 
Marc Bongers, BMW Motorrad Motorsport Director: "It was the last test before it really gets serious – on this same track. Again, we had productive days under perfect weather conditions without any large technical issues so we could clearly conduct our test plan. Already, the satellite teams have shown added value for us because we can get more confirmation and we can share the test points so we can get through more work. That is very positive, we still have some homework to do before the first race but I am confident we will get there and already in some areas it's a clear improvement, like top speed, brakes and so on. Overall I am happy and I am very much looking forward to finally race."
Shaun Muir, Team Principal BMW Motorrad WorldSBK Team: "It was good to get to the final test in pre-season preparation at Aragón. We again had good conditions. I think we have been very fortunate this year with the late start of the season and selecting to start our testing late has paid dividends. On track activities – we have been focusing on chassis and electronic work. I think it is fair to say that we have completed most of that; we have a good direction going into the Aragón race weekend. Lap times are difficult to judge as from starting at ten o'clock to the middle of the day and the end of the day, it is difficult to tell who was running what tyres. But it is clear that the race pace is very strong from last year to this year from the competition and we need to be on point come Aragón race to be in contention for the podium. Nevertheless, we are happy where we are and we look forward to the first round."
Tom Sykes, BMW Motorrad WorldSBK Team: "It has been a very productive test. We have done such a lot now with the electronics all over, the traction control, the engine brake, the power level maps. We've also been working with different chassis configurations and set-up and were also trying some things with the engine. Apart from that it was quite some other fundamental things that we have been trying. So overall, they have been very busy days. A big thanks to the whole BMW Motorrad WorldSBK Team that has put in very long hours on all the preparations. We just need to go back now and use all this information but certainly there has been a lot gathered and I really feel we can improve the whole package of the new BMW M 1000 RR. I am looking forward to the first races now."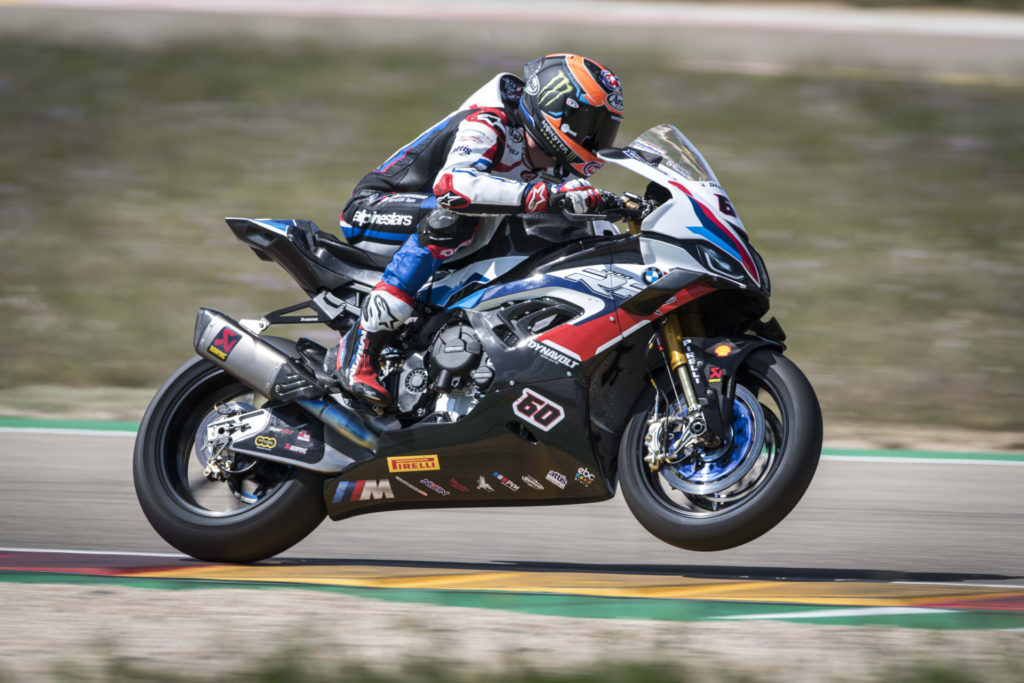 Michael van der Mark, BMW Motorrad WorldSBK Team: "They have been fantastic days. All days, the weather was good. On Monday, it was a bit cold but then it got warmer and warmer so we got a lot of different weather and track conditions and this was really good. It was perfect to test here just before the first race. A lot of things to try, a lot of things to improve but I am really happy with the progression we are making. Of course it's always difficult to see where you are at a test but we will find out at the race weekends. I am looking forward to some good battles again and to fight with the other guys on track."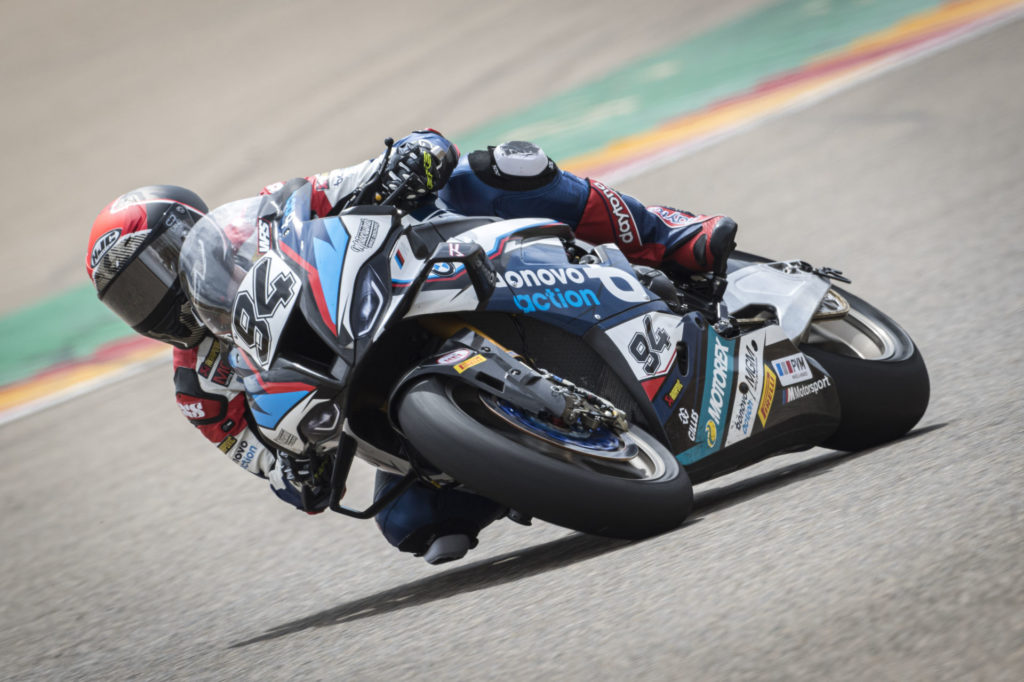 Jonas Folger, Bonovo MGM Racing: "That was our final test before the start of the season. We once again used the time to test all our options and directions, from the chassis to the electronics. We learned a lot, so we are well-prepared for the first races."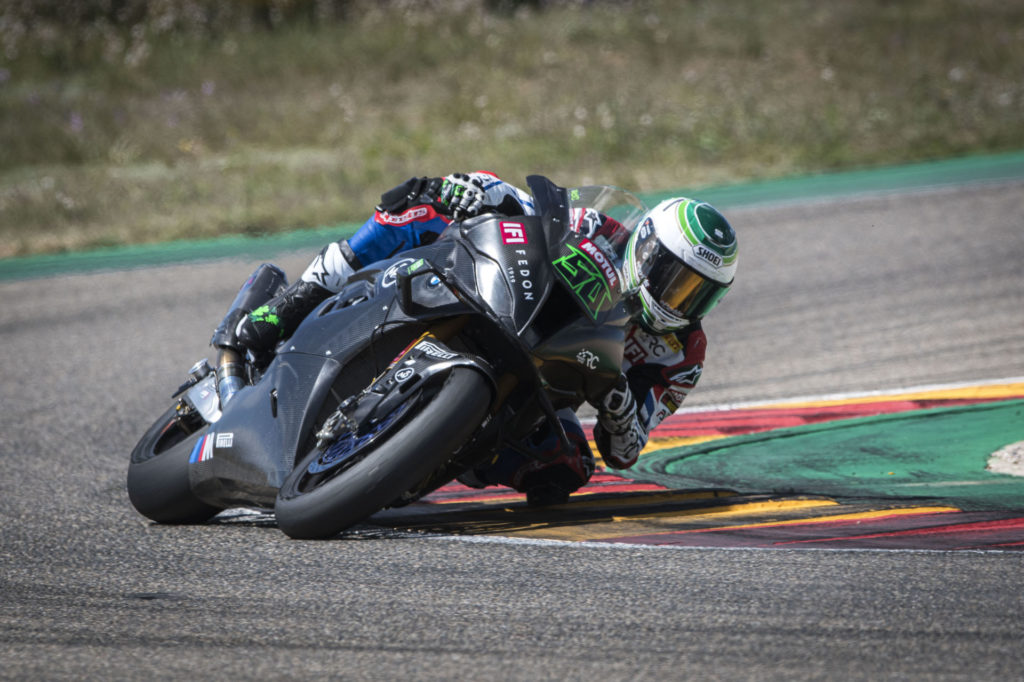 Eugene Laverty, RC Squadra Corse: "First and foremost, I am so happy to be back on a bike after six and a half months off. The big surprise for me was that after this period I was able to get back on my bike and within two exits be on a good pace. So we had three really good days, good weather, surprisingly fast lap times and my main focus has been to improve the baking performance and we did that. So, job well done and I am really happy with my RC Squadra Corse team. Now I am looking forward to the first round here at Aragón after our successful test."
More, from a press release issued by Kawasaki Motor Europe:
Positive End To Pre-Season For KRT
Official Kawasaki WorldSBK riders Jonathan Rea and Alex Lowes have successfully completed their final pre-season WorldSBK test sessions at Motorland Aragon and are now ready to compete for real on the new Ninja ZX-10RR
After a warm and dry two-day private test at the venue of the first championship round Rea was fastest of all and Lowes the second quickest rider.
Rea set a blistering best lap time of 1'48.528 on day two, and also completed the second of two full race simulations. He and his team worked on refining the final set up for the start of the season, confirming the base set-up they will start the exciting 2021 season with on their new Ninja.
For Lowes, who set a total of 104 laps today, his best time of 1'49.182 proved the strong pace of man and machine. He will now put all the pieces together with his crew to start the year in the best way possible.
This Motorland test was conducted in near ideal conditions, and alongside some of Kawasaki's 2021 WorldSBK rivals from Yamaha and BMW, plus some MotoGP machinery. Rea set the fastest pace even compared to the more powerful MotoGP bikes, with Lowes also ahead of the MotoGP prototype machines.
Kawasaki's latest Ninja ZX-10RR features engine, chassis and aerodynamic changes for 2021 including a higher rev ceiling and internal front winglets that generate significant extra downforce at high speed.
The first round of the FIM Superbike World Championship will be held at Motorland Aragon from 21-23 May. It will be followed one week later by the second round at Estoril in Portugal, between 28-30 May.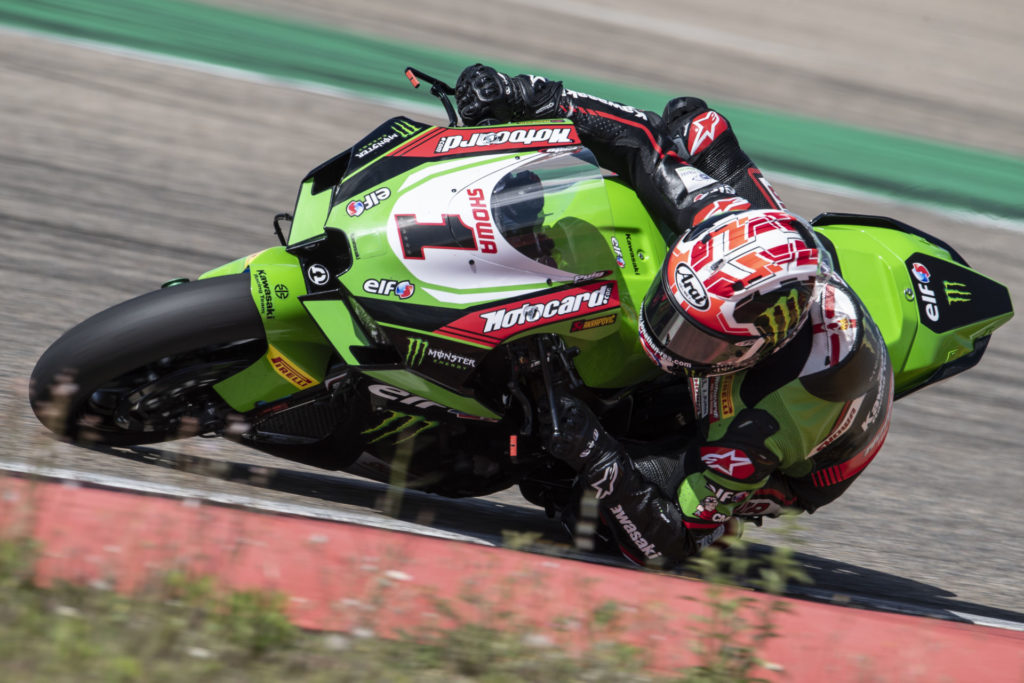 Jonathan Rea, stated: "I am super-content with this test. We managed to tick everything off the list we had, which we prioritised with race simulations. I did one each day, at the time of day the races will be held – in fact we left them a little bit later, to the peak of the temperatures at 3pm. We expect the race weekend will be a little bit hotter than it is now. We have a lot of good information about those. I used both rear tyre options, so we have a lot of good information. Step-by-step we worked some more on my riding, some electronic items. But, more so myself, getting a rhythm and understanding how the tyre behaves over a lot of laps and setting up electronic strategies to utilise during the race. I want to thank the guys because they rebuilt the bike completely as we have been trying to understand where there has been some issues coming. So to rule everything out they have built me a completely new bike and they worked tirelessly. Kudos to all the team staff for this whole winter test programme. It has been very busy but I am looking forward to going to round one in a few weeks' time and seeing where we stack up."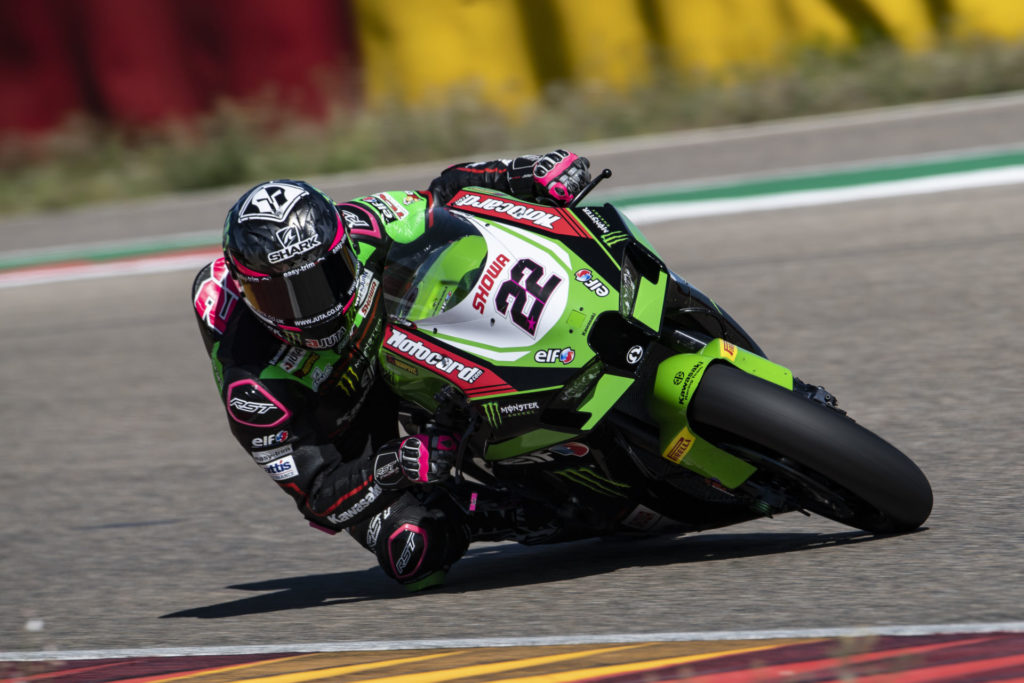 Alex Lowes, stated: "That was a good test for me. One of the main targets for today was to improve my feeling with the electronics on the bike. We did two race simulations this afternoon in hot conditions when the track, in theory, has the least grip. We were trying to find a better feeling with the bike. Overall I am really happy. We didn't piece the whole bike together but now we have a couple of weeks to check the data and put our favourite feelings together and start the party for round one! 104 laps is maybe not the most I have done on one day on the Kawasaki but I had a smile on my face for all of them, so that is the main thing."
Pere Riba, Crew Chief for Jonathan Rea, stated: "We have used two complete days here in Aragon and with the new rules about testing this is maybe a lot. But we decided to make good preparations for the first race and immediately after Aragon is Estoril, and then the next one after that is quite close. So we wanted to make a base and confirm some things from the previous test. All has been going very well. On day one we focused on testing and confirming these small items, on the chassis side a kind of link with a little bit different character that we have been testing all winter. It has been confirmed and we are happy with the result. Johnny is very happy. We also made the final points with the electronics, working a lot with torque delivery to give the best feeling for JR, and to make a long run with the whole package. Yesterday we made a long run with an SC0 rear tyre, and it was very, very positive. He was very fast and consistent, and happy with the feeling on the bike. Today we focused on making a fast lap time and Johnny made the fastest lap time ever in Aragon. He improved two-tenths compared to last year. We made a second long run on a softer tyre on the final day too. Johnny is very happy, he is 'talking' very deeply with the bike and we are ready for the first race."
Marcel Duinker, Crew Chief for Alex Lowes, stated: "We had a good test at Motorland and Alex was very happy. The conditions were fantastic and we used the full two days to make ourselves ready for the first race weekend. We simulated some parts of a race weekend, and of course several long runs and race distances were included. This is the time to fine-tune our bike for real races. We have a clear opinion about our bike in hot and slippery conditions and a clear opinion about the tyres. We are ready for race weekend after our positive experience over two days here."
More, from a press release issued by Yamaha:
Pata Yamaha with Brixx WorldSBK Completes Pre-Season Testing at Aragón
Yamaha's young rider line-up of Toprak Razgatlıoğlu and Andrea Locatelli signed off their 2021 FIM Superbike World Championship preparations with two constructive days of testing at MotorLand Aragón, in picture-perfect weather conditions this week.
Completing a combined total of nearly 350 laps, both 24-year-old riders put the finishing touches on their Yamaha R1 WorldSBK machines ahead of the season-opener at the Alcañiz venue, due to take place on 21-23 May.
The third Aragón test came as an additional fixture on the Pata Yamaha with Brixx WorldSBK planner, following inclement weather for Locatelli last week and Razgatlıoğlu's absence from the team test programme in April following his diagnosis with Covid-19.
An eager Razgatlıoğlu re-joined his crew ahead of his second season on the #54 Yamaha R1 WorldSBK with a clean bill of health after undergoing precautionary medical checks in Barcelona on Monday.
For 2020 WorldSSP Champion Locatelli, the test was an important opportunity to take another step forward in his understanding of the R1 WorldSBK before his first race start in the premier class later this month.
The team worked on a mixture of race-length simulations, outright pace and final developments to end pre-season testing in an optimistic frame of mind ahead of the first round of the campaign. Locatelli and Razgatlıoğlu will next don their Pata Yamaha with Brixx WorldSBK leathers, race helmets, boots and gloves for Free Practice 1 on Friday 21 May.
Toprak Razgatlıoğlu: 1'49.763 / 175 laps
"I was excited to be back on my Yamaha R1 after a long wait! Day one was ok, I enjoyed riding a lot, but day two was a positive improvement after we tried some new parts to find a good set-up for the first race. I felt the lap times were coming really good on the race tyres, but as always we will have to see what happens in the races. I think this year I am more strong, last year I was not fast at this track but this time I have improved physically and mentally. The conditions have been quite hot, and to test some new parts in these conditions and find some improvements is good preparation. Now we must put together the best package, but I am happy to be back and I feel ready for the first race."
Andrea Locatelli: 1'50.702 / 174 laps
"It was better on day two compared to day one and in general, the feeling of my R1 is good. We have worked a lot and tried different set-ups, we also did a long run to understand the performance over a race distance. It was very good for me to do this because it's important, but also it has not been easy for Yamaha on this track in the past so I want to work and push to understand where I can improve. The last test here was not so good for me, but now the feeling is better, like I had at Barcelona or Misano. I know my first race in WorldSBK will not be easy, this I expect, but I want to learn and to improve. During the race weekend we have a lot less track time, but maybe I can follow other riders and learn more – and then maybe on Saturday during the first race I can be in a position to fight a little bit. The weekend of the first race, with the emotion and energy, for sure will push me more compared to testing!"
Paul Denning – Team Principal
"Aragón's weather was much kinder for this test, we had two beautiful sunny days and the opportunity to put in over 1,750 kilometres and improve our performance at this circuit. It was really good to have Toprak back on the bike after his enforced absence and immediately he was able to find his rhythm and significantly improve his performance potential at MotorLand Aragón compared to last year's race event, both on the Pirelli SC0 race tyre and the SCX sprint race tyre. The race simulation this afternoon wasn't quite as good as we had hoped, but was still an improvement on 2020 and has given us some really important information for the next steps. It was great to have Toprak around the team again, in positive spirits and we can't wait to see him perform under race conditions again on the Yamaha R1. As a rookie in the WorldSBK class, there's a lot to learn for Loka and his third visit to Aragón was the best test so far. It's a tough balance when a rider has to learn how to get the best from the superbike in terms of technique, and also improve the machine from a technical point of view. Finally this afternoon, the guys found some points that helped him to improve his style and the race simulation was quite encouraging in terms of pace and consistency. We know that Aragón is going to be a challenging event to start the 2021 WorldSBK Championship but, with the great support of Yamaha and the whole group around the team, every possible effort has been made and we're looking forward to getting back here to see what we can achieve!"