Strong Jerez Test For KRT
Kawasaki Racing Team riders Jonathan Rea and Alex Lowes have completed their latest winter test at Jerez in successful fashion. Rea left the 4.423km long circuit with the fastest time of all and Lowes took another big step toward finalising his base settings for the 2022 season.
Lowes rode in the afternoons of both available days of the tests. He set the fastest pace on the opening day as he worked mostly on the front end set-up of his Ninja ZX-10RR.
Lowes put in 41 laps on day one and 59 on day two. He would end up second quickest of all, with just Rea ahead of him.
Jonathan did not ride on day one of the tests, nor the second morning, but used the final afternoon to reconfirm some set-up items. He also tried out some new Pirelli tyres and completed a confidence-boosting long run.
Despite his busy schedule Rea still set a blistering time of 1'38.851 on the 57th lap of the 61 he set in just four hours of track action.
Dry weather conditions helped the KRT staff in their testing work; with just periods of wind to contend with under sunny skies in the extreme south west of Spain.
Lucas Mahias (Kawasaki Puccetti Racing) rode both days on his Kawasaki Ninja ZX-10RR, and placed fifth fastest after setting 127 laps in all.
The next KRT pre-season test will take place at the Autodromo Internacional do Algarve, in Portugal, between 8 – 9 February.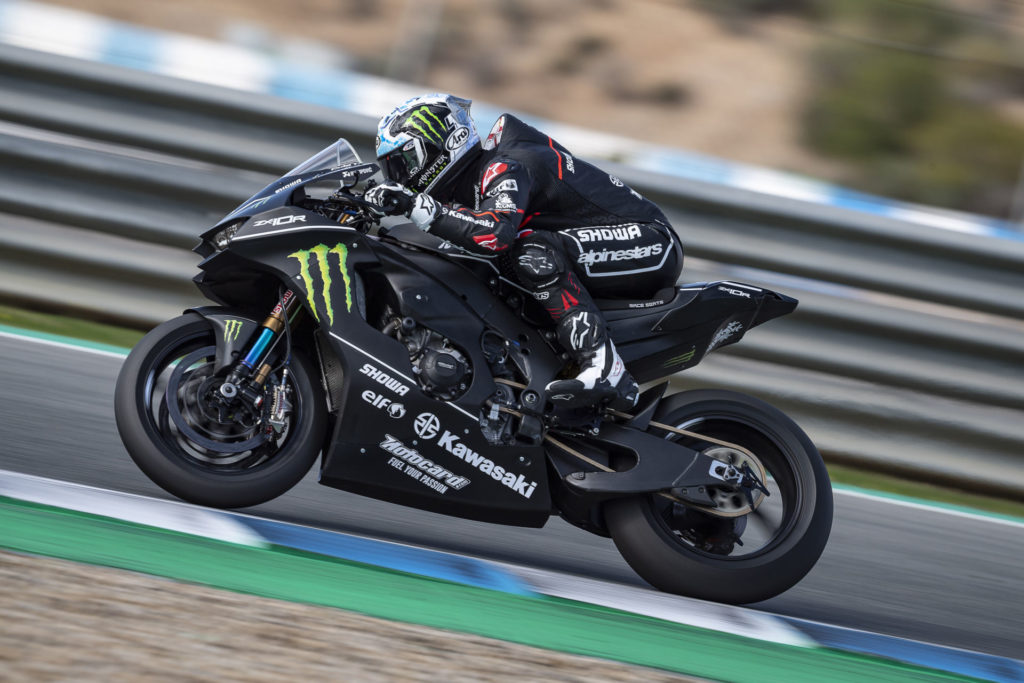 Jonathan Rea, stated: "Times and positions don't really matter at this time of the year but it was really nice to get back on the bike. I had felt OK on the bike, and very fast, in the December test. But physically I was not so good after a lot of holiday time at home in the off-season. But after starting my winter training programme with my coach before Christmas I felt much better with the bike. Already we did a race simulation. Because we have some new items on the bike we need to test them with a long run. I was reluctant to do that but when we concluded I felt quite positive. We tested some chassis items here and Pirelli brought a new variation of tyre to try. We had some new electronic items as well. Now we need to re-test again at another track. We will be back in Portimao at the beginning of February. I am excited to go there and see how the 2022 version of our Ninja ZX-10RR works there."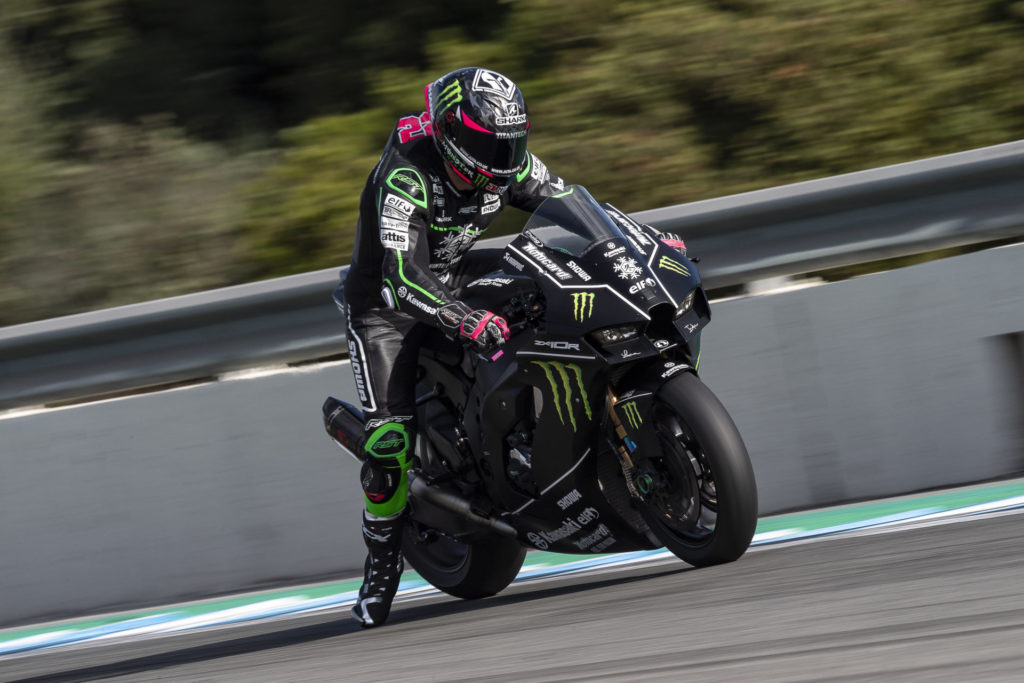 Alex Lowes, stated: "The final day was busy. We had a lot of things to try to get through today, but in an afternoon it was not easy. Some things were better and some things need more attention, but on the electronics side the idea was to go back a few steps to go forward with some of the things I have been struggling with. It was good to get all that information to the guys. Now they will have to work hard before the next test to make a step forward, but it was good test. On the front of the bike we made some modification, with the Showa forks and chassis settings. It felt better, especially entering the corners. In the next test we will focus a bit more on the rear. I enjoyed being back on my bike, and working with the team again was good. I am more happy today than I was yesterday."
Pere Riba, Crew Chief for Jonathan Rea, stated: "The test was short, because we only did half a day today and did not ride on day one. We did four hours in all. We focused mainly on the chassis side, because we are reconfirming things we did in December and comparing them with new items we built since the previous test. Johnny feels very positive, he is working very well, and the lap times were very strong. We did a long run and the result was positive. Johnny did a great, great job. We tested a new tyre for Pirelli and took some first information about the new electronics strategy. We are pleased with the result and now all the guys are looking forward to go to Portimao for the next test."
Marcel Duinker, Crew Chief for Alex Lowes, stated: "We had quite a few items on our test programme, most of which had been at the December test. But if you renew your machine's character you have to do more than one test. We were not looking for a perfect set-up to race right now but once we achieved an acceptable pace we started to follow on our test programme. I would say that around 90% of our test items were positive, so it was a very efficient test. Johnny was incredibly fast but we were not looking for the perfect race set-up we just needed to test all our items. We can go to Portimao with quite a lot of confidence. We still have quite a lot of testing days in front of us, but already we can define our race bike specification for around 95% for the start of the season."