Razgatlioglu vs Gerloff: Turkish star heads Yamaha 1-2 as Navarra test concludes
WorldSBK stars took to Navarra on Day 2 for one last time with the top three covered by just 0.093s
The 2021 MOTUL FIM Superbike World Championship may well be underway but crucial testing has been undertaken at the Circuito Navarra, a new venue on the calendar for this season. In the north of Spain in Los Arcos, the all-new venue for WorldSBK welcomed day two testing action and it was once again a Yamaha on top with Toprak Razgatlioglu (Pata Yamaha with BRIXX WorldSBK) blasting to the top, whilst Garrett Gerloff (GRT Yamaha WorldSBK Team) made it a Yamaha 1-2.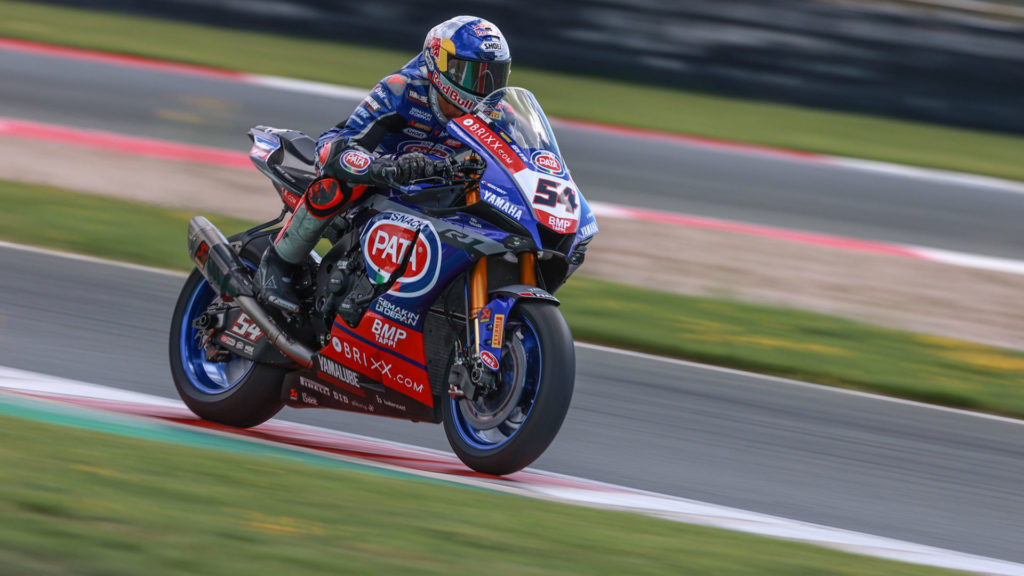 YAMAHA DOMINANCE
Toprak Razgatlioglu was able to strike back in the afternoon running as he took his Yamaha YZF-R1 to top spot, having worked tirelessly over the two days on rider specific internals, with some items on his machine. A small bit of drama in the morning when he ran out of fuel but that didn't dampen the Turk's spirits as he completed an astonishing 190 laps. He wasn't the only one to suffer from running out of fuel as teammate Andrea Locatelli also suffered a similar fate. Locatelli did briefly top the timesheets just before lunch but finished the test early after a positive two-day test where the bike kept getting better and better. Toprak topped the timesheets whilst Locatelli concluded running in fourth.
Making it a Yamaha 1-2 in the test was American Garrett Gerloff (GRT Yamaha WorldSBK Team), with Yamaha dominant at Circuito Navarra. Gerloff was working across the two days on an array of things, from set-up to configuration, aiming to refine the set-up on the 2021 motorcycle. It was difficult test on the other side of the garage for Kohta Nozane (GRT Yamaha WorldSBK Team), who after a crash on day one – which left him with a micro-fracture to his middle finger on his right hand – sat out day two and was replaced by substitute Niccolo Canepa. Canepa was developing some parts and concluded the test in ninth place overall.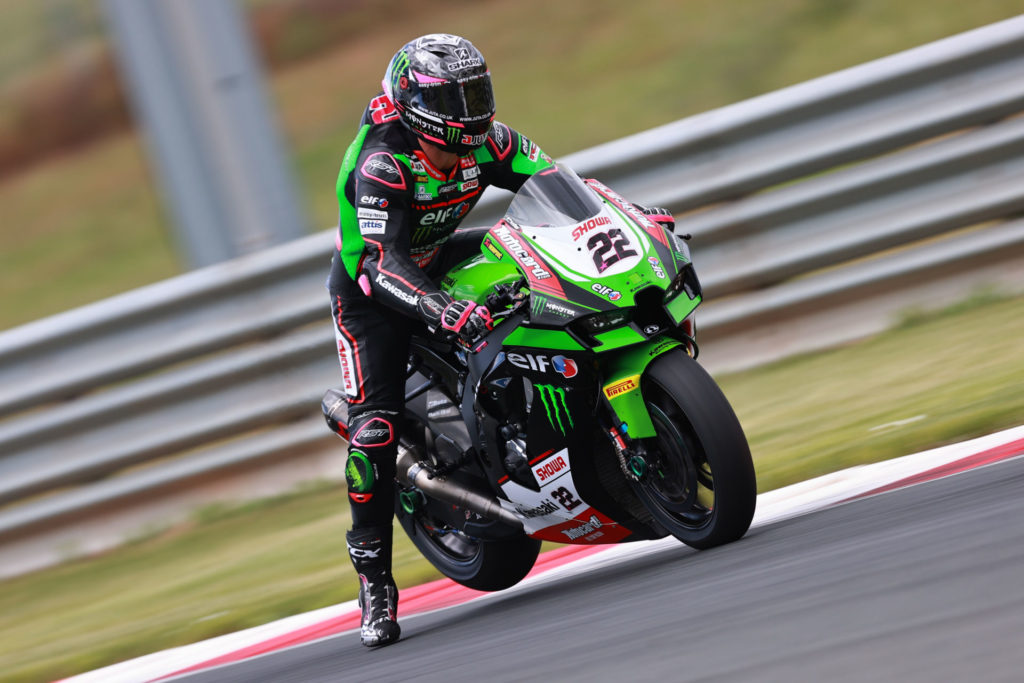 KAWASAKI IN TOUCH
Further down the pitlane and it was an early end to proceedings for Jonathan Rea (Kawasaki Racing Team WorldSBK) and teammate Alex Lowes, making their debut at Navarra. They packed up at midday to save their remaining testing for other times. Rea was working on improving the base-setting of the bike at the Los Arcos venue, whilst Lowes was working more for Donington Park set-up. Rea led the way periodically and finished up in third, whilst Lowes overcame three crashes – Turn 13, Turn 9 and ferociously fast at Turn 1 – to complete the top five on the end of day times.
BMW and the rest of the field
Also finishing up at midday was the BMW Motorrad WorldSBK Team, as Tom Sykes and Michael van der Mark continued to work on a variety of areas of the new BMW M 1000 RR. The team worked on suspension settings across the day and focused on getting the bike set up as it would happen in a race weekend. However, they were left wanting more after day one when their chassis solutions didn't give the expected results. For van der Mark, he finished sixth and said his side of the garage is still aiming to make the bike stop and turn better, whilst Sykes was seventh and pretty pleased with a productive test in northern Spain. For the Independent BMW of Jonas Folger (Bonovo MGM Racing), he was eighth and found the new chassis to offer better braking stability, whilst he was left wanting more grip. Overall, he commented on the new chassis have more good points than bad.
Finishing on day one, Team HRC weren't present at Navarra on day two, but they had plenty to test as both Alvaro Bautista and Leon Haslam worked on electronic solutions, whilst also waiting for feedback from Japan about the base set-up of a bike. Combined, the riders completed over 150 laps, crucial data for WorldSBK's first ever visit to Navarra in August.
WorldSSP: AEGERTER ON A MISSION
In World Supersport, it was Dominique Aegerter (Ten Kate Racing Yamaha) who once more showed his strength and prowess, completing a stunning 93 laps on his way to the top of the WorldSSP times. The Swiss rider tested suspension, clutch, and electronic set-ups, as well as different gearings on day one and refined small details on day two. Teammate Galang Hendra Pratama completed 69 and the Indonesian built on his feeling at the track across the two days.
Day 2 results with total number of laps across the two days (each day separated in brackets):
1 Toprak Razgatlioglu (Pata Yamaha with BRIXX WorldSBK) 1'36.877 – 190 laps (Day 1: 97, Day 2: 93)
2. Garrett Gerloff (GRT Yamaha WorldSBK Team) +0.048s – 140 laps (Day 1: 74, Day 2: 66)
3. Jonathan Rea (Kawasaki Racing Team WorldSBK) +0.093s – 112 laps (Day 1: 67, Day 2: 45)
4. Andrea Locatelli (Pata Yamaha with BRIXX WorldSBK +0.174s – 138 laps (Day 1: 85, Day 2: 53)
5. Alex Lowes (Kawasaki Racing Team WorldSBK) +0.486s – 110 laps (Day 1: 63, Day 2: 47)
6. Michael van der Mark (BMW Motorrad WorldSBK Team) +0.710s – 138 laps (Day 1: 78, Day 2: 60)
7. Tom Sykes (BMW Motorrad WorldSBK Team) +1.023s – 128 laps (Day 1: 85, Day 2: 43)
8. Jonas Folger (Bonovo MGM Racing) +2.153s – 106 laps (Day 1: 52, Day 2: 54)
9. Niccolo Canepa (GRT Yamaha WorldSBK Team) +3.883s – 47 laps (Day 2 only)
More, from a press release issued by Team HRC:
Non-stop work for Team HRC during a useful test session at Navarra
Just a few days after the conclusion of the Italian round of the WorldSBK Championship, Team HRC set off for Navarra, one of three new circuits appearing on the Superbike calendar for the first time this year.
The team planned to use the test to collate data and find a base set-up for the bikes at the circuit that will host round 7 over the weekend of 20-22 August, as well as continue with the ongoing development of the CBR1000RR-R FIREBLADES ridden by Alvaro Bautista and Leon Haslam.
Having got through its initial work programme swiftly and smoothly, the team decided to continue non-stop for the entire day, completing tasks that it had originally planned to address over two half-day sessions.
The track action ended at around 5.00pm as a result of a rain shower that, albeit brief, left the track wet.
Team HRC will be back on track for the season's fourth round, scheduled to take place at Donington Park (UK) on 2-4 July.
Alvaro Bautista  19
"Today we used the time we had to understand the Navarra track and collect some references for when we return for the races. The circuit is very small and narrow, with a lot of first gear turns. It is definitely different from what we are used to and challenging because it's not easy to tackle with a superbike. Another aspect is the asphalt, which is very bumpy, so all in all I think it will be a demanding round. I'm happy we had this test because, in addition to working on the bike set-up for this layout, we also did some electronics testing which we needed to complete, despite having to stop about an hour early because of the rain. It was definitely a useful test, and now we look forward to the next round at Donington Park."
Leon Haslam  91
"We had to finish the test session a little early because I had a small crash with around one and a half hours to go and once the bike was ready, the rain came. So, we missed the last hour of track time, but we tested many of the items we wanted to try. The track is obviously very different to most others. It's quite bumpy and reminds me of some of the old English tracks but, honestly, I think it will be a fun one to ride. For sure we have collected some positive information during this test."
More, from a press release issued by Kawasaki:
Useful Navarra Test Sessions For KRT
Kawasaki Racing Team's riders Jonathan Rea and Alex Lowes had another new experience to add to their bank of WorldSBK knowledge on the new Ninja ZX-10RR thanks to a confidence-building two day test session at the Circuito de Navarra.
Although controlling their track time to save on their limited number of testing days available in 2021 both Rea and Lowes learned valuable lessons at the 3.933km long Navarra circuit in Northern Spain. These will prove useful when the championship itself visits a track that will be an all-new one on the WorldSBK calendar this year.
Rea concentrated on making sure both he and his Ninja ZX-10RR would arrive at Navarra for race weekend ready to put in the best performance possible, rather than pushing for a fast time at this particular test.
In his first experience of this relatively new circuit in Spain Rea found it challenging and fun to ride, with all kinds of corners and a greater change of elevation in some sectors than he had been expecting. After the first day he changed his riding approach and found benefits on a track neither he nor the team had any data for until this test.
For Lowes this 'mid-season' test was an important one to allow him and his technical crew to try some new things based on the experience of the first three rounds on the new Ninja ZX-10RR. He was able to set fast early times, but fell twice on day two. Unhurt, Alex's confidence was not dented and he now looks forward to his home round in the UK in early July, and the return to Navarra to race there later this summer.
In the overall timesheets after day two Rea was third quickest with a best lap time of 1'36.970, putting him just 0.093 seconds from the fastest time. Lowes was fifth overall, with a 1'37.343 best lap.
After the first three rounds of the FIM Superbike World Championship and now this Navarra test have been completed the next points-scoring round will take place at Donington Park in the UK, between 2-4 July. It is the first home race for both Jonathan and Alex in two years, after the cancellation of the planned 2020 Donington event.
Jonathan Rea, stated: "It has been a really positive two days. I learned the circuit and it is a very difficult circuit to go fast at, to be fair. It has lots of little intricacies and challenges. From a technical point of view it is very challenging. I enjoyed working it out. On day one I learned the track quite quickly but I wasn't comfortable to keep pushing the bike. On day two I woke up after sleeping on all my feelings and the data we gathered on day one, and I was able to be quite fast straight away. I carried that rhythm through. We found a lot of valuable information that will be good for race weekend and it will definitely allow us to make a shortcut in our set-up time when we start out in free practice one. This track has some mixtures of everything. Some super-fast corners but also some very tight and twisty sections in sectors two and three. The race is going to be a nice one. The main priority here was to learn and I am looking forward to Donington now for our next race weekend."
Alex Lowes, stated: "I really enjoyed the Navarra circuit in my first time there. I had a good feeling on the bike and I was able to try everything that I wanted to and with a couple of things we tried on corner entry we were partly thinking about Donington, which is our next race. This was also positive. Unfortunately today I had a couple of crashes; made a couple of mistakes. Apart from that, it has been a great test. I leave here happy with the bike, enjoying the Ninja ZX-10RR, and it was a really good test for us. That gives me some confidence going into the next round, which is my home round at Donington Park. So we are really happy."
Pere Riba, Crew Chief for Jonathan Rea, stated: "The test has been positive. Yesterday we did a half day on track. Johnny was learning the layout and where the most important places were. It is a very different track to ride compared to the ones we are used to. Also, technically, we started to collect information because this is an all new track for us. We had no data, nothing. We found the base but day one was not an easy day because it was a very different track, very bumpy. But we did the job. Today we kept focusing on the most important points and leave here with some base settings to start the race weekend in Navarra. Finally, Johnny was fast with the SC0 tyre and also on the SCX tyre he was strong. Considering we did a half day yesterday and a half day today I think we are in a good place to start the race weekend."
Marcel Duinker, Crew Chief for Alex Lowes, stated: "This was the first time we had been to Navarra and the target was to learn the track as much as possible, and of course to prepare ourselves for the race in August. From the very beginning Alex was fast, one of the fastest on track, and he learned the layout very quickly. We also confirmed our base set-up was working well here. Of course we also tested a few items. After three rounds of the season we know more or less where to improve. So we did a couple of small tests on the bike which worked out very positively. On the second day Alex had two crashes, which can happen; it is part of the job sometimes. But we also reached our target of confirming our machine set-up for race weekend. Overall it has been a really positive test here. Now we can switch off for a couple of days and get ready for Donington and the next round."