More, from a press release issued by Dorna WorldSBK Press Office:
Home hero Rinaldi claims stunning Race 1 victory at Misano
In front of fans for the first time in 2021, local hero Michael Ruben Rinaldi claimed his first victory on the factory Ducati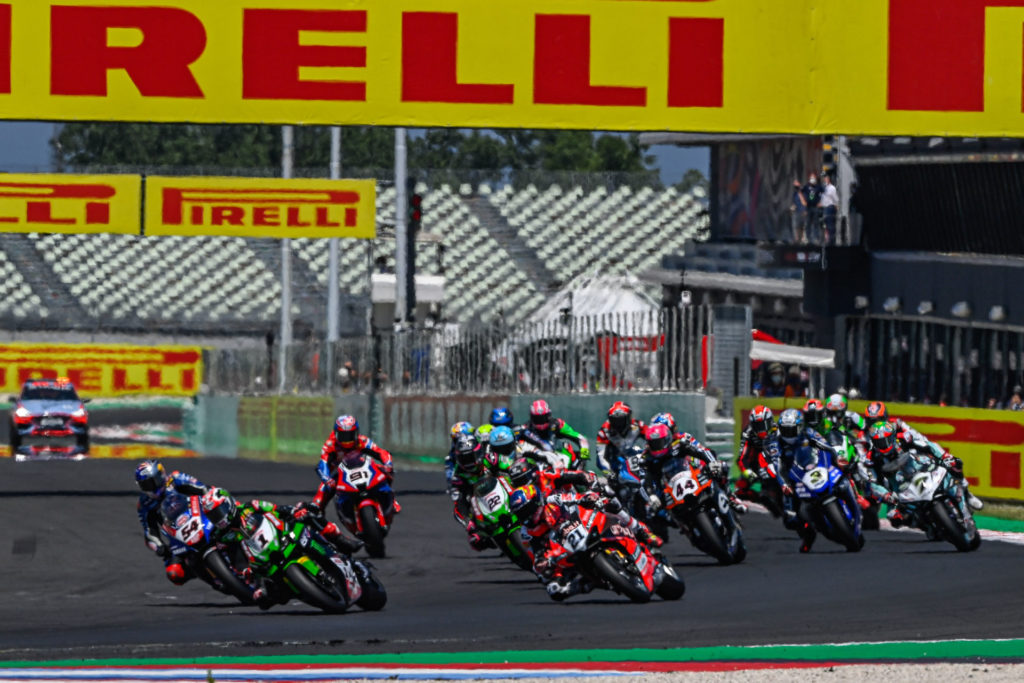 The action kicked off almost immediately at the Misano World Circuit "Marco Simoncelli" for the Pirelli Made in Italy Emilia-Romagna as Michael Ruben Rinaldi (Aruba.it Racing – Ducati) claimed an emotional victory in front of fans in the MOTUL FIM Superbike World Championship to claim the second win of his career, and the first on the factory Ducati.
Michael Ruben Rinaldi got a superb start as the lights went out to start the race, first passing Toprak Razgatlioglu (Pata Yamaha with BRIXX WorldSBK) as well as teammate Scott Redding, before sweeping around the outside of Turn 1 on reigning Champion Jonathan Rea (Kawasaki Racing Team WorldSBK).
Rea tried to defend on the outside of the left-hander of Turn 2, which forced Rinaldi around the outside of the next corner but allowed Turkish star Razgatlioglu to take advantage to briefly take the lead of the race. Soon, Rinaldi made his move on Rea to take the lead but was unable to build up a gap.
Rinaldi resisted all pressure from the six-time World Champion Rea in the first ten laps of the race, with the gap fluctuating up to a maximum of half-a-second but with Rea not able to even consider making a move on the race leader. It was a similar story throughout as the two riders looked to apply pressure to each other.
The pressure would eventually pay off for Rinaldi when Rea made a rare mistake at Turn 1, having to save a massive slide on his ZX-10RR; Rea was able to stay on his machine but lost time to Rinaldi as well as second place to Razgatlioglu, the pair around four seconds behind home hero Rinaldi. It meant Rinaldi became the first Italian winner at Misano since Marco Melandri in 2017. Rea's podium meant he claimed his 150th podium with Kawasaki, while it was Kawasaki's 350th race on the podium.
It meant the podium would finish with Rinaldi claiming a maiden factory Ducati victory after a difficult start to the 2021 season with his new team, with Razgatlioglu and Rea completing the podium. Redding, who initially tried to grab the lead in the opening corners of the race, was not close enough to Rea to take advantage of his error.
Alex Lowes (Kawasaki Racing Team WorldSBK) claimed fifth place on his Kawasaki ZX-10RR, just finishing ahead of Team HRC's Alvaro Bautista after the Spanish rider showed strong pace throughout the weekend. Less than a second behind was rookie and the youngest rider on the grid, Axel Bassani (Motocorsa Racing), with Tom Sykes (BMW Motorrad WorldSBK Team) in eighth. Bautista, Sykes and Bassani engaged in a titanic three-way battle for sixth place, with Sykes holding on until the penultimate lap of the race.
Italian rider Andrea Locatelli (Pata Yamaha with BRIXX WorldSBK) claimed a ninth-place finish after a quiet but solid race battling his way up the order, finishing ahead of the rider he replaced at Pata Yamaha as Michael van der Mark (BMW Motorrad WorldSBK Team) completed the top ten.
After a strong Tissot Superpole session, Lucas Mahias (Kawasaki Puccetti Racing) came home in 11th place while Garrett Gerloff (GRT Yamaha WorldSBK Team) battled from the pitlane, starting there after being sanctioned for a crash with Rinaldi at Estoril, to finish in 12th place. Kohta Nozane (GRT Yamaha WorldSBK Team) and Leon Haslam (Team HRC) engaged in a battle for the majority of the second half of the race, with the Japanese rookie coming out on top in that battle; Nozane finishing 13th and Haslam 14th. Tito Rabat (Barni Racing Team) completed the points paying positions with 15th. Haslam and Gerloff were the only two riders to use the standard SCX tyre provided by Pirelli, with the other 19 opting to use the development SCX solution for Race 1.
Jonas Folger (Bonovo MGM Action) just missed out on a points finish at Misano, finishing just 0.161s behind Rabat in 16th place, with Isaac Viñales (Orelac Racing VerdNatura) in 17th place, nine seconds behind Folger. Frenchman Christophe Ponsson (Alstare Yamaha) was 18th with TPR Team Pedercini Racing duo Samuele Cavalieri and Loris Cresson rounding out the classified finishers. Chaz Davies (Team GoEleven) had been running in the top ten when he had a crash at Turn 4 at the Italian venue, meaning the British rider was unable to re-join the race.
P1 Michael Ruben Rinaldi (Aruba.it Racing – Ducati)
"I'm really happy because I can't believe it… Sorry, I can't believe it. I'm really happy. My house is 20 minutes from here and to win here in WorldSBK is unbelievable. We didn't do a great start of the season but we worked hard. And it was tough in the beginning of the race. Then it was difficult to keep the pace without anybody behind me but I'm really happy. I can't ask for better. Thank you to my team, thank you to Ducati and thank you to the fans, thank you"
P2 Toprak Razgatlioglu (Pata Yamaha with BRIXX WorldSBK)
"First laps, I didn't have a good feeling on the bike. And after I felt too much sliding in the rear tyre. But I tried to finish in a good position. But we are happy, again on the podium. And very important also, I take good points for the Championship. We are happy. Tomorrow also we try a different setup maybe a different tyre for a good race and we will see tomorrow. Thank you very much"
P3 Jonathan Rea (Kawasaki Racing Team WorldSBK)
"I don't know (how I saved that crash). I would like to say I was learning from Marc Marquez but in reality it was complete luck. I felt the tyre go but I pushed into the tyre and pushed my knee. I show you my knee. Completely off the bike. It's lucky! Thank God, he was really looking down at me there. But we did a good job. I think the time I lost in this moment was the finishing gap. I was struggling with some areas of the bike so I look forward to tomorrow. I'll try and improve and fight with Michael but congratulations to him, he did an incredible race… So I'll try to be back here tomorrow!"
More, from a press release issued by Kawasaki:
Rea Takes Landmark Podium
KRT rider Jonathan Rea secured his seventh podium in succession with a third place in Race One at Misano while his fellow KRT rider Alex Lowes rode a controlled race in hot conditions to take fifth place.
The opening FIM Superbike World Championship race at Misano in Italy was held in hot conditions, with track temperatures of over 50°C proving a challenge for all 22 riders on the grid.
On the new Kawasaki Ninja ZX-10RR championship leader Jonathan Rea was sitting behind eventual race winner and long time leader Michael Ruben Rinaldi until Jonathan suffered a front end slide that almost caused him to crash. He held the bike up on his knee-slider and did not crash but he lost his second place, eventually finishing third for his 150th Kawasaki WorldSBK podium visit.
He also set a new lap record of 1'34.476 on lap two, as he pushed the pace to try and break free of the leading group.
Earlier in the day Rea had taken his third Superpole win of the season, again at record pace, with a 1'33.416 lap time. This success gave him another landmark in his stellar WorldSBK career – 30 Superpole wins in all.
Starting Race One from sixth place after Superpole Lowes was to finish the day in fifth place after finding less front end confidence in the hot conditions than he expected. After a couple of slides from the front he concentrated on his overall race pace and consolidating his position to finish inside the top five.
Now Jonathan and Alex will face the ten-lap Tissot Superpole Race on Sunday 13 June, and then the final 21-lap Race Two later that same day.
Jonathan Rea, stated: "Saving a possible crash was more lucky than anything. I chose the new front tyre for this race. I used it in Superpole and felt quite good but we did not have a lot of information after ten laps in all. It seems like the temperature, especially in the race, meant I cooked the tyre too much. It started moving quite a lot. When I rejoined the track and had a gap up to Toprak it felt better, not perfect, but better. So tomorrow we need to revisit things to see if we can be fast with our 'normal' front tyre. The new one brought some confidence on the brakes but we need to be able to fight at the end of the race. My pace was still OK for the last laps but the moment I had in Turn One disturbed my rhythm and let Michael get away. He did fantastic today and the pace at the front was really good. I think tomorrow we can make a small step with the bike because I learned a lot from Michael and Toprak in Race One. Tomorrow we should be better prepared."
Alex Lowes, stated: "I was a lot worse than I expected today. In the practices I thought, 'I feel good,'. I set lots of good laps and changed the bike a little bit on the front. In the race I didn't have the feel I needed and from the first laps I was struggling with releasing the brake and carrying some corner speed. The front was moving a lot. I had a couple of warnings so I did not have the confidence to push like I expected. It was a shame because I hoped to be a bit faster but this was my first time racing here on the Kawasaki and obviously the temperatures came up for the race too. So we have good information for tomorrow."
Lucas Mahias (Kawasaki Puccetti Racing) secured a strong 11th place finish after starting from seventh place on the grid. Orelac Racing VerdNatura Kawasaki rider Isaac Vinales was 17th in Race One, mirroring his Superpole starting place. Samuele Cavalieri (TPR Team Pedercini Racing Kawasaki) was 19th in Race One and Loris Cresson (TPR Team Pedercini Racing Kawasaki) was 20th.
More, from a press release issued by Yamaha Racing:
Fifth Podium of the Season for Razgatlıoğlu in Misano Race 1
The competition was hotter than ever as Pata Yamaha with Brixx WorldSBK rider Toprak Razgatlıoğlu secured second position in Race 1 today at Misano World Circuit "Marco Simoncelli", the third round of the 2021 FIM Superbike World Championship.
After a near-perfect qualifying lap in this morning's Superpole session, 24-year-old Razgatlıoğlu had a clean start from second position on the grid, jostling with Kawasaki's Jonathan Rea and Ducati rider Michael Ruben Rinaldi for the lead in the opening lap. However, there were challenges to overcome in the Riviera Di Rimini heat.
It took a few laps for Razgatlıoğlu to gel with the balance of his R1 WorldSBK and the available track grip, in which time Rinaldi had taken off into the distance and the Pata Yamaha with Brixx WorldSBK rider found himself battling the other Ducati of Scott Redding for third place. A mistake by Rea on lap nine was an opportunity to recover to second position, which Razgatlıoğlu then fought hard to build upon until the chequered flag.
Razgatlıoğlu's fifth podium of 2021 so far sees him climb to 95 championship points in total, taking a small bite out of Rea's overall lead (126 points) and helping to pull a gap to third-placed Redding on 85 points.
Local hero Andrea Locatelli improved from a disappointing pace on Friday to set the 11th fastest time in the 15-minute Superpole session, meaning he started Race 1 from the middle of the fourth row on the grid. With cheering fans in the grandstands for the first time in over 18 months, as some 5,000 spectators watch the WorldSBK action in person this weekend, the young Italian rode another consistent race to finish ninth, and has capacity to improve in tomorrow's races.
Pata Yamaha with Brixx WorldSBK will be back in action tomorrow morning with a short 15-minute Warm-Up at 9:00, followed by the no holds barred 10-lap Superpole Race at 11:00 (CEST) and Race 2 at 14:00, all in search for the team's first victory of the season, further podiums and crucial championship points.
Toprak Razgatlıoğlu: P2
"A good qualifying lap today, I started in second position and also finished in second position – but I am not fully happy with this race, because in the first laps I had too much sliding on corner entry with the rear tyre. I tried to stay with Jonathan and Rinaldi but it was not possible, because I was then fighting with Redding. But, I guess to finish P2 I can be happy as well because we take good points for the championship. Tomorrow, maybe I will try some changes to the set-up for the race because we need some improvement – Rinaldi is very fast – and we want to fight for the win. We need good points and position from the Superpole Race, and most important to be fighting for the win in the second race. We will try!"
Andrea Locatelli: P9
"Strange race weekend for me so far here in Misano, because the feeling yesterday was not so good – I lost some time yesterday in trying to understand the bike and the best set-up – and today it was better but also not easy. We tried to make the best result, but I am not really happy. We will try to improve for sure for tomorrow on the set-up of the bike, the feeling is already better and I think we can do more. Every race I need a little bit more time to understand the bike and also to take more confidence. In the end we will try to make a good result tomorrow, we will see. Tonight we will take time to look at the data and look at the right direction to take, but I am confident for tomorrow."
Paul Denning – Team Principal
"It was hot enough just on pit wall this afternoon, let alone to race hard for 21 laps! Often in those temperatures, there's some problems to overcome and a little bit of attrition. Toprak struggled a bit at the start with the bike balance, but regrouped very well to find his rhythm and his pace. When Rea nearly crashed, Toprak had enough composure and pace to take second position and pull away. Rinaldi was untouchable this afternoon, so we'll work to improve the package for Toprak tomorrow and try again for that first victory of the year! Loka's Race 1 was perhaps a mirror of his season so far, a good step forward compared to yesterday but missing a little outright pace to run with the group around fifth position. He showed great consistency as we've seen so far this year, and what he's learned today should allow for a decent improvement tomorrow."
More, from a press release issued by BMW Motorrad Motorsport WorldSBK Team:
Tough Saturday for BMW Motorrad Motorsport at Misano WorldSBK round.
Eighth place for Tom Sykes and tenth for Michael van der Mark in race one.
Jonas Folger misses out on the points by one tenth of a second, Eugene Laverty out of Superpole and the race following a crash.
Misano. The FIM Superbike World Championship (WorldSBK) is at Misano on the Italian Adriatic coast, this weekend for round three of the 2021 season. Saturday proved to be a difficult day for BMW Motorrad Motorsport. Tom Sykes (GBR) and Michael van der Mark (NED) from the BMW Motorrad WorldSBK Team ended the opening race in eighth and tenth place. Jonas Folger (GER / Bonovo MGM Racing) finished 16th, narrowly missing out on points. Eugene Laverty (IRL), riding for the Italian RC Squadra Corse team, was unable to take part in Superpole and race one following a crash in the morning's free practice session.
In Saturday morning's Superpole, Sykes finished fifth on his BMW M 1000 RR to secure a spot on the second row of the grid. Van der Mark was 13th, while Folger came home 15th in Superpole. In the race itself, Sykes was running in the top six until the penultimate lap. However, he then dropped two places. Right from the word go, van der Mark set his sights on the top ten, crossing the finish line in tenth place after 21 laps of racing. Folger was 16th, missing out on the points by just one-tenth of a second.
Fans are permitted in the grandstands at Misano for the first time this season. They were given a special welcome from the starting grid by Sykes, van der Mark, Folger and BMW Motorrad Motorsport Director Marc Bongers – with signs which said "Welcome back Fans. Bentornati."
Following his crash, Laverty was examined in the medical centre at the circuit and was not given the go-ahead to take his place in race one. He will now be examined again before the warm-up on Sunday morning when it will be decided whether or not he may take part in the Sunday sessions.
Quotes after race one at Misano.
Marc Bongers, BMW Motorrad Motorsport Director: "This Saturday was not our day. We definitely came here with greater expectations, but it emerged on Friday that we are not close to the podium places with both riders. Despite this, Tom still performed strongly. It was a shame that he was unable to hold on to sixth place in race one. In the case of Michael, it was clear yesterday and today that we were unable to really give him the right feeling. We will now analyse everything, but we cannot expect to make a really big jump forward by tomorrow. Despite this, we will try to get a top-six result. The only good news to come out of today is that Eugene is doing relatively well, despite his big crash this morning, and that he has not broken anything. That is the only positive news."
Shaun Muir, Team Principal BMW Motorrad WorldSBK Team: "It was a very difficult day for us. I think the P6 position Tom was holding would have been a strong result for us but in the end he did not have enough tyre to hold off Bautista and Bassani, so it's a shame he dropped to P8 as P6 would have been a good result for Tom. So, we will come back tomorrow, and we will fight again. Michael on the other hand really struggled; he didn't look comfortable on the bike and hasn't found the setting that he can attack with. And if he can't attack going through the fast flowing corners he loses so much time and ends up battling with the company he was with, so he needs to work hard with his crew overnight and see what we improve on. I think overall a little bit disappointing but we will come back stronger tomorrow and hopefully we can improve on these results."
Tom Sykes, BMW Motorrad WorldSBK Team: "We got a bad start to the race today and it definitely didn't help our track position. We are very strong in some areas of the track but with our package we still lose in the area where I normally could gain the most on people. I saw that Alvaro Bautista was coming strong in race one and I changed my way of riding while still maintaining a respectable lap time and just kept the door closed as long as I could but eventually he managed to get through and pushed me a little wide. I tried to cut back on him which was not achievable and as a result lost a further spot to Bassani. We didn't get what we hoped for today, but overall I feel we are improving our race performance and obviously we will go back to the drawing board tonight with a slightly different set up for tomorrow."
Michael van der Mark, BMW Motorrad WorldSBK Team: "I'm not really happy with the result. In this morning's FP3, we made a good step forward but unfortunately I did not feel as good in qualifying. So it was P13 on the grid. I had an okay start, but I especially struggled with the front. To be honest I was just riding around with a too slow pace. Now we have to sort out some problems; so we have a lot of work to do for tomorrow."
Jonas Folger, Bonovo MGM Racing: "Unfortunately, we did not find what we were hoping for this weekend in order to have a better feel. Our pace was not bad, but I simply don't have the trust in the bike to go for it in the opening laps. When I overtook Tito Rabat in the third-from-last corner, I unfortunately went wide. I just went for it, but unfortunately did not quite pull it off. Our times did improve, but it is still not what we were hoping for. Our goal was to finish in the top ten. Unfortunately, we were a long way off achieving that. It is a difficult time for us right now, but we are always trying to make the best of the situation."
Eugene Laverty, RC Squadra Corse: "Thank you everyone for the kind messages and support on social media and of course a big thank you to all the volunteers, especially the marshals who reacted so quick and the paramedics who took care about me after my crash this morning. Fortunately everything is okay. I have had some scans on my back and my neck, I am pretty stiff and it's not sure for tomorrow, but I have a medical check tomorrow morning, so let's wait and see if all is clear, so I can race again tomorrow."
More, from a press release issued by Barni Racing Team:
Rabat ended in P15 in Race 1 at Misano, the team is working hard to turn up the weekend
Misano Adriatico, 12 June 2021. The Barni Racing Team and Tito Rabat ended a complicated Saturday at the Misano World Circuit, third round of WorldSBK. In Race 1 the Spaniard conquered P15 after having qualified in P16 in the Superpole.
A result below expectations that came at the end of a tough day: despite a lot of work, the team and the rider were unable to find the right setup for the extremely hot conditions of the track.
Superpole
With the new rules of two Pirelli super soft tyres for qualifying Rabat stopped the clock at 1'35.156, half a second faster than his best lap in free practice, but not enough to get a good starting position. The Ducati Panigale V4 R #53 lined up on the sixth row of the grid for Race 1.
Race 1
After an excellent start, which brought Rabat to P14, the Barni Racing Team's rider had to give way to Haslam. Around the middle of the race Tito was passed also by Gerloff, but he managed to reach the points zone after Davies' crash, crossing the finish line in P15 and taking home one point in the championship standings.
More, from a press release issued by Aruba.it Racing Ducati:
#ITAWorldSBK Race-1. Michael Rinaldi enchants Misano and conquers his first victory with the Aruba.it Racing – Ducati team. Scott Redding finishes fourth after a not easy race.
A stunning triumph for Michael Ruben Rinaldi. The Italian rider takes his first victory with the Aruba.it Racing – Ducati team (second career win in WorldSBK) at the end of a race dominated from the first to the last lap.
Scott Redding grits his teeth and closes in fourth place without being able to be incisive.
Superpole
After the second place in FP3, Redding manages to get the front row at the end of the first qualifying session in which Pirelli provided riders with two "Q" tires.
Rinaldi seems to be able to take the pole position but a mistake in the second sector makes him lose two tenths of a second, forcing him to settle for the fourth place.
Race-1
Michael Rinaldi's start is simply spectacular. At the first corner he is already fighting with Rea (Kawasaki) for the first position and halfway through the first lap he takes the lead after having passed Razgatlioglu (Yamaha), too. Rea tries to stay glued but Rinaldi's race pace is much better and forces the Kawasaki rider to make a mistake. In the last laps Rinaldi manages the race without any pressure and then he takes his time to celebrate: first with the 5000 fans on the stands, then at the parc ferme with his team.
Despite a good start and a fight with Rea and Razgatlioglu for the second position in the first two laps, Scott Redding's race pace doesn't allow him to stick to the podium group
Michael Rinaldi (Aruba.it Racing – Ducati)
"Winning the home grand prix is a unique emotion. Today it was even more exciting due to the fans back on the stand after a long time: they are always able to give an extra motivation.
The race was long and difficult and I tried to find my pace. Then Rea's mistake while I was pushing hard allowed me to have less pressure. The smell of victory made the last two laps incredible for me. Now, however, maximum concentration on the two races tomorrow."
Scott Redding (Aruba.it Racing – Ducati #45)
"It was a very difficult race for me right from the start. The feeling with the bike was not ideal and I had to take a lot of risks to push in an attempt to stay with the leading group. At a certain point I preferred to think about taking some points rather than making a mistake. For tomorrow we definitely need to find more grip. We will work this evening with the team to understand which is the best direction to take".
More, from a press release issued by Team HRC:
Bautista a strong sixth in race 1 at Misano but seeks more on Sunday
Alvaro Bautista's sixth-place finish in the first WorldSBK race at the Misano World Circuit is his best result so far this season but it's not enough for the Spaniard, who wants more from Sunday's races. Leon Haslam is slowed by an electrical problem but crosses the line in fourteenth position.
Having closed twelfth and thirteenth in the combined FP3 sessions, the Team HRC headed into the all-important Superpole phase. Thanks to an update to the championship regulation regarding the yellow flag, Alvaro Bautista was able to complete at least one fast lap, after his first one was cancelled following a crash for Garrett Gerloff. The Spaniard thus set a best of 1'34.217 while Haslam's fastest time was a 1'34.520, which meant the Team HRC duo completed the session in ninth and twelfth position respectively, for a third and fourth row start for the weekend's first race.
As the race got underway at 2pm local time, Bautista held ninth through the initial laps, Haslam falling back a few places to find himself fifteenth. Both had made up two positions by the mid-race point, and the Spaniard continued to gain ground, battling with Sykes in the later stages to ultimately cross the line in sixth place and score ten important points for the championship. Haslam, who suffered an electrical problem with his bike, was unable to make further progress, and finished this first race of the weekend in fourteenth place.
Team HRC will be back on track tomorrow for the 10-lap Superpole race and the second of the weekend's 21-lap Superbike races.
Alvaro Bautista 19
RACE1 P6
"Sixth is our best result so far this season, but it's not what we're aiming for of course. We struggled a lot in this morning's FP3 and my feeling wasn't good, especially in braking. We made some changes for the qualifying session, in order to find more stability. We improved a little and although the feeling wasn't perfect, I could ride more comfortably. It was funny because after having my best lap at Estoril cancelled due to a yellow flag, the exact same thing happened today with my first qualifying tyre, when Gerloff crashed. Luckily, we now have a second tyre available and so I could do a decent lap, trying not to go over the limit. Starting from the third row of the grid was good because we were in a position to stick closer to the front, and our pace was good. But when I'm battling with other riders it's difficult to change my line and it's tough to overtake. Anyway, all in all it's been a positive day. We collected a lot of data and made some changes to the set-up that we must analyse and then see if we can build on this to improve further tomorrow".
Leon Haslam 91
RACE 1 P14
"For me it was a very difficult race. I made a good start but in the second sector of the track I came together with another rider and fell a long way back. I then made a little bit of headway but after a few laps we had an issue with a sensor and after this it was just really tough, as we were losing nearly one second every lap. In the end we finished the race with just two points, which is obviously frustrating, but tomorrow things will hopefully go better, and we will be able to score a better result".
More, from a press release issued by Team Go Eleven:
CRASH IN RACE 1, IT'S TIME TO RESET TODAY AND RESTART!
The Saturday of Team Go Eleven on the home track did not go in the best way; a crash in Race 1, while he was fighting for sixth position, forced Chaz to finish at the bottom of the standings.
After yesterday, the technicians made some changes both on the front and on the rear, to allow Chaz to find the right confidence with his Ducati V4 RS. In FP 3 the Welsh rider rode without taking too many risks, with the aim of evaluating the changes made during the night.
Superpole is always a very special session, because it affects the rest of the weekend and provides the starting grid for two of the three races scheduled. The number 7 was able to make good use of the first qualifying tyre, immediately placing himself in the top 10, in order to guarantee a good starting position for Race 1. He came back to the pits, quick tyre change and was immediately on the track again for the second time attack. Unfortunately, due to some traffic, he was unable to take advantage of the Q and improve his Best lap. Fourth row and tenth position on the starting grid.
Race 1 started with 48 degrees of asphalt, pushing almost all the riders to opt for the new Pirelli solution at the rear. Chaz had a good start, entering ninth position; in the first laps he managed to pass Bautista and Mahias without wasting too much time in the battle. He then launched in pursuit of Tom Sykes' BMW and Alex Lowes' Kawasaki, which were in sixth and fifth place respectively. The pace shown was not bad, in line to compete for the positions close to the podium. Unfortunately, towards the middle of the race, he crashed into turn 4, losing the front. Bike on the gravel and the race over, despite he managed to restart at the back of the group. A crash similar to yesterday's one in FP 2, but no consequences for the rider. The feeling, however, is still not the best and we felt the lack of testing on this track compared to the other Ducati riders. A quite big change is needed for tomorrow, to earn those few tenths that can make a difference!
Team Go Eleven congratulates with Michael Rinaldi and his team on their amazing win today. Great maturity and concentration, in a race 1 dominated from the first to the last lap: congratulations Michael, enjoy this day!
Chaz Davies (Rider):
"I am obviously disappointed of not finishing the Race. I was ok, in the average, for what concern the feeling for the first part of the race, then I started to have a little of vibration issue and struggling in a couple of areas. I tried to do my best to ride around the issue, but honestly I couldn't really find a way to do it. So I was just trying to find the pace, but then I crashed. I am more disappointed for the feeling, I didn't feel like anything was too good today and I don't have a good feeling with the bike too, here in Misano. So we need to understand exactly what's going on and we need to improve for tomorrow!"
Denis Sacchetti (Team Manager):
"Sometimes we celebrate and sometimes not, the important thing is to try always and in any case, and Chaz never backs down. Since yesterday we have been struggling with some problems that limit him, he can't ride as he wants, and we didn't expect to find ourselves in this condition on the Misano track. Here we were unable to take part to the winter tests due to Covid, and this certainly put us at a disadvantage, but we still have to try to collect the maximum. Now let's think about tomorrow, we still have two races to bring out the best! "
More, from a press release issued by GRT Yamaha WorldSBK Team:
Gerloff storms through the field, Nozane scores more points for GRT in Race 1
The second day at Misano of the FIM World Superbike Championship was, yet again, characterized by very high temperatures. Therefore, to make up for the lack of grip, the GRT Yamaha WorldSBK Team had to experiment with the setup of their R1s as well as with the new Pirelli tyre allocation.
The whole GRT team knew that race 1 would be an uphill battle no matter what, due to Garrett Gerloff's penalty: they knew, in fact, that he would have to start the race from the pit lane because of his collision with another rider in the last round at Estoril. Although, the team kept their cool, continued helping both riders improve their feeling with the bike, and allowed them to a run smooth and consistent Race 1.
Gerloff's Saturday had plenty of plot twists: after a solid 6th place (1'34.705) in the red-flagged Free Practice 3, the Texan crashed on his first lap during the Tissot Superpole and could not rejoin the session. As a consequence, he will be starting last in tomorrow morning's Superpole Race and will need to make yet another comeback. His day eventually ended on a positive note, as he was able to make his way through the field after starting Race 1 from the pit lane. He took the chequered flag in 12th place and set his personal best lap time (1'35.623) on the final lap, showing that his race pace is consistent even with high temperatures.
Kohta Nozane, instead, enjoyed a much smoother day on track and continued making steady progress. He was 14th in the morning's free practice session (1'35.323) and later qualified in the same position thanks to a 1'34.677. He then battled with HRC Honda's Leon Haslam for much of the afternoon's race and eventually got the best of the English rider, crossing the finish line in 13th. Tomorrow, Nozane hopes to improve further, but he will have to do so despite being demoted 6 positions on the starting grid of the Superpole Race. The Japanese, in fact, did not notice the red flag after it was exposed during this morning's FP3 and did not immediately slow down. Because of this, the Race Direction decided to penalize him.
Garrett Gerloff: 12th
"The race was definitely better than qualifying. My Superpole session was indeed quite bad as I crashed and wasn't able to continue before even setting a laptime. Anyway, it was good to switch into race mode and, even though I had to start from pit lane, it was good to complete all the laps and collect a lot of information for tomorrow. We will use this data to try to set up the bike a bit better. Overall, I am happy that I could keep it on two wheels, make some passes and collect some points, but I am definitely looking for more. I am ready for tomorrow."
Kohta Nozane: 13th
"In the Superpole I could improve my fastest time. I wanted to go even faster but I just couldn't. The final result is decent, but I feel more and more confident with my riding, with the new bike and with the team compared to the previous races in Aragón and Estoril. In the early stages of the race I could battle with Michael (Van der Mark) but towards the end I dropped back and couldn't keep up with him, which was negative. On the other hand, though, I could fight with Haslam: he would overtake me but I could always pass him back. This was a great step forward for me and it is the biggest positive I take away from today. Tomorrow there will be two more races: I will try to aim higher and do my best."
After the second day of on-track action at Misano, Gerloff lies 7th in the championship standings with 46 points, whereas his teammate is 16th with 14. On Sunday, the action will resume at 9 AM with the WarmUp, with the Superpole Race following at 11 AM and Race 2 at 2 PM, local time.