Editorial Note: Use the zoom and scrolling tools in the bottom left corner of the PDF viewer to better see all pages of the race results.
More, from a press release issued by Dorna WorldSBK Press Office:
#FRAWorldSBK – Day 3
Redding victorious in Race 2 to keep title chances alive, Rea finishes fourth
Rookie Scott Redding fights from fourth on the grid to take victory as he takes the title fight to the final round of 2020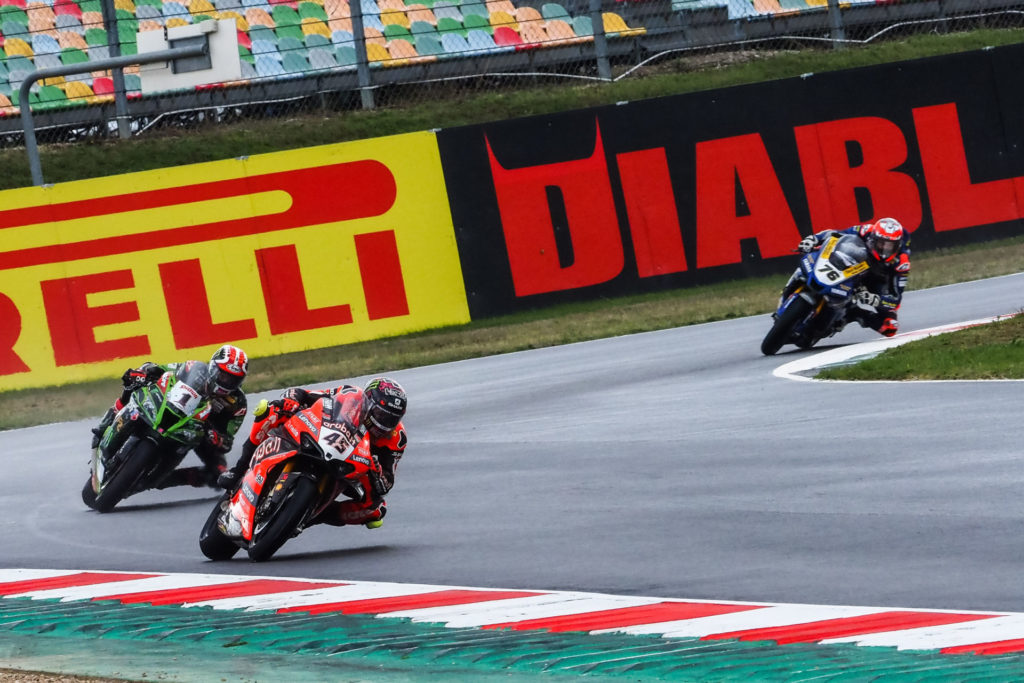 The fight for the 2020 MOTUL FIM Superbike World Championship will head to the season finale as Scott Redding (ARUBA.IT Racing – Ducati) claimed victory from fourth on the grid at the Circuit de Nevers Magny-Cours for the Pirelli French Round with Jonathan Rea (Kawasaki Racing Team WorldSBK) finishing in fourth after starting from pole position.
Rea had led from the start and for the first three laps of the race before Redding had made his way up to the lead battle and passed Rea on the fourth lap of the 21-lap race to take the lead; Redding would go on to dominate the race to take a valuable 25 points in the Championship battle. Redding was joined on the podium by Loris Baz (Ten Kate Racing Yamaha) as the home hero claimed his second podium of the French Round, with Chaz Davies (ARUBA.IT Racing – Ducati) competing the podium.
Davies made the title-denying pass on Lap 14 as he pushed Rea down into fourth place, meaning Rea leads Redding by 59 points with 62 points available in the remaining three races. Rea had tried to fight back in the latter stages of the race to secure the Championship at Magny-Cours but Davies was able to stay ahead.
Michael van der Mark (PATA YAMAHA WorldSBK Official Team) finished in fifth place, more than nine seconds clear of Michael Ruben Rinaldi (Team GOELEVEN); the duo battling on track for a top five finish before van der Mark pulled clear. Rinaldi and Davies also battled out on track as the fight for a 2021 Ducati seat hots up. Alex Lowes (Kawasaki Racing Team WorldSBK) finished in seventh place after running the opening laps in the top two positions, directly behind his teammate.
Garrett Gerloff (GRT Yamaha WorldSBK Junior Team) secured another top eight finish as the American rookie continues to make steps forward as he finished ahead of Toprak Razgatlioglu (PATA YAMAHA WorldSBK Official Team) and Tom Sykes (BMW Motorrad WorldSBK Team); the British rider completing the top ten.
Italian rider Federico Caricasulo (GRT YAMAHA WorldSBK Junior Team) finished four seconds behind Sykes in 11th place with Sylvain Barrier (Brixx Performance) equalling his best result of the season with 12th place. Leon Haslam (Team HRC), Eugene Laverty (BMW Motorrad WorldSBK Team) and Alvaro Bautista (Team HRC) rounded out the top 15 to win points in the Championship.
Samuele Cavalieri (Barni Racing Team) finished in 16th place, ahead of Valentin Debise (OUTDO Kawasaki TPR) and Takumi Takahashi (MIE Racing HONDA Team) completed the riders who finished the race with Xavi Fores (Kawasaki Puccetti Racing), Xavier Pinsach (ORELAC Racing VerdNatura) and Leandro Mercado (Motocorsa Racing) not finishing the race; Pinsach and Mercado suffering crashes during the race with Mercado out of the race on Lap 1.
P1 Scott Redding (ARUBA.IT Racing – Ducati)
"I was on the back foot all weekend because I didn't have the laps on the rain tyres, but I was getting faster and faster. With the setting of the bike that was holding me back a little bit, I said to the team that if we could get this fixed, I think I can fight for the win. From the first and second lap, I saw I had the pace. The second problem was how long would the Pirelli last in these conditions as I had no idea. I was trying to ride as smooth as possible but in the end I did everything to win today."
P2 Loris Baz (Ten Kate Racing Yamaha)
"I'm really happy. I have to thank my team, especially my crew chief because he gave me the confidence to choose the hard tyre on the grid. He wanted me to choose that one for the Superpole Race and I didn't listen. It was a hard race. I was expecting to struggle a bit more at the beginning, but I had a good pace coming through the pack. I tried to overtake Jonny as soon as possible but Scott had something more and hats off to him."
P3 Chaz Davies (ARUBA.IT Racing – Ducati)
"It was a great race. Good to round this wet weekend off on the podium. A lot of pressure on that last lap, I knew what was on the line for Scott. I knew the points situation for him. And also, for myself, I knew van der Mark was sitting fifth in the race and obviously the main thing for me is to try and consolidate third in the Championship. A bit of pressure for me and for the team. Happy to bring it home on the podium. I felt really good out there, the bike was feeling really good. A great end to the weekend."
More, from a press release issued by Yamaha:
Podium for Van der Mark and Pata Yamaha in Wet Magny-Cours Superpole Race
Michael van der Mark fought to a third-place finish for the Pata Yamaha WorldSBK Official Team with Rizla in the FIM Superbike World Championship Tissot Superpole Race, as rain continued to lash the Circuit de Nevers Magny-Cours in France today.
The seventh and penultimate round of the 2020 season provided global TV audiences and a small number of keen French fans permitted to watch from the grandstands thrilling track action in tricky wet conditions.
Van der Mark made a lightning start from sixth on the grid in the Superpole Race, eventually taking third at the chequered flag, his seventh podium of the season, and cemented a front-row start for Race 2. While the Dutchman hoped for a repeat performance in the afternoon, a lack of grip in the wet meant that he ultimately had to settle for fifth position.
For teammate Toprak Razgatlıoğlu, the "perfect" wet weather set-up continued to prove elusive on Sunday. Despite improving from his grid position of 13th to finish ninth overall in the 10-lap sprint race this morning, the young Turkish rider, who initially made progress at the start of Race 2, did not have the confidence to maintain the pace required to finish higher than ninth in either race. While fit and fully cleared to race, Razgatlıoğlu was also still feeling some residual pain due to the high-side crash suffered in Warm-Up at Barcelona just two weeks ago.
The 2020 WorldSBK season draws to a close in a fortnight with the final round at Estoril, Portugal, starting with Free Practice on Friday 16 October.
Michael van der Mark – SPRC: P3 / Race 2: P5
"This morning in the Superpole Race, I felt really good with the Yamaha R1, it had some good improvements and I had some nice battles. On the last lap, I had a great fight with Scott [Redding] and managed to finish third, so I'm really happy with that and to be on the front row of the grid for the second race. I had an OK start in Race 2 but struggled with the front feeling and also the grip out of the slow corners throughout. I couldn't fight with the others because they were really strong in my weak area. Then it was hard to catch up and at a certain point I was alone in the race just trying to be consistent and not make any mistakes. I finished fifth which was not bad, but we have a lot of work to do to catch Chaz [Davies] in Estoril for third in the championship."
Toprak Razgatlıoğlu – SPRC: P9 / Race 2: P9
"Today, we tried a different set-up but it was not fantastic because we were not able to achieve a better grid position in the Superpole Race to improve in Race 2. But we are learning more and more each time, because in the past I have found the wet conditions difficult, so we keep trying to find a good set-up that works for me. Simply, I need to be faster in the rain! We will see what is possible in Estoril."
Paul Denning, Team Principal
"Racing in these very slippery conditions is always a huge challenge for the riders and brings out interesting and inconsistent results. With Mikey, we made a decent step from yesterday and his superb fighting podium in the sprint race was very well deserved, followed up by another strong ride in Race 2 for fifth place. It seemed like he struggled with feedback from the bike in the early laps, but once he found his rhythm, he was able to match the pace of the winner in Race 2, which is encouraging if it is wet again in Estoril. For Toprak, today was disappointing in terms of results, but there are still positives to take given his previous difficulties in wet conditions and also considering that he is still carrying injuries from the Barcelona accident. Let's hope Estoril is dry – it should be an interesting race weekend for all the teams and for the championship as a whole."
More, from a press release issued by Kawasaki:
Sunday Win And Podium For KRT
Jonathan Rea won the ten-lap Tissot-Superpole race at Magny Cours but just missed out on securing the 2020 WorldSBK championship title itself after finishing fourth in the final 21-lap race. Jonathan's KRT team mate Alex Lowes scored his second podium in as many days in the Superpole race and was then seventh in race two.
In the Tissot-Superpole race, held in cool and wet conditions, KRT recorded a 1-2 finish, with Rea winning his 99th race across his entire WorldSBK career after what was his 300th race start in this category of racing. Lowes was a constant threat behind Rea and finished a confident second after another strong ride in the wet.
The second full distance race of the penultimate round was eventually held in damp but not heavily wet conditions, which played a part in not allowing early race leader Rea to continue his run of Magny Cours race wins and take another perfect hat-trick – which he achieved at Portimao earlier this season.
With his only championship rival Scott Redding out front in race two, third place would still have been enough to give Jonathan a sixth consecutive title with Kawasaki. After his old championship rival Chaz Davies passed him for the final podium place, Rea finished fourth and will go to the final round in a commanding championship position.
Now Jonathan needs just three points across three races at the final round to win the title.
A race two seventh in France for Lowes, added to his two earlier podiums, puts him up to fifth in the championship overall.
With one round to go Rea has a total of 340 points, Redding 281, Davies 222, Michael van der Mark 203 and Lowes 179.
The final round of the 2020 championship will take place at Estoril in Portugal, between 16 and 18 October.
Jonathan Rea, stated: "Having started 300 races in WorldSBK makes me feel a little bit old, but it was a nice Superpole race because Alex was keeping me very honest. The gap was very stable and I had to concentrate to the max. We made a small set-up change from yesterday and I felt it really helped me, especially in the final laps with tyre drop. In race two, with the weather conditions at Magny Cours, you have to expect the unexpected and we saw all weekend that when there was not a lot of surface water, we were struggling. In morning warm-up and in the Superpole session, for example – especially with traction in the exit of the corner. I was losing too much on the exit of T5. But the bike set-up was pretty good in the chicanes and all the places where you had to be aggressive with the bike. It was pretty good but just this stop-and-go corner, on the exit, I had too much TC working and too much spinning. It was a really fun race because the bike was moving a lot and I was riding on the limit, but unfortunately not to the podium place that was the target."
Alex Lowes, stated: "Overall it was a positive weekend for us. I got a positive start in the Superpole race and felt good in the initial laps. Johnny was a bit quicker at the end and I was struggling a little bit with the front end. In those ten lap races you have to get a good start and get into a good position and we did that really well. It was a great 1-2 for Kawasaki. The final race was a bit tricky and I did not have the feeling I needed. When the track dried up I just couldn't seem to get the grip and I could not attack and ride like I wanted. This was frustrating but overall in the wet I was really happy with the work the guys did. Big thanks to them because it is never ideal in these cold and wet conditions. I am really happy to be leaving France with two podiums."
Xavi Fores (Kawasaki Puccetti Racing) was 12th and then a faller today, Valentin Debise (Outdo Kawasaki TPR) 16th and 17th, and Xavier Pinsach (Orelac Racing VerdNatura Kawasaki) 18th and then a no-scorer. In the championship Xavi is 15th, Debise 27th and Pinsach 28th.
More, from a press release issued by Aruba.it Racing Ducati:
#FRAWorldSBK RACE-2. Stunning Sunday for the Aruba.it Racing – Ducati Team: Scott Redding dominates Race-2 and Chaz Davies completes the masterpiece with a fantastic podium finish
Scott Redding and Chaz Davies were the protagonists of a fantastic race held in very tricky conditions after the rain had given a respite, letting the Magny-Cours circuit dry out, before falling again a few minutes before the start.
Starting from P4 after a stubborn comeback in the SuperPole Race, Scott got off a strong start, and on lap four he successfully attacked Rea (Kawasaki) to take the lead. His race pace was dominant and allowed him to pass under the checkered flag in first position comfortably.
The progression of Chaz Davies – who started from fifth position – was constant. After overtaking Rinaldi (Ducati) on lap 9, the Welshman started to chase the leading group. Between lap 11 and lap 14, Chaz managed to recover two seconds from Rea, overtaking him with seven laps to go and then defended himself to finish third.
P1 – Scott Redding (Aruba.it Racing – Ducati)
"It was a good race. I pushed to the maximum since the first lap trying to find the feeling with the bike immediately. It has been a difficult weekend, and for this reason, I am extremely happy with this result. During the SuperPole Race, I realized that I was losing precious hundredths in two corners of the circuit. I told my team: 'If you can solve these two details, I am sure I can win'. They did it, and I thank them".
P3 – Chaz Davies (Aruba.it Racing – Ducati)
"I am very satisfied with this result. The feeling with the bike has been really positive all weekend, and for this, I want to thank my team for the work done in these days. The start was good, and I pushed hard to get Van Der Mark. Then I had a good duel with Jonny, and I'm happy to have finished with this good result".
Stefano Cecconi (Team Principal Aruba.it Racing – Ducati)
"After the difficulties encountered in the first two days of this weekend, having obtained this result is for us a reason of great satisfaction and confirms the quality of our team. We have managed to keep the Superbike World Championship open, and even if the task is obviously difficult, we will go to Portugal to try. This is our DNA".
More, from a press release issued by BMW Motorrad Motorsport WorldSBK Team:
Difficult end to WorldSBK weekend at Magny-Cours for BMW Motorrad WorldSBK Team.
Tom Sykes and Eugene Laverty finish in the points in tenth and 14th in final race.
Both riders experience issues in the morning's Superpole race.
Season finale at Estoril in two weeks.
Magny-Cours. After successfully qualifying in Superpole with the first 1-2 qualifying for BMW Motorrad on Saturday, the rest of the rainy race weekend at Magny-Cours (FRA) didn't go according to plan for the BMW Motorrad WorldSBK Team. The seventh and penultimate round of the FIM Superbike World Championship 2020 (WorldSBK) drew to a close with warm-up, Superpole race and race two on Sunday. In the morning sprint race, both BMW riders struggled to get the tyres working properly in the right window; in the afternoon, Tom Sykes (GBR) and Eugene Laverty (IRL) finished in the points in tenth and 14th.
The team worked long and hard to make the two BMW S 1000 RRs ready to race again after the accident at the start in Saturday's race. Laverty started the Superpole race from pole position in the morning, with Sykes next to him in second on the grid. Both riders got off to a really good start, but then dropped down the field. Sykes was forced to return to the pits after lap seven, while Laverty crossed the finish line in 15th place.
For the second race in the afternoon, Laverty started in tenth and Sykes in eleventh. On the first lap, Sykes moved up into ninth place and then into eighth place shortly after that, where he stayed until halfway through the race. In the second half of the race, with a drying track, Sykes was in ninth place, before he crossed the finish line in tenth place after 21 laps. Laverty initially dropped down the field, but regained positions as the race went on to finish in the points as well in 14th place.
The WorldSBK 2020 season finale will be held at Estoril, Portugal in two weeks (16th to 18th October).
Quotes after race two at Magny-Cours.
 
Marc Bongers, BMW Motorrad Motorsport Director: "After we started the weekend strongly, unfortunately the yield was low. The crash in the first race put a spoke in our wheel for Sunday as well. The mechanics did a fantastic job and worked late into the night to pretty much build two new bikes. It was a close call for the warm-up, but we were able to compete. In terms of performance, however, we were clearly lacking the race data from Saturday. The Superpole race was a far cry from where we wanted to be for both riders, who were visibly battered after yesterday. We discovered that both bikes were extremely sensitive in the areas of tyre pressure and temperature, which put us at a distinct disadvantage in the Superpole race. We made changes to the chassis geometry of both bikes for race two to counteract the problems. The changes had a positive effect for Tom, but tenth place after our results on Friday and Saturday was disappointing. Eugene battled, but could only do enough to finish in 14th. This was another weekend to forget. The positives to take from the weekend are what we have learned, and the first qualifying 1-2 for BMW Motorrad in the WorldSBK."
Tom Sykes: "We came into the weekend well and honestly, the whole BMW Motorrad WorldSBK Team have been working very well. When we started in the first wet sessions, I was really comfortable with how the bike was working and the chassis of the BMW S 1000 RR. From there we just kept making steps forward, feeling really comfortable. We got ourselves a nice qualifying position for the race and then one thing led to another. After Saturday's main race, the guys did an incredible job, I think they finished around 2:00 o'clock in the morning on both sides of the garage to prepare the bikes. So hats off to those boys. It was just unfortunate with that lack of information that would have certainly made today a lot easier for the big race. But we've learned a lot in the second main race. And like I said, with yesterday's information we would have certainly done something different today. It has just been one thing after the other which is a shame because after Friday we were very confident for a strong result. But we will just stay positive."
Eugene Laverty: "After such a good feeling with the bike all weekend, on Friday and Saturday, in the wet conditions, today was a major let-down. The bike never felt the same. Right from the first lap of the morning's warm-up, I've been having issues, particularly on corner entry and mainly in the right corners so we have to investigate, check that there isn't something out of line after the huge crash yesterday. So let's investigate, make sure that the bike's correct for Estoril and try to finish the season on a high."
More, from a press release issued by GRT Yamaha WorldSBK Junior Team:
The French weekend ends with two more top-10s for Team GRT
The rain did not let go of its grip on the Magny-Cours weekend even on Sunday, with two more wet races, and good results from the GRT drivers. After the French round, the focus of the teams now shifts to the last stage of the championship on the Estoril circuit.
Gerloff, ready to redeem himself after yesterday's crash, proved competitive again in this morning's warmup, which ended with the sixth fastest time. Caricasulo, on the other hand, continued his adaptation to the difficult track conditions, setting the 15th time. The Superpole Race then ended with the American eighth, and the Italian out of the race due to a crash on lap six. For Gerloff, not as comfortable with the bike as much as in the previous days, race 2 then confirmed the eighth starting place, while Caricasulo held a much better pace than the previous days, finishing 11th but with a more contained gap from the leader compared to Race 1.
Gerloff summarizes a fundamentally positive weekend, but in which he has gradually lost some of his edge and competitiveness: "What a crazy weekend. We were really strong in the first few days and I was happy to be able to bring the good feelings of Barcelona with me here too. I was fast on Friday and yesterday too, until I crashed. Today I was hoping to be just as fast and to stay close to the leaders, but the conditions were more difficult to interpret. In the Superpole race we tried a different setup but it didn't work as we expected, so we went back to yesterday's setup, but for some reason I still didn't feel 100%. Also, in race 2 I didn't even have a great first lap, and I lost some positions which I then struggled the whole race to recover. I had to battle with some riders and I lost a lot of crucial seconds. Overall it was definitely a positive weekend, but I'm still a little disappointed with the way it ended after a great start. I would have liked to have been consistently fast all weekend and sadly this is not entirely successful, but I have certainly learned a lot and feel ready for the Estoril round. It looks like a very fun track and it goes well with the Yamaha, so I can't wait. " but I have certainly learned a lot and I feel ready for the Estoril round. It looks like a very fun track that goes well with the Yamaha, so I can't wait. " but I have definitely learned a lot and feel ready for the Estoril round. It looks like a very fun track and it goes well with the Yamaha, so I can't wait. "
For Caricasulo, the French round was anything but easy, especially due to the weather conditions, but the rider from Ravenna is satisfied with the great improvement made over the weekend: "It was not an easy weekend, because the rain and cold conditions They have always been difficult, but I think that from Friday to today we have made some big steps forward, both in terms of my riding in the wet and in setting up the bike. We were therefore able to greatly reduce the gap in terms of lap time, but also the overall gap from the leaders in the race. There is still a lot to improve, we know what areas to work on if wet conditions reappear, but I'm happy with the steps taken. At Estoril, which is a track I've never seen other than the PlayStation with a 2004 game, I have no idea what to expect, so now I will look at some on board, I will study it and I will get some advice from Niccolò (Canepa, Yamaha rider in the World Endurance Championship and test rider of the factory team in WorldSBK), who has just raced there. We will give our best there too. "
The Technical Coordinator, Damiano Evangelisti, regrets not having obtained better results, but underlines the importance of the information collected during this wet weekend and thanks all the team members: "We close the Magny-Cours weekend with still complicated weather . All the sessions were held in the wet, with more or less water on the track and with increasingly different conditions. Also tonight there was another storm with a strong wind that in our opinion brought a lot of dirt to the track, and the asphalt behaved differently today than yesterday. From Garrett, given how things had turned out on Friday, perhaps we expected something more. In our opinion, and also according to him, the crash in race 1 took away a little bit of confidence, so today he was a bit more conservative and put on a quieter pace to finish both races. We needed data more than results today. It wouldn't have helped us to have another race interrupted by a crash, we needed two full races. Garrett closed them with two eighth places. Surely he too expected something better, but for us these are two quite positive results, both in terms of the result itself and for all the information we have stored. Federico, on the other hand, suffered a little more, he struggled to find confidence, and we certainly worked harder to set up his bike. Another crash this morning risked compromising his weekend, but then we worked on the bike again and a decent Race 2 came out: He was much faster on pace, and took a lot of seconds off his total race time, making most of the race attached to Toprak (Razgatlioglu) and finishing in 11th position. Difficult weekend, but the overall balance leaves us quite satisfied. We have done a lot of work, gained a lot of experience in the wet, and this is also part of our path. It was also an intense weekend for the team, with several crashes, several bikes to rebuild and several difficult choices to make. All the rebuilt bikes worked perfectly, we always remained within the range of use of the wet tires even when the track was drying, and this is confirmation that the team continues to work very well. This makes me very proud because it means that the work we are doing inside the garage is really of a high standard. The next race will be on a new track for everyone: we have collected some data to do two calculations and try to understand how the bike works on that circuit, so we will study them before we get to the track and then we will run this last race trying to close this season distorted by the COVID situation in the best possible way. "
Thanks to the points collected today, both Gerloff and Caricasulo move up in the world rankings: the American is now 11th, with 78 points, while the rider from Ravenna moves to 13th place, with 51. The 2020 season is now starting to conclude and the next round at the Estoril circuit, scheduled between 16 and 18 October, it will also be the last. The Portuguese Friday will start with the first free practice session at 10:30 and will continue with FP2 at 15, local time.