Editorial Note: Use the zoom and scrolling tools in the bottom left corner of the PDF viewer to better see all pages of the race results.
More, from a press release issued by Dorna:
#FRAWorldSBK – Day 2
Rea holds off Baz for victory in dramatic WorldSBK Race 1
Thrilling wet race at Magny-Cours won by Jonathan Rea after the two BMW riders crash out from first and second on Lap 1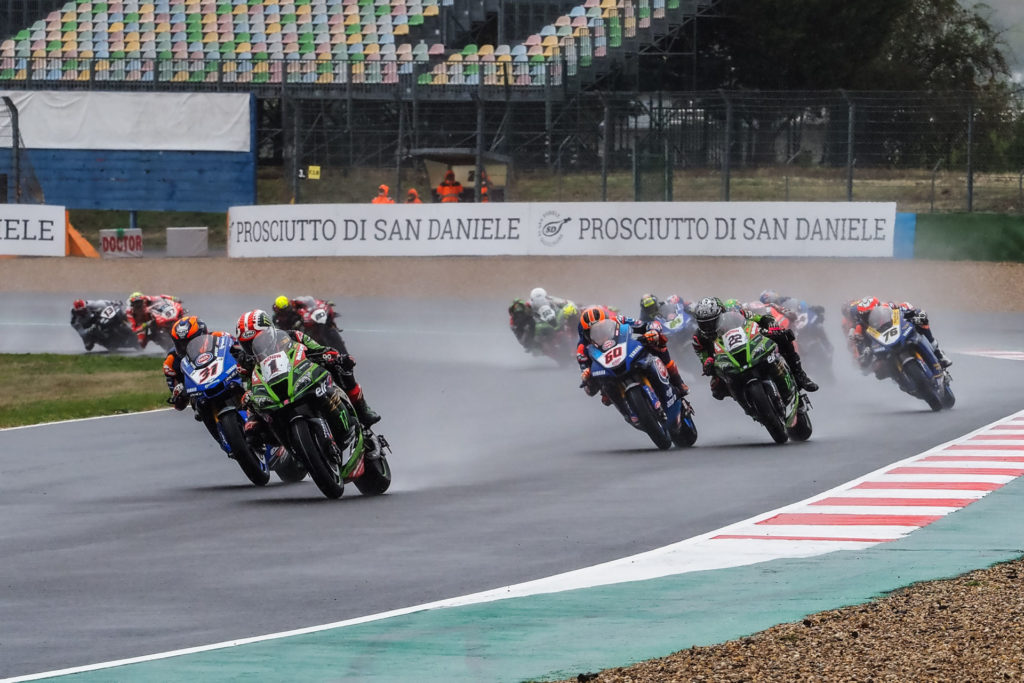 Thrilling action up and down the grid was the order of the day during Race 1 for the MOTUL FIM Superbike World Championship with wet conditions greeting the 21 riders for the opening race of the Pirelli French Round at the Circuit de Nevers Magny-Cours as Jonathan Rea (Kawasaki Racing Team WorldSBK) claimed his 10th victory of the 2020 season.
The drama started at Turn 1 as both Tom Sykes (BMW Motorrad WorldSBK Team) and teammate Eugene Laverty retired from the race on the opening lap; Laverty was taken out by a falling Sykes after the British rider was hit by Garrett Gerloff (GRT Yamaha WorldSBK Junior Team).
The incident left Rea, Loris Baz (Ten Kate Racing Yamaha) and Gerloff battling for victory after Gerloff fell back following a mistake at Turn 5. Gerloff recovered to third place but a crash at the Turn 6-7 Nürburgring chicane forced him to retire; the American star taken to the medical centre for a check-up. It meant Rea and Baz duelled it out for victory with Rea coming out on top by around three seconds while Baz secured his first podium at Magny-Cours. Alex Lowes (Kawasaki Racing Team WorldSBK) finished in third place as he secured his first podium since the Australian Round; Lowes securing his third podium of the season.
Chaz Davies (ARUBA.IT Racing – Ducati) followed up his victory at Catalunya with fourth at Magny-Cours as he continued to his strong end to the season as the Welshman finished ahead of the battling trio of Toprak Razgatlioglu (PATA YAMAHA WorldSBK Official Team), Leon Haslam (Team HRC) and Scott Redding (ARUBA.IT Racing – Ducati). Redding finished in fifth place ahead of Razgatlioglu in sixth after Haslam passed Razgatlioglu into Turn 12 before crashing straight after; Haslam retiring from the race.
Michael Ruben Rinaldi (Team GOELEVEN) finished in seventh place ahead of Xavi Fores (Kawasaki Puccetti Racing) equalling his best result of the 2020 season with eighth place. Michael van der Mark (PATA YAMAHA WorldSBK Official Team) finished ninth after the Dutchman crashed on Lap 15 at Turn 13 while battling in the top four positions, ahead of Leandro Mercado (Motocorsa Racing) in tenth.
Federico Caricasulo (GRT Yamaha WorldSBK Junior Team) finished the 21-lap race in 11th place with Alvaro Bautista (Team HRC) finishing just ahead of French rider Sylvain Barrier (Brixx Performance) finishing in 13th place as he scored more points. Valentin Debise (OUTDO Kawasaki TPR) scored his first ever WorldSBK points with 14th place and Xavier Pinsach (ORELAC Racing VerdNatura) claiming points in his first WorldSBK race.
Samuele Cavalieri (Barni Racing Team) finished the race in 16th; equalling his best result of his races in the 2020 season with Takumi Takahashi (MIE Racing HONDA Team) rounded out the classification in 17th place, with Haslam, Gerloff, Sykes and Laverty all retiring from the race.
P1 Jonathan Rea (Kawasaki Racing Team WorldSBK):
"I felt pretty good out there straight from the get-go, but to be fair Loris and Garrett and Alex were in the group and the pace was incredible. Doing 48, 48, 49, 48. Every time I saw my dashboard, I thought I'd be able to get a gap but they were right there. It was a really fun race, Loris pushed me right to the end. He made a small mistake, I think, with five or six laps to go."
P2 Loris Baz (Ten Kate Racing Yamaha):
"I'm so happy. It was a crazy race. I know I had fantastic pace all weekend, but I took a gamble in Superpole, I went for the intermediate tyre. I just missed out on the right lap by a few seconds, so I was a bit annoyed at that. I had a great race, great pace and tried to be as close as possible. The pace he was putting was crazy, every lap he improved the time and for 12 or 13 laps we were going faster and faster. I had a moment on the kerb going into the last chicane, I lost a second, and then I just tried to manage the gap with Alex and then staying close to Jonny in case he made a mistake. He doesn't make many mistakes so hats off to him because it's not easy to put this kind of pace when you're playing for a Championship. We have some fans here and it's my first podium at Magny-Cours so I'm happy for them and we try again tomorrow."
P3 Alex Lowes (Kawasaki Racing Team WorldSBK):
"I felt good in the wet all weekend. The start was a bit hectic, Gerloff got a bit too aggressive on the inside and I was lucky to miss that altercation. After that, I felt quite good. I got onto the back of the group and then from about half the race I struggled with the front. It's been a long time since I was on the podium, so I had to manage the second part of the race. I'm happy to be back up here!"
More, from a press release issued by Yamaha:
Rain Produces Mixed Results for Pata Yamaha in Magny-Cours Race 1
Rain prevailed as Pata Yamaha WorldSBK Official Team with Rizla riders Toprak Razgatlıoğlu and Michael van der Mark finished sixth and ninth respectively in Race 1 at Circuit de Nevers Magny-Cours today.
The team's young Turkish rider discovered improved confidence in the wet as he stormed through the field from 13th on the grid to fifth place by lap 15 of 21. After making up five positions in the first lap alone, he became embroiled in a battle with Honda rider Leon Haslam. It looked like Razgatlıoğlu would come out on top until Haslam suffered a violent high-side at Turn 11 on the last lap, forcing the #54 Yamaha R1 rider to avoid Haslam's wayward bike and allowing Ducati's Scott Redding to pass for fifth position.
Van der Mark had an equally impressive start in the opening lap, coming from P6 on the grid to second behind eventual race winner Jonathan Rea. But, missing some confidence compared to the podium finishers, the Dutchman settled into a somewhat lonely race, with strong and consistent pace, in fourth position until a small mistake at Turn 13 on lap 14 saw him fall down the order. Quickly remounting his relatively unscathed R1, Van der Mark was able to salvage seven championship points with ninth position.
With similar rain forecast for tomorrow, there won't be long to dry out between Warm-Up at 09:00 (GMT+2), the Tissot Superpole Race at 11:00 and the main Race 2 at 14:00.
Toprak Razgatlıoğlu: P6
"Today I didn't have a good start to the qualifying session, but I came back in the box and we made a small set-up change and I felt a lot better. But with time for just one lap, I could only manage 13th on the grid – I needed one more lap to improve! In the race, I felt much better on the bike in these conditions, and also for me it is the best race I have ever had in the rain. The feedback from the Yamaha R1 was very good and I know where we can take more steps forward. Today, as a team we are quite happy – I saw it was possible to finish in P5 but on the last lap, Haslam had a big crash and it was not possible to avoid him without braking as his bike came across my race line. So, sixth in the end but the pace was not bad, and tomorrow we will try for a much better position."
Michael van der Mark: P9
"Superpole was alright, to be honest. The track was starting to dry a bit so again the conditions were different to yesterday. I felt okay, improved my last lap time – the tyres were starting to get really warm and moving around so it was difficult, but P6 on the grid is a good place to start – and I did make a good getaway! I was a bit lucky at Turn 1, the BMW riders crashed in front of me and I managed to get up to second but I just didn't have the confidence like the guys who passed me. At a certain point, I was riding alone in P4 and I had a good pace, but I just didn't feel very good with the bike. The feedback and grip wasn't what I needed, and then I made a mistake and crashed in Turn 13. I picked it up quickly and finished ninth, so we scored some points but I threw away a lot of important places for the fight for P3 in the championship. So, really disappointed, but tomorrow we have two more chances. I'm fast with a bike that I'm not really comfortable with, so hopefully tomorrow with an improved set-up on my R1 I can do well."
Paul Denning, Team Principal
"We said yesterday that we were happy that Toprak could be here competing after the huge Barcelona crash, but today, even if P6 is not an exciting result on paper, we are happy with this wet weather performance given that riding in these conditions has been an acknowledged weak point for him in the past. Despite a poor qualifying in 13th position, Toprak showed a lot of aggression to be in the top eight by the end of lap one and to progress his pace really positively as the race went on. For Mikey, the result was obviously disappointing. He picked his R1 up incredibly quickly after the crash and recovering to ninth place was a small consolation but he was disappointed not to have the feeling he needed to be able to go with the front group. With his crew, he'll be looking to make some improvements overnight and to come out fighting tomorrow."
More, from a press release issued by Aruba.it Racing Ducati:
#FraWorldSBK Race-1. Following a solid comeback, Chaz Davies and Scott Redding finish fourth and fifth respectively at the Circuit de Nevers Magny-Cours
Race-1 of the Pirelli French Round was characterized by the comeback of Chaz Davies and Scott Redding who, after a difficult qualifying session, managed to finish in fourth and fifth place respectively.
The two Aruba.it Racing – Ducati riders were not incisive in the morning qualifying – held in wet conditions – and had to settle for ninth and tenth position on the starting grid.
Chaz Davies got off a good start that allowed him to immediately recover three positions. After the crash of Gerloff (Yamaha) on lap 9, Chaz went after Van Der Mark (Yamaha) who made a mistake allowing him to gain the fourth position.
In the first half of the race – characterized by heavy rain – Scott Redding could not find enough grip to push to the maximum. From lap 9 on, as the circuit started to dry, his race pace improved vertically allowing him first to overtake Rinaldi (Ducati) then to recover almost three seconds and to close the gap with Razgatlioglu (Yamaha) and Haslam (Honda). In the last lap Scott took advantage of an error of Haslam to close in fifth position.
P4 – Chaz Davies (Aruba.it Racing – Ducati)
"I am happy for this result. The feeling with the bike was very good and for this, I am particularly satisfied. Maybe I could have pushed harder but for me, it was fundamental not to make mistakes and to take important points to increase the advantage over Van Der Mark and consolidate the third position in the standings".
P5 – Scott Redding (Aruba.it Racing – Ducati)
"In the first laps of the race, I could not find the feeling. Things improved when the track started to dry and I was able to reduce the gap with the front group. When it started raining again I tried to stay in contact, working well especially in braking areas. I think we can do well tomorrow, especially if we can find something in acceleration".
More, from a press release issued by Barni Racing Team:
Cavalieri ended a tough Race 1 (P16) at Magny-Cours 
Magny-Cours (FRA), 3rd October 2020. Samuele Cavalieri only touches the points zone in the first race of the Magny-Cours's weekend, seventh round of the Superbike World Championship.
In Race 1 under the wet, like all the weekend so far, with asphalt temperatures constantly below 15°C, the Barni Racing Team rider finished in P16 after leaving from the P20 of the starting grid.
In the Superpole, Cavalieri set a time of 1'53.377, improving his best lap of Friday by more than four seconds and conquering the seventh row of the grid. The 23-year-old from Ferrara is improving his confidence with the Ducati Panigale V4 R, but the weather conditions are forcing him to a slower than expected apprenticeship.
Tomorrow the Superbike will go down the track again for two more races: at 11.00 am for the Superpole Race, on the short distance of ten laps, and at 2.00 pm for Race 2. The weather is expected rainy tomorrow as well.
Samuele Cavalieri
Superpole: P20 – Race 1:  P16
"The feeling is better than yesterday, but we are still too far away. I'm very sorry because in Barcelona I had a good time on the wet while here I am struggling a lot. The weather and asphalt conditions are really insidious, we must try something to improve for tomorrow."
Marco Barnabo, Team Principal:
"In qualifying session we improved a lot, Samuele managed to cut his lap time, unfortunately in race with a lot of water and cold asphalt the rider had no confidence to push on the tires, this trapped him in a vicious circle: if you do not push it's impossible to warm tires, but if you do not have the tires in the right temperature you can not push too much. For this reason we have to make some changes to give the rider more confidence in the first laps."
More, from a press release issued by BMW Motorrad WorldSBK Team:
Qualifying 1-2 and drama for the BMW Motorrad WorldSBK Team at Magny-Cours.
Eugene Laverty claims his first pole position on the BMW S 1000 RR.
Tom Sykes second on the grid to complete first BMW qualifying 1-2 in WorldSBK.
Dramatic scenes in the race: neither BWM rider at fault for early retirement.
Magny-Cours. The BMW Motorrad WorldSBK Team showed its class during Superpole qualification in the FIM Superbike World Championship (WorldSBK) at Magny-Cours (FRA), recording the first qualifying 1-2 for BMW Motorrad in WorldSBK. Eugene Laverty (IRL) claimed pole position on his BMW S 1000 RR, closely followed by his team-mate Tom Sykes (GBR) in second place. However, neither rider was at fault when both were forced to retire early from the race. Magny-Cours is hosting the seventh and penultimate round of the 2020 WorldSBK season.
Superpole qualification on Saturday morning took place in extremely tricky conditions. After a period of rain, the sun appeared just in time for Superpole. The two BMW Motorrad WorldSBK Team riders were initially in the midfield, before really cutting loose towards the end of qualification. Team celebrations were big when Laverty secured his first pole position on the BMW S 1000 RR and his team-mate Sykes rounded off the success by claiming second place.
The team was correspondingly optimistic ahead of the first race in the afternoon. It had started to rain around an hour before the start, but the RR had proved to be extremely competitive with the wet-weather setup. However, hopes of claiming top results were soon dashed as Laverty and Sykes fell victim to an unfortunate sequence of events in turn one. There was contact between Garrett Gerloff (USA) and Sykes, who then began to slide and clipped Laverty's rear wheel. Both BMW riders crashed and the race was over for Sykes and Laverty. Thankfully, neither rider was injured.
Quotes after race one at Magny-Cours.
 
Marc Bongers, BMW Motorrad Motorsport Director: "What a day. It showed just how close together the ups and downs are in motorsport. Both Tom and Eugene had given great performances in the changeable, but consistently wet conditions since the first practice session. Everything was going perfectly. Tom had coped well with his fall in yesterday's practice and the team had done a good job to prepare the motorbike perfectly for today. The Superpole session was a thriller but we knew that we could finish really high up. To finish with P1 and P2, the first qualifying 1-2 for BMW Motorrad in WorldSBK, is just fantastic! But the race was just as disappointing as the 1-2 was wonderful. The race finished for both of them in turn one. Gerloff had come from a long way back and went into T1 too hot. He then had to correct and hit Tom on his elbow, which made him fall. Unfortunately, Tom's bike then clipped the rear wheel of Eugene's bike, which then saw him come off with a highsider. We find it a bit difficult to understand that Gerloff got away without an official warning or a penalty, but the decision made by the race direction is fixed and we have to accept it. Both of our riders took a bit of a battering, but they are OK. Both of the bikes are badly damaged. We now have a long day ahead of us to put both motorbikes back together. We are looking ahead to tomorrow and we will be ready to go when the riders and bikes are both OK."
Shaun Muir, Team Principal BMW Motorrad WorldSBK Team: "Qualifying was fantastic for the team to get a 1-2 in wet conditions. Both Tom and Eugene stayed out as long as possible to build their confidence up and they got what they deserved by starting P1 and P2 for race one. I must thank the whole team for their hard work, especially after the recent disappointments. Going into the race it was just cruel luck. Both riders got off the line comfortably with Jonathan Rea taking the lead. Garrett Gerloff came tight up the inside of Tom, however Tom already had the racing line, which meant he collided with him. That caused Tom to crash and ultimately take out his teammate Eugene at T1. As a team we are very disappointed in the race direction's decision not to penalise Garrett for causing the crash. We feel he should have been penalised for his unsafe and out of control actions that led to this big consequence for our team. This does not help our cause moving forward, but we will fix our bikes tonight and come out fighting again tomorrow."
Eugene Laverty: "After the fantastic qualifying we had pole position and I was feeling optimistic ahead of race one. My aim was to bide my time and see where we ended up. Our bike has been working fantastic in these wet conditions, so I knew we had a good chance today. Our aim after the great qualifying session was to get that podium, so starting from P1 gave us the perfect chance to do that. Unfortunately, that was not the case after getting taken out in a crash caused by Garrett Gerloff. I am really angry about this crash because in a wet race like this to go in at the angle he did at T1 is not really the smart thing to do. It's lucky that nobody got seriously hurt. However, tomorrow is another day, we will get another chance to showcase our potential, I will push hard from the off and get stuck in."
Tom Sykes: "It was definitely a good showing from the whole BMW Motorrad WorldSBK Team today. The BMW S 1000 RR has been working well all weekend and I had a great feeling on the bike from FP1. We have just been making small changes on the bike throughout the weekend getting used to the conditions. For the team to get a 1-2 in qualifying was great. I think the pace we had for the race was looking very strong but unfortunately that was not meant to be. It is a shame that both the BMWs got taken out in the way they did, only a couple of hundred yards from the start line. It was a thoughtless and reckless move from Garret, and it has left our boys a lot of work to do on both sides of the garage overnight. Unfortunately, we have had our fair share of bad luck this year and today is one of those days. Tomorrow we will come back stronger and get the results that the whole BMW Motorrad WorldSBK Team deserve."
More, from a press release issued by Team Go Eleven:
MICHAEL RACES INTELLIGENTLY, BRINGING HOME POINTS AND EXPERIENCE!
After a lot of rain yesterday, guess what conditions the WorldSBK riders face today?  Rain, wet track, and worsening conditions during the race.
In FP 3 the temperature was truly winter, about seven degrees in the air. Michael entered the track cautiously, trying to check if everything was okay on the bike ahead of Superpole, but without taking unnecessary risks. At the end of the session he complained of rear grip problems, probably due to cold weather conditions and the harder Rain compound, not perfect for the amount of water on the track.
In Superpole the track conditions are much better, with the trajectory line that dries lap after lap and offers better grip. Michael completes the whole session on the same Rain tyres, gaining more confidence and improving his lap time. He finished in seventh position, conquering the third row for Race 1 and Superpole Race. The work focuses on electronics; a different configuration could perhaps have given some advantages, but the important thing was to have a good starting position for the races.
Shortly before Race 1 the clouds over the Circuit de Nevers-Magny Cours thicken and the track is once again very wet. The number 21 sprints well at the start, then at the first corner the two BMWs fall a few meters in front of him and he is forced to close the gas slightly, losing a couple of positions. In the first laps he tries to adapt to the conditions, and gets into battle with Toprak and Haslam. As race pace he is not very fast and throughout the race he tries to recover on the Yamaha and Honda riders. The track gradually becomes more dangerous with several protagonists on the ground. Seventh position under the checkered flag, not an excellent race, but the important thing today was to defend oneself and take home important points, both for the Championship and for the Best Independent Team standings!
During the night, the staff will work to improve some problems faced in the race, especially in terms of electronics and engine braking. For tomorrow (in which weather uncertainty is still expected) it will be essential to give Michael a bike as constant as possible during the race length. Let's see what happens on Sunday in France!
Michael Rinaldi (Rider):
"It wasn't a great race for us, because after a good start, I suffered with the electronics. So, I had to try to understand what the bike would do in each corner: when that's the case you can't attack but you can only defend yourself by trying to bring the bike home. Honestly, I'm a little upset because we have been chasing the same problem since yesterday and we couldn't solve it in the race. Now it's important to try to understand what's wrong and be back in the game tomorrow. I think we have the speed, but we cannot show it for this problem. Tomorrow will be another uncertain day and we will do our best to improve our position!"
More, from a press release issued by Kawasaki:
Win And Podium For KRT Riders
Jonathan Rea (KRT) secured his tenth win of the season with a commanding front-running performance in fully wet conditions at Magny Cours, extending his championship lead in the process. Alex Lowes (KRT) achieved his pre-race target of finishing on the podium and took third place.
On a wet track surface the incident-packed opening 21-lap race of the WorldSBK weekend in France saw Jonathan lead almost immediately, after the riders in first and second position off the startline collided and fell in turn one. Rea made the most of good start and a clear track to push the pace hard on the resurfaced Magny Cours asphalt. He would end up winning by a clear 3.342 seconds.
Lowes was in second place on lap one and after some battles with other riders he went into fourth and eventually his final third position, using a cool head in the tricky conditions to secure his third podium finish of the year so far.
In Tissot-Superpole, also held in wet conditions, Rea recovered well enough from a small crash in the early morning FP3 session to go third fastest, earning a front row starting position. Just one place behind, Lowes was fourth, and started race one from the second row of the grid.
In winning today Jonathan took not only his 98th WorldSBK race victory but also extended his championship lead over Scott Redding – fifth in race one – to 65 points.
Two more WorldSBK races remain for Jonathan and Alex at Magny Cours on Sunday – the 10-lap Superpole 'sprint' race and then a full 21-lap finale to wrap-up the penultimate round of the championship.
Jonathan Rea, stated: "It was super-hard to keep concentration for all 21 laps at the front. The pace was ridiculous but that is down to a few things. We had a good set-up on the Ninja ZX-10RR but also Magny Cours did a really good job of the new tarmac. Last year in these conditions a 1'53/54 was a good lap time, and now are doing 1'48/49s in the wet conditions. Massive thanks to my team, and everyone around, because I think we got the best out of the bike. You can never have a perfect set-up for the wet, because the conditions are always changing. Sometimes it is fully wet, sometimes there is just a little bit of water, then sometimes even a drying track. Overall our set-up for the rain was very good."
Alex Lowes, stated: "The first part of the race I felt quite good. In the second part I did not feel that good under hard braking, as the front was sliding a lot. Because I had a bit of a gap behind I just tried to manage the situation. I think we can improve a bit for tomorrow, of course, but I am happy to be back on the podium in these conditions. I have a lot of experience of riding around here in the rain from past seasons, but after the resurfacing it is like a different track. All the braking markers and tip-in points I remember from the past in the rain, you may as well completely forget them!"
Xavi Fores (Kawasaki Puccetti Racing) finished eighth today, equalling his previous best finish in the 2020 season. Valentin Debise (Outdo Kawasaki TPR) was 14th and Xavier Pinsach (Orelac Racing VerdNatura Kawasaki) 15th, meaning each of them scored championship points in what was a very difficult opening race in such wet conditions.
More, from a press release issued by GRT Yamaha Junior WorldSBK Team:
A crash deprives the GRT Team from returning to the podium
The second day of the Magny-Cours round was again marked by rain, which made Race 1 as unpredictable as it was risky.
The conditions for today's race looked good right from this morning's free practice, in which Gerloff set the third best time and Caricasulo the eighth. In Superpole, then, the American achieved an excellent fifth place, while his teammate qualified twelfth. Gerloff's splendid progression of the weekend was unfortunately interrupted in Race 1, in which, after an excellent start in the wake of the leaders, the rookie slipped during the seventh lap. Caricasulo, still looking for the right feeling in the wet, made no mistakes and crossed the line in 11th place.
The Italian [Caricasulo] does not hide the difficulties he has had up to now, but he thinks he has found the right solutions to aim for better results tomorrow: "It has been, up to now, a fairly complicated weekend in which we are working hard to solve everyone. our problems in the wet and trying to get faster. In my opinion, in the race we managed to take a nice step forward in terms of pace, and we made some improvements in the riding and setup of the bike. Finishing race 1 was also important to gather more information and we will certainly start tomorrow with a little more already in the morning, to stay closer to the front group and fight to get into the top-10 even in the wet. "
Gerloff knows he has thrown away a great opportunity, and is very sorry: "I am very disappointed with how it went today. I was very confident after yesterday, having been the fastest ever, and I still was after the fifth place and the second row of qualifying. In race 1 I got off to a good start, immediately climbing up to second place. I suffered a couple of overtakes, but I saw that I was able to overtake too, and I had a great feeling. The bike was following me really well and I had a lot of confidence, I'm just disappointed that I wasn't able to finish the race. It could have been another good result. A big thank you to the whole GRT team, we'll be back on track tomorrow and start again with a free mind. This is the plan. "
The Technical Coordinator Damiano Evangelisti, despite the disappointment for the missed opportunity, says he is satisfied with the work done, and looks to tomorrow with confidence: "It was a somewhat complicated Saturday due to this continuous wet situation which, if a certain point of view makes the weekend's work a little more linear, on the other it is also much more insidious for the riders. We didn't have a bad start this morning, with Garrett keeping up with yesterday's expectations by finishing fifth in Superpole, while Federico, growing in the wet, qualified 12th. The possibilities for Garrett to stay ahead and for Federico to improve under the water were all there. The race, as I said before, is always very tricky in the wet. The conditions, however, were the same for everyone and Garrett had started well immediately, he had a good feeling and was able to follow Rea and Baz, but unfortunately he had a crash. Too bad, but we must always consider that this is our first ever race in the wet, and the first for Garrett on this track, so it takes experience. Today's fall will be part of his growth path. In any case, he was very good, in my opinion, because he showed that even here, on an unfamiliar track and in very difficult conditions, he could have fought again for the podium positions, continuing on the right path taken in Barcelona. Federico, on the other hand, finished eleventh, after having suffered a great gap especially in the first laps."