Race Lap Record: 1:56.974, Jonathan Rea, 2016
All-Time Lap Record: 1:56.124, Tom Sykes, 2018
FIM Superbike World Championship
Losail International Circuit
Doha, Qatar
October 25, 2019
Race One Results (all on Pirelli tires):
Jonathan Rea, UK (Kaw ZX-10RR), 17 laps, Total Race Time 33 minutes, 34.518 seconds, Fastest Lap Time 1:57.307
Chaz Davies, UK (Duc Panigale V4 R), -2.732 seconds, 1:57.487
Alex Lowes, UK (Yam YZF-R1), -5.423, 1:57.197
Alvaro Bautista, Spain (Duc Panigale V4 R), -8.043, 1:57.788
Leon Haslam, UK (Kaw ZX-10RR), -17.720, 1:58.171
Michael Van Der Mark, Netherlands (Yam YZF-R1), -17.738, 1:58.060
Loris Baz, France (Yam YZF-R1), -18.176, 1:58.301
Markus Reiterberger, Germany (BMW S1000RR), -20.479, 1:58.505
Eugene Laverty, Ireland (Duc Panigale V4 R), -24.500, 1:59.054
Leon Camier, UK (Hon CBR1000RR SP2), -29.320, 1:59.351
Toprak Razgatlioglu, Turkey (Kaw ZX-10RR), -33.166, ran off track, 1:58.156
Marco Melandri, Italy (Yam YZF-R1), -34.673, 1:59.097
Michael Rinaldi, Italy (Duc Panigale V4 R), -42.661, 1:59.223
Ryuichi Kiyonari, Japan (Hon CBR1000RR SP2), -50.020, 2:00.524
Alessandro Delbianco, Italy (Hon CBR1000RR SP2), -54.485, 2:00.683
Dominic Schmitter, Switzerland (Yam YZF-R1), -68.582, 2:01.165
Leandro Mercado, Argentina (Kaw ZX-10RR), -11 laps, DNF, mechanical, 1:58.775
Sandro Cortese, Germany (Yam YZF-R1), -12 laps, DNF, crash, 1:57.639
Tom Sykes, UK (BMW S1000RR), -16 laps, DNF, crash, no lap time recorded
Jordi Torres, Spain (Kaw ZX-10RR), -17 laps, DNF, crash, no lap time recorded
World Championship Point Standings (after 35 of 37 races):
Rea, 626 points (clinched 2019 World Championship)
Bautista, 473
Lowes, 321
Van Der Mark, 314
Razgatlioglu, 304
Davies, 269
Haslam, 268
Sykes, 219
Melandri, 177
Torres, 132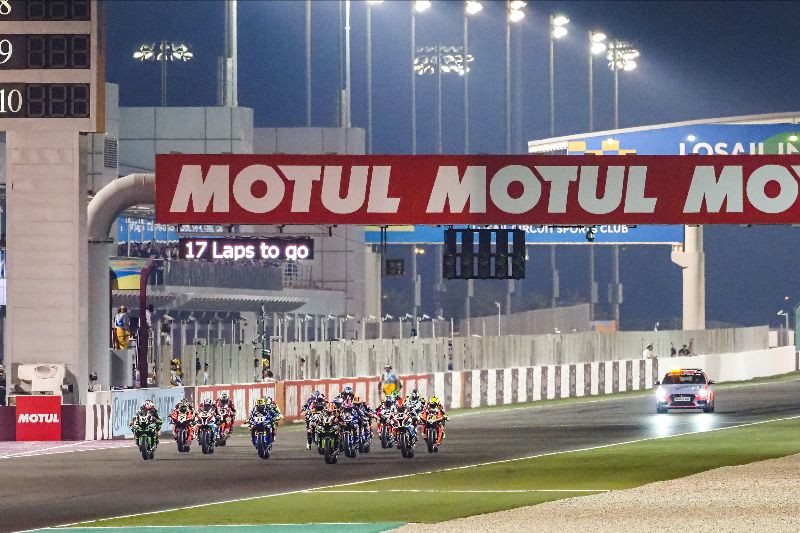 More, from a press release issued by Dorna WorldSBK Press Office:
Rea victorious in Race 1 ahead of Davies and Lowes
With Rea 15th victory of the season, Kawasaki secures a fifth consecutive Manufacturers' Championship
The 2019 MOTUL FIM Superbike World Championship launched racing action at the Motul Qatar Round, with the first of three races getting underway on Friday night. With first and second in the title race already sorted out, the attention and all eyes were on the battle for third, with the three protagonists spread out across the top ten. Taking the win in convincing fashion, Jonathan Rea (Kawasaki Racing Team WorldSBK) led from lights to flag, giving Kawasaki the Manufacturers' Championship.
Before the race even began, Jordi Torres (Team Pedercini Racing) crashed on the exit of Turn 1 on the Warm Up Lap. The Spaniard highsided all on his own accord in the middle of the pack was thankfully OK. However, his race was run before it started, as he retired to the pits after the eventual completion of his Warm Up Lap.
Steaming off from pole position, Jonathan Rea took the holeshot down into Turn 1, fending off a fast-starting Tom Sykes (BMW Motorrad WorldSBK Team). However, Alex Lowes (Pata Yamaha WorldSBK Team) and Sandro Cortese (GRT Yamaha WorldSBK) got ahead of the BMW rider and the front four were as they were. Other good getaways came from Chaz Davies (ARUBA.IT Racing – Ducati), up from 12th to sixth and Toprak Razgatlioglu (Turkish Puccetti Racing), from tenth to seventh.
At the beginning of Lap 2, there was drama for Sykes, as he clipped the back of Leon Haslam (Kawasaki Racing Team WorldSBK) at Turn 1, as the two outbroke themselves. Chaz Davies had now picked up the pieces and was up to fourth, whilst Haslam had slipped back into the clutches of Alvaro Bautista (ARUBA.IT Racing – Ducati) courtesy of his collision with Sykes, as both of them were seventh and eighth. By the end of Lap 2, Bautista was seventh and Haslam had dropped to eighth.
It would be heartache for Cortese on Lap 6, as the German rider crashed out of fourth place at Turn 7, after just being passed by Davies. This promoted Michael van der Mark (Pata Yamaha WorldSBK Team) to sixth, before the Dutchman scythed ahead of Razgatlioglu to pinch fifth. The battle for third however was looking like it would go the way of Alex Lowes, who was up in second, whilst teammate van der Mark and 2020 Pata Yamaha replacement Razgatliolgu were fifth and sixth. There was more despair downfield for Leandro Mercado (Orelac Racing VerdNatura), who suffered a technical problem on the front straight.
Into the second half of the race, the gap at the front was still the same, with no move made from Lowes just yet. The duelling Brits at the front were running their own pace, whilst Lowes was getting the time to see where his rival was strong. Chaz Davies was still running a solid third, although he was incrementally closing the gap to the leaders.
With eight laps to go, Haslam took sixth place from Razgatlioglu at Turn 1, using the slipstream to get the job done. The 'Pocket Rocket' now set his sights on van der Mark ahead of him, whilst Razgatlioglu had to keep his eyes open behind him, as Loris Baz (Ten Kate Racing – Yamaha) zeroed-in, just ahead of a revitalised Markus Reiterberger (BMW Motorrad WorldSBK Team).
With six laps to go, Toprak Razgatlioglu got it all wrong going into Turn 6, with his bike snapping sideways in an aggressive manner. The Turkish rider took to the gravel and somehow kept it upright, but slipped from seventh to 13th, seriously hurting the 23-year-old's chances of third overall in the Championship. In the battle for fifth, Leon Haslam was now ahead of van der Mark, passing the Dutchman at Turn 1 with five laps remaining.
Five laps to go and Davies passed Lowes at the final corner, parking his Ducati down the inside and now, began to hunt down Jonathan Rea out front, immediately slicing the gap to under a second. Davies was particularly quicker in the middle sectors. All the time, Alvaro Bautista was having a lonely race in fourth place.
Despite closing down the gap to Rea, Davies couldn't get the better of the Northern Irishman's metronomic consistency. Rea took another victory in 2019, his fourth at Losail and gave Kawasaki the Manufacturers' Championship. Davies came from 12th to second in an impressive fightback, whilst Alex Lowes came home third. Alvaro Bautista was fourth in a quiet race for the Spaniard behind the all-British podium, whilst prevailing in the battle for fifth was Leon Haslam, seeing off Michael van der Mark on the run to the line.
Loris Baz was a strong seventh place, whilst it was a classy eighth place for Markus Reiterberger, with his first top ten since the Tissot Superpole Race at Imola. Ninth place went to Ireland's Eugene Laverty (Team Goeleven), who had a strong ride into the top ten, whilst Leon Camier (Moriwaki Althea Honda Team) made it all manufacturers represented inside the top ten. Toprak Razgatlioglu recovered to 11th.
P1 – Jonathan Rea (Kawasaki Racing Team WorldSBK)"It feels like we reached our target. It has been an incredible season so far and to wrap up the manufacturers' title, which I know is really important for Kawasaki, is incredible. I felt really good with the bike today. I settled into a comfortable rhythm at the beginning and I was able to stay in high 1'57 and low 1'58 during all the race. I kept controlling my pit board and ride accordingly. Now we'll save some energy for the rest of the weekend. Thanks to my team for making the bike a little bit better, and we will try to improve the front performance because I am sure is going to be a big fight tomorrow".
P2 – Chaz Davies (ARUBA.IT Racing – Ducati)"My poor performance in qualifying left me with a little bit of work to do, but I got a good start and made some ground in the first corner. Obviously coming from behind I used up a bit of tyre, but same as San Juan I got to a point where I felt really good, but when I tried just to step up the pace a little bit more the tyre was already past its best. I am overall really happy! Finishing second its a good way to nearly finish the season and I look forward to tomorrow races".
P3 – Alex Lowes (PATA Yamaha WorldSBK Team)"Today was really good. The second part of the race I wasn't too strong. I struggled a little bit with the front of the bike, but these guys have done a fantastic job all year and they have been improving the bike overnight. I am quite confident we can make a step forward for tomorrow. I am really proud of what we have done today and I look forward to tomorrow".
WorldSSP: Caricasulo resists Krummenacher and Cluzel for WorldSSP Losail pole
The mouth-watering prospect of all three title contenders battling for WorldSSP supremacy comes from the front row, after a stunning Tissot Superpole session
The night sky, flood lights and an intense World Supersport title fight: what a perfect way to enjoy a Friday evening in Qatar. The FIM Supersport World Championship has enjoyed endless twists and turns throughout 2019 and the final Tissot Superpole session was now exception. With three title contenders all battling for the final pole position, it would eventually go to Federico Caricasulo (BARDAHL Evan Bros. WorldSSP Team).
After the opening ten minutes of the session had seen the times settle down and the grid begin to take some sort of shape, Lucas Mahias (Kawasaki Puccetti Racing) was on top, with the Frenchman towing Federico Caricasulo (BARDAHL Evan Bros. WorldSSP Team) around the Losail International Circuit. Provisionally second and third were Ayrton Badovini (Team Pedercini Racing) and Jules Cluzel (GMT94 YAMAHA), the latter being the top Championship contender.
With most of the riders in the pits at the halfway point, Mahias and Caricasulo were enjoying a conversation coming into pitlane. Whether it was about helping each other out or if they'd had a squabble on circuit, nobody knows. But the added dynamic made for a tense final stint in the spotlights of Qatar. Having not matched Cluzel's time from Thursday, there was plenty of pae left in the track.
Randy Krummenacher (BARDAHL Evan Bros. WorldSSP Team) was the first rider to get down to business and hit the top of the timesheets with the fastest lap of the weekend. Corentin Perolari (GMT94 YAMAHA) was right in behind the Swiss rider and took second, but there were strong times coming in from Mahias and Caricasulo – both riders looking to secure pole position and now, running separately on the track.
Mahias came to the fore and briefly went top, only for Caricasulo to better it, as the Italian came up from ninth to pole position. It was more bad news for Mahias, as he had a lap time cancelled and saw him drop to fifth. Joining Caricasulo on the front are his title rivals, Randy Krummenacher and Jules Cluzel – all three WorldSSP title contenders in the top three positions – would that be how the standings would read come Saturday evening?
Corentin Perolari secured fourth place with a good lap time, ahead of a disconsolate Lucas Mahias, down in fifth. Hikari Okubo (Kawasaki Puccetti Racing) was back inside the top six and completed the second row, after what had been a relatively quiet weekend up until that moment, pipping the final second row spot away at the dying moments.
Nabbed right at the end, Badovini heads up row three from seventh on the grid, whilst Isaac Viñales' (Kallio Racing) podium charge looks set to come from eighth on the grid – the Spaniard on the rostrum in the last two rounds. Kyle Smith (Team Pedercini Racing) was once again in ninth place, whilst an injured and recovering Thomas Gradinger (Kallio Racing) completed the top ten.
Outside the top ten, Raffaele De Rosa (MV AGUSTA Reparto Corse) was only 11th, ahead of the top Honda of Jules Danilo (CIA Landlord Insurance Honda). Home-hero wildcard and Qatari Supersport Champion Saeed Al Sulaiti (QMMF Racing Team) was 13th. Peter Sebestyen (CIA Landlord Insurance Honda) was 14th.
Pole position – Federico Cariasulo (BARDAHL Evan Bros. WorldSSP Team)"I am really happy. It was difficult for me in the beginning, but I was able to learn a lot in the first part of the qualifying. We found a good setup for the bike, and I was able to push to the limit. It was important for me starting from the first row, and we ended in pole position, which is even better".
More, from a press release issued by BMW Motorrad Motorsport:
BMW Motorrad WorldSBK Team experiences a Friday with highs and lows in the Qatari desert.
FIM Superbike World Championship season finale at the 'Losail International Circuit'.
Markus Reiterberger finishes the first main race in eighth position with his BMW S 1000 RR.
Tom Sykes retires after a crash.
Doha. The first day of racing at the 2019 FIM Superbike World Championship (WorldSBK) season finale at the 'Losail International Circuit' in Qatar had highs and lows for the BMW Motorrad WorldSBK Team. Markus Reiterberger (GER) secured eighth place in the first main race on his BMW S 1000 RR after having finished the Superpole within the top ten. Tom Sykes (GBR) had started the race from fourth on the grid but retired after a crash on lap two.
Superpole was held in the early evening at 5 p.m. local time, already under floodlights. Sykes managed to make good use of the faster qualifying tyre and he secured fourth place on the second row in the final stages of the session. Reiterberger continued the positive trend from the practice sessions and qualified ninth on the third row.
When the race was started at 8 p.m. local time, the air temperature was still a humid 31 degrees Celsius. Sykes stormed towards the front, into second place, but then slightly dropped back again. Entering the second lap, however, he crashed while battling and had to retire. Reiterberger also had a stunning start but lost positions in the first corner. Soon, however, he had worked his way back into the top ten. From there, he progressed further forwards, and after 17 laps he crossed the line in eighth place, directly behind a group of three that was fighting for fifth position.
Quotes after race one at Doha.
Marc Bongers, BMW Motorrad Motorsport Director: "We are happy with Markus' performance, in any case. It was great to see that he was able to fight behind the group in the midfield. In the second half of the race, he was nearly as fast as the front riders in the two middle sectors. That is really pleasing, and one can see a kind of relief on his side of the garage. Tom had a mega start. Unfortunately he had a contact with another rider when entering the second lap and could not stop the bike anymore. That's a pity but can happen in races. Overall, we have a good base for tomorrow and we will attack once more."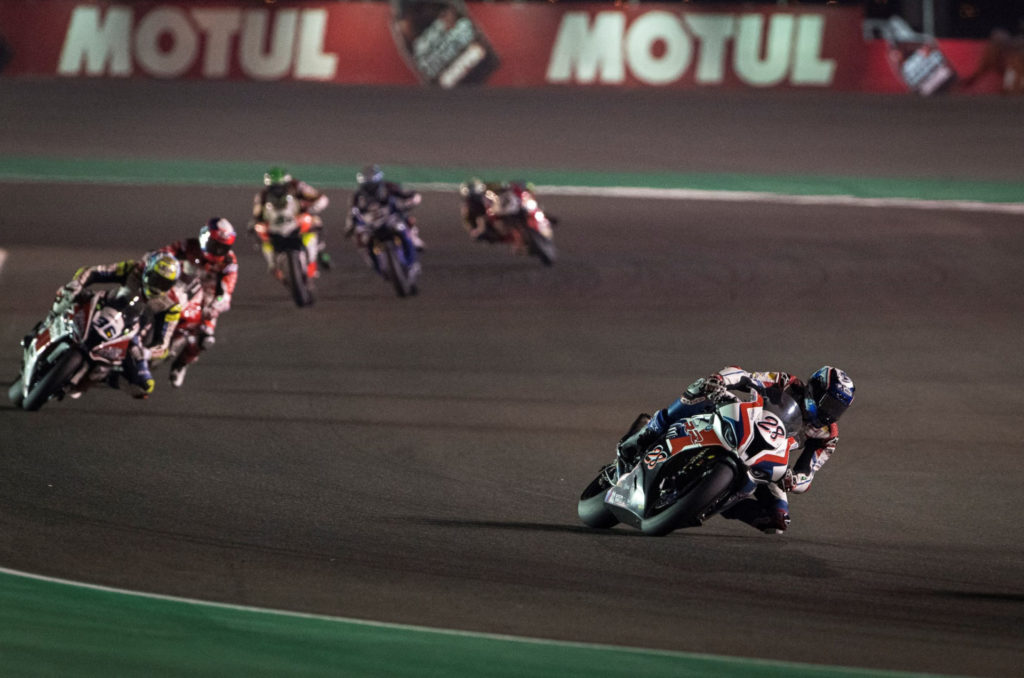 Markus Reiterberger: "Today was really good. I am satisfied, even if I did not fully exploit to 100 per cent what was possible. We made another step for Superpole and I was even able to do a 1:57.7 with race tyres that brought me to sixth place. It was a great lap and my feeling was really good. My lap with the qualifying tyre was also great but not perfect and this already makes the difference between a few positions. But ninth place on the third row still was good. I had a great start, until the first corner. I was already in fifth place but then I shifted down one gear too few and was in third gear. This resulted in the loss of positions but soon I overtook several others and worked my way back towards the front. From then on, I kept my pace to the finish line. The fact that I was able to close the gap to the group of three in front of me at the very end confirms that we are heading in the right direction. I hope that we will make another step tomorrow, especially with the front tyre. Then I think that I can catch those three that were in front of me, at least that's my goal. I hope to bring home two more strong results."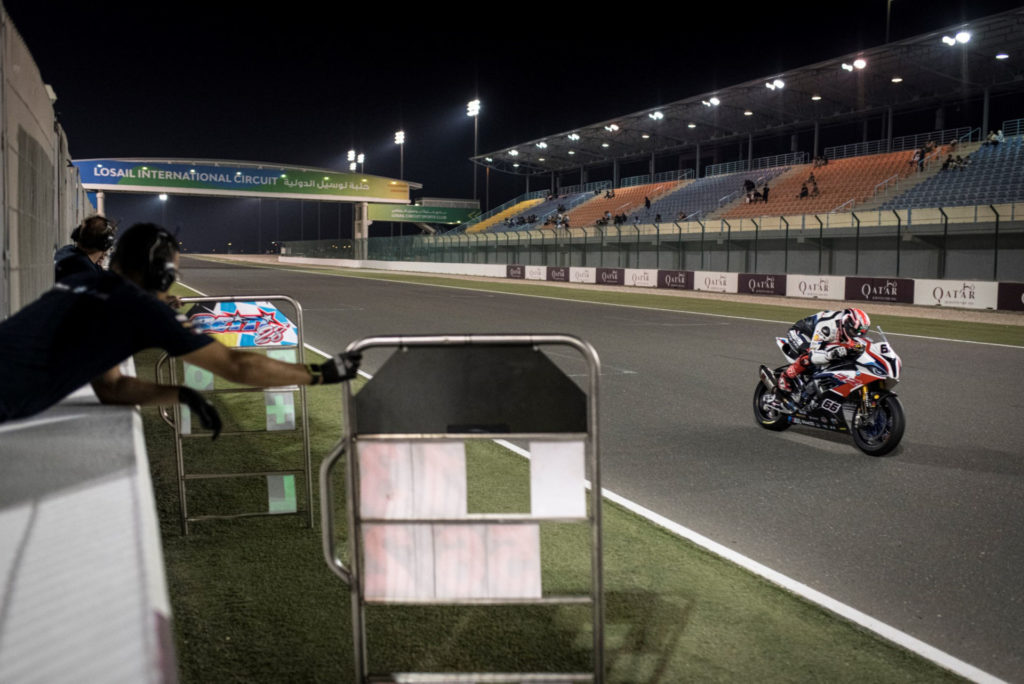 Tom Sykes: "I think we maximised our performance in Superpole and got the best out of our BMW S 1000 RR. We were happy to start on the second row. We then made a couple of changes for the race. We had a good start and unfortunately then going into T1 on the second lap, it happened. I wanted to pull it down but there was another rider, so I had to pick it up and there was another rider there so unfortunately I made contact and down I went. So I am obviously very disappointed. I felt we had the set-up to put on a decent result today. We had the capability to come out with a good result today but sometimes these things happen and obviously we just look to have a strong showing tomorrow."
More, from a press release issued by Yamaha:
Lowes Storms to WorldSBK Race 1 Podium in Qatar
Race
Alex Lowes consolidated his third position in the championship standings with a fantastic podium in WorldSBK Race 1, which was run in sweltering conditions under the floodlights at the Losail International Circuit in Qatar this evening. The Pata Yamaha with Rizla rider shadowed eventual winner Jonathan Rea closely for much of the race, but lacked the additional pace needed to mount a challenge for the lead. Michael van der Mark was involved in an intense battle for fifth place with Leon Haslam in the closing stages of the race, with the Englishman passing Yamaha's Dutch rider on the final lap to leave him sixth at the chequered flag.
Lowes, starting from second place on the grid after an impressive qualifying performance this afternoon, was initially the only rider able to match the pace of pole sitter Rea. The pair managed to pull out a significant lead on the opening lap, which they'd extended to more than two seconds by half race distance. It was only as the race entered the final stages that Rea was able to create a small gap at the front, leaving Lowes to defend his position against Chaz Davies, who'd finally managed to close  down the leading duo.
Davies made his move with four laps to go, diving up the inside of Lowes into the final turn and then using the power of the Ducati on the one kilometre long straight to build an unassailable gap. Third place in the race means that Lowes remains third in the championship standings but has extended his lead over fourth placed van der Mark from one to seven points, with Toprak Razgatlioglu a further ten points back in fifth.
Van der Mark was disappointed to finish only sixth in Qatar this evening, having struggled throughout the race with a lack of rear grip, especially on corner entry, most likely a consequence of the increased humidity. The Dutchman is confident he and his crew can find an improvement ahead of tomorrow's two races, which will bring to a close the 2019 WorldSBK season.
GRT Yamaha Supported WorldSBK riders, Sandro Cortese and Marco Melandri, endured a difficult Race 1 in Qatar, but for different reasons. Cortese made the most of a front row start to run in third place for the first three laps. The reigning Supersport World Champion had just been demoted to fourth by Davies when he lost the front at Turn seven and crashed out of the race.
Melandri was hampered by having to start from the sixth row of the grid and was unable to make significant progress after getting involved in a race long battle with Eugene Laverty and Michael Rinaldi. The GRT Yamaha rider eventually managed to pass his compatriot to finish in 12th position.
Ten Kate Yamaha Supported WorldSBK rider, Loris Baz, overcame the handicap of pain in his chest, a result of his crashes in Argentina, to finish as the top independent rider today, with the Frenchman riding a strong race to follow van der Mark across the line in seventh place.
Alex Lowes
Pata Yamaha WorldSBK with Rizla – P3
"A good grid position was important because on this track it's easy for the first few guys to get away in the early laps, even with the slipstream effect on the straight. I felt good from the start and managed to jump on the back of Jonathan, who's always so fast early on, and that helped us pull away. In the mid part of the race I felt quite good, taking some better lines and I thought I might be able to challenge for the lead. But then I started to make some mistakes on the front and Chaz came past me. I saw I had a big gap back to fourth and, at that point, I decided to be sensible and bring the bike home for a podium finish. It was important to start with a good result in Race 1; while it wasn't possible to secure third place in the championship today, it was certainly possible to make the job a lot harder. I really enjoyed today and now the focus is on tomorrow, which we'll take race by race."
Michael van der Mark
Pata Yamaha WorldSBK with Rizla – P6
"My start tonight wasn't too bad but the first few corners were a bit of a mess. I was struggling with almost no entry grip from the first lap onwards, which made for a long and difficult race for me. We need to find out what caused the issue, as we didn't make any changes after Superpole, where I had a really good pace on the race tyres. I'm confident we can find a solution and be back out there ready to fight again tomorrow."
Marco Melandri
GRT Yamaha Supported WorldSBK – P12
"This was a very difficult race, mainly because of my starting position on the sixth row of the grid. The first few laps the feeling wasn't so bad, but I couldn't pass Laverty, who seemed to have better traction than me and was really hard on the brakes. I was a bit smoother in the corners, but it was almost impossible to pass. The first time I passed Rinaldi I ran wide, but I managed to come back and pass him again, although it was way too late by then. The conditions today were really difficult, very hot and very humid, maybe more so than even Thailand. It didn't help that I was so close to the bikes in front that I could feel their engine heat too. We will see if we can improve tomorrow."
Sandro Cortese
GRT Yamaha Supported WorldSBK – DNF
"After such a good Superpole, which put me on the front row, I was expecting a bit more today. I got a good start, felt really comfortable and wasn't having any problems at all for the first few laps. Then, just six laps in, I lost the front and crashed. From what we've seen of the data so far it didn't look like a big mistake, but more that I was trying to stay with the front guys who were setting an incredible pace in the opening laps. The good thing is that tomorrow we have another chance and we need to take the positives from today, with the front row and the early race pace, and carry that over into the final two races of the season."
Loris Baz
Ten Kate Yamaha Supported WorldSBK – P7
"My chest wasn't that painful in the race, but I definitely wasn't able to move around on the bike how I wanted, which made things harder for me. But I don't think I lost time because of this; it just made the race a bit tougher. I wasn't feeling great for the first few laps and the pace of the guys at the front was also a bit of a surprise. I was struggling for grip and nearly highsided myself on corner entry, but changing maps brought an improvement and from that point on it was all about not making any mistakes. I knew at the end of the race I could be faster than the four riders ahead of me, but when I caught them, I was missing just a bit of rear grip and couldn't make a move on them. It was a good race, but yesterday I really thought we'd be in contention for a podium finish and we were far from this today. It seems we struggle a bit when the humidity increases, so we need to find out why ahead of tomorrow's two races."
More, form a press release issued by Kawasaki:
Kawasaki Wins Manufacturers' Award After Rea Race Win
Five-time WorldSBK champion Jonathan Rea secured his 15th race win of the year and in doing so Kawasaki took an unassailable lead in the Manufacturers' Championship standings. Leon Haslam (KRT) came out on top of a tough personal battle for fifth today on his Ninja ZX-10RR, one position higher than he had qualified in Tissot-Superpole.
In the surreal night time environment of the 5.380km long Losail International Circuit Jonathan Rea enjoyed even more success in his fifth successive championship-winning season, winning Race One after taking his seventh Superpole award of the season earlier in the day.
Starting from pole, Rea was never headed but he had Alex Lowes for very close company in the early laps and then Chaz Davies closed in for a period during the latter stages of the 17-lap contest. The Ducati rider eventually dropping back to finish 2.732 seconds behind Jonathan at the flag.
Rea's win gave Kawasaki a 42-point advantage in the Manufacturers' Standings, with only a maximum of 37 points left to play for on Saturday, in the Tissot-Superpole Race and Race Two.
Haslam had an eventful opening race in his return to Losail race. He overcame a collision with another rider and also being run off track at one point, to take a truly determined fifth place. There will be two more chances for Leon to score points on Saturday, when the race meeting and the entire season wraps-up.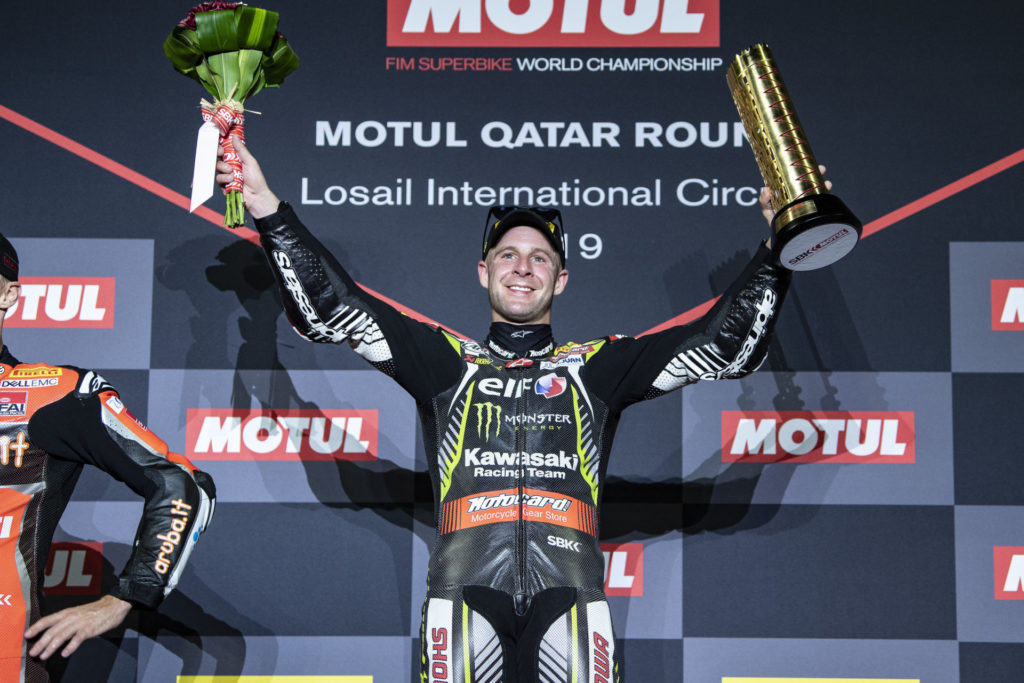 Jonathan Rea, stated: "That was a massive target met. What a year – all the big awards. The Riders' Championship, Superpole Award, Manufacturers' Championship… That was the target coming here. I knew I had to finish in front of the Ducatis to win the Manufacturers' Award today. I felt good from the start with the bike. I had such a good rhythm in Race One, it felt quite automatic, but I know I need to make a step for tomorrow because the pace could be faster with more rubber down. But that might help our situation with more rubber on the track. We just need to work in some areas on the front of the bike to finish the corner a bit better."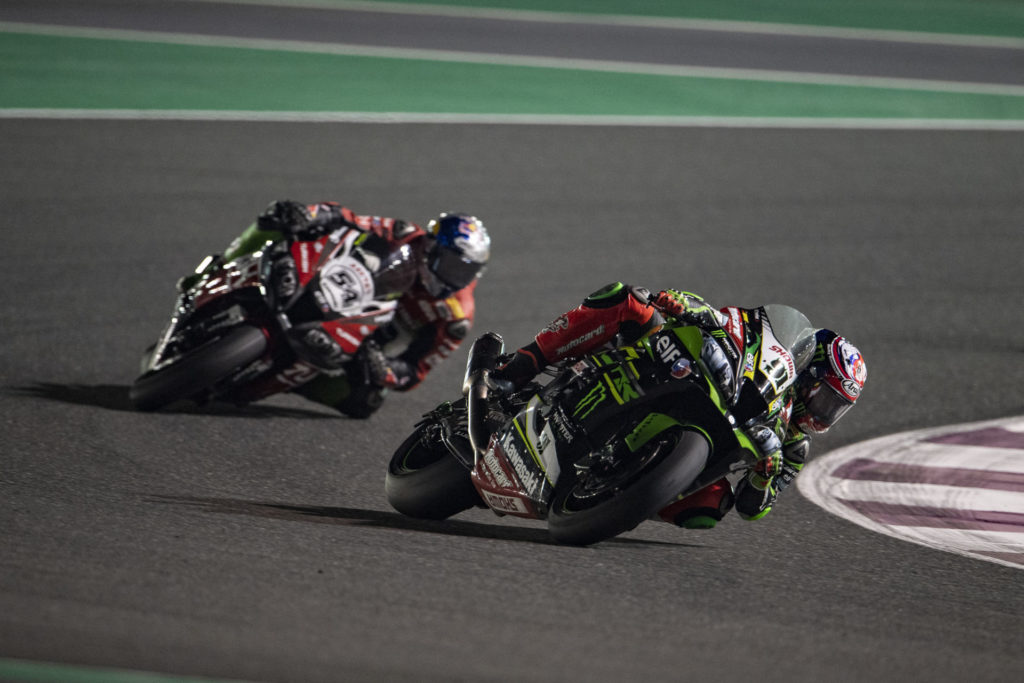 Leon Haslam, stated: "From FP1, FP2, FP3 to Superpole we got faster and faster. We were trying not to run before we could walk, learning this track again, and the way around. We knew everything was going to be difficult here and that fifth is what we could do today. We got caught up a little bit in the early laps with a few people, I got hit by Tom Sykes, got punted off once, but my battle was my battle and I managed to beat them. To make that next step, and go with Lowes and Chaz, we need to make a couple more tenths – and we also need to get away with them as well. We will see what we can do tomorrow."
Ichiro Yoda, KRT Senior Engineer, stated: "When I think about the start of the season, our competitors started strongly. So we thought maybe it was going to be a quite difficult season and our issues would be different again compared to previous seasons. But we predicted that we would be stronger toward the end, after we moved to the European rounds. Our prediction worked out OK, because together with our strong riders, engines and bikes we finally met our target."
Toprak Razgatlioglu (Turkish Puccetti Racing) has already reached the status of top Independent Rider in 2019 but lost out on a top five chance today after he ran wide onto the gravel and fought back to score points for 11th place. He had qualified tenth in Superpole.
Jordi Torres (Team Pedercini Racing Kawasaki) crashed on lap one at Turn Two, restarted, but had to pit and then finally retired from the opening race of the weekend. In the initial inspection in pitlane the team found water on the tyres, an indicator that a stone or other object may have holed his bike's radiator on the warm-up lap.
Leandro Mercado (Orelac Racing VerdNatura Kawasaki) had to retire after experiencing a technical issue on lap seven.
More, from a press release issued by Team Go-Eleven:
NINTH POSITION, ANOTHER COMEBACK IN RACE 1!
Friday in the desert of Qatar start with Eugene Laverty in great shape on the Ducati V4-R.
In the Free Practices 3, ran at 15.00 with almost 50 degrees of asphalt, the Irish score a great sixth place a few tenths from Jonathan Rea; a result that raises expectations for Race 1.
The changes in the length of the swingarm made in the night seem to have given considerable advantages, confirmed by Eugene's smile when he returned to the pits.
Free Practices 3: P 6   1'58.377   +0.416
The Superpole don't go as planned; with about 10 degrees less on asphalt, unexpected chattering problems emerge. With qualifying tyres, even lap time don't improve.
A particular condition that seems to have damaged the four Ducatis on the track, all forced to chase.
Sixteenth position on the grid that will force the Go Eleven rider to a comeback race.
Superpole: P 16   1'58.504   + 2.258
Despite the negative Superpole, the race starts with good expectations after the step shown in the free practice sessions.
Eugene starts well, he immediately recovers three positions and forces in pursuit of Rinaldi. He overtakes him towards the middle of the race and imposes a similar rhythm, and in some laps faster, compared to the fight for the fifth position.
The gap taken in the early laps is too much to be able to rejoin and give battle.
He concludes, thus, in ninth position, second in the Independent Rider standings at the finish line, bringing home a solid performance.
Because of the chattering that was still present, we missed a bit in order to fight for the top 5. To give to the rider the feeling of the first afternoon, eliminating the vibrations, will be the goal of the Go Eleven Team for the two races tomorrow!
Race 1:
P 1   J. Rea   33'34.518
P 2   C. Davies   + 2.732
P 3   A. Lowes   + 5.423
…
P 9   E. Laverty   + 24.500
Tomorrow, Saturday evening at 16.00 Superpole Race and at 20.00 Race 2 (local time), down the visors, first gear inside and green light to the last two races of the WorldSBK season!
Eugene Laverty:
"The race was hard, but was good to finish in ninth position. I had a really difficult Qualifying in Superpole, while FP 3 was really strong: I was sixth fastest in that session and I didn't have any chatter. I was really happy with the bike, but then in Superpole in different conditions the chatter returns, so I need to find the answer to this problem.
If we can cure the chatter there is the potential to finish in fifth position!"
More, from a press release issued by Moriwaki Althea Honda Team:
Top ten for Leon Camier in Race 1 with Ryuichi Kiyonari also in the points.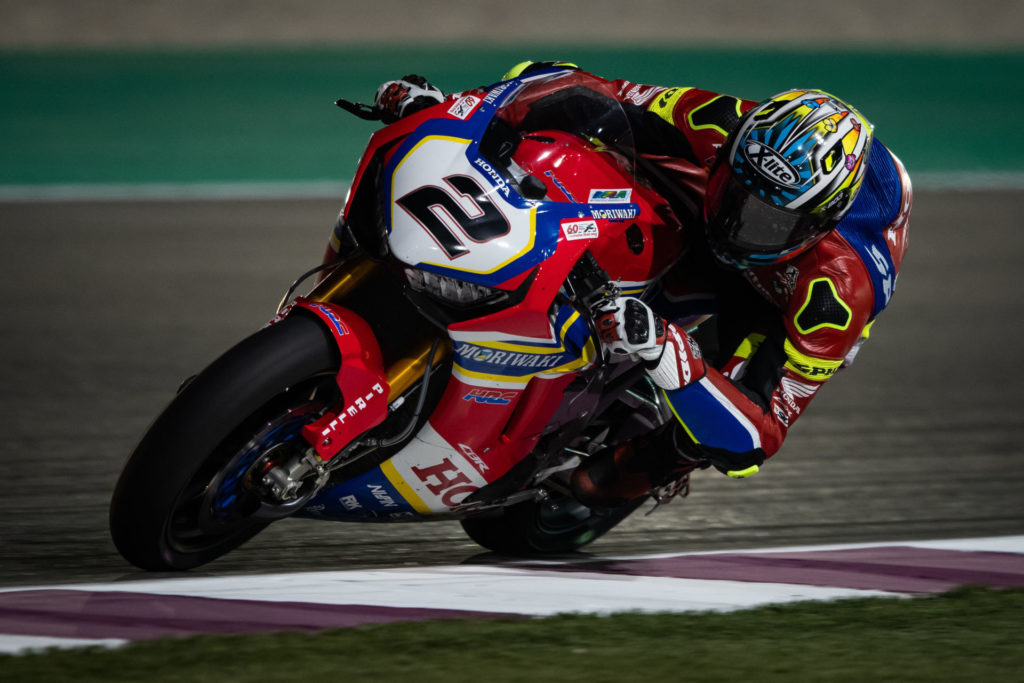 A rather hot Friday evening with temperatures hovering around 32 degree Celsius until well after sunset, during which Leon Camier and Ryuichi Kiyonari took on the first of the weekend's three SBK races at the Losail Circuit.
In the Superpole session that preceded Race1, Leon qualified in thirteenth place with Kiyonari in eighteenth position.
A less than brilliant start when the lights went out at 8:00 pm saw Leon drop back to seventeenth position. Not losing heart, the Brit gradually improved both his pace and position, passing several riders while others made mistakes, and ultimately crossing the finish line in tenth place.
Ryuichi Kiyonari also progressed after having made a slow start and finished inside the point-zone in fourteenth position.
Tomorrow's warm up will commence at 2.00 pm local time, followed by the Superpole Race at 4.00 pm and Race2 at 8.00 pm.
Leon Camier 
10TH
"We have made good progress with the chassis over the weekend and have also figured a few things out with the setup, so that's where we are at the moment. Today's result was not bad in the end but of course a few people dropped out so we were also a little bit lucky for sure. I didn't make such a good start as I ran very wide early on, through turn one or one of the first corners, and lost a lot of places which was a pity as I had got off the line well. Anyway, I did as much as I could, managing to get into the mix and pass a few people."
Ryuichi Kiyonari
14TH
"The first part of the race was quite slow for me as I didn't have perfect feeling with the front, and the track felt bit greasy maybe due to some moisture on the track. Rear grip was not bad though, so step by step I could improve and pass Delbianco and Schmitter. I tried to be consistent, but I realized that I was making little mistakes here and there, so tomorrow I'll try to do better in that respect and also be faster in the first half of race".
More, from a press release issued by Barni Racing Team:
Rinaldi thirteenth in race 1 at Losail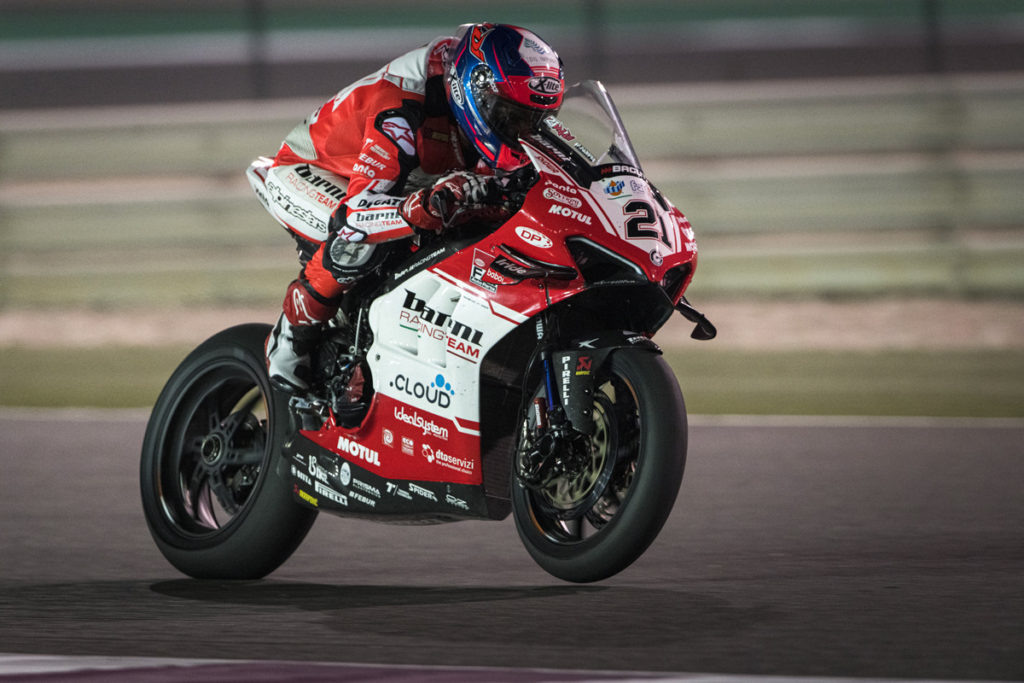 Losail (QAT), 25th October 2019. Race 1 of the final round of the 2019 WorldSBK season got underway tonight in Qatar, in the magnificent setting that the Losail international circuit affords under the lights of floodlights.
Michael Rinaldi concluded thirteenth the 17 laps of the Friday night after a complicated race. This result give him three more points in the Championship, where he's thirteenth overall with 121 points.
Superpole
After Free Practice session at a good level of performance with the eighth time (1'58.604) Rinaldi struggled with the soft tyre in the qualifying session. The 1'57.827 scored in the Superpole was his personal best time of the weekend but placed him fifteenth.
Race 1
It was a difficult race for Michael Rinaldi on one of the hardest and longest track of the championship. After a positive start which had placed him at the limit of the top 10 the flagbearer of the team from Bergamo lose ground not being able to chase the riders in front of him. Rinaldi was overtaken by Camier, Razgatlioglu and Melandri but he managed to stay in the point zone until the checkered flag.
Marco Barnabo, Team Principal
Once again we were unable to take advantage of the soft tyre. As already happened in this season after a good performance in FP3 lapping with the race tyre, in Superpole the bike's set-up does not fit with the qualifying tyre. Starting from the beck it is difficult to recover. We still have some setup problems and Michael can't ride as he wants for the whole race.
Michael Rinaldi
Race 1: P13
We are facing problems that affected us during the season and this does not allow me to ride the bike as I know. I hope we can find a way out tomorrow because I want to end the season in the best possible way.
More, from a press release issued by Aruba.it Racing Ducati:
World Superbike in Qatar: Chaz Davies puts in a great run through the field to finish second at the flag, fourth place for Álvaro Bautista
The first race in the Qatar WSBK Round, which is taking place this weekend at the Losail International Circuit, saw a great performance from Chaz Davies (Aruba.it Racing – Ducati), who finished in second place after a splendid ride through the field from twelfth place on the grid. After starting well from the fourth row, the Welshman crossed the line at the end of the opening lap in fourth place, and he then kept up an excellent pace that took him to a couple of seconds from winner Rea (Kawasaki) at the end of the scheduled 17 laps.
Team-mate Álvaro Bautista, who wasn't able to find the right feeling with his Panigale V4 R, was in a bit more difficulty in the first race. After a bad start from seventh place on the grid, and despite good pace in the second half of the race, the Spanish rider had to settle for fourth overall.
Tomorrow, Saturday 26th October at 15.00 CET, the Superpole Race will be held over a distance of 10 laps, while the 17-lap second race will get underway at 19.00 CET.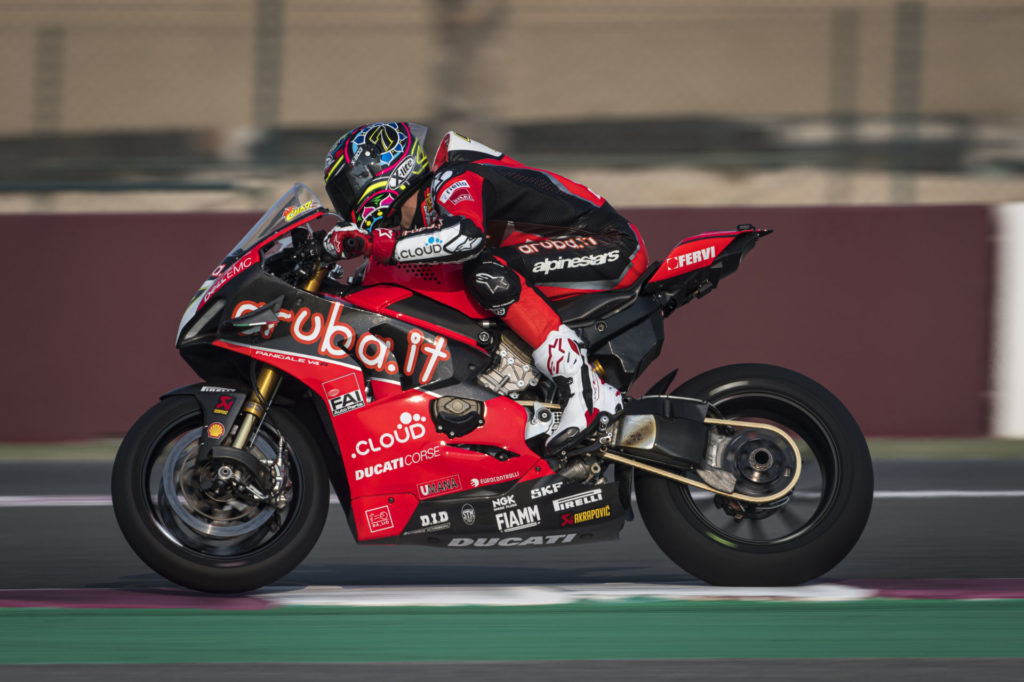 Chaz Davies (Aruba.it Racing – Ducati #7) – 2nd
"It was a really good race actually, much better than expectations, especially after Superpole which was a bad showing, because I just wasn't able to get the best out of the fresh rear tyre. In the race I got a good start into the first corner, and then the rest was just solid. I had really good pace, I was smooth and clean, trying to get a tenth of a second here and there and see if I could be in the mix with Jonathan come the end of the race. Unfortunately, I just used that little bit extra more tyre to keep me in the fight in the final stages. I'm pretty happy with the result, but I feel we can work on our package a bit and maybe up our pace tomorrow."
Álvaro Bautista (Aruba.it Racing – Ducati #19) – 4th
"Today was a difficult day because already in yesterday's practice sessions I wasn't able to find a good feeling with my Panigale V4 R. Today we made some changes to the set-up but unfortunately they didn't work as expected. After a few laps, with the tyre wear, the bike started to move about in the rear, and as a result I was struggling to keep the right lines. In addition, I lost a few places at the start: at the first corner I found myself on the outside losing ground to the riders who were on the inside. Despite these difficulties I did my best to get back up to fourth place, but wasn't able to close the gap to the podium battle. I think I managed to get the best possible result and we'll try and improve tomorrow."