Weather Conditions Cancel KRT Test
Kawasaki Racing Team riders Alex Lowes and Jonathan Rea were unable to take to the track for a planned two-day test at Jerez on 20-21 January, due to wet weather.
Needing a dry track surface to confirm the development programme of the exciting new Ninja ZX-10RR in WorldSBK specification, a completely wet first day – and no prospect of a truly dry track surface on day two – led the team to call an end to their immediate test plans.
New rules that limit the number of available private test days in 2021 to a total of ten also contributed to the final decision not to take the track in wet conditions.
Much of the pre-season evaluation and data-gathering was done at the end of the 2020 season, during tests at Jerez and Motorland Aragon in November, but to re-confirm some items and try new elements of the performance package KRT is now aiming to schedule another test day at Jerez, on 28 January.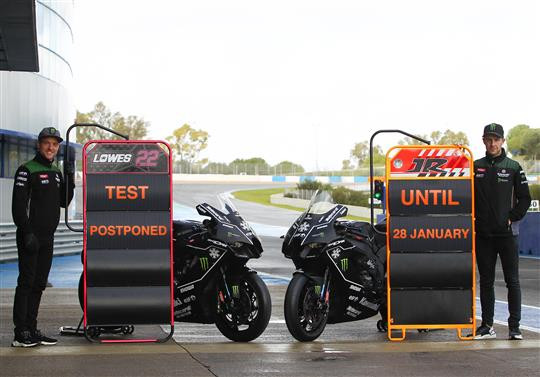 Jonathan Rea, stated: "It is a great shame not to test but the track is not going to be perfect today, so we decided to call it early. The guys can pack up and everyone can go home a little bit earlier. With the new regulations in place for limited test days, we need to be clever and use these days when they are most important. Right now we need to confirm some important items in dry conditions, that we already tested at Jerez the end of last season."
Alex Lowes, stated: "This is typical English weather – so I must have brought it with me! It is a shame but the first thing to say is that there has been so much effort from the guys, especially with the Corona virus restrictions, to put everything in place to get us down here to test. So thank you to them. It is a shame the weather did not cooperate this time but it has been nice to see everyone – and see my bike again."
Pere Riba, Crew Chief for Jonathan Rea, stated: "We were here for a two day test but still the track is wet and it is raining. With the new rules we have, for a limited number of testing days through the year, we decided to cancel. It is a shame because we had some engine items to test, but this is life; something we cannot control."
Marcel Duinker, Crew Chief for Alex Lowes, stated: "After the November test, where we did 95% of the job we normally do in a winter test, we were very confident here to re-start the 2021 schedule. Unfortunately, we have had some wet conditions but on the other side we are confident of the job we have done so far. We already said to each other that if we had to race tomorrow, we would be ready. Next week we have the opportunity to test for one day at a sunny Jerez, so we will return and continue our plan."
At the midpoint of the tests neither Isaac Vinales (Orelac Racing VerdNatura Kawasaki) nor Loris Cresson (Outdo TPR Kawasaki) had taken to the track, with neither likely to if the conditions do not improve drastically.
More, from a press release issued by Aruba.it Racing Ducati:
Private test at Jerez de la Frontera (Spain) cancelled due to rain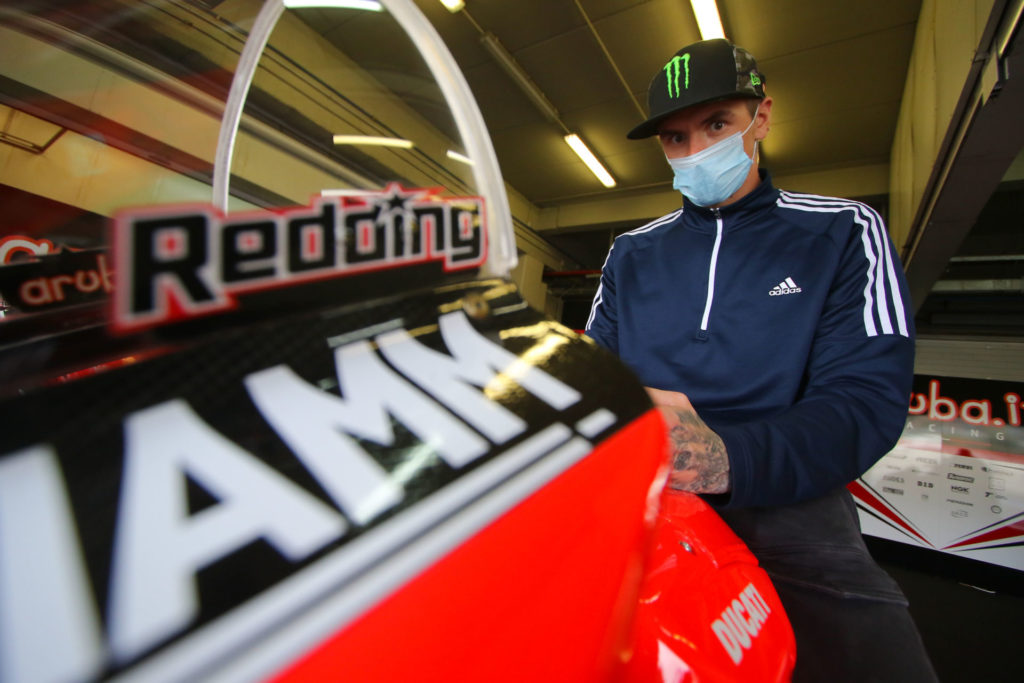 After the heavy rain that cancelled the first day of the private test at Jerez de la Frontera
(Spain), the Angel Nieto Circuit was still very wet today, partly due to sporadic showers that prevented Scott Redding and Michael Rinaldi from getting on track to do some solid work with their Ducati Panigale V4 R.
Due to the restrictions on testing days introduced by Dorna this season, the Aruba.it Racing – Ducati Team preferred not to take to the track, working immediately to find a new date and circuit as soon as possible.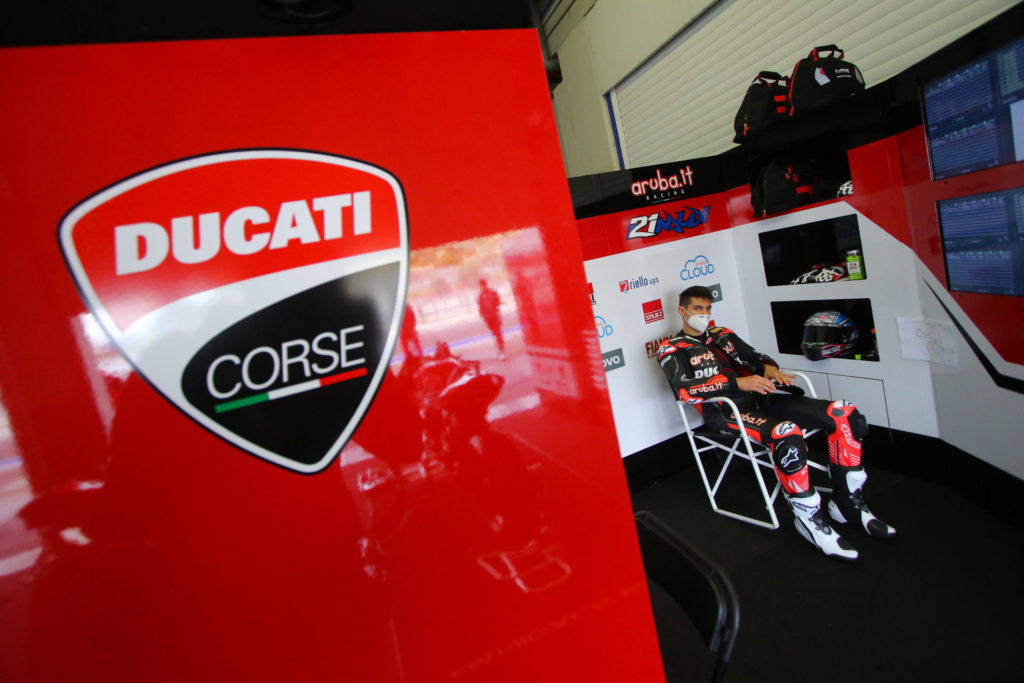 More, from a press release issued by Pedercini Racing:
Rain prevents Pedercini Racing from making their 2021 on-track debut with Loris Cresson
The planned two-day test at the Jerez Circuit in Southern Spain which should have seen OUTDO TPR Team Pedercini back on-track for the first of several pre-season tests has unfortunately been cancelled due to bad weather.
Whilst naturally disappointed to postpone their first 2021 outing, the squad made the decision to avoid wasting one of their limited test days and will now focus on a revised test schedule ahead of the FIM Superbike World Championship season opener at the TT Circuit Assen in the Netherlands in April.
Lucio Pedercini – Team Manager: "It's been frustrating for everyone over the last two days and I know Loris was keen to ride again but in the end the weather stopped us. We waited until the final moment, hoping the weather would improve enough for Loris to ride but in the end, it was not possible. The track was damp and not fully dry so what would Loris benefit from riding in less than perfect conditions? With Johan Zarco and Michele Pirro several seconds off the pace we saw no point in losing two test days from our allocation. We now need to evaluate when and where we will test before what already had planned at the beginning of March, but we need to time to see when and where it could be possible."
Loris Cresson: "It's not great to start the year like this but it is how it is and was the same for everyone. On Tuesday when it was clear we couldn't ride I went back to the hotel and to the gym. I was hoping to ride on Wednesday but unfortunately the weather was still against us. Nevertheless, it was great to meet the team again and I am even more excited to get back on track as soon as we can!"
More, from a press release issued by Dorna WorldSBK Press Office:
Difficult track conditions restrict running again at Jerez
Yesterday's rain passed but difficult track conditions stopped teams and riders taking to the track for the second day of testing at Jerez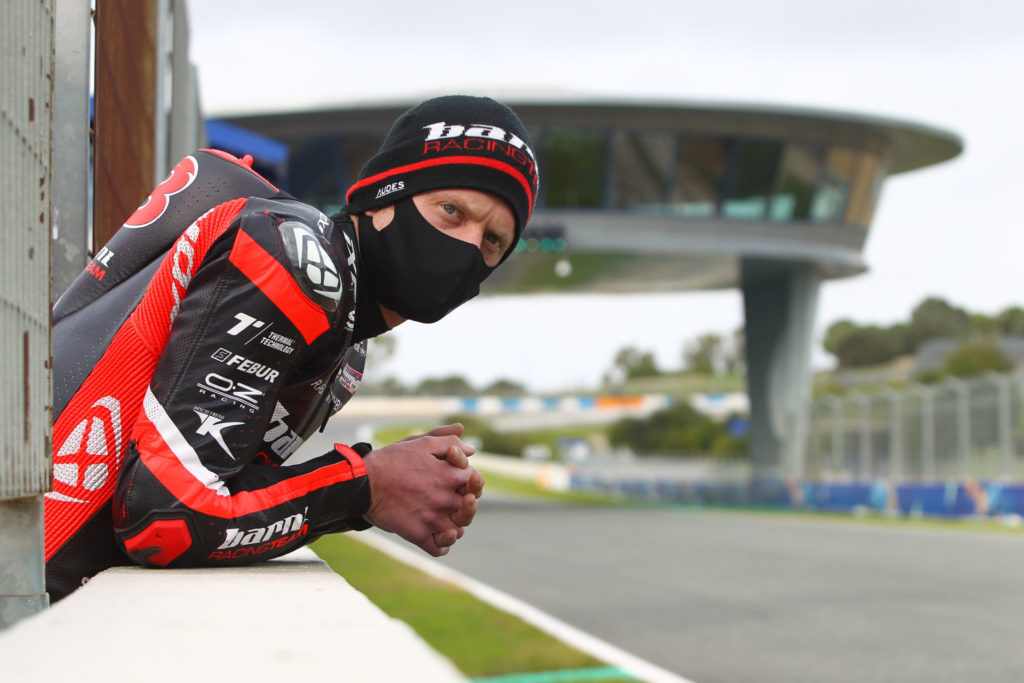 The weather once again caused havoc with the scheduled two-day test at the Circuito de Jerez – Angel Nieto as a wet track from yesterday's rain stopped the majority of the teams and riders present going out on track. Like the opening day, the only rider to head out was FIM Supersport World Championship rookie Leonardo Taccini with the Italian continuing to get up to speed with his new machine for the 2021 season.
18-year-old Taccini is making his debut in WorldSSP for 2021 as he looks to challenge for the WorldSSP Challenge title with ORELAC Racing VerdNatura. Taccini added to his 20 laps from day one with another 23 laps on the second day and also improved his best time again as he posted a 2'01.940s; finding around seven seconds as conditions improved and he got familiar with the Kawasaki ZX-6R.
The conditions prevented Team HRC's Leon Haslam and Alvaro Bautista from taking to the track with the team already confirming they would return to the Andalusian track next week (January 27-28) where they hope to fully exploit the test days; a new rule brought in for 2021 limits riders to ten days of private testing – not including Official or Supported tests. It meant all WorldSBK riders stayed in their garage for the duration of the test. Team HRC had been hoping to confirm the work completed over the winter but this will now have to wait until the next test session.
Reigning Champion Jonathan Rea (Kawasaki Racing Team WorldSBK) and teammate Alex Lowes were scheduled to be out on track as well with their brand-new Kawasaki ZX-10RR as both riders and KRT continued the development of the new engine ahead of the 2021 season, as well as a new aerodynamic package. KRT will also be back at Jerez on January 28 to try and reconfirm some elements as well as try new parts.
The ARUBA.IT Racing – Ducati team were the other factory team present in Jerez but, like both Team HRC and KRT, opted to stay in their garage with Scott Redding and Michael Ruben Rinaldi; with Redding travelling from California to make the two-day test. The team claimed the 2020 teams' Championship with the Ducati Panigale V4 R and will be looking to mount another title challenge with Redding and Rinaldi.
It proved to be a difficult two days for WorldSBK rookies too as they were unable to test their machines for the first time in wet conditions. Isaac Viñales (ORELAC Racing VerdNatura), who had been looking to get on the 2020 Kawasaki ZX-10RR, Loris Cresson (OUTDO Kawasaki TPR) and Tito Rabat (Barni Racing Team) were all hoping to get some all-important mileage under their belt.
It was a similar story for WorldSBK veteran Chaz Davies (Team GOELEVEN) as he looked to get acquainted with his new team across the test. The Welshman would have been testing the bike he won with at Estoril at the end of the 2020 season as well as a slightly modified one for Ducati, but instead had to stay in the pit area and garage across both days.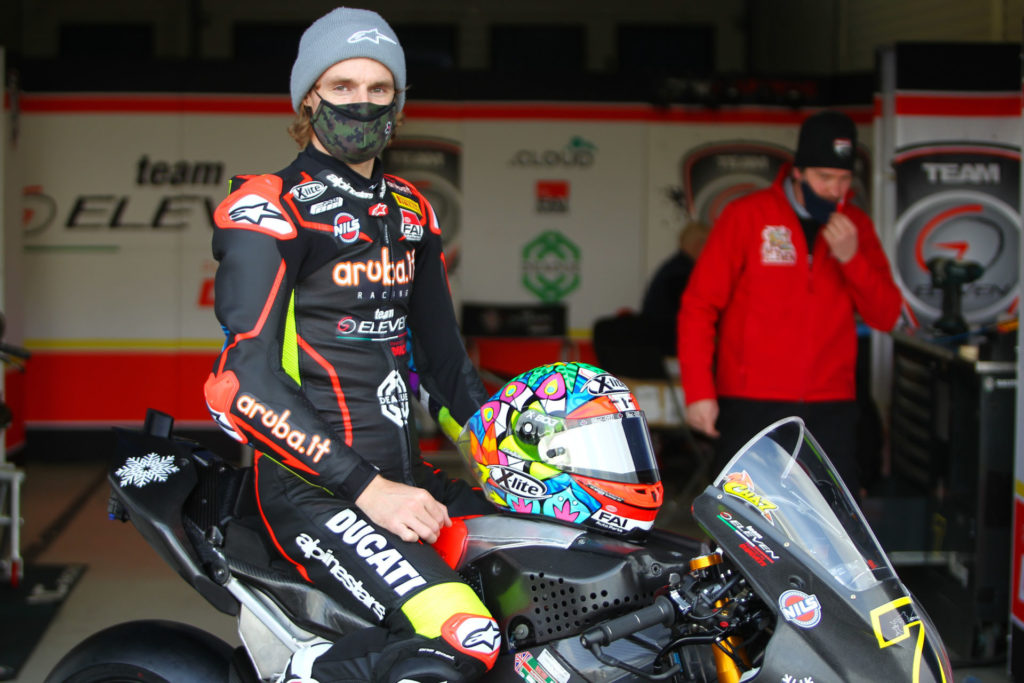 More, from a press release issued by Team HRC:
Team HRC test at Jerez postponed due to rain
A two-day Superbike test scheduled to take place this week has now been cancelled due to wet weather.
Team HRC was looking forward to testing at the Jerez de la Frontera circuit in Spain yesterday and today, but the weather conditions have unfortunately put paid to its plans. Rain and a constantly wet track meant that there was little point in sending Alvaro Bautista and Leon Haslam out with their CBR1000RR-R Fireblade SP.
Team HRC waited until lunchtime today to see if conditions might improve enough to make testing worthwhile, but although it eventually stopped raining, the track remained wet, temperatures not particularly cold but also not warm enough to allow the surface to dry quickly.
In an attempt to fully exploit the annual allocation of test days, the session has therefore been rescheduled and Team HRC will return to the Andalusian circuit on 27-28 January, ready to complete the work it had planned for this week.