Editorial Note: In addition to the Kawasaki factory team of Jonathan Rea and Alex Lowes, Aruba.it Racing Ducati's Scott Redding and Michael Ruben Rinaldi, Team HRC Honda's Alvaro Bautista and Leon Haslam, Barni Racing Team's Tito Rabat, Team GOELEVEN's Chaz Davies, ORELAC Racing VerdNatura's Isaac Viñales, and OUTDO TPR Kawasaki's Loris Cresson are expected to test this week at Jerez.
First 2021 KRT Test Approaches
The official 2021 Ninja ZX-10RR WorldSBK machine will soon take to the track at Jerez in the hands Jonathan Rea and Alex Lowes, for what will be the first test sessions of the New Year.
With two previous public outings for the latest model of the official Kawasaki WorldSBK entry already completed, at the end of last season, the two-day Jerez test will be an important milestone in the development of a new-look Ninja ZX-10RR racebike. The eagerly awaited return to track action will take place on Wednesday 20 and Thursday 21 January.
The aim of this particular test is not only a positive restart to the combined on-track efforts of KHI, KRT and all their technical partners after the midwinter break, but to continue to find performance improvements and new approaches to overall race competitiveness during what is a major evolution for the already class-leading Ninja ZX-10RR.
Six-times WorldSBK champion Rea will be looking for his seventh consecutive World Championship in 2021 while Alex Lowes will soon start his second season as an official KRT rider, having won a race in 2020 on the previous Ninja ZX-10RR.
The boldly refreshed styling of the new bike also has a true aerodynamic design, with internal winglets providing up to 17% increased down force at high speeds allied to an overall refocussing of the rider aero package for both the race bike and its road-going sibling for 2021. A higher revving engine with less reciprocating mass will allow both greater acceleration exiting corners and an improvement in top speed.
With a wide variety of corners but no really long straights the 4.423km long Circuito de Jerez rates highly as both a race and testing venue. After a shakedown of the new Ninja there last November, and then a short subsequent test at Motorland Aragon, this week's track session will be the perfect opportunity to measure progress in a real world scenario.
The next planned test for KRT after Jerez will be held at Portimao in Portugal, between 4 and 5 March.
Jonathan Rea, stated: "It is nice to get back to riding the bike so soon after the Christmas break. The engineers have had a chance to understand our comments from the November test, where we gave the 2021 Ninja ZX-10RR its first shakedown and I started to feel comfortable on the bike. The biggest thing we need to understand in these coming tests is engine character. We will have new parts and we will work together with my electronic engineer to give me the feeling that I really like. Apart from that, it is just nice to see everyone again. The following test is not scheduled for a while so this one breaks up that huge gap and I hope we get consistent weather. Jerez is a good test track because we have a lot of info here, so it is very easy to compare. I have been working really hard this off season, so it will be nice to get back on the bike and get that riding feeling again."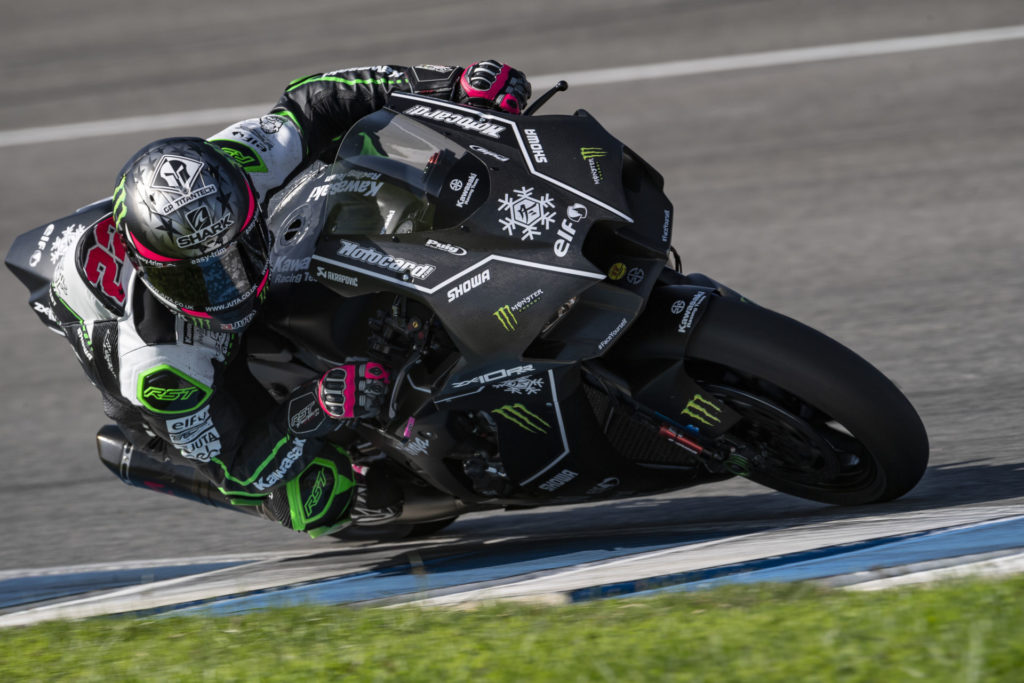 Alex Lowes, stated: "Obviously I am looking forward to getting back on my bike. With the Covid-19 situation since the last test it has been difficult for everybody, and hard for the team to organise these tests in Jerez, so a big thank you to them. Obviously we have a new package for 2021 and my target this week is to confirm two or three things we did not get to work on during the second day at the previous test in Aragon. We will pick up where we left off there and work through it, getting back into riding again. Time always feels a lot longer than it actually is when you are not on the bike and I can't wait to get out there. Just as much as riding the bike I am looking forward to getting back with my guys, working with them and getting properly back into it for 2021."
Guim Roda, KRT Team Manager, stated: "This is the first test of 2021 but of course our new season started last November. It is a new year, however, and Jerez will be a kind of warm-up after the Christmas period. We have evaluated the information from the tests we did in November, at Jerez and Motorland, and we go to Jerez again with some solutions and ideas to keep improving. After that we will have no testing in February, although we are planning a very intensive period in March to be ready for the start of the season. Of course the pandemic situation is not the best one but we will try to manage as best as possible and try to keep working; keep the world moving. Our idea is to try to be ready to give a little bit of entertainment, even if it is on TV at first, then at the circuit in middle of the year – if it is possible to get some public access. This is our idea, while at the same time developing the Ninja ZX-10RR racebike and securing a good result for Kawasaki in the near and longer term."
Other Kawasaki teams to join KRT at the forthcoming Jerez tests will be Outdo TPR with rider Loris Cresson and Orelac VerdNatura Racing with Isaac Vinales.
2021 KRT Rider WorldSBK Statistics
Jonathan Rea: World Champion 2015, 2016, 2017, 2018, 2019 & 2020
2021: Races 0, Wins 0, Podiums 0, Superpoles 0
Career Race Wins: 99 (84 for Kawasaki)
Career Podiums: 185 (143 for Kawasaki)
Career Poles: 27 (23 for Kawasaki)
Alex Lowes:
2020: Races: 0, Wins 0, Podiums 0, Superpoles 0
Career Race Wins: 2 (1 for Kawasaki)
Career Podiums: 24 (4 for Kawasaki)
Career Poles: 1 (0 for Kawasaki)
8 x Riders' Championships (Scott Russell 1993, Tom Sykes 2013, Rea 2015, 2016, 2017, 2018, 2019 & 2020), 1 x EVO Riders' Championship (David Salom 2014)
6 x Manufacturers' Championships (Ninja ZX-10R 2015 & 2016, Ninja ZX-10RR 2017, 2018, 2019 and 2020)
5 x Teams' Championships (KRT/Provec Racing 2015, 2016, 2017, 2018 & 2019)
Kawasaki FIM Superbike World Championship Statistics
Total Kawasaki Race Wins: 158 – second overall
Total Kawasaki Podiums: 454 – second overall
Total Kawasaki Poles: 92 – second overall