Lowes Tops Motorland Test Times
Kawasaki Racing Team WorldSBK competitors Alex Lowes and Jonathan Rea completed a two-day test at the forthcoming WorldSBK race venue of Motorland Aragon in very positive fashion, with Lowes fastest of all and Rea third quickest.
With a fall of rain near the end of the action preventing any final machine set-up adjustments in the closing track session, Lowes' lap time of 1'49.807 was the best of the test, with Rea on 1'50.196 pace that placed him third fastest.
In once more hot ambient conditions, after similar experiences at the recent Jerez and Portimao rounds, each KRT rider refined their latest race set-ups on the Ninja ZX-10RR. They will now take on what will be eventually six individual races at the awesome 5.077km long Motorland Aragon circuit in northern Spain.
After the intense return to real race action following a long period away from the tracks due to the ongoing Covid-19 pandemic, Rea took the championship lead away from the Portimao round last weekend, with Lowes now fourth overall.
With the conclusion of these Motorland tests the championship will return to points scoring action at the same venue between 28 and 30 August, with another race weekend to be held there between 4-6 September.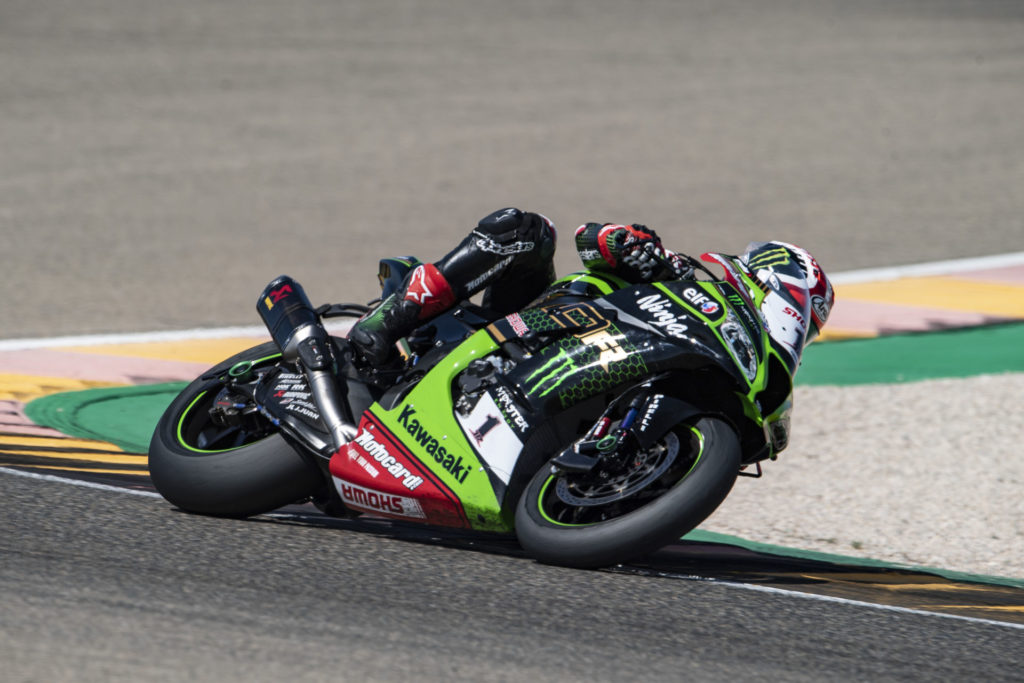 Jonathan Rea, stated: "It has been a really positive two days, first to come here and do a lot of jobs that we would have to do in the race weekend – like understand the tyre options, defining the base set-up and also working on tyre set-up. I feel we are quite sure of our base set-up now to start on Friday morning of the first race weekend. We are also just familiarising ourselves with this track. We had some new chassis items here, to try and get some more front confidence. We still need to confirm them in the winter tests, as that work was more about 2021. All in all, we worked with everything we wanted to test and I felt good with the track straightaway. I understood the bike and we worked in a good way. Our effort was very constant, my lap times were constant and I feel we can leave here in a positive frame of mind."
Alex Lowes, stated: "Today was good because like I said yesterday we learned a lot and put all the pieces together. Even on the first day I felt a little bit better in the hotter conditions than I did at Jerez or Portimao. The front of the bike felt a lot better. I had a lot more confidence on the brakes to turn the bike and this was really encouraging for me. On the rear of the bike, right at the end of the day we made some changes. Unfortunately, because of the rain that finally arrived we could not quite confirm if this was better or worse. We will have to focus on this on the Friday when we come here for the first race weekend. But today was very positive for us."
Pere Riba, Crew Chief for Jonathan Rea, stated: "After the Covid situation, a long break, the championship changes, and then the recent races being held in a really hot conditions, the approach was a bit different here. Already in Jerez the bike was working well and we made a different balance to save the tyres in hot conditions. We kept this base and this bike balance and we just tried to give time to the rider to understand the limits. Afterwards, we can improve the weak points with this base bike. Motorland is one of the tracks with a long straight and normally it has been a track not so easy for our package, especially in the last sector. But this Motorland test has been positive and the focus was to find turning with our base bike for the starting point of race weekend. We will have two consecutive weekends here, so six races, and I think this will mark the result of the championship a lot. I am very proud of the job everyone did at this test. We also tried to improve the electronics and suspension and to continue to collect information for the future. It has all been very positive."
Marcel Duinker, Crew Chief for Alex Lowes, stated: "We had some difficult races in Jerez and Portimao. Through winter testing in Phillip Island we had a nice track condition, a lot of grip available but in the last two hot races at Jerez and Portimao we had some difficulties in more slippery track conditions. So the target of this Motorland test was to improve mainly in this area. We did a good amount of laps and followed our test programme. In the end we reached our target. I have got a rider with a smile on his face so we are ready for the Aragon race weekend."
As well as the official KRT due, former WorldSBK Kawasaki runner Roman Ramos (Outdo Kawasaki TPR) replaced the injured regular WorldSBK Ninja ZX-10RR rider Sandro Cortese at Motorland and was eighth fastest. Maximilian Scheib (Orelac Racing VerdNatura Kawasaki) also tested at Motorland, finishing ninth.
More, from a press release issued by Aruba.it Racing Ducati:
Two days of testing at Aragon (Spain) conclude for the Aruba.it Racing – Ducati Team
After the restart of the 2020 WorldSBK season with the two rounds held in Jerez (Spain) and Portimao (Portugal), the Aruba.it Racing – Ducati team moved to the Motorland circuit of Aragon (Spain) for two-days testing in view of the double round that will take place on the same circuit in the two consecutive weekends between late August and early September.
Scott Redding and Chaz Davies worked hard – especially on ergonomics, set up and used tyres – completing 131 and 120 laps respectively before the unexpected rain (after two scorching days) that forced riders to return to the pits without having the chance to attempt the usual end-of-session time attack.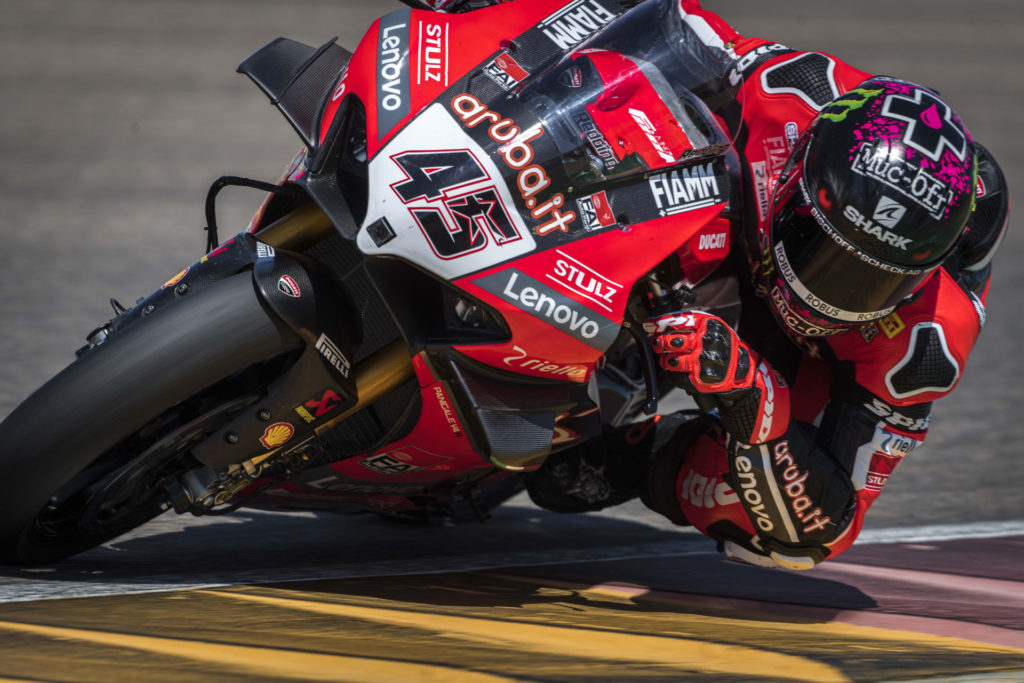 P5 – Scott Redding (Aruba.it Racing – Ducati) 1'50.335
"It has been a productive two days. We have been concentrating a lot on working with used tyres in the sigh of the next two weekends here at Aragon and we have been able to make some good progress since the first day of testing. We didn't try the qualifying tyres but it wasn't important. Now we will enjoy a few days off to return to Aragon in ideal conditions".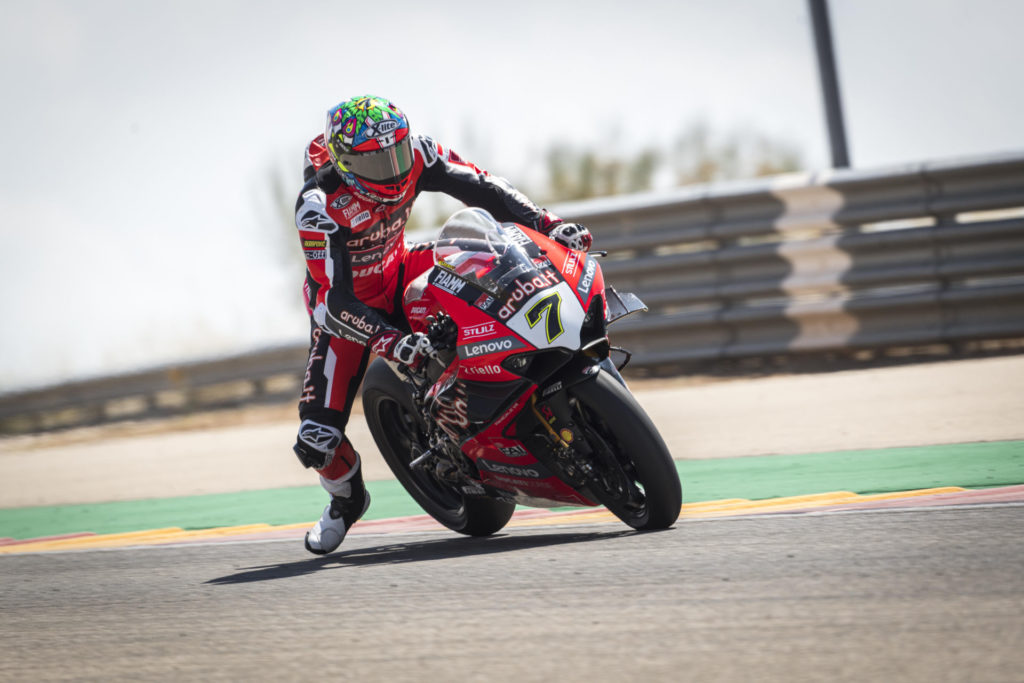 P6 – Chaz Davies (Aruba.it Racing – Ducati) 1'50.509
"I'm satisfied for these two days of testing also because after the two races at Jerez and Portimao we had the chance to test solutions that are part of our development program. We had positive indications on many aspects while for other details we will have to work in the next few days to understand how to improve further. The feeling, however, was positive".