More, from a press release issued by Dorna:
#PRTWorldSBK – Day 3
Rea claims Championship lead with Race 2 victory
Three out of three for Rea in Portugal as Championship contenders fall in tense Race 2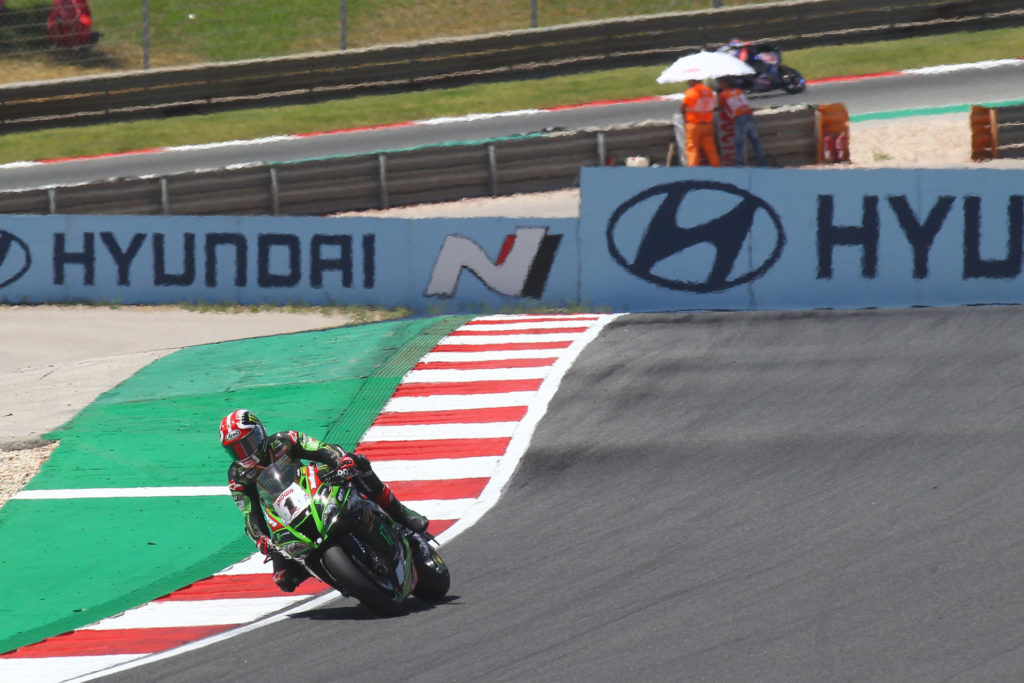 The MOTUL FIM Superbike World Championship standings have a new leader in 2020 following Race 2 at the Motul Portuguese Round as Jonathan Rea (Kawasaki Racing Team WorldSBK) moved to the top of the standings following his third race win in 2020 at the Autodromo Internacional do Algarve.
Rea initially faced a challenge from Toprak Razgatlioglu (PATA YAMAHA WorldSBK Official Team) and Loris Baz (Ten Kate Racing Yamaha) with the Turkish sensation on the inside at Turn 1, but Rea swept around the outside of both Razgatlioglu and Baz to keep the lead and pulled out a gap to claim a dominant victory; moving to the top of the Championship by four points.
Scott Redding (ARUBA.IT Racing – Ducati) claimed a stunning second place after making up three places from his starting position, the British rider ensuring Rea could not pull too far away in the Championship standings, having an almost race-long battle with Michael van der Mark (PATA YAMAHA WorldSBK Official Team); the Dutch rider finishing the 20-lap race in third place.
Redding's Ducati teammate, Chaz Davies claimed a fourth place finish as he fought his way through the field, finishing two seconds clear of Alvaro Bautista (Team HRC) as the Spanish rider secured his best finish of the 2020 season; battling his way through the field to secure a top five finish. Michael Ruben Rinaldi (Team GOELEVEN) claimed a sixth place finish after showing another solid performance as he continued his impressive recent form.
Tom Sykes (BMW Motorrad WorldSBK Team) secured a seventh placed finish for BMW, two seconds back from Rinaldi but almost 12 seconds clear of the recovering Razgatlioglu in eighth; the Turkish sensation battling back from a crash at Turn 5 to claim a points finish. He battled with Federico Caricasulo (GRT Yamaha WorldSBK Junior Team) in the latter stages of the race, taking advantage of the Italian running wide at Turn 5 with just a couple of laps to go.
Leandro "Tati" Mercado (Motocorsa Racing) secured his best result of 2020 with 10th place, holding off a challenge from American star Garrett Gerloff (GRT Yamaha WorldSBK Junior Team) who finished 11th. Gerloff had an incident with five laps to go with Xavi Fores (Kawasaki Puccetti Racing) with the pair coming together at Turn 2; Fores having to retire from the race while Gerloff could continue. Eugene Laverty (BMW Motorrad WorldSBK Team) bounced back from a Turn 5 crash to claim points with 12th place, while Leon Haslam (Team HRC) finished 13th; also after a fall at Turn 5.
Marco Melandri (Barni Racing Team) finished in 14th place with Sylvain Barrier (Brixx Performance) in 15th; Frenchman Barrier securing his best result of 2020 as he picked up the final point available in Race 2.
Baz was forced to retire after a high-speed crash at Turn 15 in the early stages of the race while Maximilian Scheib (ORELAC Kawasaki VerdNatura) retired from the race following an incident on Lap 2. Alex Lowes (Kawasaki Racing Team WorldSBK) joined the list of fallers at the Turn 5 hairpin as he came off his bike on Lap 7, remounting the bike but bringing it back to the pitlane to end his race early.
Rea taking the Championship lead means there have now been four different Championship leaders after Razgatlioglu, Lowes and Redding.
P1 Jonathan Rea (Kawasaki Racing Team WorldSBK)
"I can't believe that I came in here 24 points back and go out leading the Championship, it's incredible. We had some worries; we didn't come here in winter testing when all the other teams did, and I rode terribly in Free Practice 1; I was starting to panic a little bit. I could see my pace in the races was very good, especially at the end I could do exactly as I wanted. This race, I just knew to keep the pace strong at the beginning with Scott. I knew, sooner or later, that the cord would break, and I could just ride with my pit board. My team gave me a great bike. The wind picked up a lot today and I had a few sketchy moments over the hill where the front was rolling so that was enough to tap me on the shoulder to look at the 25 points, and move on to Aragon in a couple of weeks."
P2 Scott Redding (ARUBA.IT Racing – Ducati)
"It was a really hard weekend for us. We were kind of in damage limitation mode, I knew I could ride for the podium, but the bike wasn't really working that well for us. I really wanted to get a podium here because I knew Jonny was going to win all three races after I saw his pace. It's okay as you have tracks like that that suit bikes better, but it isn't acceptable to finish fifth and then seventh is not ideal. We changed a lot of the bike and in the warm-up lap and told the team that I didn't feel good. I felt good and could run with Jonny for quite a few laps. My target was to get a gap and then to manage because I knew I was going to suffer at the end. We managed to pull out second and I think that's the best job we could've done here today."
P3 Michael van der Mark (PATA YAMAHA WorldSBK Official Team)
"I'm really happy with this race. From the start, I stayed on a consistent pace and people were making mistakes. I kept in my rhythm, I felt quite good and I struggled a little bit with the front tyre. In the end, I was with Scott. I was fast but I wasn't stronger, so I had to wait until he made a mistake. I went in front but again hit neutral and lost that gap, and then couldn't pass him. We had a similar level; he was stronger in some points than I was. I'm really happy with this podium, the temperatures went up again and the bike felt good again. Massive thanks to the team because this morning I was very disappointed."
More, from a press release issued by Pata Yamaha:
Pata Yamaha Riders Bank Another Two Podiums at Portimão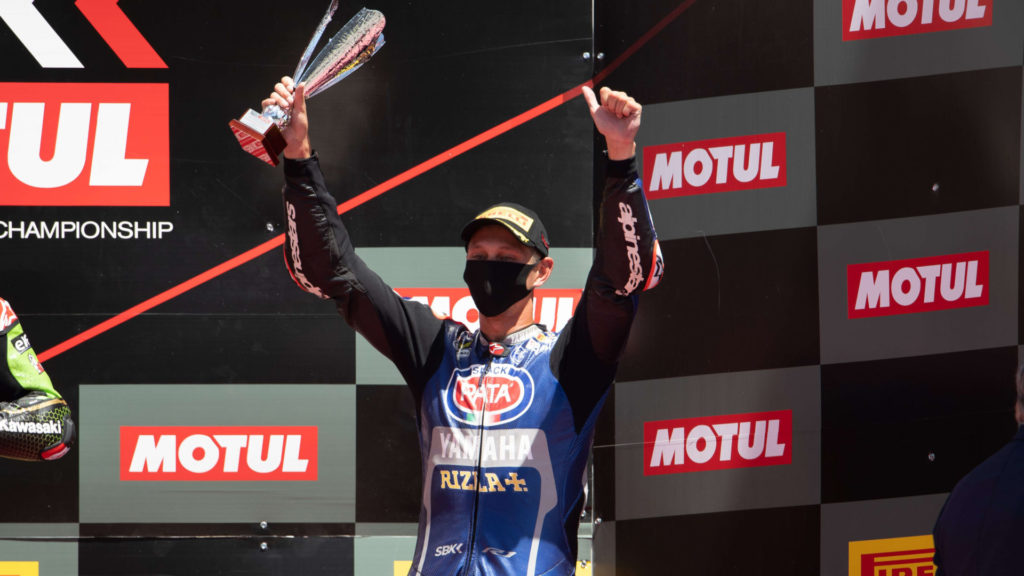 The Pata Yamaha WorldSBK Official Team with Rizla rounded out a successful weekend at the third round of the FIM Superbike World Championship today, with Michael van der Mark taking a well-deserved third in Race 2 as a follow up to Toprak Razgatlıoğlu's second place in the Tissot Superpole Race.
Van der Mark recovered from, by his own admission, a disappointing seventh in the 10-lap qualifying race to become one of the main protagonists in the second full-length race at the Autódromo Internacional do Algarve.
The flying Dutchman made steady progress up the order, keeping a cool head until he caught Ducati's Scott Redding in second. Van der Mark was able to capitalise on Redding's mistake running wide at Turn 5 but was, unfortunately, unable to hold on to the runner-up position due to a small error later on lap 13. While he kept the pressure on right to the chequered flag, Van der Mark ultimately finished just 0.093s shy in third.
This morning, Pata Yamaha's young rising star, Razgatlıoğlu, was the only rider who managed to get away with race-winner Jonathan Rea from the start of the Superpole Race. The leading pair immediately pulled a gap on the rest of the field and maintained their positions to the end, as Razgatlıoğlu took his sixth podium of the season.
In Race 2, the Turkish rider suffered a slow low side at the notoriously bumpy Turn 5, but was able to quickly remount and recover to eighth, banking crucial points for the championship in the process.
The Pata Yamaha team will now make their way to Motorland Aragón for a two-day test on 13-14 August prior to back-to-back race weekends at the Spanish circuit at the end of the month, scheduled as the fourth and fifth rounds of the 2020 FIM Superbike World Championship, where the goal is to once again challenge for the podium as well as make a step forward to fight for victory.
Michael van der Mark: P7 & P3
"Let's start this morning with the Superpole Race – we thought in warm-up that we had found a good solution, but that turned out not to be the case and it was a real struggle from the start. I was so disappointed because I thought with the temperature a little lower than the normal race time that I would have a good chance to be on the podium, but I could do no better than seventh in the end. In the second race this afternoon, we made some changes again and to be honest from the start I wasn't that quick but everybody's pace was a lot slower than yesterday. I saw many people making mistakes and just tried to keep my own rhythm and stay calm, which was quite difficult. One-by-one, I caught some guys up and close to the end I caught Scott. I couldn't really pass him until he made a mistake – but just after that I missed a gear and I lost the gap that I had pulled from him. After that I got right back onto his wheel, I was faster but he was stronger, I just had to wait for him to make a mistake but he didn't. I'm happy with this podium though, and was also happy with the difference in the feeling of my R1 this afternoon compared to the first race."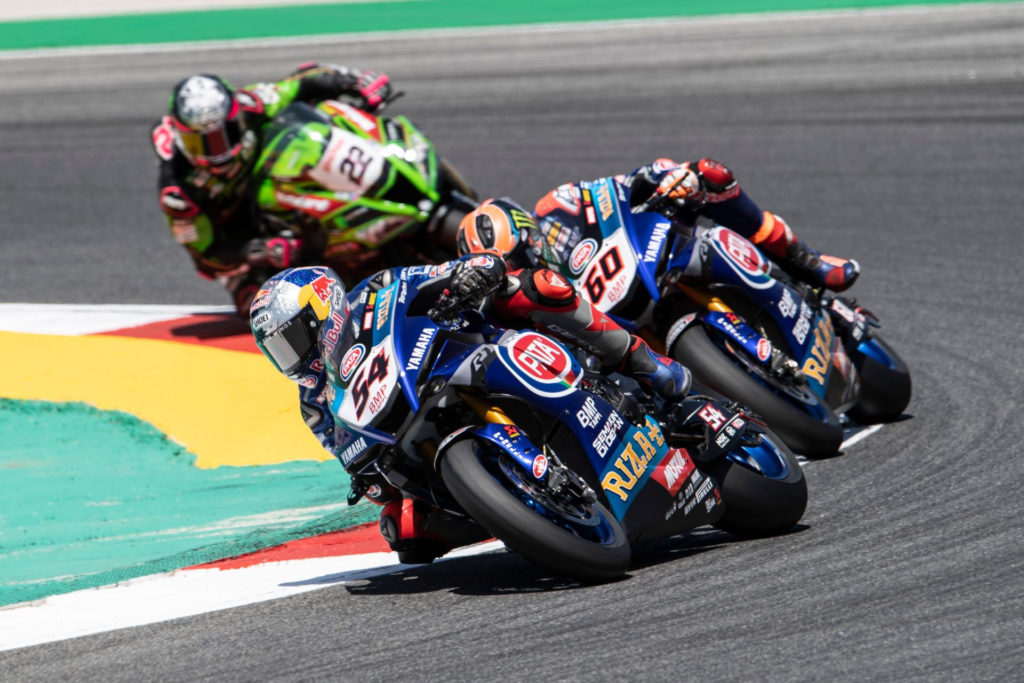 Toprak Razgatlıoğlu: P2 & P8
"Today it was both good and bad! We started well with second place, another visit to the podium and important points. Race 2 also started relatively well, although I had some issues with the front tyre feeling early on, I was sliding a lot. Unfortunately, I had a slow crash at Turn 5 but, luckily, didn't damage the bike and was able to rejoin the race. In the end I managed to work my way back to eighth place and pick up valuable points for the championship, but I was disappointed because normally I could have fought for another podium finish. Now we head to Aragón for the next race and we will try to get a good position there to fight for the championship. The test next week at the same circuit will be very important to work on the tyres and a good set-up for the race."
Paul Denning – Team Principal
"Following yesterday's double podium, the plan was to further improve the R1s for both riders and make another step today. The Superpole Race was run at a ferocious pace at the front using the soft tyres, and Toprak was unable to quite match the pace of Rea but scored another superb second place. Mikey was disappointed with the bike balance in the Superpole Race but kept it sensible to finish seventh and it was great to see his crew make a good step in performance for Race 2 this afternoon. This improvement enabled him to close down Scott Redding and secure a third place finish that could have been even better but for a small error a few laps from the end. Toprak was unfortunately faced with no grip and a bad feeling from the first lap of Race 2, and we were lucky to be honest that his R1 was not damaged too badly when he lost the front at turn five. As a result, he was able to mount a charge back to eighth place, score some decent points and re-secure third position overall in the championship. For the Pata Yamaha team, it's a slightly strange situation once again: four podiums in three races, beaten only by a rider who has won 12 races at this venue and clearly was the class of the field, and yet to once again feel slightly frustrated that we didn't fully maximise our potential. Our hardworking crew travels up to Aragón for a further test in the Spanish heat on Thursday and Friday, and we'll be looking to further improve the performance ready for the double-header."
More, from a press release issued by GRT Yamaha WorldSBK Junior Team:
Portimão Day 3: Sunday in the top-10 for GRT Drivers
The Portuguese round of WorldSBK ended positively for the GRT team, and the work done over the weekend allowed the two rookies to reach the top-10, both in the Tissot Superpole Race and in Race 2.
The third day of each racing weekend, with the presence of two consecutive races, represents an opportunity for all the teams to score several points and go home in a good mood. This scenario came true today for the GRT team, thanks to its two riders who found the right feeling to both enter the top ten, despite some obstacles on the way.
The day got off to a good start during this morning's Warmup, in which Gerloff and Caricasulo respectively achieved the 12th and 13th fastest time thanks to the changes made last night. In the Tissot Superpole Race the drivers continued to improve, and the American made his way up to the tenth final position, while the Italian moved up from the 15th position on the grid to 12th place. The two then finished the weekend with another capital performance in Race 2: Caricasulo managed to keep his pace for most of the race, climbing and crossing the line in ninth position, while Gerloff's even better performance was compromised. from a contact with another driver in the final laps, and the Texan finished 11th.
Caricasulo, who achieved the best result of his still young career today thanks to ninth place, is very satisfied with his Sunday: "It was a good day today, in an overall good weekend. We have always improved race after race, solving our problems little by little. In the Superpole Race, despite a bad start, I managed to keep a faster pace than yesterday and climbed up in the standings, while in Race 2 I chose the soft tire and, despite losing a bit of pace towards the end, I again narrowed my gap from the leader, so I'm happy. I am obviously also very happy to be in the top 10. We leave Portimão with a good base, and I hope to do well again in Aragón, where we will have two consecutive races to keep growing."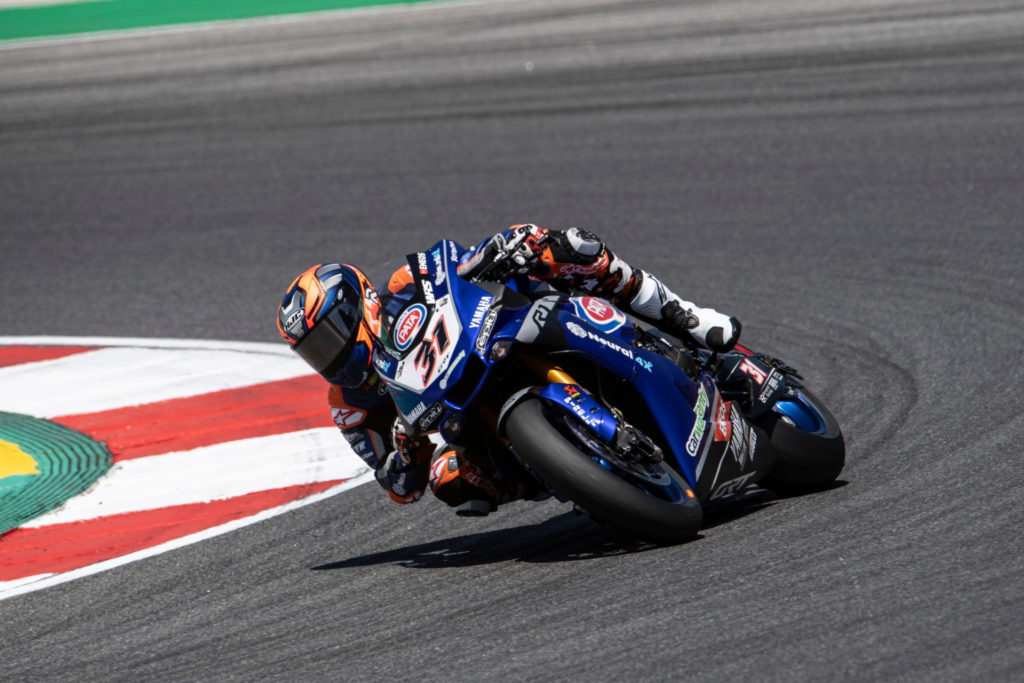 Gerloff, on the other hand, is satisfied with the pace he managed to keep, but less so for the contact that slowed him down in Race 2: "I am quite happy with my Superpole Race, in which I managed to stay close to Bautista. I expected to continue on the same line in the second race, but I quickly realized that I was missing a few tenths, and I was unable to follow Bautista when he passed me. Then, about five laps to go, I passed Forés on the first braking point. I thought I was in front by now, but all of a sudden he overwhelmed me trying to pass me back to turn 2. He crashed, I ended up on the escape route, and it's a shame because it would have been nice to finish in the top eight. I then managed to get closer to Mercado, but I ran out of laps and finished behind him. I gave it my all today and I can't wait to race in Aragón, a track that I really like. "
Technical Coordinator Damiano Evangelisti is also satisfied with how the Portimão round ended, and wants to thank the whole team for their impeccable work:"First of all I want to thank our team, who do an incredible job and always remain united, even in difficult times. This is essential during all race weekends and allows our riders to have what it takes to demonstrate their talent. We worked all weekend to improve our race pace and get closer to the leaders. Today we managed to do two good races with both Federico and Garrett, who managed to stay close to the group of riders who run steadily in the top-10. In Race 2, in particular, we could have finished in the top ten with both of them if Garrett hadn't had contact with another driver. We are very optimistic for the future, because we see that our young drivers are learning and growing continuously and, above all, very quickly. We will try to keep improving our technical package to help them grow further. It was a positive weekend and we want to start again from here in Aragón. We still have to work to be a little quicker in the early laps and to preserve the tires towards the end and, with our riders continuing to gain more experience, we believe we can do it. "
After the Portuguese round, the world championship standings see Gerloff in 12th place with 22 points and Caricasulo in 17th with 12. After a short break, the drivers will be back on track on the weekend of 28-30 August, at the Aragón circuit. It will start with FP1, Friday 28 August at 10:30, and with the second free practice session at 15.
More, from a press release issued by Kawasaki:
Rea Serves Up A Triple Treat
Jonathan Rea (KRT) won both Sunday WorldSBK races in Portugal to take the championship lead for the first time in 2020 and lift his total of race win this year to five. Alex Lowes (KRT) was fourth in the Tissot Superpole race and then a non-finisher in the 20-lap finale to the weekend's hot and intense action at Portimao.
It was a perfect WorldSBK weekend for Rea at what is now his statistically strongest circuit. Three race wins saw him take his personal race-winning total to 12 at Portimao. With more podium finishes overall than even at Assen, where he has also won 12 times, the Algarve circuit is now Jonathan's most rewarding track.
The five-time world champion also scored the fastest lap in each race and was fastest qualifier in Tissot-Superpole on Saturday.
Entering the third round of the championship this weekend some 24 points behind the lead, Jonathan now leaves it four points in front.
A clear win by almost three seconds in Sunday's early 10-lap sprint race allowed Rea an ideal starting position for the second 20-lap race in the afternoon. He once more raced his pit board from the front of the pack and eased out to win by 4.3 seconds in the weekend finale.
A determined and consistent fourth in the Tissot-Superpole sprint race, Lowes was unfortunate to fall at turn five on lap eight of the longer contest, riding back to the pits to eventually retire.
After a dramatic turnaround in fortunes at the top of the championship this weekend Rea has 136 points, Redding 132, Razgatlioglu 103, Lowes 95 and Michael van der Mark 82.
The next round will be the first of two back-to-back race weekends at the magnificently appointed Motorland Aragon circuit in Spain, with the first of them taking place between 28-30 August.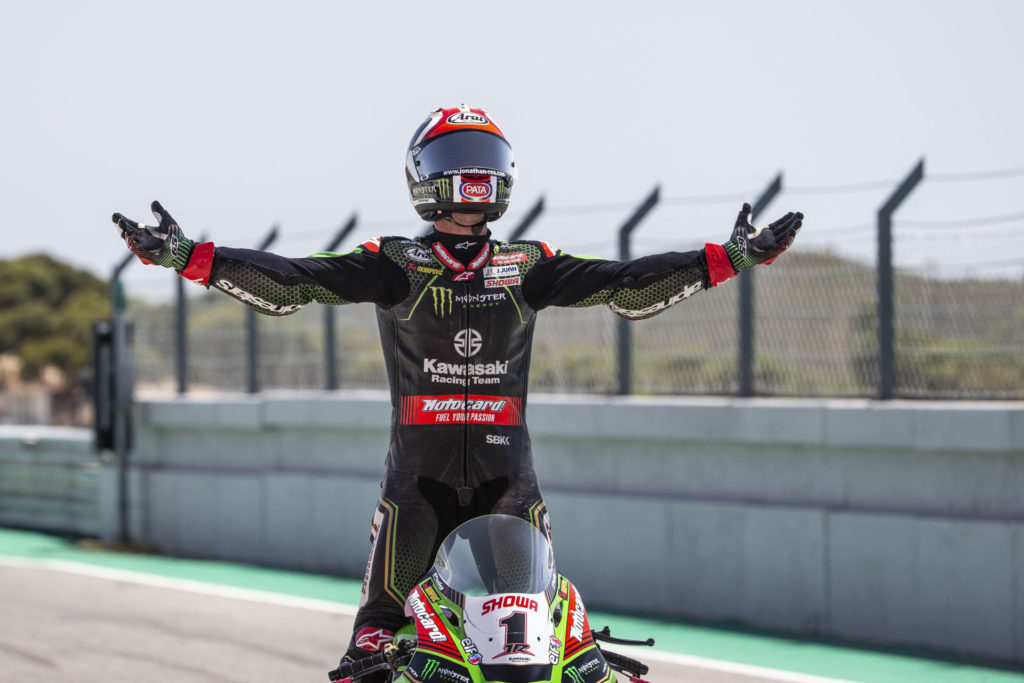 Jonathan Rea, stated: "That was a perfect weekend. The fastest laps, pole position and three race wins. I do not think it was the result, but it was the way that we made the result this weekend. I could really enjoy the bike. It is strange, because sometimes fighting for a sixth place, like we did in Jerez last time, feels like I was riding 100%. Giving everything to finish sixth. This weekend I could do whatever I wanted and kept increasing the gap at the front. It is an incredible feeling as a rider. I knew Portimao was going to be a good track, and I was talking myself into a good result, but we did not come here in the winter tests so I knew it could also be a difficult weekend. I did not start well on Friday in FP1, but we were able to just work calmly together and understand the bike."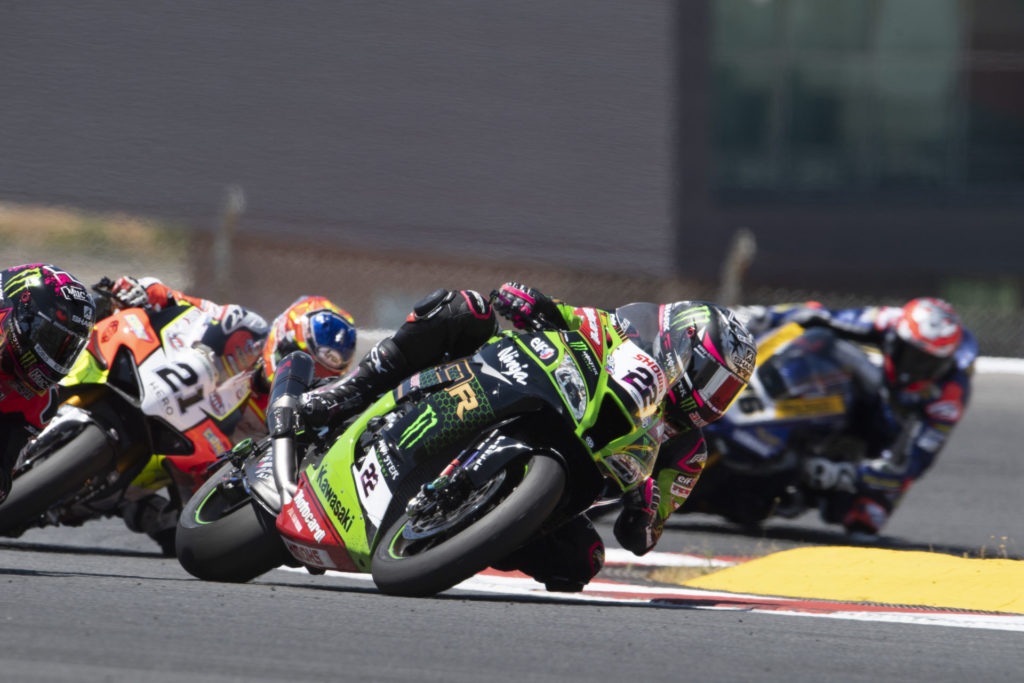 Alex Lowes, stated: "It was a shame in race two because I am really sad to have crashed out of that podium fight. After two fourth places it would have been really nice to finish the weekend off with a podium finish. That was not the case. I am not sure what I did wrong, really. The track was getting hot and slippy, and I just lost the front of the bike. Every weekend I am learning more, learning more about the bike, and these conditions were a little bit different again. I am going to focus on the test we have got coming at Aragon soon, improving a few areas of the bike set-up – and myself riding the bike – and I look forward to the races we will have in Aragon in a few weeks' time. Apart from the last race it was a pretty solid weekend in Portugal."
In race two Xavi Fores (Kawasaki Puccetti Racing) crashed when another rider and he collided on lap 16 and he left Portugal 16th overall in the championship, with 14 points in all. Maximilian Scheib (Orelac Racing VerdNatura Kawasaki) had two non-finishes today and is 18th overall. Series regular Sandro Cortese (Outdo Kawasaki TPR) underwent a successful operation on his T7 vertebra overnight, after a heavy crash in race one on Saturday.
More, from a press release issued by Barni Racing:
Weekend to forget for Barni Racing Team at Portimao 
Portimao (POR), 9 August 2020. Marco Melandri and the Barni Racing Team finished fourteenth in Race 2 at Portimao, Portugal, where the third round of the World Superbike Championship took place. The Ravenna-based rider put in his pockets two points in the championship standings after failing to score either in race 1 on Saturday or in Sunday morning's Superpole Race, ended in seventeenth and fifteenth position respectively.  Melandri has now 17 points in the overall standings where he's thirteenth.
Superpole Race
In Superpole Race, Melandri started from eighteenth due to the absence of Cortese on the grid, but after a good start that brought him to 14th position, braking problems pushed him back again: going wide in turn 3, he lost positions and – also thanks to the crashes of Davies and Laverty – he passed 15th under the checkered flag.
Race 2
The crashes of others made the #33 recover some places also in race 2, where he gained ground up to 14th position only thanks to the numerous crashes in front of him. On the Portuguese ups and downs at Portimao, on a weekend where temperatures constantly remained around 30°C, a very complicated weekend came to an end for the Barni Racing Team and Melandri, who never managed to find the right set-up for his Ducati Panigale V4 R.
Now the championship will take a two-week break before returning to Spain, at Motorland Aragon, where Round 3 and Round 4 will be raced on the last weekend of August and the first of September.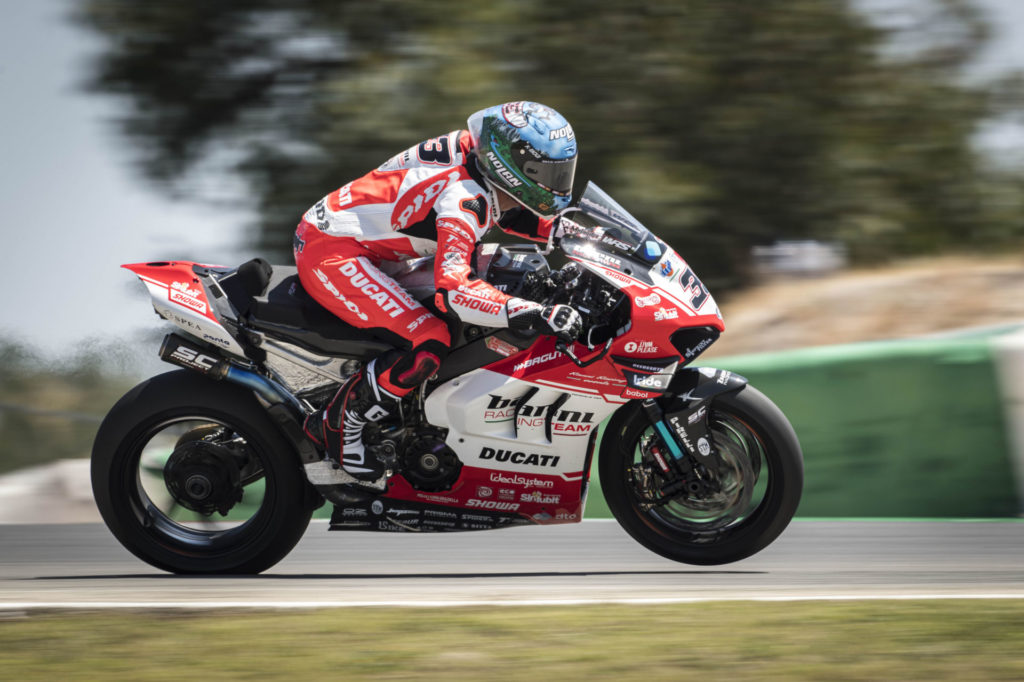 Marco Melandri
Superpole Race: P15 – Gara 2: P14
"It has been a weekend to forget in many ways. Unfortunately, we worked hard but we weren't able to achieve what we wanted to. I've been in trouble from Friday and trying to improve the setup, in some cases, we lost our way. I am really sorry because the team did a great job and I couldn't give them the weekend they deserved. I am so sorry and I am even more motivated for the next race."
Marco Barnabo, Team Principal
"We didn't manage to solve the problems we already found during FP1. We knew it would be a complicated weekend, but difficulties went beyond our expectations. The only thing to do is to roll up our sleeves and keep working, we are already thinking about what to do for the next race so that we don't start too far from Friday"
More, from a press release issued by BMW Motorrad Motorsport WorldSBK Team:
Solid results for Sykes, Laverty hugely unlucky on turbulent WorldSBK Sunday at Portimão.
Third round of the FIM Superbike World Championship 2020 season at 'Autódromo Internacional do Algarve'.
Tom Sykes takes position six in the Superpole Race and seven in race two.
Eugene Laverty has unlucky falls and fighting spirit.
Portimão. With the Superpole race and race two on Sunday, the BMW Motorrad WorldSBK Team completed the third round of the FIM Superbike World Championship 2020 (WorldSBK) season at Portimão (POR). Tom Sykes (GBR) brought home solid results with positions six and seven. His team-mate Eugene Laverty (IRL) was unlucky with falls in both races. In the Superpole race he crossed the finish line in 20th place while in race two he fought his way up into 12th place.
Sykes and Laverty started the morning's Superpole race from fourth and ninth on the grid on their BMW S 1000 RRs. Sykes maintained fourth place until the fourth lap, before dropping down to sixth in a close battle for positions. He then fought a great duel with Scott Redding (GBR) for fifth place. After ten laps he crossed the finish line in sixth place. Laverty was nudged by a rival after entering turn five and fell. The Irishman entered the pit briefly, but re-joined the race and finished in 20th place.
The second race in the afternoon was an eventful affair. Sykes and Lafferty started from sixth and tenth on the grid. Sykes dropped down several positions in the first turns, which put him in eleventh place in the interim. As the race progressed, he moved his way back up the field and ended up finishing in seventh place. Laverty was unlucky once again. After a good start, he was lying in seventh place when he fell again in turn five –  and was the first of many riders to hit the floor in that corner during the race. Laverty continued the race once again, getting ever closer to finishing in the points, and overtaking manoeuvres in the closing phase saw him move up into twelfth place, securing four points.
The next stop on the calendar of the WorldSBK 2020 season is MotorLand Aragón (ESP). A double-header is scheduled there for the final weekend in August and the first weekend in September.
Quotes after race two at Portimão.
 
Marc Bongers, BMW Motorrad Motorsport Director: "In general, it was a pretty satisfying day. We achieved that we can show a more stable performance over race distance. This morning, starting from fourth on the grid, Tom claimed a well-deserved sixth place in a tough battle. That was satisfying and showed the chances for the second race. Tom had a good start, but then he struggled in the first corners, especially corner five, and lost a few seconds. Due to a few opponents' falls, he slipped up to seventh place. After the first laps, his pace was between position four and seventh and was again stable, even if we had the same problem with the engine performance as yesterday. All in all, it was a solid performance. Eugene's day was quite unlucky. He was involved in a crash with Chaz Davies in this morning's Superpole race. In the main race, Eugene got off to a very good start, but unfortunately fell through his own fault at the notorious turn five and was then able to fight his way up to twelfth place. We will now analyse the lap times. We have definitely made technical progress this weekend which should bring us forward in the upcoming races."
Shaun Muir, Team Principal BMW Motorrad WorldSBK Team: "The sprint race turned out to be a good race for Tom; he rode pretty hard and I'm pleased he could get up into sixth position. It was probably the best race he has had in a while, so I am happy about that. Eugene unfortunately got taken out by another rider which summarises his weekend really; when he finds momentum, he gets taken out. Despite that he picked up 10th position on the grid for race two and made a reasonably good start, obviously desperate to get himself further up the field but unfortunately ran hot into T5 and lost the front, but managing to re-join the race and claw points back for 12th. Tom got off the line well for race two but got swallowed up into T1 dropping down to P13. He did well to battle through the field and with riders dropping out it promoted him up, but I think with the deficit on horsepower it really shows it up. Again, with that replaced I think we can be fighting for regular podiums and we know that. The bike is handing beautifully, it corners well, it brakes well and the electronics work good. We could just do with that extra bit of grunt and top speed to make this bike potentially a race winning package. I'd just like to add a huge thank you to all of the BMW Motorrad WorldSBK Team staff; it has been a difficult two weeks on the road from Jerez last week, to Portimão this week and the work our team has put has been second to none. The guys will now have a well-earned break before heading into the back to back rounds four and five at Aragón in a fortnights' time where we will be recharged and giving it our all."
Tom Sykes: "It's been one of those weekends. We definitely had some limitations, mainly on straight-line performance but we just kept working hard. The whole of the BMW Motorrad WorldSBK Team had a good plan, we tried to utilise what we had available to our best advantage so having said that, in some areas we were very close to where we needed to be. I do believe there are positives to take, I think everyone has seen I have been struggling on engine performance. Especially off the start going into first, second and third gear I lose a lot of track position, but hopefully this is something we can address in the short term but for now we have to be pleased with what we are getting out of the chassis. I have enjoyed the races today. The track was testing and a lot of people over-stepped the mark and to be honest to come away sixth, seventh and eighth is not what my CV is happy with, but it's all about building those blocks and getting into the next phase of the programme."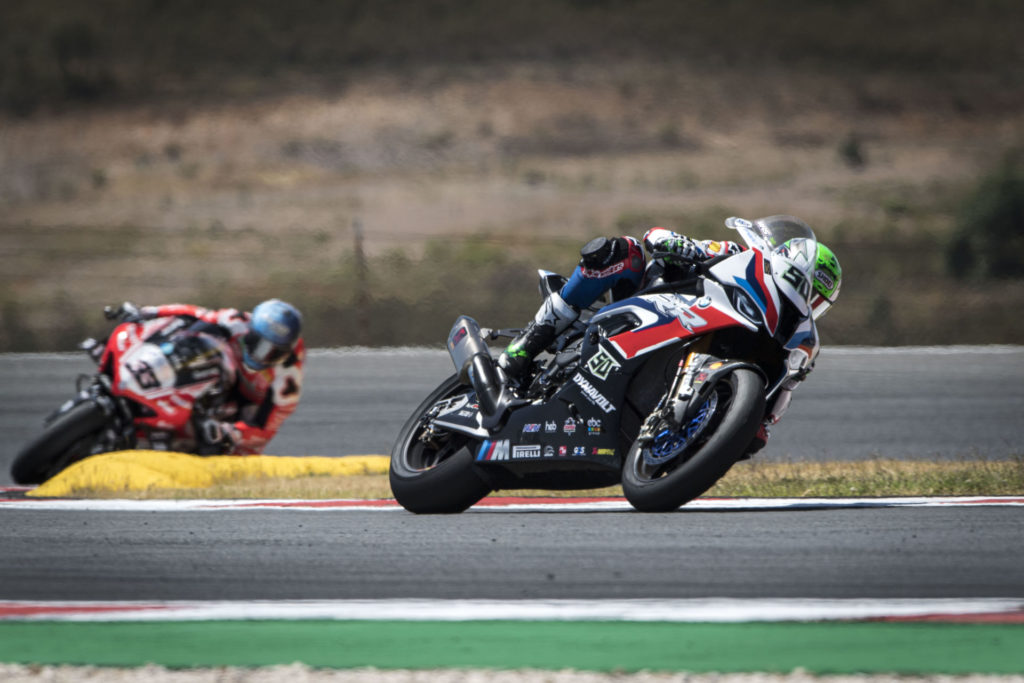 Eugene Laverty: "To hit the deck in both races today was devastating. In the Superpole race, I got caught up in the Chaz Davies crash. Chaz tried to overtake me and took me out so it's a case of wrong place at the wrong time. In the final race, I made a great start, gaining six positions and I was going for it from the start but unfortunately I lost the front in T5. I remounted to try get back some positions and after a few laps I understood why I crashed. It was because the track conditions today were a lot greasier than the rest of the weekend. I wasn't cautious enough, I was on the attack from the get go and ultimately it cost me. I regained positions to get twelfth place which is the least I could do for the team after having such a tough weekend."
More, from a press release issued by Aruba.it Racing Ducati:
#PRTWorldSBK Race-2. Solid race for Redding (P2) who conquers a precious podium finish. Great comeback from P13 to P4 for Davies
Scott Redding and Chaz Davies overcome the difficulties of the Portimao weekend thanks to an exciting Race-2 that allows the Aruba.it Racing – Ducati team riders to finish second and fourth respectively.
Starting from the second row after the fifth place in SuperPole Race, Scott Redding was the great protagonist of the first lap that managed to close in second position. In the first half of the race, he tried to stay close to Rea (Kawasaki) then had to defend himself from the return of Van Der Mark (Yamaha) whose race pace seemed to be more incisive. Between lap 13 and lap 14 the battle was intense but Scott fought with great stubbornness and managed to get a valuable second place under the chequered flag.
A crash in SuperPole Race forced Chaz Davies to start from P13. The Welsh rider also got off a great start and after 5 laps overtook Haslam (Honda) to move into sixth position, putting pressure on Razgatlioglu (Yamaha) and Lowes (Kawasaki) who made two mistakes. For Chaz Davies a positive fourth place after a great comeback.
Scott Redding is now second in the Superbike World Championship standings (132 points) 4 points behind the new leader Rea.
Chaz Davies confirms his sixth position (75 points) 7 points behind Van Der Mark.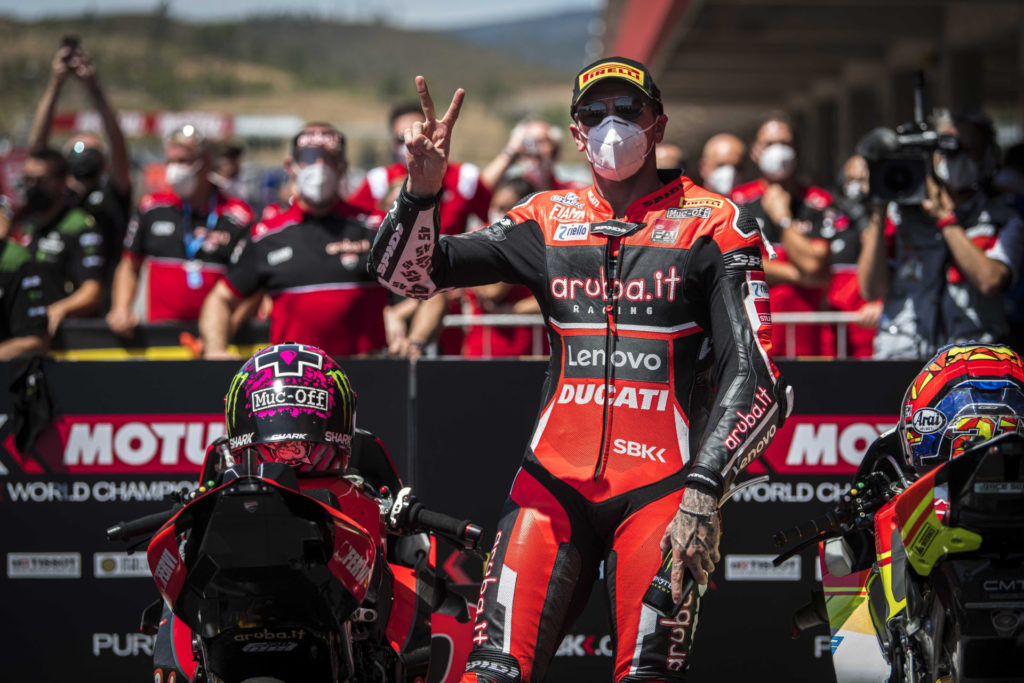 P2 – Scott Redding (Aruba.it Racing – Ducati #45)
"It has been a difficult weekend and for this reason ending with a podium is a precious result for me and for the whole team. In SuperPole Race we were able to improve things compared to Saturday but it is clear that the feeling with the bike was not ideal. I tried to stay close to Rea to create a gap with the group behind but in the second part of the race, I struggled a lot especially with the front. When Van Der Mark got me I only thought about defending myself to conquer this result. I am happy for me and for the team. We go to Aragon with great conviction".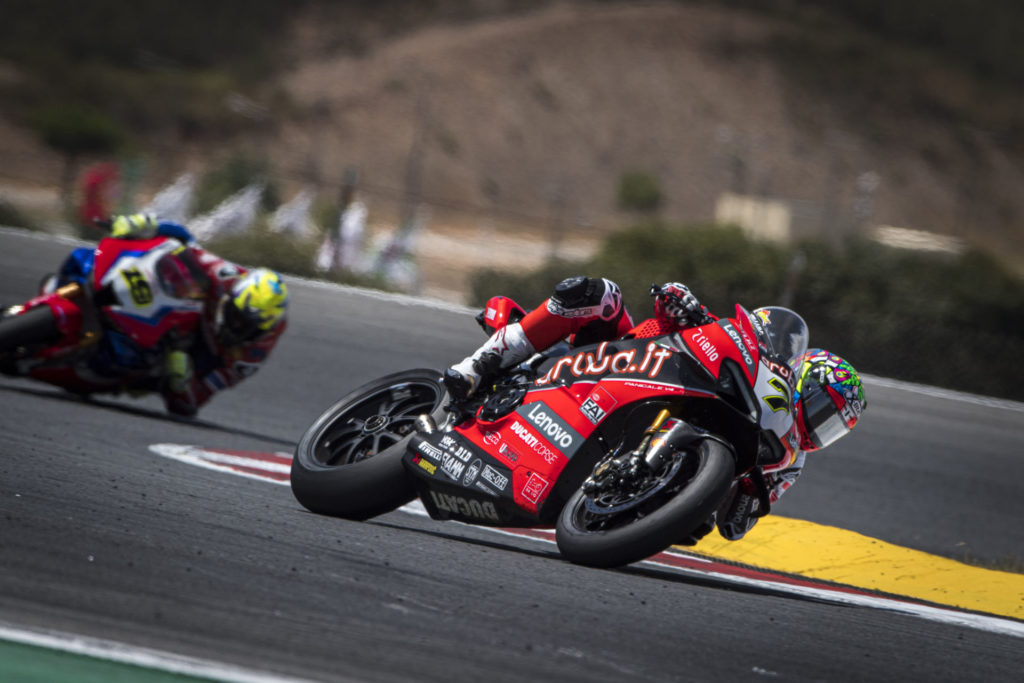 P4 – Chaz Davies (Aruba.it Racing – Ducati #7) 
"The goal is always to bring home a trophy but I have to admit it was still a good race. I take this fourth place with satisfaction, especially after all the problems we had this weekend. Unfortunately, the contact with Laverty in SuperPole Race forced me to start from the fifth row and this didn't allow me to stay with the front group. The race pace, however, was very good and for this reason, I am satisfied. Now we move to Aragon for two-days testing. It will be an important opportunity to prepare for the next six races".
Serafino Foti (Team Manager Aruba.it Racing – Ducati)
"It is clear that after the strong weekend in Jerez we expected to get better results in Portimao. We experienced a lot of difficulties both Friday and Saturday and we were not able to put our riders in the best conditions to be competitive. I would like to thank our guys who, after analyzing Saturday's race data, did a great job allowing us to improve our performance in Race 2. Our task is to continue to work with great concentration and never give up. In three days we will be at Aragon to prepare in the best possible way for the next double round at Motorland".
More, from a press release issued by Team Go Eleven:
THREE IN A ROW!
Race 2 from the spectacular Portuguese circuit saw Team Go Eleven reconfirm themselves as the Top Independent team, signing an exciting double in Portugal! Third park fermé in a row, combined with yesterday's and Sunday's in Jerez!
Sunday at the Autodromo do Algarve started in the best way possible; Michael Rinaldi was very fast in cool asphalt conditions. 1.41.996 done in the Warm Up was the fastest lap of the weekend in race configuration!
Warm Up:
P 1   T. Razgatlioglu   1.41.616
P 2   J. Rea   + 0.035
P 3   L. Baz   + 0.290
…
P 5   M. Rinaldi   + 0.380
The Superpole Race is normally a tough race for Team Go Eleven; in a few laps we are still not able to be one hundred percent strong, using all the new tyre grip. Here in Portimao, however, after a contact in the first corners that relegated Michael to eleventh position, he managed to come back fast and gets close to Leon Haslam's Honda HRC. The duel with the Englishman on the last lap was beautiful, with the rider from Romagna coming out victorious. A hard but correct inside into turn 5 allows Michael to finish eighth, defending the third row for the afternoon's race.
Superpole Race:
P 1   J. Rea   17'00.623
P 2   T. Razgatlioglu   + 2.946
P 3   L. Baz   + 4.748
…
P 8   M. Rinaldi   + 13.675
Race 2, the final act of the two WorldSBK weeks, starts with different conditions than on Saturday: warmer asphalt and medium-intensity wind disturbing the riders on the track. Rinaldi is reactive to the green light, defending hard the eighth position. Right from the start, however, the feeling with his Ducati Panigale is not so nice and he struggles to attack his opponents. The general conditions of the track are difficult and dangerous, with many riders on the ground in the first laps; to report the crash of Loris Baz, the first opponent of Go Eleven in the Independent Team standings. The 24-year-old from Romagna knows how to manage difficulties well, holding on to Davies and Bautista's exhausts, but without having the necessary speed to overtake them. Despite the complicated race, the Go Eleven Team brings home another great result, a sixth position that has the flavor of reconfirming at the top. Often using your head, taking the bike and the result home is more important than being fast. And for the third race in a row, first private team at the finish line and another 10 points won. This concludes an extremely positive and concrete weekend for Piedmontese Team. Now some well-deserved relax in view of the two stages at the Aragon circuit, 28-29-30 August and 4-5-6 September!
Race 2:
P 1   J. Rea   34'36.949
P 2   S. Redding   + 4.360
P 3   M. Van der Mark   + 4.453
…
P 6   M. Rinaldi   +12.566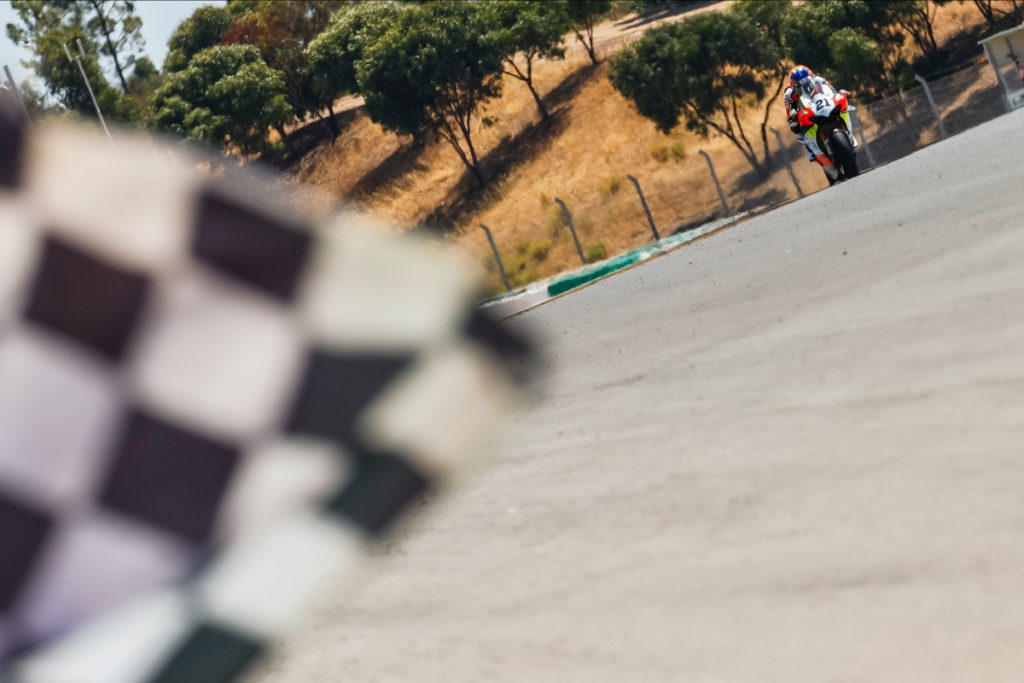 Michael Rinaldi (Rider):
"The weekend in general went well, because we did Top Independent twice, but I'm a bit disappointed with today's race because I wasn't able to express my potential at 100%. The track conditions were difficult, many riders crashed, and I didn't have a great feeling, so I preferred to take home the sixth place. We go home satisfied, but a bit upset for the missed podium which was really close both in Jerez and Portimao!"
Denis Sacchetti (Team Manager):
"We are happy but not satisfied! We are happy because we won the Independent Team classification for the third consecutive time, and because Michael was good at managing a difficult race, where we suffered a bit from the lack of grip on the track. Precisely for this reason we have not been able to put the candle on the cake of these two weekends, we smell the podium getting closer and closer but we are not able to grab it yet. The team is working well, there is serenity and harmony, Michael is in great shape and we look to Aragon aware of our abilities."