The following article was originally featured in the September 2018 issue of Roadracing World & Motorcycle Technology magazine. To read more articles like this please subscribe to Roadracing World.
MotoGP Legend Randy Mamola
By Michael Gougis
One could hardly blame
Randy Mamola if, now and again, he wondered what might have been. There is no
title in motorcycle road racing more prestigious than the 500cc/MotoGP World
Championship, and Mamola finished second four times—in 1980, 1981, 1984, and
1987.
But earlier this season
Mamola earned an award that puts him in even more rarefied company. The San
Jose, California, native was named a MotoGP Legend, one of 27 in the
organization's Hall of Fame. It is easier to win a World Championship than it
is to make it into the MotoGP Hall of Fame.
"It is a great honor,
not being a World Champion, but being able to be seen as someone recognizable
(at that level)," Mamola says. "I knew I was famous in the sport for
many things, my riding style, my work I do for the sport—but I think this
recognizes what I did outside the track, and what I do 26 years after I stopped
racing.
"I went online and
started punching in 'legends,' not only in our sport, I was trying to really
think about what a legend is. I know I adore my sport, I like most of the
people in it," Mamola says, laughing, "and motorcycling is at the
forefront of what I do."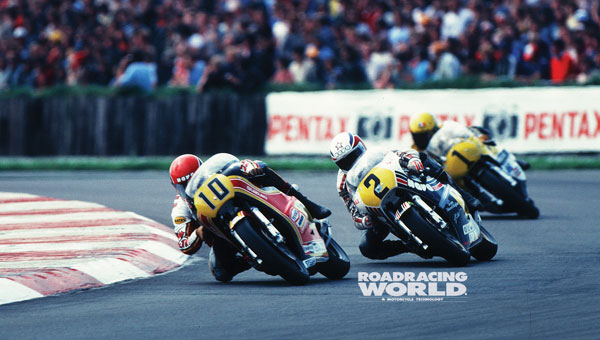 (Below) Mamola (10) leads Suzuki's Marco Lucchinelli (2) and Yamaha's Kenny Roberts (1) at Silverstone, England, in 1980, where Mamola won, beating Roberts by 11 seconds with Lucchinelli a distant third. Photo by Shigeo Kibiki.

Mamola earned his place as
a MotoGP Legend for what he did on the track, and for what he has done since
retiring from racing.
What he did on the pavement
was astounding: 13 Grand Prix wins and 57 podiums in the 1970s, 1980s, and
1990s. Mamola accomplished that while riding for four different manufacturers:
Suzuki, Honda, Yamaha, and Cagiva. At the height of his racing prowess, he was
a threat to beat the best riders ever to road race a motor­cycle.
Mamola was second in his
fourth 500cc GP race, in 1979. Mamola scored his first win the following year,
in only his ninth 500cc GP race. In that race—the Belgian Grand Prix at
Zolder—he beat Marco Lucchinelli by more than 12 seconds and Kenny Roberts,
that year's 500cc GP World Champion, by more than 31 seconds. Barry Sheene,
Eddie Lawson, Freddie Spencer, Wayne Gardner—Mamola raced and beat them all
during his premier-class career.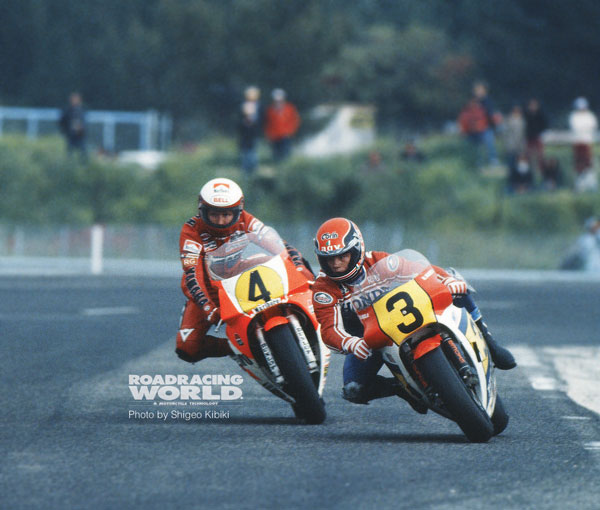 (Above) Mamola (3) on a Honda leads Eddie Lawson (4) and his Yamaha at Paul Ricard in France in 1984, when Lawson won the 500cc World Championship and Mamola finished second in points. Photo by Shigeo Kibiki.
What he's done since
retiring after the 1992 season demonstrated his dedication and his passion for
the sport of road racing and for motorcycling. He's well-known for his charity
work as the co-founder of Riders For Health, the organization that provides
health care via motorcycle to remote areas of Africa, and with Two Wheels for
Life, the MotoGP charity that raises funds for Riders for Health.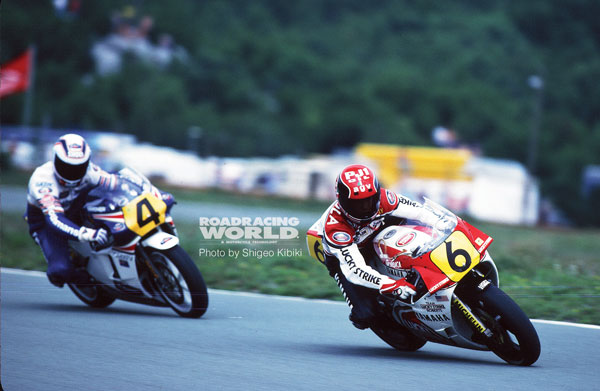 (Above) Mamola (6) on a Yamaha leads Honda's Wayne Gardner (4) at Rijeka, Yugoslavia, in 1986. Photo by Shigeo Kibiki.
He's even more well-known
for his work in the road racing community. Since retiring, he's served as a
racing columnist, a television commentator, and as a pilot for one of the most
terrifying vehicles imaginable. A 260-horsepower MotoGP machine is
intimidating, to say the least. Imagine one with a passenger seat and a passenger—often
someone who's never been on a racebike—hurtling down the back straight at
Silverstone at 185 mph, and you start to get the idea…
(Above) Randy Mamola's MotoGP Legend medal, surrounded by AMA and FIM Championship medals and an AMA Hall of Fame medal. Photo by Robert Fujioka.
Today, Mamola splits his
time between Northern California, where his elderly parents live, and the
Spanish city of Sant Pere de Ribes, near Barcelona. It's a bit inland from the
shore, where there are fewer tourists, and adjacent to the town of Sitges,
where many racers from around the world made their European homes in the 1980s,
Mamola says.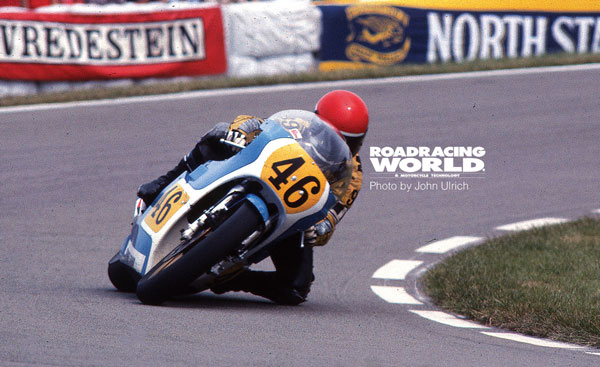 (Above) Mamola (46) on a Suzuki in his first 500cc GP race, at Assen, Holland, in 1979. Mamola qualified 17th and finished 13th. Three races later he finished second in Finland, and two races after that at Le Mans, France, he was amazed to find himself battling Barry Sheene and Kenny Roberts for the win, finishing second. Photo by John Ulrich.
But in a very real way, home
for Mamola is the next plane, the next airport, the next hotel. He estimates
that he no longer spends 200 nights a year living from a suitcase, but the
number of days he's still traveling is not far off that number.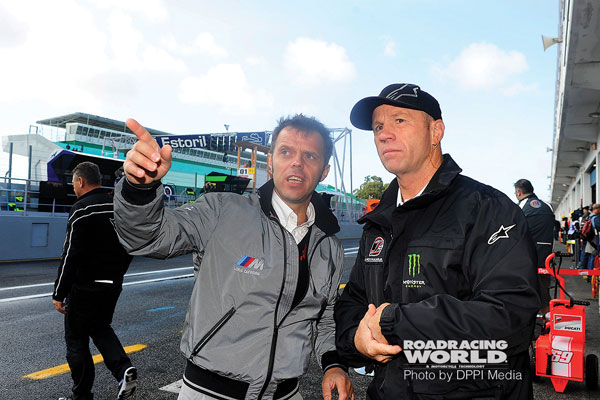 (Above) Randy Mamola with Moto­GP Safety Officer Loris Capirossi (left) at Estoril, 2012. Photo by DPPI Media.
His duties with MotoGP as
the pilot of the two-up Ducati machine occupy most of his work time nowadays.
Mamola also is associated with Monster Energy, and he is at 14 Grand Prix races
a year minimum, and most often 15, depending on where the two-seater is slated
to show up. It is a job he's been at for a very long time. Mamola says that
Kenny Roberts' team built the first two-up GP bike, a 500cc Yamaha, all the way
back in the mid-1990s.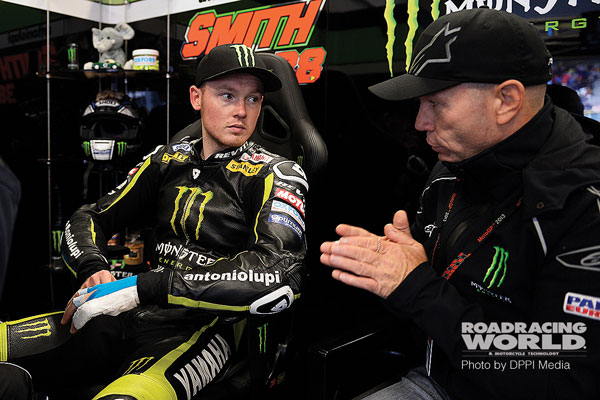 (Above) Mamola coaches Bradley Smith at Assen, 2013. Photo by DPPI Media.
After retiring, Mamola did
a long stint with Eurosport as a commentator. After three-time 500cc GP World
Champion Wayne Rainey was injured, Rainey did some commentating, and one day,
while Rainey and Mamola both were working the microphones on a race, Mamola
says Rainey turned to him and said, "You're really the one who should be
doing this." Mamola did the Eurosport duties for nearly a decade.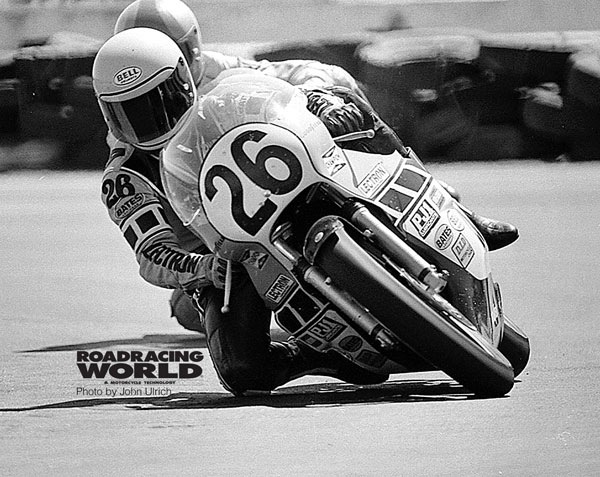 (Above) Randy Mamola (26) on a Yamaha TZ750 at Sears Point in 1978, the same year that he used a TZ250 to win what was then called the AMA Lightweight Championship, later known as the AMA 250cc Grand Prix Championship. Photo by John Ulrich.
Interestingly, for a guy
who's spent so much of his time in Spain, Mamola now spends about two hours a
day learning to speak Spanish. That's because of his latest gig as a television
commentator with the Spanish telecommunications company Movistar. His first
outing was at the MotoGP event at the Circuit of The Americas this year, and
it's something that helps keep Mamola current and in the paddock.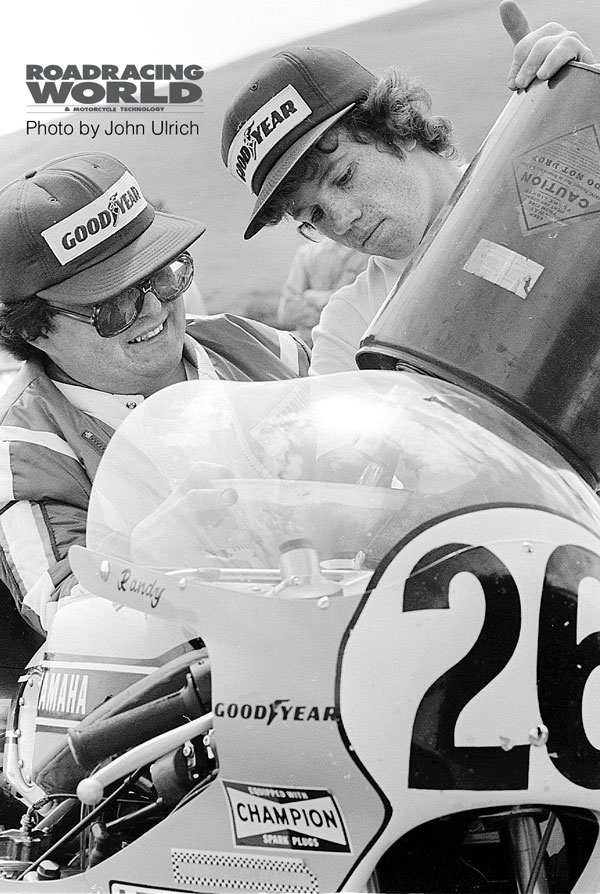 (Above) Mamola (Right) and mechanic George Vukmanovich refuel the TZ750 at Sears Point. Photo by John Ulrich.
And perhaps not
surprisingly for a rider with his fame and fan popularity, Mamola is in
demand on the classic racing and
exhibition circuit. He did the Goodwood Festival of Speed in England again this
year, and was one of the featured guests earlier this year at the Mike Pero
MotoFest in New Zealand. That one was special for him, as he got to ride one of
his 1980 Suzuki RG500 Grand Prix racebikes, one that was in "good
nick" as it had been fettled by former GP mechanics Mike Sinclair and
Jeremy Burgess.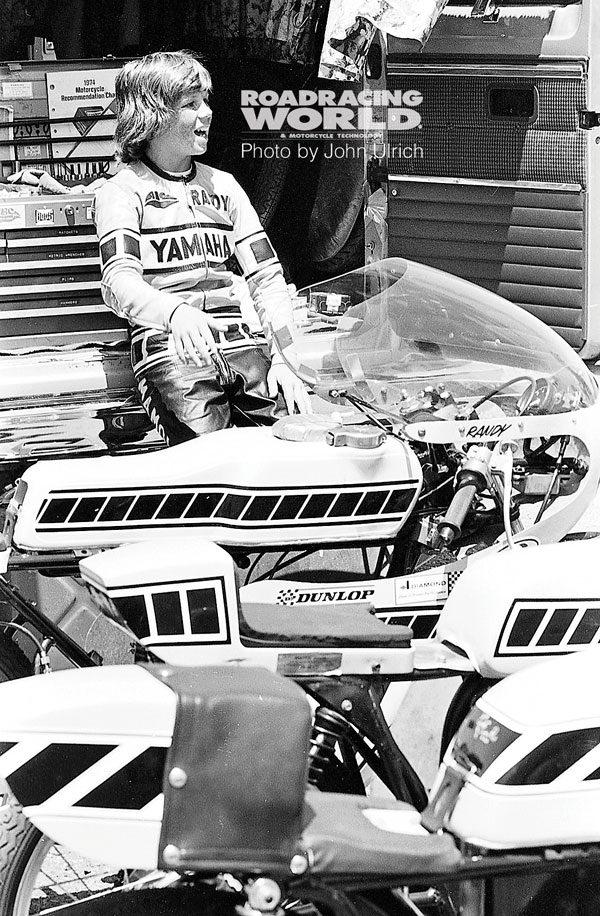 (Above) Randy Mamola (80) made his AFM road racing debut at Sears Point in 1975, at age 15, with a fleet of 50cc, 125cc, and 250cc Yamahas.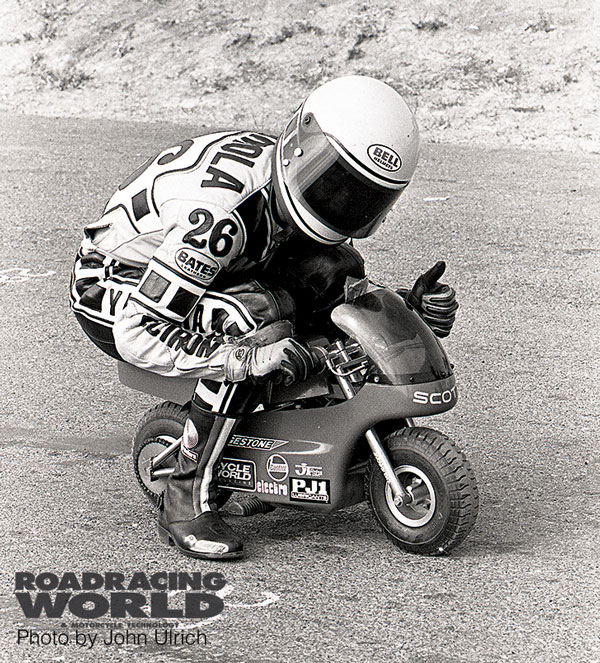 (Above) Mamola poses on a pocketbike for a magazine photo shoot at Sears in 1978. Photo by John Ulrich.
It also makes Mamola one of
the very, very few human beings who have ridden a 500cc GP bike and a modern
MotoGP machine in 2018. At MotoFest, on the Hampton Downs International
Motorsport Park circuit, Mamola pushed the RG500 hard enough to impress former
Superbike World Championship star Aaron Slight, who was riding wingman to Mamola
as they circulated the track.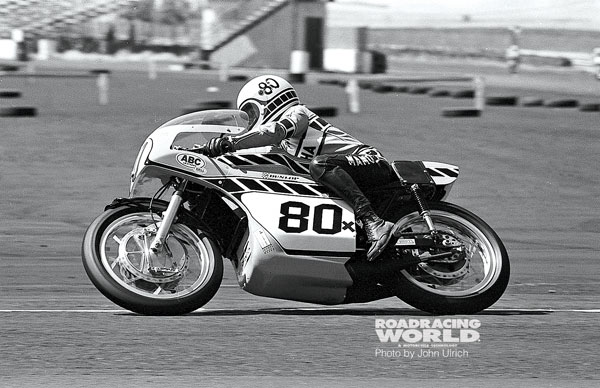 (Above) Mamola on the TZ250 (80x); note thick seat pad. Photo by John Ulrich.
"Aaron said to me, 'I
can't believe how hard you're riding that thing,'" Mamola says. "It
brought back such really good memories of how to ride a 500. It is so
responsive—remember that a MotoGP bike weighs about 80 pounds more than the
500s I used to ride. And I was always aware of how easy it was to have one of
those things get away from you."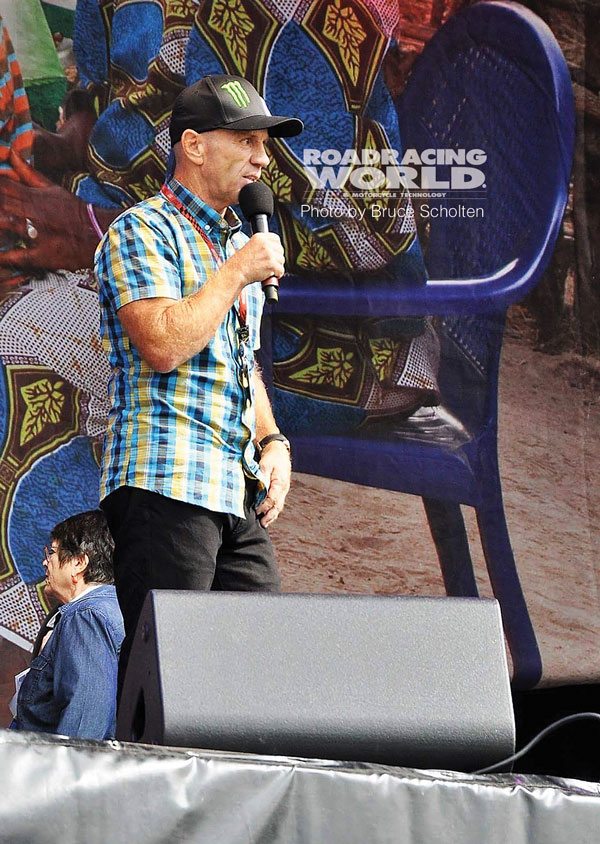 (Above) Randy Mamola raising money for charity during the British Grand Prix. Photo by Bruce Scholten.

It's a dramatic difference
to the two-up machine he rides, a Ducati Desmosedici with a 2012-spec engine,
the same one used during the Valentino Rossi era at Ducati, Mamola says.
"The bike is a testament to how the world has changed, the
technology," Mamola says. "It revs to 16,200—we can rev it higher,
but why? It makes 260 horsepower. It's a real toy. I friggin' laugh every time
I get on it. It's just awesome."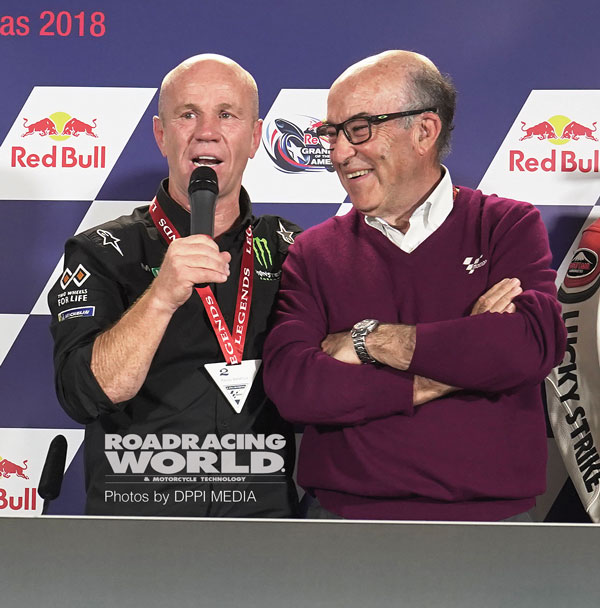 (Above) Randy Mamola was presented with his MotoGP Legends medal by Carmelo Ezpeleta, CEO of Dorna, which promotes and runs MotoGP. Photo by DPPI Media.
One of the key differences
between riding the 500s and the MotoGP bikes is the level of fitness required
of someone who can push a MotoGP machine for a full Grand Prix distance, Mamola
says. One of the benefits of his status with Dorna is that he occasionally gets
to take VIPs out to vantage points that normal humans never get to visit, and
Mamola gets to describe to his guests what they are seeing from very, very
close up.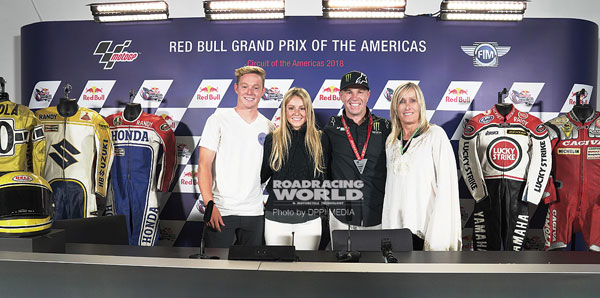 (Above) Newly inducted MotoGP Legend Randy Mamola with his family, from left, son Dakota, daughter Taylor, and wife Barbara. Photo by DPPI Media.
"You watch a MotoGP
machine come into a corner and you think there is no way they are going to be
able to brake hard enough to make the corner," Mamola says, "and then
they do. You have to be so strong. You have to be so in tune with everything.
The physical conditioning you need is incredible."
While he spends much of his
time in Europe, Mamola is a strong supporter and fan of U.S. road racing, and
looks back happily on his time racing in the U.S. "I got to visit with
(Mr. Editor) John Ulrich at COTA, and we've known each other for a very long
time. He's always been a part of racing, and getting to know his son and Team
Hammer brought back really fond memories."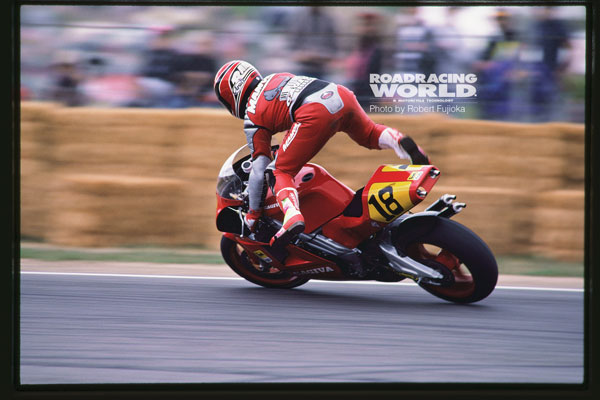 (Above) Randy Mamola (18) nearly crashed his Cagiva C590 in Turn Two while running fifth with five laps left in the 1990 USGP at Laguna Seca; he didn't crash but dislocated his left wrist, and finished seventh riding one-handed, without using the clutch. Photo by Robert Fujioka.
When you take it all in,
the career that started in the AFM, the early years road racing in New Zealand,
the brief and impressive career in AMA 250cc competition before heading to the
Grand Prix circuits, the accomplishments there alone put Mamola among racing's
elite. The work since simply justifies Mamola's inclusion among the giants of
the sport.
And yet, Mamola remains a
down-to-earth character. His family makes sure his feet remain firmly on the
ground. Mamola remembers getting a message from Ignacio Sagnier from Dorna at
about 4:30 one morning. Mamola was in the U.S., and headed out to his car to
return the call without waking anybody else up, as his curiosity had gotten the
better of him.
"I called Ignacio,
asked him 'What's
up?' He said,
'This year,
for MotoGP Legends, they want to bring in you and Kork Ballington.' It was super-nice
because Kork was one of the riders I looked up to. He was bloody fast in the
250cc and 350cc class when I first got involved.
"It was overwhelming
in a personal way. I didn't really start to think about it until I'd hung up.
He said, 'Let
it sink in, we'll talk, we'll put something together. We want to do it in
Texas.' I
hung up and I went back inside.
"When my son got up,
and my friend was getting up to go to work, I kind of made a joke, 'Well, you
guys, you're looking at a Legend.' And of course my son said, 'Oh s—, now we
have to live with this!'"