Sahar Zvik went six-for-six in the big bore races at the WERA West Presented by Lucas Oil Products Sportsman Series double-header weekend at the Las Vegas Motor Speedway Classic Course.
On a WAWA Racing-backed, Pirelli-shod Kawasaki ZX-10R, Zvik won the A Superbike, A Superstock and Formula One races on both days, his best time around the 1.8-mile course a 1:17.866 lap in the Formula One race on Sunday.
Steve Zoumaras, age 67, took his Kawasaki ZX-10R to second in Saturday's A Superbike and A Superstock races and finished third in Formula One. Zoumaras was third in Sunday's A Superstock and Formula One races, and won the Senior Superbike Heavyweight race on both days. Terry Heard was second in both Formula One races, and took second in Saturday's A Superstock and Sunday's A Superbike race.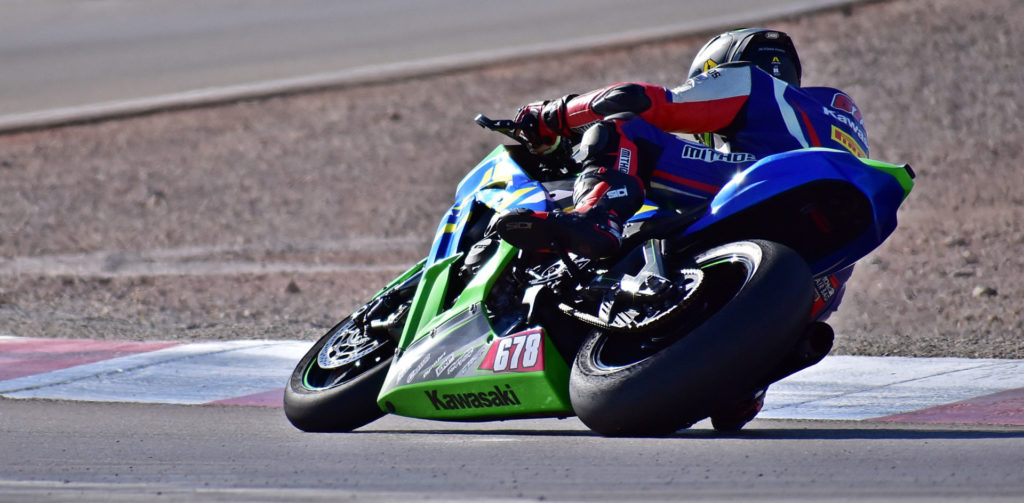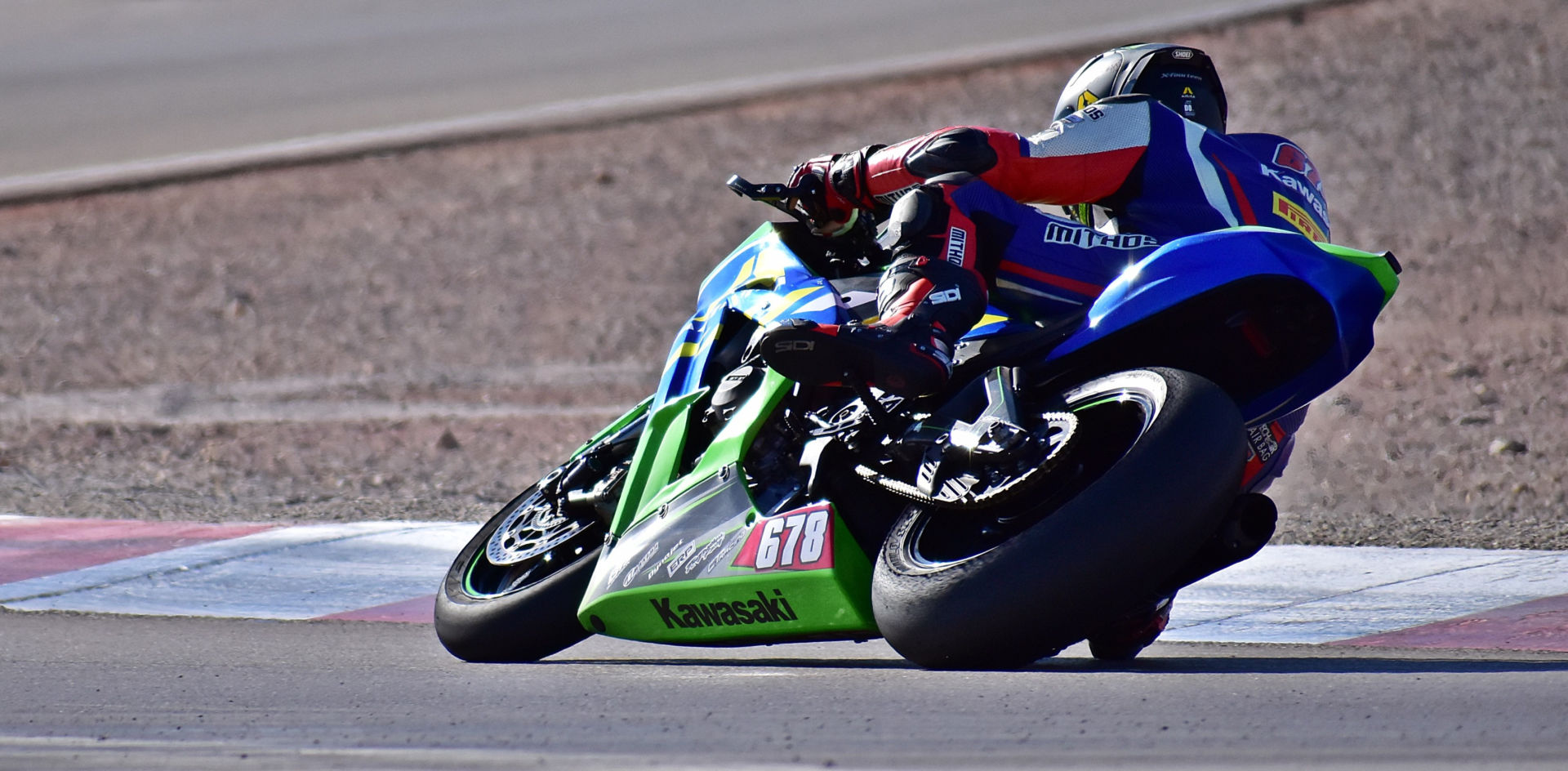 Alexander Thermiotis starred in the middleweight category, taking eight podiums in eight starts and four wins in eight starts in B and C Superbike and Superstock. Mookie Wilkerson and Edgar Zaragoza each took two middleweight wins.
RESULTS:
SATURDAY:
MINI 50:
1. Evan Lamb (OHV)
2. Anthony Lupo Jr. (OHV)
MINI 80:
1. Juliana Fernandez (OHV)
2. Kensei Matsudaira (OHV)
A SUPERSTOCK EXPERT:
1. Sahar Zvik (Kaw ZX-10R)
2. Steve Zoumaras (Kaw ZX-10R)
3. Edgar Zaragoza (Yam YZF-R1)
4. Mike Applehans (Suz GSX-R1000)
5. Nathan Morales (Yam YZF-R1)
6. Fatih Buyuksonmez (Duc 1000)
A SUPERSTOCK NOVICE:
1. John Tran (Yam YZF-R1)
2. Max Ledesma (Duc 1000)
3. Nicole Merriman (BMW S1000RR)
4. Omar Carrillo (Yam YZF-R1)
5. Jaycee Sterline (Suz GSX-R1000)
6. Corrie Mathews (Yam YZF-R1)
C SUPERSTOCK EXPERT:
1. Alejandro Thermiotis (Yam YZF-R6)
2. Edgar Zaragoza (Yam YZF-R6)
3. Terry Heard (Suz GSX-R600)
4. Orel Madar (Yam YZF-R6)
5. John Butler (Yam YZF-R6)
6. Ivan Munoz (Yam YZF-R6)
C SUPERSTOCK NOVICE:
1. Robert Rozycki (Suz GSX-R600)
2. Brian Caulkins (Suz GSX-R600)
3. Arnold Munoz (Suz GSX-R600)
4. Blake Gentry (Suz GSX-R600)
5. David Curry (Yam YZF-R6)
6. Jimmyjam Salters (Kaw ZX-6R)
FORMULA TWO EXPERT:
1. Jayden Fernandez (Mor 250)
2. Alex Enriquez (Mor 250)
3. John Knowles (Suz SV650)
HEAVYWEIGHT TWINS SUPERBIKE EXPERT:
1. Ed Guzman (Suz SV650)
SENIOR SUPERBIKE HEAVYWEIGHT EXPERT:
1. Steve Zoumaras (Kaw ZX-10R)
2. Mike Applehans (Suz GSX-R1000)
3. Dennis Burke (Suz GSX-R1000)
4. Johnny Edwards (Suz GSX-R1000)
5. Ruben Soto (Suz GSX-R1000)
6. Fatih Buyuksonmez (Duc 1000)
SENIOR SUPERBIKE HEAVYWEIGHT NOVICE:
1. John Tran (Yam YZF-R1)
2. Robert Morten (Kaw ZX-10R)
3. Jaycee Sterling (Suz GSX-R1000)
SENIOR SUPERBIKE MEDIUMWEIGHT EXPERT:
1. Mookie Wilkerson (Yam YZF-R6)
2. Moises Castaneda (Hon CBR600RR)
3. Travis Becker (Yam YZF-R6)
4. Scott Weitmann (Kaw ZX-6R)
5. Michael Gougis (Hon CBR600RR)
B SUPERSTOCK EXPERT:
1. Alejandro Thermiotis (Yam YZF-R6)
2. Edgar Zaragoza (Yam YZF-R6)
3. Orel Madar (Yam YZF-R6)
4. Ivan Munoz (Yam YZF-R6)
5. Edgar Dominguez (Yam YZF-R6)
V8 MEDIUMWEIGHT:
1. Moises Castaneda (Hon CBR600RR)
2. Nick Zaan (Suz GSX-R600)
3. Michael Gougis (Hon CBR600RR)
4. Wayne Gann (Yam YZF-R6)
5. Edward Hearn (Yam YZF-R6)
6. Jacob van Rensburg (Hon CBR600RR)
D SUPERBIKE EXPERT:
1. Jayden Fernandez (Mor 250)
E SUPERSTOCK EXPERT:
1. Andrew Kenefick (Kaw Ninja 250R)
LIGHTWEIGHT TWINS SUPERSTOCK EXPERT:
1. John Knowles (Suz SV650)
2. Ed Guzman (Suz SV650)
C SUPERBIKE EXPERT:
1. Alejandro Thermiotis (Yam YZF-R6)
2. Mookie Wilkerson (Yam YZF-R6)
3. Orel Madar (Yam YZF-R6)
4. Edgar Zaragoza (Yam YZF-R6)
5. John Butler (Yam YZF-R6)
6. Ivan Munoz (Yam YZF-R6)
C SUPERBIKE NOVICE:
1. Robert Rozycki (Suz GSX-R600)
2. Briar Caulkins (Suz GSX-R600)
3. Blake Gentry (Suz GSX-R600)
FORMULA ONE EXPERT:
1. Sahar Zvik (Kaw ZX-10R)
2. Terry Heard (Kaw ZX-10R)
3. Steve Zoumaras (Kaw ZX-10R)
4. Nathan Morales (Yam YZF-R1)
5. Dennis Burke (Suz GSX-R1000)
6. Fatih Buyuksonmez (Duc 1000)
FORMULA ONE NOVICE:
1. John Tran (Yam YZF-R1)
2. Omar Carrillo (Yam YZF-R1)
3. Corrie Mathews (Yam YZF-R1)
V8 HEAVYWEIGHT:
1. Wayne Gann (Suz GSX-R1000)
2. Nick Zaan (Suz GSX-R600)
CLUBMAN EXPERT:
1. Jayden Fernandez (Mor 250)
2. Alex Enriquez (Mor 250)
F SUPERSTOCK NOVICE:
1. Jayden Hanna (Hon 300)
B SUPERBIKE EXPERT:
1. Alejandro Thermiotis (Yam YZF-R6)
2. Edgar Zaragoza (Yam YZF-R6)
3. Mookie Wilkerson (Yam YZF-R6)
4. Ivan Munoz (Yam YZF-R6)
5. Orel Madar (Yam YZF-R6)
6. Moises Castaneda (Hon CBR600RR)
D SUPERSTOCK EXPERT:
1. Andrew Kenefick (Kaw Ninja 250R)
LIGHTWEIGHT TWINS SUPERBIKE EXPERT:
1. John Knowles (Suz SV650)
2. Ruben Soto (Suz SV650)
A SUPERBIKE EXPERT:
1. Sahar Zvik (Kaw ZX-10R)
2. Steve Zoumaras (Kaw ZX-10R)
3. Denis Burke (Suz GSX-R1000)
4. Nathan Morales (Yam YZF-R1)
5. Mario Orozco (BMW S1000RR)
A SUPERBIKE NOVICE:
1. Max Ledesma (Duc 1000)
2. Omar Carrillo (Yam YZF-R1)
3. Robert Morten (Kaw ZX-10R)
4. Nicole Merriman (BMW S1000RR)
5. Jaycee Sterling (Suz GSX-R1000)
SUNDAY:
MINI 50:
1. Evan Lamb (OHV)
2. Anthony Lupo Jr. (OHV)
MINI 80:
1. Kensei Matsudaira (OHV)
2. Juliana Fernandez (OHV)
A SUPERSTOCK EXPERT:
1. Sahar Zvik (Kaw ZX-10R)
2. Terry Heard (Kaw ZX-10R)
3. Steve Zoumaras (Kaw ZX-10R)
4. Nathan Morales (Yam YZF-R1)
5. Johnny Edwards (Suz GSX-R1000)
6. Fatih Buyuksonmez (Duc 1000)
A SUPERSTOCK NOVICE:
1. Max Ledesma (Duc 1000)
2. Omar Carrillo (Yam YZF-R1)
3. Jaycee Sterline (Suz GSX-R1000)
C SUPERSTOCK EXPERT:
1. Edgar Zaragoza (Yam YZF-R6)
2. Alejandro Thermiotis (Yam YZF-R6)
3. Orel Madar (Yam YZF-R6)
4. John Butler (Yam YZF-R6)
5. Ivan Munoz (Yam YZF-R6)
6. Cesar Garcia (Yam YZF-R6)
C SUPERSTOCK NOVICE:
1. Robert Rozycki (Suz GSX-R600)
2. Brian Caulkins (Suz GSX-R600)
3. Blake Gentry (Suz GSX-R600)
4. Arnold Munoz (Suz GSX-R600)
5. Jimmyjam Salters (Kaw ZX-6R)
6. David Curry (Yam YZF-R6)
FORMULA TWO EXPERT:
1. John Knowles (Suz SV650)
2. Jayden Fernandez (Mor 250)
3. Alex Enriquez (Hon 250)
SENIOR SUPERBIKE HEAVYWEIGHT EXPERT:
1. Steve Zoumaras (Kaw ZX-10R)
2. Dennis Burke (Suz GSX-R1000)
3. Johnny Edwards (Suz GSX-R1000)
4. Ruben Soto (Suz GSX-R1000)
5. Fatih Buyuksonmez (Duc 1000)
6. Ed Guzman (Suz GSX-R1000)
SENIOR SUPERBIKE HEAVYWEIGHT NOVICE:
1. Robert Morten (Kaw ZX-10R)
2. Jaycee Sterling (Suz GSX-R1000)
SENIOR SUPERBIKE MEDIUMWEIGHT EXPERT:
1. Mookie Wilkerson (Yam YZF-R6)
2. Travis Becker (Yam YZF-R6)
3. Scott Weitmann (Kaw ZX-6R)
4. Moises Castaneda (Hon CBR600RR)
5. Michael Gougis (Hon CBR600RR)
B SUPERSTOCK EXPERT:
1. Edgar Zaragoza (Yam YZF-R6)
2. Alejandro Thermiotis (Yam YZF-R6)
3. Orel Madar (Yam YZF-R6)
4. Ivan Munoz (Yam YZF-R6)
5. Edgar Dominguez (Yam YZF-R6)
V8 MEDIUMWEIGHT:
1. Moises Castaneda (Hon CBR600RR)
2. Gilbert Silva (Kaw ZX-6R)
3. Wayne Gann (Yam YZF-R6)
4. Michael Gougis (Hon CBR600RR)
5. Edward Hearn (Yam YZF-R6)
6. Jacob van Rensburg (Hon CBR600RR)
C SUPERBIKE EXPERT:
1. Mookie Wilkerson (Yam YZF-R6)
2. Edgar Zaragoza (Yam YZF-R6)
3. Alejandro Thermiotis (Yam YZF-R6)
4. John Butler (Yam YZF-R6)
5. Travis Becker (Yam YZF-R6)
6. Moises Castaneda (Hon CBR600RR)
C SUPERBIKE NOVICE:
1. Robert Rozycki (Suz GSX-R600)
2. Briar Caulkins (Suz GSX-R600)
3. Blake Gentry (Suz GSX-R600)
FORMULA ONE EXPERT:
1. Sahar Zvik (Kaw ZX-10R)
2. Terry Heard (Kaw ZX-10R)
3. Steve Zoumaras (Kaw ZX-10R)
4. Nathan Morales (Yam YZF-R1)
5. Dennis Burke (Suz GSX-R1000)
6. Fatih Buyuksonmez (Duc 1000)
FORMULA ONE NOVICE:
1. Omar Carrillo (Yam YZF-R1)
V8 HEAVYWEIGHT:
1. Wayne Gann (Suz GSX-R1000)
CLUBMAN EXPERT:
1. Alex Enriquez (Mor 250)
2. Jayden Fernandez (Mor 250)
HEAVYWEIGHT TWINS SUPERBIKE EXPERT:
1. John Knowles (Suz SV650)
2. Ed Guzman (Suz SV650)
B SUPERBIKE EXPERT:
1. Mookie Wilkerson (Yam YZF-R6)
2. Edgar Zaragoza (Yam YZF-R6)
3. Alejandro Thermiotis (Yam YZF-R6)
4. Ivan Munoz (Yam YZF-R6)
5. Orel Madar (Yam YZF-R6)
6. Moises Castaneda (Hon CBR600RR)
D SUPERSTOCK EXPERT:
1. Andrew Kenefick (Kaw Ninja 250R)
LIGHTWEIGHT TWINS SUPERBIKE EXPERT:
1. John Knowles (Suz SV650)
A SUPERBIKE EXPERT:
1. Sahar Zvik (Kaw ZX-10R)
2. Terry Heard (Kaw ZX-10R)
3. Nathan Morales (Yam YZF-R1)
4. Mario Orozco (BMW S1000RR)
A SUPERBIKE NOVICE:
1. Omar Carrillo (Yam YZF-R1)
2. Max Ledesma (Duc 1000)
3. Robert Morten (Kaw ZX-10R)
4. Jaycee Sterling (Suz GSX-R1000)