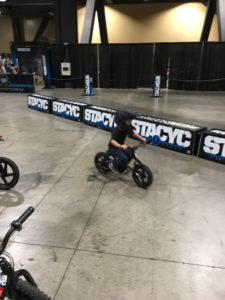 Copyright 2019, Roadracing World Publishing, Inc.
By John Ulrich
I was wandering around the Progressive International Motorcycle Show in Long Beach, California when I stopped at the STACYC test course set up in The Kid Zone. STACYC, which was purchased by Harley-Davidson earlier this year, makes small electric bikes for kids, designed to bridge the gap between balance bikes (bicycles without pedals, like a Strider) and small motorcycles.
One small kid on the STACYC test course caught my eye. I'm not sure, but he looked to be about two or three years old to me. He was making laps on the oval course, and didn't want to stop, evading capture several times before a large older man–I'll assume it was his grandpa–finally managed to grab the bars and try to lift him off the machine as he held onto the bars with all he had and burst into tears. A ride attendant started removing the kid's helmet, and the kid took his hands off the bars to grab the helmet and try to pull it back on, and when he did so, he was lifted off the bike. He was sobbing because he wanted to keep riding.
He mom led him, still crying, off the course and tried without success to calm him down and load him into a large stroller. I turned to watch other kids of various ages climbing onto the STACYC bikes in the test fleet, including ones with 12.5-inch wheels recommended for kids ages 3-5 and ones with 16-inch wheels for kids between 5-7 years old. (One kept her feet down and paddling as if she was on a Strider for awhile, but soon was riding feet up and rolling at a quicker pace.)
Soon the little kid was back in line with a determined look on his face, selecting the same helmet he rode with before, climbing on the same bike, and making laps. A few laps into his second ride around the polished concrete oval, he over-steered, tucked the front and crashed exiting a corner, flopping onto his belly. He looked surprised, but he didn't cry. Instead, he got back up, and after the bike was righted, climbed back on and continued making laps–a lot of laps. He was figuring it out as he went, working his way past slower riders, lowering his lap times and keeping a wary eye out for any adults who might try to stop him. For a long time, nobody even tried to bring him in.
The first of two videos below shows the kid crashing, unhurt. The second video shows him after he got going again, getting more steady and quicker with each lap.
He finally pulled over when his grandpa walked halfway out onto the course and signaled him to pull over–but not before taking another lap. The kid then came to a stop, climbed off the bike, relinquished his helmet, and wandered off with his mom and grandpa.
I had just watched the birth of a future motorcycle rider.
The day before, I had been talking to Robert Pandya about his crusade to get more people riding motorcycles, starting with introducing little kids to Strider balance bikes and taking it from there. (He was turning adults into riders as part of the Discover The Ride program running at IMS–using Zero electric bikes with the power turned down and the top speed limited to about 11 mph–on a larger oval "New Rider Course.") "It's not that f—ing hard" to introduce people to two-wheeled fun and convert them into motorcyclists, he had told me.
I am sure the determined little kid I watched will be riding on a powered two-wheeler again sometime, someplace. He might continue with electric machines, or transition to internal combustion, or ride both.
But one way or another, that kid is now a rider, and he'll be back.
Pandya is on to something.
More information on the Discover The Ride programs for both adults and kids at IMS shows is available from MotorcycleShows.com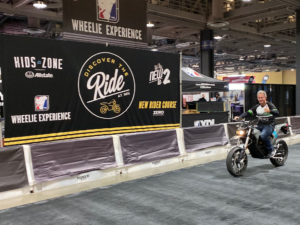 (Above) Four Time 500cc Grand Prix World Champion Eddie Lawson makes a lap aboard a Zero electric motorcycle on the Discover The Ride program's New Rider Course at the IMS show in Long Beach. Unlike the STACYC course, this much larger course has carpet laid down over the polished concrete floor. Photo courtesy Robert Pandya.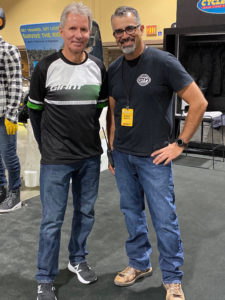 Eddie Lawson poses with Robert Pandya after making a lap of the New Rider Course. Photo courtesy Robert Pandya.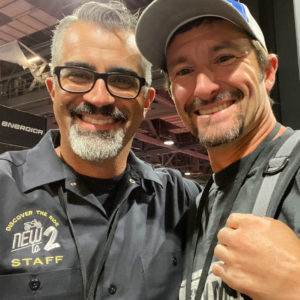 Four-time AMA Superbike Champion Josh Hayes poses with Robert Pandya. Photo courtesy Robert Pandya.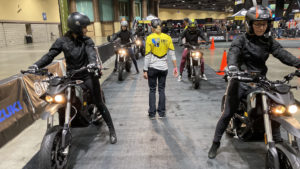 Riders line up at the start of a session on the New Rider Course as part of the IMS Discover The Ride program. Photo courtesy Robert Pandya.