Mikey Lou Sanchez, age 13, had a rough start to Round Five of the RFME ESBK PreMoto3 Championship September 14-17 at Circuito de Navarra. On Thursday, Mikey struggled to get up to speed, but in the afternoon practice, he managed to get comfortable. During Friday morning practice in mixed conditions, Mikey unfortunately had a crash on the first lap while trying to avoid a downed rider. This caused Mikey to lose the whole practice session. In dry conditions Friday afternoon, Mikey struggled once again finishing P15.
Going into qualifying on Saturday morning, Mikey improved his lap times but qualified P10, thus being his worst qualifying so far this year. We knew going into Race One that Mikey needed to finish in the top nine in order to have a good starting position for Sunday's Race Two.
Mikey finished P4 in Race One, battling for a podium finish between four riders the entire race!
In Sunday's Race Two, he started on the second row right behind pole position. Mikey put his head down, had a great start, and ran the first two laps in second position with five riders on his tail all fighting for the podium! Light rain began to fall in the middle of the race and Mikey went from P2 to P6 with three laps to go. Mikey charged to the end and in the last corner on the last lap he was able to complete a pass and secure the podium, finishing P3!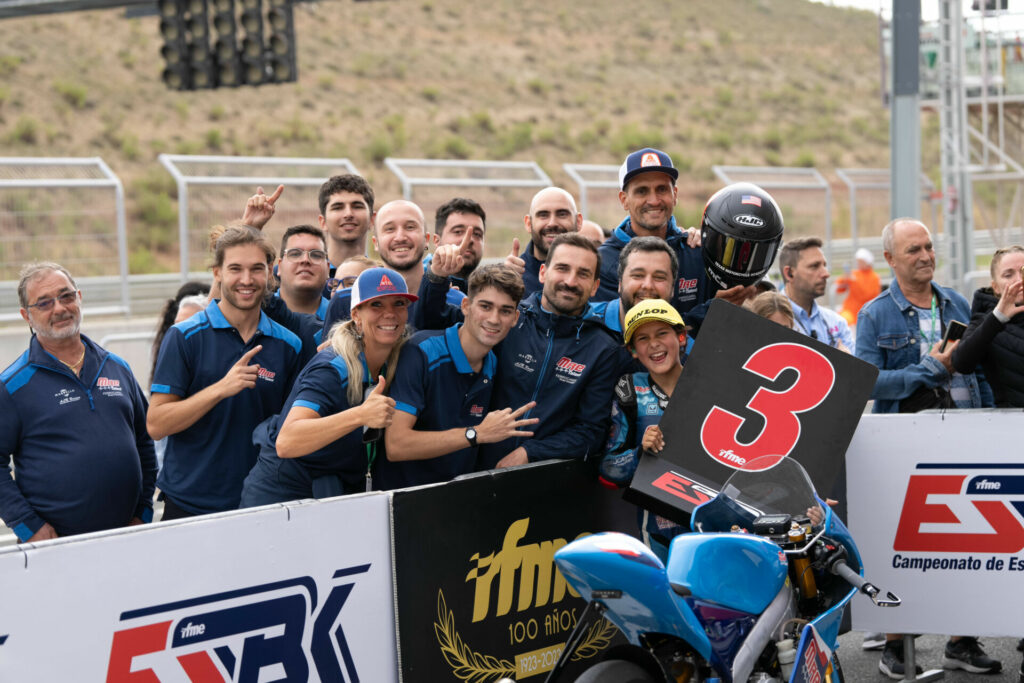 Trinity Richardson, Mikey's mom, said: "On Friday when Mikey crashed and missed the whole morning session I was stressed out because Mikey was already behind since a lot of teams and riders tested at Navarra the weekend before but Mikey did not! We knew that he needed to use Saturday's race to prepare for Sunday's race to get a good result. But Mikey being determined and hard headed said he had this and went out there on Saturday and almost put it on the box! At that point I knew the podium was coming on Sunday! Mikey sat down with his coach Caco and together they figured out what he needed to do. Big thanks to Caco and the entire MRE Team for supporting Mikey!"
Mikey said: "Both races were really good. The second race was amazing with the close finish. I'm going to try to get more prepared for Jerez in three weeks. Thanks to my crew chief Caco and my mechanics Diego and Marcos and my team boss Javi Cobos!"
You can watch Mikey's race on YouTube starting at 1:20:00 mark here:
With this podium Mikey now sits 5th in the ESBK PreMoto3 Championship with two rounds to go!
Mikey is looking forward to Round Six of the ESBK Championship October 14-15 at Circuito de Jerez.
We would personally like to thank all our sponsors: Roadway Traffic Control, HJC Helmets, Texas Motorcycle Academy, San Marcos Iron Doors, Williams Custom Painting, Moto Liberty, 212 Decals, Mark Niemi. Fred and Maggie Beck, Theo Bick, Ben Fondu, Paul Stamper, and Stacey Pawelek.