Part 3 of a series, reprinted from the April 2011 edition of Roadracing World & Motorcycle Technology Magazine. Copyright 2011, 2015, 2020. All rights reserved. www.roadracingworld.com
---
EARL HAYDEN—Professional Road Racing's Most Successful Father:
The RIGHT Way To Take Kids Racing
Former dirt track racer Earl Hayden is a unique parent. He has three successful sons with careers in professional motorcycle racing: Tommy, Nicky and Roger. His two daughters, Jenny and Kathleen, raced for fun. Nobody knows more about going racing with kids, starting at young age.
Asked about the right way and the wrong way to take kids racing, Hayden says, "I've seen it all, parents yelling and cussing and hitting their kids, especially in the PeeWee days. I about got my butt whipped a few times when I tried to talk to them, but I have had a few of them come back later and say they were happy I said something to them.
"When parents spend a lot of money and everything they expect the kids to do really well. There was a referee way back who said something that stuck in my mind. He said, 'Listen, at the end of the day, kids, you hug your mom and dad, and Mom and Dad, you hug your kids.' I don't ever want to go to bed being mad at one of my kids, and I don't want them to go to bed being mad at me. If you put that kind of pressure on them that's what is going to happen.
"One time at Daytona Tommy got into Turn One dead last about five or six times in a row. I said to him, 'Tommy, I'm gonna put my leathers on and I'm gonna beat somebody to the first turn. I don't know if I'm gonna make the corner, but I'm gonna beat somebody.' He said, 'Dad, no matter how bad you want me to get to the first corner first, I want to get there first more than you do.'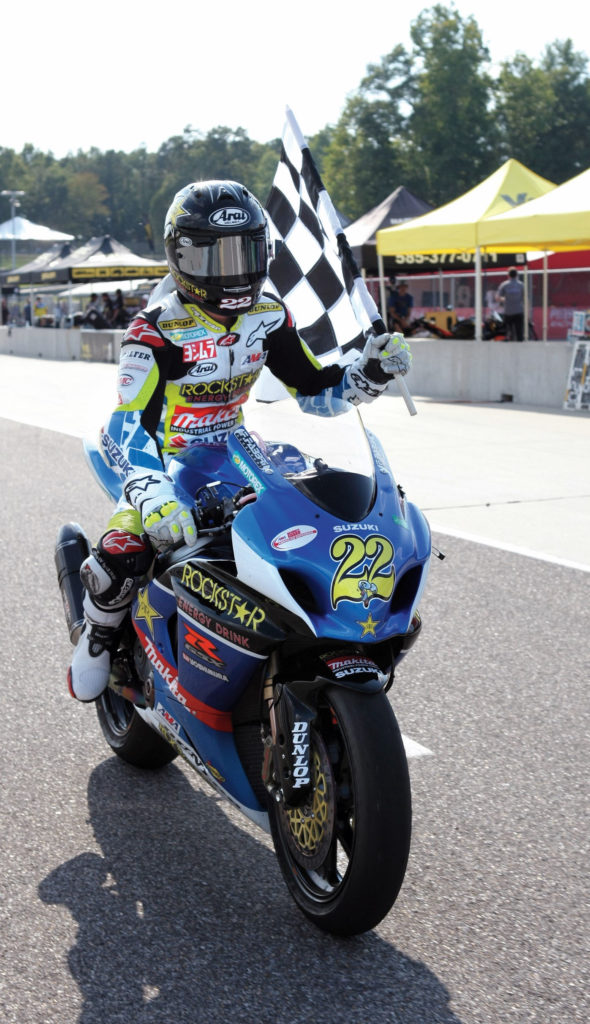 "The kids, all they want to do is make Mom and Dad happy. Yelling at them isn't going to do anything but burn them out, and it's definitely not going to make them go faster. You've got to be the coach, the cheerleader, the financial person who puts all the money in, and you have to be Mom or Dad. But the kids have to put out the same level of effort that Mom and Dad are putting in. If the parents want it more than the kid, you better quit. The kid's got to want it as bad as Mom and Dad.
"People used to think I pushed the kids. They would ask me, 'Do you make them race?' I said, 'Listen, the only thing I make them do is brush their teeth, go to school, and their mom might make them take a bath.' There's not one time I made them race. I was usually begging for a weekend off. 'Let's don't go to Texas this weekend.' And their favorite saying was, 'Dad, you can rest when you die.'
"Most parents want to buy their kids' way down the straightaway and this and that. If I could go back I would probably add weight to their bikes to make them ride the corners and stuff better, because when they have to line up against Valentino Rossi they better know how to use the brakes and how to get through a corner.
"Most parents want to buy them down the straightaway. Most of the kids who got that kind of treatment didn't end up a World Champion or even a National Champion.
"The most important thing is practice, practice, practice, but you've got to keep it fun. So we would have play races every day. We would use the flags, the starting system, and I would let the winner carry the checkered flag around. We were playing around, but they raced hard. The next thing you know three or four hours went by and they had fun the whole time. But if you're out there pushing on them and kicking on them it's not gonna be fun. Parents pushing on the kids takes all the fun away.
"There's no shortcuts. I started the boys on 50s, then 60s, then 80s, then 125s, then 250s and built that foundation. We had kids come in to race us and the dad would be yelling at them for getting beat. I've seen parents hit their kids so hard they knocked their faceshield off. 'We came all the way from California to come here and you get beat by them?' That parent never even thought about we had been racing six, seven, eight years longer than their kid and no one expected him to beat us. He's not supposed to beat us.
"You have to be careful when parents are really, really mad, but when they've gotten through yelling I've gone up to the dad. I don't go telling him he's doing everything wrong, but I say, 'Can I just tell you something I hope as a favor? Not that I'm any smarter than you, but please don't do that to the little kids. All they want to do is please you and make you happy.' And I've had parents come back later and say thank you, because it does kind of make them think a little.
"It's easy to get caught up in it. You might be at the AMA Grand Championships and your little kid falls down and loses the Championship.
"And if you're just at a local race or a regional race, nobody knows what happened except you and your family. So there's no reason to get all worked up. Nobody's gonna know your kid got sixth instead of second or third in that club race. So there's no reason to get all worked up. And what happens when your kid is 11 years old isn't going to make the difference in whether you get a factory ride or not. You want to win all the races and all the awards coming up the ladder, because it does show you're progressing, but not winning everything is not the end of the world.
"Kids are going to make mistakes, a lot of mistakes. They are going to crash and do it all, but at the end of the day you have to stop and ask, 'Did we get better?' Because you've got to keep getting better."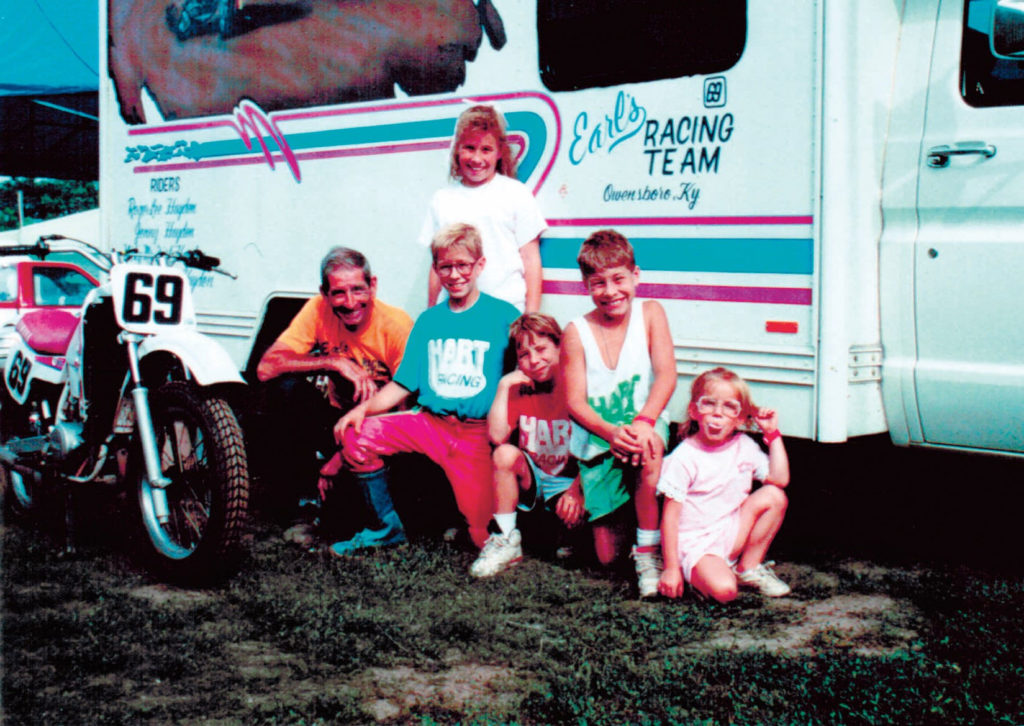 Asked what he did when racing and school conflicted, Hayden said, "No drugs, no alcohol and stay in school. My boys had to stay in school or they could not race. With my kids I left Friday after school—unless we had Friday practice, and then I left Thursday. Then I would drive all night to get back, and they would be in school on Monday morning. Jake Lewis, this kid I help now, he gets all A grades in school. When you get all A grades you can miss a Friday and the teachers will work with you. But it's funny sometimes because you can go miss a week to go to a cheerleading camp or whatever, but if you want to take a week off to go race motorcycles at Daytona they don't see it the same way.
"And kids have got to respect each other. They don't have to like each other, but they've got to respect each other, especially on the track. Two dead-equal riders, teams are gonna take the kid who is a good, respectful kid who looks like he is having fun over a kid who is a problem or has bad behavior or has dropped out of school.
"I put on a dirt track one time. I had 150 riders come out, and 149 of them were complaining the whole time. But I had one kid come up and thank me for putting on the race. I used to have my kids go up to the organizers and thank them for providing them a place to race.
"I really believe in doing it as a family. It can be a great family sport. I love this sport, and I love little kids. I wish every parent could have the feeling I had when Nicky won the World Championship. Winning the National Championships are great, too.
"Above all, when you take your kids racing, it's got to be fun. If it's not fun, why do it?" 
---
Check back tomorrow for the next installment of Taking Kids Racing.