Part 2 of a series, reprinted from the April 2011 edition of Roadracing World & Motorcycle Technology Magazine. Copyright 2011, 2015, 2020. All rights reserved. www.roadracingworld.com
---
KEVIN SCHWANTZ On Working With Young Racers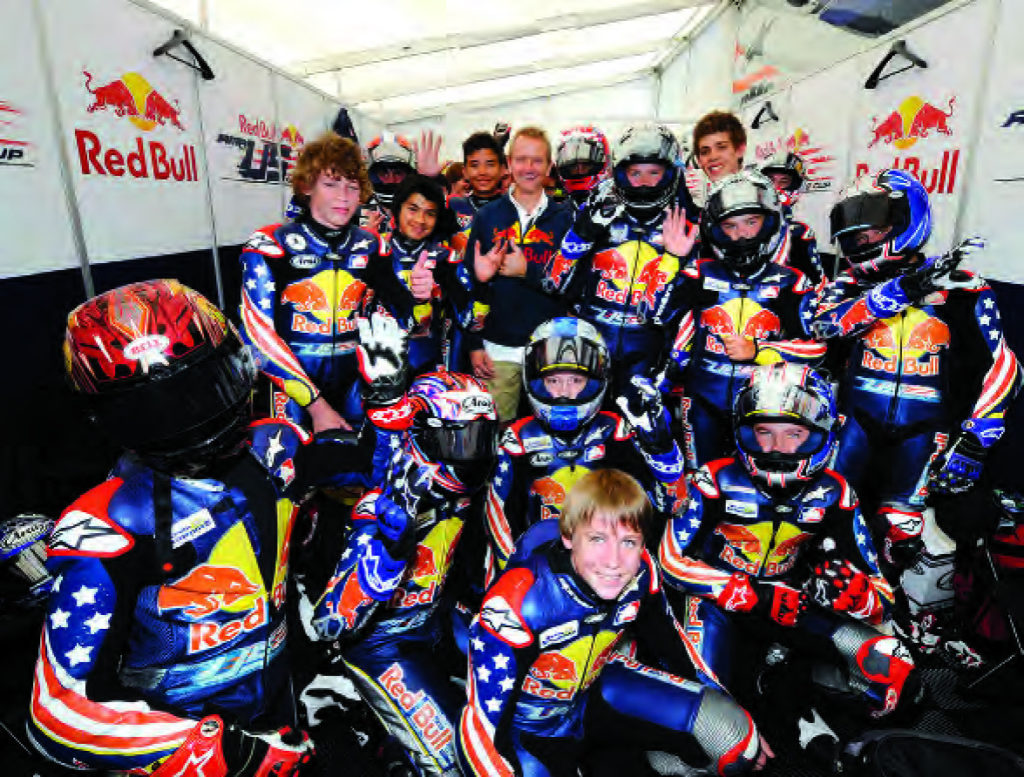 Roadracing World: How do you coach kids and keep them safe?
Kevin Schwantz: "It's never easy because once the kids get to the Red Bull Rookies level they've got pretty high goals and because they've got exactly the same equipment as the other guys they know that if they're the best they should be the fastest guy out there. I find most of the kids try to latch on to someone going faster and try to figure it out. My approach to those kids is you've got to go out and work at it, it's not something that's going just click and you find a second. You've got to go out, find your rhythm, find your pace, then start trimming bits off in every section. Even at the top, riders struggle to find where the limit is; Casey Stoner is a classic example, he's won a bunch of races this year but he's crashed out of a few in the first six laps. It's never easy to get that through to kids because they go 'the other kid's doing it and he's making it look easy.'"
Roadracing World: What kind of tone do you use?
Kevin Schwantz: "To work with these kids you've got to learn each kid and what makes that kid tick. What I really liked about the U.S. Red Bull Rookies program in 2008 was that I got to ride with the kids: That's such an easier way to coach a kid. I'd follow them, I'd pass them, I'd lead them 'round, then let them pass me back, so I could see what they're doing wrong. Then we'd come in, we'd talk about it and maybe if the next session was qualifying, so I wasn't riding with them, they'd come back in with a beaming smile: 'What you told me helped me so much!' You got to learn each kid. It's different with the Red Bull Rookies Cup in MotoGP because there's so many people trying to coach the kid, whether it's parents, managers or some of the 125cc GP guys. In America we had the kids more secluded, we kept the parents away, we had our own mechanics working on the bikes, so it was a great opportunity to work with them. It's so difficult from the edge of the track to pick up on what they need to do better."
Roadracing World: How do you keep an eye on dads who may put too much pressure on their kids?
Kevin Schwantz: "You can see that absolutely in every kid that's out there, whether they're doing it because they absolutely love it, it's the best thing they've ever done in their lives and there's no pressure, they're just having great time; or there's the kids going 'Oh man,' and you can tell they're getting heat from mum and dad who are going 'Do you know how much money we've spent to get you here?' And there's every scenario in between those two extremes—no pressure and more pressure than a factory rider trying to win a World Championship at the last race.
"We've got a big enough group of people here to deal with any problems like that. If we see dads getting angry or pointing fingers, we can't tell the dad how to raise the kid, but we can walk in and say 'I know where his struggles are coming from' and try to help them."
---
Check back tomorrow for the next installment of Taking Kids Racing.