Suzuki Announces Returning Motorcycles to Round Out 2023 Line-up 
Brea, CA (March 8, 2023) – Suzuki Motor USA is proud to announce three popular motorcycles to complete the 2023 model lineup: the GSX-S750Z ABS, GSX-S750Z, and GSX250R ABS. These models feature proven designs and advanced technology, making each ideal for riders of all skill levels looking for some excitement in style.
The 2023 GSX-S750Z/ABS models blend GSX-R750-derived engine performance with aggressive naked sportbike styling that's ready to turn heads as the performance leader in its class. The 2023 GSX-S750Z ABS features a Metallic Oort Gray No. 3 and Glass Sparkle Black color scheme, while the GSX-S750Z comes in a vivid Pearl Brilliant White and Champion Yellow No. 2 combination.
Key Features: 
Fuel-injected, 749cc, four-cylinder engine using GSX-R architecture delivers a torque-rich, sportbike experience.
Advanced Traction Control* lets the rider select sensitivity to match road conditions, and the unique GSX-S750 chassis integrates the best qualities of a tubular girder streetbike frame and a twin-spar sportbike frame, providing precise handling.
Fitted with KYB suspension and radial-mounted Nissin four-piston brake calipers with wave-style rotors up front, ensuring strong and consistent braking performance. The GSX-S750Z ABS is equipped with a compact, smooth-operating Anti-lock Braking System (ABS)**.
Aggressive streetfighter styling with ergonomically comfortable, yet sporty riding position is achieved with a wide, cast aluminum handlebar, a well-positioned seat, and foot pegs.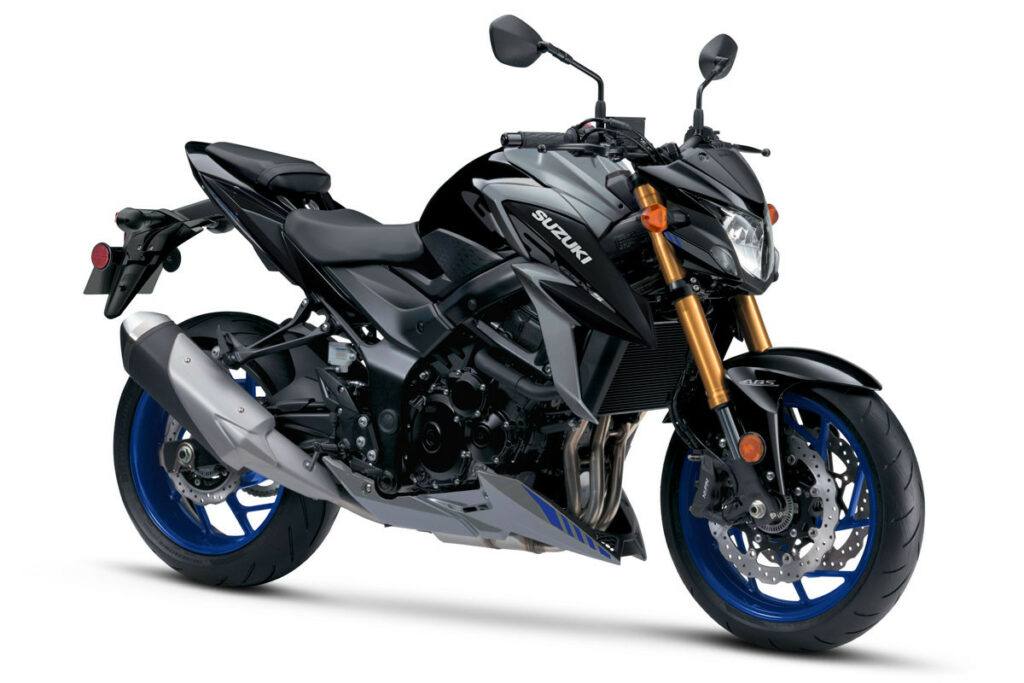 2023 Suzuki GSX-S750Z ABS
MSRP $9,149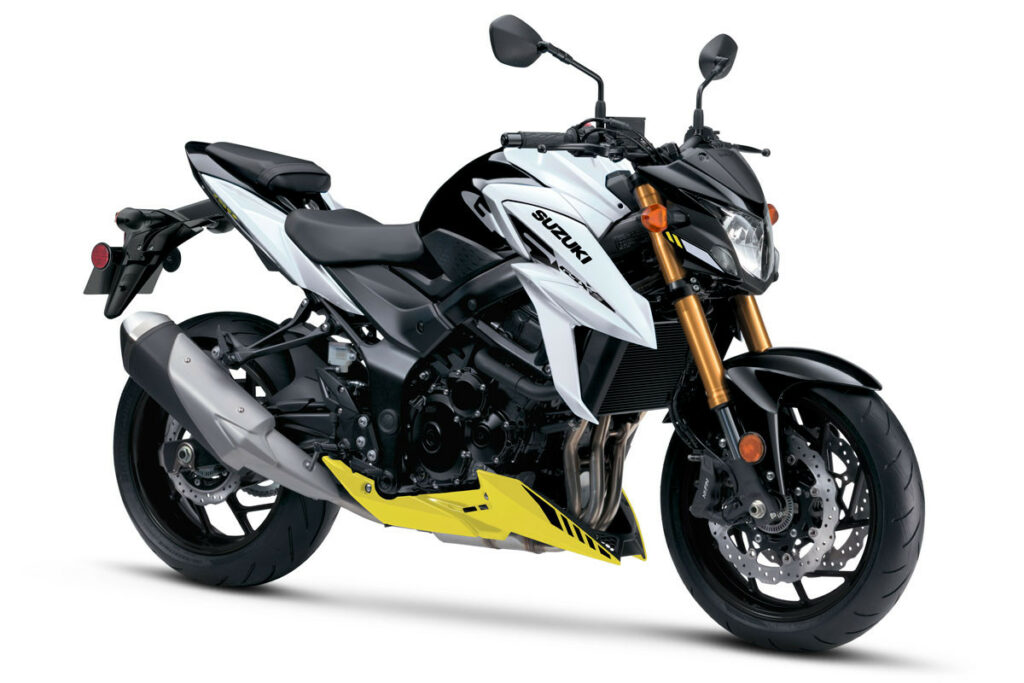 2023 Suzuki GSX-S750Z
MSRP $8,649
The confidence-inspiring GSX250R ABS sportbike features a new, two-tone Metallic Diamond Red and Pearl Nebular Black color scheme bringing big bike impact to the 250 class. The fully faired, quarter-liter sportbike delivers easy-to-control performance, great fuel efficiency, nimble handling, and modern styling inspired by Suzuki's championship-winning sportbike heritage.
Key Features: 
The fuel-injected, parallel-twin engine delivers smooth, responsive power with exceptional fuel economy estimate that delivers a riding range of over 250 miles***.
Reverse-lit LCD instrument panel, distinctive position lamps, and surface-emitting LEDs in the taillight.
Comfortable, roomy ergonomics for rider and passenger, with a slim fuel tank, and a low seat height perfect for new riders.
Ten-spoke, cast aluminum wheels, ABS-equipped** front disc brake with petal-type rotors, and well-tuned suspension components combined with an exceptional chassis that's more than ready for any riding assignment.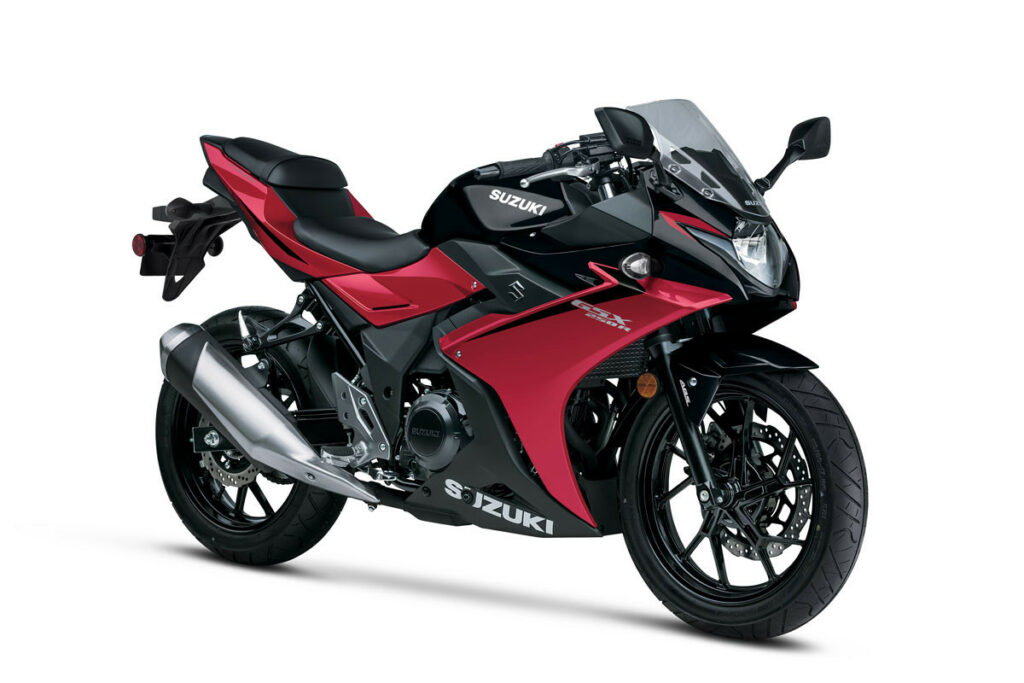 2023 Suzuki GSX250R ABS 
MSRP $4,999
Suzuki is excited to bring back these fan-favorite motorcycles to the 2023 Suzuki lineup. With Suzuki's engineering excellence, impressive handling, and striking design elements, the GSX-S750Z ABS, GSX-S750Z, and GSX250R ABS are sure to provide riders with an unforgettable sportbike experience.
With a comprehensive 12-month unlimited mileage limited warranty and longer coverage periods with other benefits available through Suzuki Extended Protection (SEP), these 2023 Suzukis may be personalized with a wide range of Genuine Suzuki Accessories available at Suzuki dealers.  For more information, please visit SuzukiCycles.com.
Note: SUZUKI MOTOR CORPORATION reserves the right to add any improvement to change the design or to discontinue any Suzuki Genuine Accessories at any time without notice. Some Suzuki Genuine Accessories might not be compatible with local standards or statutory requirements. Please check with your local AUTHORIZED SUZUKI DEALER for details at the time of ordering.
*The Traction Control System is not a substitute for the rider's throttle control. It cannot prevent loss of traction due to excessive speed when the rider enters a turn and/or applies the brakes. Traction control cannot prevent the front wheel from losing grip.
**Depending on road surface conditions, such as wet, loose, or uneven roads, braking distance for an ABS-equipped vehicle may be longer than for a vehicle not equipped with ABS. ABS cannot prevent wheel skidding caused by braking while cornering. Please drive carefully and do not overly rely on ABS.
***Suzuki's fuel economy estimates are based on EPA exhaust emission measurement tests conducted by Suzuki and are intended for comparison purposes only. Your actual mileage may vary depending on how you ride and maintain your vehicle, road and driving conditions, tire pressure, engine break-in, accessories, cargo, rider and passenger weight, and other factors.