Award-Winning GSX-S1000GT/GT+ and Proven Boulevard Cruisers Return for the 2023 Suzuki Line-Up
Brea, CA (December 8, 2022) – Suzuki Motor USA proudly announces additional models to its 2023 product line with the award-winning high-performance sport-touring Suzuki GSX-S1000GT/GT+ models, plus iconic Boulevard models including the M109R B.O.S.S. muscle cruiser, and the classically styled C50T and C50 cruisers.
These popular motorcycles continue the momentum of exciting new 2023 models Suzuki launched over the last 12 months, including the sensational new V-STROM 1050DE and 800DE adventure tourers, as well as the dynamic new GSX-8S naked sportbike.
Highlighted by engineering excellence, impressive features, impeccable build quality, and attractive styling, these models continue Suzuki's commitment to offering motorcycles with unparalleled performance and value, regardless of the segment.
2023 GSX-S1000GT/GT+
Key Features:
Ready to split the wind, the GT's full fairing sets the standard for aerodynamics and rider wind protection in the sport-touring category. The dual mono-focus LED headlights and V-shaped LED position lights create a distinctive appearance and great illumination. With, or without the optional side cases (standard on the GT+) and optional touring windscreen in place, the GSX-S1000GT is the new grand touring performance standard in the sport touring category.
A large, 6.5 in TFT gauge panel that is easy to read in any light condition allows the rider to monitor and adjust many of the bike's Suzuki Intelligent Ride Systems (S.I.R.S.) features. The panel also communicates with Suzuki's mySPIN connectivity application that seamlessly links to a smartphone for easy access to contacts, maps, music, and phone communication.
Worldwide emissions-compliant, the 999cc, GSX-R-based long-stroke engine has impressive peak power, with strong, linear torque in the low- to mid-range all smoothly controlled by Ride-by-Wire electronic throttle bodies, for an extraordinary Grand Touring experience.
Upright ergonomics deliver superb control and comfort, while the twin-spar aluminum frame and fully adjustable KYB suspension deliver controlled handling. The ABS-equipped** Brembo Monobloc brake calipers with dual, floating brake rotors provide controlled stopping power.
The Suzuki Clutch Assist System (SCAS) smooths shifting and engine braking, while the standard Bi-directional Quick Shift system gives your clutch hand a rest. Right-hand comfort is increased with the hybrid throttle system and the precise electronic cruise control.
The Suzuki Intelligent Ride System (S.I.R.S.) includes the three-mode Suzuki Drive Mode Selector, the five-mode Advanced Traction Control* system, Bi-directional Quick Shift system, and the popular Easy Start and Low RPM Assist systems.
The GSX-S1000GT+ is adorned in a new Metallic Triton Blue or a Glass Sparkle Black that stands out of the crowd with its color matched side cases. The GSX-S1000GT continues for 2023 in Metallic Reflective Blue.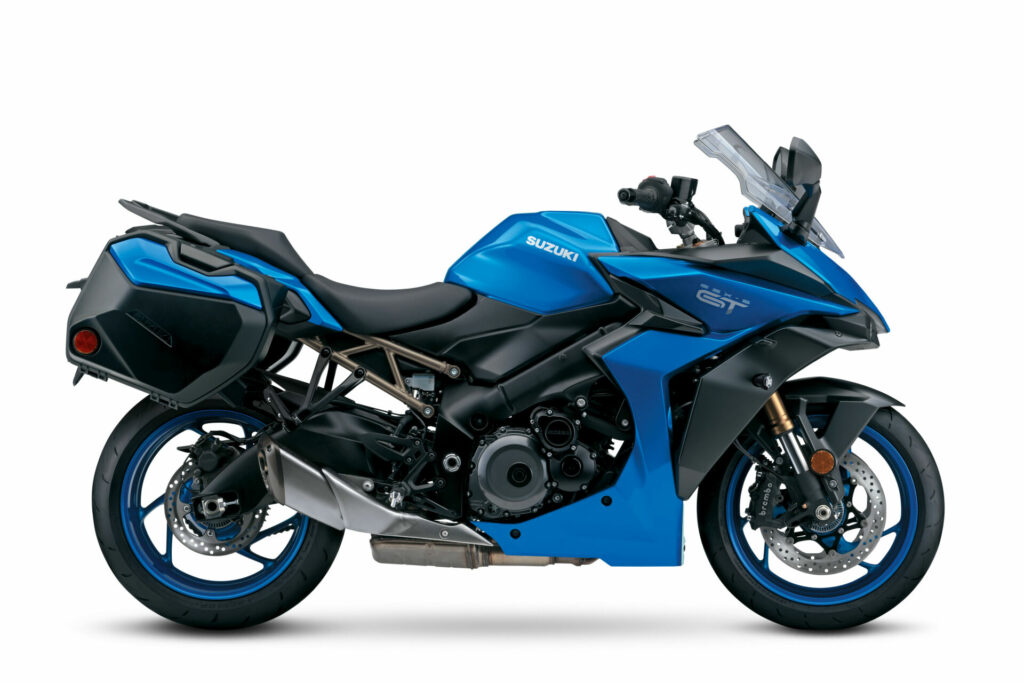 2023 Suzuki GSX-S1000GT+
MSRP $14,099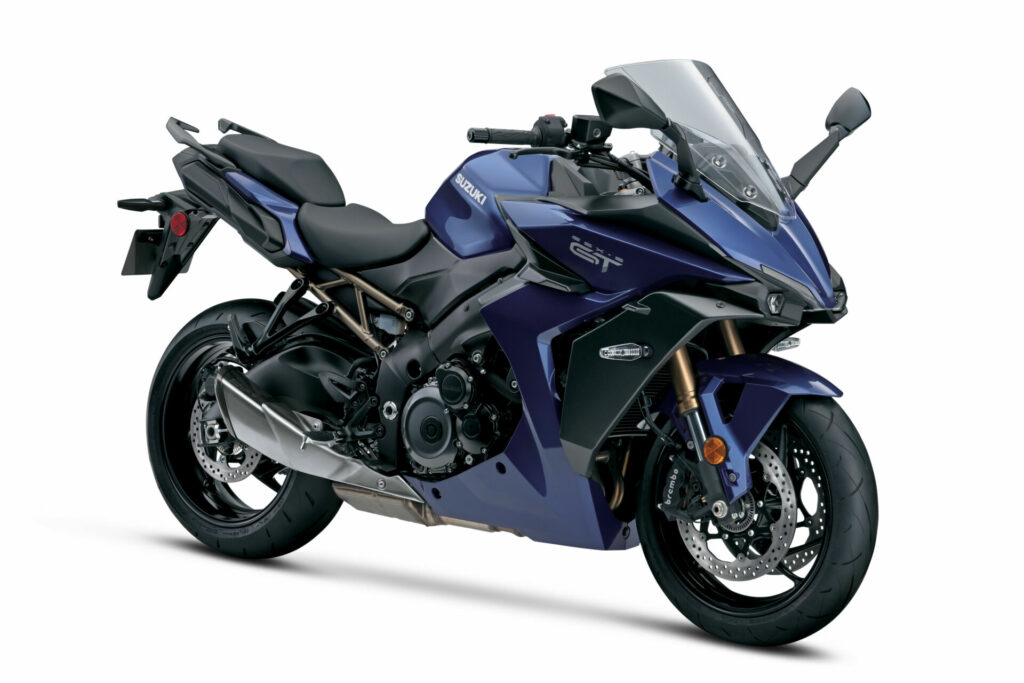 2023 Suzuki GSX-S1000GT
MSRP $13,349
2023 Boulevard M109R B.O.S.S.
The taut, muscular 2023 Suzuki M109R B.O.S.S. remains the performance cruiser other bikes envy. This M109R has a powerful V-twin engine with some of the largest pistons in the industry. The M109R B.O.S.S. is a bike whose performance will get the adrenaline flowing, no matter the ride.
This muscle cruiser's 109 cubic-inch engine is wrapped with aggressive blacked-out styling with slash-cut mufflers, drag-style bars, a supplied solo seat cowl, and a distinctively shaped headlight nacelle that's uniquely Suzuki.
The deep red and black or bright blue and black paint schemes draw attention away from everything else on the road. The M109R is not just about looks, as stout inverted forks, a hidden single-shock rear suspension, and an ideally designed saddle deliver responsive handling and an exceptionally comfortable ride. Hold on as the performance never looked so good, or so powerful.
Key Features:
Blacked Out Special Suzuki (B.O.S.S.) styling.
Sharp headlight nacelle mounted above the large diameter, inverted fork.
1783cc, 8-valve DOHC, 54-degree, liquid-cooled, V-twin engine.
Large radial-mounted, dual front brakes deliver sure stopping performance.
Massive 240mm wide tire on wide cast wheel.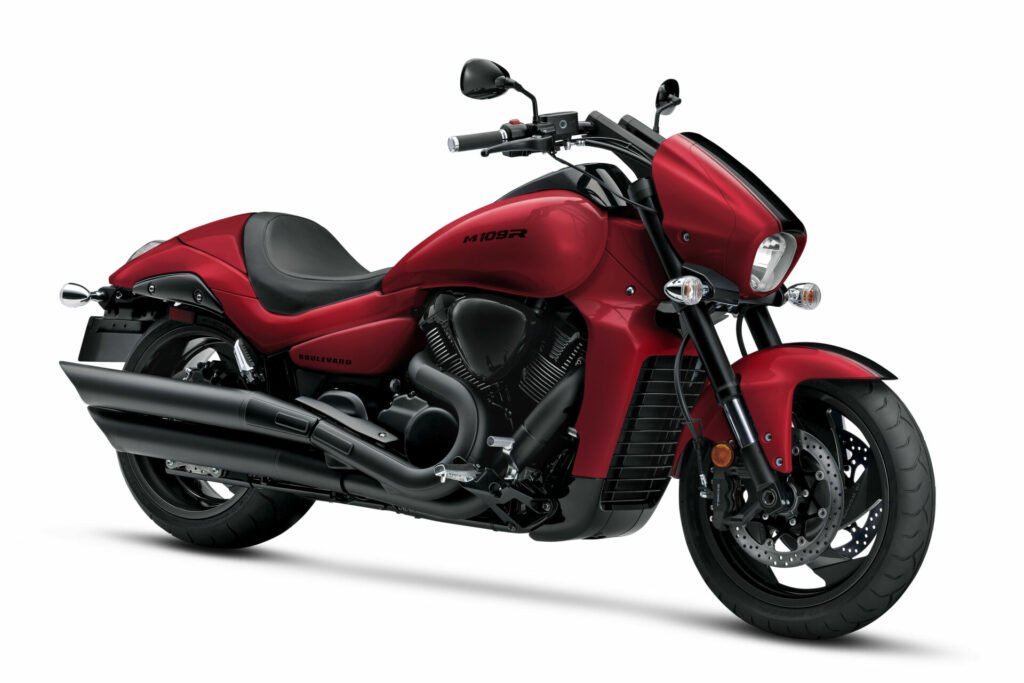 2023 Suzuki Boulevard M109R B.O.S.S.
MSRP $15,599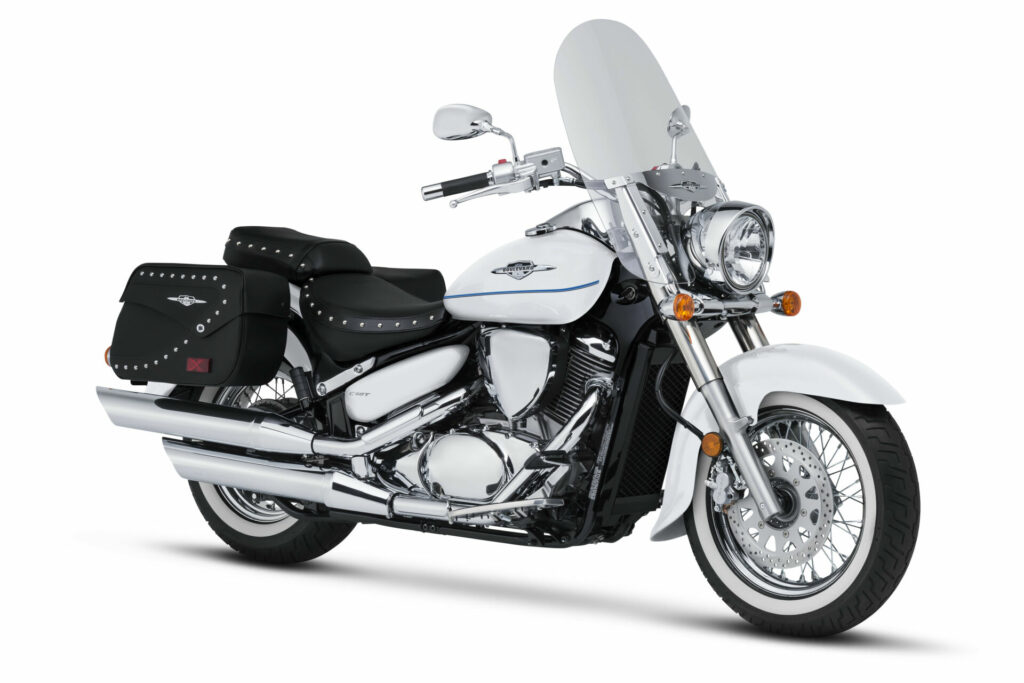 2023 Suzuki Boulevard C50T
With the 2023 Suzuki Boulevard C50T, you will find yourself equally in command on city streets or out on the interstate. The C50T's fuel-injected, fifty cubic-inch V-twin engine delivers abundant torque and is engineered for reliability and proven performance.
Its distinctive, bold styling and extensive list of features make this bike ideal for comfortable long-distance cruising. Tour-ready features include a spacious riding position, full coverage aerodynamic windscreen, and custom-made leather-texture, studded saddlebags that match the studded dual seats that deliver all-day rider and passenger comfort.
Key Features:
Tour-ready leather-texture saddlebags with chrome studs are designed as part of the bike, not as accessory add-ons.
A full coverage windscreen offers greater protection, and greatly minimizes wind buffeting.
Fifty cubic inch (805cc), fuel-injected, liquid-cooled, 45-degree, V-twin engine.
Smooth-shifting 5-speed transmission with shaft drive.
Buckhorn-style handlebars and studded seat feature a low seat height of 27.6 inches.
Wide whitewall tires on sparkling spoke wheels set off classic styling.
Pearl Brilliant White paint with subtle blue graphics blends well with the Boulevard's classic styling, windscreen, studded leather-texture seats, and matching saddlebags.
2023 Suzuki Boulevard C50T
MSRP $10,359
2023 Boulevard C50
The 2023 Suzuki Boulevard C50 turns heads wherever you rumble by. The Boulevard C50 stamps a bold impression on classic cruiser styling that includes a kicked-out fork, traditional valance-style fenders, and a staggered, chromed, dual exhaust system.
The C50's fuel-injected, fifty cubic-inch, V-twin engine delivers loads of torque and is engineered for reliability and presence that other cruisers will wish they had. On city streets or the open highway, the C50's spacious riding position and smooth suspension provide all-day cruising comfort, while its rear suspension delivers the appearance of a classic hardtail.
Key Features: 
Bold heritage cruiser styling.
A fifty cubic-inch (805cc), fuel-injected, liquid-cooled, 45-degree V-twin engine.
Smooth-shifting 5-speed transmission with shaft drive.
Buckhorn-style handlebars and a low seat height of 27.6 inches.
Candy Daring Red or Solid Iron Gray paint with understated tank graphics augment the Boulevard's classic posture.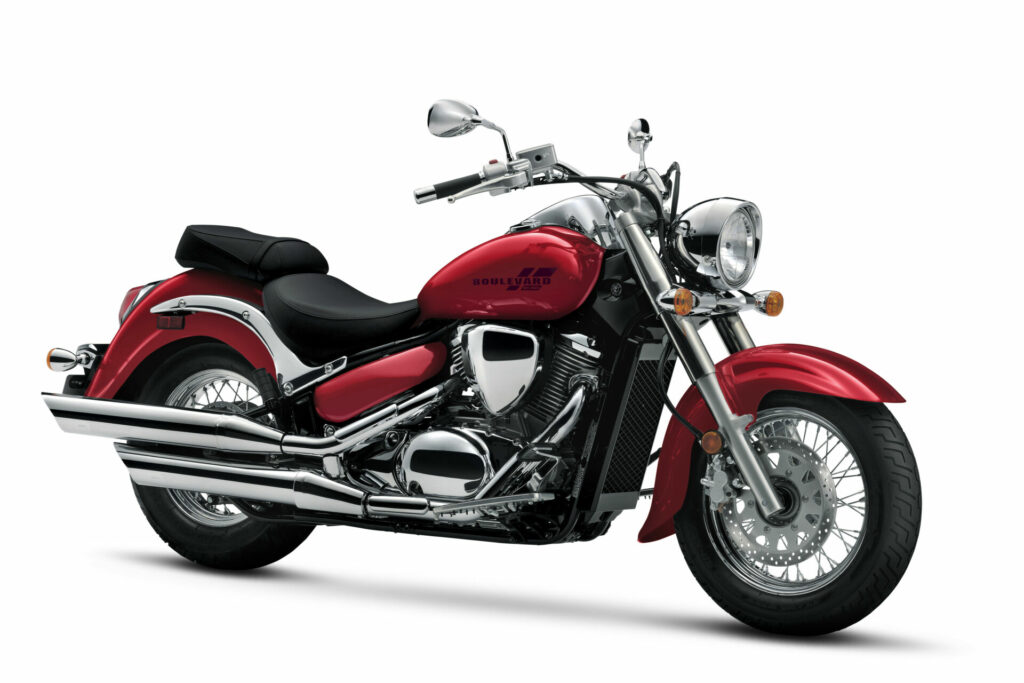 2023 Suzuki Boulevard C50
MSRP $8,909
With a comprehensive 12-month unlimited mileage limited warranty and longer coverage periods with other benefits available through Suzuki Extended Protection (SEP), these 2023 Suzukis may be personalized with a wide range of Genuine Suzuki Accessories available at Suzuki dealers. For more information, please visit SuzukiCycles.com.
Note: SUZUKI MOTOR CORPORATION reserves the right to add any improvement to change the design or to discontinue any Suzuki Genuine Accessories at any time without notice. Some Suzuki Genuine Accessories might not be compatible with local standards or statutory requirements. Please check with your local AUTHORIZED SUZUKI DEALER for details at the time of ordering.
*The Traction Control System is not a substitute for the rider's throttle control. It cannot prevent loss of traction due to excessive speed when the rider enters a turn and/or applies the brakes. Neither can it prevent the front wheel from losing grip.
**Depending on road surface conditions, such as wet, loose, or uneven roads, braking distance for an ABS-equipped vehicle may be longer than for a vehicle not equipped with ABS. ABS cannot prevent wheel skidding caused by braking while cornering. Please drive carefully and do not overly rely on ABS.