APPLICATIONS NOW OPEN FOR BUILD. TRAIN. RACE. 2022
Royal Enfield welcomes women to apply for Flat Track and Road Racing BTR programs now through December 1, 2021.
Milwaukee, WI (Thursday, November 18, 2021) – Royal Enfield's unique and inspiring BUILD. TRAIN. RACE. program, established in 2019, is prepared to go bigger than ever in the 2022 racing season. Build. Train. Race. (BTR) will be expanding its platform in both Flat Track and Road Racing, turning even more women motorcyclists into builders and racers, and Royal Enfield is currently welcoming applications.
For the 2022 season, Royal Enfield is seeking riders with some level of experience in motorcycle racing. In the past, BTR has sought out complete beginners, but since there will be riders returning to the program in 2022, the applications are now open to riders with experience in the discipline they are applying for. If you aren't sure if you have the appropriate level of experience, just apply anyway!
Applications are currently being accepted at BuildTrainRace.com. Apply by December 1, 2021 to be considered for the 2022 season.
Apply now for Royal Enfield's 2022 BUILD. TRAIN. RACE.
BTR ROAD RACING
Royal Enfield BTR was proud to be a part of the 2021 MotoAmerica Road Racing Championship, where they were welcomed into the pits as revered members of the racing community. BTR Road Race participants included 2021 champion CJ Lukacs, Becky Goebel, Trisha Dahl, Michaela Trumbull, Alyssa Bridges, Kayla Thiesler and Scarlett Grosselanghorst. For the first time, several past program participants will be welcomed back for the new season, which will also expand to host an even larger field of racers.
Under the tutelage of professional road racer and renowned team manager Melissa Paris, the BTR Road Racing women built their own race bikes from Royal Enfield Continental GT 650 motorcycles and put together unique sponsorship programs. From there, each went through road race training courses before taking on the racing portion of the program at select MotoAmerica Superbike Championship rounds. Along with a larger grid of riders for 2022, The Royal Enfield BTR program will also race at more rounds of the MotoAmerica Championship.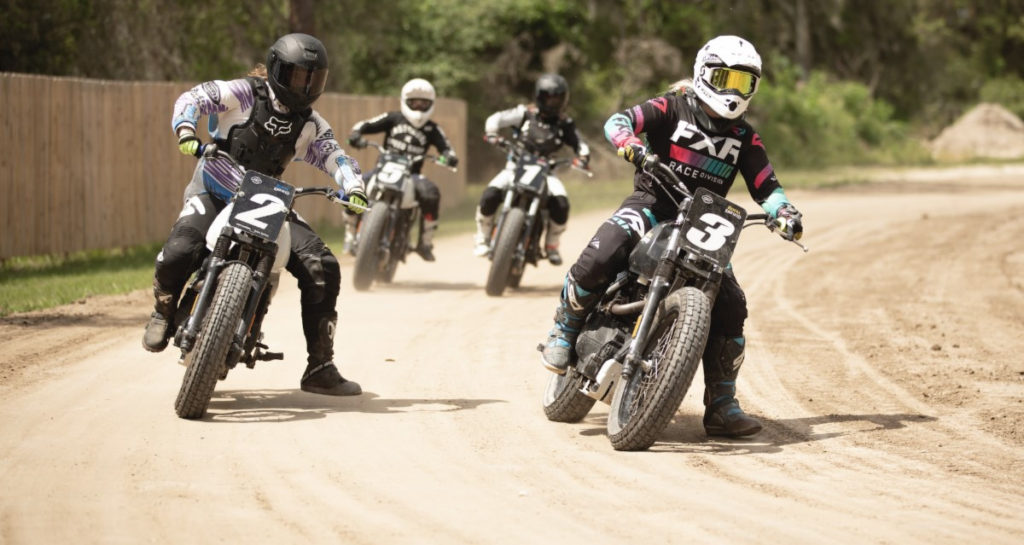 BTR FLAT TRACK
American Flat Track entered into the Build. Train. Race. program in 2020, and the 2021 program was the best yet, with nine racers taking on four rounds of the AFT Championship aboard custom-built Royal Enfield INT 650 motorcycles.
Jillian Deschenes, Lanakila MacNaughton, Erin Ferris, Malary Lee, Sarah Dixon, Gabrielle Hughes, Nean Kiskela, Bridgett Leber and Jaycee Jones highlighted the field as they wowed crowds at each round with their increasing speed and skill. The Flat Track BTR program will be expanding to include more racers, including a number of past program participants, and additional rounds, as well.
"The 2021 season was truly amazing for the Royal Enfield Build. Train. Race. programs, both Road Racing and Flat Track," said Breeann Poland, Marketing & Communications Lead – Royal Enfield Americas. "This all-women initiative, teaching women to build and race their own motorcycles, is not only unique and inspiring, but the growth and the accomplishments that come out of this women is just awe-inspiring. It leaves us wanting more, and the support we're receiving from the race promoters, the sponsors, and most importantly the fans, is growing with each season. Next year is going to be our biggest yet, and we're looking forward to seeing our future stars step forward."
Apply now to be considered for the Royal Enfield Build. Train. Race. Road Racing and Flat Track programs, or forward to an incredible lady rider who is looking for a racing opportunity of a lifetime. Applications will be accepted through December 1, 2021.
About Royal Enfield
The oldest motorcycle company in continuous production in the world, Royal Enfield made its first motorcycle in 1901. A division of Eicher Motors Limited, Royal Enfield has created the midsize motorcycle segment in India with its unique and distinctive modern classic motorcycles. With its manufacturing base in Chennai, India, Royal Enfield has been able to grow its production rapidly against a surge in demand for its motorcycles. Royal Enfield is a leading player in the global middleweight motorcycle market.
Royal Enfield North America (RENA) is headquartered in Milwaukee, Wisconsin, and is developing a growing network of more than 140 dealers in North America, including the contiguous U.S., Canada and Puerto Rico. RENA currently offers the all-new Meteor 350, Himalayan and the 650 Twins (INT 650 and Continental GT 650) motorcycles, along with a range of Genuine Motorcycle Accessories and apparel.
For more information on Royal Enfield North America, visit www.RoyalEnfield.com/us/en/, www.Instagram.com/RoyalEnfield_NA, www.Facebook.com/RoyalEnfieldNorthAmerica.