Daniels Takes Back-to-Back AFT Singles Titles at the Charlotte Half-Mile
Estenson Racing's Dallas Daniels sealed the deal on his second consecutive AFT Singles title with a sixth-place finish at Saturday night's Progressive American Flat Track season finale in Charlotte, North Carolina. JD Beach ended his Mission SuperTwins season on a high note by returning to the podium with a third-place finish. Unfortunately, Mikey Rush's night ended early with a crash on the warmup lap of the AFT Singles Semi. Kolby Carlile had a big crash in the opening laps of the Mission SuperTwins Main and was unable to finish.
The season finale at the Charlotte Motor Speedway was delayed a day with rain on Friday, so it was an abbreviated schedule with only two qualifying sessions. After finishing fifth in his Semi, Daniels lined up on the third row in 10th. The defending AFT Singles Champion needed to finish 13th or better if his rival won. With the big picture in mind, he rode a smart race in the challenging track conditions and was able to advance to sixth, where he would ultimately finish to clinch the crown. In addition to holding on to his number-one plate, Daniels put his name in the record books as the only rider to earn back-to-back titles in the highly competitive AFT Singles Championship. The Illinois rider also had a solid debut in the Production Twins class this season, finishing on the podium at all four rounds entered and taking three race wins.
Beach had a solid start to the evening program, finishing fourth in his Mission SuperTwins Semi to line up on the second row of the grid for the Main Event. It was a complete restart after his teammate Carlile went down early in the race, and Beach was fifth after the first lap and was maintaining that position. Before the halfway mark, the red flag was brought out again after a big crash involving two riders up front. The Owensboro rider lined up third for the staggered restart and was right on the heels of the race leader. Beach had a look at multiple passing opportunities and moved to strike on the final lap of the race. With two laps to go, it turned into a three-rider fight to the finish and he ultimately crossed the line third. He ended the season with a top-five finish in the point standings, scoring a pair of wins and a total of four podiums.
The AFT Singles team went out in the first Semi race of the evening, but unfortunately, Rush crashed on the warmup lap and broke his leg. On the SuperTwins side of the tent, Carlile had a big crash early in the Main Event and incurred a similar injury to his teammate. Both riders were sent to a local area hospital and are being evaluated, and an update will come at a later date.
Tommy Hayden – Estenson Racing Team Manager
"It was a bittersweet night here in Charlotte. The highlight of the night was Dallas wrapping up his second 450 singles championship. That's quite an accomplishment, and I'm really proud of him and the entire team for everything they put into that. It wasn't easy this year. We had some obstacles to overcome, but everyone stuck together, and we were able to pull it off. So, that feels really good.
"JD had a really good night in the SuperTwins class. After the red flag, he got a good start and battled for the lead the entire race. In the end, he just barely came up short with third place, but it was a solid podium to wrap up the season. I think we made some good progress on the SuperTwin this year, and we're happy to see that.
"Unfortunately, Mikey and Kolby had some bad luck tonight. Both of them ended up crashing and having a fairly similar injury, breaking their lower left legs. They are still being evaluated to know the extent of the injuries, but either way, it looks like they're both going to require surgery and will need a little time to recover. I feel horrible for them to have their seasons end like that. We're definitely wishing them a speedy recovery and I'm sure they'll be back fighting up front in no time."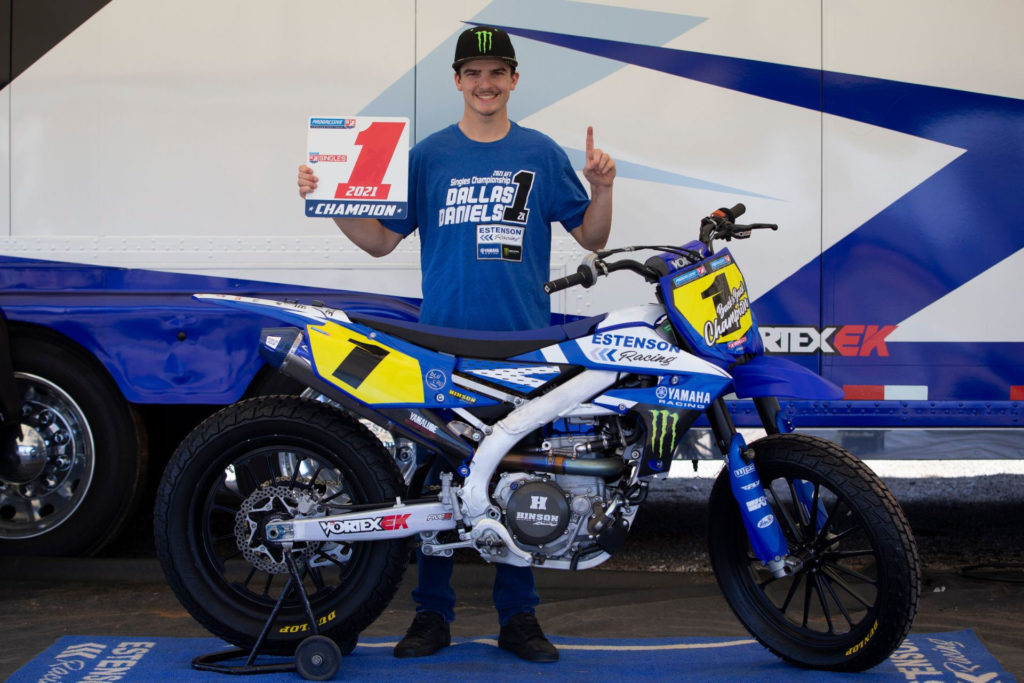 Dallas Daniels – Estenson Racing AFT Singles
"It's an amazing feeling to win back-to-back championships in the Singles class. Today was nerve-racking, though. The track was pretty much everything but what I wanted it to be. It was pretty treacherous, and we had spots that you couldn't tell were slick spots and some tacky spots that would catch your foot. In practice, I felt decent, but I didn't qualify all that well. As we went out for our Semi, my teammate, Mikey, spun around in the first corner on the warmup lap, and that kind of freaked me out a little bit.
"Last year, I wrapped my championship up three rounds early, so I've never been in the position where I had to ride conservatively. It was definitely a little weird for me, and I wasn't a huge fan of it because I'm better when I'm riding all out for a win. I felt like I had the speed to win the Main Event tonight, but I had to look at the big picture. It was definitely tough, but I had a few moments in the Semi and the Main Event, so I just needed to focus on whatever I needed to do to seal the deal since a race win didn't matter. I was kind of paying attention to where I was at and we were able to get the job done in the end. All in all, it was an awesome night. I have to give a big thanks to the whole Estenson Racing team for all of their hard work and sticking behind me."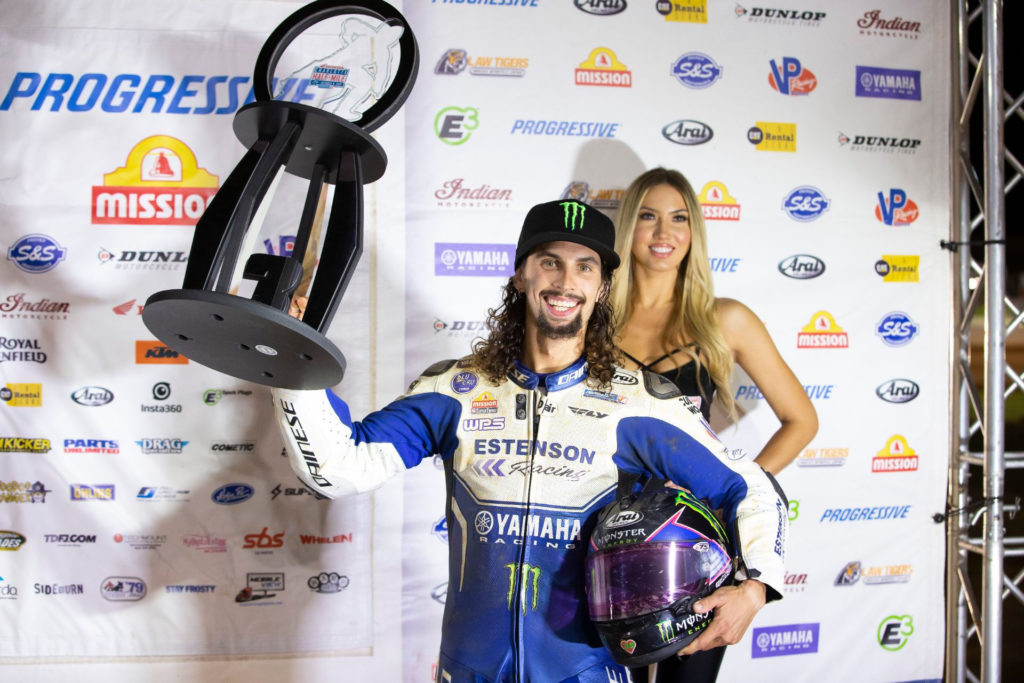 JD Beach – Estenson Racing Mission SuperTwins
"I'm glad that we got the race in, with all of the rain and stuff. With the abbreviated schedule, I was nervous because usually, we need as much time as possible before the Main Event to get the bike setup, but it all went really well. In the Main, I was starting eighth, so I was hoping to get maybe a top five. Once we got going, I felt really good, and the bike was working great. We had a few red flags, and each time I just felt better and better. I was working with Jared (Mees) on the inside and outside and trying to figure out a good spot to pass him. I had a really good idea going into the last lap and then two laps to go, Davis (Fisher) came by me and used my idea. So then I had to try and pass two guys and I just couldn't get it done. To end the year on the box is awesome. The team worked really hard, so it feels good going into the off-season with another podium."
More, from a press release issued by KTM Factory Racing:
RED BULL KTM'S MAX WHALE VICTORIOUS AT THE CHARLOTTE HALF-MILE SEASON FINALE
Round 17 – American Flat Track Championship
CHARLOTTE, N.C. – The final round of the 2021 American Flat Track Championship took place at Charlotte Motor Speedway on Saturday with a dramatic conclusion to the hotly contested AFT Singles Championship battle. Red Bull KTM Factory Racing's Max Whale secured the Main Event win, missing the title by a mere eight points after 17 rounds of bar-to-bar racing. Teammate Shayna Texter-Bauman finished seventh on the night to end the season with eighth overall in the AFT Singles championship standings.
Whale put himself into a favorable spot after qualifying fourth, which allowed him to line up in the first row for the semi. He charged to a third-place transfer into the Main Event, giving him another front row start position. He was in third on the first lap but fell to fourth for a few laps. He then regained positions and moved into second on Lap 7, soon engaging in battle with Kody Kopp and eventually taking the lead on Lap 10. The duo swapped positions a couple times more before a crash late in the race by KTM-mounted Morgen Mischler resulted in a red flag. Whale led from the restart to the checkered flag, a total of 12 laps, to capture the last win of the season.
It was an incredibly hard-fought season for Whale, who contested the AFT Singles Championship down to the final laps of 2021. The Aussie had a decent start to the season but things began to turn around for him four rounds in when he raced his KTM 450 SX-F FACTORY EDITION to the center of the podium for the first time at the Chicago Half-Mile. He went on to secure five total Main Event wins, along with an additional four podium finishes throughout the season but it wasn't without its trials. Finishing second overall for the second straight season, Whale has his sights set on a championship bid in 2022 as he gears up to spend the next two seasons with the Red Bull KTM Factory Racing squad.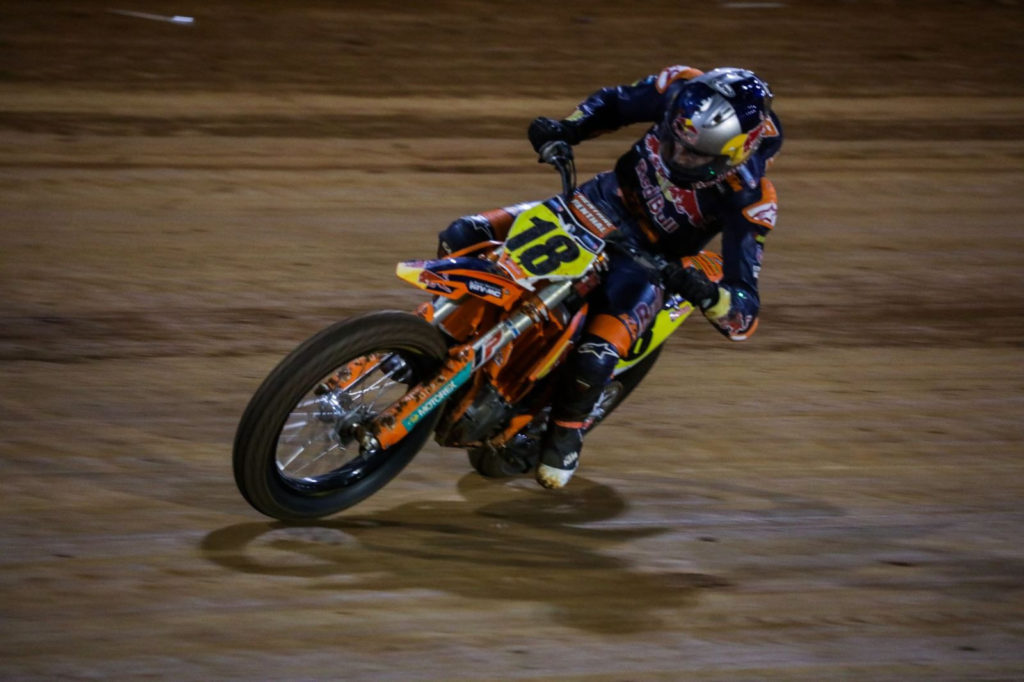 Whale: "It was a solid season finale, I'm super happy with how the team worked all day and I ended up grabbing the win. Overall, it was an awesome season for myself and the team, it was our first year together and we learned a lot, ee progressed all year and we never stopped improving, which was the best part. The next year is going to be great for us, I know it for a fact. I ended up second in the championship but it kind of bums me out because we definitely had a great shot at winning the title this year. We'll come out next year swinging and see what we can do – hopefully grabbing the No. 1 plate."
Texter-Bauman had a strong finish to the 2021 season in Charlotte as she placed her KTM 450 SX-F FACTORY EDITION inside the top-10 with a seventh-place result at the finale. Known for being a force at the Half-Mile tracks, Shayna came into the weekend with great confidence and she raced her way to a seventh-place transfer in the semi. Working through a challenging red flag restart, Shayna fought hard in the Main Event to ultimately come away with another seventh in the final Main Event of the season.
Still holding onto the title as all-time winningest AFT Singles racer in series history, Shayna added another pair of sweet victories this season with an impressive double-header victory at the season opener in Florida. Coming on strong at the end of the season, Shayna added two additional podium finishes at the Sacramento double-header, along with four top-10s, to ultimately finish eighth in the AFT Singles Championship.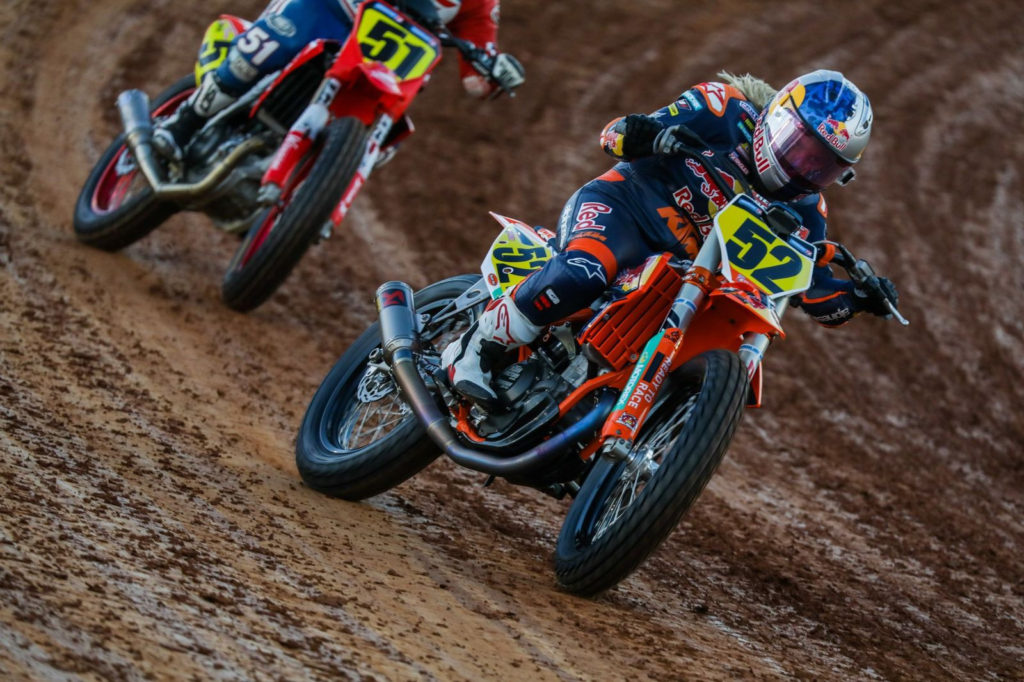 Texter-Bauman: "We struggled a little bit to really get going all day but we made a last-minute change before the Main Event with the fork settings and it made a world of difference. In the Main Event, we came from pretty far back to get up to sixth but there was a red flag restart and I was struggling to see in the light, so I lost a spot off the restart. I was able to bring it home in the final two minutes to hold seventh place, so I felt really strong. Overall, I'm really happy to end the season the way we did and I'm really happy with the motorcycle. I think we made big gains from Port Royal Half-Mile on, and we got our motorcycle back up on the podium twice at the Sacramento Mile and finished strong at Charlotte. I'd like to give a special thanks to KTM, along with George and Evan at Solid Performance WP Suspension, for helping us find a setting that I believe we were missing for the last year and a half. Of course, thanks to our Team Manager, Chris Fillmore, and my mechanic, Justin, for everything. I really appreciate it."
Chris Fillmore, Team Manager: "The title chase for us came down to the final round, and if things would have gone a little differently at Springfield Short Track,  we could have won the championship last night, so that's a little bit tough to swallow. Overall, I am proud of our team and riders – having seven wins on the season is something to be happy and proud about. Ups and downs will help us grow as a team, so I'm confident and looking forward to coming back stronger than ever next year."
AFT Singles Results – Round 17
1. Max Whale – Red Bull KTM Factory Racing
2. Kody Kopp, Honda
3. Trent Lowe, Suzuki
OTHER KTM
7. Shayna Texter-Bauman – Red Bull KTM Factory Racing
13. Hunter Bauer, KTM
15. James Ott, KTM
17. Morgen Mischler, KTM
AFT Singles Point Standings – 2021 
1. Dallas Daniels, 281 points
2. Max Whale – Red Bull KTM Factory Racing, 273
3. Morgen Mischler, 223
OTHER KTM
8. Shayna Texter-Bauman – Red Bull KTM Factory Racing, 135
17. James Ott, 55
19. Hunter Bauer, 44
More, from a press release issued by Indian Motorcycle:
INDIAN MOTORCYCLE RACING SECURES FIFTH CONSECUTIVE AMERICAN FLAT TRACK MANUFACTURER'S CHAMPIONSHIP
Indian Motorcycle Wrecking Crew Rider Jared Mees Wins Seventh Career Grand National Championship; Indian Motorcycle Privateer Davis Fisher Wins First Career SuperTwins Event at Charlotte Half-Mile
Minneapolis, MN. (October 11, 2021) – Indian Motorcycle Racing, presented by Progressive Motorcycle Insurance, earned its fifth consecutive American Flat Track (AFT) Manufacturer's Championship, while its Wrecking Crew factory rider, Jared Mees, secured his seventh career Grand National Championship following the conclusion of the 2021 AFT season. In addition, Indian Motorcycle privateer Davis Fisher finished the 2021 season by reaching the top of the Charlotte Half-Mile podium – earning his first career AFT SuperTwins victory.
Entering the 2021 AFT SuperTwins finale, Mees lead fellow Indian Motorcycle Wrecking Crew rider, and two-time defending champion, Briar Bauman by a mere four points. Following a complete red flag restart in the Main, it was Bauman who established himself with the early lead, while Mees ran comfortably in second. Though after hitting a wet section on the track, Bauman's bike clipped a hay bale and sent him over his bars. With nowhere to go, Indian Motorcycle privateer Sammy Halbert crashed into Bauman's bike and went flying into the air. Halbert was taken to a nearby hospital via ambulance, while Bauman joined the restart on his back-up bike, but eventually decided he was physically unable to compete and pulled out of the race – ultimately crowning Mees as the 2021 SuperTwins champion.
"First and foremost, we wish Sammy and Briar a speedy recovery. It's an unfortunate way to end the season, but we know these guys are warriors and will be back stronger than ever," said Gary Gray, Vice President Racing, Service & Technology. "We also want send a huge congratulations to Davis Fisher and his team, as they put in incredible work and truly deserve this victory. We also cannot say enough about Jared Mees – a true competitor in every sense of the word. Congrats on number seven, Jared."
The 2021 championship could perhaps be Mees' finest performance, as he battled through adversity following mid-season knee surgery. Costing him critical points in the season standings, Mees continued to train hard and ended the season by winning five of the last seven races. With 60 career wins, seven championships, and multiple records, Mees is now just two championships from reach his career goal to meet Scottie Parker's record of nine championships.
For more information on Indian Motorcycle Racing, visit IndianMotorcycle.com and follow along on Facebook, Twitter and Instagram.
ABOUT INDIAN MOTORCYCLE®
Indian Motorcycle is America's First Motorcycle Company®. Founded in 1901, Indian Motorcycle has won the hearts of motorcyclists around the world and earned distinction as one of America's most legendary and iconic brands through unrivaled racing dominance, engineering prowess and countless innovations and industry firsts. Today that heritage and passion is reignited under new brand stewardship. To learn more, please visit www.indianmotorcycle.com.
More, from a press release issued by Royal Enfield North America:
JOHNNY LEWIS FOURTH, BTR FLAT TRACK WRAPS UP AT CHARLOTTE HALF MILE
Royal Enfield caps off a successful season of American Flat Track racing with Moto Anatomy X and BUILD. TRAIN. RACE.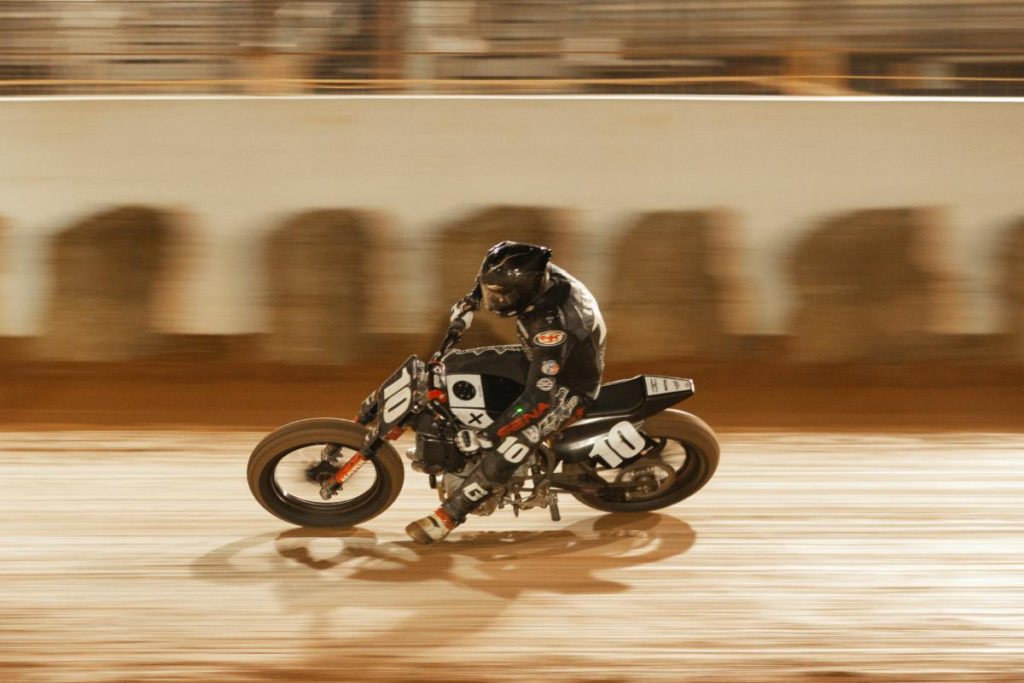 Milwaukee, WI – The final round of the American Flat Track Championship was more than a season ender for Moto Anatomy X Powered by Royal Enfield. For Johnny Lewis, it was a milestone in a year of growth, development, and historic race results for Royal Enfield in what was a landmark season for the Twins FT race machine. Lewis sailed to another top-five finish at the Charlotte Half Mile at Charlotte Motor Speedway in North Carolina, taking fourth in the Production Twins main event.
Lewis' sixth top-five finish of the season is a testament to not only his race craft, but to the steady progress he and the Moto Anatomy X team have made with the Twins FT. "It's crazy to think what we have accomplished in this last year–a prestigious win at the Lima Half Mile and six top-five finishes overall," said Lewis. "To end the season with a fourth at Charlotte Motor Speedway showed that we have been able to develop the Royal Enfield Twins FT into a competitive production-based race bike."
"Since day one we've had so many people step up in so many ways. I don't like hearing no, or I can't. If you can't, I will. But in my group of people we didn't ever say we can't. We pushed until the end. We had amazing support throughout the season from Lloyd Brothers Motorsports, Woody Kyle, Wes Hanes and S&S Cycle. We were able to develop each week thanks to Kent Ford, Lowery Racing, Web Cam, Cometic Gaskets, Scott Saunders and Wiseco. I can't thank them all enough."
Royal Enfield BUILD. TRAIN. RACE.
The Charlotte Half Mile was slated to be the fourth and final round of the Royal Enfield BUILD. TRAIN. RACE (BTR). Mother Nature had other ideas, however, and rainy weather forced race promoters to postpone Friday's schedule to Saturday. The BTR women had other commitments, and unfortunately travel logistics did not allow for everyone to alter their schedules, resulting in the cancelation of the final BTR exhibition of the 2021 American Flat Track season.
"This is obviously not the ending we were hoping for, but this is a reality of racing," said Breeann Poland, Marketing and Communications Lead – Royal Enfield Americas. "There are elements beyond our control and we have to roll with the punches. This marks the end of the American Flat Track BTR championship, but look for the women to be racing various events throughout the winter.
"I can't express how proud I am of all the women in this program—watching them all push themselves both on and off the track and grow as racers, and as people. They are truly testament to the success of the Build. Train. Race. program and we are more excited than ever to reach to even bigger heights in 2022!"
The Royal Enfield BTR Road Racing program is already looking toward an expanded platform with American Flat Track next season. An announcement on the 2022 Royal Enfield BUILD. TRAIN. RACE. USA Flat Track program, including details on the application period, is coming soon. Find more information at https://buildtrainrace.com/.
About Royal Enfield
The oldest motorcycle company in continuous production in the world, Royal Enfield made its first motorcycle in 1901. A division of Eicher Motors Limited, Royal Enfield has created the midsize motorcycle segment in India with its unique and distinctive modern classic motorcycles. With its manufacturing base in Chennai, India, Royal Enfield has been able to grow its production rapidly against a surge in demand for its motorcycles. Royal Enfield is a leading player in the global middleweight motorcycle market.
Royal Enfield North America (RENA) is headquartered in Milwaukee, Wisconsin, and is developing a growing network of more than 140 dealers in North America, including the contiguous U.S., Canada and Puerto Rico. RENA currently offers the all-new Meteor 350, Himalayan and the 650 Twins (INT 650 and Continental GT 650) motorcycles, along with a range of Genuine Motorcycle Accessories and apparel.
For more information on Royal Enfield North America, visit www.RoyalEnfield.com/us/en/, www.Instagram.com/RoyalEnfield_NA, www.Facebook.com/RoyalEnfieldNorthAmerica.