24th-Annual Roadracing World Young Gun Honors:
By David Swarts
Roadracing World started this exclusive special feature recognizing the most promising young road racers as an answer to pessimists who claimed America had no new, up-and-coming young racers. This edition of the Roadracing World Young Gun Awards marks the 24th consecutive year of showcasing an abundance of new talent.
Roadracing World Young Guns have won:
FIM MotoGP and FIM Superbike races and World Championships;
AMA Pro races and Championships, including eight AMA Pro Superbike Championships;
A KTM RC Cup World Final race;
The Daytona 200 (8 times);
WERA National Endurance Championships and WERA National Challenge Championships;
ASRA/Formula USA Grand National and CCS National Championships;
AMA Road Racing Grand Championships and Horizon Awards;
USGPRU National Championships;
Many regional and local titles.
The competition has continually become more intense as more – and younger—racers with higher levels of accomplishment are nominated, and the level of achievement required to make the grade keeps getting tougher.
We've spent the last several months accepting nominations and evaluating road racers between the ages of 11 and 18 (as of the start of the 2020 season) who have, at a minimum, won Expert-level road races and/or Championships on a 125cc two-stroke/250cc four-stroke or larger racebike or had outstanding results as an Amateur/Novice. Most of the riders included here have done far more than the minimum.
The young riders recognized here are the most promising young road racers in North America. All have earned the title of Roadracing World Young Gun.
We will feature one Young Gun per day, presenting them in alphabetical order.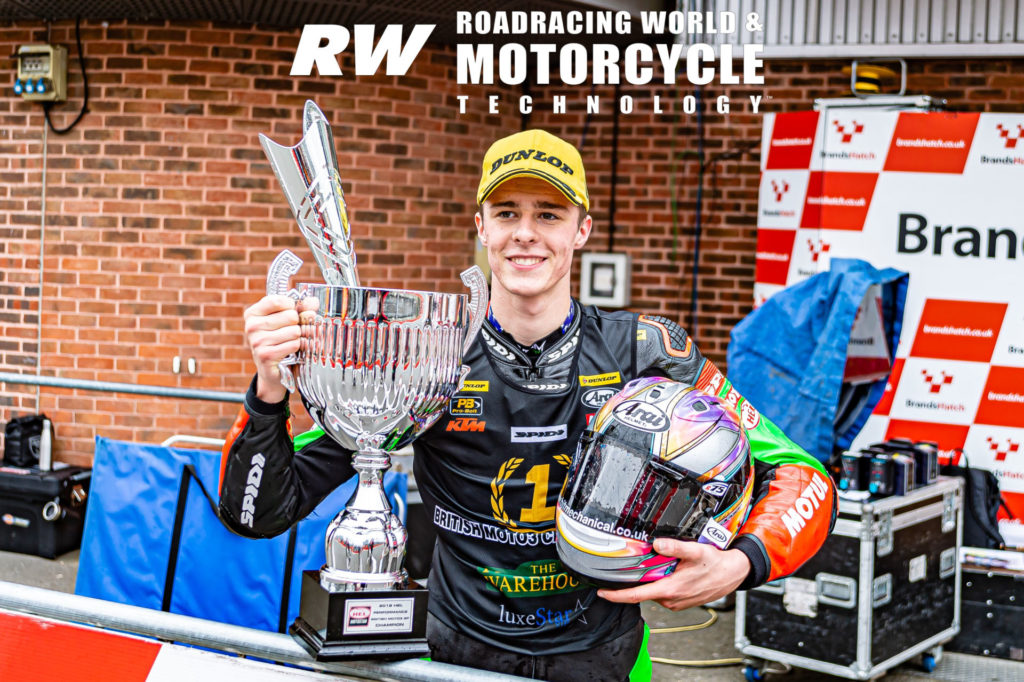 Brandon Paasch
Age: 18.
Current home: Freehold, New Jersey.
Current height/weight: 6'1"/160 pounds.
Current school grade level: Finished high school.
Began riding at age: 3 years.
First road race: 2009, Millville, New Jersey, NJMiniGP, Kids Class, 5th place.
Current racebikes: Yamaha YZF-R6, Kalex.
Current tuners/mechanics: TSE Racing, RS Racing.
Primary race series: Daytona 200, British GP2 Championship.
Top sponsors: Kovara Projects, RS Racing, TSE Racing, Arai, Spidi, Electronic Concepts, Classic Car Club of Manhattan, Trackside Parts Club, LuxeStar VIP, W Training Facility, VNM Undersuits, EvolveGT.
Recent racing accomplishments: 2019 season, won British MotoStar (Moto3) Championship (7 wins, 14 podiums in 18 races), finished 29th in FIM Moto3 World Championship round at Silverstone, finished 12th in FIM CEV Moto2 European Championship race at Valencia; 2018 season, finished 5th in British Motostar National Championship (1 pole position, 1 podium, 8 top-5 finishes from 15 race starts); 2017 season, placed 12th in MotoAmerica Supersport Championship (best race finish was 4th), qualified 41st and finished 35th in FIM/CEV Moto3 Junior World Championship wild card appearance at Motorland Aragon (first American to qualify for FIM Moto3 Junior World Championship), placed 7th and 11th in British MotoStar (Moto3) National Championship races at Assen, tied for 26th in British Superstock 600 Championship (competed in 4 rounds, best race finish was 14th); 2016 season won MotoAmerica KTM RC Cup Championship (6 wins, 14 podiums), placed 3rd in KTM RC Cup World Final; 2015 season, 2 podium appearances in 4 race starts in MotoAmerica KTM RC Cup, 3 podiums in 6 starts in Moriwaki Junior Cup in Europe, 1 win and 6 podium finishes in USGPRU Moto3.
2020 racing goal: Win British GP2 Championship.
Racing career goal: Win a Moto2 World Championship.
Racing hero: Aleix Espargaro.
Favorite track: Oulton Park.
Favorite hobby: Supermoto, mountain biking.
If I wasn't racing I would be…: Pursing a career in social media marketing.