The Women's Moto Project and M1GP
The Women's Moto Project and M1GP launches a GoFundMe Moto Fund Raiser for Ukrainian Relief
Long Beach, California. The Women's Moto Project (TWMP) and M1GP launches a GoFundMe to raise money to benefit the humanitarian non-profit Americares.
TRAIN FOR UKRAINE GoFundMe link: https://gofund.me/5fe6fbda
A special feature of TRAIN FOR UKRAINE is the offer of limited training to riders who donate $300 or more. All donation amounts are appreciated and encouraged. 100% of proceeds will go to Americares
Proceeds go to Americares, a top-rated non-profit by Charity Navigator providing aid to the crisis in Ukraine.
The fundraiser comes as the war continues and innocent people are being killed.
The event is the first that TWMP and M1GP has put on with a charitable cause.
"TWMP is a proud sponsor of this event and look forward to volunteering at the Train for Ukraine and hope to inspire new riders with the freedom that comes with it." – Amanda Hazzah, TWMP
"In every human breast, God has implanted a principle, which we call love of Freedom; it is impatient of Oppression and pants for deliverance." – Phillis Wheatley, African-American poet
"We're hoping this event will unite the motorcycle community and provide a unique outlet to help the situation in Ukraine." – Young Lee, M1GP.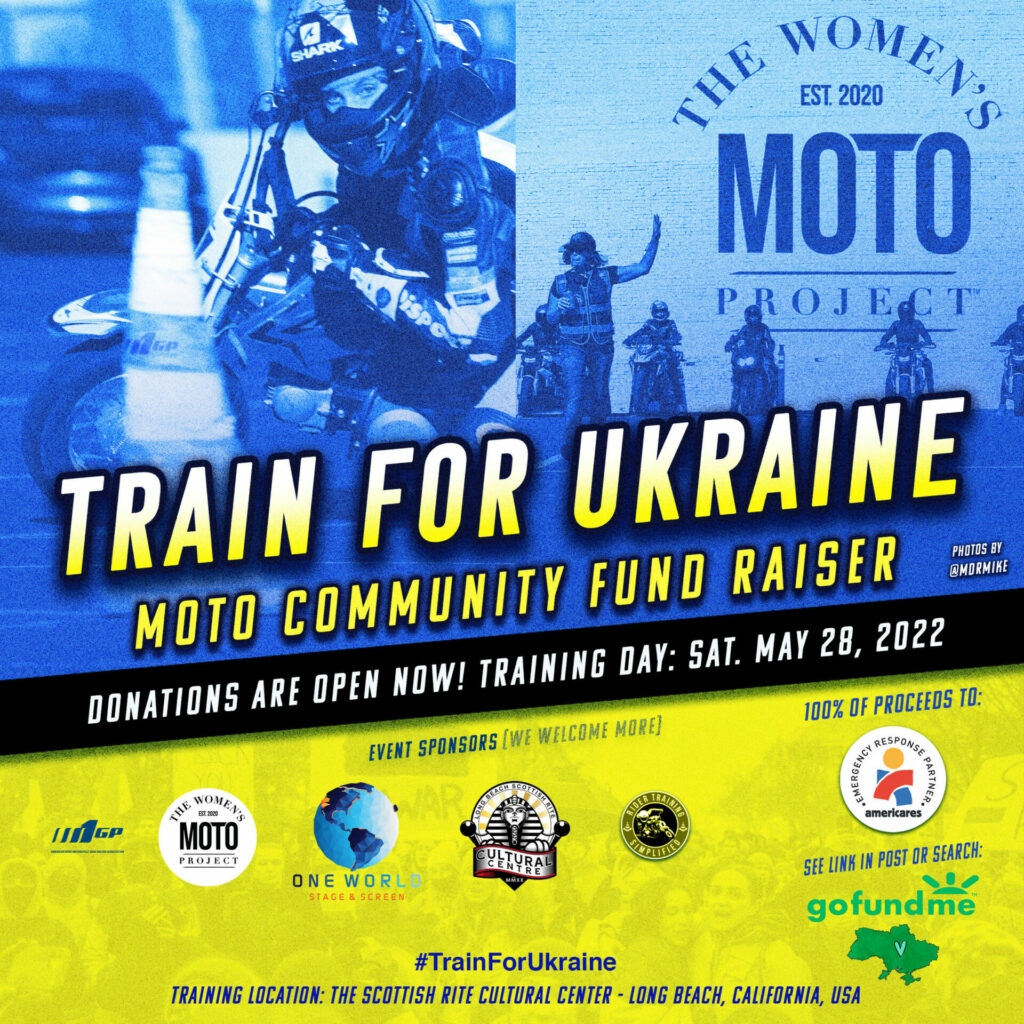 Some details on the training:
TWMP will be hosting an "Introduction to Motorcycling." No M1 required, No experience necessary, just an ability to ride a bicycle. Please wear sturdy over-the-ankle boots, jeans and a long sleeve shirt.
M1GP will be holding its famous drills training. No M1 license required, no experience required. Good bicycle skills. Full-face helmet, gloves, boots and 1 or 2 pc leathers with knee sliders are required.
Both training activities will be held Saturday, May 28th, 2022 at the Long Beach Scottish Rite Cultural Center, at 855 Elm Avenue, Long Beach, California, 90813.
A full day's schedule will be announced on the GoFundMe page as we get closer to the event date.
About The Women's Moto Project
The Women's Moto Project are a group of women who are highly experienced, licensed instructors who believe riding is empowering as much as it is exciting, and wish to instill strength and knowledge in every rider who takes part in TWMP. They teach the skills necessary to become a safe, lifelong rider and they want to see their students succeed, gain confidence and connect to others who share the same passion.
About M1GP
M1GP is both a motorcycle racing association and riding school that provides riders racing events and proven training techniques with the lowest amount of time and risk, with maximum learning and fun!
We invite companies and individuals who would like to be a part of this event as a sponsor to get involved and offer their own unique packages with the TRAIN FOR UKRAINE event to help this effort. Please contact us ASAP to get involved!