More, from a press release issued by Northern Talent Cup:
Phommara takes phenomenal first win in wet Race 1
The Swiss rider just held off Holzer for his maiden NTC win at Oschersleben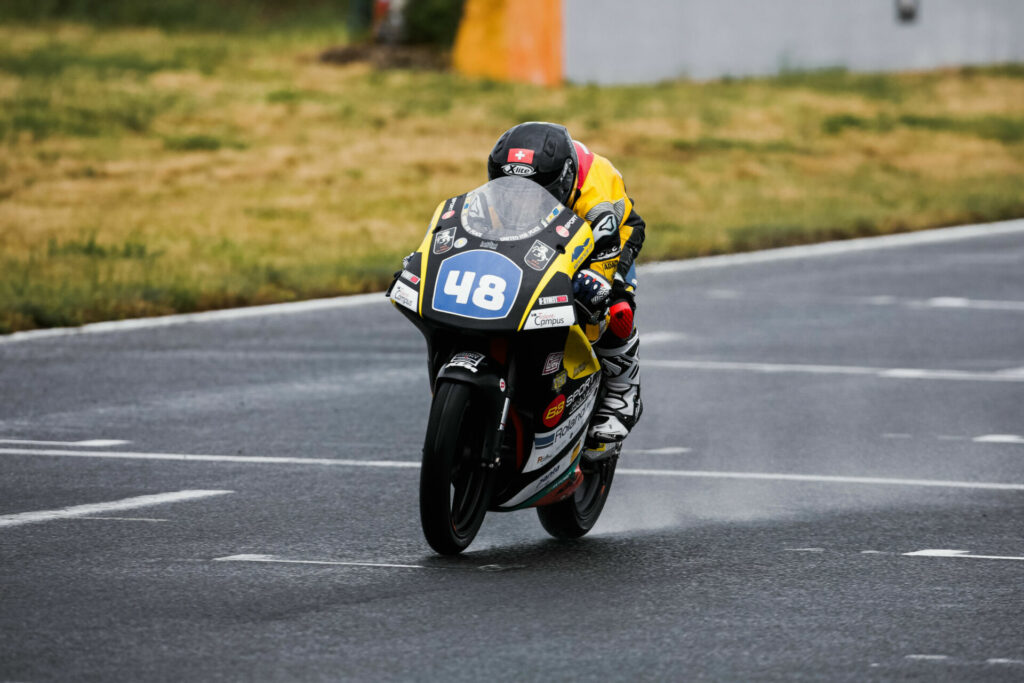 Lennox Phommara (Phommara Team) has shown his wet weather prowess before in the Northern Talent Cup, and the Swiss rider did it again in a wet Race 1 at Oschersleben. Making his way to the lead and then pulling a gap, the number 48 held off a late race charge from Kilian Holzer (HK Racing) to take his first win. Behind what became a duel for victory, Rossi Moor (FAIRIUM Next Generation Riders Team) completed the podium.
After a Red Flag, some false starts and a restart – that then didn't feature Le Mans winner Kevin Farkas (Agria Racing Team) or Noa Cuypers (Junior Black Knights) – it was Tibor Varga (Forty Racing) who shot into the lead and pulled a huge gap. However, he then crashed out to begin a race of attrition in tricky conditions at Oschersleben.
It became a group of five leading the way with a big gap for much of the race, but as the laps ticked down, Phommara pushed on. Heading onto the final lap the Swiss rider had a second and a half in hand and despite a late charge from Holzer, who cut a second out of the lead, Phommara kept it calm and collected to the line for his first NTC win. Holzer was forced to settle for second but that's his first podium, with Moor fading late on but still taking that all-important podium.
Dustin Schneider (Goblin Racing) had a lonelier finish in fourth, ahead of a close battle for fifth won by Loris Veneman (TeamNL Open Line). Rocco Sessler (MCA Racing) and Martin Vincze (Chrobák Motorsport Egyesület) were close on his tail.
Julius Coenen (HJRT – Helena und Julius Racing Team) took P8, with a three-way fight between Jurrien van Crugten (BB64 Academy), David Sidorov (SP – Moto Junior Team Ukraine) and Rio Olofsen (TeamNL Open Line) deciding ninth to 11th in that order.