Editorial Note: American Patricia Fernandez finished 21st in the Superstock (1000cc) race but Did Not Start the Supersport race Thursday evening.
ALASTAIR SEELEY REIGNS IN THE RAIN DURING OPENING NIGHT OF RACING AT 2022 fonACAB AND NICHOLL OILS NORTH WEST 200
Alastair Seeley got back to winning ways on the north coast as he claimed his 25th and 26th victories around the 8.9-mile Triangle circuit in the Strain Engineering Supersport and Turkington Superstock races on his IFS Yamahas during a wet opening night of action at the 2022 fonaCAB and Nicholl Oils North West.
With rain falling and the roads soaking wet as they closed at 5:00 p.m. on Thursday, the organisers announced there would be two sighting laps ahead of the opening Supersport six-lapper. Unfortunately, the race was red flagged shortly after the leaders started their second circuit when an incident at Magherabouy chicane left debris on the track. The rider was uninjured.
The re-run was cut to four laps as Seeley (IFS Yamaha) and Davey Todd (Milenco Padgett's Honda) swapped the lead throughout the first three laps before Seeley broke clear on the final circuit to take the chequered flag by almost two seconds from Todd with veteran Jeremy McWilliams a brilliant third in his first race on the Burrows/RK Racing Yamaha.
"I won nothing in 2019 but now that monkey is off my back," Seeley said, after claiming his 25th win 14 years after he won his first NW200 race. "Flipping hell, you couldn't have any worse conditions. It was cold, wet and freezing, but fair play to the IFS boys as they gave me a good Yamaha. I didn't think I had the legs on Davey as he was stronger towards University but heading to Portrush we had a little bit more and I think experience showed."
Todd had got caught up in a battle with McWilliams on the final lap.
"That last lap was hectic, but it was always going to be a tight race," the young Englishman, who won his first major road race at the 2019 NW200, said. "This bike that Clive (Padgett, team owner) has built is a rocket, so I knew I had to wait to make my move on Seeley on the last lap, but on the second-last lap he sat me up into Juniper and I lost some time. I still knew I had some pace in the locker."
Todd's plan was thwarted by McWilliams, who made his move at York on the final lap.
"We both lost the tow," a disappointed Todd explained. "Second will do today although I felt I could have won this evening."
McWilliams was delighted with his podium result in the difficult conditions.
"That was a lot of fun," the 58-year-old said, smiling. "I knew when the conditions were like that that we had the chance of a podium. You have to grab it with both hands because you don't get the chance to stand on the podium at the North West 200 very often."
The former Grand Prix star also paid tribute to John Burrows's squad.
"That was one for the team who have worked so hard this week," he said.
Conditions were even worse for the Turkington Superstock race which run over its full six-lap distance. Pole setter Glenn Irwin didn't come to the line with Michael Dunlop, James Hillier, Lee Johnston and John McGuinness also opting to sit out the race as Seeley enjoyed a start-to-finish victory on his IFS R1 Yamaha from Davey Todd and Richard Cooper on the Buildbase Suzuki.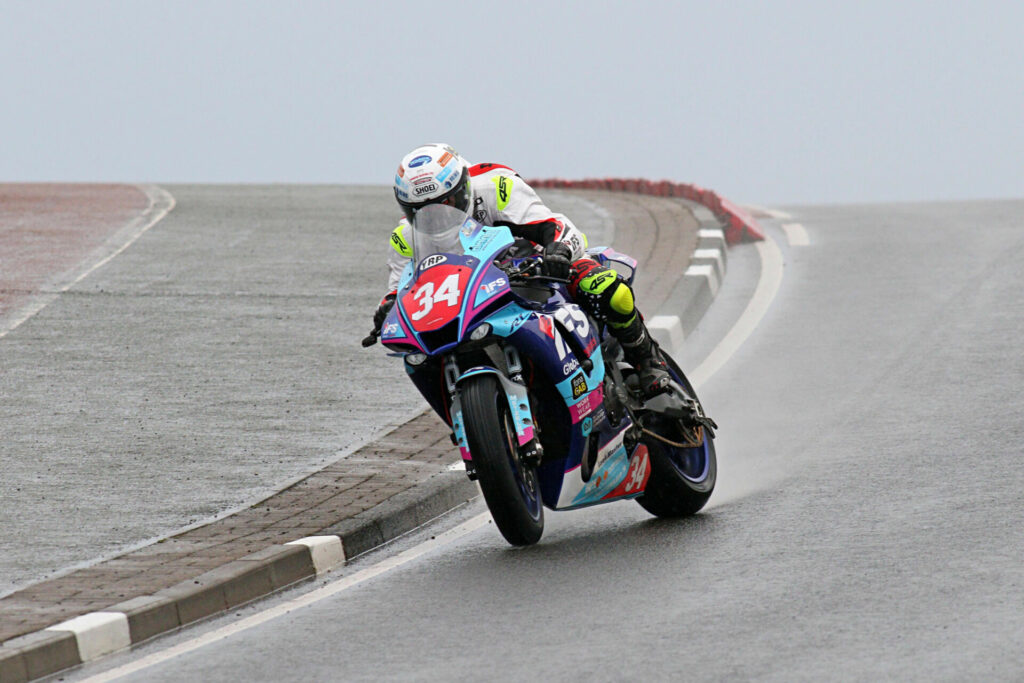 "It was like a winter's day out there," Seeley said. "It was slippy, wet and cold and there wasn't a lot of grip."
Struggling in the deteriorating conditions, Seeley was surprised Todd didn't make a similar challenge as he had in the Supersport clash.
"I had a few slides and a few moments because the bike was spinning in sixth gear," Seeley said. "I was searching for grip everywhere and it was nice to see the gap on the board creeping up. Seeing 'Plus 8' on the last lap smoothed everything out and I just brought her home."
Todd admitted he couldn't match Seeley's rain dance.
"Alastair went from the word go this time and I had no answer for him," he said. "The Padgett's team gave me a great bike again, but the conditions were very slippery and it was quite a handful on a big bike. It was probably the most slippy I remember around here, but I'm happy with another second and another podium."
Richard Cooper was runner-up in the Saturday Superstock race in 2019 on the north coast and the former British champion picked up where he left off before settling for third place behind Todd after getting tangled with a backmarker in the closing stages of the race.
"I tried to go with Davey, but I lost the tow after getting caught behind the backmarker," said Todd, who is still recovering from a serious leg injury in a BSB crash during 2020. "The conditions were just too sketchy to try and catch him up again. I haven't done much racing lately, so it is a good start to our week here and hopefully there will be more on Saturday."
The evening's action was brought to a premature end as the organisers cancelled the Milltown Service Station Supertwins race in the deteriorating conditions.
"With failing light and a lot of surface water on the track it would not be possible to complete the two sighting laps and a four lap race by 9pm when the roads must be re-opened," they said.
The action will resume on Saturday with a five-race programme, including two Superbike events, with the roads closing at 9.15am.
More, from a press release issued by Honda Racing UK:
Rain stops play for Honda Racing UK at the North West 200
Glenn Irwin will start Saturday's Superbike races at the 2022 fonaCAB and Nicholl Oils North West 200 from Pole Position after a superb qualifying this afternoon, which saw him top the timesheets in both the final Superbike and Superstock qualifying sessions aboard the Honda CBR1000RR-R Fireblade SP.
Making his road racing debut with the Honda squad at the 8.9-mile Triangle circuit, Glenn and the Fireblade dominated today's Superbike session lapping at 124.102mph, 1.8 seconds faster than the current Superbike race lap record, with an incredible 4'20.205 lap time. The four-time NW200 Superbike winner also led the way in the Superstock session, claiming the top spot for the race later in the day, with a lap time of 4:24.671.
Glenn's teammate John McGuinness MBE has also enjoyed solid sessions aboard the Fireblade qualifying 10th for Saturday's Superbike races and eighth in Superstock.
With inclement weather conditions today at the circuit, the rain came just as the roads started to close for the evening's scheduled three races. Watching the opening Supersport race of the NW200 week, both Glenn and John made the joint decision to sit out of the 6-lap Turkington Superstock Race, and will be back in action for Saturday's (14 May) Anchor Bar Superbike, CP Hire Superstock and the feature Merrow Hotel and Spa North West 200 Superbike races.
#1 Glenn Irwin
Qualifying today was so good, I had a good feeling from the first lap and set about our work, and to go under the faster-ever lap by two seconds, is something that pleases me a lot and again shows the potential of the Fireblade as a roads package, as well as our potential for this weekend. To back up the Superbike pole position, with the Superstock pole position just shows the package that we have. It was great to see so many spectators around the track this morning cheering me on. I spoke with John [McGuinness] about this evening's Superstock race and spoke with some riders in the 600 race, and made the decision to sit it out. I have a young family and racing on the roads in the rain is not a risk I'm willing to take, so sorry to the fans but I'm sure everyone will understand, and we'll be back in action on Saturday.
#2 John McGuinness MBE
I'm really enjoying this week, it's been great, we're learning loads, the Fireblade's going great and we've been working well as a team. Glenn is on fire and it's just all super positive, it's the first time the Honda has been on the roads and to get pole in both of the big classes, everyone here has a smile on their face! Today has really built my confidence back on the roads and going back to the big bikes takes a bit of figuring out, but everything is coming. It's disappointing with the weather this evening and I'm disappointed to not get out there, it's my first time back here on the 1000cc Fireblade and I'm just a bit unsure in wet conditions, so we'll save it until Saturday!
More, from a press release issued by Buildbase Suzuki:
Cooper takes podium finish in opening superstock race at 2022 North West 200
Buildbase Suzuki's Richard Cooper opened his account at this year's International North West 200 with a podium in tonight's Turkington Superstock race, which, after dry practice and qualifying sessions earlier in the day, took place laps in cold and wet conditions around the Triangle circuit.
Cooper made a sharp start aboard his GSX-R1000R and slotted into third place, and it didn't take long for the leading trio to break away from the rest of the field.
Following a solid opening lap he began putting the pressure on Davey Todd in second place, however, after a couple of mistakes, he settled back down and elected to bring it home in a safe third place to take his second North West 200 podium.
Richard Cooper, "I've got to be happy. The superstock bike is my favourite bike to ride and it's been going well. It was good to get in behind Alastair [Seeley] and Davey and use them to drag me away from the rest. The conditions were super-tricky but I was feeling good. I thought I could get past Davey and that I might have had better pace, but I got a bit flustered and ran on at one of the chicanes. After that I just calmed myself down and brought it home. But I'm happy, and happy for the team. It's great to be in the mix right away. We've got  another race on the superstock bike at the weekend, and we've also got good pace on the superbike, so, I'm looking forward to Saturday."
Result: 1. Alastair Seeley, 2. Davey Todd, 3. Richard Cooper