Editorial Note: The American husband-and-wife duo of Cory West and Patricia Fernandez-West are competing with JMoC Roofing Racing at the North West 200. Fernandez-West qualified P41 in Superbike and P38 in Superstock on her Kawasaki ZX-10R and P40 in Supersport on a Yamaha YZF-R6. West, meanwhile, qualified P16 in Supertwins on a Kawasaki ER6 (a.k.a. Ninja 650).
MICHAEL DUNLOP FASTEST IN OPENING SUPERBIKE QUALIFYING SESSION AT 2023 fonaCAB AND NICHOLL OILS NORTH WEST 200
Local favourite Michael Dunlop topped the qualifying times in the Superbike class on his Hawk Racing Honda during the opening practice session for the 2023 fonaCAB and Nicholl Oils North West 200 today.
Dunlop, who has switched from BMW to Honda power in the big bike class this season, posted a lap of 122.943mph to finish 1.92 seconds quicker than Alastair Seeley. The 27-times NW200 winner topped the speed trap figures with a phenomenal 207.2mph on his Milwaukee BMW.
Lee Johnston was third fastest on his Ashcourt Racing Honda, 6.229 seconds slower than Dunlop as light rain began to fall during the final minutes of the session. Outright lap record holder around the 8.9-mile circuit, Peter Hickman, was fourth-quickest on the FHO Racing BMW with John McGuinness posting an impressive fifth-quickest lap on the Honda Racing Fireblade.
But it was a disappointing session for Glenn Irwin who struggled with the handling of his Beer Monster/PBM Ducati, finishing 8.14 seconds slower than Dunlop with the 8th fastest speed.
"Always enjoyable on the north coast but not so much when you can't go in a straight line," Irwin, the frustrated winner of the last six NW200 Superbike races, posted on social media. "Roll on Thursday for FP2. The boys will digest the data and we go again."
Dean Harrison (DAO Racing Kawasaki), Milenco Padgetts Honda teammates, Davey Todd and Conor Cummins plus newcomer Mike Browne (RK Racing/Burrows BMW) completed the top ten in the class on day one.  Josh Brookes suffered a difficult opening session though as his FHO Racing BMW ground to a premature halt, preventing the Australian from posting a qualifying speed.
The day's action had begun in bright sunshine as the newcomers took to the track in the opening qualifying session. Amongst the new recruits was David Datzer, a rostrum finisher in last year's Macau Grand Prix, but it was Cork's Mike Browne who topped the time sheets on the RK Racing/Burrows BMW.
Following a short delay to allow oil to be cleaned from the track at Magherabouy, the Supersport session followed with Alastair Seeley dominating proceedings on the Powertoolmate V2 Ducati ahead of BPE/Russell Racing Yamaha teammates, Richard Cooper and Dean Harrison. Michael Dunlop was fourth fastest on his MD Racing Yamaha ahead of Peter Hickman (Trooper Beer Triumph) and Lee Johnston (Ashcourt Racing Yamaha).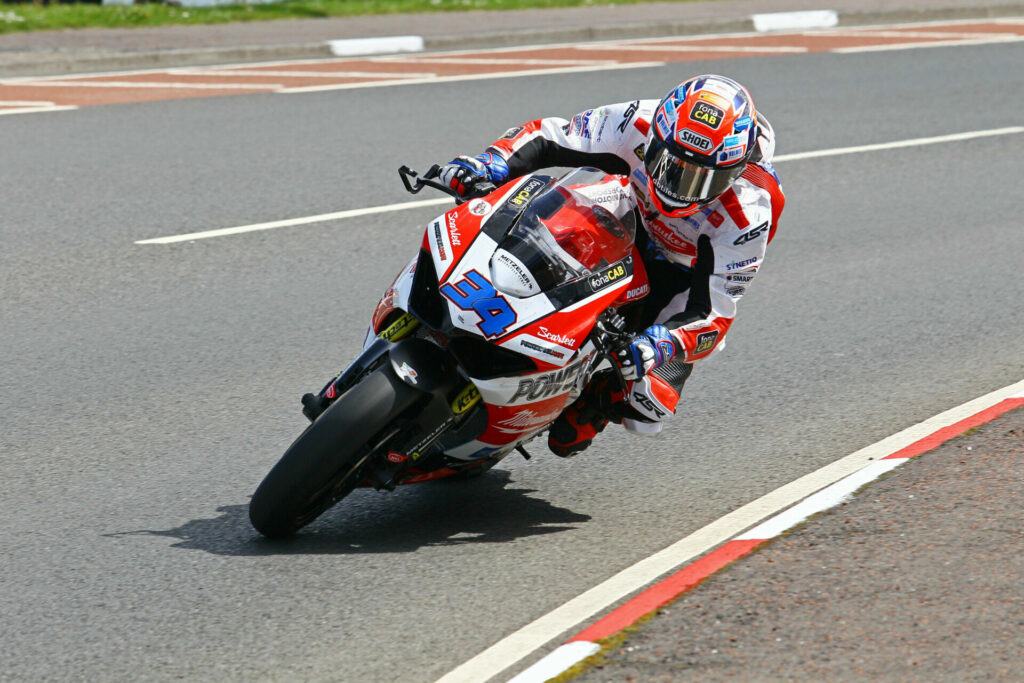 The impressive Mike Browne (RK Racing/Burrows Yamaha) was eighth quickest behind Davey Todd (Milenco Padgetts Honda) with Paul Jordan (Prez Racing Yamaha) and Adam McLean (JMC Roofing Yamaha) completing the top ten.  Veteran Jeremy McWilliams was 12th quickest on the Wilson Craig Honda.
After a machine switch from a Bathams-backed R7 Yamaha to a KMR Kawasaki on the eve of qualifying, Richard Cooper posted a fastest speed in the Supertwins class 3.4 seconds quicker than Jeremy McWilliams (Bayview Paton). Cooper won both Twins races at the seaside event last year on a Farquhar-built Kawasaki ER6 before being disqualified because of a machine infringement.
Paul Jordan was third-fastest on a Prez Racing Kawasaki with Adam McLean (JMC Roofing Kawasaki), Michael Dunlop McAdoo Kawasaki) and Lee Johnston (Ashcourt Racing Aprilia) completing the top six. Last year's top NW200 newcomer, Gary McCoy failed to qualify as did Maria Costello.
Rain fell as the final Superstock qualifying session began with Alastair Seeley (Synetiq BMW) eventually posting the fastest time, 1.96 seconds ahead of Michael Dunlop on his MD Racing Honda. Peter Hickman was over a second further adrift.
Hickman's FHO Racing BMW teammate, Josh Brookes was seventh-quickest as John McGuinness outqualified his young Honda Racing teammate, Nathan Harrison, finishing 9th fastest to the Manxman's 11th quickest speed.
Dominic Herbertson, Brian McCormack and Michael Rutter all failed to qualify.
After an incident-free opening session, the action resumes on Thursday morning when roads close at 9.15am for final qualifying.
Roads will re-open at 3.15pm before closing again between 5pm and 9pm on Thursday evening when the opening Strain Engineering Supersport, Briggs Equipment Superstock and Milltown Service Station Supertwins races all take place.
Editorial Note: Use the scroll and zoom tools in the PDF viewers to better see all of the results.