As NEMRR Round 4 took place at New Hampshire Motor Speedway, the
paddock was reminded of both the incredible highs and lows that come
with our sport.  This June event incorporated a Memorial Ride to
celebrate of the life of Scott Mullin, a beloved NEMRR racer who passed
away at an NEMRR event one year ago.  Scott made an incredible impact on
our community during his life and will continue to give for years to
come through the charitable foundations that were set up in his honor.
The Memorial Ride culminated in a lap around New Hampshire Motor
Speedway that filled the entire 1.6-mile circuit with motorcycles 3-4
wide.  The support from the community and staff at Souhegan Valley
Motorsports was uplifting to all and continues to speak to the impact
that Scott Mullin made during his life.
The NEMRR community was dealt an emotional blow on Friday afternoon with
the news of the passing of Scott Briody.  Scott was racing in the
Superstock class at MotoAmerica at Brainerd International Raceway and
lost his life in a racing incident. Scott is survived by his wife Susan,
his sons Jarrett and Reese and daughter Darian, who was attending the
MotoAmerica event with her father.  As the wave of this news rolled
through the paddock, stories of the impact made by Scott Briody were
omnipresent.  The breadth and depth of his connection to riders
throughout the NEMRR paddock truly came to light, and was an incredible
ray of light shining through the somber cloud of news that fell upon the
speedway.  The fact the one man could have made such an indelible impact
on so many people in such a short time is the foundation of the legacy
that Scott Briody leaves behind.  As riders consoled and shared with
each other, it was a marvel to truly understand both his depth of
generosity both in sharing his material things and his time.  How could
one person spend meaningful time with such a huge portion of our paddock
on a regular basis?  Were there two or three Scott Briodys?  Upon
reflection, that answer is no. Perhaps the greatest part of road racing
(the part that we keep with us long after we stop churning laps) is the
incredible people we meet along the way.  There will only ever be one
Scott Briody, and those of us who had the good fortune to know him will
forever cherish the time we had together.
The weather over the weekend could only be described as near
perfection.  Scott Greenwood led the way over the weekend with a perfect
8/8 wins on his Argo Cycles Yamaha R6, highlighted by his victory in the
Michelin/Motorace $1500 dash for cash.  Greenwood is the reigning
champion and points leader in this Middleweight Grand Prix contest, and
as such his win did not come as a surprise to NEMRR regulars.  However,
the performance of 2nd place finisher Ben Gloddy had the paddock buzzing
after the race.  Riding his Moto America Twins Cup Aprilia RS660, built
by Robem Engineering, Gloddy made up for his deficit in horsepower with
some remarkably deep braking and high corner speed.  Gloddy started in
6th place and by the 4th lap had worked his way up to 2nd place.  He
made some small inroads into Greenwood's lead but in the end the veteran
racer, long known for his ability to stay strong to the end, held on for
a solid win.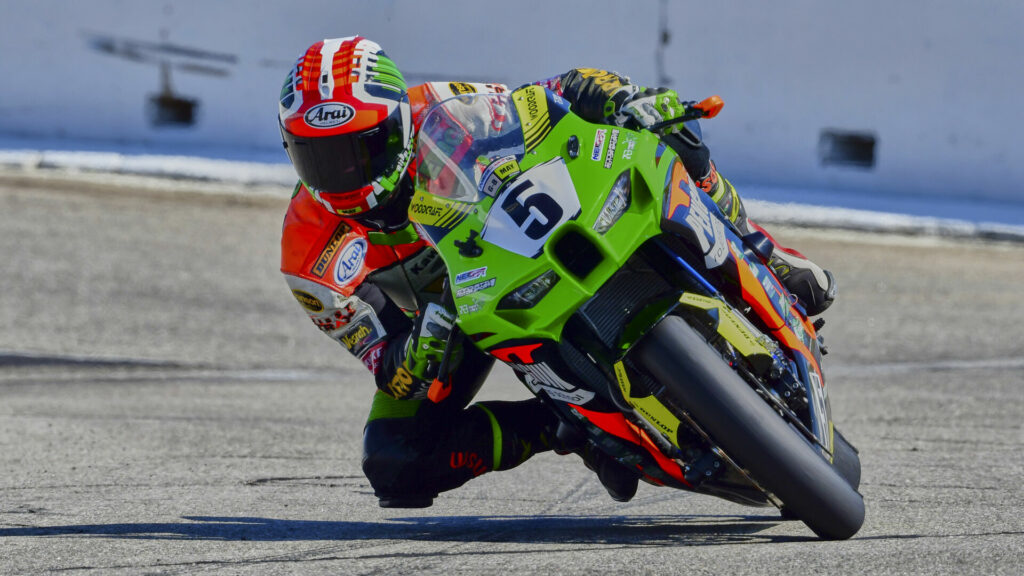 Two other riders scored 4 wins in 4 attempts over the weekend. Eric
Wood, also a long time NEMRR veteran, carded 4 wins on his Penguin
Racing/Woodcraft Kawasaki ZX-10R in the Unlimited class ranks.  He
emerged victorious over Souhegan Valley Motorsports rider David Dayon,
who put in a strong weekend with four runner up finishes on his Kawasaki
ZX10R.  The pair of riders hit their fastest lap times of the weekend
during the Sunday morning Orient Express Unlimited Supersport Class.
Wood set the fastest time of the weekend with a blazing 1:11.6 lap.
Renee Franco continues to impress in 2022 on her Penguin/Franco Racing
Kawasaki Ninja 400 as she also scored 4 victories in the Ultralight
ranks.  The 18 year old Connecticut native was challenged all weekend
long by fellow young rising star Adam Muscaro who was runner up in each
one of the races that he and Franco competed in.  The pair of young
riders put on a show in the Sport Bike Track Gear 500 Supersport class,
where they rocketed into the lead and caught a number of larger
displacement bikes running in the wave in front of them. Franco was able
to break into the high 1:17 range in nearly all of her races, and
Muscaro put in his best laps just a few tenths off that pace at a 1:18.1
in the Moto 3 contest.  We look for many more great races to come from
these to fine upstarts!
NEMRR will run round 5 of the of the 7-round series at New Hampshire
Motor Speedway on August 30-31.  Also announced on Saturday was the
effort to raise $100,000 in purse money for the 100th running of the
oldest running motorcycle race in America, the Loudon Classic, in June
of 2023.  The event will feature club racing on Friday and Sunday,
sandwiching a full pro day on Saturday that will feature 4 purse paying
professional classes that will be similar to the Moto America Junior
Cup, Twins Cup, Supersport and Hooligan classes.  The target prize for
winning the Loudon Classic, which will be run under Supersport class
rules, is $20,000!