SUZUKI EXTENDS TOP FIVE SUPERSPORT STREAK IN MINNESOTA
Cory Ventura Battles to Fourth Place Finish Sunday
BREA, Calif., August 1, 2022 — Suzuki Motor USA and Team Hammer added another top-five result to close out a MotoAmerica weekend at Brainerd International Raceway in a race filled with battles for the podium positions.
After scoring double top-five finishes in the previous two MotoAmerica Supersport races, Vision Wheel M4 ECSTAR Suzuki's Tyler Scott and Cory Ventura showed the pace early to step that up to a double podium aboard their next-generation GSX-R750s.
However, that's not how the race would play out. 16-year-old Scott charged hard early to close down on the leader and escape from the remainder of the pack behind him. Unfortunately, the rookie's substantially improved pace went unrewarded when he crashed out of second while navigating lap five.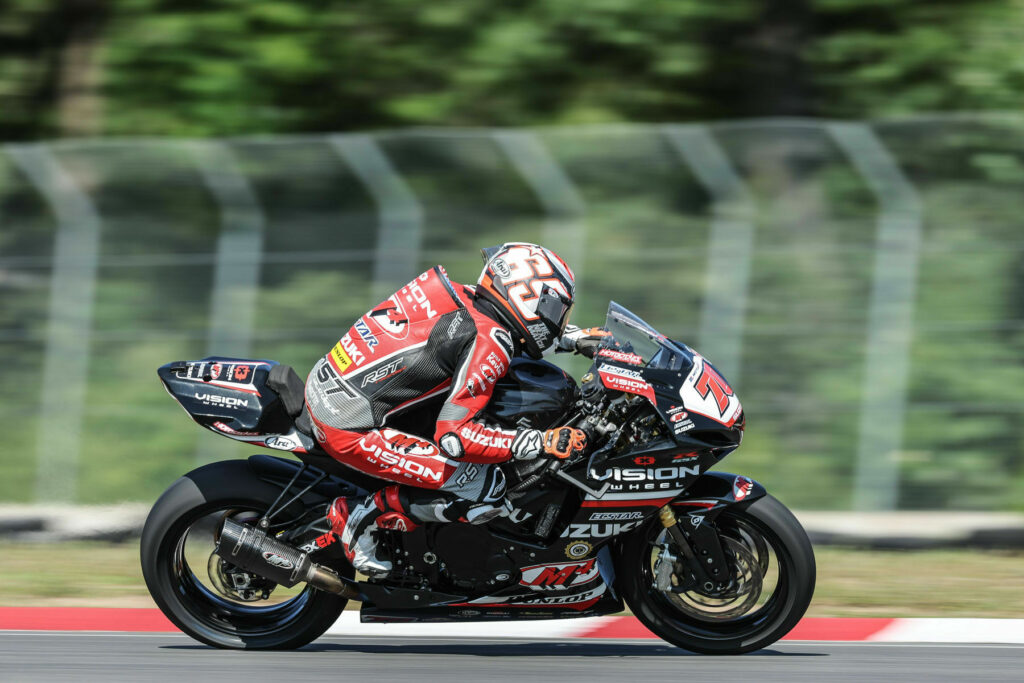 Scott explained, "I was going into the carousel and missed a downshift and then I just ran out of room. We learned a lot with the setup of the bike this weekend, and today's race was turning out better than Saturday's race. I am okay and looking forward to going to Pittsburgh for the next round."
Scott's misfortune elevated Ventura's fight for a podium position into one for a runner-up result, a battle that would rage to the checkered flag. As many as five riders had a shot at second deep into the contest before three riders, including Cory Ventura, shook free.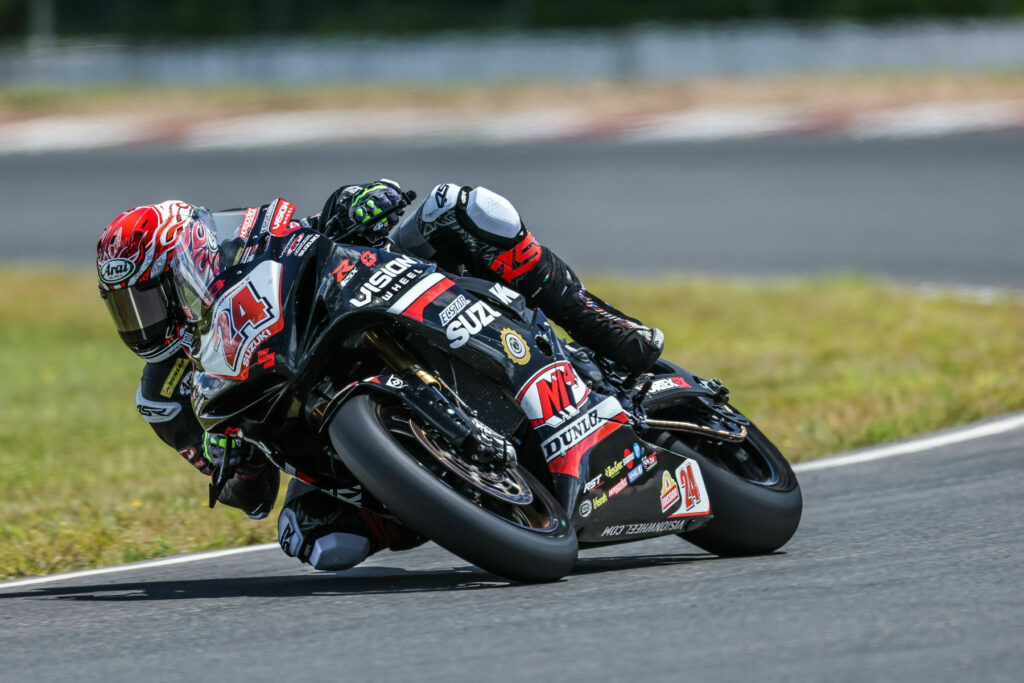 With sharply contrasting strengths and weaknesses, there were many overtaking maneuvers among the podium contenders with Ventura spending a significant portion of the race claiming, holding, and reclaiming second. However, the thrilling up-and-down dogfight ended down for Ventura, as he was passed late on the final lap, displacing him from the final spot on the box in the process.
The fourth-place finish was a third consecutive top-five for Ventura in his short stint with Vision Wheel M4 ECSTAR Suzuki, replacing the injured Sam Lochoff. He said, "Personally, the race meant a lot to me. We had been making steady progress up until my crash on Saturday, and I was confident I could ride near the front because I had great momentum with the Suzuki GSX-R750."
"The first laps in the race today felt really good and we made some good passes and battled for position. I knew I had a strong bike underneath me. I started to struggle a tiny bit in the end, but I was trying to ride my own race. Finishing fourth was a big step forward."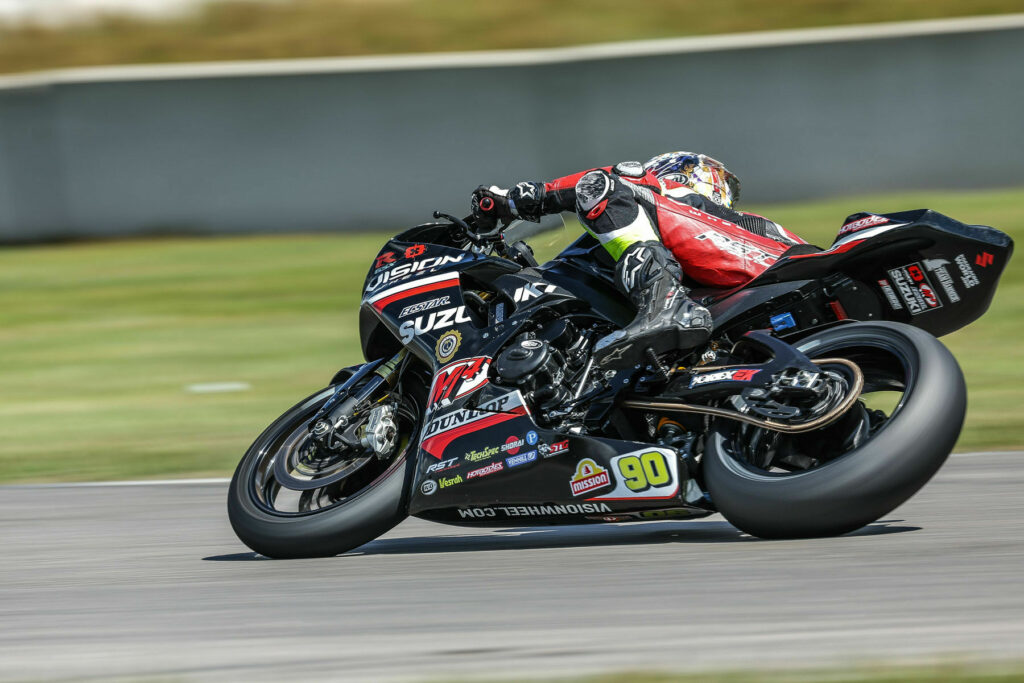 In what has been a solid rookie season in the Supersport class, Liam Grant earned tenth on Sunday as the Colorado resident followed up his Saturday race with an identical result.
MotoAmerica Superbike rookie Richie Escalante registered another DNS due to his ankle injury in his Saturday qualifying crash. As a result, Jake Lewis was again the sole representative for Vision Wheel M4 ECSTAR Suzuki in Sunday's premier-class contest.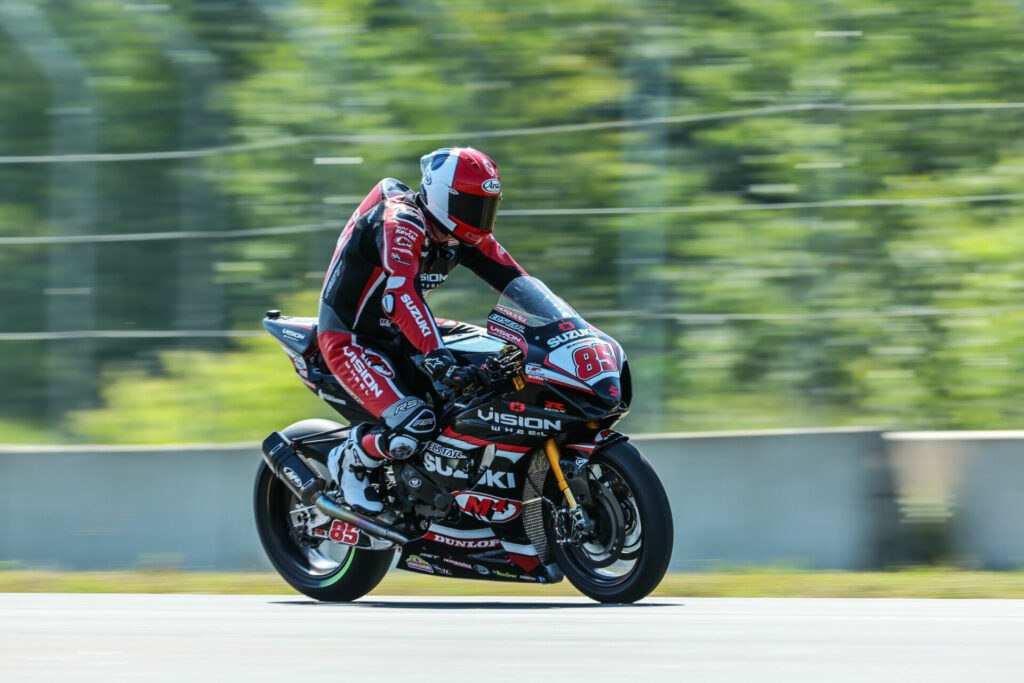 The Kentuckian raced forward from his Row 4 starting position and even made a push for the fight for fifth aboard the team's GSX-R1000R at mid-distance. However, Lewis, who is still on the mend and working his way back into race shape, ultimately, was forced to relent and accept a seventh-place result.
"This hasn't been the easiest of weekends for me, but it's nice to be back," Lewis said. "Missing Laguna and watching from the couch was no fun at all. We're continuing to make progress, and it's fun to race in front of all these fans."
Team Hammer will next travel to Pittsburgh International Race Complex in Wampum, Pennsylvania, on August 19-21, for the next round of the 2022 MotoAmerica AMA/FIM North American Road Racing championship season.
For the latest Suzuki racing news, updates on Team Hammer, and more, visit SuzukiCycles.com/Racing/Road-Racing.
ABOUT TEAM HAMMER 
The 2022 season marks Team Hammer's 42nd consecutive year of operating as a professional road racing team. Racebikes built and fielded by Team Hammer have won 129 AMA Pro and MotoAmerica National races, have finished on AMA Pro and MotoAmerica National podiums 342 times, and have won 11 AMA Pro and MotoAmerica National Championships, as well as two FIM South American Championships (in Superbike and Supersport.) The team has also won 137 endurance races overall (including seven 24-hour races) and 13 Overall WERA National Endurance Championships with Suzuki motorcycles and holds the U.S. record for mileage covered in a 24-hour race. The team also competed in the televised 1990s Formula USA National Championship, famously running "Methanol Monster" GSX-R1100 Superbikes fueled by methanol, and won four F-USA Championships.
ABOUT VISION WHEEL
Founded in 1976, Vision Wheel is one of the nation's leading providers of custom wheels for cars and trucks, and one of the first manufacturers of custom wheels and tires for ATVs, UTVs, and golf carts. Vision Wheel looks beyond the current trends and to the future in developing, manufacturing, and distributing its wheels. Vision's lines of street, race, off-road, American Muscle, and Milanni wheels are distributed nationally and internationally through a trusted network of distributors. Vision Wheel also produces the Vision It AR app to allow users to see how their wheel of choice will look on their vehicle before purchase and installation. For more information on Vision Wheel, visit www.visionwheel.com.
ABOUT SUZUKI
Suzuki Motor USA, LLC. (SMO) distributes Motorcycles, ATVs, Scooters, Automotive Parts, Accessories, and ECSTAR Oils & Chemicals via an extensive dealer network throughout 49 states. Suzuki Motor Corporation (SMC), based in Hamamatsu, Japan, is a diversified worldwide manufacturer of Motorcycles, ATVs, Scooters, Automobiles, Outboard Motors, and related products. Founded in 1909 and incorporated in 1920, SMC has business relations with 201 countries/regions. For more information, visit www.suzuki.com.
More, from a press release issued by Tytlers Cycle Racing:
PJ Jacobsen races to P3, whilst Hector salvages a top five finish on Sunday
The Tytlers Cycle Racing team were back in action at Brainerd International Raceway this past weekend with riders PJ Jacobsen and Hector Barbera once again representing them in the 2022 MotoAmerica Superbike championship aboard the all-new BMW M1000 RR.
With no data at the circuit, it was a case of the entire team working together to achieve the best set up possible ahead of the two eighteen lap races. Steady improvements on Friday paved the way for encouraging lap times in qualifying with PJ qualifying seventh and Hector eighth.
Saturday's opening race saw Hector Barbera start strongly but the #80 ran off track on lap one, and even though he re-joined he retired to the pits early on. PJ Jacobsen was involved in a race long battle for fifth, a battle that he came out on top of by just over a second.
Sunday morning's rain shower meant no real chance of further tweaks but that didn't dampen the spirits ahead of Race 2. An aggressive Jacobsen slotted into fourth at the start, running third briefly before conceding the place. A crash by the race leader elevated PJ back onto the podium in third, a position he would hold to the flag – securing the team's third top three of the year. Hector Barbera ran closely behind his team mate in the early stages before running the remainder of the race a few seconds behind, the Spaniard involved in a titanic on track battle. He crossed the line fifth.
Stock1000 title contenders Corey Alexander and Travis Wyman were also in action on Saturday in the Superbike class. They finished eighth and eleventh, respectively.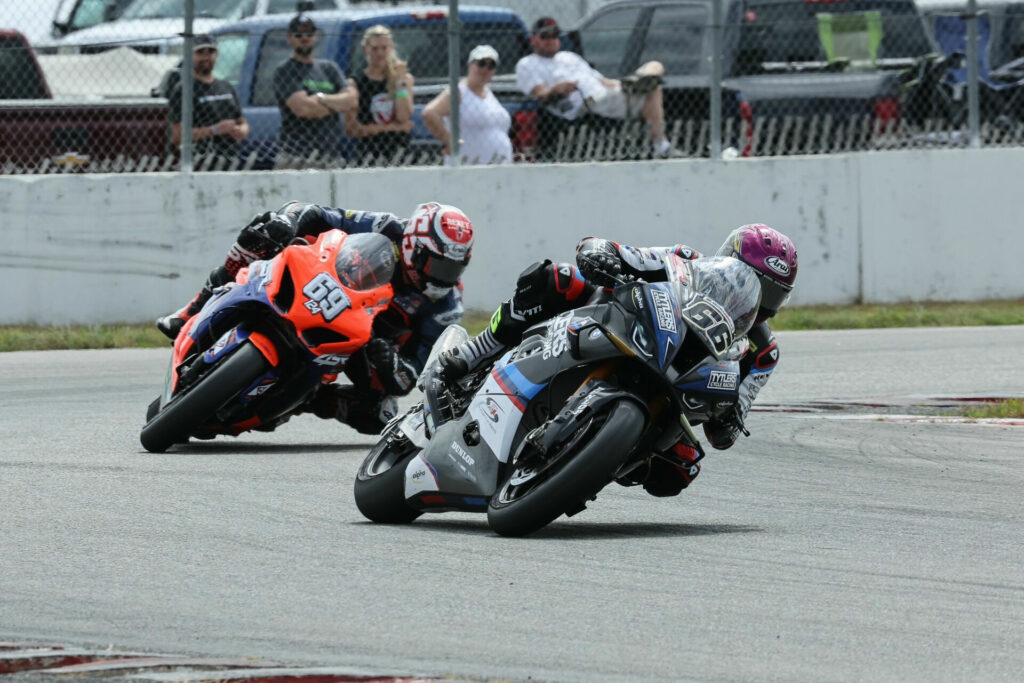 PJ Jacobsen: "Race 1 was pretty good, and I ended up fifth. It was a new track for me, and we did the best job that we could. Sunday's race went really well. We made some big changes and they seemed to work. It was great to be back on the podium, not just for me but for the team too as they've been working so hard all season and deserve it. We will continue to keep moving forward. I am happy with the pace, especially in the early stages, where I was able to lap faster than I did in qualifying."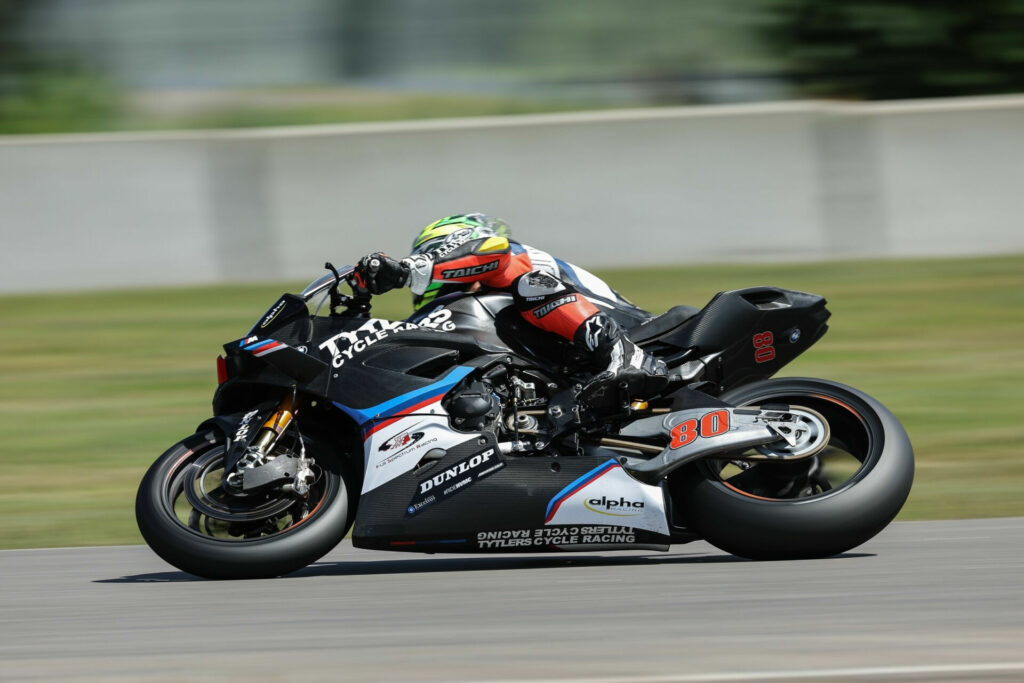 Hector Barbera: "I suffered a lot in Race 1 with the tyre. It was impossible to ride, and I had to retire after running off on lap one. Race 2 was also difficult. I had difficulty to enter the corner and the electronics were also not perfect. I am sad that we couldn't show our full potential but focused on doing better in Pittsburgh."
The entire Tytlers Cycle Racing team wish to extend their deepest condolences to the family, friends and team of Scott Briody who sadly passed away at the circuit on Friday. He will be missed.
More, from a press release issued by Tytlers Cycle/RideHVMC Racing:
Sixth win of the season for Alexander as Wyman races at the front and Schumacher makes progress at BIR
Five from five – that's what everyone is talking about after Corey Alexander powered his Tytlers Cycle Racing Ride powered by #RideHVMC BMW M1000 RR to another victory in the latest round of the 2022 MotoAmerica Stock1000 championship.
Qualifying third, Alexander, who by his own admission was not looking forward to racing at BIR as it not one of his favourites, rode sensibly in the first part of the race, content to take a podium spot rather than risk a crash. However, a red flag meant another chance and Alexander grabbed it with both hands, capitalising on the issues of his rivals to take another victory and in the process extend his championship lead to thirty-three points. His fifth win in a row is his sixth of the season and Alexander has not finished lower than first in the races he has finished – an incredible string of results and a new record in the class!
There was heartbreak however for Travis Wyman who crashed out of a podium place on the final lap. Despite the spill, Wyman remains third overall in the title race after once again showing that he is one of the strongest riders on the grid.
Zac Schumacher, the team's third rider was also competing. He finished sixteenth, narrowly missing a championship point at another new circuit for the #90.
The pair will now regroup ahead of the next round of the Championship at the Pittsburgh international Race Complex over the weekend of 19-21 August.
Corey Alexander: "It was a positive weekend. I honestly didn't expect to fight for the win at Brainerd as its not one of my favourites. We were in the mix in both parts of the race, and we were able to take advantage of the problems our rivals had. That's racing and we will take it and move on to Pittsburgh where we will look to consolidate our points lead."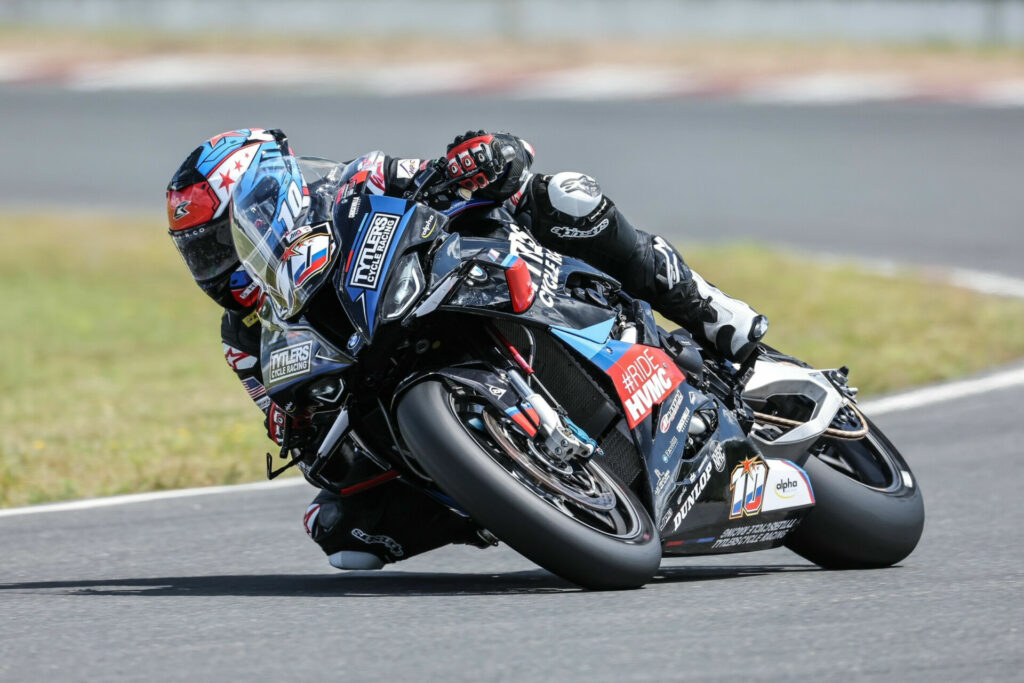 Travis Wyman: "I don't really have a lot to say. I was running inside the top five but felt good. The race was stopped and restarted and once again I was in the mix. I made some strong passes and went for second in the final sector and unfortunately lost the front. That's racing and I will come back stronger in Pittsburgh."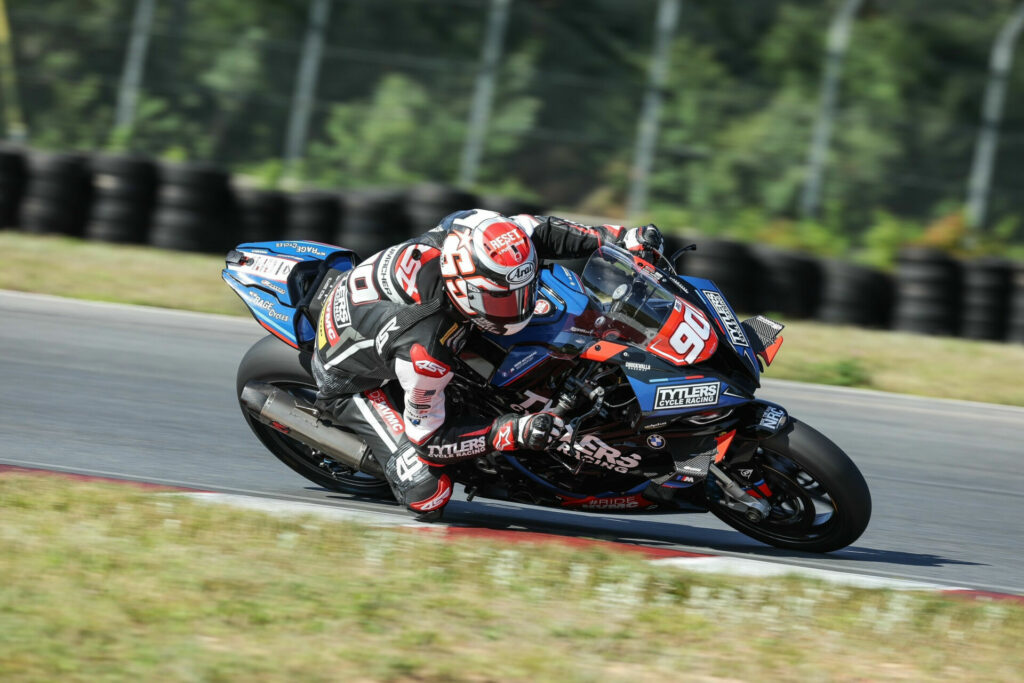 Zac Schumacher: "The race went quite well considering I have never raced at Brainerd before. The track is quite difficult, but I was able to qualify nineteenth. I decided to use the older Dunlop tyre for the race and so didn't really have any set up time with it, but it was the right decision. I started well and passed a few people, but the race got red flagged. On the restart I was battling with the same guys as in the first part and finished P16. I am looking forward to the next round in three weeks."
The entire Tytlers Cycle Racing powered by #RideHVMC team wish to extend their deepest condolences to the family, friends and team of Scott Briody who sadly passes away at the circuit on Friday. He will be missed.
More, from a press release issued by Indian Motorcycle:
INDIAN MOTORCYCLE RACING PRIVATEER BOBBY FONG WINS KING OF THE BAGGERS AT BRAINERD INTERNALTIONAL RACEWAY
Fong & Roland Sands Design Capture First King of the Baggers Win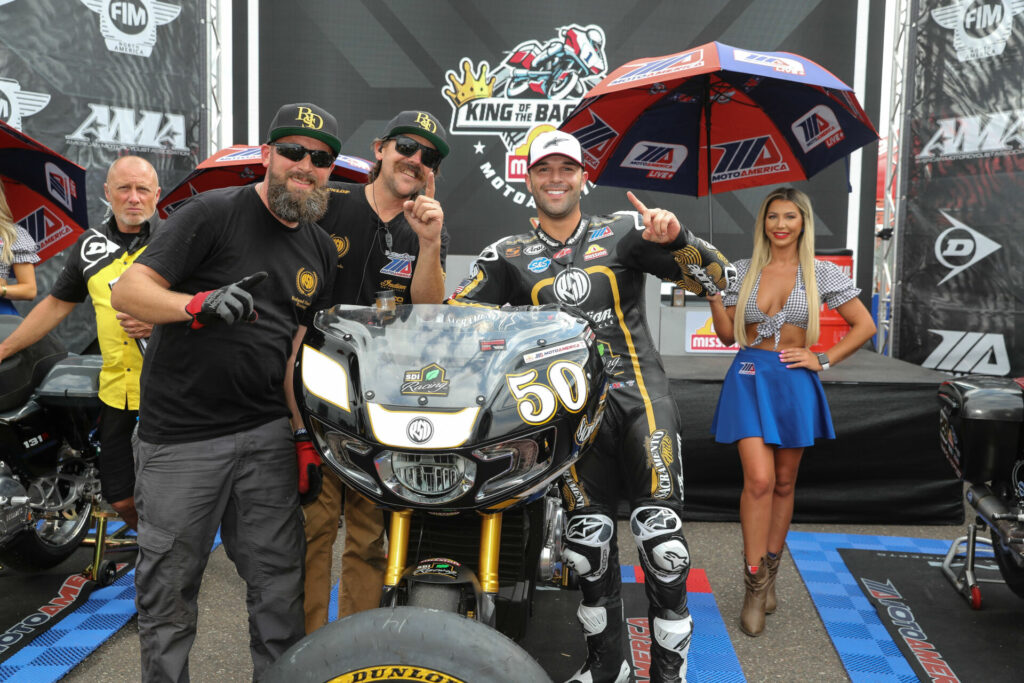 Minneapolis, MN. (August 1, 2022) – Indian Motorcycle Racing, presented by Mission Foods, captured two King of the Baggers podium positions at Brainerd International Raceway. Privateer Bobby Fong, piloting Steve Delorenzi's Sacramento Mile S&S-built RSD Indian Challenger, secured his first-career King on the Baggers win, while Indian Motorcycle Racing factory rider Tyler O'Hara rounded out the podium with a third-place finish.
The sixth King of the Baggers event of the season was nothing short of dramatic, as a red-flag restart rescheduled the event to end of the day and shortened it to five laps. Though during competition, rain on turn 3-4 ultimately caused race officials to call the race after just three laps.
Despite starting from the back row, Fong fought hard during the first lap to reach second. Without hesitation, Fong then made an aggressive move, as he dove inside and stood up O'Hara to make the pass and capture the lead and secure his first-ever King of the Baggers win.
"Congrats to Bobby and RSD on their first win. It was a well-deserved victory as the RSD race team works extremely hard to ensure those Indian Challengers are dialed-in and ready for competition," said Gary Gray, Vice President Racing, Service & Technology. "This has been fun, neck-and-neck battle throughout the entire season. With one race remaining, it's all on the line, and we couldn't be any more excited to head to New Jersey and give it all we got."
The 2022 King of the Baggers season will conclude September 9-11, in the Millville, NJ, at New Jersey Motorsports Park. For more information on Indian Motorcycle Racing, visit IndianMotorcycle.com and follow along on Facebook, Twitter and Instagram.
Prior to the King of the Baggers race, on Friday July 29, MotoAmerica racer Scott Briody passed following a single-motorcycle crash. "Our condolences go out to Scott Briody's friends and family, his team, and everyone in the MotorAmerica paddock," said Gray.
ABOUT INDIAN MOTORCYCLE®
Indian Motorcycle is America's First Motorcycle Company®. Founded in 1901, Indian Motorcycle has won the hearts of motorcyclists around the world and earned distinction as one of America's most legendary and iconic brands through unrivaled racing dominance, engineering prowess and countless innovations and industry firsts. Today that heritage and passion is reignited under new brand stewardship. To learn more, please visit www.indianmotorcycle.com.
More, from a press release issued by Aprilia:
ANTHONY MAZZIOTTO NETS FIFTH PODIUM FINISH OF 2022 MOTOAMERICA TWINS CUP SEASON ABOARD APRILIA RS 660 AT BRAINERD INTERNATIONAL RACEWAY
RODIO RACING/WARHORSE HSBK RACING RIDER NOW LEADS TWINS CUP POINTS STANDING, RESETS CLASS' LAP RECORD AT MINNESOTA TRACK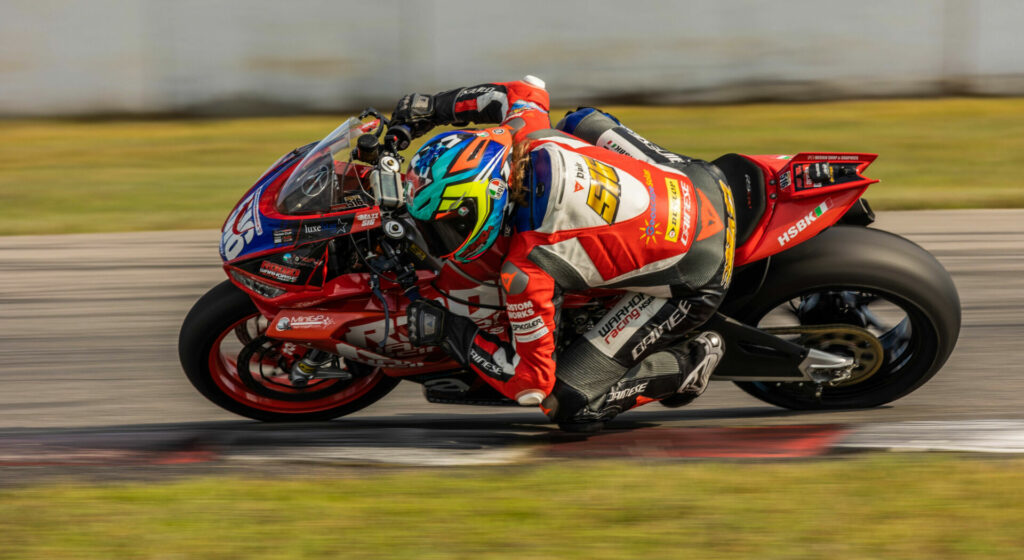 BRAINERD, MN – At the start of this weekend's MotoAmerica Superbikes at Minnesota round, Anthony Mazziotto was four points away of the MotoAmerica Twins Cup championship points lead. At the conclusion of the round's single Twins Cup race on Saturday, the Rodio Racing/Warhorse HSBK Racing rider had scored his fifth podium finish of this 2022 season aboard an Aprilia RS 660, set a new Twins Cup lap record, and assumed the championship lead.
Mazziotto, from Hammonton, N.J., was at the head of a trio of Aprilia riders who rounded out the top five in the Brainerd Twins Cup race. Finishing fourth was Veloce Racing rider and reigning Twins Cup champion Kaleb De Keyrel, and fifth was De Keyrel's teammate and former championship leader Jody Barry.
Mazziotto also lowered the Twins Cup lap record that he set in MotoAmerica's debut at Brainerd last year. He improved on his previous record time – a 1:36.984 that he set on Lap 11 of Twins Cup Race 2 in 2021 – to a 1:36.944 on Lap 5 of Saturday's contest.
The current points standings feature three Aprilia riders in the top five, with Mazziotto one point ahead of Barry (156 points to 155) and De Keyrel in fifth with 109 points.
Success at Brainerd is nothing new for Mazziotto and De Keyrel, a Minnesotan, as the pair each recorded a win and runner-up finish at the 2.5-mile circuit last year.
Unfortunately, one of the front-running Aprilia teams – Robem Engineering — was forced to miss the Brainerd round due to mechanical problems with its transporter.
About one-third of the MotoAmerica Twins Cup field – 13 of 35 riders – were competing aboard Aprilia RS 660s.
The round started off with an Aprilia at the top of the time sheets, as Barry paced the field in Friday practice. De Keyrel finished that session fourth-fastest, and Mazziotto was sixth-fastest. Qualifying took place Saturday morning with De Keyrel emerging as the top-qualifying Aprilia rider. His best lap of 1:36.488 at his home track was a mere 0.023 seconds off the pole time. Mazziotto qualified in sixth and Barry in seventh.
The Twins Cup race got underway late Saturday afternoon with Mazziotto getting a good start and running in third place as the field entered the first turn. Mazziotto, De Keyrel and Barry finished Lap 1 in fourth, fifth and sixth, respectively, and Mazziotto moved up to third place on Lap 6. A couple laps later, Mazziotto had advanced to second place, and he finished Lap 8 of the 12-lap contest in the lead.
Though he'd fallen back to third by the end of Lap 9, Mazziotto was vying with two other riders for the race lead until Lap 11, when several lapped riders caused him to lose time. He had to settle for a third-place finish, 0.563 seconds behind the second-place rider. De Keyrel and Barry finished several seconds behind Mazziotto, and American Metalcraft Racing's Eddie Neubauer gave Aprilia four riders in the top 10.
MotoAmerica had a two-week break before the next round, which is scheduled for Aug. 19-21 at Pittsburgh International Race Complex in Wampum, Pa. Championship Schedule, competitor information, and class rules can be found at https://motoamerica.com.
Anthony Mazziotto, Rodio Racing/Warhorse HSBK Racing
"It was a solid weekend here on our Aprilia RS 660. It was a good points salvage, and I'm happy that I'm leading the championship as we're heading to some racetracks that I really enjoy. I really like racing at Pittsburgh and New Jersey, and we're just going to keep plugging away it. I felt like we had really good pace here at Brainerd. I was struggling a little bit in the first part of the track, but the Aprilia worked really well through the rest of the racetrack. I can't thank my team enough for their efforts this weekend, as well as Aprilia, and I'm really looking forward to coming back to the East Coast."
More, from a press release issued by Luke Power Racing:
Points make prizes… Luke Power closes in on MotoAmerica Supersport top five overall
Luke Power leaves the Brainerd International Raceway in Minnesota with another double top eight points finish in the 2022 MotoAmerica Supersport Championship, a result that moves him to within one point of fifth overall in the standings with three round and six races remaining.
Like at most circuits on the calendar this season, the Suzuki mounted charger had to contend with learning another new circuit well as finding an optimum setting at one of the fastest tracks on the schedule.
Improving in every session ahead of Saturday's opening race Luke qualified on the third row of the grid and in typical fashion, involved himself in the battle at the front from the off. Despite losing touch with those involved in the podium fight as the race wore on, Luke continued to push hard, narrowly missing out on a top six finish at the flag. Sunday began with a wet warm up session which Luke elected not to participate in and ahead of the race the team opted for a different tyre which ultimately played a part, along with other set up factors that prevented an even better result on Sunday. Nevertheless, the #68 once again rode superbly, getting the most he could out of the situation. He finished a credible eighth ensuring that he remains in contention for a top four in the overall championship standings in his debut MotoAmerica season.
Luke wishes to pass on express his sincere condolences to the family, friends and team of Scott Briody who sadly succumbed to his injuries following a crash on Friday.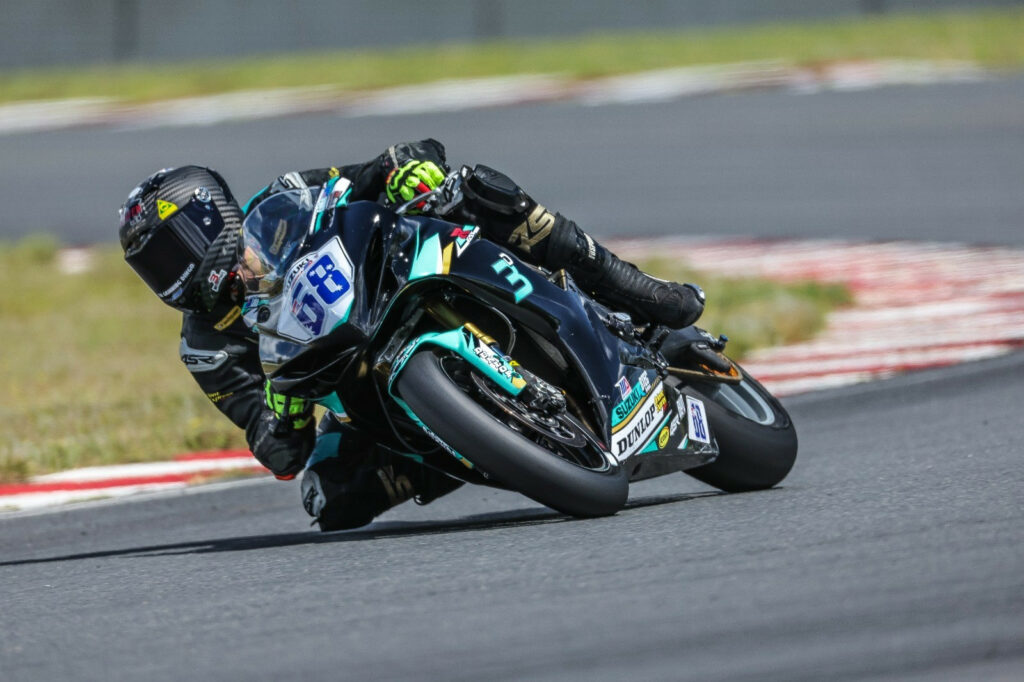 Luke Power: "Overall Race 1 was positive. My final position doesn't reflect the pace I had but just like at Laguna Seca I struggled at the beginning. The pace we had late on was good and I was really hoping to capitalise on that on Sunday. I was only able to finish eighth in Race 2 which is frustrating after our Saturday race pace was not bad but sometimes races go like that. I learned a lot this weekend and thank the team's efforts. We made some changes for Race 2 that didn't pay off but overall, it was a solid weekend at another track that I have no experience at. In the championship we are only one point away from fifth and not a million miles from P4, so all things considered I can move on to Pittsburgh ready to push again."
More, from a press release issued by Pure Attitude Racing:
Pure Attitude Racing's thoughts are elsewhere after Brainerd
Pure Attitude Racing head to the final three rounds of the MotoAmerica Championship after an emotional and challenging weekend at Brainerd International Raceway in Minnesota.
Looking to build on their successes at The Ridge and Laguna Seca it was an encouraging start to the weekend for team but all thoughts about what happened on track pails into insignificance following the tragic loss of fellow MotoAmerica competitor Scott Briody on Friday afternoon. The entire Pure Attitude team sends its deepest condolences to Scott's family and friends, his team and the entire MotoAmerica paddock.
On track the team suffered a double DNF in Twins Cup with Liam MacDonald suffering a technical issue moments before lights out and Trevor Standish crashing out of P11 on the final lap. Both riders had shown pace with Liam especially looking as though a top eight challenge was possible. Chase Black qualified on the second row of the grid in Junior Cup. He raced to sixth in Saturday's opener before he too was forced to retire on Sunday.
The team will now regroup ahead of the next event in Pittsburgh in three weeks.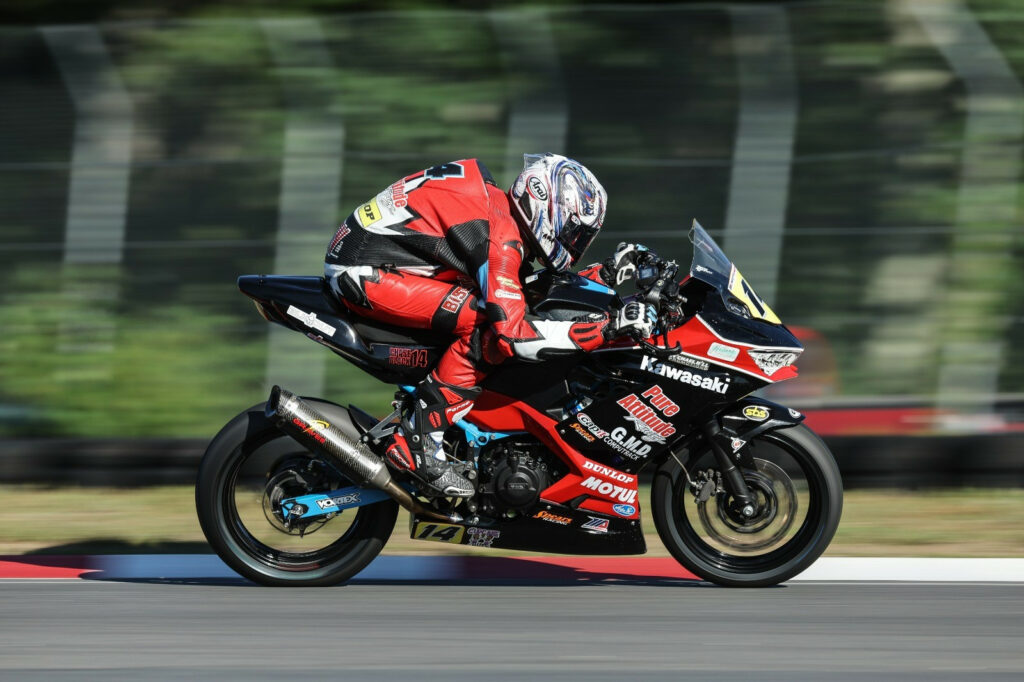 Chase Black: "The result on Saturday was ok but I could have been on the podium and so I am a little disappointed. I got passed by four people off the start and although I was able to close the gap and run with the group, I couldn't find a way through. On Sunday I started better but almost crashed and the chain came off. The race was red flagged due to another incident but because I was already out before the red flag I couldn't restart later in the day. Not ideal but that's racing. Thoughts are with Scott Briody's family right now."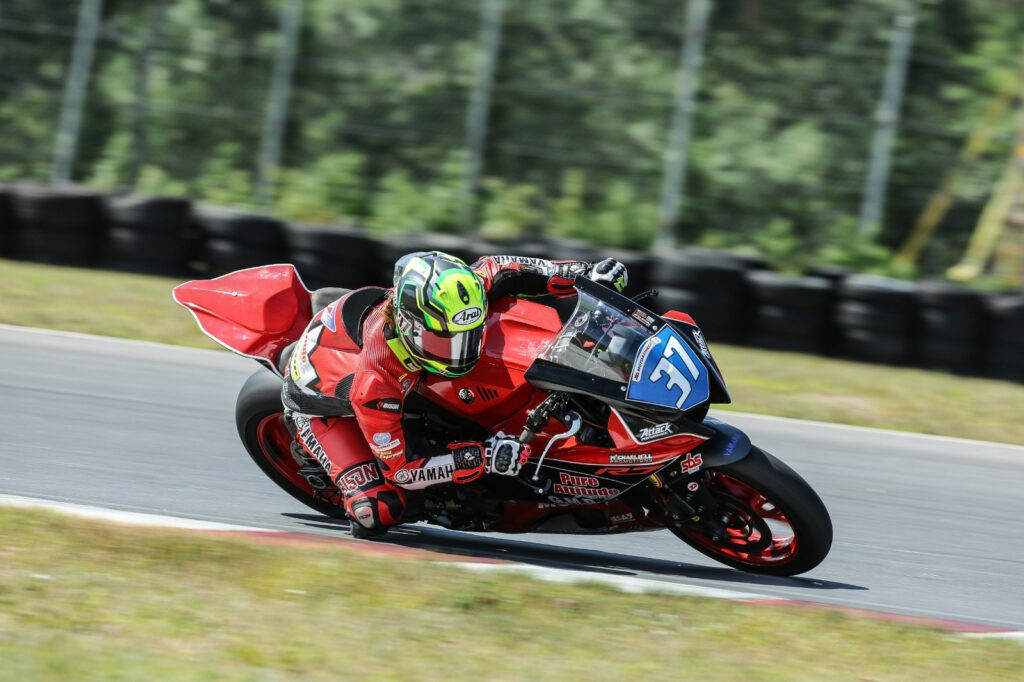 Liam MacDonald: "Well that didn't go to plan. The bike had been running as sweet as can be all weekend, no issues at all and then with minutes to go it just stopped. Kent, Dean and Todd have worked their buts off and I am gutted for them as much as me. On the grid after the sighting lap, it just lost power and despite our best efforts we had to pull off. It's so disappointing after we had finally shown decent pace, but I am staying positive and moving on to the next one with my head held high. After what happened on Friday, nothing else really matters. Rest in Peace Scott."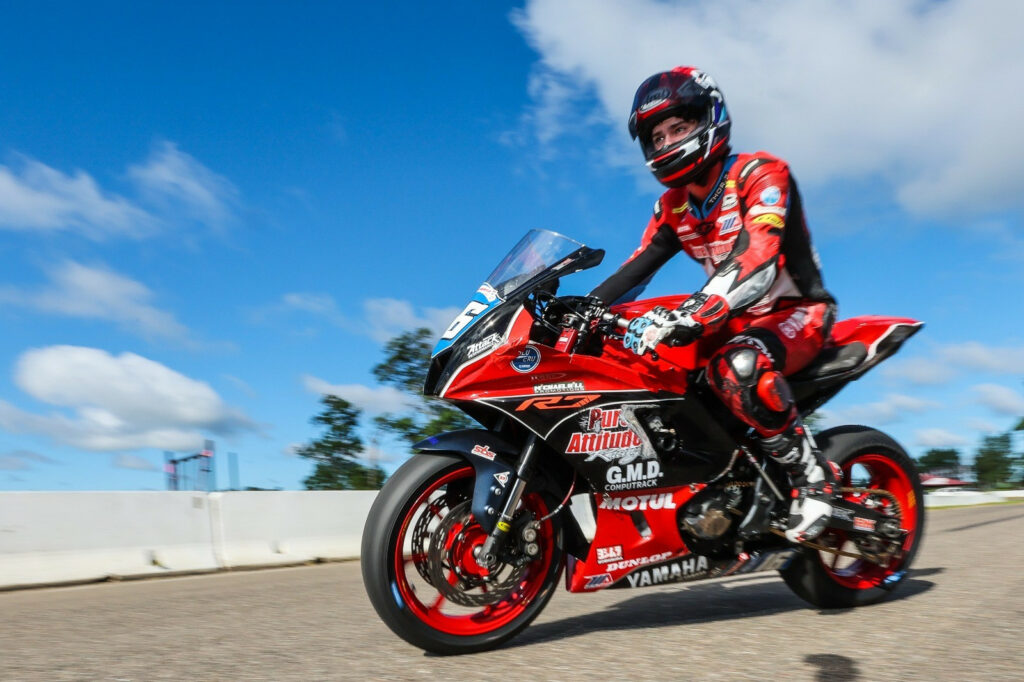 Trevor Standish: "I made a good start, and the race was going well, and I was really enjoying riding the bike. I was running eleventh but with half a lap to go I went. I am not entirely sure what happened, but I got run over and am a bit second hand. I want to thank the medical staff at the track and at the hospital and everyone who enquired about me. I will be back stronger but right now I want to send my prayers and thoughts to the Scott's family. It's been a tough weekend."