NEMRR Race #1 at New Hampshire Motor Speedway
The 2021 race season for NEMRR kicked off at New Hampshire Motor Speedway in chilly conditions, but the paddock was buzzing with excitement to get out and ride.  The series has made some rule changes over the off season to bring NEMRR more in line with CCS national rules, including a move back to open fuel rules (which several riders were anxious to test).  Finally, the track opened up the apex of Turn 10 by about 6 feet, giving riders a straighter shot back into the infield.  This change was universally received well as riders commented that the turn was both more fun and safer – a win-win for all!
Leading the way on Saturday was 2020 #1 plate holder Rick Doucette, with wins in GTL by #74,  Seacoast Sport Cycle Lightweight Grand Prix and 300 Supersport races.  During the Saturday riders meeting, Rick received a special "Champion Edition" Fender Guitar to commemorate the 10th overall series championship of his career.  Rick has won a record 95 championships and got off to a great start in 2021 on his way to 100.
In the Saturday Michelin/Motorace $1500 Dash for Cash two young standouts put in impressive performances.  Sam Greenwood, son of perennial NEMRR standout Scott Greenwood, carried forward the family tradition of winning with a dominating performance.  Sam put in the fastest lap of the race on lap 3 and then continued to build up over a 10 second cushion over Rick Doucette and Paul Duval.  Duval had to battle hard all race with rising star Eli Block who was incredibly riding a Husquvarna 450 motard bike against a field of 600cc sport bikes.  Block and Duval swapped positions constantly during the race, giving the crowd a number of "hold your breath" moments as they literally went through many corners within inches of each other.  Block set an all time record lap time for a Motard, recording an incredible 1:14.9 on lap number 5 of the event.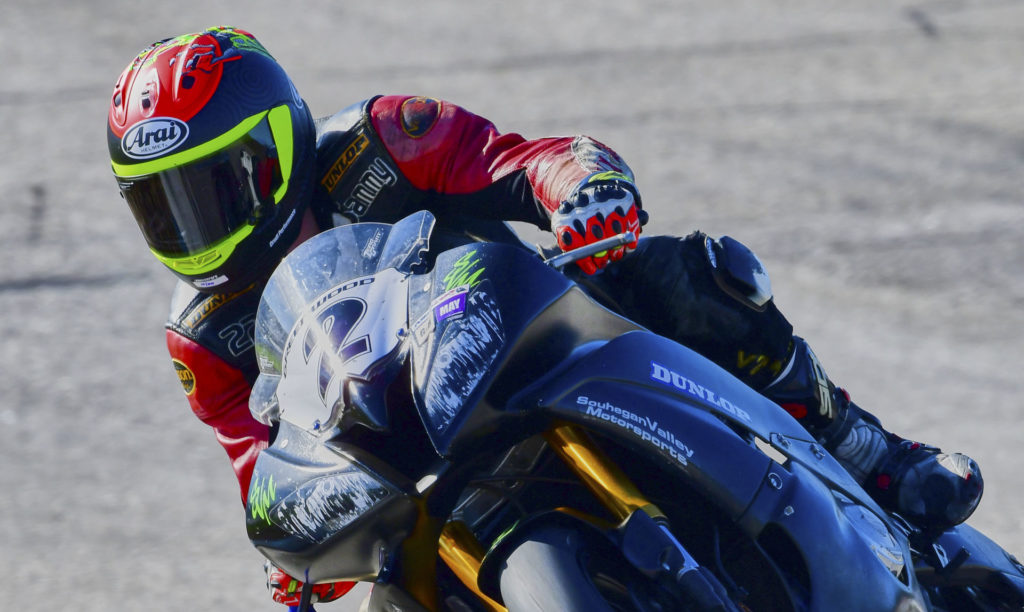 Saturday also marked the inaugural event of the NEMRR Super Street Series, which is an opportunity for track day riders to be part of the NEMRR weekend in a race that is designed more for fun than pure competition.  These riders only need to have completed a track day in the previous 12 months (which can be the Friday before the event) and then they get a pair of practices, a heat and a final – all the while being able to watch the best racers in the Northeast between sessions.  The winners of these debut classes were Gregory Livanos in the lightweight division and Semir Falic in the unlimited division.
In the amatuer ranks there were two riders who put in particularly impressive performances.  Kevin Custer racked up 5 wins in the very competitive middleweight ranks on his Suzuki GSXR600, with his strongest performance coming in the Middleweight Formula 40 class when he dropped into the 1:17 range, a time that will soon make him eligible to advance to Expert.  NEMRR also welcomed 12 year old newcomer Alessandro Di Mario who really turned some heads on his Yamaha R3 as we won all three of his races on Sunday and managed to beat all but one of the Experts in the 300 Superbike class.  Alessandro's 1:21 was within two seconds of the all time track record in the class, an incredible performance for an Amatuer racer who was visiting NHMS for the first time!
Round two of the NEMRR series kicks off on May 22, interested riders can visit www.lrrsracing.com for more information.  Riders wishing to register for Super Street can either call NEMRR or add the Super Street Class to a Friday track registration with the Penguin Racing School at www.penguinracing.com.
May 1-2, 2021 @ NHMS – Results
Rookie Race Lightweight 3 & 4
1. Douglas Cooper (Suz SV)
2. Asher Rubright (Hon CRFR)
3. Tyson Bernard (Suz SV)
4. John Sommer (Kaw Ninja)
Rookie Race Wave 1
1. Dennis Metzler (Duc 848 Evo)
2. Mohammad Nourmohammadi (Kaw )
3. Thomas Dixon (Duc 1199r)
4. Harrison Co (0 0)
5. Matthew Lewis (Yam YZF-R6)
6. Michele Pierro (Kaw Ninja)
Rookie Race Heavyweight 1 & 2
1. Michael Lee (Suz GSXR)
2. James Burnard (Suz GSXR)
3. Jim Chapman (EBR RX)
4. Sam Martin (Hon CBR 600RR)
5. Aaron Booth (Yam R6)
6. Andrei Ciobanu (Suz GSXR)
Amateur GTL
1. Matthew Paternoster (Suz SV 650)
2. Todd Fanciullo (Kaw Ninja 650)
3. Stephen Biehl (Suz SV650)
4. Dan Pletea (Suz SV650)
5. Craig Babcock (Kaw 400 Ninja)
6. Rick Ma (Hon NT650)
#74 GTL
1. Rick Doucette (Yam R5)
2. Adam Guyer (Duc 1000DS)
3. Nicholas Leighton (KTM 790 Duke)
4. Jerry Randall (Yam YZF-R5)
5. Brett Guyer (Duc SS 900)
6. Bill Coolahan (KTM Duke 790)
Firsttrax Combined GT 500
1. Elijah Block (Kaw Ninja 400)
2. Shane Lewis (Kaw Ninja 400)
3. Brianna McHugh (Kaw Ninja 400)
4. Jacob Crossman (Kaw Ninja 400)
5. Thomas Sands (Kaw Ninja)
6. Alessandro Di Mario (Yam R3)
GTO
1. Scott Greenwood (Yam YZF-R6)
2. Scott Mullin (Kaw ZX-10R)
3. Roger Ealy Jr (Kaw ZX-10R)
4. David Dayon (Kaw ZX-10R)
5. Jason Fairclough (BMW S1000RR)
Dunlop Tires GTU
1. Scott Greenwood (Yam YZF-R6)
2. Paul Duval (Yam YZFR6L)
3. Harlan Hildebrand (Kaw ZX-6R)
4. Bryan Wardius (Yah YZF-R6)
5. Jeff Gray (Yam YZF-R6)
Woodcraft Amateur GTU
1. Joe Ruth (Apr 1000)
2. David Mink (Kaw ZX6R)
3. Anthony Wells (Kaw ZX-6R)
4. Chris Dixon (Yam R6)
5. John Beaulieu (Tri Daytona)
6. Carlos Hidrovo (Hon CBR600RR)
Amateur GTO
1. Patrick Gallo (Duc 848 Evo)
Amateur Super Singles
1. Daniel Zimmer (CRF CRF)
2. Christopher Girard (Hus FS450)
3. Alexander Kates (Hus FC 450)
MTAG Pirelli Amateur 300 Supersport
1. Alessandro Di Mario (Yam R3)
2. Thomas Sands (KTM 390)
3. Roy Whitson (Yam R3)
4. Brendan Moriarty (Kaw EX300)
Super Singles
1. Wesley Lakis (Kra HKR EVO2)
2. Kevin Allen (Hus FS450)
3. J.C. Bernier (Hon CRF450R)
4. Lee Schmidt (Hus Fs450)
5. Michael Tine (Hus FS 450)
6. Adam Clark (Hon CRF450)
300 Supersport
1. Rick Doucette (Yam YZF-R3)
2. Jason Downs (Yam R3)
3. Lukas Doucette (Yam R3)
4. James Whitaker (Yam YZF-R3)
Antham gloves Amateur HW Supersport
1. Joe Ammendolia (Yamaha YZF-R6))
2. Michael Chase (Yam R6)
3. Owen Feeney (Suz GSXR 600)
4. Daryl Blums (Yam YZF-R6)
5. Michael Guarino (Kaw ZX-6R)
6. Marc Manley (Yam YZF-R6)
Amateur Formula 40 Unlimited
1. Paul Hosue (Yam YZF-R6)
2. Kevin Custer (Suz GSXR 600)
3. Anthony Wells (Kaw ZX-6R)
4. Lloyd Palmer (Yam YZF-R6)
5. Chris Dixon (Yam R6)
6. Robert Lewis Jr (Kaw ZX-10R)
Atham Motorsports HW Supersport
1. Samuel Greenwood (Yam YZF-R6)
2. Brian Fernald (Yam YZF-R6)
3. Kip Peterson (Yam YZF-R6)
4. Justin Landry (Yam YZF-R6)
5. Anthony DiCecca (Yam YZF-R6)
6. Bryan Wardius (Yah YZF-R6)
MTAG Pirelli Formula 40 Unlimited
1. Eric Wood (Kaw ZX-10)
2. David Dayon (Kaw ZX-10R)
3. David Fett (Duc Panigale S)
4. Jim Rich (Duc 1199 Panagale R)
5. Wojciech Kasperuk (Yam YZF-R6)
6. Jason Downs (Suz GSX-R600)
Freedom Cycle LW Superbike
1. Nicholas Leighton (KTM 790 Duke)
2. Bill Coolahan (KTM Duke 790)
3. Steven Heider (KTM DUKE)
4. Adam Guyer (Duc 1000DS)
5. Robert Marsden (Suz SFV 650 Gladius)
6. Brian Faucher (Suz SV650)
Amateur LW Superbike
1. Benjamin Claman (KTM 790)
2. Matthew Paternoster (Suz SV 650)
3. Kevin Fogg (Suz SV650)
4. Todd Fanciullo (Kaw Ninja 650)
5. Christian Connor (Suz SV650)
6. Pierce Ballantyne (Suz SV650)
Novice Formula 1
1. Thomas Dixon (Duc 1199r)
2. Gabriel Pavadore (Yam YZF)
3. Andrei Ciobanu (Suz GSXR)
4. Harrison Co (Yam R6)
5. Dennis Metzler (Duc 848 Evo)
6. Nicholas Mercier (Duc 848 Evo)
Novice Formula 3
1. Bradley Paisker (KTM SMR 525)
2. Douglas Cooper (Suz SV)
3. Michele Pierro (Kaw Ninja)
4. Asher Rubright (Hon CRFR)
5. Peter Kolodziej (Suz SV650)
6. Mohammad Nourmohammadi (Kaw )
Amateur LW Grand Prix
1. Benjamin Claman (KTM 790)
2. Matthew Paternoster (Suz SV 650)
3. Kevin Fogg (Suz SV650)
4. Todd Fanciullo (Kaw Ninja 650)
5. Christian Connor (Suz SV650)
6. Dan Pletea (Suz SV650)
Seacoast Sport Cycle LW Grand Prix
1. Rick Doucette (Yam R5)
2. Steven Heider (KTM DUKE)
3. Wesley Lakis (Kra HKR EVO2)
4. Robert Pease Jr (Kaw Ninja 650R)
5. Drew Bailey (Suz SV650)
6. David Rubin (Suz SV650)
Super Street Unlimited
1. Semir Fazlic (Suz GSX-R600)
2. Michael Ouellette (Suz GSXR)
3. william brennan (Kaw zx6r)
4. Eric Whitney (0 0)
Super Street Lightweight
1. Gregory Livanos (0 0)
2. Ryan Smith (Yam R3)
3. Daniel Williams (Suz sv650s)
4. brandon gray (Suz sv650)
5. Jackbarry Kimball (Suz SV650s)
6. Tom Ward (Suz sv650s)
Street & Competition Unlimited Grand Prix
1. Eric Wood (Kaw ZX-10)
2. Scott Mullin (Kaw ZX-10R)
3. David Dayon (Kaw ZX-10R)
4. Roger Ealy Jr (Kaw ZX-10R)
5. Jason Fairclough (BMW S1000RR)
6. Anthony DiCecca (Yam YZF-R6)
Amateur Unlimited Grand Prix
1. Joe Ammendolia (Yamaha YZF-R6))
2. Lloyd Palmer (Yam YZF-R6)
3. Joe Ruth (Apr 1000)
4. Anthony Wells (Kaw ZX-6R)
5. Christian Trudeau (Yam YZF-R6)
6. Robert Lewis Jr (Kaw ZX-10R)
Amateur 500 Supersport
1. Thomas Sands (Kaw Ninja)
2. Alessandro Di Mario (Yam R3)
3. Craig Babcock (Kaw 400 Ninja)
4. Roy Whitson (Yam R3)
5. Brendan Moriarty (Kaw EX300)
Amateur Formula 50 Lights
1. Stephen Biehl (Suz SV650)
2. Bruce Marshall (Suz SV650)
3. Christopher Szarek (Hus FS450)
4. Alessandro Pizzochero (Suz SV650)
Brian Fernald Construction Formula 50 Lights
1. Brett Guyer (Duc 748)
2. Peter Kates (Suz SV650)
3. Jerry Randall (Yam YZFR-5)
4. Robert Marsden (Suz SFV 650 Gladius)
5. Rick Doucette (Yam R5)
6. John Donald (Suz SV650)
Sportbike Track Gear 500 Supersport
1. Elijah Block (Kaw Ninja 400)
2. Shane Lewis (Kaw Ninja 400)
3. Michael Zoner (Kaw Ninja 400)
4. Jacob Crossman (Kaw Ninja 400)
5. Lukas Doucette (Kaw 400)
6. Renee Franco (Kaw Ninja)
Novice Formula 2
1. Michael Lee (Suz GSXR)
2. Harrison Co (Yam R6)
3. Matthew Lewis (Yam YZF-R6)
4. Peter Kolodziej (Suz SV650)
5. Gabriel Pavadore (Yam YZF)
6. Dennis Metzler (Duc 848 Evo)
Novice Formula 4
1. Bradley Paisker (KTM SMR 525)
2. Michele Pierro (Kaw Ninja)
3. Victoria Darcy (Yam R3)
4. John Sommer (Kaw Ninja)
5. Ryan Imbeault (Kaw Ninja)
6. Travis Fields (Kaw Ninja 400)
Apex Design Ultralight Superbike
1. Gunnar Ouellette (Hus FS450)
2. Wesley Lakis (Kra HKR EVO2)
3. Peter Kates (Suz SV650)
4. Christopher Woodman (Kra HKR EVO2 R)
5. Robert Pease Jr (Kaw Ninja 650R)
6. Brian Faucher (Suz SV650)
Amateur Ultralight Superbike
1. Matthew Paternoster (Suz SV650)
2. Dan Pletea (Suz SV650)
3. Bruce Marshall (Suz SV650)
4. Christian Connor (Suz SV650)
5. Kevin Fogg (Suz SV650)
6. Christopher Girard (Hus FS450)
Michelin Motorace Amateur MW Grand Prix
1. Kevin Custer (Suz GSXR 600)
2. Paul Hosue (Yam YZF-R6)
3. Joe Ammendolia (Yamaha YZF-R6))
4. Michael Chase (Yam R6)
5. David Mink (Kaw ZX6R)
6. Patrick Gallo (Duc 848 Evo)
Michelin Motorace MW Grand Prix
1. Samuel Greenwood (Yam YZF-R6)
2. Rick Doucette (Yam YZF-R6)
3. Paul Duval (Yam YZFR6L)
4. Elijah Block (KTM 450)
5. Kip Peterson (Yam R6)
6. Justin Landry (Yam YZF-R6)
Amateur Formula 40 Lights
1. Daniel Zimmer (CRF CRF)
2. Kevin Fogg (Suz SV650)
3. Dan Pletea (Suz SV650)
4. Bruce Marshall (Suz SV650)
5. Stephen Biehl (Suz SV650)
6. Todd Fanciullo (Kaw Ninja 650)
Innovative Motorsports Formula 40 Lights
1. Rick Doucette (Yam R5)
2. Tim Hogan (Duc 749R)
3. Steven Heider (KTM DUKE)
4. Timothy O'Connor (Kra )
5. Charles Brighenti (Suz SV650)
6. Brett Guyer (Duc 748)
Amateur MW Formula 40
1. Kevin Custer (Suz GSXR 600)
2. Paul Hosue (Yam YZF-R6)
3. Lloyd Palmer (Yam YZF-R6)
4. Joe Ammendolia (Yamaha YZF-R6))
5. Anthony Wells (Kaw ZX-6R)
6. Christian Trudeau (Yam YZF-R6)
Souhegan Valley Motorsports MW Formula 40
1. Scott Greenwood (Yam YZF-R6)
2. Paul Duval (Yam YZFR6L)
3. Brian Fernald (Yam YZF-R6)
4. Kip Peterson (Yam YZF-R6)
5. Gerry Spencer (Yam YZF-R6)
6. Vicente Frontinan (Yam YZF-R6)
Novice Racer 2
1. Michael Lee (Suz GSXR)
2. Harrison Co (Yam R6)
3. John Frayne (Yam YZF-R6)
4. Matthew Lewis (Yam YZF-R6)
5. Ronald Baughman (Yam YZF-R6)
6. Issac Davis (Suz GSXR 600)
Novice Racer 1
1. Thomas Dixon (Duc 1199r)
2. John Corey (Kaw ZX600)
Novice Racer 3
1. Asher Rubright (Kaw Ninja 400)
2. Jamie Mantini (Duc 748)
3. Tyson Bernard (Suz SV)
Novice Racer 4
1. Bradley Paisker (KTM SMR 525)
2. Michele Pierro (Kaw Ninja)
3. Scott Arzamarski (Kaw Ninja 400)
4. Ryan Imbeault (Kaw Ninja)
5. John Sommer (Kaw Ninja)
6. Victoria Darcy (Yam R3)
Motoholders Amateur MW Supersport
1. Kevin Custer (Suz GSX-R600)
2. Lloyd Palmer (Yam YZF-R6)
3. Michael Chase (Yam R6)
4. Joe Ammendolia (Yamaha YZF-R6))
5. David Mink (Kaw ZX6R)
6. Anthony Wells (ZX6 ZX6)
Ktech Suspension MW Supersport
1. Scott Greenwood (Yam YZF-R6)
2. Samuel Greenwood (Yam YZF-R6)
3. Ian Beam (Tri 675)
4. Anthony DiCecca (Yam YZF-R6)
5. Brian Fernald (Yam YZF-R6)
6. Vicente Frontinan (Yam YZF-R6)
300 Superbike
1. Rick Doucette (Yam YZF-R3)
2. Jason Downs (Yam R3)
3. Lukas Doucette (Yam R3)
Combined Ultralight GP
1. Wesley Lakis (Kra HKR EVO2)
2. Christopher Woodman (Kra HKR EVO2 R)
3. Brandon Taylor (Suz SV650)
4. Peter Kates (Suz SV650)
Bell Helmets Motard
1. Elijah Block (KTM 450)
2. Gunnar Ouellette (Hus FS450)
3. Adam Clark (Hon CRF450R)
4. Anthony Franco (Hus FS450)
5. J.C. Bernier (Hon CRF450R)
6. Sergio Di Molfetta (Hus FS450)
MTAG Pirelli Amateur 300 Superbike
1. Alessandro Di Mario (Yam R3)
2. Thomas Sands (KTM 390)
3. Waylon Dempsey (Kaw Ninja 300)
4. Roy Whitson (Yam R3)
Amateur Motard
1. Daniel Zimmer (CRF CRF)
2. Christopher Girard (Hus FS450)
3. Alexander Kates (Hus FC 450)
Computrack Boston MW Superbike
1. Scott Greenwood (Yam YZF-R6)
2. Rick Doucette (Yam YZF-R6)
3. Ian Beam (Tri 675)
4. Harlan Hildebrand (Kaw ZX-6R)
5. Justin Landry (Yam YZF-R6)
6. Thomas Hynes IV (Yam YZF-R6)
Amateur Unlimited Supersport
1. Joe Ruth (Apr 1000)
2. John Murray (Duc 848 Evo)
3. Chris Dixon (Yam R6)
4. Kamran Pelkey (BMW S1000RR)
5. Chris Arrighi (Apr RSV4)
Adrenaline Motorsports Unlimited Supersport
1. Eric Wood (Kaw ZX-10)
2. Scott Mullin (Kaw ZX-10R)
3. David Dayon (Kaw ZX-10R)
4. Roger Ealy Jr (Kaw ZX-10R)
5. Jason Fairclough (BMW S1000RR)
REB Graphics Combined SuperTwins
1. Tim Hogan (Duc 749R)
2. Brett Guyer (Duc 748)
3. Nicholas Leighton (KTM 790 Duke)
4. Adam Guyer (Duc 1000DS)
5. Bill Coolahan (KTM Duke 790)
6. Jim Rich (Duc 1199 Panagale R)
Amateur Moto 3
1. Alessandro Di Mario (0 0)
2. Thomas Sands (Kaw Ninja)
3. Waylon Dempsey (Kaw Ninja 300)
4. Daniel Zimmer (KTM 450 smr)
Combined Formula 60 Lights
1. John Donald (KTM 790 Duke)
2. Jerry Randall (Yam YZFR-5)
3. Bart Chamberlain (Suz SV650)
4. Timothy O'Connor (Kra )
5. Stephen Biehl (Suz SV650)
6. John Grush (Yam R5)
Rising Sun Cycles Moto 3
1. Gunnar Ouellette (0 0)
2. Elijah Block (Kaw Ninja 400)
3. Sergio Di Molfetta (Hus FS450)
4. Adam Clark (Hon CRF450)
5. Anthony Franco (Hus FS450)
6. Brianna McHugh (Kaw Ninja 400)
Souhegan Valley Motorsports HW Superbike
1. Scott Greenwood (Yam YZF-R6)
2. Rick Doucette (Yam YZF-R6)
3. Kip Peterson (Yam YZF-R6)
4. Ian Beam (Tri 675)
5. Anthony DiCecca (Yam YZF-R6)
Amateur HW Superbike
1. Michael Chase (Yam R6)
2. Anthony Wells (Kaw ZX-6R)
3. Owen Feeney (Suz GSXR 600)
4. Michael Guarino (Kaw ZX-6R)
5. Eric Cormier (Kaw ZX-6R)
Novice Starter 4
1. Michele Pierro (Kaw Ninja)
2. Ryan Imbeault (Kaw Ninja)
3. Victoria Darcy (Yam R3)
4. John Sommer (Kaw Ninja)
Maxima Amateur LW Supersport
1. Benjamin Claman (KTM 790)
2. Dan Pletea (Suz SV650)
3. Stephen Biehl (Suz SV650)
4. Bruce Marshall (Suz SV650)
5. Todd Fanciullo (Kaw Ninja 650)
6. Joshua Kruse (Suz SV)
Novice Starter 3
1. John Frayne (Suz 650)
2. Asher Rubright (Kaw Ninja 400)
Evans Coolant Amateur LW Sportsman
1. Thomas Sands (Kaw Ninja)
2. Christopher Girard (Kaw KX450F)
3. Alexander Kates (Hus FC 450)
4. Waylon Dempsey (Kaw Ninja 300)
Orient Express Amateur 500 Superbike
1. Alessandro Di Mario (Yam R3)
2. Thomas Sands (Kaw Ninja)
3. Roy Whitson (Yam R3)
Evans Coolant LW Sportsman
1. Christopher Woodman (Kra HKR EVO2 R)
2. Sergio Di Molfetta (Hus FS450)
3. Michael Tine (Hus FS 450)
4. Lee Schmidt (Hus Fs450)
5. Sam Lakas (Tm 450smx)
Yoyodyne Slipper Clutches LW Supersport
1. Nicholas Leighton (KTM 790 Duke)
2. Bill Coolahan (KTM Duke 790)
3. John Donald (KTM 790 Duke)
4. Peter Kates (Suz SV650)
5. Brian Faucher (Suz SV650)
6. Steven Heider (KTM DUKE)
Plaistow Powersports 500 Superbike
1. Brianna McHugh (Kaw Ninja 400)
2. Shane Lewis (Kaw Ninja 400)
3. Jacob Crossman (Kaw Ninja 400)
4. Lukas Doucette (Kaw 400)
5. Rick Doucette (Yam YZF-R3)
6. Renee Franco (Kaw Ninja)
Unlimited Superbike
1. Eric Wood (Kaw ZX-10)
2. Scott Mullin (Kaw ZX-10R)
3. David Dayon (Kaw ZX-10R)
4. Roger Ealy Jr (Kaw ZX-10R)
5. Jim Rich (Duc 1199 Panagale R)
Amateur Thunderbike
1. Matthew Paternoster (Suz SV 650)
2. Kevin Fogg (Suz SV650)
3. Dan Pletea (Suz SV650)
Thunderbike
1. Tim Hogan (Duc 749R)
2. Adam Guyer (Duc 1000DS)
3. Brett Guyer (Duc 748)
4. Edward Forer (Suz SV650)
Superbike Supply Amateur MW Superbike
1. Michael Chase (Yam R6)
2. Joe Ammendolia (Yamaha YZF-R6))
3. David Mink (Kaw ZX6R)
4. Owen Feeney (Suz GSXR 600)
5. Anthony Wells (Kaw ZX-6R)
6. Michael Guarino (Hon CBR600RR)
Novice Starter 2
1. Michael Lee (Suz GSXR)
2. Harrison Co (Yam R6)
3. Matthew Lewis (Yam YZF-R6)
4. Dennis Metzler (Duc 848 Evo)
5. Sam Martin (Hon CBR 600RR)
6. Aaron Booth (Yam R6)
Amateur Unlimited Superbike
1. Chris Arrighi (Apr RSV4)
2. Christopher Bouchard (Duc 848)
3. Kamran Pelkey (BMW S1000RR)
4. Joe Ruth (Apr 1000)
Novice Starter 1
1. Thomas Dixon (Duc 1199r)