SUZUKI'S SEAN DYLAN KELLY WINS TWICE AT ROAD ATLANTA
Brea, CA  – Suzuki Motor USA, LLC and Team Hammer kicked off the 2021 MotoAmerica AMA/FIM North American Road Racing Championship in midseason form, racking up a pair of victories, three podiums, and a pole position in the '21 opener at Road Atlanta.
The weekend's leading man was undoubtedly M4 ECSTAR Suzuki's Sean Dylan Kelly, who made good on his promise to come back even stronger in '21 following a five-win, championship runner-up MotoAmerica Supersport campaign a year ago.
'SDK' delivered back-to-back blowout victories from pole in MotoAmerica Supersport competition at Road Atlanta. He twice demonstrated his elite dog-fighting capabilities aboard his Suzuki GSX-R600 early before ultimately breaking his pursuers' challenge and escaping to take the checkered flag alone at the front.
As a result, Kelly now boasts four consecutive class victories dating back to the end of last season. The rising star said, "That was amazing. It's awesome to see fans here again cheering us on. This is what we work for as a team. For myself, this offseason, it was really tough after a difficult 2020 season. But this is what we work for.
"I came into 2021 better than ever, and my team came into 2021 better than ever. We worked really hard this weekend and this is our reward. We're going to keep going just like this. We're really strong and we're going to keep on fighting."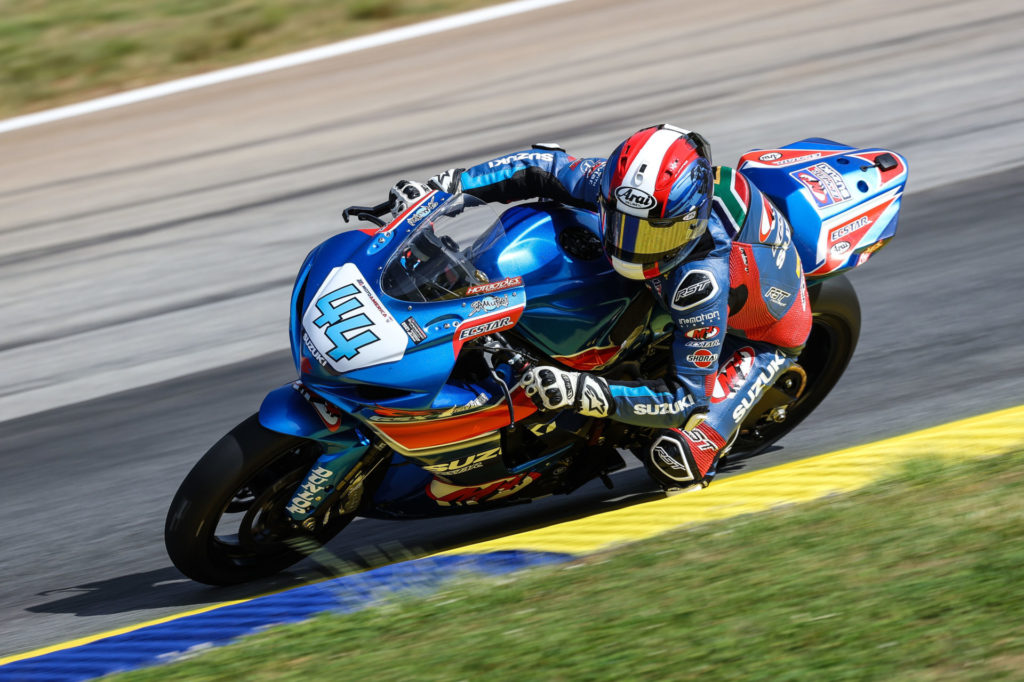 Kelly's new teammate, Sam Lochoff, impressed in his MotoAmerica Supersport class (and team) debut. The South African twice fought his way forward from the outside of Row 3, claiming a fifth-place result on Saturday and a seventh on Sunday despite still acclimating to the power of Suzuki's Supersport contender.
M4 ECSTAR Suzuki's Superbike duo of Bobby Fong and Cameron Petersen flashed serious potential and came away with a runner-up result and four top-fives despite battling against misfortune and difficult circumstances.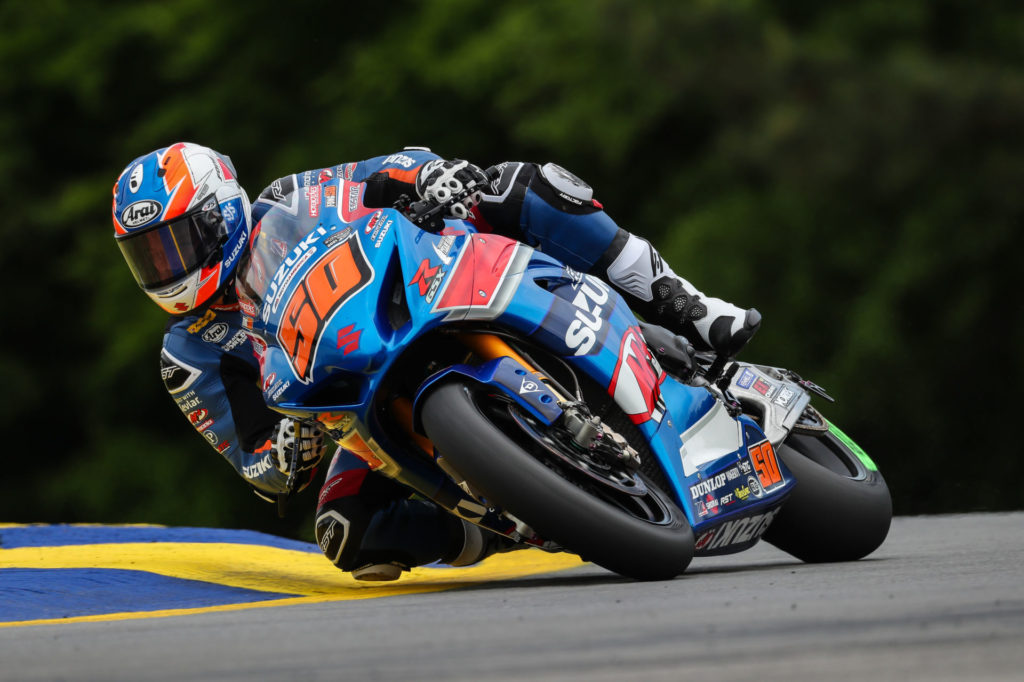 Fong stormed to second aboard his factory GSX-R1000 Superbike on Saturday and showed the pace to improve upon that position in Sunday's rematch.
Unfortunately, the Californian was judged to have jumped the start and was assessed a ride-thru penalty while running at the front of the pack. The penalty eliminated Fong from contention for the win, but Fong rode hard after serving the penalty and salvaged a fifth-place finish in the end.
"It wasn't a bad weekend. We came out in one piece with no crashes and got some points," said Fong. "I jumped the start in race two and I apologize to the team for that. The track is downhill there on the start and I got a bit of a roll. It's unfortunate, but that is part of racing. When I was leading, I didn't feel like I was pushing too hard and I felt comfortable racing with those guys. The team worked really well this weekend and I feel really good about our season."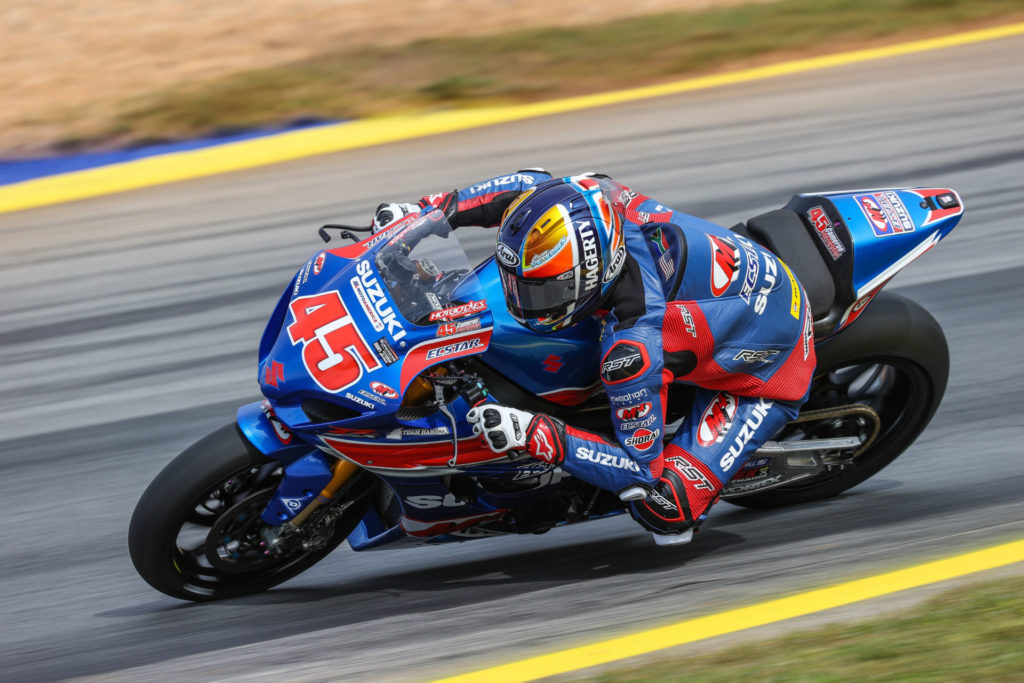 South African Cam Petersen scored a pair of fourths, despite riding at less than 100% due to a healing injured foot.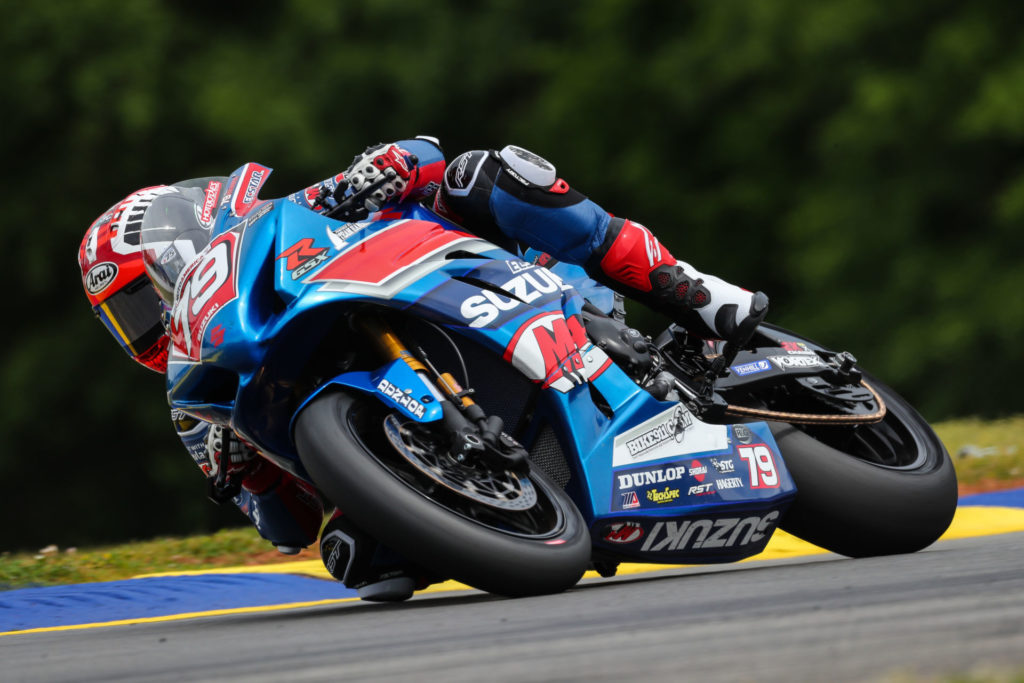 Unrealized potential was the theme for a number of other Suzuki pilots; M4 ECSTAR Suzuki's Wyatt Farris earned tenth- and 13th-place finishes in Stock 1000 after a preseason injury hampered his testing program.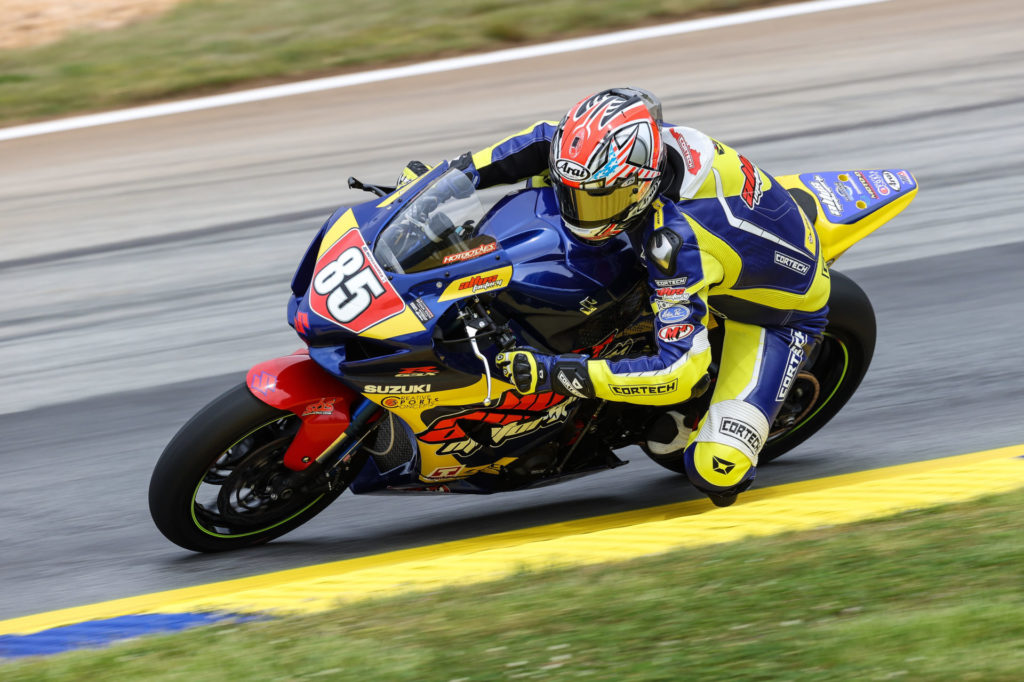 Altus Motorsports Suzuki's ultra-talented Jake Lewis twice teased race-winning potential on his Team Hammer-built GSX-R1000 in Stock 1000 before reeling in a pair of fourths.
Team Hammer and M4 ECSTAR Suzuki will look to make good on a promising opener when the 2021 season resumes at Virginia International Raceway in Alton, Virginia, on May 21-23.
More, from a press release issued by Jayson Uribe's publicist:
Jayson Uribe in MotoAmerica Top 10!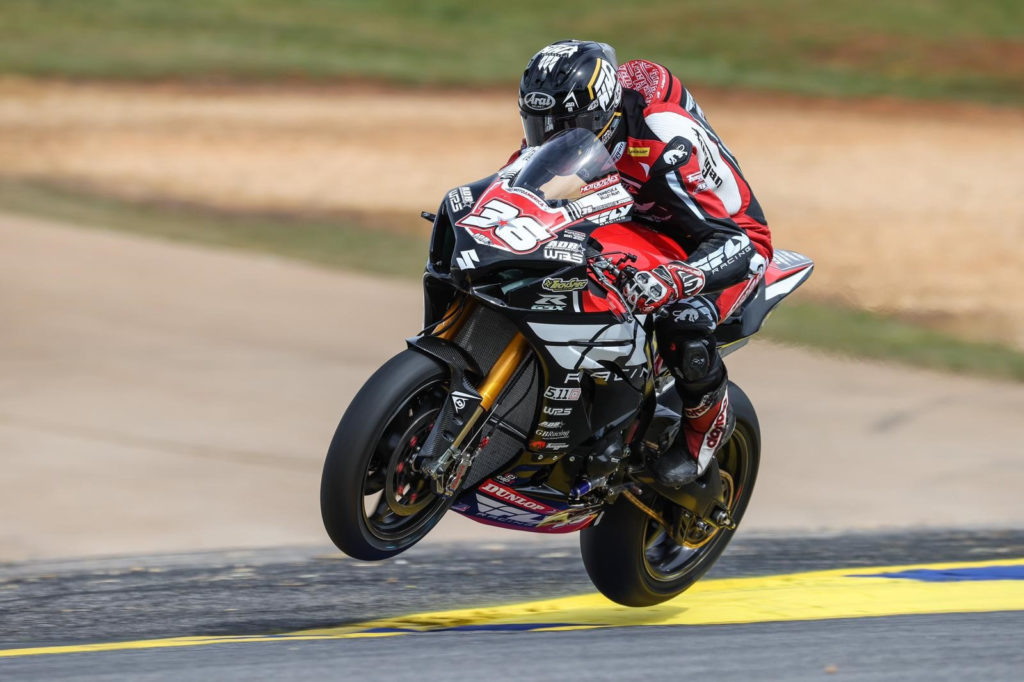 It was a challenging weekend for ADR Racing's Jayson Uribe, who ultimately walked away with a top ten finish yesterday, in the second Superbike race of the opening MotoAmerica event of the year, after a monster crash earlier in the weekend at Road Atlanta.
Now Suzuki mounted, Uribe made a promising start before falling heavily on Friday afternoon, resulting in a trip to the local hospital which thankfully revealed no broken bones. Determined to take to the grid, Jayson's first race on Saturday yielded no points, meaning a tough race on Sunday, the #36 having to start from nineteenth on the grid.
Working his way forward, Jayson was soon inside the top, where he eventually finished, collecting six points and his first top ten of the season. He moves on to Round 2 at VIR in a couple of weeks looking to build upon his exploits of the opening round.
Jayson Uribe: "Overall, it was an interesting opening weekend for the ADR team. We were off to a good start, right up until QP1 on Friday afternoon when we had a small piece of the rear brake fail, which caused fluid to get on to the rear tire and send me skyward. Absolutely no fault of anyone, just a faulty piece that no one could've predicted or planned for. Long story short, I was taken to the hospital for some X-rays and to fix up some scrapes. Still have all nine fingers though! I woke up on Saturday morning very sore, but ready to get back on the bike. My crew worked late into the night to make sure the bike was perfect, which I appreciate greatly. David Anthony (my team mate and boss) ended up having an off in QP2 and sustained an injury to his hand that ruled him out of the weekend. From that point on, my goal was just to finish the weekend and take-home points for the team. Race 1 on Saturday was rough, as we got tangled up in some oil from an incident in turn 1, which caused me to come to the pits to clean everything off. We went back out just to gather data and prep for race 2. In race 2, I was gridded in 19th from the finish in race 1, which gave me a lot of work to do. After clawing my way up to 10th, I decided to play it safe and bring home some points for the team. Overall, the ADR crew had a bit of a rough go at Atlanta. We are all looking forward to starting fresh for round 2!"
More, from a press release issued by Travis Wyman Racing:
Travis Wyman scores victory, podium at MotoAmerica Superbikes at Atlanta
BMW rider leaves Road Atlanta round with championship points lead in Stock 1000 Class, Superbike Cup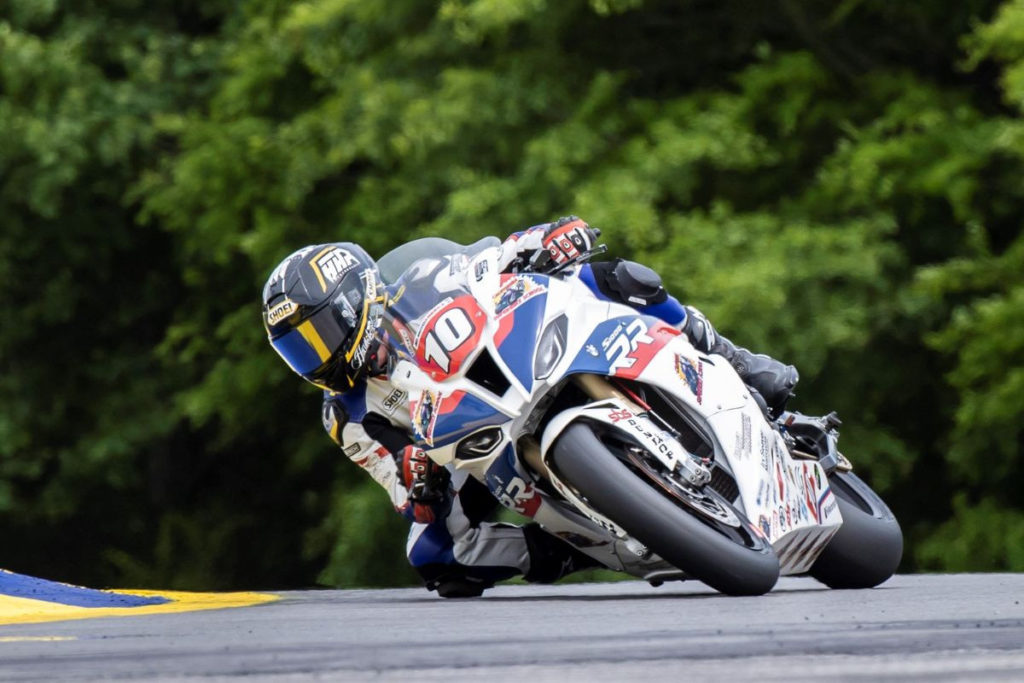 BRASELTON, Ga. — As Travis Wyman traveled to the Road Atlanta road course on Thursday, he was hoping his offseason testing program had done enough to help him get a good start to the 2021 MotoAmerica season. By the end of his fourth and final race of the April 30-May 2 event, the California Superbike School instructor had accomplished that goal and now sits atop the points standings in two MotoAmerica classes.
The Las Vegas rider kicked off his second season racing aboard a 2020 BMW S 1000 RR — with title sponsorship from Keith Code's California Superbike School — with a victory and third place in the weekend's two Stock 1000 races and was the top-finishing Superbike Cup rider in both MotoAmerica Superbike races.
Wyman was fast from start of the weekend, posting the fastest lap time in Stock 1000 practice on Friday morning. After having trouble getting a clean flying lap in Friday afternoon's qualifying session due to a crowded racetrack, Wyman finished Saturday qualifying in second.
Saturday afternoon's Stock 1000 race saw Wyman recover from a lackluster start to claim a podium finish. After falling back to fifth place at the end of Lap 1, Wyman battled with several other riders for the duration of the 13-lap race. The only lap Wyman crossed the start/finish line in third place was the last lap. Wyman also ended that race with an exclamation point, breaking the lap record for the MotoAmerica Stock 1000 Class at Road Atlanta with a time of 1:26.949 on the final lap.
Later Saturday, Wyman lined up for first Superbike race of 2021. After starting the race 12th on the grid, Wyman fell as far back as 14th before charging forward to ninth place by the end of Lap 3. Attrition farther up the field moved Wyman up the running order. He finished the race in seventh and secured the best finish among the Superbike Cup riders.
For Sunday's Stock 1000 race, Wyman got a better start and gradually reeled in the race leader. After making a draft pass for the lead on Lap 9, Wyman built a commanding lead, taking the victory by a margin of 2.876 seconds. Later Sunday afternoon, Wyman scored his second top-10 Superbike finish of the weekend. Starting from seventh place on the grid, Wyman held off a challenge from another Superbike Cup rider to score a eighth-place finish and a second-consecutive first place among the Superbike Cup field. Wyman also lowered his personal best lap time around Road Atlanta when he posted a 1:26.690.
The next round of the 2021 MotoAmerica season takes place May 21-23 at VIRginia International Raceway in Alton, Va. The track is one of Wyman's favorites on the MotoAmerica schedule, and he has recorded a win and a third-place in MotoAmerica's last two Stock 1000 races on the facility's 2.25-mile North Course.
Travis Wyman / No. 10
"The weekend at Road Atlanta went about as good as it could have. If I'd gotten a better start in Saturday's Stock 1000 race, I think I would've been in contention to win that race too. I've had success here before, but I put this year's good results down to being prepared for the start of the season. Thanks to my Irv Seaver BMW-sponsored offseason testing program, I felt comfortable pushing my BMW from the start of the weekend and had great pace from the first practice session. I got a better start in Sunday's Stock 1000 race, and my team had my BMW dialed in. It's been an amazing weekend, but there's still a lot of racing to go this year. I really enjoy racing at VIR, and I think we'll be in the hunt for more victories there."
More, from a press release issued by Robem Engineering:
Robem Engineering riders endure difficult race Sunday on final day of MotoAmerica Superbikes at Atlanta
De Keyrel, Schultz, Khamsouk unable to take part in restarted Twins Cup race after suffering crashes at Road Atlanta's Turn 1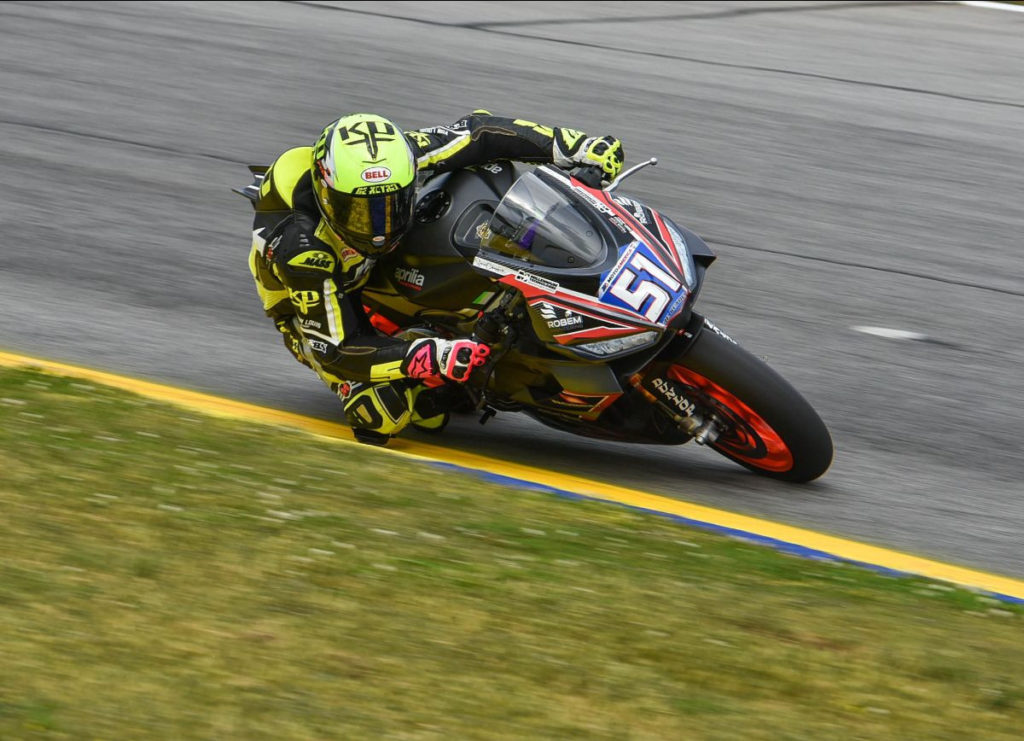 BRASELTON, Ga. — Saturday afternoon, the Robem Engineering team was celebrating the triumphant debut of the Aprilia RS 660 in MotoAmerica Twins Cup competition. About 24 hours later, the team's three riders were unable to finish Sunday's Twins Cup contest, as Kaleb De Keyrel, Hayden Schultz and Toby Khamsouk all crashed out of the race at the start of Lap 8.
Despite not claiming any championship points Sunday, all three Robem Engineering Aprilias were running in the top seven or better for the first seven laps of the race, with De Keyrel and Schultz locked in a battle for the race lead. The team leaves the first of nine MotoAmerica rounds in 2021 with a win and a podium finish in the books, as well as two riders in the top nine in the Twins Cup points standings.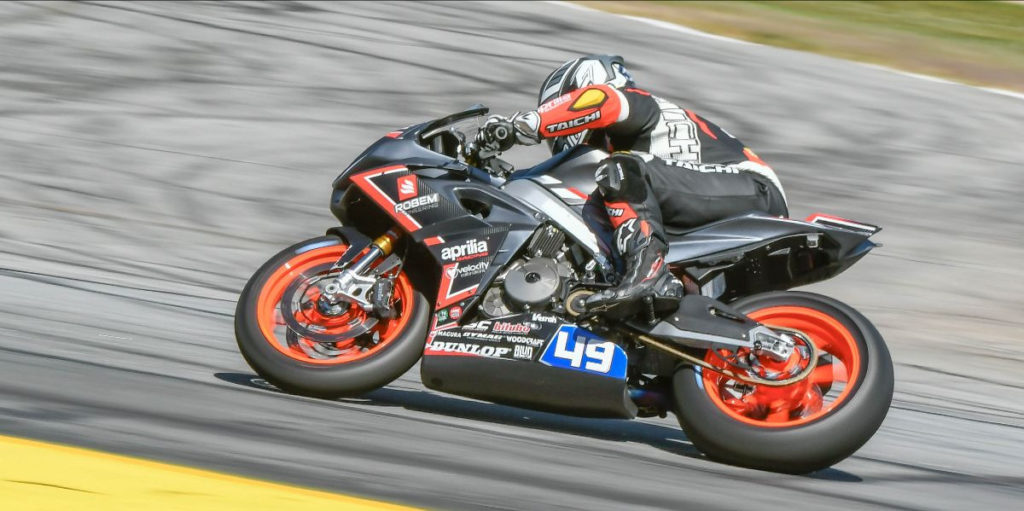 At the start of Sunday's Twins Cup race, it was De Keyrel who grabbed the holeshot and led the field into Road Atlanta's uphill Turn 1. From there, it was a four-way battle for the lead, with De Keyrel and Schultz taking their turns at the front of the quartet. De Keyrel was consistently fast, posting a 1:35.180 on Lap 4 – the fastest lap of the race at that point in time – then besting that time on Lap 6 with a 1:35.703. As De Keyrel was vying for the lead at the start of Lap 8, fluid began leaking from his bike, causing De Keyrel, Schultz, Khamsouk and another rider to crash as they entered Turn 1. The race was stopped and, due to damage all three bikes suffered in their respective crashes, none of the Robem riders were able to take part in the restarted race.
The Robem Engineering team will be back in action at Round 2 of the 2021 MotoAmerica season, which takes place May 21-23 at VIRginia International Raceway in Alton, Va. The tight, twisty nature of VIR's 2.25-mile North Course should suit the good handling characteristics of the Aprilia RS 660, and all three riders will aim to further their goal of winning Aprilia's first MotoAmerica title.
Robem Engineering's technical partners for 2021 include The Center for Plastic Surgery, Velocity Calibrations, Bitubo Suspension, Dunlop, Woodcraft Technologies, Dymag, Vesrah, DNA Filters, Magura USA, Sara Chappell Photos, NGK/NTK, Blud Lubricants, Millennium Technologies and SC-Project.
More, from a press release issued by Pure Attitude Racing:
Podium, a brace of top tens, points for all four riders – MotoAmerica started in style for Pure Attitude Racing in Atlanta
Pure Attitude Racing made their intentions clear in the opening round of the 2021  MotoAmerica series at Road Atlanta this past weekend. Trevor Standish raced to a maiden Twins Cup podium, his team mates securing solid race finishes in both Supersport and Twins Cup too!
The weekend began in style in Gainesville Square where all four riders attended the annual 'Season Kick Off' Party, one of the team's machines was also on display.
When the on-track action got underway on Friday, riders Nate Minster and Austin Miller made great strides between sessions in Supersport, the pair showing great speed and potential on the opening day of season. Both riders improved further in final qualifying, although Nate Minster took a spill which ruled him out of Race 1. Twins Cup duo, Liam MacDonald and Trevor Standish had an up and down day one but bounced back in style to qualify strongly ahead of their two races.
Looking back at the races – two in both classes – the team are delighted with the performance of all four riders who each ensured a bag full of points as the season heads to Virginia International Raceway in a couple of weeks.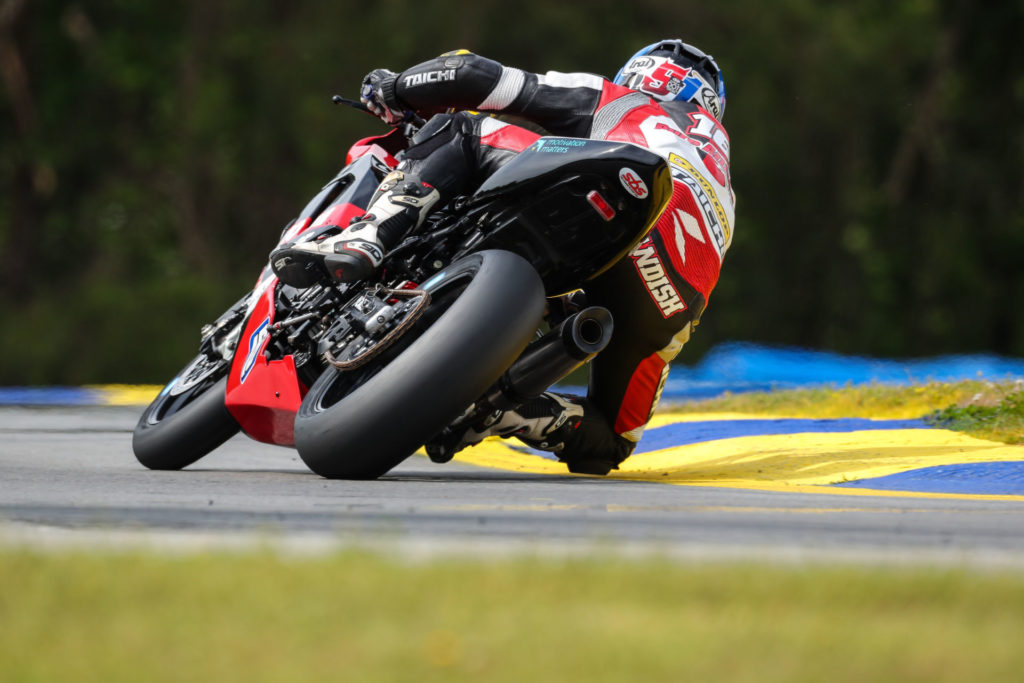 Trevor Standish began his title campaign in Twins Cup with a fighting fourth on Saturday, which he followed up with a stunning ride to P2 on Sunday, the #16 leaving Road Atlanta with the championship lead! Liam MacDonald showed that he has lost none of his speed, despite not racing competitively for over a year. The Kiwi, who is making is MotoAmerica debut this season, finished tenth and seventh, declaring himself content with the weekend, and delighted with how welcome Pure Attitude Racing have made him feel.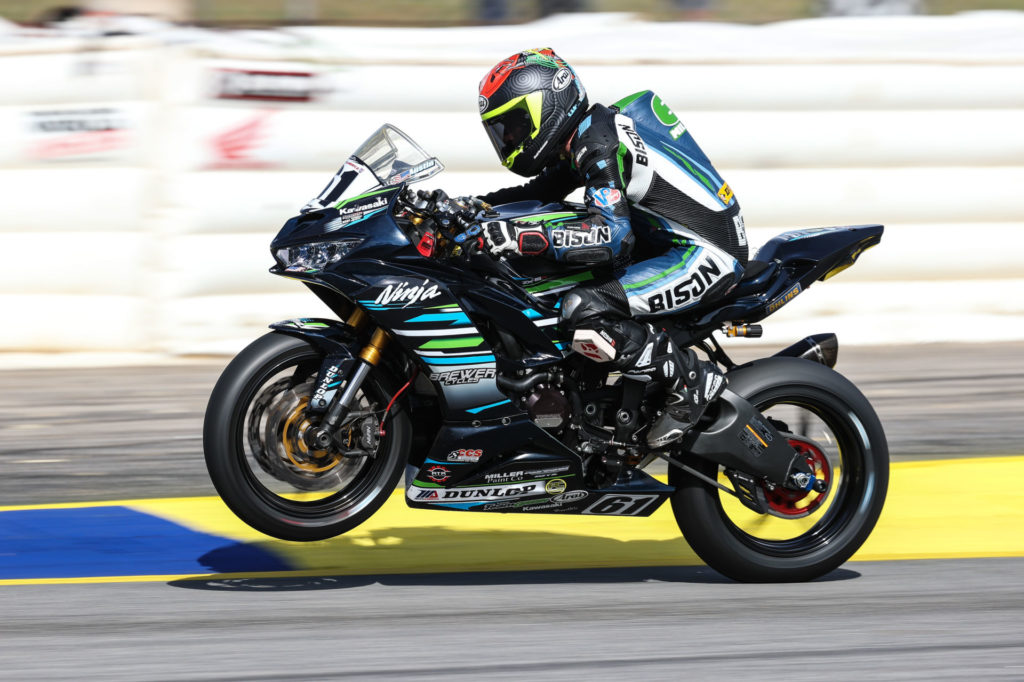 Austin Miller opened his points tally with a career equalling best result of twelfth, the #61 Kawasaki rider running strongly in race too, before a small issue meant he had to retire. Nate Minster, who had initially qualified on the third row of the grid, secured the team's third top ten finish of the weekend, taking eighth in a confidence building ride on Sunday.
Trevor Standish 4th / 2nd: "The season got off to a great start. I finished fourth on Saturday which was a career best finish in the Twins Cup class for me. I made another good start in Race 2 on Sunday and was running a strong fifth. I was hanging with the lead group and I noticed some smoke along the main straight. I had made a couple of mistakes, which was lucky in hindsight as there was a three-rider crash into Turn 1. I knew it must have been fluid, so I was extra cautious. We regrouped and I made the hole shot and was able to pressure Teagg Hobbs throughout. It was a great feeling to lead the opening lap and a half and to be able to fight for the win. I made the fastest lap of the race on the last lap and am leading the Twins Cup championship too which is unbelievable, I actually have no words. The next round is at one of my favourite circuits – VIR – and I hope we can keep the momentum going. I want to thank the whole Pure Attitude Team for all their hard work this weekend, especially Kent and AJ, and thank the fans for going so crazy at the podium!"
Liam MacDonald: 10th / 7th: "Q2 I was frustrated to only get one clean lap, but the main thing is that I made the grid after the crash in Q1. For the race, from lap seven to eleven I was in survival mode. I couldn't feel my arms or my hands. I could barely twist the throttle. I lost a couple of places on the final lap but that's racing. I learned a lot and to finish my first race in the US in the top ten is more than I expected. I am really stoked with how Race 2 went. I'm upset that I made a mistake on the last lap but that won't happen as I get more used to the bike and I understand how to race a Twins Cup bike. We aren't quite there with the perfect set-up, but we aren't far away, and the potential is there. I need to improve my physical fitness, I haven't raced for over a year, but I am confident that we can run in the top six pretty soon. I am so happy for my team mate Trevor and so happy for the team. I already feel part of the Pure Attitude family and I cannot wait for the next race."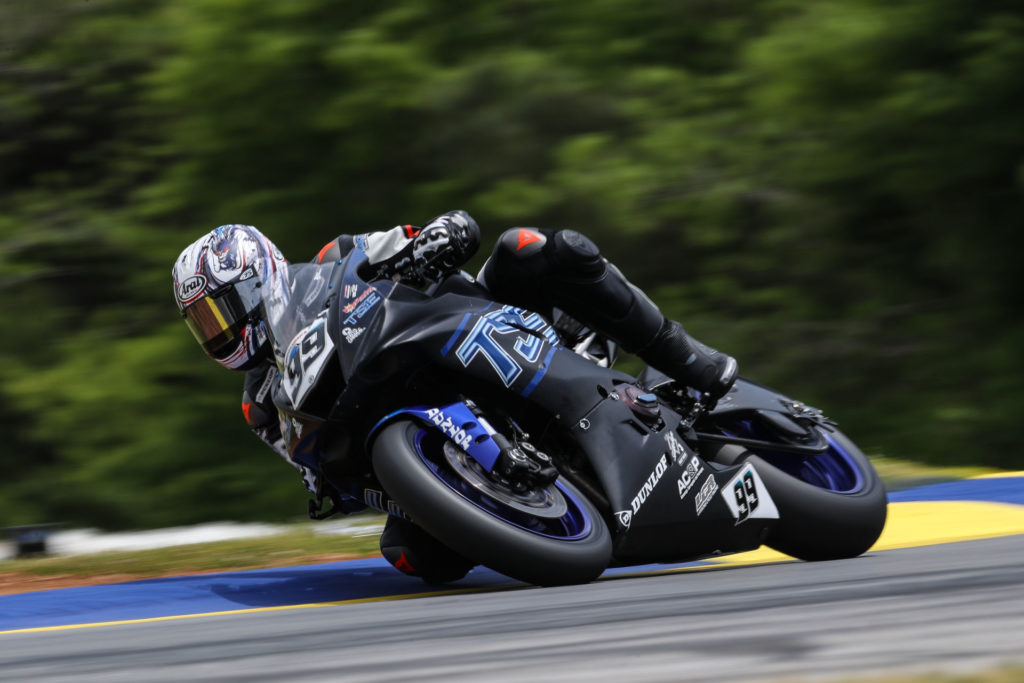 Nate Minster – DNS / 8th: "Qualifying went well, especially on Saturday when I was able to improve my time by over a second. I crashed heavily though towards the end of Q2 and despite the best efforts of the team I was unable to make the grid for race one. We were able to race on Sunday and whilst I didn't feel the best after my Q2 get off, I was able to make a good start and was chasing for seventh. I ended up eighth, which when you consider what happened and the work, we had to do to get back out there isn't too bad."
Austin Miller: 12th / 15th: "Race one went great despite a rough opening lap on the initial start. I shifted into third gear and got on the gas a little too hard out of Turn 10 and as I crested the hill towards the final turn the front wheel went skywards. Luckily, I was able to get it stopped but was dead last after going through the gravel. The next lap there was a red flag which really helped me out. My initial jump on the restart wasn't great but I avoided another incident at Turn 1 and was able to bring it home in the twelfth position and I was able to improve my lap time again, in race conditions. Race two there was another red flag unfortunately when I was running in the top fourteen. I was able to run in the points in the restart but with three laps to go I had a small problem with the bike. I lost power and had to reset it which worked but the issue happened again, and I had to retire to the pits."
More, from a press release issued by Bob's BMW Jeremy Cook Racing:
Bob's BMW Jeremy Cook Racing, presented by Motorcycle Xcitement, scores points-paying finish in first time racing at Road Atlanta in MotoAmerica season opener
BMW rider places in top 20 in MotoAmerica Stock 1000 races on Saturday, Sunday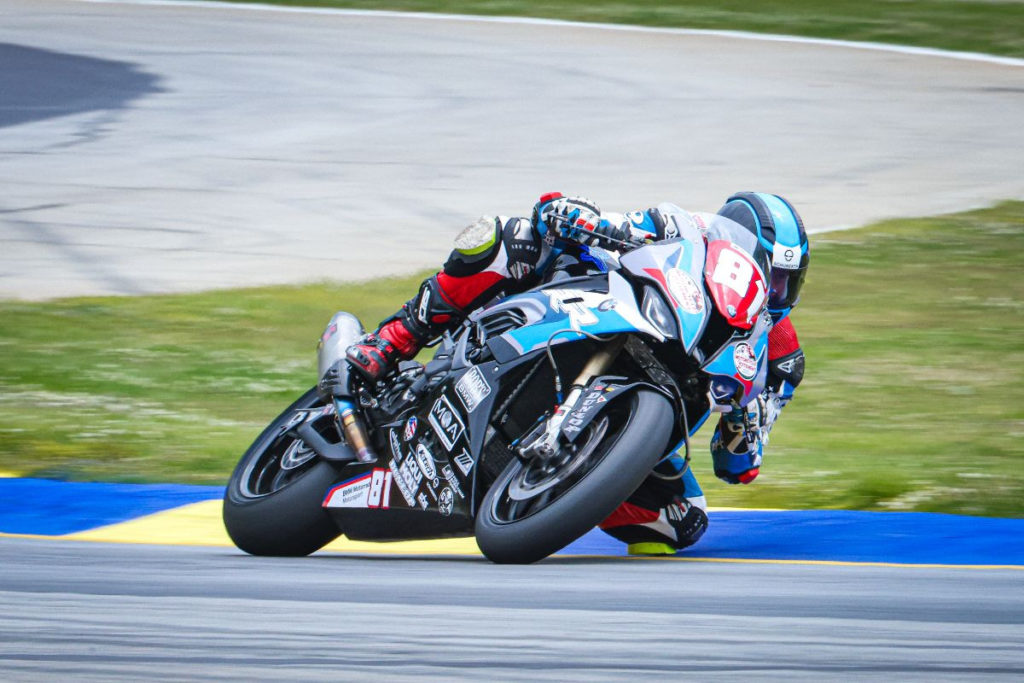 BRASELTON, Ga. — For Jeremy Cook, his first full pro road racing season started at a track he'd never ridden on before. Despite enduring mechanical problems with his BMW S 1000 RR on Thursday and Friday, the Bob's BMW Jeremy Cook Racing rider got a positive start to his first full MotoAmerica racing season when he finished in the points in Sunday's Stock 1000 race.
Cook – who is an instructor for presenting sponsor Motorcycle Xcitement — first competed in a MotoAmerica race in 2015, and MotoAmerica's season-opening Superbikes at Atlanta round marked the first of nine MotoAmerica rounds that Cook plans to compete in this year.
After encountering problems with his motorcycle's clutch system Thursday night while prepping the BMW and Friday during the Stock 1000 Class' Friday practice session, Cook qualified 23rd for the weekend's two Stock 1000 races.
In Saturday's race, Cook moved up three positions on the first lap, crossing start/finish in 20th-place. He got past another rider on Lap 2 and maintained 19th place to the end of the contest. In Sunday's Stock 1000 race, Cook made another good start and was running in 15th place at the end of Lap 1. Though Cook dropped as far as 18th on Laps 8 and 9, he recovered in the latter stages of the race to finish 15th and claimed his first championship point of his 2021 campaign.
The next stop on MotoAmerica's schedule is VIRginia International Raceway May 21-23. Though Cook has some bad memories of the Alton, Va., track from a severe crash he suffered there in 2009, the Maryland rider also has ample experience on the facility's 2.25-mile North Course and will be targeting his first top-10 finish of 2021 that weekend.
Jeremy Cook / No. 81
"It was a bit of a struggle this weekend at Road Atlanta. We raced in several Championship Cup Series races at New Jersey Motorsports Park last weekend and thought we were fully prepared for what lied ahead. It was my first time racing at Road Atlanta, and it's a steep learning curve with this very physical racetrack. Between trying to get the bike set up for a track we didn't know and the mechanical issues we dealt with Thursday and Friday, it felt like we were behind the eight-ball most of the weekend. I have to give a huge shout out to Roger Lyle of Motorcycle Xcitement for helping us with track knowledge and technical support. I learned a lot about racing at Road Atlanta by going to school on the riders I was competing against and was able to use that knowledge to score Sunday's points-paying finish. My bad memories of VIR still linger in my head, but I'm happy to be heading to a track my team and I know well."