Pirelli-Shod Army Of Darkness Takes WERA/N2 Endurance Victory At Pittsburgh International Race Complex
After two rounds of coming up a little short at the finish line, AOD finally claimed their first dry weather win on Pirelli tires and reclaimed the overall championship points lead with one round remaining.
Under clear skies, AOD veteran rider Chris Peris took the lead on the first lap and slowly built up a 55 second gap on the field before the first pit stops.  The AOD crew eked out a few more seconds with a perfect rear tire change and refueling.  Xavier Zayat took over the controls for the second stint which would be his longest career endurance stint yet.
To keep it sporting, AOD botched their second pit stop but so did the chasing team, zeroing out any advantage gained or lost in the pits.
Peris again stretched out a lead in his second stint and right at the third hour mark was able to pass the last other bike on the lead lap.
The victory brought AOD back into the overall endurance championship points lead but the championship is wide open going into the last round at Summit Point.
Zayat offered: "The kit Yamaha ECU unlocks a lot of potential on these R1s but it does take a lot of work to match the electronic settings to the suspension and, of course, the tires.   I have a lot of experience with the Pirellis and we were able to take advantage of the break in the race calendar to do some real development work on the bike.  We spent a few test days working as a team to try to optimize our setup for race distance and the win today really rewards the team for all the extra effort over the last month!  Due to a FedEx delay we even had a crew member act as a motorcycle courier to ride five hours in the rain to deliver our reconfigured Thermosman K-tech shock to the track."
Melissa Berkoff (head mechanic): "Last year we didn't remove a shock all season but the competition is a lot stiffer this year so we've gotten really good at popping shocks on and off, in the trailer, in the garage, in the pits, you name it.  Luckily Tim Gooding (crew chief) and I get to focus on the mechanical aspects of the motorcycle and we make Ben Walters and Sam Fleming sort out the data analytics and the ECU programming.  My favorite aspect of these races is working together as a team, and then getting to appreciate the pure talent and kinetic beauty of Chris, Xavier, and Ben when they are pushing the bike."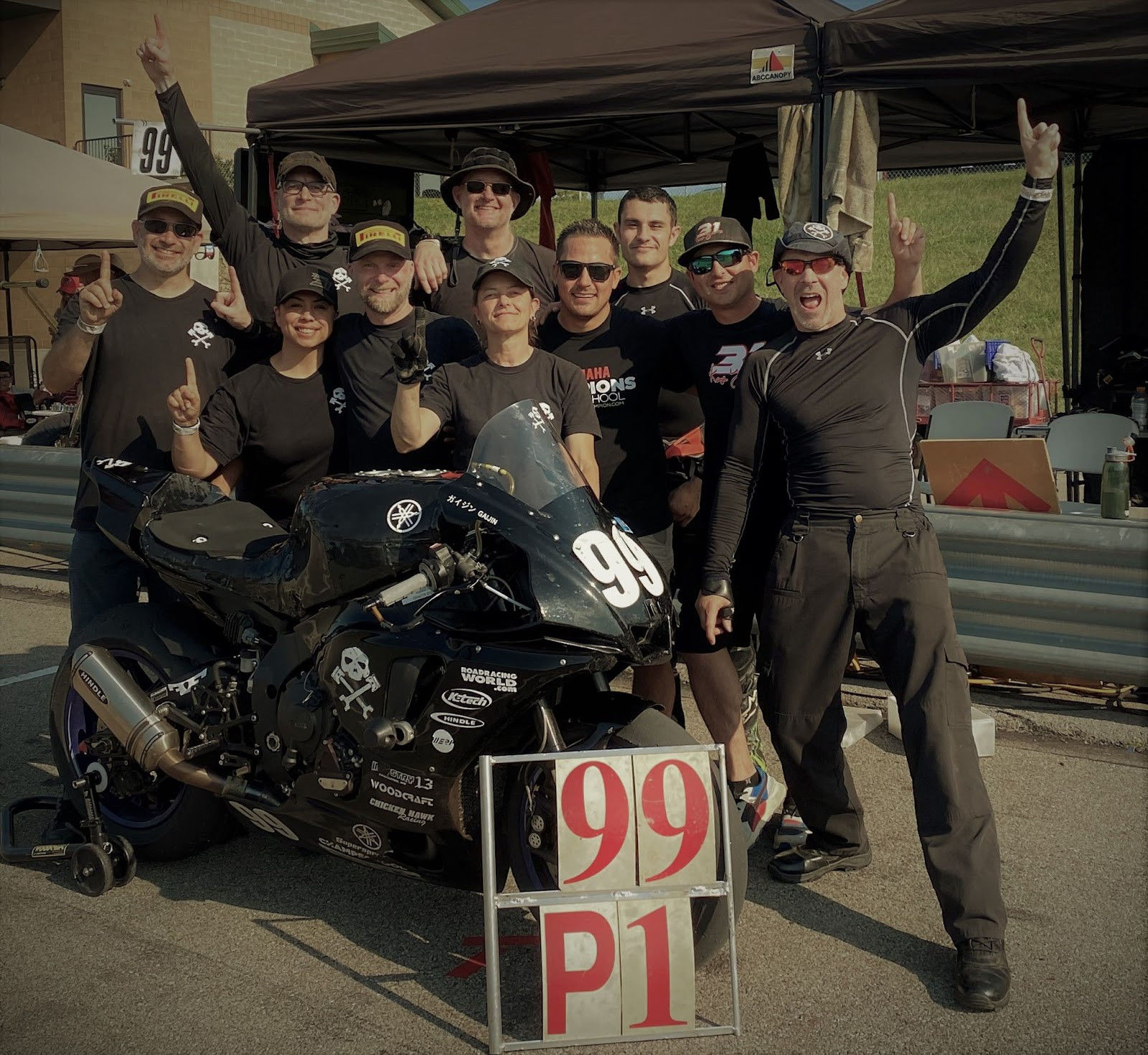 AOD is sponsored by: Army of Darkness, Pirelli, Yamaha Champions Riding School, Yamaha, Chicken Hawk Racing, Woodcraft, Hindle, K-Tech, Fast Frank Racing, Supersprox, Thermosman, N2, Industry13, WERA, Roadracing World.