Army Of Darkness Wins Overall And Heavyweight Class at the N2/WERA National Endurance Race by Dunlop at Pittsburgh International Race Complex
Army of Darkness' (AOD) Josh Hayes, Chris Peris, Ben Walters, and Cody Wyman took the Heavyweight class and overall victories at Round Four of the N2/WERA National Endurance Series by Dunlop six-hour race at Pittsburgh International Race Complex, in Wampum, Pennsylvania.
"It was the first time in 30 years that we loaded the racebike into the trailer heading to the track which was not capable of turning a lap," said AOD Crew Chief Tim Gooding. "We had a leaking countershaft seal at our test on Monday and fortunately Josh Hayes was testing with Attack Performance, so he hand carried the part for us on his flight to Pitt and we pressed the seal into place on Friday morning at the start of practice.  That was a first for me."
With the "retaining oil" problem resolved, the race was not without incident.
"We had the strongest rider line up we've ever had for a race with Josh Hayes, Cody Wyman, Ben Walters, and the long-awaited return of Chris Peris," said Chief Mechanic Melissa Berkoff. "We knew that our lap times were going to be competitive and relentless as each rider was going to be fast, so we were really keeping one eye on the weather and the other on the fickle and capricious nature of the endurance racing goddess."
Starting from pole position, Hayes took the lead of the race from lap one and AOD never relinquished it, ultimately finishing two laps ahead of the second-place team.
"We got a little bit of a break because the first rain storm came exactly when we needed to pit for fuel and tires anyway," said Wyman. "The crew were watching the minute to minute weather and left me out a few extra laps dipping into the reserve fuel to put rains on just when we needed fuel.  The Dunlop slicks worked surprisingly well on a wet track!"
"There is always something to learn on a road race bike and endurance racing gives a lot of opportunities for those lessons," said Hayes. "The weight bias on the bike, the hard compound tires, having to mix up the lines to move through traffic, and the changing conditions.  My least favorite time on a race bike is being out on a dry track on deteriorating rains, so guess what they made me do!"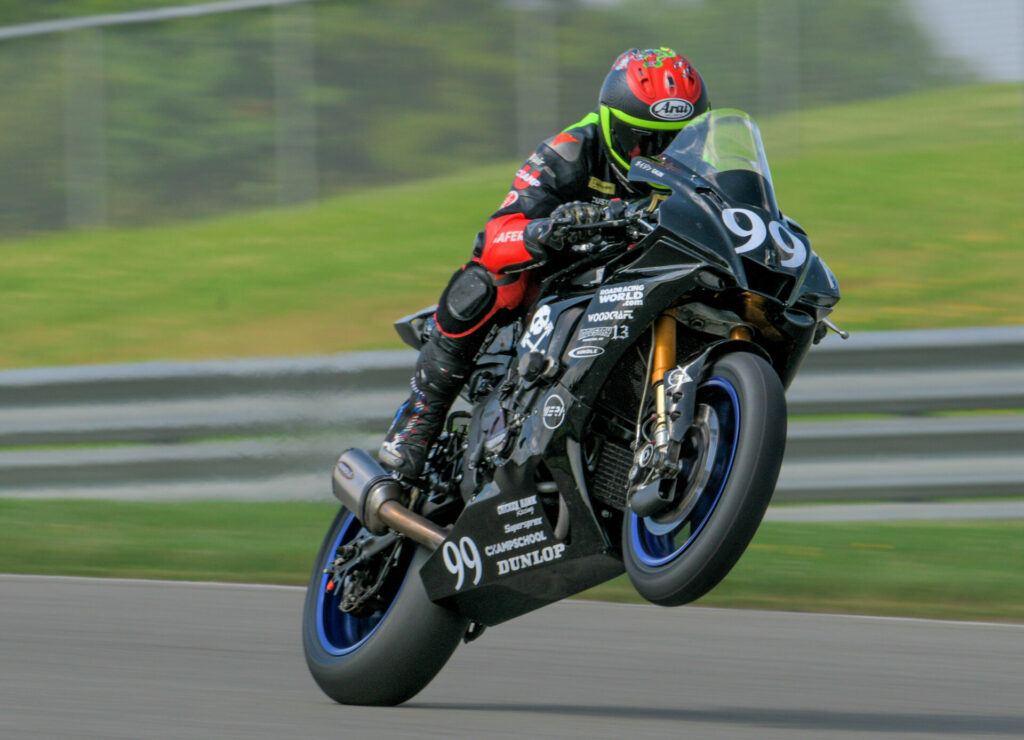 "I was going around the outside of a rider in six when he lost the front, straightened up and T-boned me at about 120 mph," said Chris Peris. "The impact deployed the air bag on my suit and bent my right clip-on down like a vintage board track racer and pushed me off into the rain soaked grass at about 100 mph.  The whole time I am thinking "DO NOT DROP THE BIKE OUT OF P1!"  I got back onto pavement and got back down to pace but with my airbag deployed I couldn't really see or move.  And the bent clip-on was barely usable.  I did about ten laps like that before the lightning warning red flagged the race.  Welcome back to endurance racing!"
AOD is sponsored by: Army of Darkness, Dunlop, Yamaha Champions Riding School, Yamaha, Industry 13, Woodcraft, Hindle, Supersprox, Thermosman, N2, WERA, Roadracing World.
https://www.youtube.com/channel/UCyVVPKiHYQ52FqkoPkI-vEQ?sub_confirmation=1
More, from a press release issued by N2 Racing:
Army of Darkness wins the largest Ever N2/WERA National Endurance Event at Pitt Race.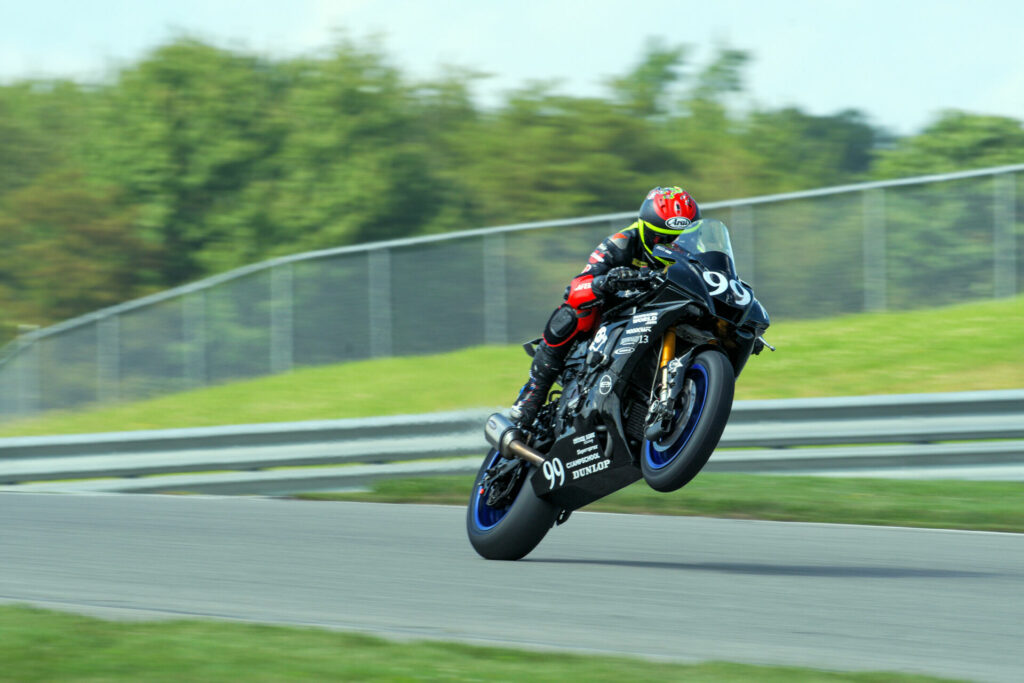 Media, PA (August 2023) – Army of Darkness won the N2/WERA National Endurance Series by Dunlop 6-Hour race at Pittsburgh International Race Complex. The event, held on Saturday August 12th, was the largest N2 motorcycle endurance event ever held with more than 87 teams competing for a lucrative cash purse and championship bonuses.
The 6-hour race started under beautiful Pennsylvania blue skies with Josh Hayes starting from pole on the Dunlop equipped Army of Darkness YZF-R1. Hayes led into Turn One and the Army of Darkness team never relinquished the lead for almost four and half hours until the race was stopped for lightning in the area. The paddock waited patiently for the weather to clear, and a little after the five hour and thirty-five-minute mark the track gave the ok to resume race.  Race officials looked at the time required to get corner workers and safety personnel back in position and at three additional storms cells approaching. It was concluded that there simply was not enough time to get the race restarted safely before the 6-hour mark and the decision was made to call the race at the time of the weather-related red flag.
Army of Darkness extended their overall championship points lead and Heavyweight class points lead with the victory in both classes. Riders Josh Hayes, Cody Wyman, Chris Peris and Ben Walters have been fast and consistent all year on their Dunlop-quipped Yamaha YZF-R1 with very few mistakes. Roll Tide Racing came all the way from Colorado to finish second in the Heavyweight class on a BMW S 1000 RR. Team Keep it on the Pipe finished third on a Kawasaki ZX-10R with riders Alex Irzyk, Patrick Plowman, and Eric Vowels.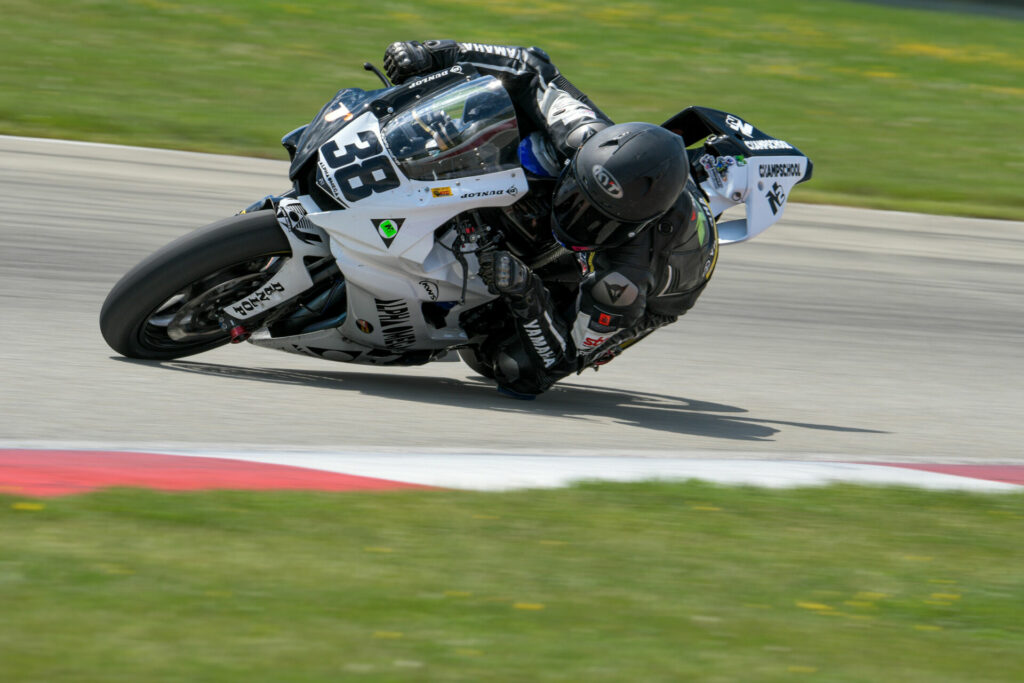 The Alpha Omega Endurance Team won the Middleweight class race on a Dunlop-shod Yamaha YZF-R6 with riders Anthony Mazziotto, Blake Davis, Eziah Davis, and Emerson Amaya. Alpha Omega ran the fastest lap times in middleweight by a large margin and completed fast pitstops for a dominant win. LaRoche Racing finished second on a Dunlop-equipped Yamaha YZF-R6 with riders CJ LaRoche, Chris Murphy, and Craig Frantz.  Mi Scusi finished in third with riders John Hvizdak, Sloan West, Thomas McQuigg and Tim Wilson also on a Yamaha YZF-R6.
The Lightweight Class was won by endurance veterans RBoM Racing led by the legendary Russell Masecar. Russell used brilliant pit strategy and a bit of luck to secure victory on a Suzuki SV650 with riders Giacomo Manera and Ryan Wolfe. Robem Engineering finished in second place with riders Gus Rodio, Toby Khamsouk, and Alessandro DiMario on an Aprilia RS 660 and 419 Racing finished third with riders Jerry Reeves and Jon Crawford.
The Ultra Lightweight 2-Hour Endurance was an incident-free affair with 46 teams competing on a variety of motorcycles. SportbikeTrackGear.com's Max Van rode the entire event solo to a victory of more than 45 seconds over Ready to Ride's Ryne Snooks. Team ECB/Bartcon Racing finished third. All of the top three teams used Kawasaki Ninja 400s.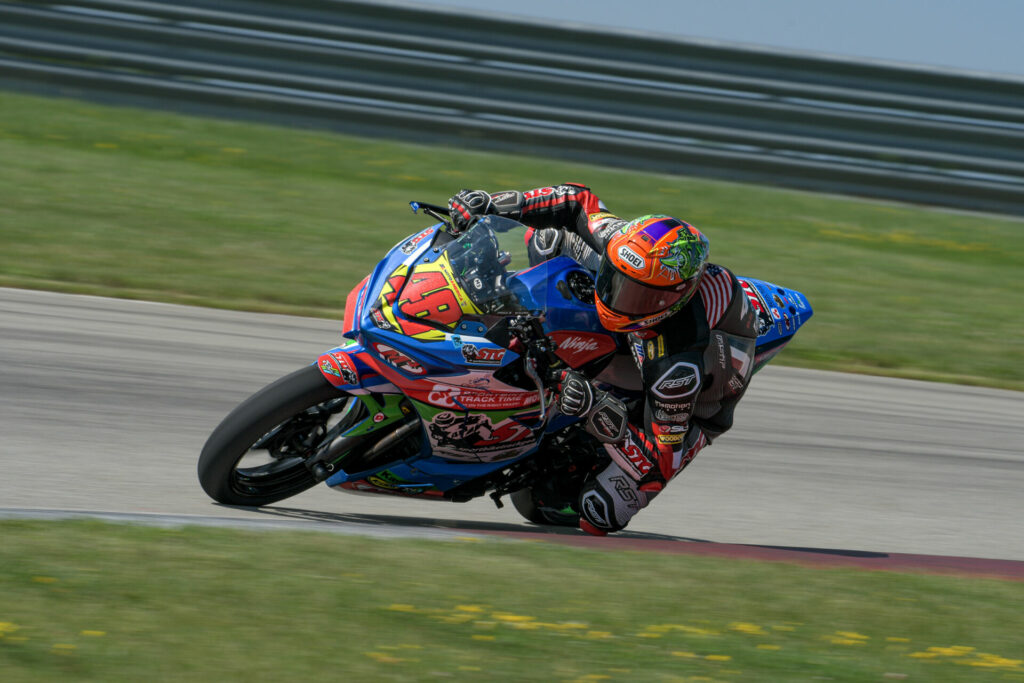 The Relay Class is a unique exhibition class intended to get teams into endurance racing without building a dedicated endurance program. Each rider on the team can use their own bike and switch transponders with their teammates instead of performing complete pit stops. Nature Power Superbike dominated the relay class and turned the fastest lap time of the event with riders Jason Waters and Dan Kruger. We R1 Endurance Race Team finished in second and Team Half Send finished third.
About N2:  N2 – Ride, Learn, Race.
Founded in 2014, N2's mission is to build a sustainable motorcycle community through safe, structured motorcycle track days, advanced rider training programs based on Yamaha Champions Riding School teaching methods, with a strong affinity for motorcycle road racing. N2 successfully resurrected Motorcycle Endurance Racing in America partnering with WERA Roadracing and creating the N2/WERA National Endurance Series by Dunlop. N2 is a premier participant in the MotoAmerica Pro Racing Series with a multi-rider team competing in several classes. N2 is also a major contributor to the Roadracing World Action Fund through fundraising efforts and support from its large member base.
The N2 National Endurance Series is proudly sponsored by: Dunlop Motorcycle Tire, Yamaha Motor Corporation USA, Dainese, Woodcraft Technologies, BobbleHeadMoto, WERA Road Racing, KYT Helmets America, R.E.B Graphics, Millennium Technologies, Wiseco Pistons, JE Pistons, Rise Moto, Ghetto Customs, Pit-Lane Moto and Yamaha Champions Riding School.
For more information: www.n2td.org