Alpha Omega wins the N2/WERA National Endurance Race May 26 at Road Atlanta
Media, PA (May 2023) – Four hours is a long time to race a motorcycle and virtually anything can happen in endurance racing. The Alpha Omega Endurance Team beat longtime endurance juggernauts Army of Darkness for the overall win on a Middleweight-class Yamaha YZF-R6. It was the first time a Middleweight bike has won the overall in as long as anyone can remember.
The N2/WERA National Endurance Series by Dunlop got off to a great start with 70 teams registered for the first round at Road Atlanta battling to claim the lucrative purse and bonus packages.
The battle for the win across all classes was hard fought and filled with drama. Army of Darkness, with riders Josh Hayes and Cody Wyman, were the favorites for the win and took the lead early in the race. Wyman started the race and ran an incident-free one-hour-long stint, before handing the bike to Hayes. The second stint was filled with red flags, and one incident put oil on the exit of Turn 10B. When Hayes came through on the restart he crashed in the oil dry but picked the bike up quickly with only light damage to the ultra-durable Woodcraft rearsets. This proved to be a pivotal moment as the Army of Darkness team would have to change rearsets at the next pitstop. Fortunately, Woodcraft builds their parts to be serviceable and the pitstop was completed without Army of Darkness even losing a lap. When Wyman took over, the Army of Darkness team was down a little over a minute and 20 seconds.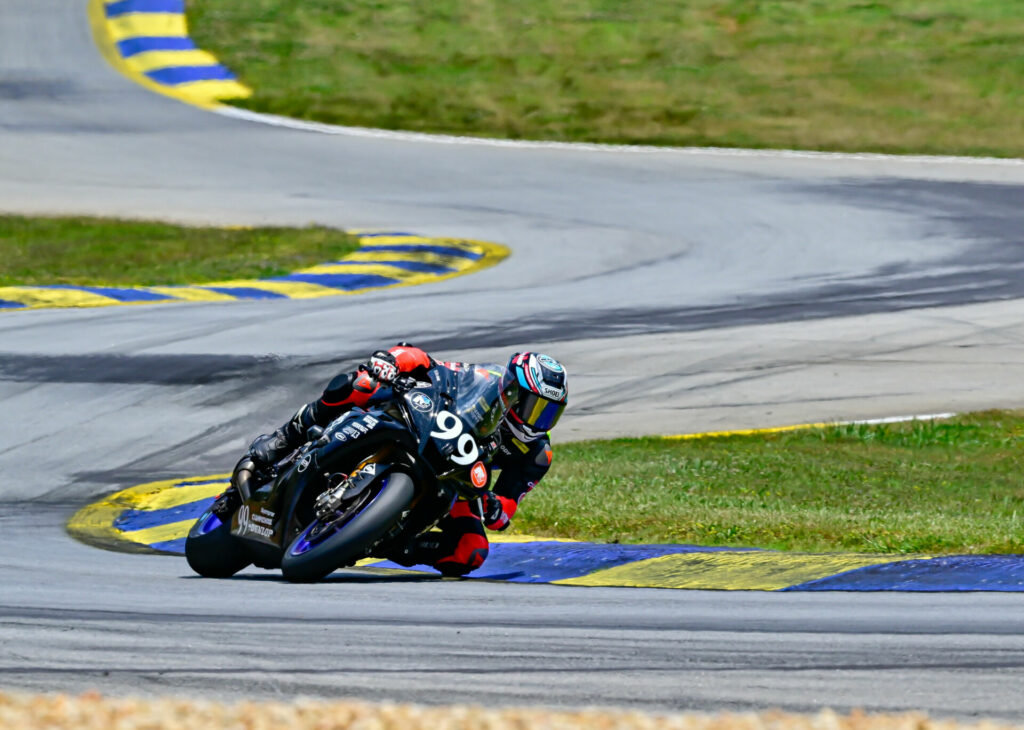 The Alpha Omega Endurance Team had a flawless race with riders Anthony Mazziotto, Steven Roth, Eziah Davis, and Emerson Amaya. Alpha Omega ran the fastest lap times in Middleweight by a large margin and completed fast pitstops. When the team went up by well over a minute, they put Davis out on their Yamaha YZF-R6. Red flags had put a wrench in their pit stop plans, so despite running the fastest Middleweight laps of the race in the final stint, Davis would still have to pit one more time for a splash of fuel.
Meanwhile, Wyman was putting in a hero's ride by turning the fastest laps of the entire race through traffic to close the gap to a little over 20 seconds. When Alpha Omega came in for their last fuel stop, Wyman was able to pass Davis when Alpha Omega re-entered the track. The race seemed to be in Army of Darkness' hands with six minutes left, then a late red flag came out ending the race. Scoring reverted back to the last lap completed, giving Alpha Omega the overall and Middleweight class victories.
The podium for Heavyweight consisted of Army of Darkness in first, Kustom Cockpits in thanks to riders Tom Delgram, Dan Hawkins, and Allan Kersey, and Race Against the Machine and its riders Corey Heflin, CJ Crosslin, and Michael Russo were third.
The Middleweight class was a close battle all race long with TopBox Racing and its riders Tony Mcknight, Mark Faulkner, and Caleb Odom finishing second over third-place Motor Drone and its riders Jamie Starace, Jackson Blackmon, and Shane Maggs.
The family team of Brown Town Racing won the Lightweight class on a Suzuki SV650 with riders Reese Brown, Chase Brown, and dad David Brown. Last Minute Racing finished second with riders Colin Gast, Michael Killian, and Jared Trees. RBoM Racing took third with the duo of Giacomo Manera and Ryan Wolfe riding a Suzuki SV650.
The Ultra Lightweight 2-Hour Endurance was an incident-free affair with 31 teams competing on a variety of motorcycles. Ready to Ride dominated the race with two teams finishing in the top two. Ready to Ride Endurance won with rider Dominic Doyle. RTR Endurance finished second with rider Logan Cunnison. Riot Racing finished third with riders Chris Evans and Eli Banish.
The Relay Class is a unique exhibition class intended to get teams into endurance racing without jumping into the expense of building a dedicated endurance bike. Each rider on the team can use their own bikes and switch transponders with their teammates instead of performing complete stops. Nature Power Superbike with riders Jason Waters and Dan Kruger dominated the relay class with teams A Proper Ding Dong and Keep It On Pipe finishing in second and third.
About N2:  N2 – Ride, Learn, Race.
Founded in 2014, N2's mission is to build a sustainable motorcycle community through safe, structured motorcycle track days, advanced rider training programs based on Yamaha Champions Riding School teaching methods, with a strong affinity for motorcycle road racing. N2 successfully resurrected Motorcycle Endurance Racing in America partnering with WERA Roadracing and creating the N2/WERA National Endurance Series by Dunlop. N2 is a premier participant in the MotoAmerica Pro Racing Series with a multi-rider team competing in several classes. N2 is also a major contributor to the Roadracing World Action Fund through fundraising efforts and support from its large member base.
The N2 National Endurance Series is proudly sponsored by: Dunlop Motorcycle Tire, Yamaha Motor Corporation USA, Dainese, Woodcraft Technologies, BobbleHeadMoto, WERA Road Racing, KYT Helmets America, R.E.B Graphics, Millennium Technologies, Wiseco Pistons, JE Pistons, Rise Moto, Ghetto Customs, Pit-Lane Moto and Yamaha Champions Riding School.
For more information: www.n2td.org
More, from a press release issued by Alpha Omega:
Alpha Omega Triumphs in N2/WERA National Endurance Race
Braselton, GA – Alpha Omega achieved a historic victory in the highly competitive N2/WERA National Endurance series, winning the Middleweight category, as well as the Overall victory. They etched their name as the first Middleweight team to claim the Overall victory since 2017, solidifying their status as a force to be reckoned with in MotoAmerica as well as Endurance racing.
The season opener held at the prestigious Michelin Raceway Road Atlanta on Friday May 26th, showcased thirty-eight total teams competing in the 4-hour race. The grueling event demanded unparalleled endurance, strategy, and precision from the racers, pushing them to their limits both physically and mentally. The team's riders, Anthony Mazziotto, Eziah Davis, Emerson Amaya, and Steven Roth, exhibited consistent laps and seamless transitions, maximizing the performance of their Yamaha YZF-R6, built by KWS.
"We are incredibly proud of our entire team for this monumental achievement," said team owner and Alpha Omega founder Patrick Edenfield. "Winning the category, and then being the first middleweight team to claim the overall victory in years is a testament to our dedication to this series, and Pirelli's winning tradition. We are honored to have accomplished such a significant milestone in a short time of long-distance racing."
The victory not only demonstrates Alpha Omega's dominance in the middleweight category but also reinforces their ability to compete with and surpass larger, more powerful machines.
As Alpha Omega basks in the glory of their recent success, they remain resolute in their pursuit of excellence. This emerging motorcycle racing team's success at the opening round is a testament to their commitment to pushing boundaries, rewriting history, and inspiring future generations of racers.
Next Race: Carolina Motorsports Park – Kershaw, South Carolina – June 10th, 2023