Army Of Darkness Battles Back from Self-inflicted Setbacks To Win the Heavyweight Endurance Race at Road Atlanta N2/WERA National Endurance Championship by Dunlop  Season-Opener
Reigning champions Army Of Darkness' (AOD) offseason of preparation and planning all came to an abrupt end when they threw a rod on their new endurance engine at a test 10 days before qualifying for the season opener.  The loss of the engine meant the last few days before the first race would be filled with the mad scramble of preparation well known to every motorsports team since time immemorial.
Josh Hayes rallied from a training accident the day before practice to provide new engine mapping insights, and geometry and set up numbers for the AOD team to deploy on their well worn 2020 Yamaha R1.  Cody Wyman quickly adapted to the new set up, posting a series of personal best lap times.
Dunlop's Tony Romo, a veteran crew chief and race bike builder, not only contributed tire set up information but also collaborated with AOD Crew Chief (and birthday boy) Tim Gooding and strategized with Team Captain Sam Fleming.
It all led to a commanding pole position for qualifying and, at the race start, Cody Wyman set about the task of lapping the entire field before the first hour mark, putting AOD a lap up at the first pit stop.
Then, red flags began to intrude on the progress of the race.  On one of the restarts Josh Hayes arrived at the not quite entirely cleaned up oil spill in turn 10B a second before any other rider and, despite a valiant effort to save it on his knee, had a low side spill.  As the long suffering AOD R1 slid across the outside concrete, the right foot peg bent up.  Hayes picked the bike up out of the gravel and returned to the track and was still the fastest bike on the track despite the compromised ergonomics. Another red flag offered an opportunity to closely inspect the damage to the footpeg and consider whether, and how, to address it.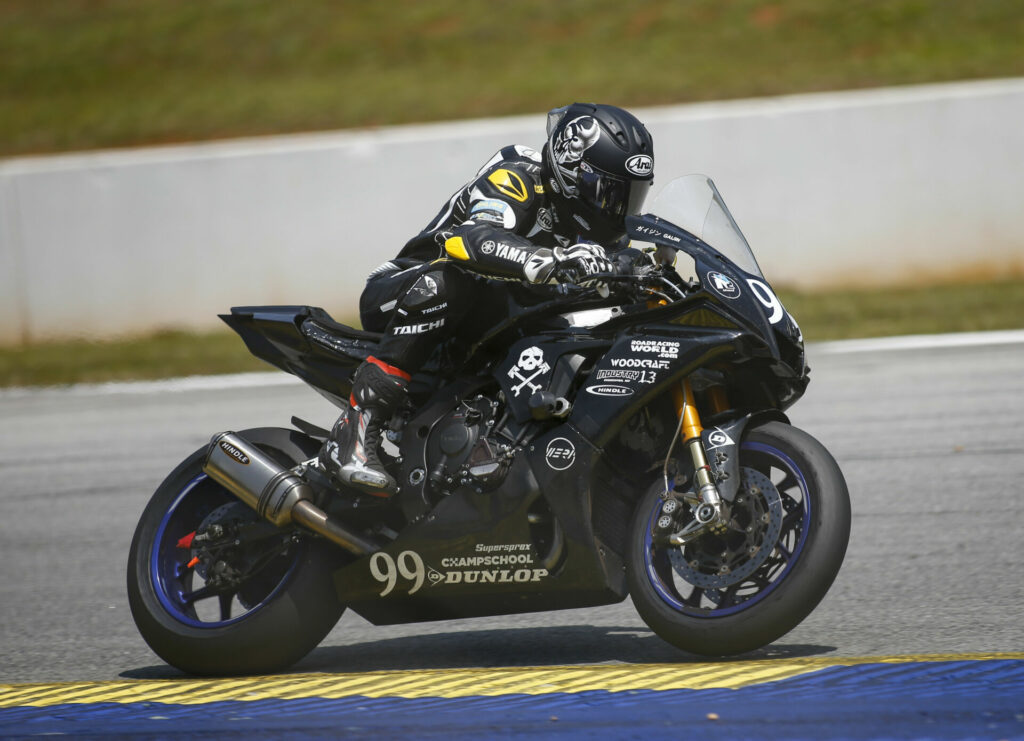 In an abundance of caution, after that restart AOD pulled the bike in for repairs and lost four minutes to changing out the rear set.  That set the stage for Cody Wyman to try to make up an entire lap on Alpha Omega, a veteran middleweight team.  Cody set about turning a set of the fastest laps of the entire race and making up three seconds a lap.  With fifteen minutes left in the race, Cody had finally caught the Alpha team in turn six when a fourth red flag came out in turn seven, ending the race and awarding the overall win to Alpha Omega and the class win to AOD.
AOD is sponsored by: Army of Darkness, Dunlop, Yamaha Champions Riding School, Yamaha, Industry 13, Woodcraft, Hindle, Supersprox, Thermosman, N2, WERA, Roadracing World.
https://www.youtube.com/channel/UCyVVPKiHYQ52FqkoPkI-vEQ?sub_confirmation=1