THE NEW SUPERVELOCE FAMILY
SUPERVELOCE S: THE ULTIMATE
The new Superveloce S takes attention to detail to extremes. The new white livery does
justice to its timeless lines, designed to cut through the wind. The spoked wheels are a
tribute to the bikes of the past, but with all the efficiency and weight of a modern wheel.
The brown Alcantara seat adds to the elegance of a bike that sets a benchmark in style
and design. The Superveloce S is available with a Racing kit that includes a single-seat
tail fairing with brown Alcantara pad, Arrow triple-exit exhaust and related ECU with
dedicated mapping.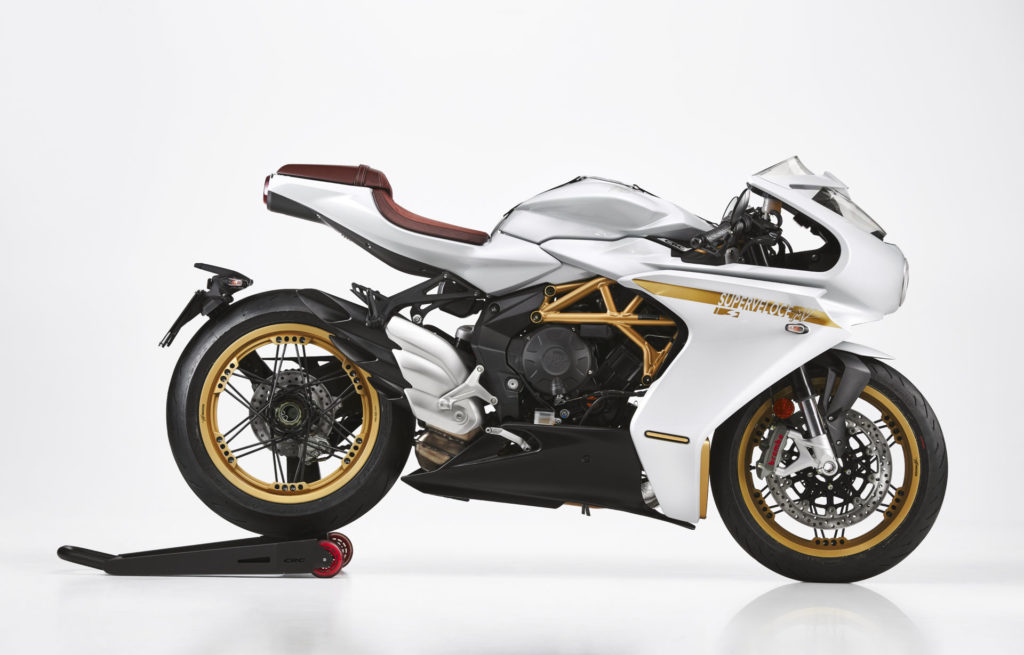 MECHANICAL AND ELECTRONIC REVOLUTION
An instant classic, the MV Agusta Superveloce is a trendsetter. It combines a contemporary heart and structure with an authentic modern-classic look.
The only racing classic on the market, the Superveloce has quickly become a real milestone for the MV Agusta brand and the post-heritage world in general. MV Agusta has once again created a unique and inimitable blend with this bike. 2021 brings many new features to the Superveloce range, with updated content and a technological shift for an improved riding experience. To achieve this, MV Agusta worked on every aspect of the Superveloce: chassis, engine, gearbox and electronics.
CHASSIS: IN PURSUIT OF PERFECTION
The excellence of the chassis is now the crowning feature of all MV Agusta bikes. But even
excellence needs to make constant progress. All the bikes in the Superveloce MY21 range
have upgraded chassis architecture with redesigned frame plates that increase torsional
and longitudinal stiffness.
EVEN MORE ADVANCED ENGINE
The three-cylinder engine was subject to relentless development. The basic technology
remains unchanged, with the characteristic counter-rotating crankshaft (unique for this
displacement).
Still with a maximum power of 147 HP (108 kW) at 13,000 rpm, the MV Agusta three-cylinder remains one of the most powerful in its class. Meticulous fine-tuning work by the MV Agusta engineers for the 2021 version – Euro 5 compliant, of course – led to further reductions in internal friction with DLC treatment for the new tappets and new titanium valve guides. They redesigned the entire exhaust system, from the manifold to the silencer, for better control with even more generous torque and power curves at any engine speed. The injectors are also new, capable of handling an additional 0.5 bar of injection pressure. The ECU firmware was also updated, as were the management logic and engine control algorithms, allowing even more precise and refined throttle management. The new twin-flow oil radiator boosts cooling efficiency by more than 5%.
QUICKER AND MORE PRECISE SHIFTING
The clutch also received a major upgrade, with a more robust clutch basket that makes the bike more manageable and quieter. The bi-directional Quick-Shift EAS 3.0 is now in its third generation, with smoother and more precise shifting.
ELECTRONICS: MORE COMPLETE THAN EVER
From the ABS to the controls and ECU firmware, the electronics on the new Superveloce
models have seen a significant evolution, thanks in part to the arrival of the IMU inertial
platform, an all-Italian project by Milan-based e-Novia, developed specifically for MV Agusta. It detects the bike's position in space, allowing for extremely accurate management of all the controls based on lean angle.
The ABS, now developed by Continental with specific mappings for MV Agusta, features the cornering function, while TC traction control kicks in more precisely, based on the bike's angle. The IMU also enables the revamped FLC (front lift control) to execute a
controlled wheelie instead of preventing it entirely. Launch Control offers further assistance, intervening on both engine speed and torque. The future of technology before your eyes. All Superveloce models benefit from the 5.5" TFT dashboard, which communicates with the MV Ride App. You can use this to customise every aspect of the bike, including engine settings, and share trips on social media directly from your smartphone. The mirroring function allows for turn-by-turn navigation in addition to route recording and sharing. The handlebar controls have a new joystick for browsing through the various dashboard menus.
THE MAIN NEW FEATURES OF THE SUPERVELOCE MY21
• LOW-FRICTION, EURO 5 COMPLIANT ENGINE
• HIGH-PRESSURE INJECTORS
• REDESIGNED EXHAUST
• NEW INERTIAL PLATFORM
• NEW STRATEGIES LC (LAUNCH CONTROL), FLC (FRONT LIFT CONTROL)
• CONTINENTAL ABS WITH CORNERING FUNCTION
• NEW FRAME PLATES
• NEW QUICK SHIFT SENSOR
• NEW FONT FORK SETTING
• NEW TWIN-FLOW OIL RADIATOR
SUPERVELOCE S – WITH RACING KIT EXHAUST
Amazing in metallic white and with various technical updates; from the Euro 5 approval to the new cornering ABS and the special IMU developed for MV Agusta. The seat is covered in fine Alcantara, with spoked wheels, elegant to the finest detail.
RACING KIT
• PASSANGER SEAT COVER WITH ALCANTARA PAD
• ARROW 3-WAY EXHAUST SYSTEM
• CONTROL UNIT WITH RACING MAP
CHASSIS
• FRAME PLATES REDESIGNED TO INCREASE TORSIONAL AND LONGITUDINAL STIFFNESS
• NEW TWIN-FLOW OIL RADIATOR WITH MORE THAN 5% EFFICIENCY INCREASE
• NEW SEAT FOAM TO IMPROVE RIDING COMFORT
• SPOKED WHEELS
• BROWN ALCANTARA RIDER AND PASSENGER SEAT
ADVANTAGES:
COMFORT, STABILITY, AGILITY AND SAFETY. FASTER AND SAFER
ENGINE:
• COUNTER-ROTATING CRANKSHAFT
• NEW SINTERED VALVE GUIDES AND DLC COATED TAPPETS TO REDUCE FRICTION
• TITANIUM VALVES
• NEW CRANKSHAFT MAIN BEARINGS, PISTON ROD BEARINGS AND COUNTERSHAFT BEARINGS TO REDUCE FRICTION AND TO INCREASE RELIABILITY
• MODIFIED EXHAUST COLLECTOR TO IMPROVE ENGINE TUNING AND OPTIMISE POWER/TORQUE CURVES
• NEWLY DESIGNED EXHAUST SILENCER
• NEW CLUTCH BASKET OPTIMISED TO IMPROVE ENGAGEMENT
ADVANTAGES:
BETTER OPERATION AND RELIABILITY, IN FULL COMPLIANCE WITH
EURO 5 REGULATIONS
ELECTRONICS
• NEW ABS MK100 CONTINENTAL MODULE WITH CORNERING FUNCTION FOR CONSTANT SAFETY EVEN IN CURVES
• NEW INERTIAL PLATFORM
• NEW COLOUR 5.5" TFT DASHBOARD
• MOBISAT TRACKER
• GPS AND BLUETOOTH
• MV RIDE APP
• NAVIGATOR INTEGRATED IN THE DASH-BOARD
• FRONT LIFT CONTROL
• NEW HANDLEBAR CONTROLS WITH LAUNCH CONTROL
• NEW EAS 3.0 ELECTRONIC GEAR SENSOR
• NEW ENGINE MANAGEMENT ALGORITHMS FOR A DIRECT CONNECTION BETWEEN
THROTTLE AND REAR WHEEL
• CRUISE CONTROL
ADVANTAGES:
A BETTER FEELING RIDE. THE ADVANCED ELECTRONICS MAKES RIDING EASIER, MORE
INTUITIVE AND SAFER
SUPERVELOCE
The Superveloce is the modern classic by MV Agusta. The gateway to the line, inspired by history while already making history, boasts an updated engine and complete electronics suite, including the inertial platform, which now manages the traction control and cornering ABS more precisely.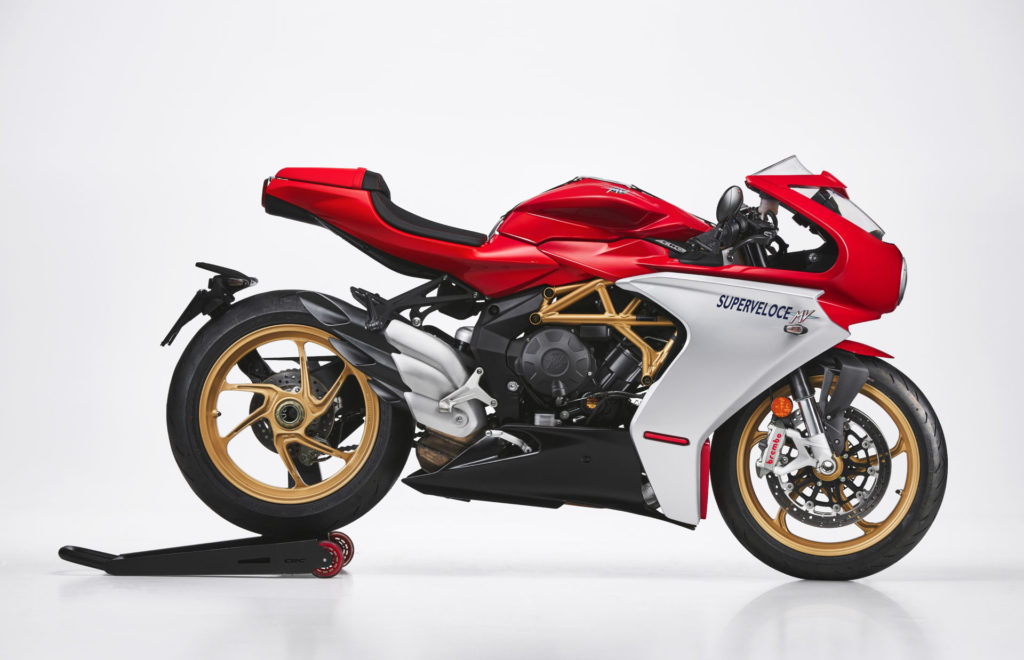 CHASSIS
• FRAME PLATES REDESIGNED TO INCREASE TORSIONAL AND LONGITUDINAL STIFFNESS
• NEW TWIN-FLOW OIL RADIATOR WITH MORE THAN 5% EFFICIENCY INCREASE
• NEW SEAT FOAM TO IMPROVE RIDING COMFORT
ADVANTAGES:
COMFORT, STABILITY, AGILITY AND SAFETY. FASTER AND SAFER CHASSIS
ENGINE
• COUNTER-ROTATING CRANKSHAFT
• NEW SINTERED VALVE GUIDES AND DLC COATED TAPPETS TO REDUCE FRICTION
• TITANIUM VALVES
• NEW CRANKSHAFT MAIN BEARINGS, PISTON ROD BEARINGS AND COUNTERSHAFT BEARINGS TO REDUCE FRICTION AND TO INCREASE RELIABILITY
• MODIFIED EXHAUST COLLECTOR TO IMPROVE ENGINE TUNING AND OPTIMISE
POWER/TORQUE CURVES
• NEWLY DESIGNED EXHAUST SILENCER
• NEW CLUTCH BASKET OPTIMISED TO IMPROVE ENGAGEMENT
ADVANTAGES:
BETTER OPERATION AND RELIABILITY, IN FULL COMPLIANCE WITH EURO 5 REGULATIONS
ELECTRONICS
• NEW ABS MK100 CONTINENTAL MODULE WITH CORNERING FUNCTION FOR CONSTANT
SAFETY EVEN IN CURVES
• NEW INERTIAL PLATFORM
• NEW COLOUR 5.5" TFT DASHBOARD
• MOBISAT TRACKER
• GPS AND BLUETOOTH
• MV RIDE APP
• NAVIGATOR INTEGRATED IN THE DASH-BOARD
• FRONT LIFT CONTROL
• NEW HANDLEBAR CONTROLS WITH LAUNCH CONTROL
• NEW EAS 3.0 ELECTRONIC GEAR SENSOR
• NEW ENGINE MANAGEMENT ALGORITHMS FOR A DIRECT CONNECTION BETWEEN THROTTLE AND REAR WHEEL
• CRUISE CONTROL
ADVANTAGES:
A BETTER FEELING RIDE. THE ADVANCED ELECTRONICS MAKES RIDING EASIER, MORE INTUITIVE AND SAFER