More, from a press release issued by FIM and Dorna:
Incident between MotoGP™ riders #20 and #41
During the MotoGP™ race at the Motul TT Assen, an incident between #20 Fabio Quartararo (Monster Energy Yamaha MotoGP™) and #41 Aleix Espargaro (Aprilia Racing) saw rider #20 crash and make contact with #41 at Turn 5.
The FIM MotoGP™ Stewards panel deemed Quartararo was overly ambitious in attempting to overtake A Espargaro. #20 was not in a position to successfully complete the move and subsequently crashed, causing contact with #41 and forcing him to run wide.
The avoiding action undertaken by A Espargaro allowed him to avoid crashing and rejoin. Nevertheless, his race was severely impacted.
Quartararo has been given a Long Lap penalty to be served in the MotoGP™ race at the Monster Energy British Grand Prix.
More, from a press release issued by Dorna:
Game on: Bagnaia up, Quartararo down after Championship shift at Assen
Quartararo crashes, Aleix Espargaro fights back, Bezzecchi takes a maiden podium and Viñales returns to the rostrum behind a 25-point haul for Bagnaia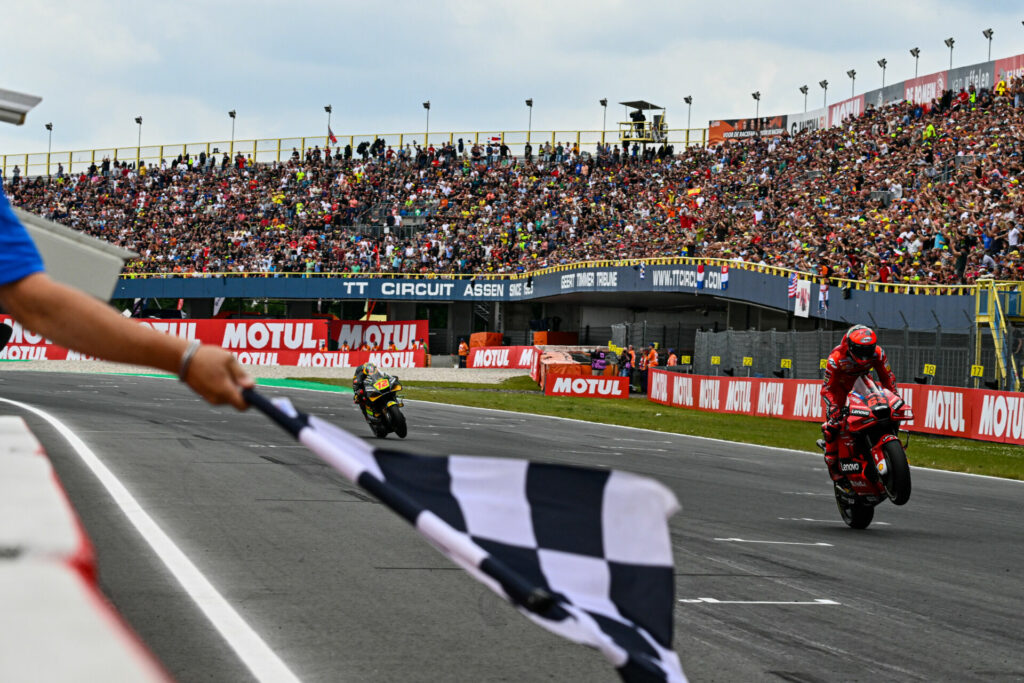 Sunday, 26 June 2022
Ducati Lenovo Team's Francesco Bagnaia blasted back into serious MotoGP™ title contention with victory in a wild Motul TT Assen. World Championship leader Fabio Quartararo (Monster Energy Yamaha MotoGP™) clashed with his nearest rival in the points table, Aleix Espargaro (Aprilia Racing), early on and crashed out – and the incident also left Espargaro down in P15 and facing a fight back. But fight back he did and that as Quartararo crashed again later in the race, the Frenchman ultimately taking home a nil points and a Long Lap penalty for the Monster Energy British Grand Prix after summer break for the overly ambitious move.
Meanwhile, Marco Bezzecchi (Mooney VR46 Racing Team) put in a stunner to follow Bagnaia home with some breathing space and take his first premier class podium, with Maverick Viñales (Aprilia Racing) shooting up from P11 on the grid to third, visiting parc ferme with Aprilia for the first time. And did we mention Aleix Espargaro's 2-for-1 on Brad Binder (Red Bull KTM Factory Racing) and Jack Miller (Ducati Lenovo Team) at the final chicane for fourth?!
Rewinding to before all that, Bagnaia launched well and led the field into the first corner, while Quartararo briefly dropped back to fourth when he ran wide as he tried to go with the pole-sitter. He quickly re-passed Jorge Martin (Prima Pramac Racing) and also went down the inside of Espargaro at De Strubben, but then couldn't keep the RS-GP behind him when they ran up the back straight.
Bagnaia had 0.7 in hand at the end of the first lap, by which time Bezzecchi had passed Miller for fifth, and the rookie was into fourth when he overtook Martin at the start of Lap 3. Miller then dropped from sixth to 10th on Lap 4 when he served his Long Lap Penalty for irresponsible riding in Q2, facing his own comeback.
On Lap 5 though, it was high drama at Turn 5 as the top two in the World Championship came together. Quartararo looked to make a move on Espargaro but dropped his Yamaha and slid into the Aprilia, no saving it. The Frenchman was last by the time he had remounted, and while Espargaro did well to stay upright and avoid a crash, he still plummeted to 15th and was facing one serious Sunday fight back from the gravel.
That left Bezzecchi in second, with Bagnaia's advantage over the field out to 1.3 seconds and Martin holding third ahead of Binder. The South African was back to fifth when he was overtaken by Viñales as they ran through the Ossebroeken complex on Lap 10, however, with the number 12 on a charge.
A few laps later, De Strubben then bit Quartararo again – hard. The Frenchman had already dropped off the lead lap after a visit to the pits before he fell off for a second time once back out, highsiding on the exit of the slow left-hander. Thankfully, Quartararo got onto his feet and was given the all clear, having adding no injury to the insult of two crashes.
Meanwhile, Bagnaia continued to lead as Espargaro mounted his fightback. The Spaniard was already closing in on the battle for ninth between Zarco and Joan Mir (Team Suzuki Ecstar) when, a couple of positions ahead, Takaaki Nakagami (LCR Honda Idemitsu) was then given a Long Lap Penalty for exceeding track limits, promoting #41 to the top ten. And there was plenty more to come.
Virtually the only thing that hadn't happened by that stage was rain, but it soon started falling as well. Rain flags and then the white flag, signalling that riders were allowed to change bikes, started to wave, but it never got heavy enough to force them to do so. Still, it made for a tricky period in the race, as Viñales passed Martin for third at the Geert Timmer Chicane on Lap 17, then both Binder and Miller overtook the Pramac rider on the next lap.
For the second weekend in a row, Miller was doing an admirable job of recovering from a Long Lap Penalty, passing Binder for fourth at the start of Lap 21 and wasting little time in closing up to Viñales as he sought consecutive podiums. He looked to have made the move at the Timmer Chicane at the end of Lap 25, but was in a bit too hot and had to bail out of it, which put him back under pressure from Binder.
Up ahead and free of all the mayhem, however, Bagnaia cruised to victory. He eased off at the end, with the winning margin officially only 0.444 seconds after 26 remarkable laps, but it never seriously looked in doubt. Bezzecchi sent the VR46 team into raptures with his first premier class podium, and Viñales was less than a second further back in third after escaping the clutches of Miller.
Aleix Espargaro, meanwhile, wasn't done. The Aprilia rider had risen to sixth and that looked like an admirable salvage job, but then he divebombed Miller and Binder as they ran into the Timmer Chicane for the final time – and pulled it off with such perfection it's a contender for move of the year, decade or maybe more.
Fourth snatched away, Brad Binder would take fifth, ahead of Miller, Martin, and Mir. Mir had a couple of close brushes after contact with Miguel Oliveira (Red Bull KTM Factory Racing) as they lined up on the grid before a clash with Luca Marini (Mooney VR46 Racing Team) once the race had actually started. Oliveira shed bodywork in that incident but still finished ninth, ahead of Alex Rins (Team Suzuki Ecstar), Enea Bastianini (Gresini Racing MotoGP™), Nakagami, Zarco, Fabio Di Giannantonio (Gresini Racing MotoGP™), and Alex Marquez (LCR Honda Castrol) in the final points position.
Raul Fernandez (Tech3 KTM Factory Racing) retired with arm pump, while Franco Morbidelli (Monster Energy Yamaha MotoGP™) and Darryn Binder (WithU Yamaha RNF MotoGP™ Team) made it three YZR-M1 riders who crashed out of the contest as Yamaha leave the Cathedral pointless, echoing Honda at the Sachsenring.
Now though, the MotoGP™ paddock now has the summer break to catch its breath before Round 12. The Monster Energy British Grand Prix descends on Silverstone from the 5th to the 7th of August, and there's absolutely everything to play for. Join us for more as MotoGP™ returns at full throttle!
MotoGP™ PODIUM
1 Francesco Bagnaia (Ducati Lenovo Team) – Ducati – 40'25.205
2 Marco Bezzecchi (Mooney VR46 Racing Team) – Ducati – +0.444
3 Maverick Viñales (Aprilia Racing) – Aprilia – +1.209
Francesco Bagnaia: "It felt long, very long. The first time I looked at how many laps were remaining, it was 24, so I'd just done two laps and it was too long. In any case, I'm so happy; so happy after two difficult races, when we were always competitive but without any results, so it's incredible. I'm so happy, we did an incredible job. It wasn't easy because, halfway through the race, it started raining a bit, and it was very scary, but finally I won here. That means to me that we are very good, we are strong."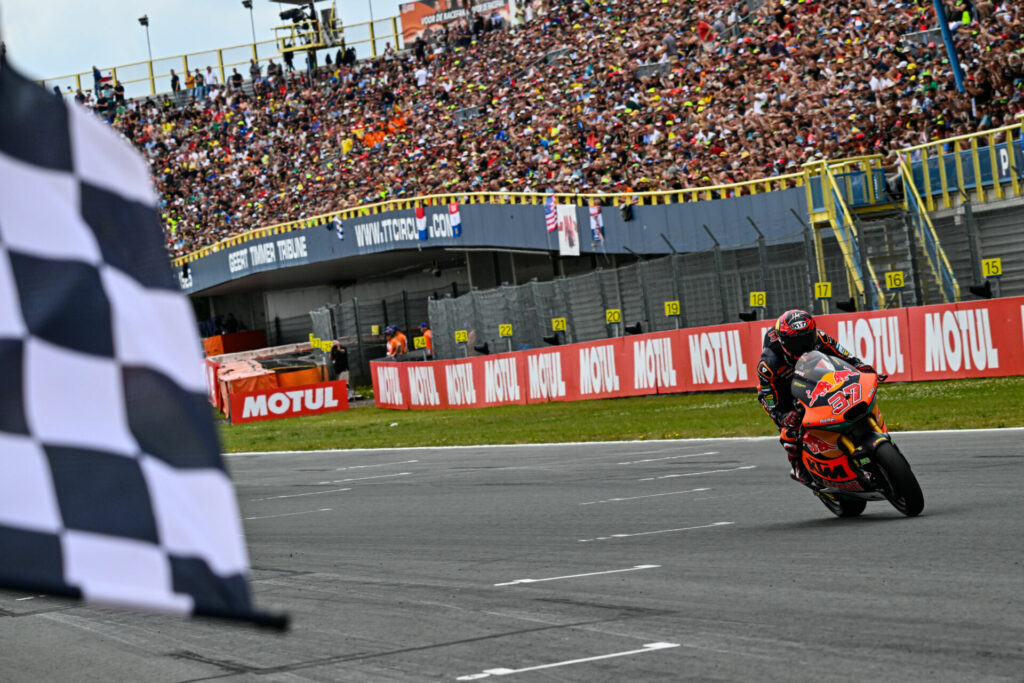 Fernandez takes vintage Assen victory ahead of Ogura and Dixon
146 Vietti, 146 Fernandez, 145 Ogura: the Moto2™ title fight tightens up ahead of summer break
The Moto2™ World Championship sits on a knife edge going into the summer break after Augusto Fernandez picked up his second win in a row, coming out on top in a true classic at the Motul TT Assen. The Red Bull KTM Ajo rider is now equal on points with Celestino Vietti (Mooney VR46 Racing Team), who finished fourth, although the Italian leads as it stands thanks to more wins so far this season.
Ai Ogura (Idemitsu Honda Team Asia), meanwhile, sits just a point further back after hauling his way back from as low as 16th to claim second on the day, with polesitter Jake Dixon (Inde GASGAS Aspar Team) completing the podium.
It was as you were when the race got underway as far as the top two was concerned, with Dixon leading Inde GASGAS Aspar team-mate Albert Arenas into the first corner, but drama hit early for Sam Lowes (Elf Marc VDS Racing Team) as he ran well wide. Alonso Lopez (MB Conveyers Speed Up), however, had launched well from fifth on the grid before passing Arenas for second at De Strubben and then Dixon for first at Stekkenwal. Marcel Schrötter (Liqui Moly Intact GP) moved into third when he passed Arenas at the Geert Timmer Chicane on Lap 4, in what was something of a breakaway quartet at the head of the field.
However, Fernandez reeled them in and he gladly took fourth position when Arenas made a small error at De Strubben on Lap 5. Then, just up the road at De Bult, Schrötter picked off Dixon to move into second position and Arenas got back ahead of Fernandez, as home hero Bo Bendsneyder (Pertamina Mandalika SAG Team) lurked in sixth spot.
Arenas got back into the podium places when he overtook Dixon at the Timmer Chicane on Lap 7, before Schrötter hit the front for the first time when he got past Lopez as they ran down the back straight on Lap 8. Fernandez passed Dixon for fourth at De Strubben on Lap 9, before Lopez ceded second position to Arenas and third to Fernandez on a ragged 10th lap of the race.
Schrötter looked like he might finally break through for his first Grand Prix victory until disaster struck for the German on Lap 12, when he crashed out at De Strubben and handed the lead to Arenas. On Lap 13, Lopez re-passed Fernandez at the Timmer Chicane, but the German GP winner prised second position back from the man on the Boscoscuro on Lap 15.
Meanwhile, Vietti and Ogura, who started the race as the top two in the Championship, were closing in on the lead group as they battled over eighth position. Both were on a comeback after tough starts to the race, Vietti having only qualified 11th before finding himself even further away from the top 10 in the opening corners, and Ogura having two big rear end moments within the first handful of laps which had dumped the Japanese rider as far back as 16th.
Lopez dropped three positions to sixth when he ran wide exiting Haarbocht on Lap 16, promoting Dixon to the podium places again, as Vietti received a track limits warning. What would turn out to be the decisive lead change came on Lap 17 when Fernandez went underneath Arenas at De Strubben, while Bendsneyder sent the Dutch crowd wild when he passed Dixon for third just behind them. Unfortunately for the rider from Rotterdam, he undid his good work with a slow run off the Timmer Chicane at the end of the lap. He was picked off by not only Dixon, but also Cameron Beaubier (American Racing), who got ahead of both of them.
Dixon re-passed Beaubier moments later at De Strubben, and signalled to the American that they should work together to catch the top two of Fernandez and Arenas, who had taken advantage of the battle for third place to skip several tenths of a second clear. They did just that, as Ogura finally moved back into the top five with a pass on Bendsneyder at the start of Lap 19, which opened the door for Vietti to follow him through.
Ogura's progress continued when he got through on Beaubier at De Strubben on Lap 20, while Dixon took second place from Arenas at the Timmer Chicane on that same lap. At the start of Lap 21, Beaubier crashed out of fifth position as he came under big pressure from Vietti, and Ogura was then into the top three – 13 positions higher than he had been when he nearly got chucked off his bike for the second time – by passing Arenas.
The Japanese rider went down the inside of Dixon for second position as they turned into Haarbocht on Lap 22, and Arenas got back in front of the Briton at the Timmer Chicane. Dixon got him back at the start of Lap 23, though, and Arenas was out of the race altogether when he dropped it at De Bult. That crash promoted Vietti to fourth, behind a top three of Fernandez, Ogura, and Dixon, and that is how they would finish – all within a second of each other – after an astonishing Dutch GP for the Moto2™ field.
Bendsneyder claimed fifth on home soil and Lopez, who had started to become somewhat ragged, got home in sixth, ahead of Tony Arbolino (Elf Marc VDS Racing Team), Joe Roberts (Italtrans Racing Team), Manuel Gonzalez (Yamaha VR46 Master Camp Team), and Filip Salac (Gresini Racing Moto2™).
Fermin Aldeguer (MB Conveyors Speed Up), Jorge Navarro (Flexbox HP40), Somkiat Chantra (Idemitsu Honda Team Asia), Jeremy Alcoba (Liwui Moly Intact GP), and Barry Baltus (RW Racing GP) completed the points. Lowes was notable among the non-finishers, crashing out altogether on only Lap 4.
That's it for another thrilling Assen weekend for the Moto2™ field. After the summer break, we're back in action at the Monster Energy British Grand Prix, so join us at Silverstone for more!
Moto2™ PODIUM
1 Augusto Fernandez (Red Bull KTM Ajo) – Kalex – 39'07.133
2 Ai Ogura (Idemitsu Honda Team Asia) – Kalex – +0.660
3 Jake Dixon (Inde GASGAS Aspar Team) – Kalex – +0.725
Augusto Fernandez: "It was a really hard race, I really enjoyed that one but it was tough at the beginning to overtake those guys, we were a big group and it was very difficult to pull away, so I decided to stay in the group and wait for my moment to come, and yeah, in the end, step-by-step I was overtaking rider-by-rider, without getting any stress and in the end when I found myself in first position I tried to make my pace. I made a couple mistakes in the first laps when I was leading. There was some wind in sector 4 so it was easy to make mistakes, but once I knew the pace I could do I put some good laps in a row and it was enough!"
Sasaki becomes a Grand Prix winner with Assen masterclass
The Japanese rider takes to the top step for the first time as Guevara and Garcia complete the podium to tighten the standings even further
Ayumu Sasaki (Sterilgarda Husqvarna Max) is now a Grand Prix winner! The Japanese rider put in an impressive performance to come out on top in a classic Moto3™ showdown at the Motul TT Assen, taking the win ahead of Izan Guevara (GASGAS Aspar Team) and Sergio Garcia (GASGAS Aspar Team). Some drama hit for Dennis Foggia (Leopard Racing) as he crashed out, and Jaume Masia (Red Bull KTM Ajo) likewise after the number 5 suffered contact on the final lap.
Tatsuki Suzuki (Leopard Racing) nabbed the holeshot ahead of a fast-starting David Muñoz (BOE Motorsports), only just edging the Spaniard out into Turn 1. But Sasaki was quick to take back over at the front and Guevara quick to follow into second as the classic Moto3™ freight train began. However, a smaller group was initially able to break away – and then the first drama hit for Foggia as he was given a Long Lap for a shortcut at the final chicane.
That dropped him back into the chasing group, where Garcia was already tucked in trying to push forward, along with John McPhee (Sterilgarda Husqvarna Max). And the Brit and his fellow veterans got the job done, bridging the gap to make another freight train. That created another classic fight at the front, and then the second drama hit for Foggia. A brush with Muñoz sent the Leopard rider wide, and he was unsettled on the kerb before crashing out.
The chopping and changing continued, but Sasaki led onto the last lap, with Suzuki shadowing and Masia into third as Guevara got shuffled back. Suzuki struck briefly but the number 71 hit back, but then huge drama hit the final lap. Muñoz went for an optimistic for a move on Masia and instead, skittled the number 5 out – earning himself a Long Lap for Silverstone – and McPhee crashed just behind in his own incident.
At the front, Sasaki was clear as Guevara and Suzuki went toe-to-toe, with Garcia able to close up too. By the final chicane, Sasaki had just enough room to cross the line for his first Grand Prix win, and Guevara muscled through on Suzuki. Garcia then attacked the Japanese rider to gas it past on the left, the Championship leader retaining that moniker by just 0.007.
Sasaki becomes a Grand Prix winner, Guevara cuts the gap to just three points off the top and Garcia takes yet another podium under increasing pressure, with Suzuki just left out of the party.
Xavier Artigas (CFMoto PrüstelGP) completed the top five with a slightly under the radar but impressive ride, the last rider in the front group who saw the flag after the last lap drama.
Daniel Holgado (Red Bull KTM Ajo) overcame a Long Lap given for crashing under yellows in practice to take sixth, just heading the second group ahead of Stefano Nepa (Angeluss MTA Team). There were a few more tenths back to Ryusei Yamanaka (MT Helmets – MSI), who just beat Deniz Öncü (Red Bull KTM Tech3) and Kaito Toba (CIP Green Power). With ninth, Öncü retains his record as the only rider in Moto3™ to score in every race so far this year.
Riccardo Rossi (SIC58 Squadra Corse), Ivan Ortola (Angeluss MTA Team) and Lorenzo Fellon (SIC58 Squadra Corse) were next up, ahead of Carlos Tatay (CFMoto PrüstelGP) classified 14th after two Long Laps from Germany and a three-second penalty for track limits. Andrea Migno (Rivacold Snipers Team) completed the points after a Long Lap and a double Long Lap after failing to comply with the first.
It's just three points in it as Moto3™ heads into the summer break and then Silverstone, with the GASGAS duo looking like they're going to remain the riders to beat. But can Sasaki continue his form at the British GP? We'll find out in a few weeks!
Moto3™ PODIUM
1 Ayumu Sasaki (Sterilgarda Husqvarna Max) – Husqvarna – 37'28.371
2 Izan Guevara (GASGAS Aspar Team) – GASGAS – +0.314
3 Sergio Garcia (GASGAS Aspar Team) – GASGAS – +0.392
Ayumu Sasaki: "It took a long time, a lot of time training. Every day sacrificing and finally I get to win the race, it's amazing. This year has been difficult with injury but we came back very strong. The bike was very good, everything was perfect today. I saved my tyre very well today behind Izan and the last three laps I tried to go in the front because I had great pace.
"Finally to win the race is unbelievable. I want to say thanks to everyone ho supports me, to my family, I haven't seen them in a while, my family, and now I can bring back the winning trophy with me so it's good. Now into the summer break and hopefully second part of the season will be better than the first part of the season."