More, from a press release issued by Dorna:
Bagnaia beats Quartararo to the top in final FP2 shootout
A final few minutes of dry track time saw a flurry of decisive laps, with the Ducati rider taking to the top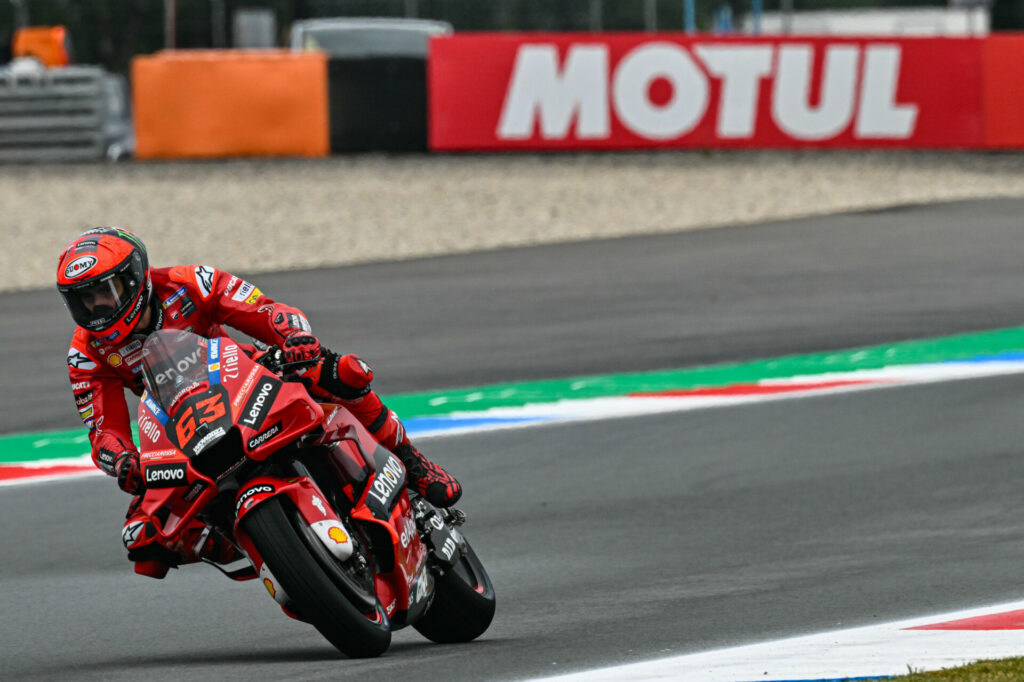 Friday, 24 June 2022
Ducati Lenovo Team's Francesco Bagnaia claimed early bragging rights at the Motul TT Assen, with the combined timesheets going down to the final couple of minutes of FP2 as the weather dried out. A 1:33.274 was the benchmark, and Aleix Espargaro (Aprilia Racing) seemed to claim second before some drama for the Aprilia rider saw his last run cancelled for a technical infringement – running a rear water spoiler whilst on slicks – so the number 41 is classified dead last as Friday action comes to a close. That means Championship leader Fabio Quartararo (Monster Energy Yamaha MotoGP™) moves up to second quickest, ahead of Alex Rins (Team Suzuki Ecstar).
FP1
Ducati Lenovo Team's Jack Miller lived up to his reputation as a rain master with the fastest lap in FP1 at the Motul TT Assen. The man who achieved his first ever premier class race win when the heavens opened at the TT Circuit Assen in 2016 headed the timesheets from Joan Mir (Team Suzuki Ecstar) and Pol Espargaro (Repsol Honda Team).
Rain fell throughout the 45-minute session and it was 'Thriller' Miller who was quickest after the first runs on a 1:44.523 before the showers got heavier. Johann Zarco (Prima Pramac Racing) was one of few to persevere through that particularly difficult middle segment of FP1 and gradually climbed to second on a 1:44.570.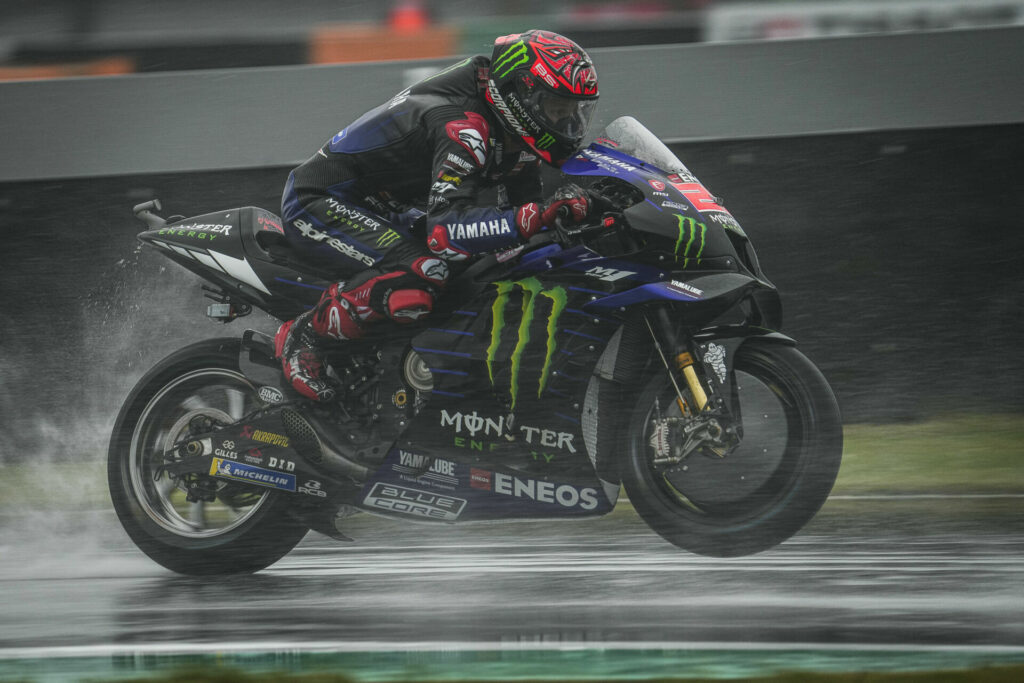 However, when the weather began to improve in the final 10 minutes, those times were blown away and Miller clocked his fastest lap just before the chequered flag, as did Mir when he set a 1:42.698 to be just 0.109 seconds slower. Both Mir and Pol Espargaro had brief periods on top of the timing screen and the latter would finish third courtesy of a 1:42.891. Alex Marquez (LCR Honda Castrol) made it two Hondas in the top four when he came through after the chequered flag on a 1:42.959, while Alex Espargaro was the last rider within half a second of Miller's pace on a 1:43.030. There were two crashes: Bastianini and Marco Bezzecchi (Mooney VR46 Racing Team), riders ok.
FP2
The showers had stopped by the time pit lane opened for FP2. The Assen circuit remained wet for the time being, but it took less than 10 minutes for Aleix Espargaro to establish a new weekend benchmark, and the lap times continued to fall. Zarco had just gone into the 1:39s, around halfway into the session, as fellow Ducati rider Luca Marini (Mooney VR46 Racing Team) became the first rider to switch to slicks. With the track drying out, at least on the race line, the Italian was quickly down to a 1:38.880 and soon everyone was coming in to get off their wet tyres.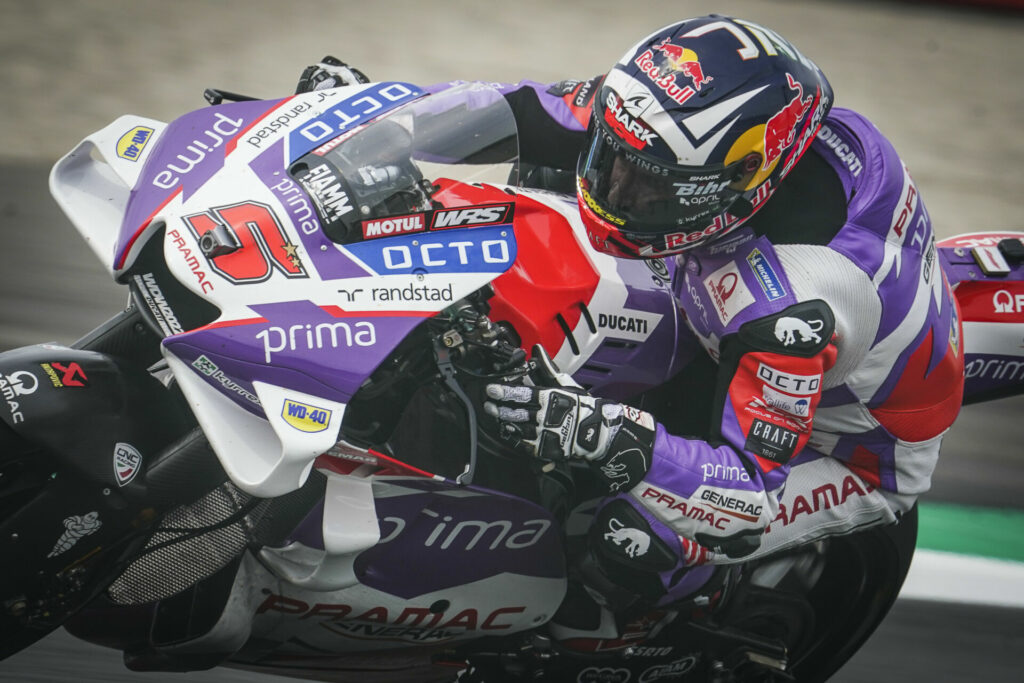 The timing screen started to light up and it was Marini into the 1:37s in the 32nd minute, then Miller into the 1:36s in the 34th minute, and Bezzecchi into the 1:35s in 35th minute. Miguel Oliveira (Red Bull KTM Factory Racing) was first to crack the 1:34s, with about eight minutes remaining, and Quartararo reset the fastest lap with a 1:33.908 in the last three minutes before the chequered flag, then Aleix Espargaro got down to a 1:33.652.
Bagnaia then lifted himself from third to the top with his 1:33.274, while Quartararo eked out a bit more time when he clocked a 1:33.579. Those two were split by Aleix Espargaro when he clocked a 1:33.452, with Rins laying down a 1:33.611.
Provisional Q2 places
With news of Aleix Espargaro's technical infringement – meaning the Aprilia rider loses all his laps set on slicks – it remains Bagnaia quickest but from Quartararo. Rins moves up into third.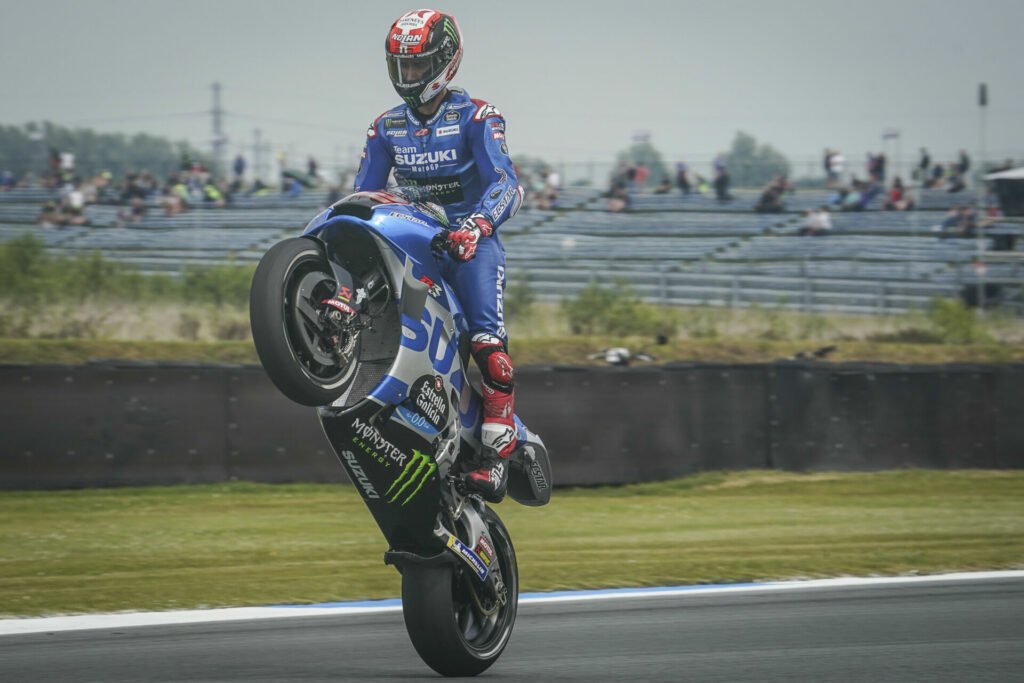 Miller now takes fourth overall, ahead of Mir, as in FP1, with Maverick Viñales (Aprilia Racing) for extremely close company in sixth. Brad Binder (Red Bull KTM Factory Racing), Zarco, Bezzecchi and Bastianini now complete the top ten after Friday's running, with FP3 offering the rest their final shot at a place in Q2… not least Aleix Espargaro.
Tune in for that on Saturday morning, before qualifying from 14:10 (GMT +2)!
FRIDAY: TOP 3
1 Francesco Bagnaia (Ducati Lenovo Team) – Ducati – 1'33.274
2 Fabio Quartararo (Monster Energy Yamaha MotoGP™) – Yamaha – +0.305
3 Alex Rins (Team Suzuki Ecstar) – Suzuki – +0.337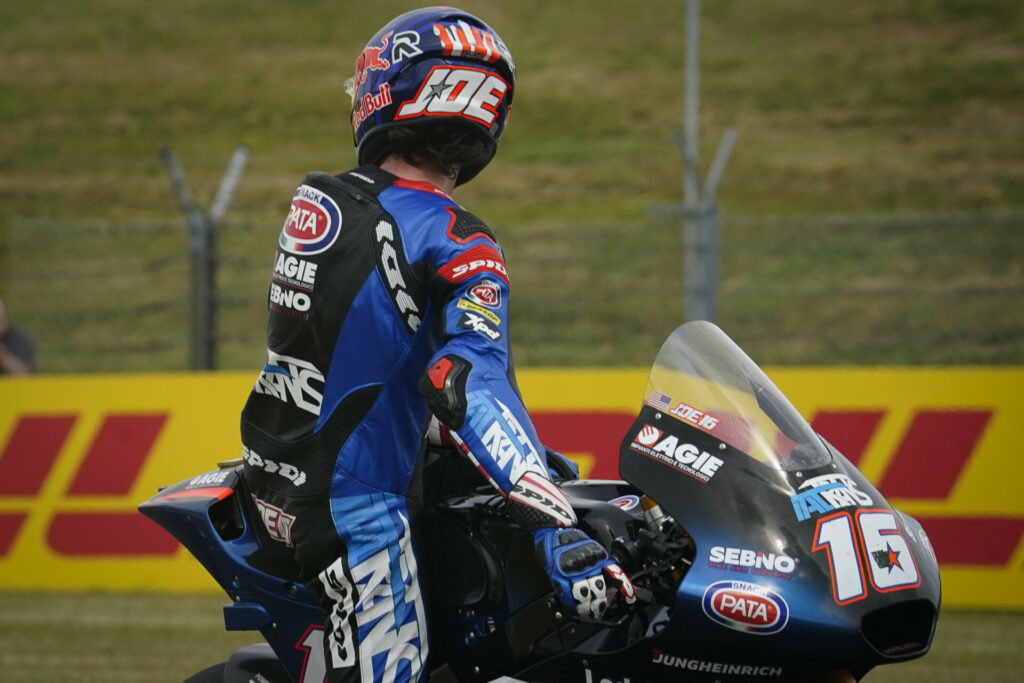 Roberts rapid to top Moto2™ on Friday
The American heads Fernandez and Arenas after a Friday of two halves at Assen
Joe Roberts (Italtrans Racing Team) set the pace on Friday at the Motul TT Assen. In an impressive display by the American, he put one over last weekend's dominant race winner, Augusto Fernandez (Red Bull KTM Ajo), by setting a 1:37.393 in a dry afternoon session for the intermediate class. Still, Fernandez is not far away from the top despite a mid-session crash, while Albert Arenas (Inde GASGAS Aspar Team) was third on Friday.
FP1
Aron Canet (Flexbox HP 40) was king of the wet in the morning, heading the timesheets ahead of Fermin Aldeguer (MB Conveyors Speed Up). Canet set a fastest lap of 1:46.877 with the chequered flag out at the TT Circuit Assen and, despite the rainy weather, it proved to be a hotly contested 40 minutes of action. Aldeguer finished only 0.085 seconds slower on a 1:46.962 and Fernandez made it an all-Spanish top three in FP1 after a 1:47.052.
FP2/provisional Q2 places
The rain had stopped  for FP2 and riders were instantly slashing seconds off the fastest lap times. The opening runs turned into a duel between the two aforementioned Spaniards, with Fernandez getting down to a 1:37.840 but Arenas usurped him by almost three tenths of a second just before the halfway mark. Around the same time, Fernandez crashed at De Strubben (Turn 5), but it would prove to be a minor mishap.
It took until the final two minutes for the fastest lap to be reset again, and it was Fernandez snatching back top spot when he clocked a 1:37.534. However, Roberts had already threatened to take over the ascendancy by then, and he would do just that when he punched out a 1:37.393 just prior to the chequered flag. Fernandez then made more speed, but remained second-quickest as he completed his session with a 1:37.529. Arenas found no improvement during his second run, but his earlier 1:37.569 was good enough for third.
Ai Ogura (Idemitsu Honda Team Asia), as he seeks to overhaul Celestino Vietti (Mooney VR46 Racing Team) in the Moto2™ title race, took fourth in with a 1:37.710. Fifth and sixth went to MB Conveyors Speed Up team-mates Fermin Aldeguer and Alonso Lopez on a 1:37.840 and 1:37.942, respectively.
Canet, who was quickest in FP1, claimed seventh in FP2 before then heading to hospital briefly. Suffering with nosebleeds recently, the Pons rider went to have his nose cauterised. A minor, non-surgical procedure, he remains fit to ride and will be hoping it's done the trick for Saturday.
Championship leader Vietti finished eighth on a 1:37.964, with the top 10 rounded out by Jorge Navarro (Flexbox HP40) and Filip Salac (Gresini Racing Moto2™) at 0.585 seconds off the pace. Marcos Ramirez (MV Agusta Forward Racing), Somkiat Chantra (Idemitsu Honda Team Asia), Tony Arbolino (Elf Marc VDS Racing Team) and Alessandro Zaccone (Gresini Racing Moto2™) are currently the last riders set to move through, leaving the likes of Marcel Schrötter (Liqui Moly Intact GP), Sam Lowes (Elf Marc VDS Racing Team) and Jake Dixon (Inde GASGAS Aspar Team) all looking for more on Saturday.
With dry conditions forecast for FP3, there is still plenty left to play for before qualifying! Tune in for the final Free Practice session on Saturday, before qualifying from 15:10 (GMT +2).
FRIDAY: TOP 3
1 Joe Roberts (Italtrans Racing Team) – Kalex – 1'37.393
2 Augusto Fernandez (Red Bull KTM Ajo) – Kalex – +0.136
3 Albert Arenas (Inde GASGAS Aspar Team) – Kalex – +0.176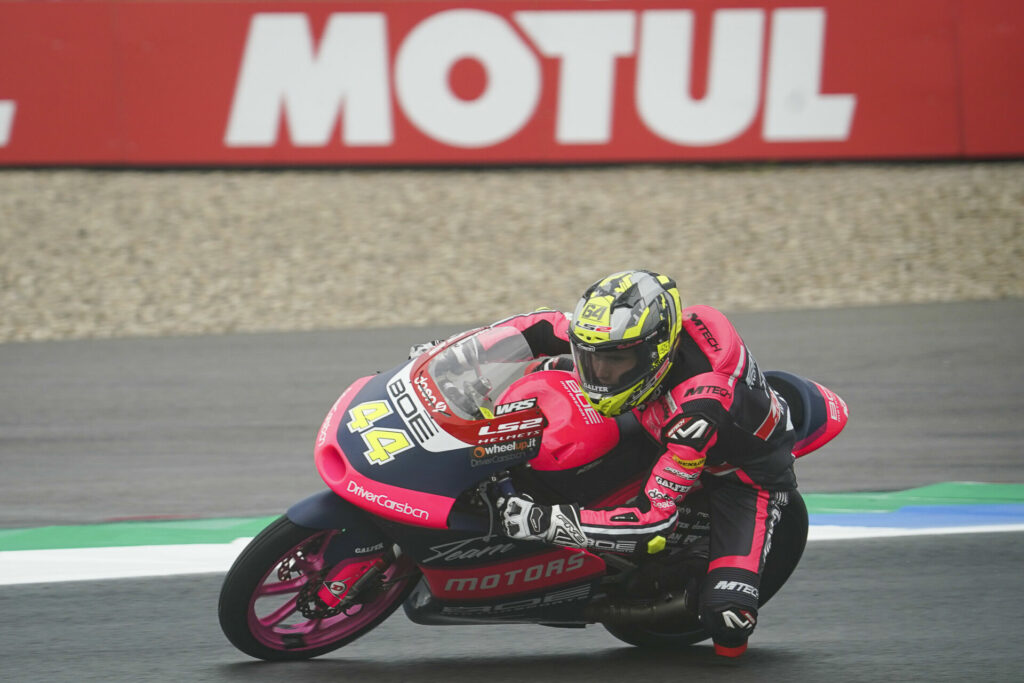 Muñoz shines in the wet on Friday
The impressive newcomer showed off some wet weather prowess to top the timesheets on Day 1 at Assen
Day 1 at the Motul TT Assen belonged to rookie David Muñoz (BOE Motorsports) as he went quickest in a very wet FP1 before repeating the feat in an improved but wet FP2. Tatsuki Suzuki (Leopard Racing) took second, just under a tenth and a half back, with Ryusei Yamanaka (MT Helmets – MSI) third within another half a tenth.
FP1
Muñoz was quickest from the off in a wet Moto3™ FP1, fastest for the vast majority of the session at the TT Circuit Assen and ending it quickest ahead of Deniz Öncü (Red Bull KTM Tech3). John McPhee (Sterilgarda Husqvarna Max) was just 0.086 seconds in further arrears again in third.
Suzuki was fourth with a 1:52.963 and fifth went to Alberto Surra (Rivacold Snipers Team) on a 1:53.176. Despite the tricky conditions, Surra was the only rider to take a tumble, but his late highside at Madijk was on the milder end of the scale. Muñoz and McPhee were also seen having their moments as the rain seemed to get somewhat heavier in the closing stages, but they managed to stay upright.
The World Championship-leading GASGAS Aspar Team duo were a little further back on the timesheet. German GP winner Izan Guevara was seventh on a 1:53.575 and Sergio Garcia, whose margin in the riders' standings has been cut to seven points, was eighth on a 1:54.115. Jaume Masia (Red Bull KTM Ajo) took ninth on a 1:54.306, whilst Dennis Foggia (Leopard Racing) was 3.184 seconds off the pace in 18th.
FP2
The conditions had improved and therefore so did the laptimes, with everyone quicker in the afternoon. Muñoz remained the rider to beat, with Suzuki moving up to second with some more impressive pace. Yamanaka leapt up the timesheets into third, just ahead of British rookie Scott Ogden as the VisionTrack rider shone in FP2. Andrea Migno (Rivacold Snipers Team) completed the top five.
There was only one crasher in FP2, too, as Elia Bartolini (QJMotor Avintia Racing Team) took a tumble, rider ok.
Provisional Q2 places
FP2 is the same as the combined timesheets, so it's Muñoz, Suzuki, Yamanaka, Ogden and Migno leading the way. Next up is Carlos Tatay (CFMoto PrüstelGP), ahead of SIC58 Squadra Corse duo Lorenzo Fellon and Riccardo Rossi. Öncü, the only rider to have scored in every race so far in 2022, is ninth as Masia completed the top ten.
McPhee, Guevara and Ortola are next up, with Garcia currently the last rider set to move through… but everything could still change on Saturday morning, especially as the weather remains changeable! Tune in for FP3 at 9:00 (GMT +2), before qualifying from 12:35.
FRIDAY: TOP 3
1 David Muñoz (BOE Motorsports) – KTM – 1'52.406
2 Tatsuki Suzuki (Leopard Racing) – Honda – +0.181
3 Ryusei Yamanaka (MT Helmets – MSI) – KTM – +0.232