Editorial Note: View a video recording of the race HERE.
Bagnaia beats Viñales for victory in MotoGP™ Virtual Race 2
The Italian comes out on top after ten high-octane laps around the Red Bull Ring, with some of the stars of MotoGP™ putting on another awesome show
Some of the biggest names in MotoGP™ put on another awesome show in the second Virtual MotoGP™ Race, with Pramac Racing's Francesco Bagnaia coming out on top after the Red Bull Ring delivered yet another last lap classic! Bagnaia and Monster Energy Yamaha MotoGP's Maverick Viñales went toe-to-toe, with the Italian taking this victory and a debut MotoGP™ win after diving up the inside of Viñales, on the grass, on the last lap. The second #StayAtHomeGP was filled with yet more thrills and spills as ten premier class riders again put on a show to bring a little light relief and entertainment to a tougher time for many MotoGP™ fans around the world – with more than twenty households connected up behind-the-scenes to make it a reality.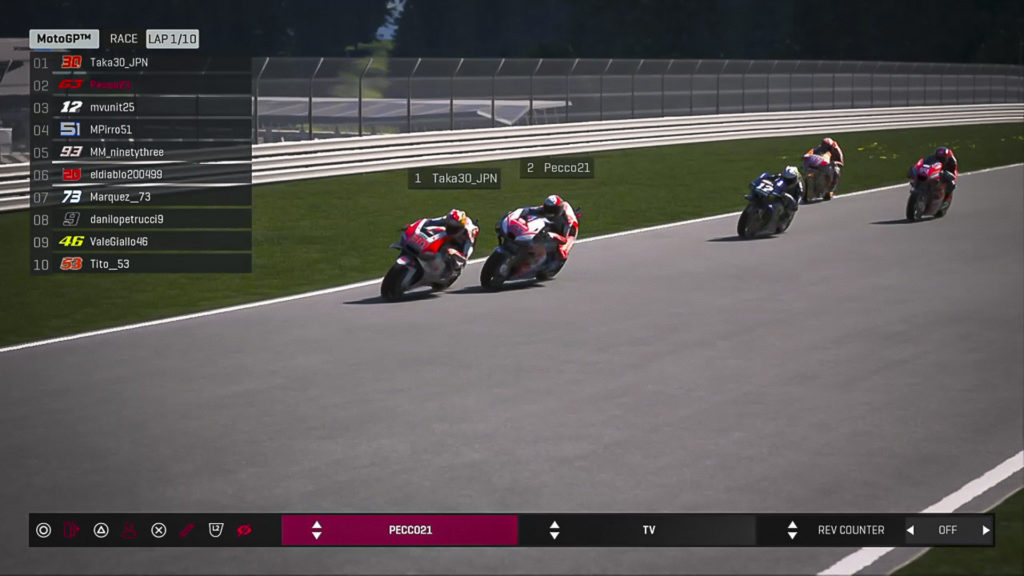 The race got underway in chaotic style with nearly all of the field getting caught up in a huge crash going into Turn 1, with LCR Honda Idemitsu's Takaaki Nakagami somehow emerging ahead and in the lead in the aftermath. It didn't last long though, with first Bagnaia and Viñales both motoring past the Japanese rider, and then Repsol Honda's Marc Marquez also finding a way past to move into third.
At the start of Lap 2 though, Nakagami ran straight into the rear wheel of Marquez and took out the number 93, much to the nine-time Champion's frustration. And it wouldn't be the Japanese rider's only controversial move! The number 30 stayed on but was quickly passed by Alex Marquez, who had his eyes firmly on the duo ahead, but Nakagami would then take out Alex as well after once again riding straight into the back of him. That  allowed Marc Marquez back into the podium hunt and Nakagami started to drift back. Younger brother Alex had too much pace for the reigning MotoGP™ World Champion though and he eventually broke clear and settled into third place.
Back at the front and it was Viñales who was leading, eight tenths clear of Bagnaia with now just a handful of laps remaining. The win was in sight for the factory Yamaha, but disaster then struck when Viñales tucked the front end of his M1 and he crashed out the lead. Bagnaia didn't need a second invitation to sweep through and retake control of the race, and the gap was quite something… surely it was done and dusted?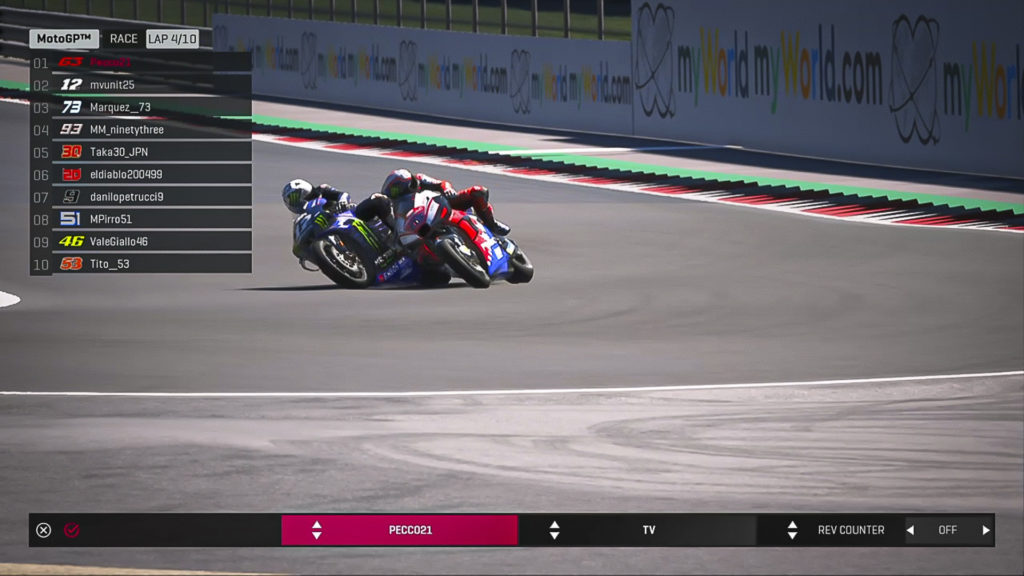 Not quite. Viñales found something to little by little cut the three-second gap down to nothing as the pair started the final lap. Remarkably he then took the lead from Bagnaia at Turn 3, plunging downhill and up the inside, but the Italian wasn't tapping out and giving up. He immediately responded with a huge dive up the inside of the Yamaha, even taking a trip across the grass to do so, and that would prove the race-winning overtake. Viñales was able to cut the gap back down again, but a big slide out of the final corner put paid to any chance of him drafting past Bagnaia before the chequered flag…
It wouldn't be another Virtual Race win for Alex Marquez, who came across the line in third place, but it was another trip to the rostrum and ahead of his brother Marc Marquez, who finished fourth. Behind them, three crashes cost Petronas Yamaha SRT's Fabio Quartararo dearly as he ended up in fifth despite showing podium pace once again, just as he had at Mugello.
Sixth place was another tight fight and went right down to the wire as Valentino Rossi (Monster Energy Yamaha MotoGP) and Danilo Petrucci (Ducati Team), both making their Virtual Race debuts, slugged it out. In the end, Petrucci came out on top despite The Doctor's best efforts after the number 46 put in an almighty lunge at the final corner, that ultimately ending in the nine-time World Champion crashing out spectacularly and Petrucci able to escape. Nakagami slipped back to eighth after a few more exploits, making no friends on the virtual track in this race but providing some top entertainment, with Ducati Team's Michele Pirro and Reale Avintia Racing's Tito Rabat completing the top ten.
That's it from the second MotoGP™ Virtual Race, and we hope you've enjoyed it! Make sure to stay tuned to motogp.com and social media for more reactions, clips, interviews and #StayAtHomeGP content from MotoGP™, riders and teams.
Francesco Bagnaia: "I had to concentrate so hard! When Maverick overtook me he was setting a really good pace, then when he crashed and I took the lead again I started to make a lot of mistakes. It was difficult to manage the grip but I tried to stay in front of him. On the last lap when he overtook me I gave it everything, also touching the grass a little, but the battle was so much fun!"
More, from a press release issued by Repsol Honda:
Miraculous Alex Marquez recovers for Virtual GP podium at the Red Bull Ring
A resurgent Alex Marquez returned to the rostrum after twice crashing due to the mistakes of others, Repsol Honda Team team-mate Marc Marquez making in a double top five for the team.
The second #StayAtHomeGP of 2020 proved to be the most dramatic yet as riders frantic fought over ten laps at the Red Bull Ring. Qualifying between the riders was close with  just a tenth splitting the front row. Alex continued his run of form to take third on the grid with Marc just a tenth behind in fourth.
After winning the first race, Alex Marquez was looking strong again but was unfortunately twice forced off by other riders. Despite two crashes, the 23-year old remained focused and charged through the field to continue his perfect podium record with a well-earned third place at the Red Bull Ring.
Marc Marquez again proved to be competitive on his virtual Honda RC213V and landed his best finish of the series yet with fourth. Trying to stay out of trouble in the early laps, the World Champion found himself in contention for the podium by mid-race. Unfortunately a mistake while battling with his team mate saw Marc slip out of the battle for the top three, taking solid points with fourth.
Alex Marquez
THIRD
"An exciting race! I'm happy to be back on the podium after an intense race at the Red Bull Ring. There were some very aggressive riders in the race and I crashed twice with the others. For sure being able to get a podium finish with two crashes is something very special so I have to really enjoy this, even if I thought I could have fought for victory again. This is racing! I hope everyone who watched had a good time, it was fun to go racing with everyone again."
Marc Marquez
FOURTH 
"Like the first race it was really fun to race with everyone. We were in the top five so I'm happy with the consistency and we were a little closer to where we want to be. The most important thing is we put on a nice show for the fans again. Congratulations again to Alex for another podium."
More, from a press release issued by Pramac Racing:
PECCO BAGNAIA SHOW
Francesco Bagnaia won the second #StayAtHomeGP at the Red Bull Ring Circuit. Pecco run a fantastic Virtual Race, he led from the Qualifying to the end of the race. He made no mistakes, what a perfect race. This success comes after a hard training with his Virtual Coach (Pecco's little brother), one of the best in the world, who worked closely with Pecco all this time. Thanks to this amazing performance Pramac Racing Team is the leader of the Virtual MotoGP Championship. We wish you a happy Easter, hoping the sponsors and fans enjoyed the second #StayAtHomeGP like we did.
More, from a press release issued by Monster Energy Yamaha:
VIÑALES SCORES SECOND, ROSSI TAKES SEVENTH IN MOTOGP VIRTUAL RACE II
MotoGP Virtual Race came back with a second round today, and Maverick Viñales and Valentino Rossi were part of the rider line-up, eager to entertain MotoGP fans with some eSport action. The Monster Energy Yamaha MotoGP riders took second and seventh place respectively.
Monster Energy Yamaha MotoGP's Maverick Viñales and Valentino Rossi joined the line-up for today's MotoGP Virtual Race II. For this round, the riders would be fighting for glory in a ten-lap race at the Red Bull Ring – Spielberg, and the team-mates were up for the task, taking second and seventh place respectively.
Viñales shone in the first MotoGP Virtual Race, held on 29 March. Despite a collision with Fabio Quartararo in the first corner and another fall towards the end of the race, the Spaniard rode to an impressive third place, attesting to his great gaming skills.
Having gotten further tips from Monster Energy Yamaha MotoGP eRider Lorenzo Daretti (aka Trastevere73 or 73Trast) and after training with him (see video), Viñales was feeling confident that he could do an even better job today and was immediately off to a good start. He qualified in second place, like he had done in the first round, and again he enjoyed a good launch off the starting grid, slotting into third. Once the Yamaha rider passed Takaaki Nakagami for second, the fight for the win was between him and Francesco Bagnaia. Viñales took over the lead on lap 6 but struggled to keep Bagnaia at bay. A small mistake ultimately cost him the frontrunner position. He was able to quickly resume his fight with Bagnaia. It went down to the wire, but ultimately Viñales finished in second place, just 0.074s from first (after penalties from Race Direction). He also managed to set the best lap time of all riders, 0.603s faster than everyone else.
Rossi was a new entry to the MotoGP Virtual Race challenge, to the delight of his fans the world over. Not normally an active MotoGP eSport gamer, the Italian had put in some time to train beforehand, aiming to make his fans proud and entertaining them at the same time. Naturally, The Doctor didn't have the experience the majority of the rider field had, it being his first time competing in a MotoGP Virtual Race. He steadily familiarised himself with the MotoGP eSport game during qualifying but had to start from the back of the grid, in 10th place.
As with Race I, lots of damage was done in the first corners of Race II. The number-46 Yamaha was one of the bikes that went down but later emerged from the chaos fighting for eighth position. Despite another crash, Rossi kept pushing all the way through, refusing to give up, and his determination paid off in the end. As other riders suffered falls, he climbed up the order and found himself frequently in sixth place. On the last lap he had a close battle with Danilo Petrucci, who ran wide in the very last corner, leaving enough space for the Yamaha man to try to dive on the inside, but their wheels touched. In a dramatic climax, The Doctor went down right before the finish line, but was still awarded a respectable seventh position on his first Virtual Race attempt.
MAVERICK VIÑALES
I finished third in the first MotoGP Virtual Race and today, in the second one, I finished second. These are good results, so I can be happy, though I really wanted to win today. I qualified in second place for the second race, and things were going well. The level at the front is quite high – you need to push hard. Especially Pecco Bagnaia is really good at playing MotoGP eSport. I tried really hard to break away from him when I was leading the race, but I made a small mistake and I crashed. Thankfully, in the game you're able to get up quickly. I was able to fight with Pecco again, but in the end it wasn't enough to win.
VALENTINO ROSSI
Having a MotoGP Race on the PlayStation was really strange! It was a new experience for me. I like playing online with friends, but I'm more competitive with four-wheel games. However, I had a lot of fun. I tried to fight! I hope all the MotoGP fans had a good time. We need to continue to respect the quarantine rules, we have to stay at home so we can go back to 'normal life' as soon as possible. I look forward to seeing the fans again next time I do a virtual race!