Editorial Note: Watch video of Virtual Race Four HERE.
Alex Marquez beats Marc Marquez in last lap virtual fight at Misano
The first head-to-head duel between the two didn't disappoint, with Alex coming out on top after a final corner move…
Sunday, 17 May 2020
In MotoGP™ Virtual Race 4, it was Marquez vs Marquez for the first time ever, with Repsol Honda Team's Alex Marquez coming out on top to become the first rider to taste victory in two Virtual MotoGP™ races. The Spaniard got the better of brother and teammate Marc Marquez in a thrilling final lap fight at Misano World Circuit Marco Simoncelli, with the pair joined on the podium by Monster Energy Yamaha MotoGP's Valentino Rossi, who profited from a last gasp crash for Fabio Quartararo (Petronas Yamaha SRT) to clinch a home rostrum.
Quartararo started from pole position for the third time in Virtual MotoGP™ thanks to his most dominant performance yet, ending qualifying nearly a second clear of Alex Marquez in second. The opening stages of the nine-lap scrap were typically chaotic, however: two of three previous victors, Maverick Viñales (Monster Energy Yamaha MotoGP) and Francesco Bagnaia (Pramac Racing), crashed out after some possible contact with the returning Takaaki Nakagami (LCR Idemitsu Honda), Rossi crashed after some contact with Alex Marquez, and that allowed Quartararo to escape at the front, with both Marc and Alex Marquez unable to match the pace of the Frenchman. The younger of the Marquez brothers swooped through to second shortly after, however, with Marc admitting he'd rather try and secure a top-three finish then crash whilst chasing his brother…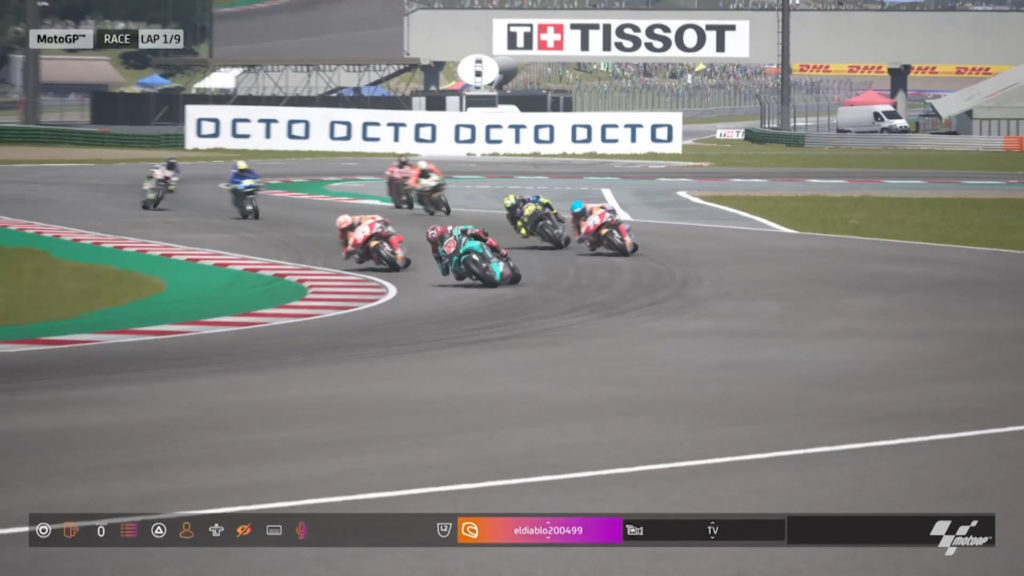 Quartararo came across the line to complete the third lap with an advantage of nearly four seconds, but that lead suddenly evaporated when the Frenchman tucked the front and suffered another virtual race crash – allowing Alex Marquez to move into the lead. The Frenchman quickly set about chasing down the Mugello winner, and within two laps he was glued to the rear wheel of the Honda…
The pair would touch on a handful of occasions as the ante was upped, but ultimately on lap seven the race was blown wide open. A touch from Quartararo caused Alex Marquez to go down before the Petronas Yamaha SRT machine then clipped the stricken Honda… leaving both on the floor.
That left Marc Marquez in clear air in the lead, much to his surprise and accompanied by a brilliantly evil laugh, and the race was on for the two men picking themselves up and chasing him down.
It would all come down to the final lap and the final sector in what was a thrilling finale, with all three split by nothing. As Alex Marquez closed in on his brother, Quartararo closed in on the pair of them and all three were pushing to the absolute limit before finally one went over it: Quartararo. The Frenchman tucked the front once again and any chance of stealing a last-gasp win disappeared, with the two Repsol Hondas left to dice it out. The pair entered the final corner with Marc in front, but the eight-time World Champion ran slightly wide and his teammate needed no second invitation. Alex Marquez stuffed it up the inside and gassed it towards the line, getting there just ahead and taking his second virtual victory.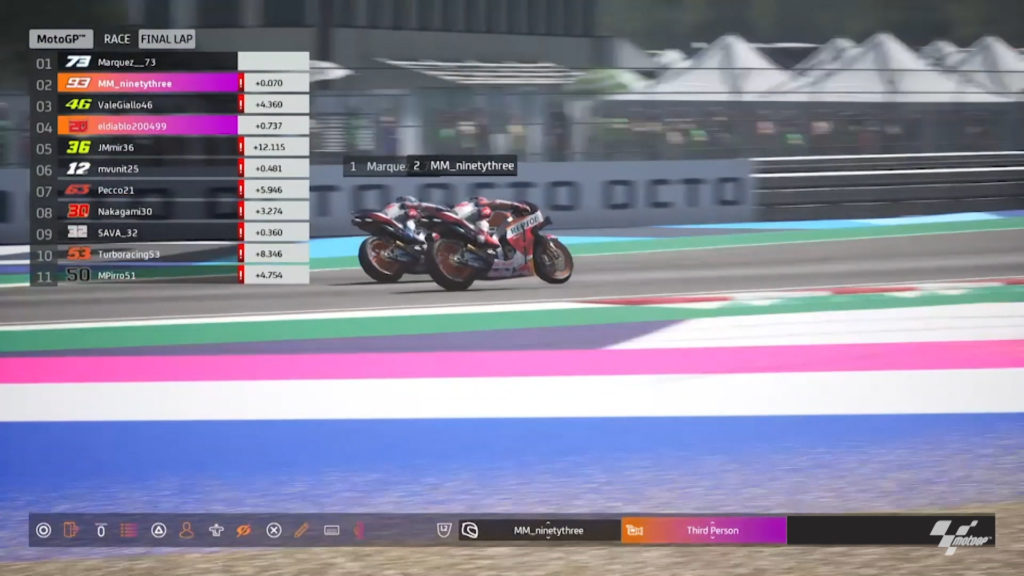 Rossi took full advantage of Quartararo's untimely crash, taking the final podium place on home soil in style – and celebrating in style too as the 'Doctor' pulled out a real Misano trophy on the stream. Behind Quartararo, who remounted in fourth, Team Ecstar Suzuki's Joan Mir took the final space inside the top five, ahead of Viñales and Bagnaia. Nakagami took eighth place, clear of Aprilia Racing Team Gresini's Lorenzo Savadori, with Reale Avintia Racing's Tito Rabat completing the top ten ahead of Ducati Team's Michele Pirro.
That's it from Virtual Race 4 for the MotoGP™ class! Check out anything you missed on motogp.com and enjoy everything across social media with highlights, interviews and more.
Alex Marquez: "I'm so happy, so happy. I was so nervous because Pecco had one, Maverick another one and we were all equal so I said, 'wow, this one I need to win'!
"Then I saw Fabio was so fast today, he was a second a lap quicker than everyone but when he made a mistake I thought ok maybe I can manage this. Then we crashed again, we both touched and crashed. Marc was in front and then, at last corner, I thought 'ok, I will try to brake early and then try to attack in the acceleration'. His mentality was the opposite, try to attack at the brake point, just like in reality! But I accelerated well and I won."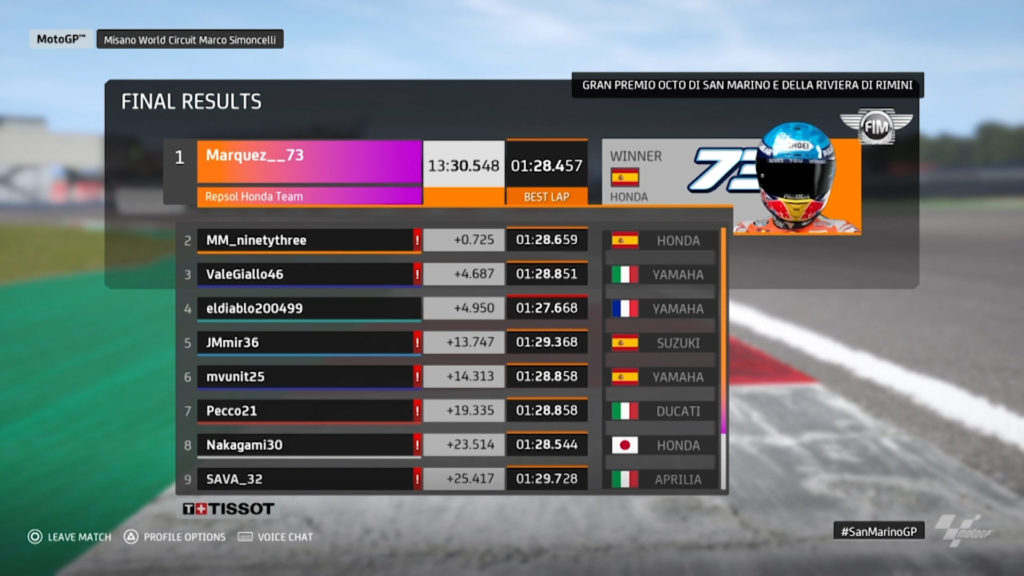 World Cup winner Ferrari claims Virtual MotoE™ win
The Italian returns to rule Misano once again – despite a last lap crash!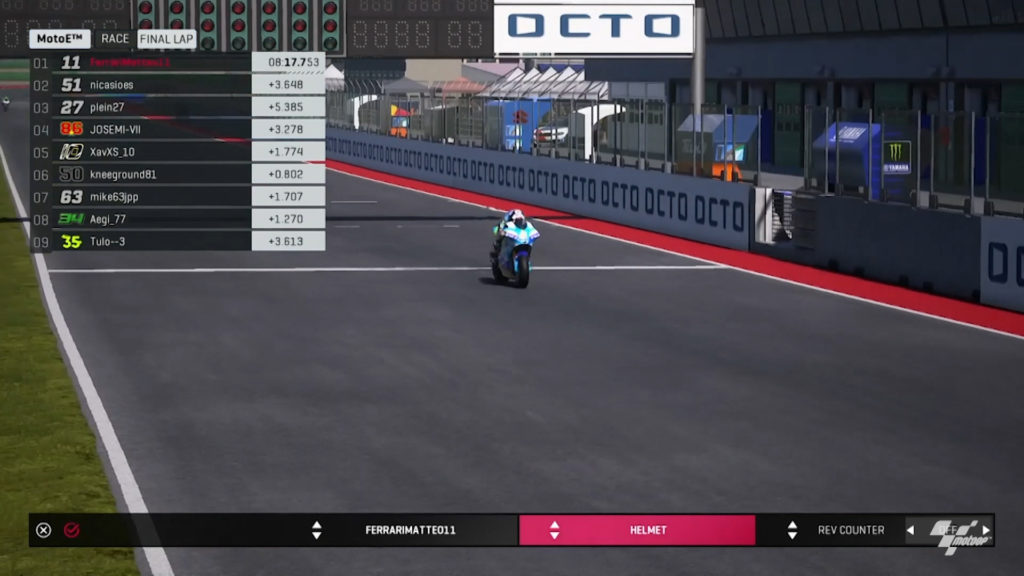 Trentino Gresini MotoE's Matteo Ferrari has continued to make history in the virtual world, becoming the first winner of a virtual race just months on from becoming the inaugural FIM Enel MotoE™ World Cup winner. The Italian eased home, despite a last lap crash, ahead of Avintia Esponsorama Racing's Eric Granado and Ongetta SIC58 Squadra Corse's Mattia Casadei.
First lap carnage saw MotoE™ rookie Jordi Torres (Join Contract Pons 40) taken out at the opening corner in an incident that also involved Intact GP's Dominique Aegerter and Tech 3 E-Racing's Lukas Tulovic, with the chaos allowing polesitter Ferrari to escape at the front and Granado in pursuit behind him as the two pulled clear.
It looked set from then on to be a duel for the win, and the two wouldn't, as it turned out, be seen again by the rest of the field in the entire five-lap dash. But behind them the fight went on, as Openbank Aspar Team's Alejandro Medina shocked most by fighting through from dead last on the grid into third and threatening a podium. The Spaniard was then put under some serious pressure by Casadei, but a crash for the Italian relieved most of that for a while at least…
Granado asked Ferrari to slow down but it was to no avail, with the laps ticking by and the Italian still out front as his advantage only continued to grow. It looked like it could be disaster right at the end, however, as he suddenly took a tumble in the final sector on the final lap… but with such an advantage, he was still able to remount and cruise across the line four seconds ahead of Granado.
The final podium place ultimately went to Casadei after he chased down and forced a mistake out of Medina on the final lap, settling that duel, with Xavier Simeon (LCR E-Team) completing the top five. Torres and Mike Di Meglio (EG 0,0 Marc VDS) took sixth and seventh, with Tulovic and Aegerter proving the final finishers.
That's a wrap for the first ever virtual MotoE™ race! Check out reactions, highlights and more on motogp.com and across social media.
Matteo Ferrari: "I'm really happy about it because it was the first for MotoE this year! And I'm so happy to win the first race… and take pole and set the fastest lap.
"It's fantastic for me because last year we won the Cup in reality, this year unfortunately we've only had one two-day test so far… so I'm training a lot, not on the track but on the PlayStation!"