Monster Energy Yamaha pilot Maverick Vinales topped Day Four of MotoGP pre-season testing Thursday at Losail International Circuit, in Qatar, with a lap time of 1:53.244 on his factory YZR-M1.
Vinales' time was better than Marc Marquez's official Circuit Best Lap Record of 1:53.380, which he set in 2019.
MotoGP did not race at Losail in 2020 due to the COVID-19 global pandemic.
Franco Morbidelli, riding his PETRONAS Yamaha Sepang Racing Team YZR-M1, was also under the lap record with a time of 1:53.323 but ended up second-best on the day.
2021_QATAR_MotoGP____OFFICIAL_TEST_classification_4

More, from a press release issued by Dorna:
Viñales hits back as Yamaha dominate on Day 4
The Iwata marque make it a 1-2-3 on Thursday, with Bagnaia taking over in pursuit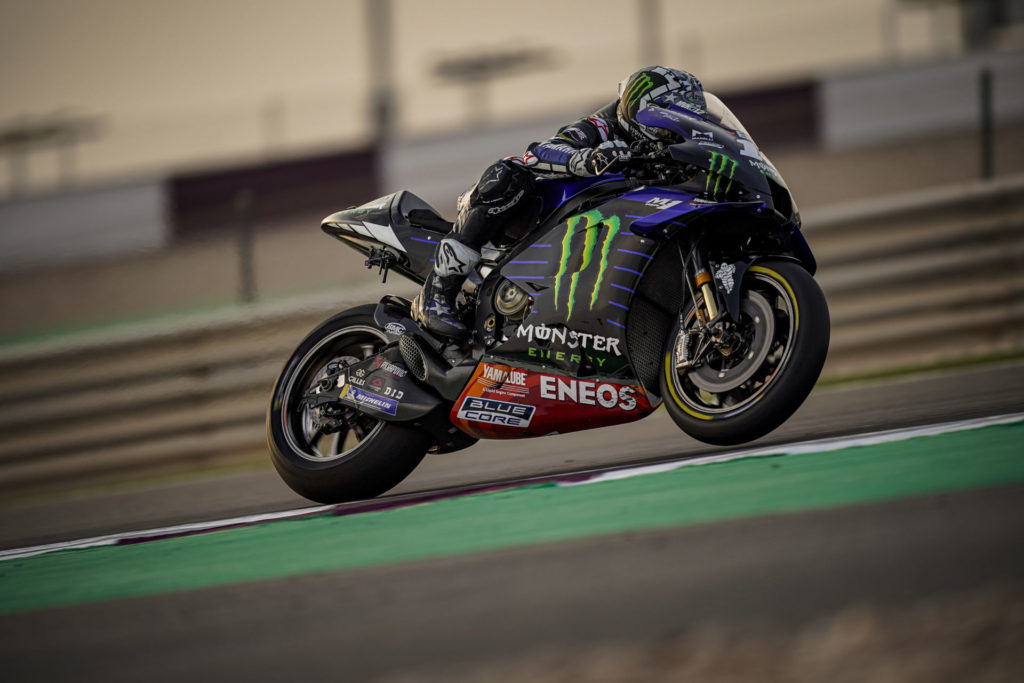 Thursday, 11 March 2021
Monster Energy Yamaha MotoGP's Maverick Viñales shot to the top by the end of play on Day 4 of the Official MotoGP™ Qatar Test with a late 1:53.244, making it three Yamahas leading the way on Thursday as Franco Morbidelli (Petronas Yamaha SRT) and Fabio Quartararo (Monster Energy Yamaha MotoGP) both set 1:53.3s to cement their good form heading into the final day of pre-season testing, taking second and third overall.
In terms of new tech, nothing too new was seen on Thursday but track conditions couldn't have been more perfect for Day 4, handing riders a fantastic opportunity to get some crucial laps under their belts with time running out before the start of the season.
Pitlane reporter Simon Crafar revealed that Yamaha have been looking excellent in race pace trim. One of those riders is of course Viñales and it was a busy day for the Spaniard, who had three bikes in his garage: his 'standard' one, a T1-plated carbon bike and the stunning white and red liveried package. Viñales was also once again seen doing plenty of practice starts at the end of pitlane and at the end of the day's play, he set that table-topping time. The number 12 confirmed he is concentrating hard on his starts and the opening handful of laps, with a big race simulation coming on Friday.
Teammate Quartararo did sit top in the closing stages but was edged down to P3 at the chequered flag, the Frenchman not quite going as quick as yesterday and now third on the combined times behind Jack Miller (Ducati Lenovo Team) and Viñales. "Many things" to test was the order of El Diablo's day, Quartararo confirmed that he feels comfortable on the new chassis and the pace he has is "great." He's looking for another step on the final day.
Valentino Rossi (Petronas Yamaha SRT) was very pleased after Wednesday's track action and was pleased with the new parts that Yamaha have been trying so far. On Thursday, The Doctor set his fastest lap of the test so far – a 1:53.993 – and is in good spirits, with Rossi saying he feels like "a real rider" again. Petronas Yamaha SRT Team Manager Wilco Zeelenberg confirmed that Morbidelli has been trying lots of different settings to enable him to get the feeling he had in 2020, and the man himself confirmed he's "really happy" overall but, as always, there's areas to work on during the final day.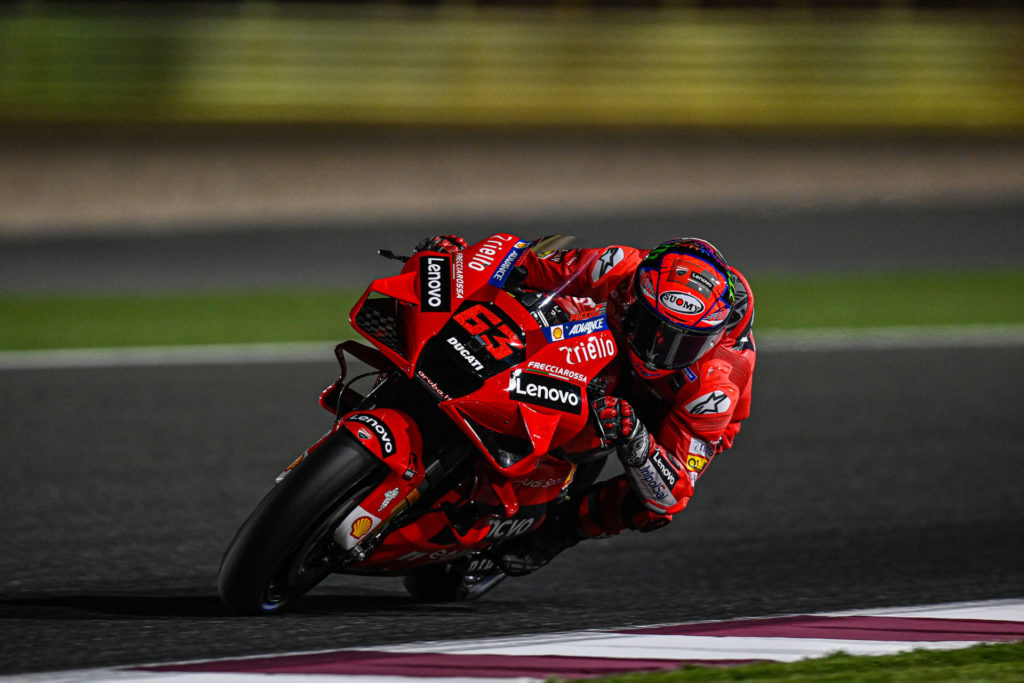 Ducati's fastest rider on Day 3 was Francesco Bagnaia (Ducati Lenovo Team) and the Italian was another to set his best time of the test so far. Speaking on After the Flag, Pecco was happy with his 1:53.444 but admitted it was by no means a perfect lap. Bagnaia was a lot happier with his race pace though, the new factory Ducati recruit has been quietly going about his business and confirmed he used Ducati's new aero package in Thursday's race simulation.
Second best Ducati was Pramac Racing's Johann Zarco. The Frenchman set the most laps of anyone on Day 4 – 71 – and ended the session in P9, with Zarco confirming that he worked a lot on race pace but had different feelings – not all good – than Wednesday. In addition, Zarco clocked an earth-shattering top speed of 357.69km/h down the start/finish straight – a new unofficial top speed record.
A couple of places behind the number 5 was Miller and after setting the fastest time of the test so far on Wednesday, Thursday looked like it was a day working more towards race pace with P11 for the Australian. Miller confirmed that they never put a new soft tyre in and it was another great day, with the race simulation going well. He thinks still there are a couple of little things with the setup to aid him and Ducati in race trim though.
Fastest of the rookies, despite a crash at Turn 16, was Jorge Martin (Pramac Racing). A 1:54.483 was set by the Spaniard, that's over half a second quicker than he'd previously managed. 42 more laps are on the board for Martin who finished just 0.022s ahead of Enea Bastianini (Avintia Esponsorama Racing), the latter finishing P15 on another great day for the Italian. Luca Marini (SKY VR46 Avintia) also had a seamless day at the office by the looks of things, the tall Italian set a 1:55.022 to end Day 4 in P20, 1.778s away from Viñales' pace. Overall, the three Moto2™ graduates have been looking great.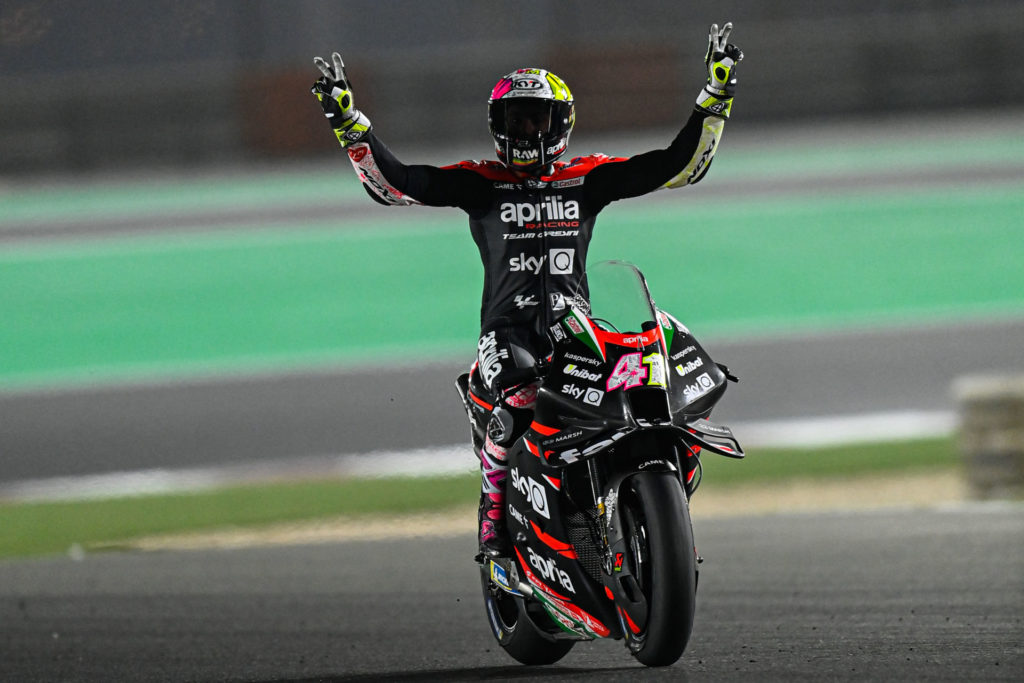 Aprilia Racing Team Gresini's Aleix Espargaro finished P5 on the timesheets and was overall happy with his work. Stability and rear grip have been improved, as well as being able to go fast with used tyres so all remains positive in the Noale camp. Espargaro had a small crash at Turn 4 while teammate Lorenzo Savadori – who finished P23 on the timesheets – also suffered a crash at the same corner. Nevertheless, 40 more laps were completed by rookie Savadori.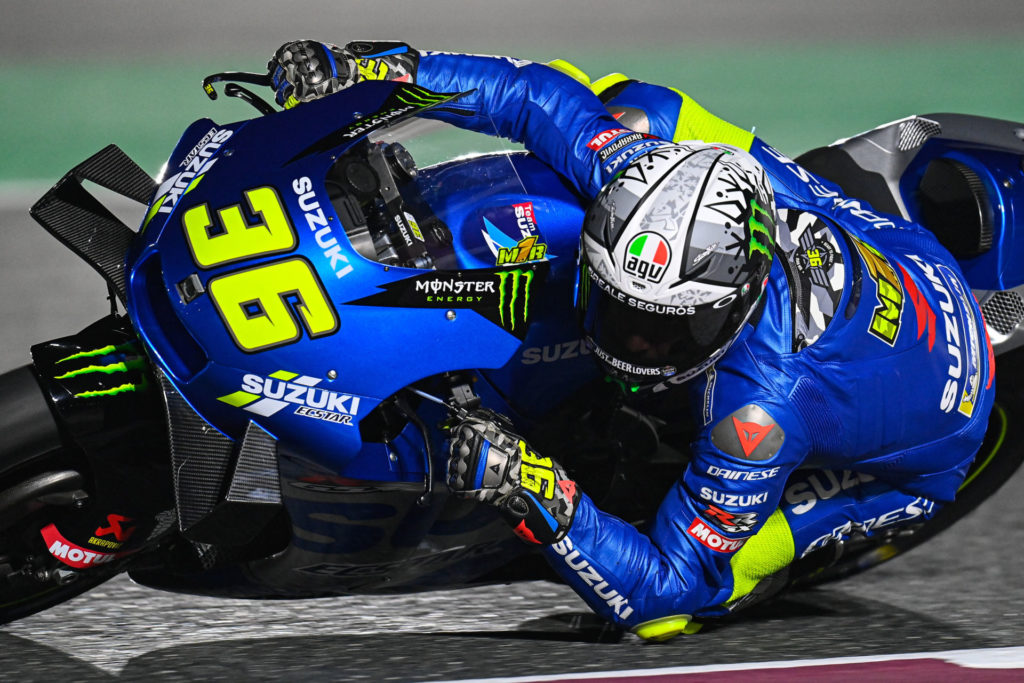 Team Suzuki Ecstar duo Joan Mir and Alex Rins finished line astern on the leaderboards in P6 and P7, respectively. It's been a relatively quiet test for the World Champions – outwardly at least – but both Mir and Rins dipped into the 1:53s for the first time at the test, so judging from the timesheets at least, it looks to be going pretty well.
The biggest news on Day 4 came from the Honda camp. In terms of updates on new parts, test rider Stefan Bradl, who recovered from a sore neck after his Day 3 Turn 2 crash, was seen debuting a new aero design for the Japanese manufacturer. The new-look design features some notable additions to the fairing, a big change from what we've seen before from HRC, who were already testing a different aero package earlier in the event with Bradl.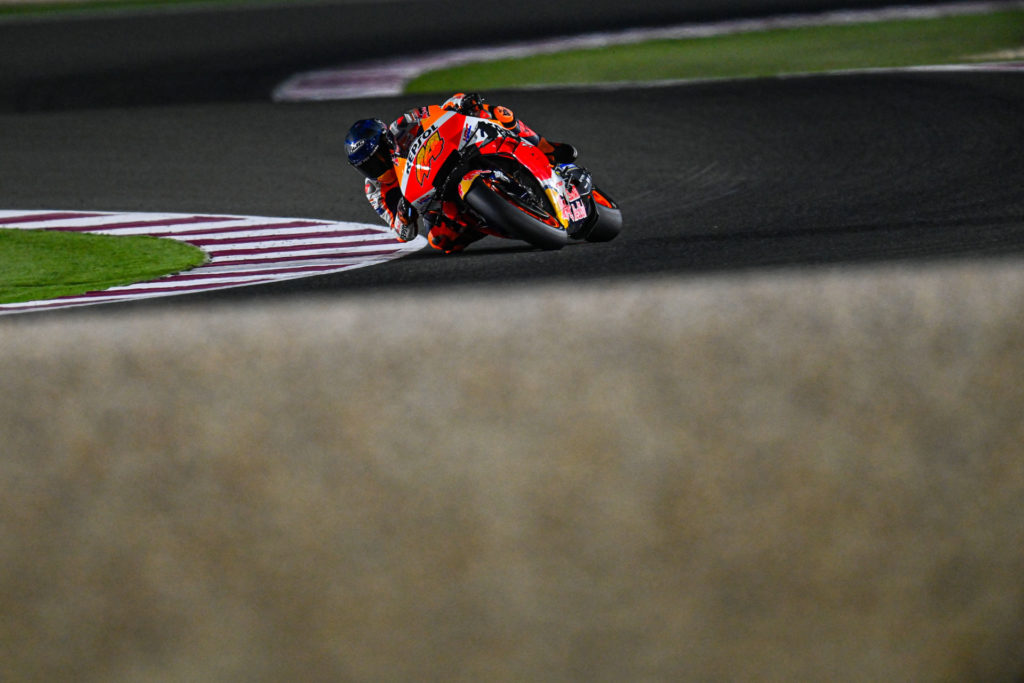 It was another tough day in terms of crashes for Honda though. Alex Marquez (LCR Honda Castrol) suffered a nasty highside on the exit of Turn 9, which resulted in the double World Champion picking up a small metacarpal fracture in his right foot. The Spaniard headed to the hospital for some mandatory checks, but fingers crossed it doesn't see him miss too much track time. Bradl crashed at Turn 1 and early on in the day and Pol Espargaro (Repsol Honda Team) went down at the opening corner for his first crash in HRC colours – thankfully for both Repsol-liveried riders, no injuries were picked up.
Pol Espargaro was the fastest Honda on Day 3 and ended Thursday's running in P10 after 65 laps as the Spaniard continues to impress ahead of the 2021 campaign. Takaaki Nakagami (LCR Honda Idemitsu) set his best lap on his 52nd and final circulation of the day too and it was P12 for the Japanese rider, one place ahead of Bradl in P13.
KTM's quiet Qatar Test continued on Day 4. Brad Binder (Red Bull KTM Factory Racing) was the quickest RC16 rider out there, setting a 1:54.691 – his best lap of the test so far. Factory teammate Miguel Oliveira was P18 with a best time of a 1:54.735 as both 2020 premier class winners continue their workload.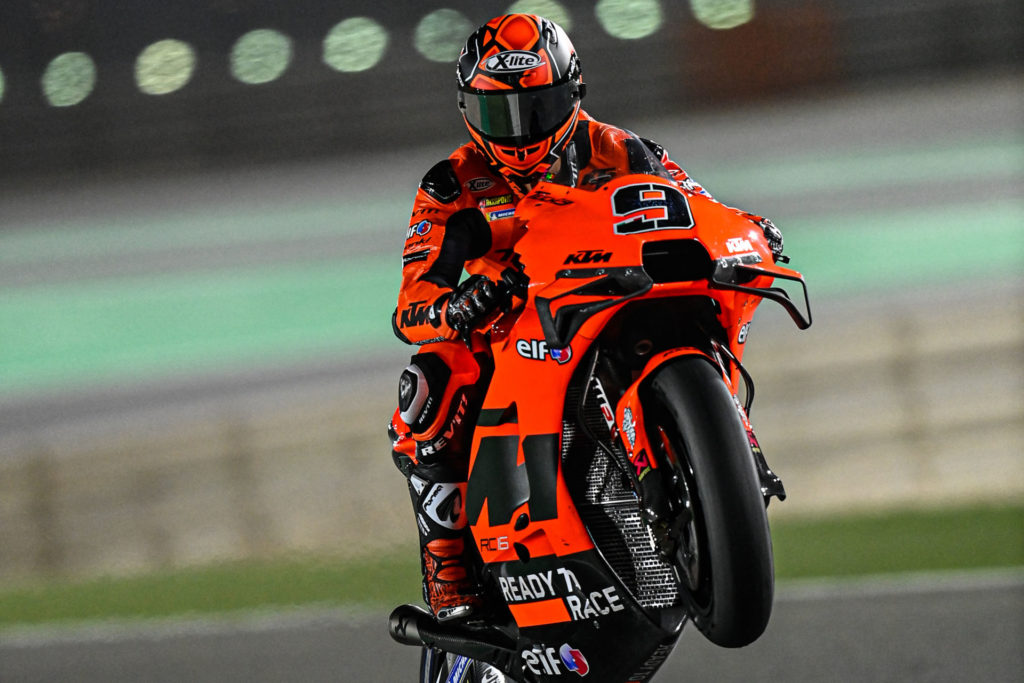 In the Tech3 KTM Factory Racing ranks, 19th fastest Danilo Petrucci set his best time of the test so far too as he continues his adaptation from Ducati to KTM machinery. Petrucci crossed the line 49 times on Day 4, with teammate Iker Lecuona completing a further 40 laps. The latter suffered a crash at Turn 12, but the young Spaniard was perfectly ok.
Another busy day in Doha draws to a close. Four days down, one to go. 2021 pre-season testing for the premier class will come to an end on Friday evening, it's going to be a huge day for every rider, team and manufacturer. Keep up to date with it all across MotoGP™'s social media channels, via Live Timing and, of course, on After the Flag at 18:30 CET. Don't miss any of the action on motogp.com!
More, from a press release issued by Tech 3 KTM Factory Racing:
Tech3 KTM Factory Racing duo continues fruitful work through test schedule at Losail

Following some very positive signs yesterday, Danilo Petrucci used the penultimate day of testing ahead of the season opener 2021 in about two weeks' time to further adjust himself aboard the KTM RC16 machine, which he was riding for the first time at the Losail International Circuit last Saturday. The Italian lowered his lap time slightly by 0.083 seconds, concluding the day 0.792 seconds from the top 10.
On the other side of the Tech3 KTM Factory Racing garage, Iker Lecuona managed to improved his lap time in Qatar once again. He went 0.120 seconds quicker than on Wednesday, missing out on his teammate by just 0.300 seconds while following him closely in the standings one more time. The Spaniard aims to further get ready to race throughout the final day of testing tomorrow.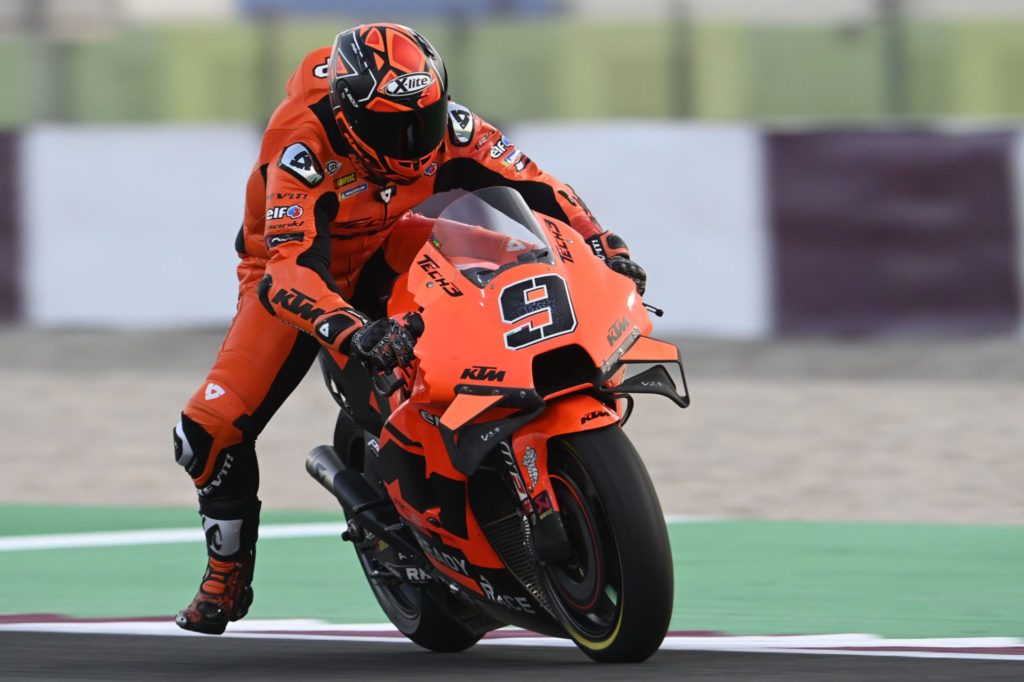 Danilo Petrucci
 
Position: 19th
Time: 1:54.895
Laps: 49
"It has been a quite difficult day, because we didn't improve the setup a lot, as we had to try something. This made us lose some time and at the end, we didn't find the step we were searching for."
"Unfortunately, we didn't find any solution today, so we still need to work on this. Yet, we still have one more day, where we aim to try to be faster and work with a difficult frame of mind. My feeling was basically the same as yesterday."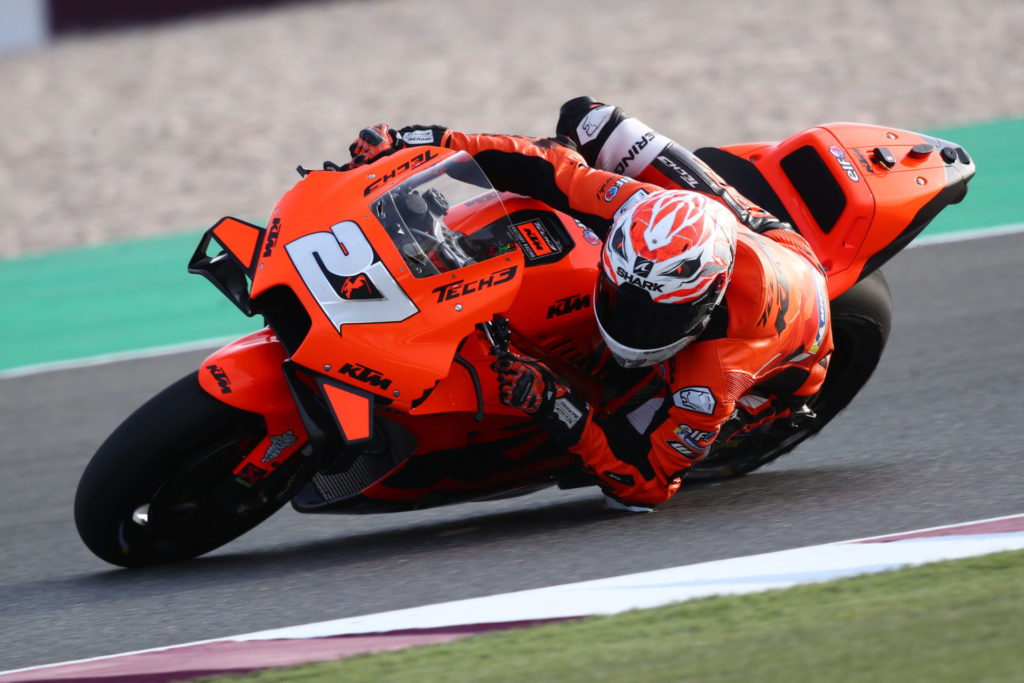 Iker Lecuona
 
Position: 22nd
Time: 1:55.195
Laps: 40
"To be honest, I'm a bit frustrated about today. I went down one more time, although I didn't do anything different, so I didn't understand why this happened. Yet, I definitely lost a bit of my confidence after this, so I had to work harder in order to gain it back."
"It was not easy and the lap times didn't come like I was wishing. We struggle a bit at this track, but we have some good ideas to try out tomorrow to improve."
More, from a press release issued by Repsol Honda:
Espargaro escalates his pace on penultimate testing day
With his first crash out of the way, Pol Espargaro spent Thursday in Qatar pushing and improving his overall pace as Stefan Bradl went back to work after an early finish yesterday.
The penultimate day of testing was another productive one for the Repsol Honda Team, a fruitful day for both Pol Espargaro and Stefan Bradl as the pair completed 110 laps together. Conditions remained decent for the premier class, many riders choosing to focus on longer runs over the course of the day as opposed to time attacks.
Early in the day, Pol Espargaro suffered his first fall as a Honda rider. The crash had little consequence and he quickly returned to the circuit after a change of leathers. Bouncing back, Pol picked up his pace and set a low 1'54 to move to the top of the timing tower with three hours of testing left. For the fourth day in a row of testing, Espargaro completed over 50 laps on the Honda with a best time of 1'54.103 and ending the evening as top Honda. Espargaro and the Repsol Honda Team continue to be pleased with the progress and growth shown across the two tests so far. 0.8s back from first, under 1.5 seconds split the top 18 riders when the flag came out.
Stefan Bradl was back out on track after a heavy fall the previous day, the German continuing with Honda's testing plan. Today's programme was focused around consistency and gathering data as opposed to pushing the RC213V to the limit. Although his final time wasn't as headline-grabbing from the previous days, Bradl set a respectable 1'54.427 on his way to 13th. He suffered a second fall at Turn 2 but walked away unharmed.
Now just a single day of testing remains of the pre-season, the 2021 MotoGP World Championship set to begin in Qatar on Friday, March 26 with Free Practice One.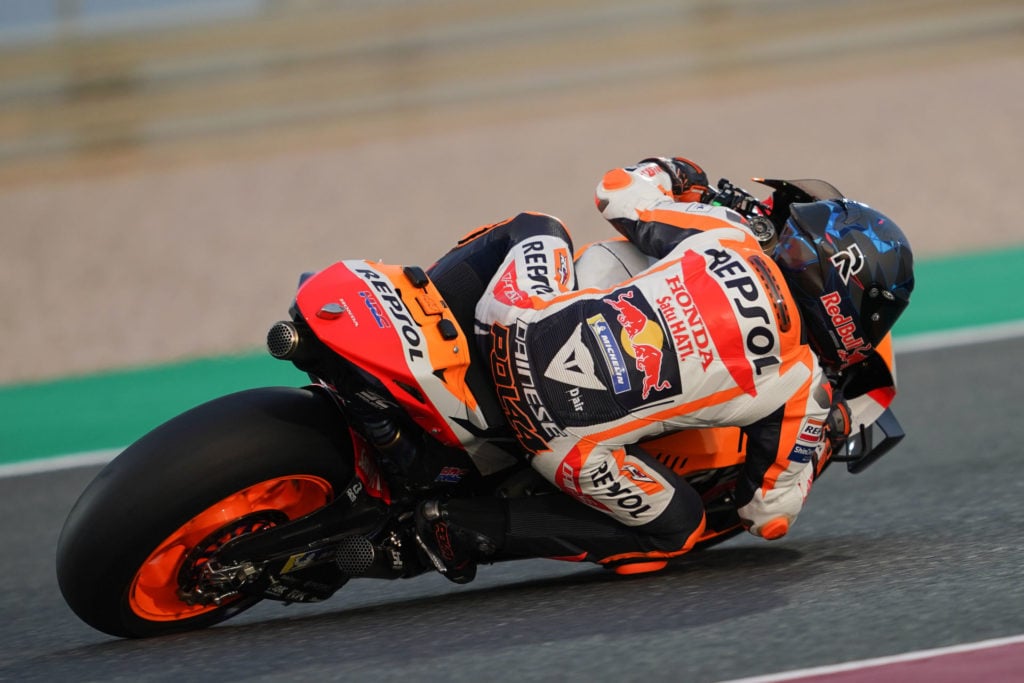 Pol Espargaro
10TH  1'54.103
"It was a strange crash today; we were trying different tyres and the wind was very different today so there was less wind at the end of the braking zone. So, this and the tyre we were using wasn't a great combo but after I used a different tyre, and we went much faster so it's not a big problem. At the moment we look quite competitive, the Honda so far really fits my natural riding style, and I am enjoying riding it a lot. The future looks nice, but we are still in the early stages. If we do everything well we can have a good year."
Stefan Bradl
13TH  1'54.427
"For me the day was OK, we had a lot of things to try today including some aerodynamics. Overall, it was an acceptable day of testing, even if the track conditions did change a bit. For some reason it was trickier out there but we work with what we have. Tomorrow we will try to combine everything that we have to get the best package possible."
More, from a press release issued by Monster Energy Yamaha:
MAVERICK VIÑALES LEADS YAMAHA TOP 3 ON QATAR TEST DAY 4
Losail (Qatar), 11th March 2021
OFFICIAL MOTOGP TEST
Maverick Viñales and Fabio Quartararo successfully concluded the fourth day of preseason testing at the Losail International Circuit, securing first and third place respectively.
1st MAVERICK VIÑALES 1'53.244 / 58/58 LAPS
3rd FABIO QUARTARARO 1'53.398 / 48/52 LAPS
The spirits are high in the Monster Energy Yamaha MotoGP box on Qatar MotoGP Official Test Day 4. Maverick Viñales and Fabio Quartararo both had a productive day and wrapped it up by cruising to first and third place respectively.
Viñales kept the positive vibes going during the fourth testing opportunity at the Losail International Circuit. He spent most of the available time fine-tuning his YZR-M1 and put in a time attack in the final stages. He concluded the day with a total of 58 laps and a fastest time of 1'53.244s, that put him at the top of the timesheets, with a 0.079s advantage over second-place man Franco Morbidelli. Today's time also moved Top Gun up to second place in the combined rankings, with a margin of 0.061s to first.
Quartararo put his head down today, focusing on his pace. The Frenchman signed off with a few extra laps at the very end of the session, bringing his day's total up to 52. His best time, a 1'53.398s, set on lap 48, briefly put him in second place. He ultimately finished third in the Day-4 standings, 0.154s from the top. The 1'53.263s lap from yesterday puts him in third place in the combined Qatar Test results, 0.080s from the front.
Tomorrow will be the last testing day in Qatar. The session will again be held from 14h00 – 21h00 local track time (GMT+3).
MASSIMO MEREGALLI
TEAM DIRECTOR
We had a lot of work scheduled for today's session. We haven't done a full race distance stint yet, but we have made promising steps whilst working on the pace with used tyres. Both Maverick's and Fabio's times are competitive, and they are also consistent, which is equally important. The preseason testing is already coming to an end. Our main aim for tomorrow is to get the riders fully confident and comfortable before we start the racing season in two weeks' time.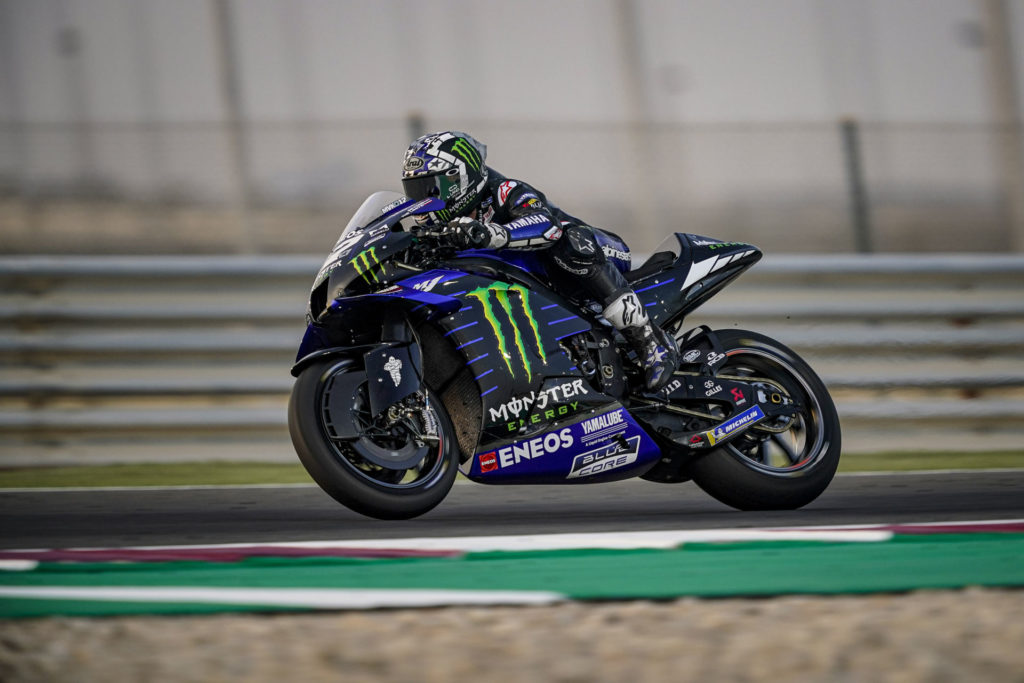 MAVERICK VIÑALES
We already know that we can be very fast on one lap and have a good rhythm. That's very positive, but there are other points that we can further improve, and we are working really hard on that. We have one more test day remaining. I'm concentrating on my race starts and also on the first laps with a new tyre and a full fuel tank, which is important. We are making a lot of progress and this is making us very happy. We are really motivated.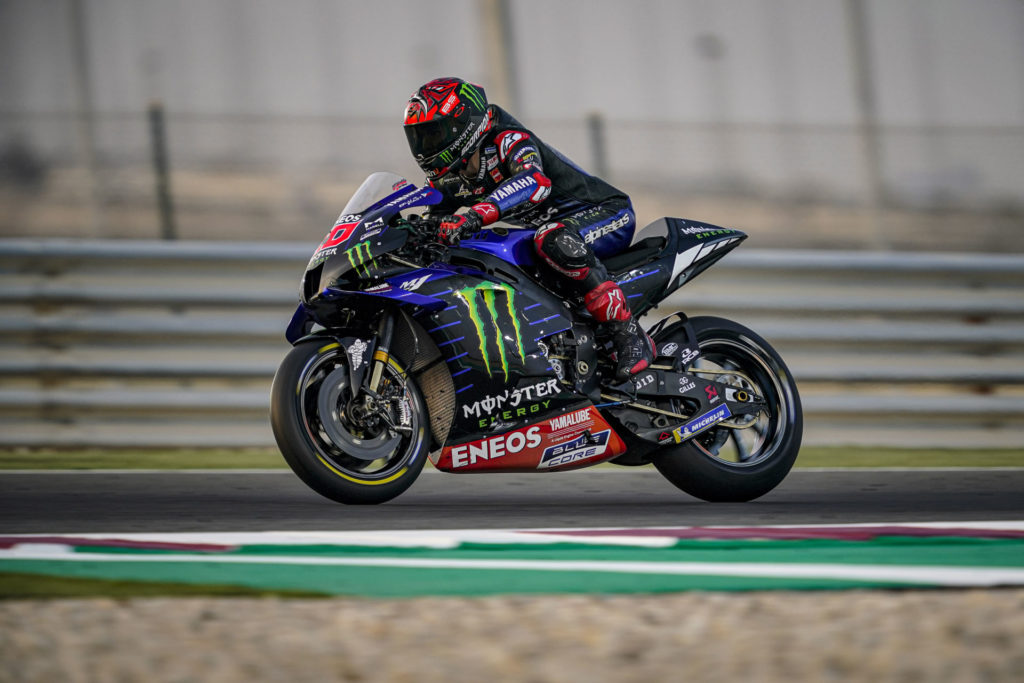 FABIO QUARTARARO
It wasn't the most fun testing day, because we had many things to try. During the time attack I went with an old medium rear, but the feeling wasn't good, so I immediately switched to a soft. I was impressed with the potential of the soft, even if my lap wasn't that great. But a 1'53.3s is already a good time. Step by step we are improving. Let's see if we can make further progress on the last day.
More, from a press release issued by Team Suzuki ECSTAR:
FOCUS TURNS TOWARDS RACE SET-UP ON TEST DAY 4 FOR SUZUKI
Joan Mir: 6th – 1'53.827 (+ 0.583)
Alex Rins: 7th – 1'53.860 (+ 0.616)
Sylvain Guintoli: 25th – 1'56.006 (+ 2.762)
Action continued under the lights on Thursday in Qatar for the MotoGP teams and riders, as the fourth day of pre-season testing got underway.
Team Suzuki Ecstar tested quite a few items, but their attention also turned to preparing the race set-up for the bikes ahead of the first race of the season.
Joan Mir worked on chassis settings and putting down reference laps in order to make comparisons between parts and options. He covered most areas of the bike on Thursday and was therefore ready to work towards his race set-up. The feedback from Mir was encouraging, and despite not being able to put in a fast lap, his pace is nevertheless strong. He did 37 laps, with a finishing position of 6th.
Alex Rins used some of the day's track session to continue his work with the fairing variations available to him, before also working on suspension and geometry. He then did some back-to-back comparisons. Rins found positive feelings and improved his lap time. He completed 44 laps and closed the session in 7th place.
Sylvain Guintoli continued his usual important work of collecting data and information, concentrating today on suspension, and the strategy for race starts.
Ken Kawauchi – Technical Manager:
"Today Alex continued to try different fairing specifications, Joan tried chassis settings, and then both riders worked to finish our program before switching to race set-up. Our pace is good, but we want to make a few more adjustments to be more prepared. We'll work again tomorrow and see how we feel, but so far we're happy."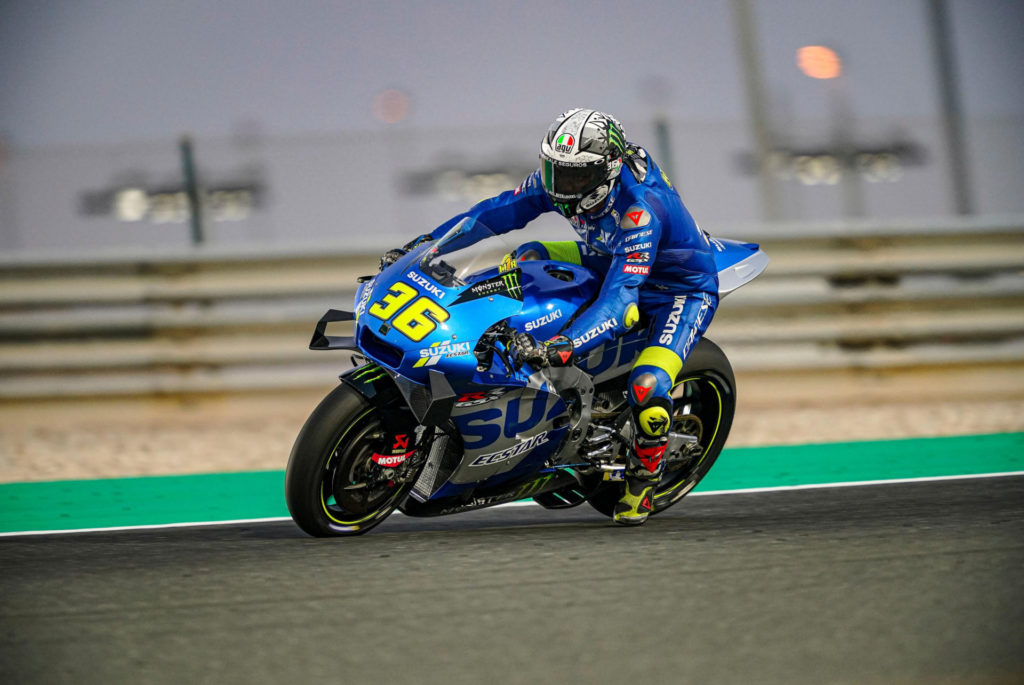 Joan Mir:
"I'm quite satisfied with today, we made some steps forward and some progress. We focused on the settings of the bike to try and improve our performance. On my last exit we made some adjustments which didn't work, so I didn't improve my lap time in the end, but I'm still not far from the top riders and I'm pleased with my pace. I was able to maintain times in the 54s and that's encouraging. I'm ready for the final test day tomorrow."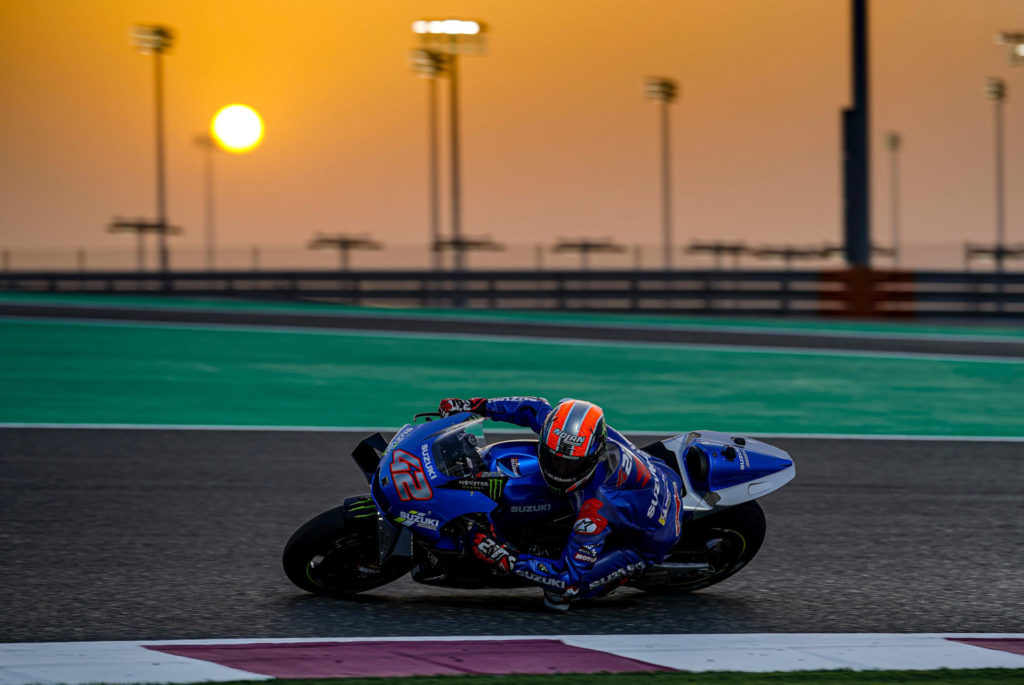 Alex Rins:
"It was a good day today, I really enjoyed riding and I tried a lot of things. I struggled a bit more to find the pace today, yesterday it came more easily, but I still improved the lap time so I'm happy. Tomorrow I will try the new chassis again and then I will try a race simulation to see how it's all going. Overall, everything feels good so far."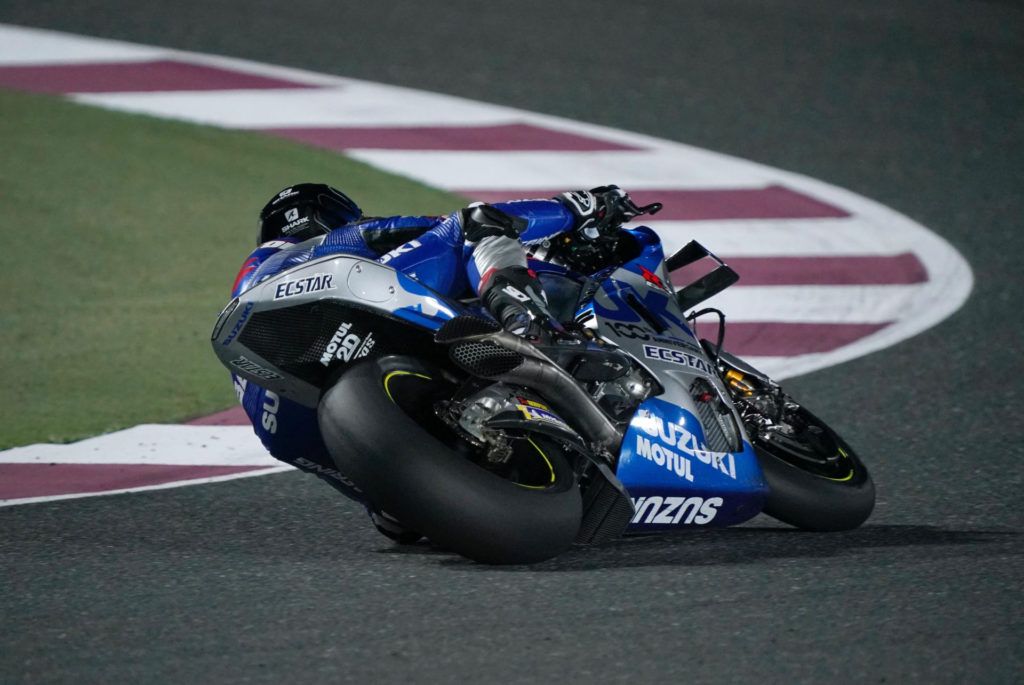 Sylvain Guintoli:
"It was another long and busy day, trying many things. I did 60 laps today and we got a lot of information; so far I've done nearly 300 laps in total over the test days and there will be more tomorrow! We worked on the front and rear suspension and the starts today. We're getting through the program and we're almost done, so we're feeling very good."
More, from a press release issued by PETRONAS Yamaha SRT:
PETRONAS Yamaha SRT hard at work in penultimate day of pre-season test
Franco Morbidelli and Valentino Rossi end the fourth day of Qatar Test feeling great in second and eighth positions respectively
PETRONAS Yamaha Sepang Racing Team riders Franco Morbidelli and Valentino Rossi made good progress at Losail International Circuit, in the penultimate day of pre-season MotoGP testing in Qatar, to end the session second and eighth.
Morbidelli once again started the day's running at the top of the timesheets, concentrating on his first time attack runs of the resumed test. Showing good speed with the same set-up throughout his 62 laps, the final run of the session saw Morbidelli post the second fastest time – 1min 53.323secs – which was just 0.079secs shy of the top.
Rossi had a consistently strong day with good time attack runs, posting times within the top-five at both the beginning and end of the seven-hour session. The fourth day of the test saw him test a new front fender, front fork, rear shock settings and conclude final chassis comparisons. With a fastest time of 1min 53.993secs from the 52 laps completed, Rossi ended the penultimate day of testing eighth.
Morbidelli and Rossi will back out on track at 2pm local time (7pm MYT) for the final day of MotoGP pre-season testing, which will come to a close at 9pm local time (2am MYT).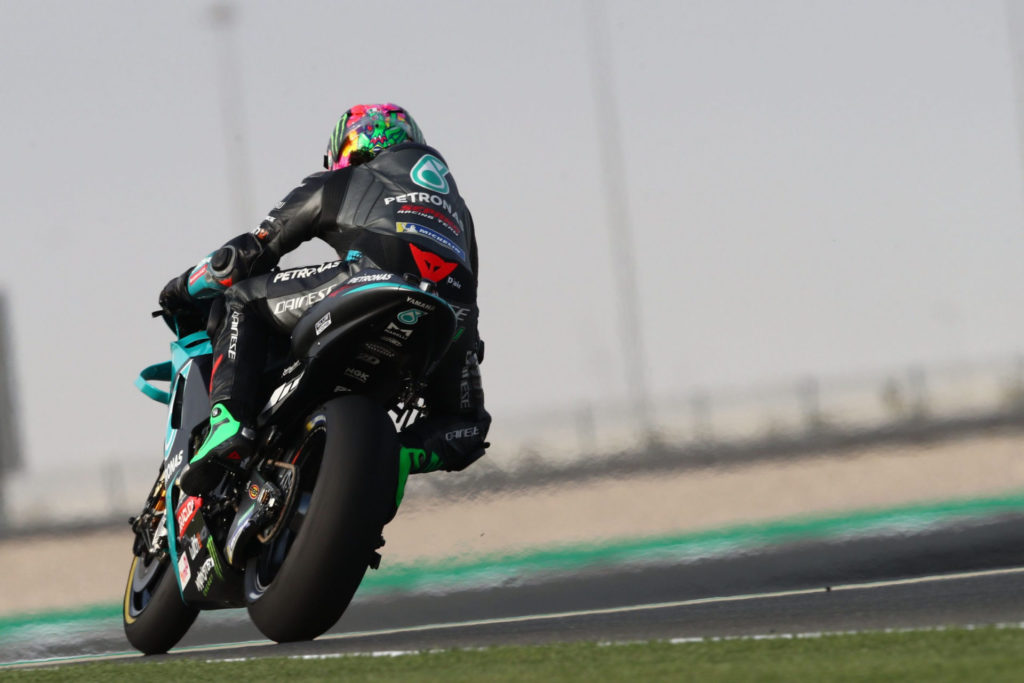 Franco Morbidelli
2nd (1:53.323)
I feel ready for the first round of the season; there's always room to improve the pace and things that could be better, but I feel ready. We've tested a lot and have been trying to adapt to the different conditions at every hour and then we finished with a really good first time attack. I'm really happy with it. Tomorrow we will need to look at the tyres and look at our long run, the usual type of things. Overall I'm really satisfied and I'm working with my team to understand the secrets of the bike even more.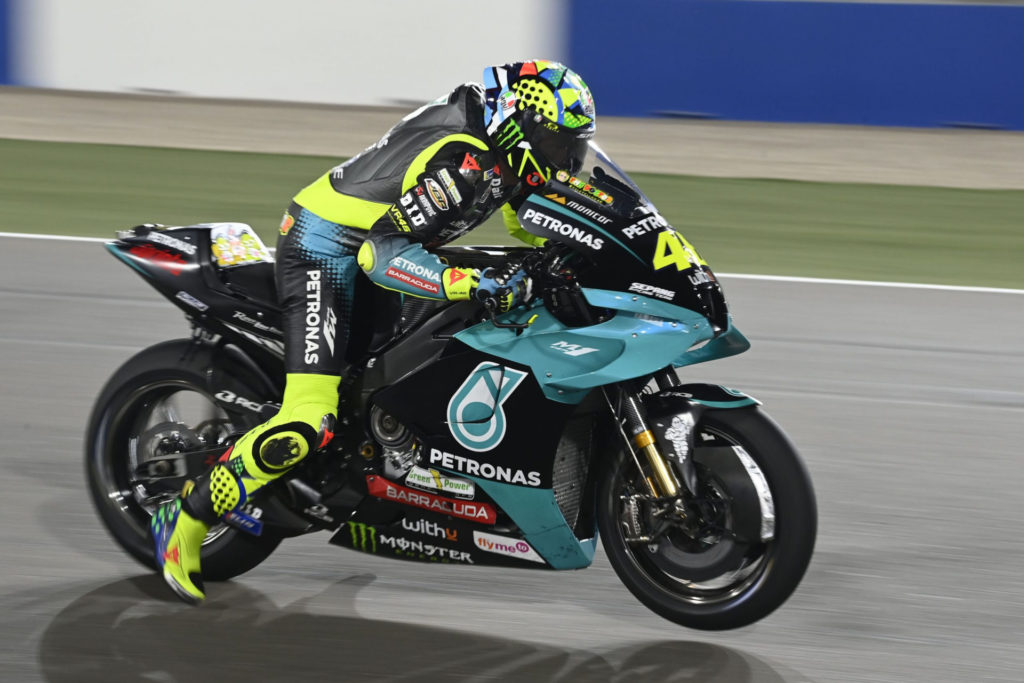 Valentino Rossi
8th (1:53.993)
Today was a positive day because it was the first time that I have done a 1min 53secs lap of Qatar, it was my best lap and that was very important to do. There are still areas of the time attack and race pace that I need to improve a little bit, but I'm happy because we worked well today and improved the feeling. I was able to increase my corner entry speed, improve my race pace and now I'm closer to the top guys, which is crucial for the race. The important thing is that we are working in the right direction and closing the gap to the guys at the top.
More, from a press release issued by Pramac Racing:
Qatar Test – Johann in Top Ten, Jorge continues to improve day by day
The two riders of the Pramac Racing Team, Johann Zarco and Jorge Martín were in action today at the Losail Circuit for the penultimate day of official testing in Qatar.
Zarco conquered the ninth position with the time of 1:54.056 during  the 53rd lap of 71 total. The French was busy today, gathering as much information as possible in order to have more control over the bike and understand where he can still improve.
It was also a positive day for Martín, despite a crash without consequences at turn 15. The Spanish rider tried long run and a time attack for the first time today, which was essential to gather important data for the race. Jorge completed a total of 42 laps, stopping the clock at 1:54.483, 4 thousandths of a second off the top ten, and finishing in 14th position.
Jorge Martín
Today we tried the time attack and a long run for the first time, I am very satisfied, both for the time I managed to set and for the way we are working. It was a very productive day that helped me to understand a lot of things, and above all I can see that we are taking big steps forward day after day and this helps me to have more and more confidence.
Johann Zarco
We were planning to do a long run at the end of the day to gather more information about how the bike might behave in race conditions but there was more work to do than expected. It was a very exciting day, I did 71 laps, we worked on many aspects to improve the feeling and control even more. I am sure that if we continue to work like this we will be able to take great satisfaction.
More, from a press release issued by Ducati Lenovo Team:
Bagnaia closes fourth on the penultimate day of testing in Qatar. Miller maintains the lead in the combined standings
At Losail International Circuit in Doha, Qatar, the Ducati Lenovo Team continues its preparations for the 2021 MotoGP World Championship, which will get underway in just under three weeks at the same track.
Pecco Bagnaia closed the fourth day of testing with the fourth fastest time (1:53.444) after having occupied the top spot for much of the evening. In addition to having tried a "time attack," the rider from Turin also performed a "long-run" over a distance of 15 laps, obtaining positive feedback. At the end of the penultimate day of testing, Bagnaia is in fifth place overall, just 261 thousandths of a second off the best time set yesterday by teammate Jack Miller.
After finishing the third day of testing in the lead, improving the current circuit record, Jack returned to action today focused on fine-tuning his Desmosedici machine and performed a race simulation this evening. Miller closed the session in 11th place while maintaining his lead in the combined standings thanks to yesterday's excellent lap time.
Michele Pirro was also back in action today in the early hours of the session to continue developing the Desmosedici GP21 of the Ducati MotoGP Test Team.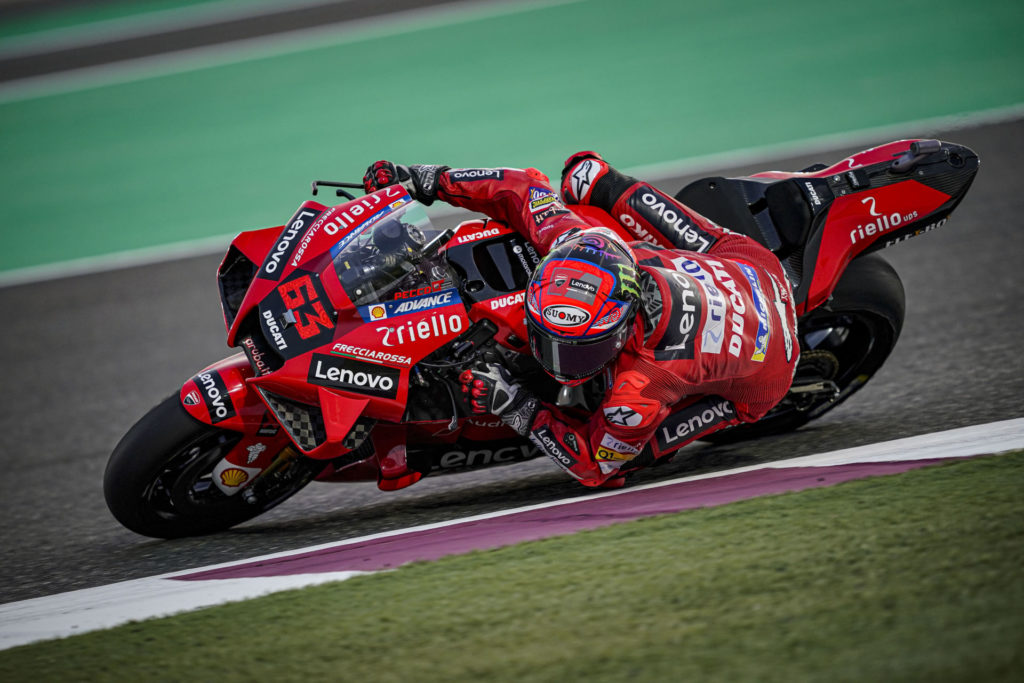 Francesco Bagnaia (Ducati Lenovo Team, #63) – 1:53.444 (4th – 53 laps)
"I'm delighted with the work done with my team today. The weather forecast for tomorrow calls for higher temperatures and strong winds, so we tried to carry out most of our programme. During my first "time attack" for this year, I managed to set a very good time, and with the same tyres, I then did a short race simulation on a 15-lap distance. The feedback is very positive: my pace was consistent, although tyres were used. Now we know what we still need to improve for the race".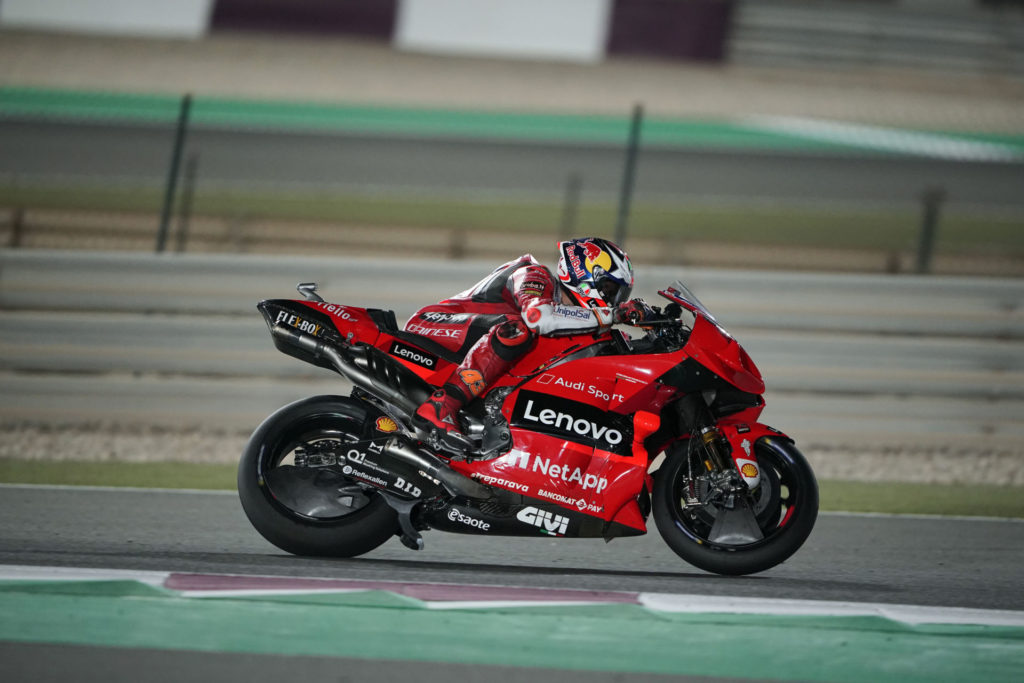 Jack Miller (Ducati Lenovo Team, #43) – 1:53.347 (11th – 58 laps)
"It was a very positive day. Compared to yesterday, today, we mainly focused on testing with different tyres. I did 15 laps with yesterday's used tyres, and then I tried a race simulation with new tyres. I covered almost the entire distance of the Grand Prix, but compared to a real race, I pushed hard right away in the first few laps, wearing out the rear tyre, which had a drop towards the end. I am not worried about that because I know my approach in the race will be different. In general, I feel very comfortable on the bike, and I'm satisfied with our work".
The Ducati Lenovo Team riders will be back on track tomorrow at 2:00 pm (CET +2.00) for the final day of official pre-season testing.
More, from a press release issued by Sky Racing Team VR46:
POSITIVE FEELINGS FOR LUCA MARINI IN DOHA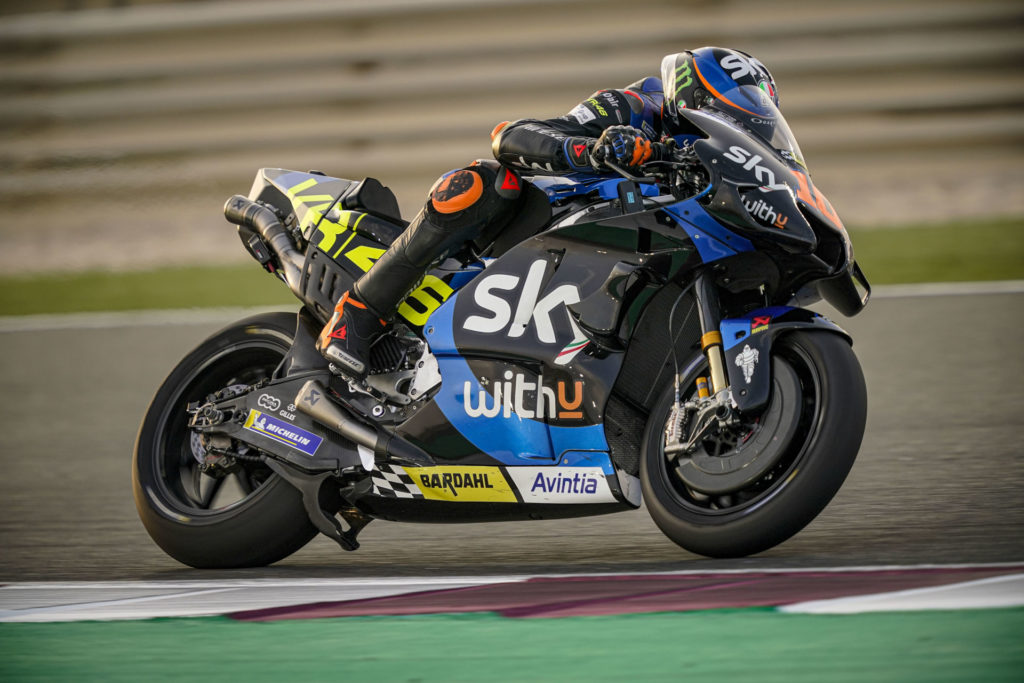 A long run at the end of the day 2 for the rider of the Sky VR46 Avintia in the official test in Qatar.
Doha (Qatar), March 11th 2021 – Another productive day for Luca Marini working on the Ducati MotoGP in the second official IRTA test in Qatar. After yesterday's first long-distance tests, today the rider of the Sky VR46 Avintia has completed 53 laps with a final long run of more than 20 laps.
Positive feedback and a best time of 1'55.022 on the eve of the last day of official tests that will close the pre-season 2021.
Luca Marini: 
We have worked really hard today especially on the rear of the bike and I found a good setting. Even in the corners I was able to make a step forward, I'm faster in the changes of direction and at the end of the day I did a race simulation. The feeling is good, even on physical side, and I was able to understand better how to manage the tyres even on long distances. It was tough, the pace isn't bad, I felt a drop in the front tire, especially on the right side, and I have to work on that.
Ruban Xaus:
Fifth day on the bike for Luca: we are already starting to see the first automatisms and even more naturalness in getting out on the track. I really like his working method, progresses and constant evolution. He has worked hard today too and at the end of the day he did a long run of over 20 laps with a pace of 55 high. I'm happy, a good starting point considering it's the first time in the long distance with this bike.
More, from a press release issued by LCR Honda Idemitsu:
NAKAGAMI STILL AIMING TO IMPROVE AT QATAR TEST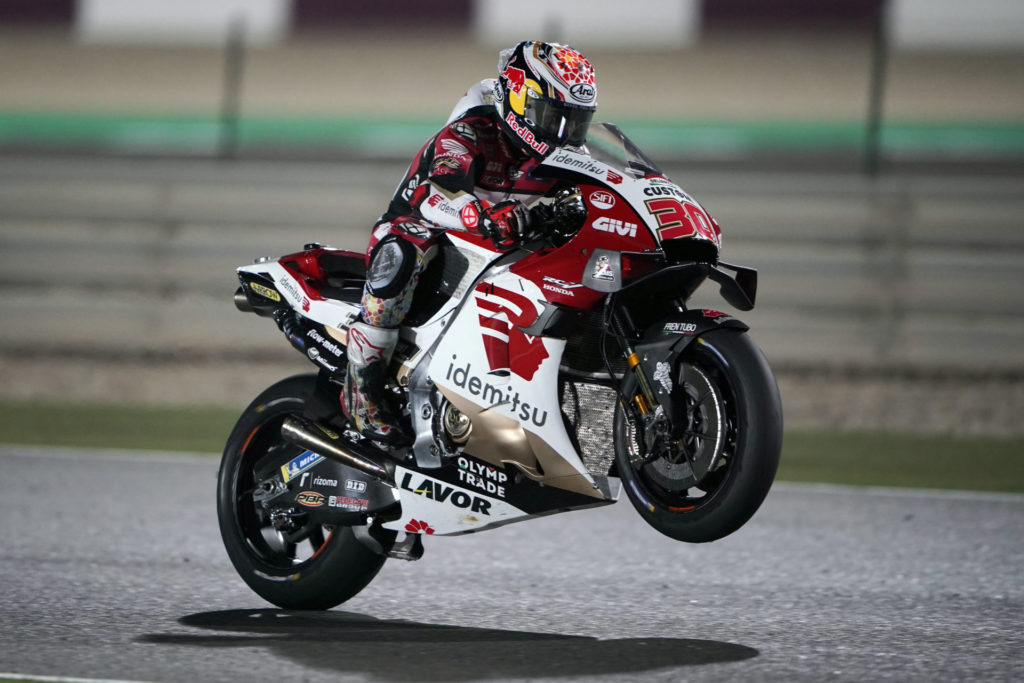 Takaaki Nakagami put in another productive shift on the penultimate day of pre-season MotoGP testing in Qatar. The LCR Honda IDEMITSU rider continued to fine-tune a variety of parts with his crew as the premier class again reassembled in Doha and worked late into the evening under floodlights.
The Japanese rider clocked up a total of 52 laps around the Losail International Circuit as he put the 2021 RC213V machinery through its paces ahead of this season's curtain-raiser at the same venue in three weeks. After a tricky start to the session, the Japanese star was able to put in a time attack in the closing stages and finished just two tenths outside the top 10, with his final lap also his fastest.
Takaaki Nakagami – 12th
(1'54.384)
"Today it was quite tricky conditions from the beginning and in the first couple of hours I didn't have much confidence on the bike, especially the front end. Then from about 6 o'clock, the feeling started to come back and I continued to develop the bike with my team. At the end, the feedback was quite good and the lap time was about the same as yesterday. Of course, we need to understand more deeply where we are losing time in the sectors. Today we tested some new items on the chassis and step by step we are going in a good direction and hopefully tomorrow we can make some long runs to understand for the race weekends. We also need to try and improve the qualifying lap."
More, from a press release issued by LCR Honda Castrol:
LCR HONDA CASTROL TEST BROUGHT TO EARLY END FOR MÁRQUEZ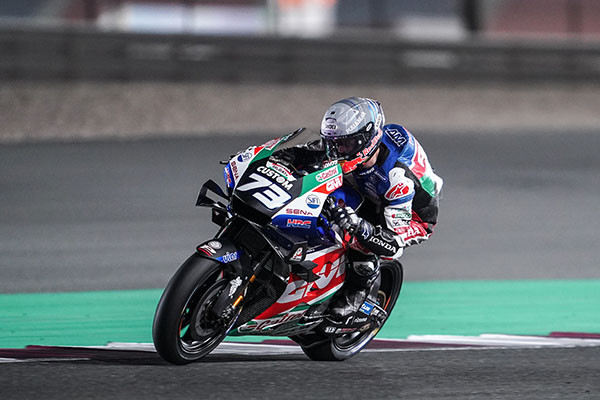 The final test session before the start of the 2021 MotoGP World Championship came to an early close for the LCR Honda CASTROL Team, following a high-side for Álex Márquez in Qatar. Thursday was the fourth of five days of official tests at the Losail track in Qatar, so whilst the mishap was not part of the pre-season programme, both team and rider were satisfied that enough information had already been gathered to not warrant taking any further risks.
Márquez had spent the first couple of days working closely with HRC testing new parts for their 2021 RC213V, before focusing on choosing his ideal race package on Wednesday. After some further set-up work this afternoon, Márquez then was intent on improving his one-lap 'qualifying' pace – a vital component of a successful MotoGP campaign. Whilst pushing hard to get the best out of his factory Honda, the Catalan went down on the exit of turn 9, injuring his foot in the process.
The LCR Honda CASTROL Team and Márquez decided together it was best to end the test there and then, rather than cause any further damage to the foot. The double world champion will consult the doctor to see if he can continue testing on Friday, but either way will hope to recover well over the next two weeks, ahead of the first round of the series, the Qatar Grand Prix, which begins the weekend of 26th March.
Alex Marquez – 17th
(1'54.692)
"Today we planned to do some time-attack laps and to do a full race-simulation. We tested some things at the beginning of the day, but then when I went out for the time-attack – an area I need to improve on – I had a high-side and I unfortunately injured my foot. Thankfully I am ok and feel good, and even though there is a small crack, I have no pain or anything like that.
It meant that we weren't able to do our race simulation, but we need to focus on the positives. I felt good today and even in the time-attacks was feeling really at home on the bike. So, that's a positive ahead of the GP.
We need to now see what the doctor says tomorrow. It looks like wind will be strong, but if conditions are ok and the doctor gives me the ok, then I would be the first out on track. I have ridden with something similar before.
Whatever happens, I will try to be 110% ready for the start of the season. I want to thank the whole LCR Honda CASTROL Team after this first test because they have done an amazing job. I want to say sorry for the crashes this week, but I am sure that we will be stronger because of it and we have lots of positives and will be ready for the start of the season."
More, from a press release issued by Avintia Esponsorama Racing:
SECOND TEST DAY IN QATAR WITH POSITIVE PROGRESS AND RESULTS FOR AVINTIA ESPONSORAMA RACING TEAM
On this second day, the advance of the two riders of Avintia Esponsorama Racing Team remains positive. The adaptation to the Ducati continues to progress, showing the great work that the whole team is doing. Luca Marini today achieved a time of 1:55.022 completing a total of 53 laps. Enea Bastianini has completed 38 laps with his best time at 1:54,505 .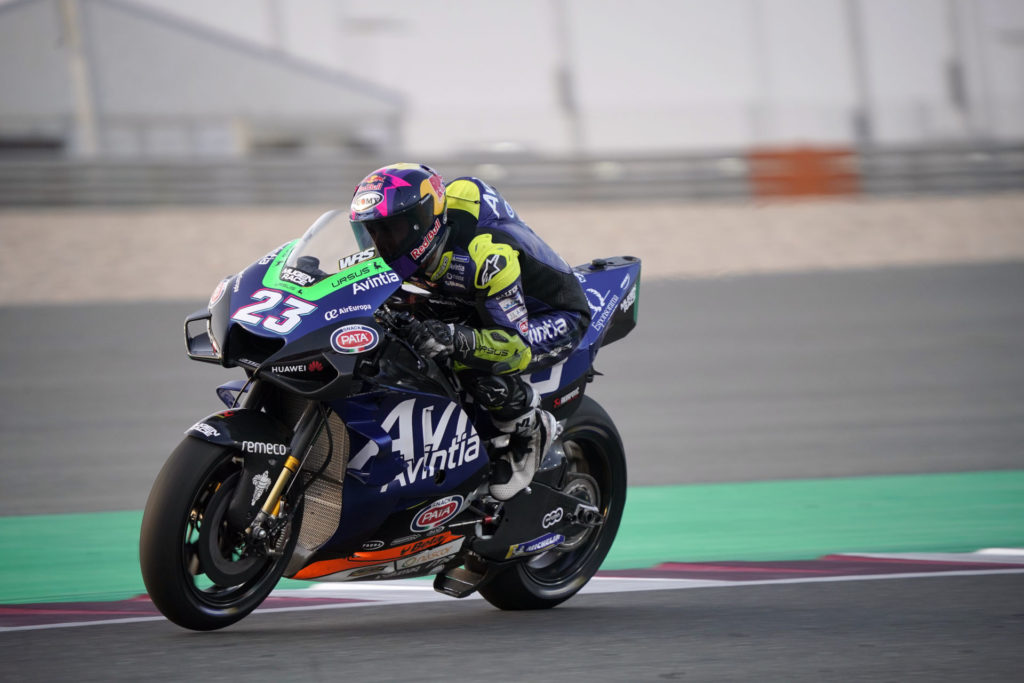 #23 ENEA BASTIANINI – 1:54,505
"Today I worked very well, not like yesterday, but I hope that tomorrow with better asphalt conditions will improve my times. The feel of the MotoGP is completely different from the Moto2, if you get out slow of the corner the bike bump from behind and is more difficult. Today I had shoulder discomfort from yesterday's fall, it didn't bother me until I went out on track and I noticed the pain, the Ducati is complicated, and I still have to adapt better to the bike".
# 10 LUCA MARINI – Sky Vr46 Avintia Team   – 1:55.022
"We have worked really hard today especially on the rear of the bike and I found a good setting. Even in the corners I was able to make a step forward, I'm faster in the changes of direction and at the end of the day I did a race simulation. The feeling is good, even on physical side, and I was able to understand better how to manage the tyres even on long distances. It was tough, the pace isn't bad, I felt a drop in the front tire, especially on the right side, and I have to work on that. In the early afternoon I went out on the track with medium-medium, but with the drop in temperatures the best solution for me was the soft-soft".