Ducati Lenovo Team rider Jack Miller led Day Three of MotoGP pre-season testing Wednesday at Losail International Circuit, in Qatar, with a lap time of 1:53.183 on his factory Desmosedici GP21.
Miller's time was better than Marc Marquez's official Circuit Best Lap Record of 1:53.380, which he set in 2019.
MotoGP did not race at Losail in 2020 due to the COVID-19 global pandemic.
Fabio Quartararo, riding his new Monster Energy Yamaha YZR-M1, was also under the lap record with a time of 1:53.263 but ended up second-best on the day.
2021_QATAR_MotoGP____OFFICIAL_TEST_classification_3

More, from a press release issued by Dorna:
Miller turns the tables on Quartararo as testing resumes in Qatar
The pace hots up in the desert as MotoGP™ gets back on track, with two familiar names beating the lap record at Losail International Circuit
Wednesday, 10 March 2021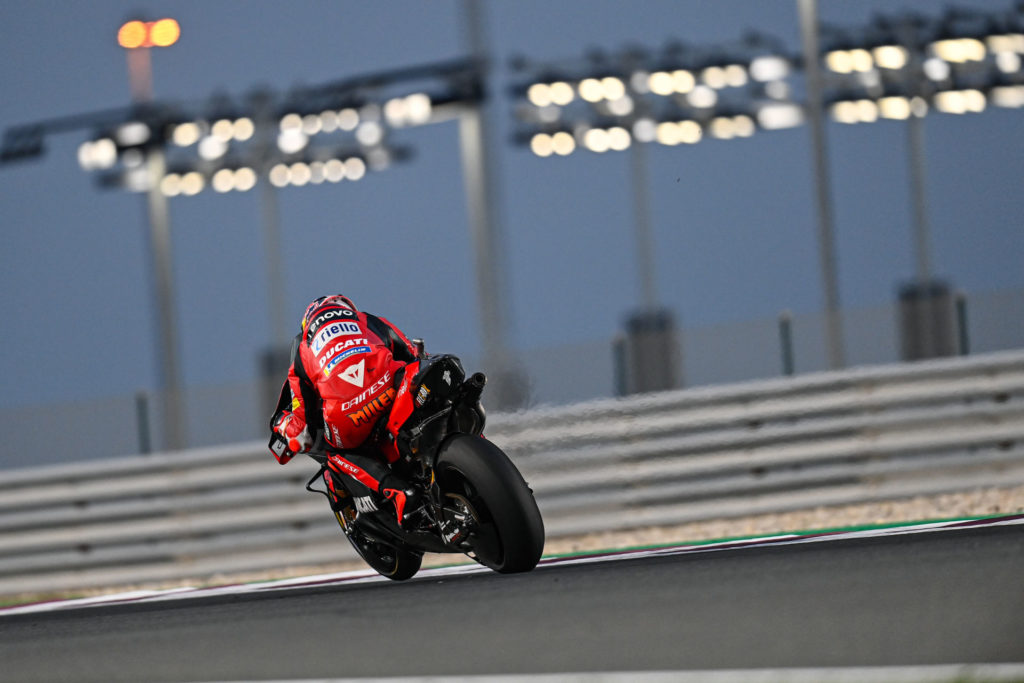 After two days off, Wednesday welcomed the grid back down to business in Doha as the third day of official MotoGP™ testing got underway… and it was an absolute scorcher. The all-time lap record at Losail International Circuit fell first courtesy of Fabio Quartararo (Monster Energy Yamaha MotoGP), but late on Jack Miller (Ducati Lenovo Team) hit back to go even quicker. The Australian stormed his way to a 1:53.183 to finish 0.080s ahead, making that a new – although unofficial, since it's testing – lap record. Maverick Viñales made it two Monster Energy Yamaha MotoGP bikes inside the top three in P3, although a couple of tenths further back.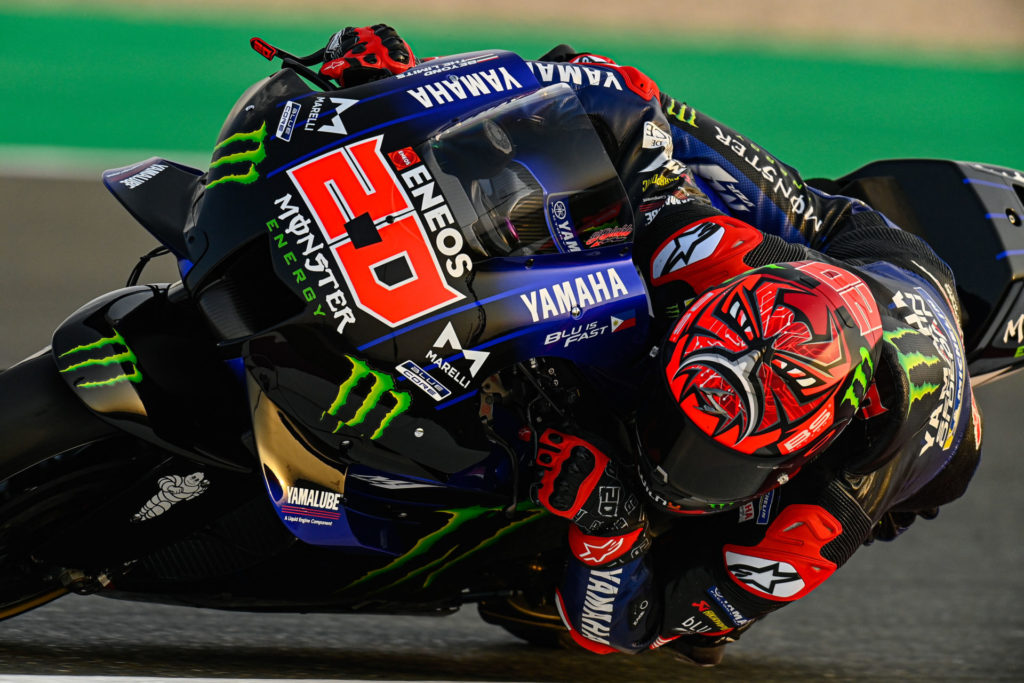 Thankfully for all the riders and teams, the second leg of the Qatar Test was greeted by the best weather conditions we've seen since the paddock landed in Doha. The wind wasn't causing issues, the sun was shining before setting and the riders were raring to get going again after two days on the sidelines.
At Ducati, Miller stole the headlines once again but after seeing the factory riders testing the intriguing new Ducati aero, Johann Zarco (Pramac Racing) was giving it a whirl on Wednesday. Judging by the timesheets – although not all his laps were with the new package – the Frenchman was feeling good as he slotted into fourth overall with exactly the same laptime as Pol Espargaro (Repsol Honda Team). Zarco was "pretty happy" with the progress being made, and the Frenchman added that the GP21 has "huge potential" – promising signs for the Bologna factory.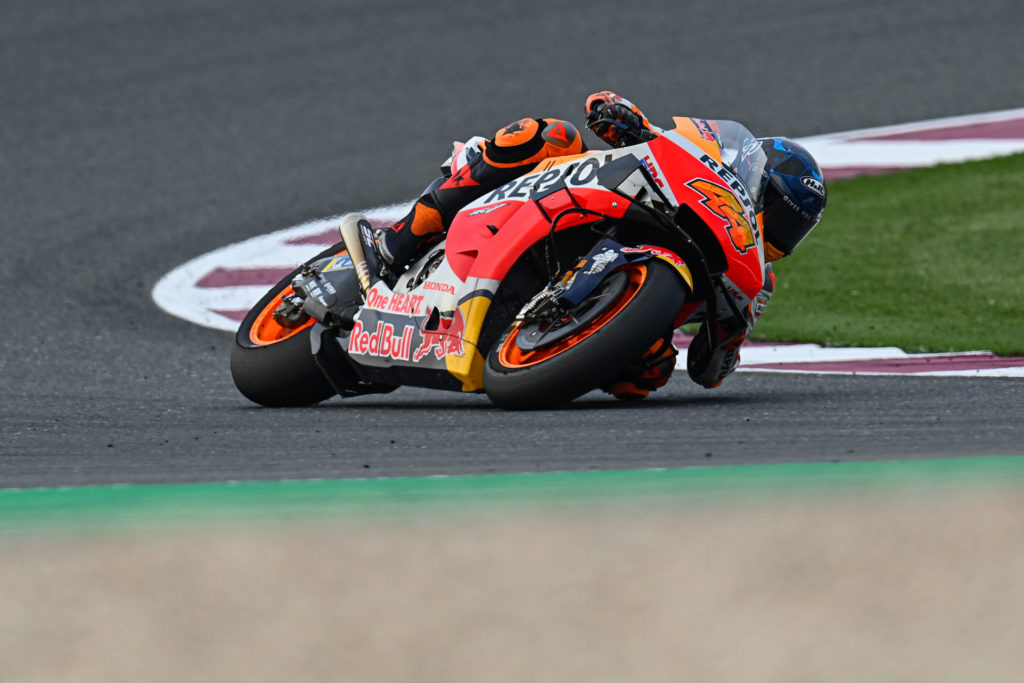 Francesco Bagnaia (Ducati Lenovo Team) ended Day 3 in P9 as the third fastest Desmosedici rider on track, putting in 51 laps as he ended the day 1.053s off Miller's time. Bagnaia was concentrating on his longer run pace and made a big step compared to the first two days of testing; pleased with his work on Wednesday.
A little further down the ranks, Enea Bastianini (Avintia Esponsorama Racing) was the fastest rookie in P14, finishing ahead of Alex Marquez (LCR Honda Castrol), Stefan Bradl (Honda Test Team) and Danilo Petrucci (Tech3 KTM Factory Racing) – impressive to say the least. The reigning Moto2™ World Champion was also just 0.120s behind nine-time World Champion Valentino Rossi (Petronas Yamaha SRT) and is settling into MotoGP™ life very well indeed.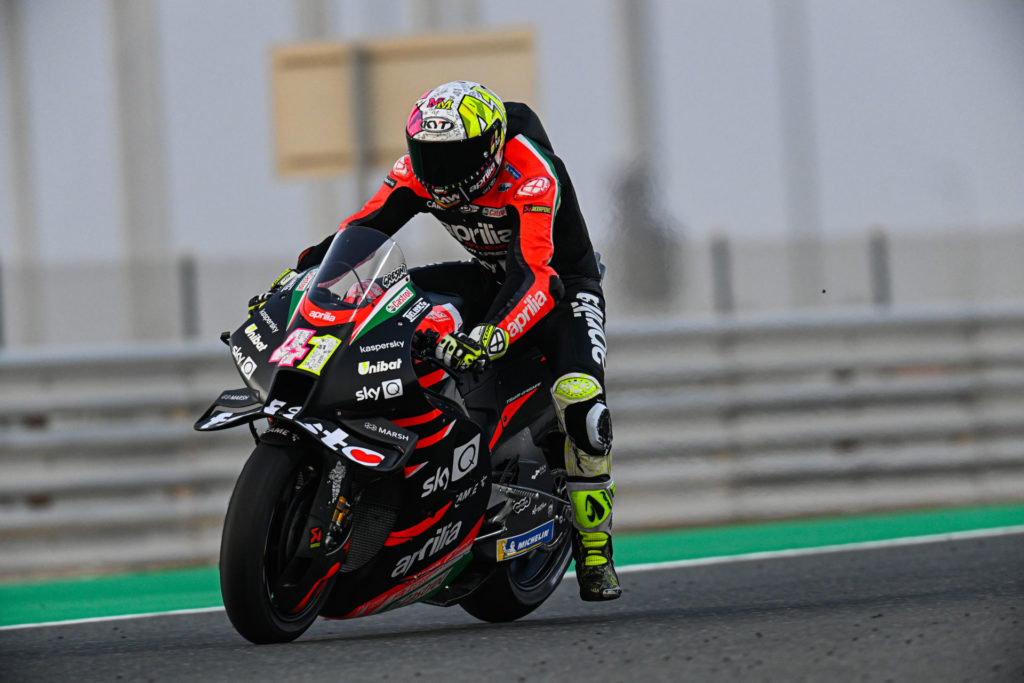 The other two Ducati-riding rookies are looking great too. Jorge Martin (Pramac Racing) improved his previous best time by half a second and has been checking Miller and Zarco's data, confirming that in "three or four corners" he could immediately go faster. Martin placed P19 with a 1:55.010, with Luca Marini (Sky VR46 Avintia) only three tenths behind Martin in P22.
In the Monster Energy Yamaha MotoGP camp, a new mudguard and front fork covers were getting put through their paces. Both Quartararo and Viñales were also doing back-to-back runs on the new and old chassis to get some final confirmation on whether any improvements have been made. The factory duo finished P2 and P3, with Viñales completing the most laps of anyone on Day 3. The Spaniard did suffer a crash at Turn 1 but rider ok, and he was also doing plenty of practice starts at the end of pitlane so it was a busy day.
Petronas Yamaha SRT's Franco Morbidelli and Valentino Rossi both finished outside the top 10 as the Italians ended the day 1.1 and 1.4 seconds adrift of the best time, respectively, but the focus was not time attacks. Rossi's main concern was the rear grip previously, and The Doctor said that the new chassis was much closer to the 2020 one, rather than the 2019 one.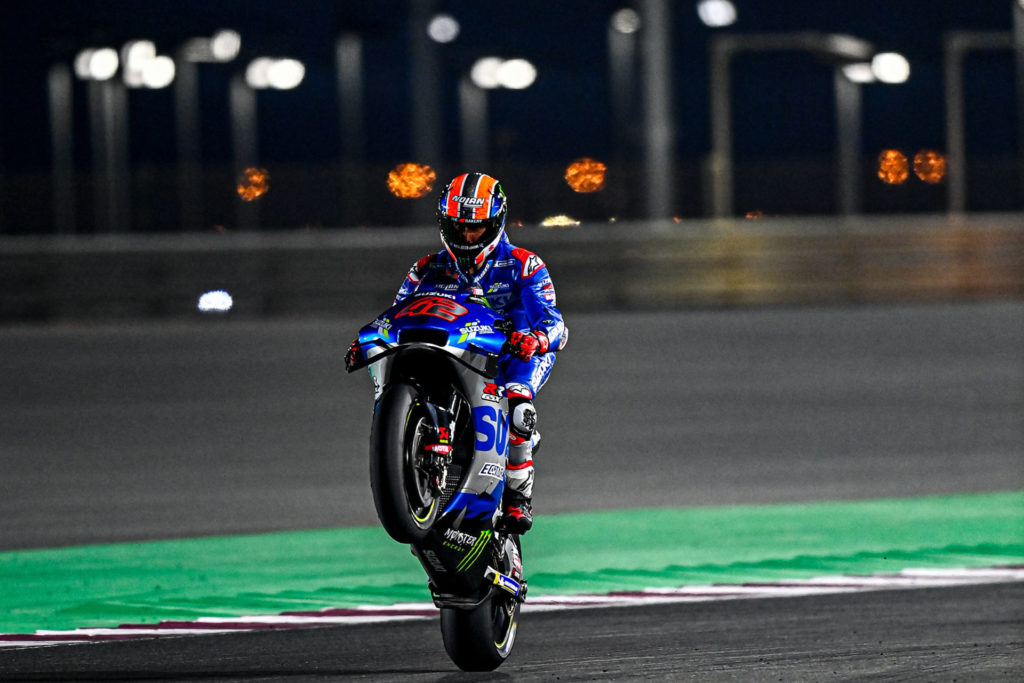 Meanwhile, Pol Espargaro's adaptation to the Honda continues to be seamless. The Spaniard was leading the way at midday and eventually snuck into the 1:53s on just his third day on the RC213V. The number 44 is already only half a second shy of Marc Marquez's official all-time lap record in Qatar. The new Repsol Honda kid on the block was also seen using Honda's carbon bonded chassis and that could point towards that being chosen as the way forward. All in all, 53 laps were completed by Pol Espargaro on Day 3.
On the other side of the Repsol-liveried garage, Stefan Bradl's day ended early after a crash at Turn 2 left the German with some pain in his neck. LCR Honda Idemitsu's Takaaki Nakagami also crashed, as did LCR Honda Castrol's Alex Marquez, making it seven crashes between them in the Qatar Test. Nakagami was the quicker of the two and snuck into the top 10 though, and on a day where he tested some new items. The Japanese rider reported that they were working very well in some areas but that more time is needed, in his opinion, to confirm which chassis is the one to go with. He has a "much better" feeling on the bike than on Saturday and Sunday. Teammate Alex Marquez finished P15 on the timesheets.
Aleix Espargaro and Aprilia Racing Team Gresini once again ended the day towards the summit. The all-new RS-GP in the hands of the Spaniard ended the day P6, although the number 41 completed the lowest number of laps of any full-time rider – 31. A couple of technical issues and a small crash on new tyres hampered his day, and he's hoping for fewer problems tomorrow to complete the programme and do a race simulation. MotoGP™ rookie Lorenzo Savadori completed 39 laps to finish the day 25th, another day of valuable track time for the Italian.
Down at World Champions Team Suzuki Ecstar, we saw an extra set of fairings on the side of their bikes, with Joan Mir and Alex Rins claiming P7 and P8 on the timesheets. Between them, 120 laps were put in by the 2021 GSX-RR as the Hamamatsu factory continue to rattle through their busy testing schedule in Qatar. The big focus so far has been a new chassis and we're still no nearer to knowing whether Suzuki have fixed their main 2020 Achilles heel – one-lap pace. Will Thursday and Friday welcome some time-attacks?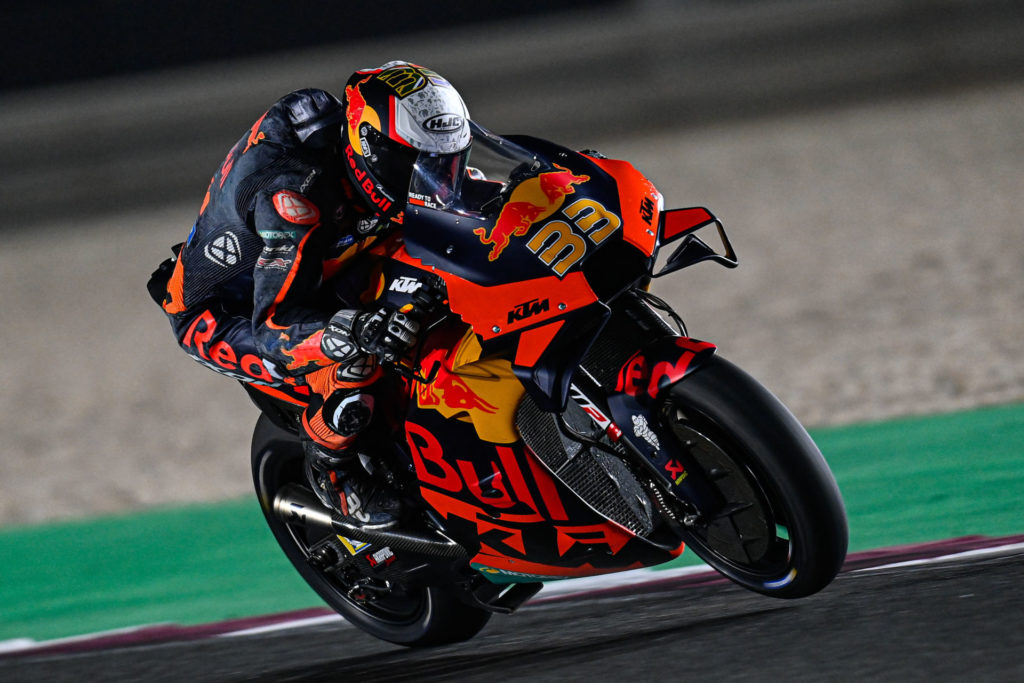 Miguel Oliveira (Red Bull KTM Factory Racing), meanwhile, was the leading KTM rider once again in P12. The gap between the Portuguese rider and Miller's time was 1.343s and it's fair to say it's been a quiet test for the Austrian factory so far at the Losail International Circuit, with no hand shown. Oliveira's teammate Brad Binder (Red Bull KTM Factory Racing) also suffered another crash at Turn 2, although he said he had started to get back a better feeling and just "seemed to be washing the front". The South African was P20 but said the team have a good direction to work in. A new swingarm and mudguard – that test rider and MotoGP™ Legend Dani Pedrosa has been testing – has been spotted on Binder's bike, with the KTM runners also using the new, skinnier fairing once again.
Tech3 KTM Factory Racing's Danilo Petrucci and Iker Lecuona were P17 and P21 on the timesheets respectively, with Lecuona suffering a small crash at Turn 2 early doors. Lecuona is expecting Thursday will be better and admits he need more time with the bike, but the Spaniard has tried many new parts during the test. And, whilst not a rookie, Lecuona's first season was the shorter-than-normal 2020, so he's still lacking the normal experience by this stage – as is Binder, despite taking KTM's first premier class win in 2020.
The penultimate day of pre-season testing returns on Thursday afternoon from Losail International Circuit, so make sure to follow every lap with Live Timing from 12:00 CET. After that, there's plenty of analysis, reaction and interviews on After the Flag LIVE at 18:30 CET, so tune in on motogp.com!
More, from a press release issued by Tech 3 KTM Factory Racing:
Petrucci and Lecuona get second round of testing in Qatar going
Following an intense test program last weekend at the Losail International Circuit, both Tech3 KTM Factory Racing riders resumed their plan of evaluations. Yet, Danilo Petrucci and Iker Lecuona are set to prepare the first race weekend of the season during this week's second IRTA test at the Qatari venue, which got underway today.
Orange family newcomer Petrucci continued working on adapting himself to his KTM RC16 machine. Thereby, the Italian lowered his personal fastest time from Sunday by 0.817 seconds. Likewise, Lecuona went 0.558 seconds quicker this Wednesday than three days ago and is eager to resume his progress tomorrow.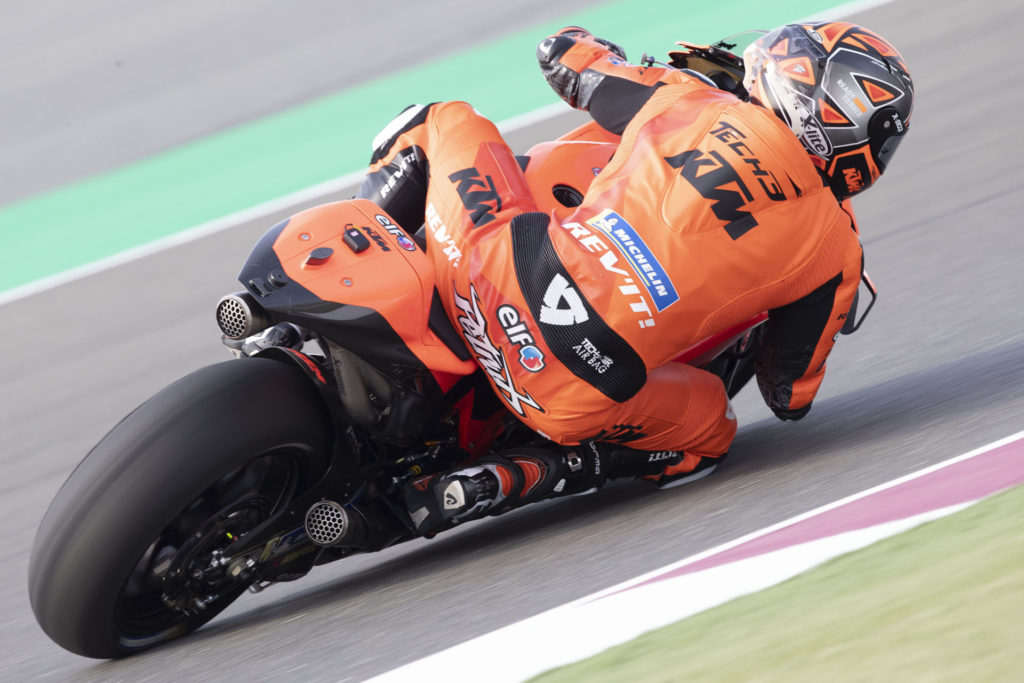 Danilo Petrucci
 
Position: 17th
Time: 1:54.978
Laps: 48
 
"I'm starting to understand the bike and we are working very well, because today every change we made has worked out. This means that I'm also beginning to really like the bike and manage to understand what is going on. I can let the bike do what I want, which is the most important thing. We reduced the gap to the others. For sure, there is still a long way to go in order to be closer to the top. But we have still two days left and I'm very satisfied about how the bike is working and how the team is working. So, we aim to continue this way tomorrow."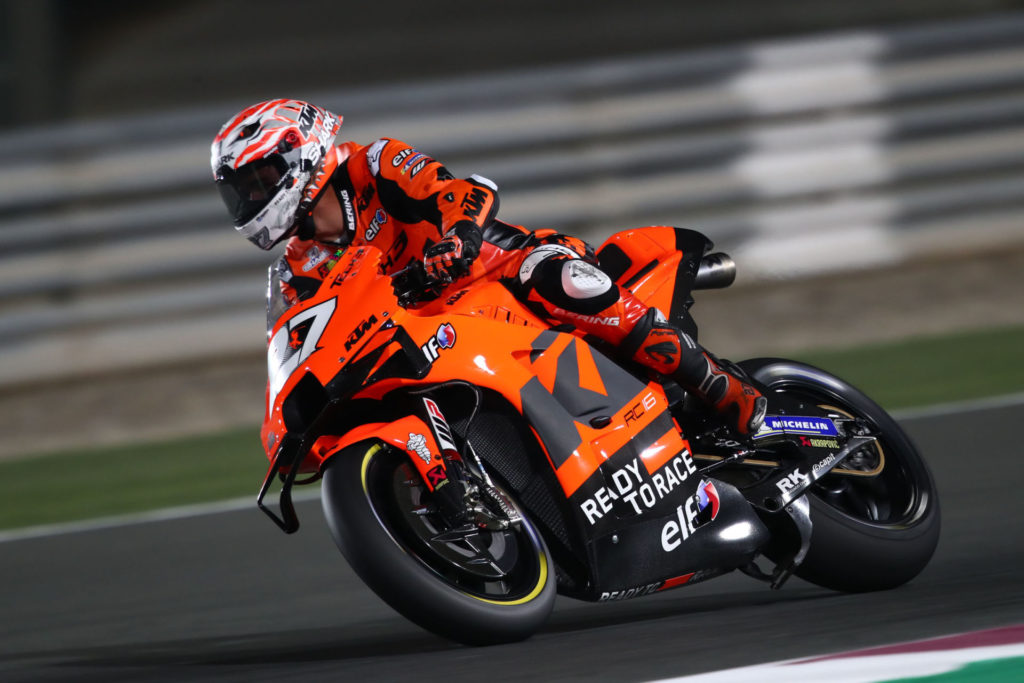 Iker Lecuona
 
Position: 21st
Time: 1:55.315
Laps: 47
"I have to say sorry to my team, because I crashed. There was no special reason for it, just a classic turn two crash in Losail. But apart from this, I'm quite happy, because I learned a lot, I improved a lot this time, my line and also my lap time. I was a bit unlucky, as during my time attack, I lost the front on the first lap, but managed to save it. On my second lap, I had one of the test riders directly in front of me, I passed him, but lost quite a lot of time. Finally, I know I can do better, so I'm very pleased. Hopefully we can prove that tomorrow."
More, from a press release issued by Repsol Honda:
Testing resumes in Qatar for the Repsol Honda Team
A few days rest and back to work, Pol Espargaro and Stefan Bradl remounting their respective Repsol Honda Team machines for the final pre-season test of 2021.
The heavy winds which plagued the opening Qatar Test had subsided as running resumed in Doha. Conditions were much improved and times quickly fell, the unofficial lap record even being broken towards the close of the day.
Time between tests gave Pol Espargaro and his team an opportunity to digest all they had learned in the opening days, coming back to the Losail International Circuit ready to do it all again. Midway through the day, Espargaro shot to the top of the timing sheets with a 1'54.272 – each lap growing his confidence and knowledge of the Honda. Pol would continue to build his speed and jumped back up to second place with just over an hour of the test to go. The day yielded another 53 laps in total for the newest addition to the Repsol Honda Team garage, ending in fifth overall and as top Honda thanks to a 1'53.899, 0.8s faster than his time from Sunday.
HRC Test rider Stefan Bradl was once again running towards the top of the time sheets as action began at the Losail Circuit, challenging the established Grand Prix riders while working through a busy testing plan for Honda. Bradl's day was interrupted by a Turn 2 crash with just under four hours left, the German sitting out the remainder of the day. A medical check revealed no major injuries, Bradl and the team electing to rest to be recovered for the coming two days.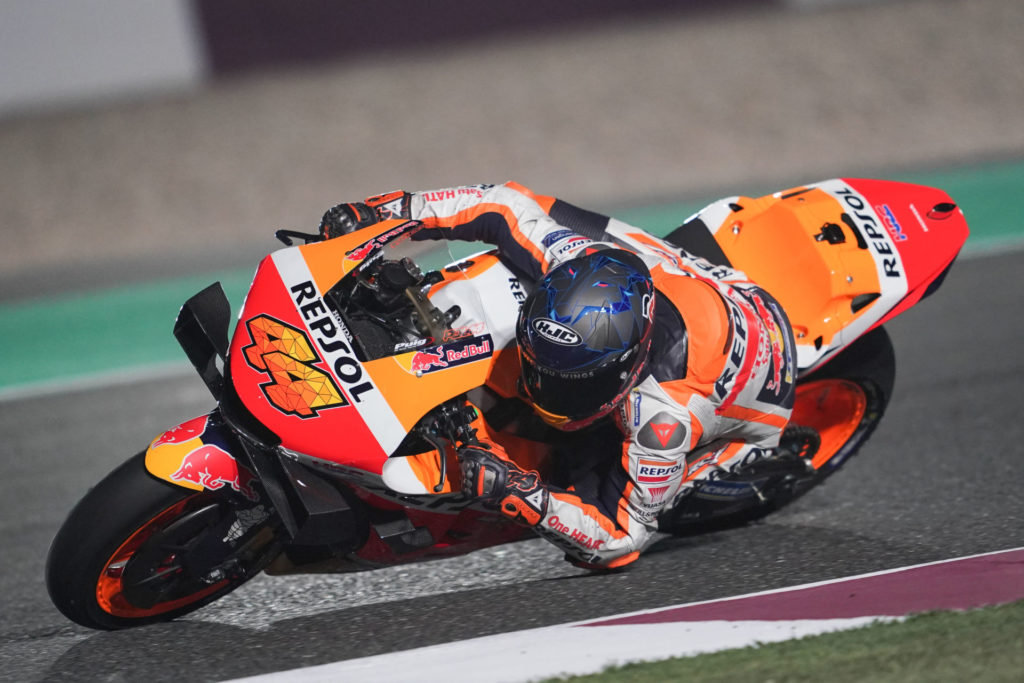 Pol Espargaro
FIFTH  1'53.899
"Today was another really good day, speaking honestly the progress has been better than I was expecting. It's coming naturally and I am finding and understanding the limits more and more. Still there are some tenths to find over the fast lap, but we are making big steps, I was eight tenths faster today, so it means we are constantly changing our references and we are always learning. But more important than this is our consistency, and this is really where we have been working and what I am happy with. I am still working a lot on myself, but now we can start to experiment a bit with the bike. It's positive."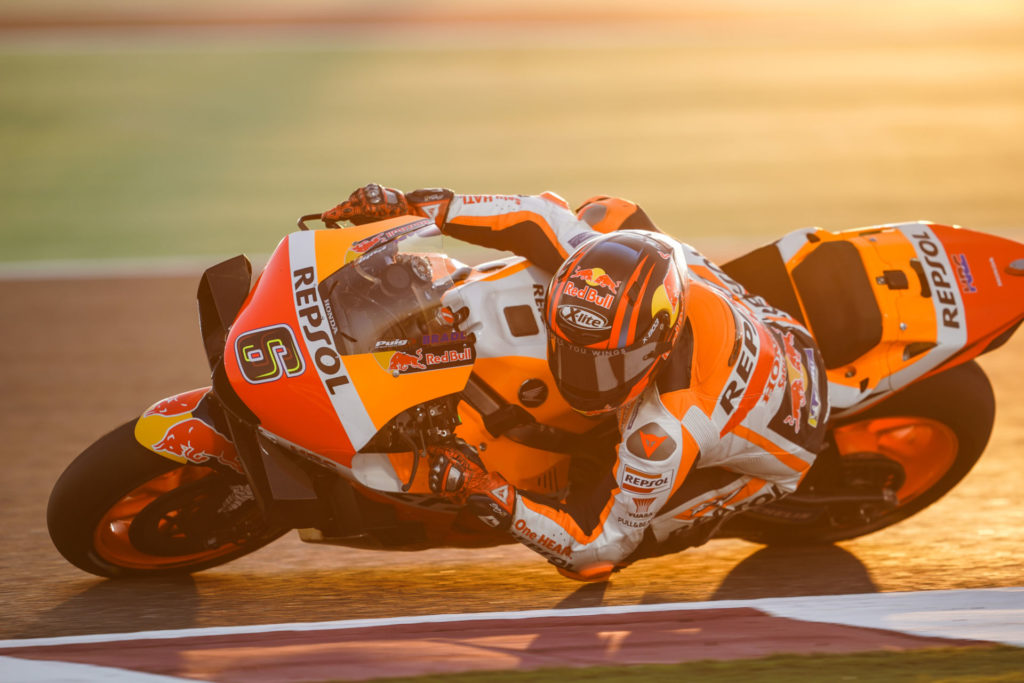 Stefan Bradl
16TH  1'54.974
"We had another good start to the day and I was feeling good on the bike, unfortunately I had a crash at Turn 2. This has been a tricky corner for everyone this test, but I was pushing for the limit. The crash itself wasn't a problem but when I got to the gravel I rolled awkwardly and quite hard and I felt quite sore. I went for a medical check and there's nothing serious, but we decided to rest today because we still have two important days. The aim is to be recovered for them."
More, from a press release issued by Monster Energy Yamaha:
MONSTER ENERGY YAMAHA MOTOGP CONTINUE QATAR TEST PROGRESS
Losail (Qatar), 10th March 2021
OFFICIAL MOTOGP TEST
The Monster Energy Yamaha MotoGP Team returned to the Losail International Circuit today to start the second part of the Qatar MotoGP Official Test, the final three days of 2021 preseason testing. Fabio Quartararo and Maverick Viñales completed the day in second and third place respectively.
2nd FABIO QUARTARARO 1'53.263 / 55/62 LAPS
3rd MAVERICK VIÑALES 1'53.510 / 75/77 LAPS
Monster Energy Yamaha MotoGP Team's Fabio Quartararo and Maverick Viñales resumed their preseason testing plan at the Qatar MotoGP Official Test today, securing second and third place respectively.
Quartararo returned to the Qatar track feeling re-energised. He completed 62 laps in total whilst working on his bike's race set-up. He was in his element in the final stages, clocking a 1'53.263s best time on lap 55, a little less than 30 minutes before the end of the session. He briefly topped the standings but ultimately wrapped up the day in second place, 0.080s from the top.
Viñales also banked in some strong laps at the end of the day. He began the session working on matching his riding style to the YZR-M1 again and also put in a good number of practice starts in preparation for the upcoming Qatar GP. A small crash in Turn 1 didn't slow him down. The Spaniard put in a mini time attack at the very end of the session. He set a personal fastest time of 1'53.510s on lap 75 of 77, that earned him third place, 0.327s from first.
Tomorrow's session will again be held from 14h00 – 21h00 (GMT+3).
MASSIMO MEREGALLI
TEAM DIRECTOR
Like we said, we have used the 'two days off' to compare the data we collected from Fabio and Maverick, and also from the Yamaha test riders. The first race of the season is approaching fast, so today and the next days are vital to our 2021 MotoGP campaign. We are going full steam ahead with our testing plans. The track and weather conditions have improved considerably compared to last weekend, so that helps. We are making progress and so far most of the signs are encouraging.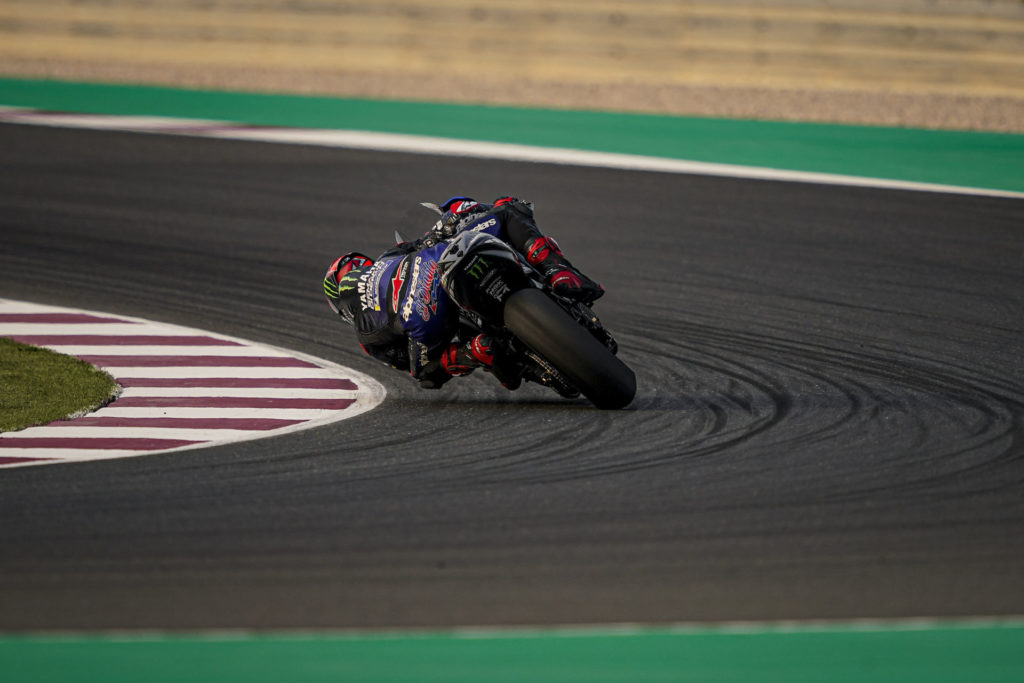 FABIO QUARTARARO
I'm so happy about my lap. It's one of the best laps I've ever done! Today we tried many things and made a big step with our pace on the last runs. In general today was a good day. I can be happy, because we improved our feeling with used tyres – and that was our goal. We have made a step with the pace. We have two more days of testing and we're ready for it. I just want to stay calm and keep working.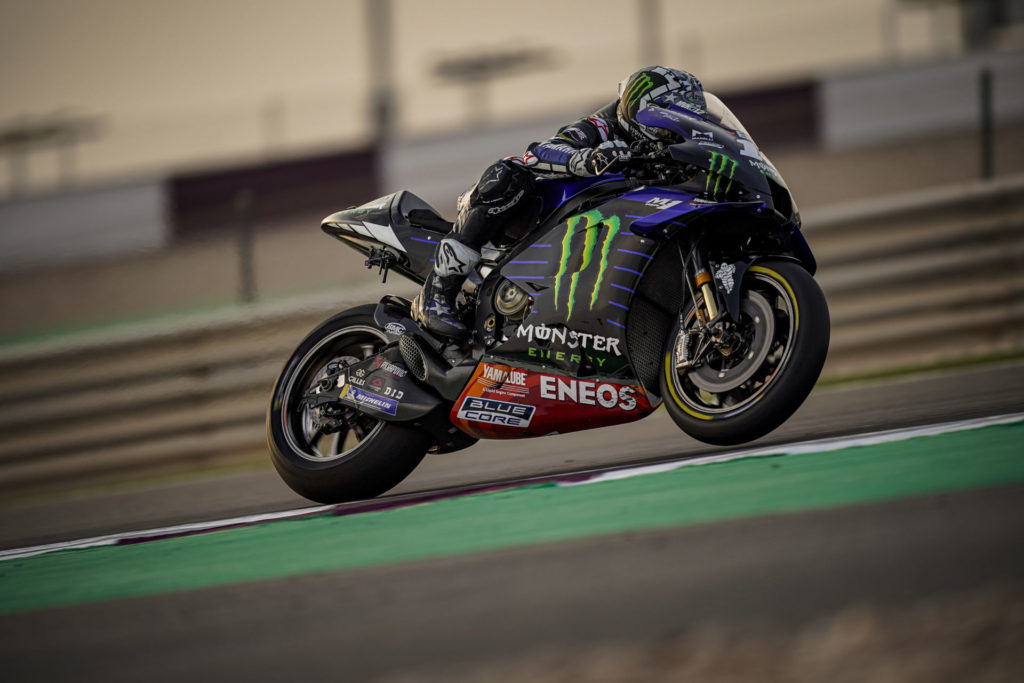 MAVERICK VIÑALES
I think that today has been really positive. I had a small crash in Turn 1, but that was just a matter of the cold and me riding with a medium tyre. But overall, we can be happy. We were trying to work on improving race starts, which is our clear objective at the moment. I need to do more laps to keep getting more and more comfortable on the bike. Yamaha is doing a good job. The rhythm is there. At the end of the day I did two to three fast laps. It seems like I can ride with a nice flow, which is important, and I can keep up good lap times all the time.
More, from a press release issued by Pramac Racing:
Qatar Test – Great performance for both Johann and Jorge
Track activities have resumed after a two-day break on the Losail Circuit. Johann Zarco, after a very positive first part of the test, started immediately in a convincing way, taking advantage of today's day working to find more feeling at the rear, making an important step forward. With his best time of 1:53.899 at the 62nd lap he is in fourth position with a top speed of 352.9km/h. Jorge Martín, who after only three days of testing on a MotoGP bike had already found a good feeling, today improved his time by five tenths compared to last week. The Spanish rookie took advantage of this first day of testing to try different set ups looking for an ideal base for his riding characteristics. He finished in nineteenth position with his best time of 1:55.010 set on the twenty-fifth lap.
Jorge Martín
A positive day, I am very happy. I tried different things to increase the feeling and I had a good pace. I'm getting better and better, I have to make the most of these last days of testing to be as competitive as possible during the race.
Johann Zarco
Today we made another step forward, lap after lap I felt better and better. I would have never thought to find a feeling like this, we improved a lot especially on the bike control. We still have to work on some things but we are going in the right direction.
More, from a press release issued by Team Suzuki ECSTAR:
BACK ON TRACK IN QATAR AS SUZUKI CONTINUES PRE-SEASON PREP
Joan Mir: 7th – 1'54.078 (+ 0.895)
Alex Rins: 8th – 1'54.143 (+ 0.960)
Sylvain Guintoli: 24th – 1'55.642 (+ 2.459)
After a short break of two days since the first pre-season test, Team Suzuki Ecstar and the rest of the MotoGP field rejoined Losail circuit in Qatar for the second batch of test days. The focus on Wednesday remained on the testing of bigger items rather than small adjustments in settings.
Joan Mir spent time working with different fairing variations in order to work on aerodynamics, then switched his attention to general performance including working on the electronics. The Mallorcan found good feelings with his bike and was able to set some decent lap times during the day. He did 57 circulations and finished the day in 7th place.
Alex Rins used the day to work on the electronics and engine areas, before moving on to trying the swingarm he used a few days ago, and also trying the different fairing options. He didn't do a time attack during the day, but nevertheless felt strong with his GSX-RR. Rins was 8th and completed a whopping 63 laps.
Sylvain Guintoli tested several items, mainly concentrating on the suspension settings and the chassis. He reported feeling ever more comfortable on the GSX-RR.
Ken Kawauchi – Technical Manager:
"Both riders have already regained the good feelings they had last year, and that's important. It means they're ready to test many items and make good progress for the coming season. Joan tried a lot of different fairing specs. today, and we collected data around that. He also tried the 2022 spec. engine and gave us positive feedback in regard to that. Alex also used the 2022 spec. engine again, and some chassis items. It's been a great day in terms of collection information and we're pleased."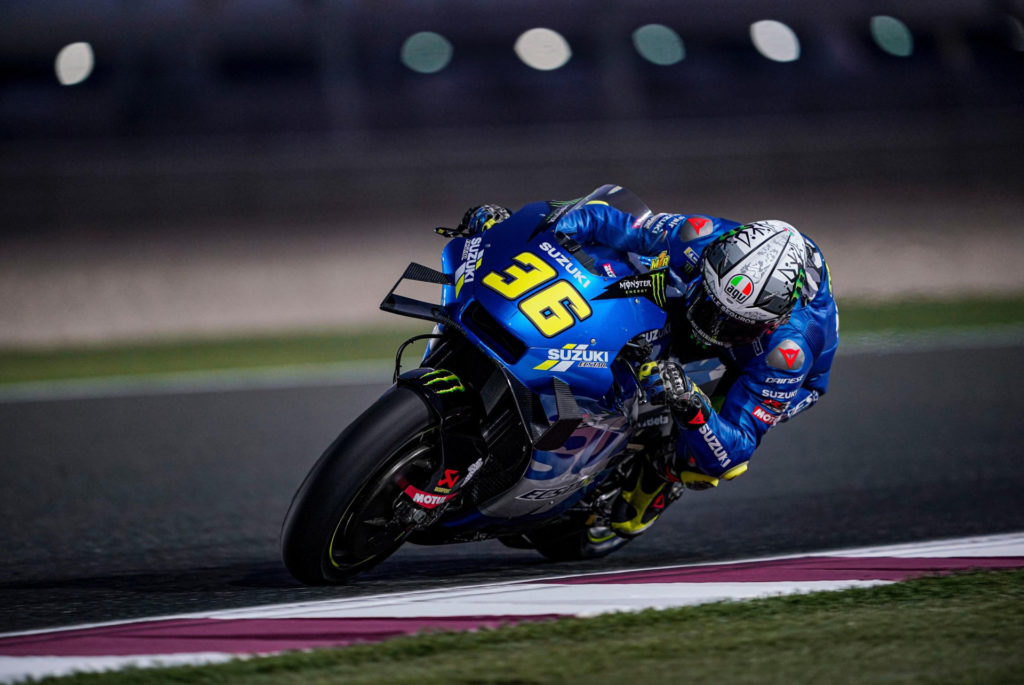 Joan Mir:
"Today I tried the 2022 spec. engine, and it was really useful because it gives us an idea of how the future could be. After that we tried a number of other different settings and it all helps build the overall package for this year. I felt good today and I'm happy with my lap times despite not really pushing for a fast lap. It will be interesting to see how the next two days play out in terms of everyone being close on times."
Alex Rins:
"We did a good job today and I tried many things. We worked the chassis, the swingarm that I tried last weekend, and a fairing with different winglets. Everything feels quite similar to last year but with an improvement, which is great. Today I didn't go for a fast lap but I did improve my corner speed and that's something I'm feeling positive about. The bike in general is feeling good!"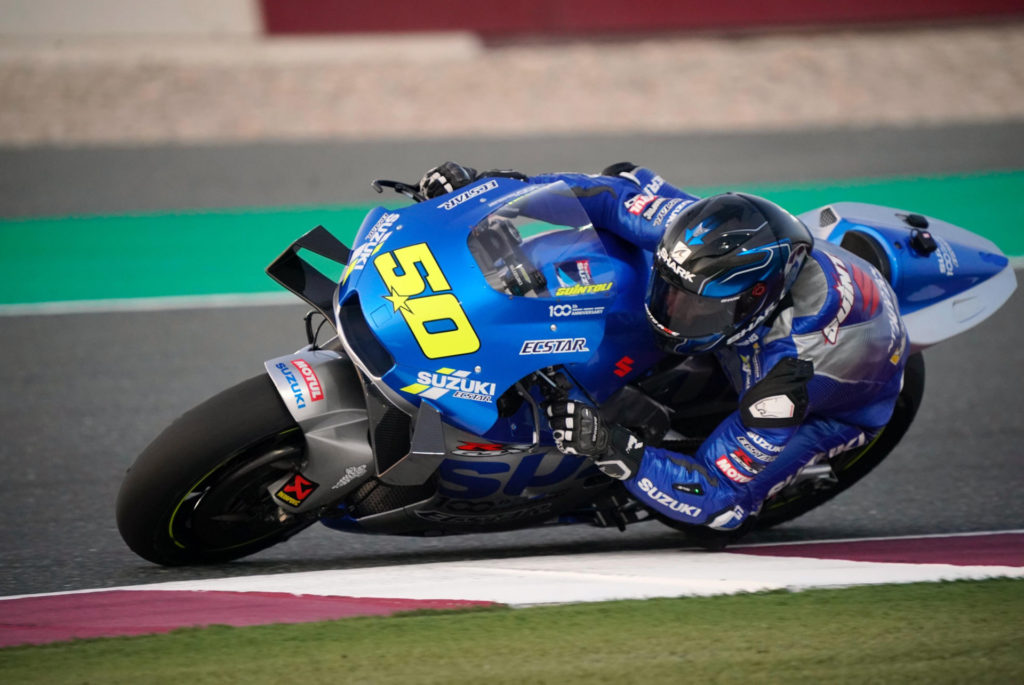 Sylvain Guintoli:
"Another busy and full day for us, it went well and we tried a lot of items, especially around the chassis. We gained a lot of information from that and we will explore this further in the coming days. We also worked on suspension settings and I found good feelings. I'm really happy because I beat my 0-100km/h record on a practice start today! I'm really back into the groove now after a long time off the bike. I'm looking forward to tomorrow."
More, from a press release issued by Sky Racing Team VR46:
SECOND IRTA TESTING SESSION FOR LUCA MARINI IN DOHA
A chronometric step of about three tenths for the rookie of the Sky VR46 Avintia.
Doha (Qatar), 10 March 2021 – Green light in Qatar for Luca Marini on the Ducati of the Sky VR46 Avintia for the second and final official testing session preceding the first race of the 2021 season.
A demanding day for continuing to become familiar with the new category, a long run of 10 laps and 54 laps completed with a best lap time of 1'55.328 which means a chronometric step forward of about three tenths compared to the previous week (1.55.605 ed).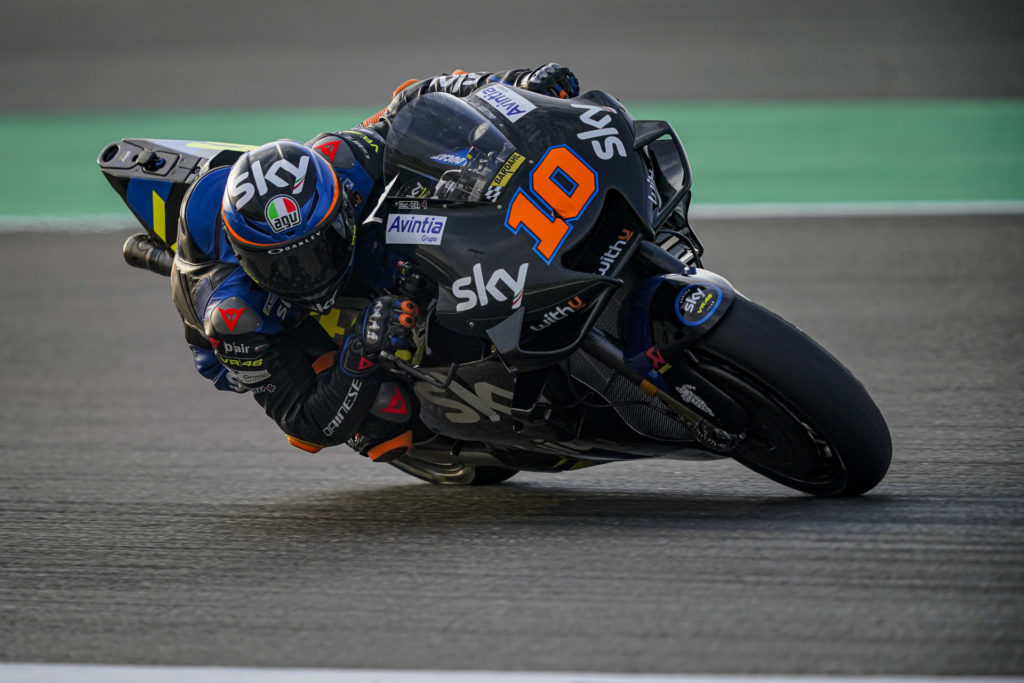 Luca Marini:
I am happy, we have done a good job on the set up and the feelings are positive. I make a lot of laps with used tyres and I did a 10-laps long run at the end of the day for understanding the tyres drop and learn how to manage it with electronics. I feel better on the bike, also in terms of position, I started to feel the tyres and tomorrow we have scheduled a race simulation. I have to work to be able to turn the bike as I want, check the rear tyre and from tomorrow we will have all data of the long run to analyze. The lap time is not bad, I expected a bigger gap from the top riders, and the pace is good.
Ruben Xaus:
A really interesting day: Luca has been on track alone for most of the time, I like him a lot because he is always sure of what he is doing. The feelings are good, he has already done a lot to make the tyres work well and today he has closed the session with a long run of 10 laps with a positive pace of 55. This is really a very important sign and I am proud because he has decided to get on track for this simulation on his own considering the bike is not perfect yet.
More, from a press release issued by PETRONAS Yamaha SRT:
Pre-season testing resumes for Morbidelli and Rossi in Qatar
PETRONAS Yamaha Sepang Racing Team pair Morbidelli and Rossi end third day in Qatar 11th and 13th
After a two-day break the pre-season MotoGP test at Losail International Circuit resumed today in Qatar, with the PETRONAS Yamaha Sepang Racing Team pairing of Franco Morbidelli and Valentino Rossi ending the third day in the desert 11th and 13th respectively.
Morbidelli had a strong start to the day, posting the fastest time early on in the session and staying within the top-ten for the majority of the seven hours. The Italian, who focused on testing a new front fork and shock absorber settings, completed 55 laps and ended the day 11th – despite making no time attack – with a 1min 54.367secs lap.
Rossi meanwhile continued to compare the chassis available, alongside testing a new cowling on his Yamaha YZR-M1. Further progress was made, including improving his race pace from the first two days of the Qatar Test. During a strong session with positive progress made during the 56 laps completed, Rossi posted the 13th best time: 1min 54.618secs.
Tomorrow's track action at Losail International Circuit will once again begin at 2pm local time (7pm MYT), with the penultimate day of the 2021 MotoGP pre-season test concluding at 9pm local time (2am MYT).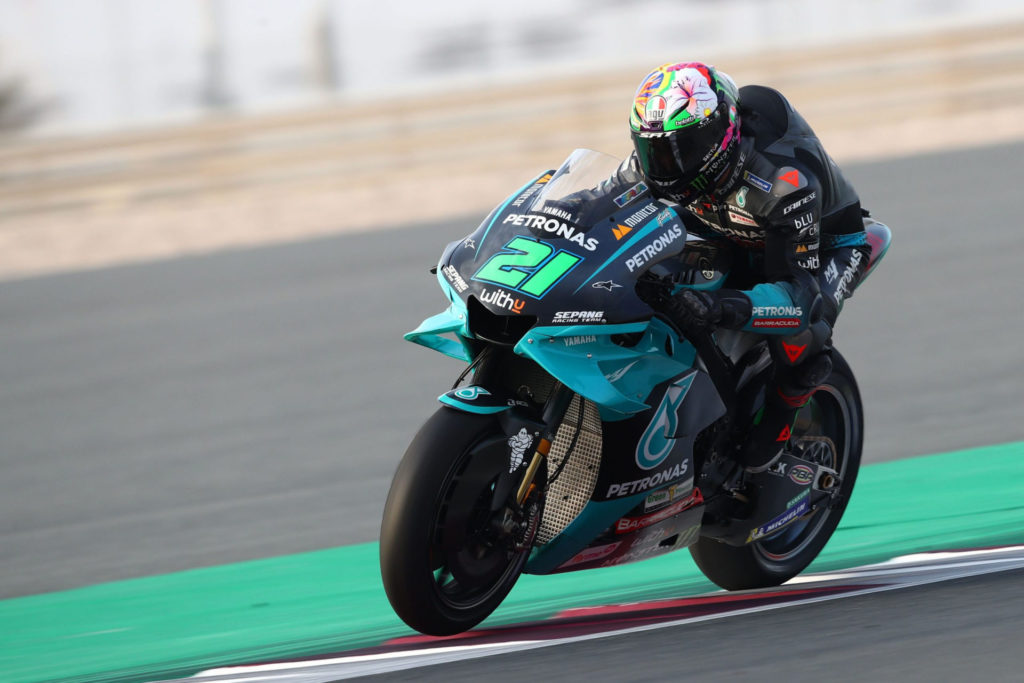 Franco Morbidelli
11th (1:54.367)
Today we have been working hard testing and I didn't really do a proper time attack. We focused a little bit more on trying to make some improvements and squeeze a bit more performance out of the race configuration. At the end of the day we finished outside of the top-ten, but it's still early and the first day back after two days of no riding. We know the margins between riders will be small in the race, it's going to make it difficult and every small detail is going to make the difference. We want to analyse everything to help us have a good race in the first two weekends.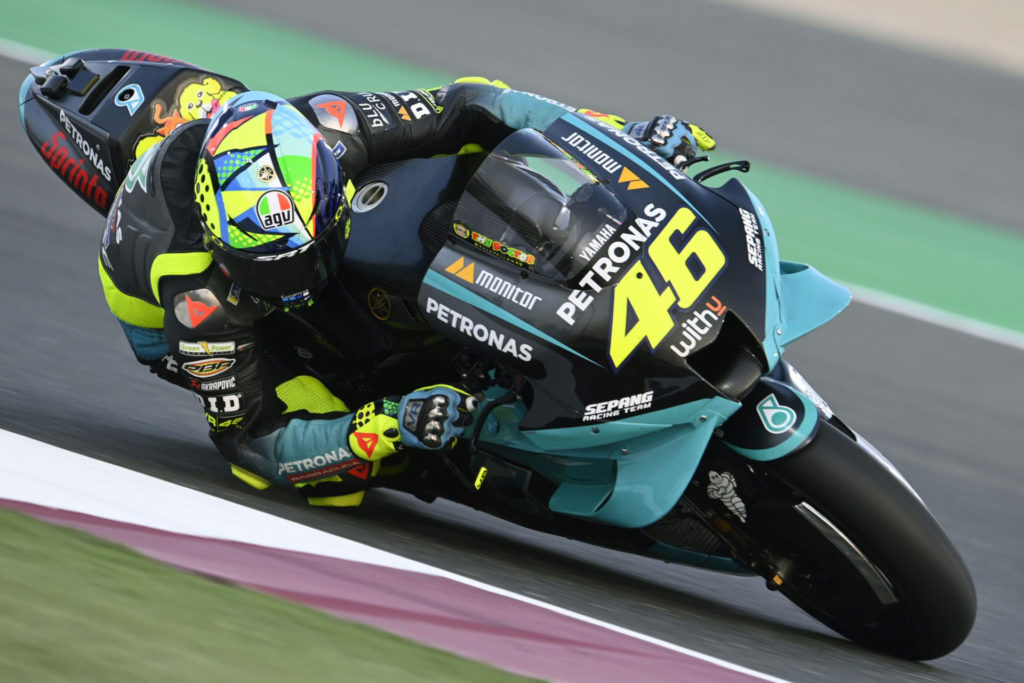 Valentino Rossi
13th (1:54.618)
Although I might not be happy with P13, it was a good day because we have improved upon the first two days of the test: both the time attack and the race pace are better. I think we are doing well, but the top guys are a little faster so there is still some work we need to do. We tried something new today with the chassis and cowling, which I like and this is good for improving the bike, so it's been a positive day. We have improved everywhere, but especially the grip, and that made today very enjoyable. Now we will check the data to see where else we can improve.
More, from a press release issued by Ducati Lenovo Team:
Miller under Losail Circuit lap record as he tops the third day of testing in Qatar. Bagnaia closes ninth
Ducati Lenovo Team riders Jack Miller and Pecco Bagnaia returned to action at Losail Circuit today for the first of three more days of official testing in Qatar.
Second, already at the end of last week's two-day test, Miller continued to impress as he topped the timesheets during today's final "time attack", setting a fastest lap in 1:53.183. The Australian was 197 thousandths quicker than Losail official lap time record, which is held by Marc Márquez and dates back to 2019 (1:53.380).
It was a positive day for Bagnaia too. Compared to his teammate, he didn't try a "time attack" this evening, as he preferred to focus instead on his bike's setup work. The rider from Piedmont completed a total of 51 laps, finishing ninth in 1:54.236.
Ducati MotoGP Test Team rider Michele Pirro was also on track during the early stages of the session, continuing the development work on the Desmosedici GP21.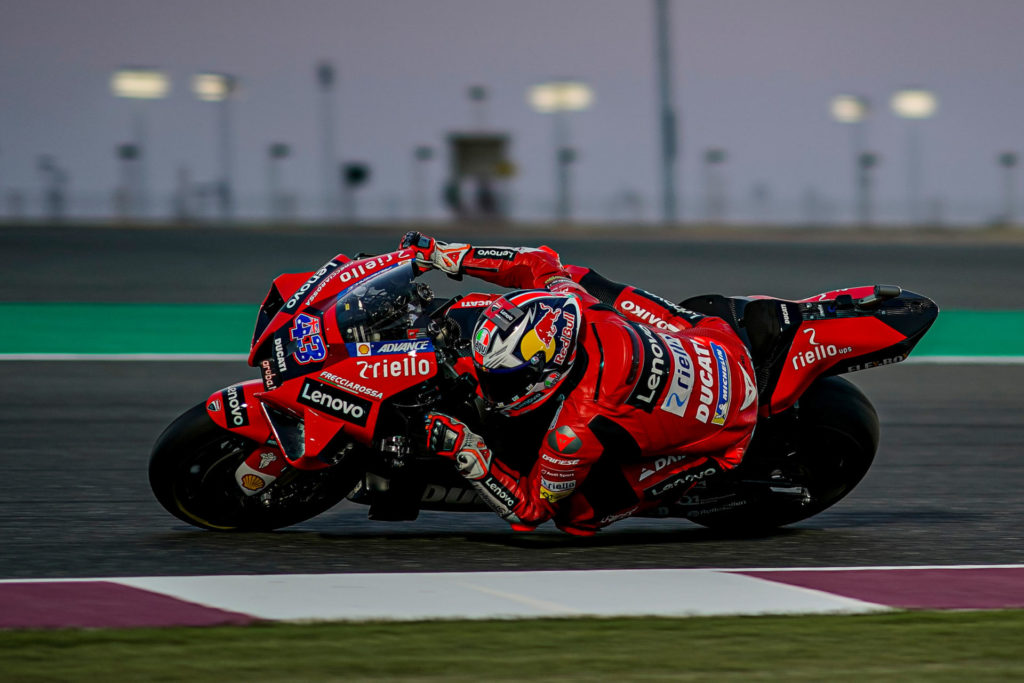 Jack Miller (Ducati Lenovo Team, #43) – 1:53.183 (1st – 51 laps)
"Today, the conditions were excellent and permitted us to set very quick lap times: there was no wind, the track was clean, and even the humidity levels were perfect. We didn't really focus too much on the "time attack", but we worked on improving every area of the bike. We are trying to gain some rear grip in the third sector, where we are still struggling. Today I rode mainly with the new fairing, which I feel really good with".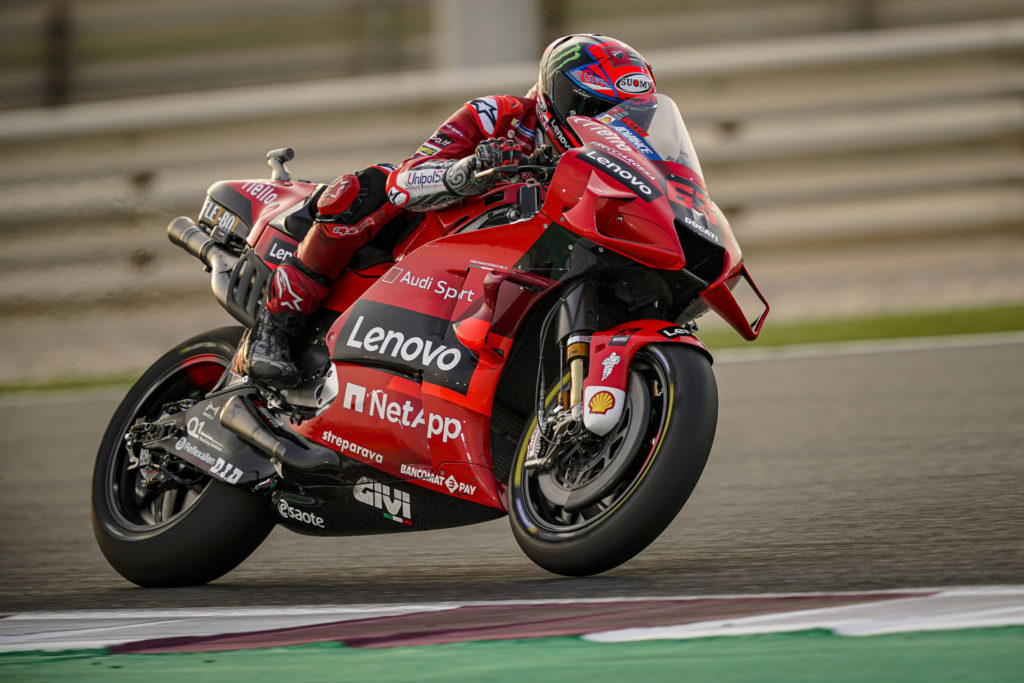 Francesco Bagnaia (Ducati Lenovo Team, #63) – 1:54.236 (9th – 51 laps)
"It has been a positive day. We tried two different setups, and the feedback is really good. Unlike Jack, I didn't try a time attack, but I preferred to focus on other aspects. On the other hand, I know I have a good pace, and in the next few days, we'll also do a race simulation".
The Ducati Lenovo Team riders will be back on track tomorrow at 2:00 pm local time (CET +2.00) for the penultimate day of pre-season testing.
More, from a press release issued by LCR Honda Castrol:
ÁLEX MÁRQUEZ SATISFIED WITH TESTING PROGRESS IN QATAR
The final pre-season test ahead of the new MotoGP campaign got underway at the Losail International Circuit in Qatar on Wednesday afternoon. The three-day session is the last chance for the premier class teams and riders to hone their preparations for the new 2021 season which kicks off at the same venue in three weeks' time.
New LCR Honda CASTROL recruit Álex Márquez continued to make solid progress with his adaptation to new machinery and was able to finalise his bike selection for the new season. He completed a total of 56 laps as he tested various components and still managed to post the 15th fastest time despite not putting in a 'time attack'. The Spaniard confirmed he will look to do that on Thursday as he also attempts to fine-tune his overall set-up.
Alex Marquez – 15th
(1'54.930)
"Ok, it's the first day of the second test here in Qatar and it was quite positive for us. It was an important day to compare important things and to be clear on which bike we will start the 2021 season on. It was clear, so the right choice for me is what I will choose and tomorrow it will also be important to work on just one bike and improve the set-up, but I feel quite good. The rhythm is not bad, but if you look at our competitors (and how they're performing) we still need to improve and we have some margin there. But I think we're working in a good way, there was no time for a time attack, but tomorrow we will plan for that as it's important to try the bike in a time attack and be closer to the top."
More, from a press release issued by LCR Honda Idemitsu:
NAKAGAMI CONTINUES TO HIT HIS MARKS IN TESTING
A final three-day test began on Wednesday afternoon at the Losail International Circuit in Qatar, the last chance for teams and riders to prepare themselves for the fast-approaching MotoGP World Championship.
LCR Honda IDEMITSU's Takaaki Nakagami picked up where he left off after testing at the weekend, working through various items for the 2021 Honda RC213V and providing positive feedback about his sensations. The Japanese rider clocked a best lap of 1'54.262, the tenth-best of the evening.
Testing continues for two further evenings at the track on the outskirts of Doha, ahead of the season-opening Grand Prix of Qatar on the last weekend in March.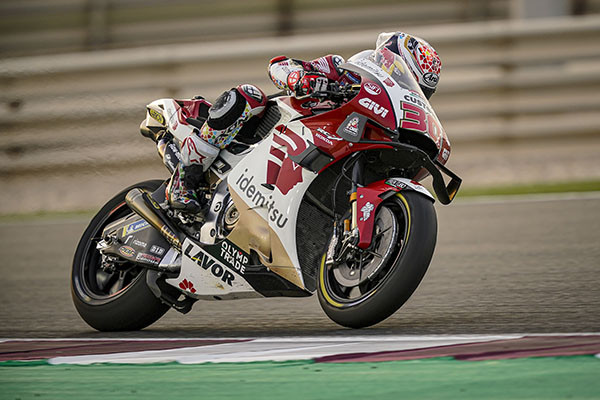 Takaaki Nakagami – 10th
(1'54.262)
"Today was not too bad at all. We tested some quite important things today, and everything was quite clear in my mind – I had a good feeling on the bike with the new items. The lap time was also much more consistent than on the last two days here. The feeling on the bike, the pace and the lap time were quite competitive.
Of course, we need to improve in some areas, especially in some sectors of the track. We are definitely heading in the right direction and I feel much more comfortable on the bike, so I'm pretty happy with today. Let's keep working hard for the last two days of testing!"