GP1_POR_23_Mir_MotoGP_36_Irresponsible_Riding_signed

GP1_POR_23__36_MIR_MotoGP_FIM_Appeal_Decision

More, from a press release issued by Dorna:
3, 2, 1… SPRINT! History made on the last lap as Pecco pips Martin and Marquez fends off Miller
12 laps, 22 riders, and one incredible debut for the Tissot Sprint: seven names fight it out for the podium and the win gets decided on the final lap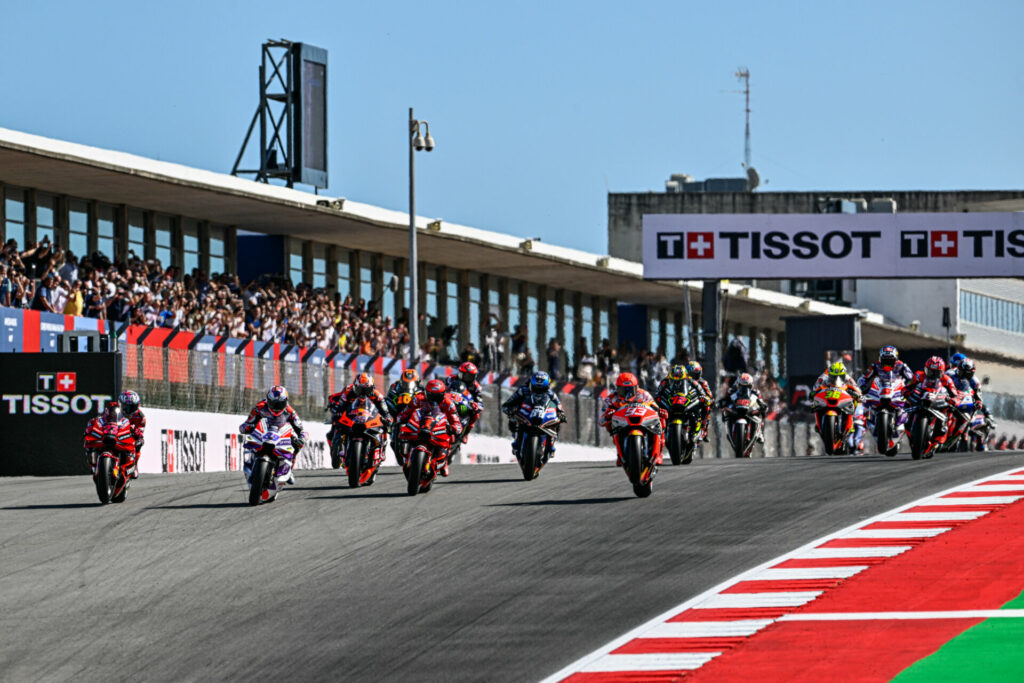 Saturday, 25 March 2023
The first Tissot Sprint was a stunner. 12 laps, 22 riders and a last lap finish! Francesco Bagnaia (Ducati Lenovo Team) came out on top as the final push came down to a duel, piling the pressure on Jorge Martin (Prima Pramac Racing) in the last few laps and finding a way through as the Spaniard headed ever so slightly wide. The fight for third was a mammoth battle from the off, too, with seven riders fighting for the top three throughout and ultimately, the rider on pole taking his first medal of the season: Marc Marquez (Repsol Honda Team).
Marc Marquez got the holeshot despite a spectacular attack from a fast-starting Enea Bastianini (Ducati Lenovo Team), but Bagnaia took over in second early on as a red duel let Martin also pickpocket into third. Marquez, Bagnaia, Martin and Bastianini was the initial leading quartet, with Marquez defending the lead until the final few metres of Lap 1.
Bagnaia and Martin then struck for the front and got past the number 93, with the leading trio enjoying a little breathing space for a few corners. Miguel Oliveira (CryptoData RNF MotoGP™ Team) had struck back into fourth too, and soon Jack Miller (Red Bull KTM Factory Racing) was also past Bastianini.
Drama then hit for the number 23, with Luca Marini (Mooney VR46 Racing Team) losing the front on the inside and rider and machine sliding into the factory Ducati, leaving the Beast nowhere to go. Meanwhile, further contact a little further back had also seen Joan Mir (Repsol Honda Team) overcook it against Fabio Quartararo (Monster Energy Yamaha MotoGP™), with the Spaniard making contact and crashing out, and the Frenchman losing time.
Back at the front, Bagnaia led Martin led Marquez, with Miller moving up into fourth past Oliveira. Then came Aleix Espargaro (Aprilia Racing) vs Marco Bezzecchi (Mooney VR46 Racing Team) vs Alex Marquez (Gresini Racing MotoGP™), but Maverick Viñales (Aprilia Racing) was also intent on joining that party. So he did, and Bezzecchi crashed out of it not long after.
With nine to go, Martin slipped past Bagnaia for the lead as Marquez dug in ahead of Miller and Oliveira. Soon enough, the battle was truly on. Miller and Oliveira passed Marquez, and then the Australian picked Bagnaia's pocket for second. By six to go, Miller hit the front, but Martin hit back. The chopping and changing let the Aprilia Racing pair also catch up, and it all bubbled up to one duel and one serious fight for third.
As Martin and Bagnaia started to inch away, the two-man decider for Tissot Sprint glory was set. The reigning Champion was gaining and gaining, and finally the door opened ever so slightly on the final lap – with Martin wide and Pecco through. It remained close to the line but the #1 remained so on track, taking that coveted first Sprint win as Martin was forced to settle for second.
Meanwhile, Miller vs Oliveira vs Marquez, plus two factory Aprilias intent on beating each other, set up a stunning grandstand finish in the fight to join Bagnaia and Martin's date with Prosecco. Marquez had even enjoyed a two for one as the Australian and Portuguese rider went head to head at Turn 1, and once the number 93 was through, there was no looking back. The eight-time World Champion took the spoils.
Heartbreak for Oliveira later in the lap saw him overcook it and drop back in that fight, with Miller suffering no such bad luck and taking a hard fought fourth. Fifth went to Viñales as he won the factory Aprilia war, with Aleix Espargaro sixth and Oliveira crossing the line seventh. Johann Zarco (Prima Pramac Racing) pipped Alex Marquez (Gresini Racing MotoGP™) to P8, with that leaving Quartararo just outside the points in the first Sprint. El Diablo made progress after the early drama with Mir, taking P10 and just off the number 73 ahead.
That's it: history is made and it's Bagnaia who takes the biggest spoils on Saturday. But tomorrow, the grid is reset and Marc Marquez returns to pole position, with another 25 laps to be raced. Join us at 14:00 (GMT+1) for more!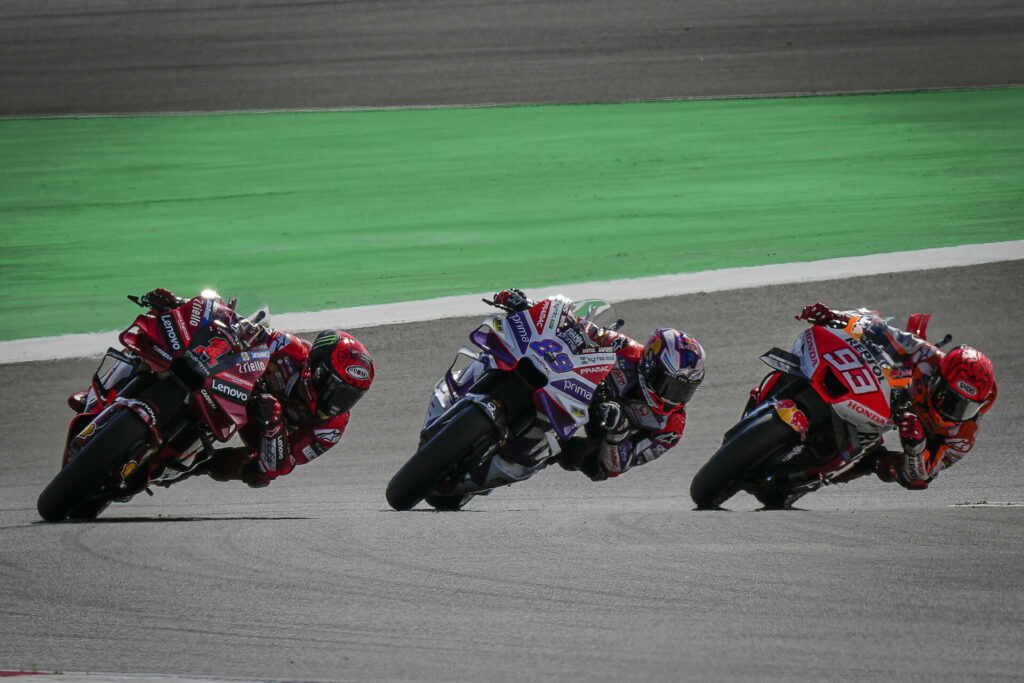 QUOTES: TOP 3
FRANCESCO BAGNAIA: "I enjoyed it, sincerely. It was fun, it was very fun! It was difficult with the wind because it was the first time we had the wind going in the opposite direction, compared to the test and yesterday. But I had fun, I enjoyed it a lot and I had in mind that the race was long so I took my time in the first part of the race. Then in the last part I just tried to push and I saw that Jorge had better traction but had more problems than me with the front end. So I just used this kind of the things I was better at to overtake. I was thinking it was shorter, but finally it took a long time, but I enjoyed it a lot!"
JORGE MARTIN: "For sure I'm happy with the 2nd place. But for sure, I would like to have that first position! I made a mistake on the last lap and Pecco overtook me but he was super fast in the last two laps. I have been struggling all weekend with the soft rear so I hope tomorrow we have a little bit more. But yeah I'm confident, I led for many laps so I'm gaining some confidence back and think we are ready for tomorrow!"
MARC MARQUEZ: "It was physical. I used all my physical side to compensate, especially in the braking points and especially to go into the corners sliding, because in the Sprint you can do this. It's only twelve laps, and then I used a lot of energy but I need to recover the time somewhere. Where I can recover time is in the braking points, and there I am taking a lot of risks. But yeah today we did an amazing job. I want to congratulate the team because yesterday we were late at night, checking the small details. They even said to me 'OK the bike is like this but you can improve this and this in your riding style.' Sometimes to say this to a guy who has won many races and many championships is difficult, but we have the confidence in each other and this helps me a lot. This morning I was concentrated. It's not a bad way to start the season, but tomorrow is the most important race which will be a bit more difficult, but in a short time we can do it."
Salač snatches first Moto2™ pole from Canet and Acosta
The Czech rider is the first from his nation to take pole in the class, denying two pre-season favourites the chance
Filip Salač is the first Czech rider ever to take pole in Moto2™, with the QJMotor Gresini Moto2™ rider putting in a stunner to just get the better of Aron Canet (Pons Wegow Los40) at the Grande Premio Tissot de Portugal. Top in testing and hot favourite heading in, Pedro Acosta (Red Bull KTM Ajo) completes the front row.
Celestino Vietti (Fantic Racing) heads up Row 2 but has a Double Long Lap pending from Valencia 2022, which could hamper his race. The likes of Tony Arbolino and Elf Marc VDS Racing teammate Sam Lowes will want to move forward from P8 and P9, as will Jake Dixon (Inde GASGAS Aspar Team) from P12 and the likes of Somkiat Chantra (Idemitsu Honda Team Asia) and Alonso Lopez (CAG Speed Up), right behind the Brit.
See the full timesheets below and gear up for the first intermediate class race of the season on Sunday from 12:15 (GMT+1)!
Sasaki smashes lap record for pole
The pre-season favourite pulls clear of rookie Rueda, with Kelso third for his first front row
Looking back at 2022, Ayumu Sasaki (Liqui Moly Husqvarna Intact GP) is very much an expected contender for the crown this year. And it's off to a good start, with the Japanese rider smashing the old lap record for the first pole position of 2023.
Red Bull KTM Ajo's new rookie on the block, Jose Antonio Rueda, starts second as his hype carry over into the weekend. On his third GP start, qualifying nearly 20 places higher than his previous best speaks well of his season ahead… and that's as he arrives as the first rider to win both the Red Bull MotoGP Rookies and JuniorGP™ crowns in the same year.
Joel Kelso (CFMOTO Racing PruestelGP) takes third and, like for Rueda, it's his first front row in Grand Prix racing, with a previous best of fifth. Friday's fastest, Daniel Holgado (Red Bull KTM Tech3), just missed out on the front row.
One of the expected contenders facing the biggest fight back is Diogo Moreira (MT Helmets – MSI) as he starts in P16.
Who will take first honours? Tune in for the first Moto3™ showdown of the season on Sunday at 11:00 (GMT +1) to find out!
More, from a press release issued by Gresini Racing:
TOP-9 RESULT IN FIRST-EVER SPRINT RACE FOR MARQUEZ 
Portimao was the stage for the first, spectacular sprint race ever, which also marked the opening encounter of 2023. After a disastrous qualifying, with Alex Marquez only 13th and Fabio Di Giannantonio all the way down in 21st place, both Team Gresini Racing MotoGP riders managed to make amends by finishing the race – with the Spaniard also able to score a point thanks to a ninth-place finish.
A mistake towards the halfway point of the race prevented the Spanish rider from battling with today's fastest riders, but Marquez still did a good job to attack and at the same time to fend off Quartararo's attacks – as he wrapped up the Sprint Race point-scoring top nine.
Fabio Di Giannantonio also did a good job as he tried to recovered the lost confidence as he made up several positions while also staying upright aboard his Ducati #49. The first full race of the season will get underway tomorrow at 14:00 local time (GMT +1).
9th – ALEX MARQUEZ #73 (1 point)
"Everyone was a bit nervous and the race was a complicated one, especially as we started from 13th place on the grid. Too bad for that mistake at halfway point at turn five, as without that I could have raced with the front group. Too bad that I didn't overtake Zarco, we had the pace to do it, but it was important to start with confidence and without mistakes. We know now what we need to work on and on paper we have a pace to do better tomorrow."
16th – FABIO DI GIANNANTONIO #49
"The good thing is that it was a fun race and we managed to battle a little. Unfortunately we started on the backfoot this weekend compared to the other riders, and we need to make up some ground for the race. Let's put the first sprint race in our CV and let's keep working."
More, from a press release issued by RNF MotoGP Team:
Strong first Sprint Race by Oliveira and Fernandez in Portimao
The CryptoDATA RNF MotoGP Team experienced an emotional Saturday at the Portuguese Grand Prix, with Miguel Oliveira, the local hero, battling for a podium position in the first-ever Sprint Race in the MotoGP World Championship, and Raul Fernandez making impressive gains in just 12 laps in sunny and windy conditions.
After a challenging Friday and some contusions on his left leg following a heavy crash, Oliveira was fully motivated to make up for lost ground on Saturday at his home circuit, the Autodromo Internacional do Algarve and so he did. The home hero delivered an incredible Qualifying one to make it to P2 in order to get the last ticket for Q2. In Qualifying two, he delivered once again posting the fourth fastest time and earning a spot at the front of the second row for the race on Sunday, and also for the first-ever sprint race in MotoGP history today.
Starting there, he managed to stay inside the top five for quite a while, and even went up to P4 on the fifth lap of the race. During the final three laps of the short sprint, he had a strong battle with Marc Marquez and Jack Miller and even managed to position himself in third place on the last lap. However, an unfortunate mistake on the brake cost him valuable meters, and he ultimately crossed the line in seventh.
Meanwhile, his young teammate, who also suffered from a tough Friday improved gradually. In Qualifying one Fernandez went nearly half a second quicker than yesterday, but in the ultra-competitive MotoGP field, it was still not enough to claim a decent starting position. Yet, the Spaniard needed to start from P20 on the grid. But he made up the first position already in sector one, moved two more places towards the front at the end of the first lap to find himself in P17. Halfway through the short race, he was already in P12 and even pushed further at the end, to eventually grab P11 on the line.
Sunday's race will feature the first full race distance in 2023, with both CryptoDATA RNF MotoGP riders preparing for the 25-lap race after the Warm Up at 09:45 local time (10:45 CET) and the race starting at 14:00 local time (15:00 CET).
MIGUEL OLIVEIRA
"Of course, it would have been much nicer to be in third place, but it's not a huge disappointment as we still have a full race tomorrow. I went wide during the last lap as I was braking a bit too much in the wrong place, so I just went off track and couldn't make the corner with the wind inside of the bike. It's a shame, but it's still three points. We have another chance tomorrow, plus we have an opportunity to prepare the bike a bit better for the main race."
RAUL FERNANDEZ
"It was a bad Qualifying and not what I expected. To be honest, I am not quite familiar yet with the bike when I have to use the new tyre for the time attack. The pace was always good, but now you have the Sprint Race with 12 laps, and when you start on the last row of the grid, it's hard to recover. But I came back and I was really happy. We will have another opportunity tomorrow, and if we do more or less like today, we can fight back for Top 11. The goal is to enjoy and we will soon get used to this new format within the next couple of rounds."
More, from a press release issued by GASGAS Factory Racing Tech3:
ROOKIE FERNANDEZ ALREADY LOOKING FORWARD TO SUNDAY'S RACE FOLLOWING DISAPPOINTING SPRINT IN PORTIMAO
With teammate Pol Espargaro absent following his accident on Friday, rookie Augusto Fernandez was the only GASGAS Factory Racing Tech3 rider to get on with the Portuguese Grand Prix action today. In addition to experiencing a Saturday for the first time as a MotoGP™ rider, he also faced the new MotoGP™ World Championship format, composed of a Practice 3 and the qualifying sessions in the morning, and the MotoGP™ Sprint in the afternoon.
After a good day in the office on Friday, Augusto Fernandez faced his first qualifying session in the MotoGP™ class this morning. He continued to make improvements on the rollercoaster, and managed to improve his lap time in the first qualifying session of the season, to 1'38.464, getting him a P19 start for his debuts in both the Sprint and the race on Sunday.
Augusto Fernandez lined up on his GASGAS RC16 for the first time of the season, all set for a twelve lap-sprint. Unfortunately, the rookie faced a technical issue on his bike, leaving him with no other option than retiring. It is not an ideal start to the 2023 campaign, but both Fernandez and the GASGAS Factory Racing Tech3 team will look forward to Sunday's race.
Augusto Fernandez 
Position: DNF
Championship: NC
Points: 0
"I was quite happy with my lap time in qualifying this morning as I managed to improve from yesterday. I was still far from the other guys because they were flying, but it was a positive point for me. I was really happy with the setup of the bike, so I was looking forward to the race. Unfortunately, we encountered an issue related to the gearing at the race start. I already felt it when I went on the grid, and then I had to retire within the first lap. We will need to look into it tonight. Of course I am disappointed because it was my first MotoGP start and I needed the experience, but luckily we already have another chance tomorrow, and I think that we can do a good job in the race."
Nicolas Goyon
Team Manager
"First of all, we all wish a speedy recovery to Pol Espargaro following his nasty crash on Friday. He is a fighter and we know that he is already thinking of coming back racing, but he will now need to focus on himself and getting better. The whole team is behind him and we will be waiting for him.
On the other side of the garage, Augusto Fernandez has been having a really positive weekend and has improved at every session so I think that we were all looking forward to seeing what he could do in the sprint. Unfortunately, he had a technical issue in the warm up lap, which forced him to start the race from second gear, and without strategy. As a consequence, it destroyed the clutch. This issue is still under investigation from our end, but it is a big shame for him. I am sure that he will be even more hungry for tomorrow's race.
Finally, I would like to congratulate Jack Miller on his unbelievable race and it showed all Pierer Mobility Group riders that we have a bike with potential, so thank you to the Pierer Mobility Group for their continued support."
More, from a press release issued by Mooney VR46 Racing Team:
DOUBLE CRASH FOR THE MOONEY VR46 RACING TEAM IN THE FIRST SPRINT RACE IN PORTUGAL
After a good start, Bezzecchi and Marini are forced to retire
Portimao (Portugal), March 25th 2023 – The first sprint race in MotoGP history ends with a double retirement for the Mooney VR46 Racing Team in Portugal. A shorter epilogue than expected for Marco Bezzecchi and Luca Marini, both forced to retire after a crash on the Ducati Desmosedici GP of the Tavullia Team.
Started from the eighth box on the grid, a placement also valid for tomorrow's GP (02.00 pm local time), Marco ends the first lap in 11th place. Fighting in the group to climb up the standings towards the podium, he crashes at turn 14 (P7) without being able to get back on track to cross the finishing line.
Similar fate also for Luca, starting from the third row (P9). After a good start, a crash knocked him out on the second lap when he was in P7.
LUCA MARINI – 10
A difficult race and day: in the free practices I crashed in the out lap with a cold tire, I made a mistake. On the other hand, in the race I leaned too hard in the corners and crashed. I'm very sorry for Enea (Bastianini) and I hope he can recover soon, the bike hit him. The previous lap I had done the same type of overtaking, again at turn five, on Maverick (Viñales): I tried then again and lost the front. Tomorrow will be a demanding race, there are many fast riders. Jack (Miller) and the Aprilia has surprised me, Marc (Marquez) too. The start was very complex, it's a question of creating spaces without touching anyone. For the show I think it was incredible, but we were maybe close to the limit.
MARCO BEZZECCHI – 72
A difficult race to interpret: in the first three corners, after the start, it was impressive. I lost a lot of ground and was forced to recover. I tried not to be too aggressive, to manage the distance well to arrive strong in the last laps. At turn 14 I hit a bump, I lost the front and couldn't avoid the crash. It wasn't the start I expected, I made a mistake and I hope to recover tomorrow.
More, from a press release issued by Monster Energy Yamaha:
DIFFICULT FIRST 2023 SPRINT FOR MONSTER ENERGY YAMAHA MOTOGP IN PORTUGAL
Portimao (Portugal), 25th March 2023
GRAND PRIX OF PORTUGAL
SPRINT
Monster Energy Yamaha MotoGP's Fabio Quartararo showed his relentless determination in MotoGP's first-ever Sprint. Despite a troubled opening lap, he recovered to 10th position at the chequered flag. Morbidelli made progress in the 12-lap contest. Starting from P17, he rode to 14th place before crossing the finish line.
10th FABIO QUARTARARO +5.924 / 12 LAPS
14th FRANCO MORBIDELLI +17.138 / 12 LAPS
Monster Energy Yamaha MotoGP's Fabio Quartararo made a strong comeback in today's 12-lap MotoGP Sprint at the Autódromo Internacional do Algarve. Starting from 11th on the grid, he found himself at the back of the pack at the end of the first lap but fought his way back to a top-10 finish. Morbidelli had his work cut out for him, starting from 17th on the grid. He was on an upward trajectory in the opening laps and crossed the finish line in 14th place.
Quartararo had a nightmare of a first lap. After a bad start and a collision with Joan Mir, he dropped to the back of the pack to 19th. But the Frenchman is made of strong stuff; he regrouped and then started to climb back up the order. By lap 5 he was back into the top 10. He kept pushing, setting occasional fastest and personal best sector times. On the last lap, he engaged in a battle with Alex Marquez but couldn't manage to keep hold of ninth place. He took the chequered flag in the first MotoGP Sprint in tenth position, 5.924s from the race leader. However, as points in Sprints are rewarded from first to ninth position, he found himself just outside the points.
Starting from 17th position, Morbidelli avoided trouble in the chaotic opening lap. He was in 15th position as they passed the start-finish line for the first time. The Italian was battling in the midpack and later rose through the rankings together with his teammate, moving up to 13th place with nine laps to go. However, on the next go-around, he lost a position to Alex Rins. Morbidelli kept pushing but was unable to make a move. The remainder of the race was a lone ride for him. He finished in 14th place, 17.138s from first.
MASSIMO MEREGALLI
TEAM DIRECTOR
We had obviously hoped for a much better start to the season, but today wasn't our day. Whilst our riders' pace and speed were decent during this morning's FP, our competitors made a big step on the soft tyre in qualifying. Starting the Sprint from P11 and P17 was always going to be tricky. Fabio had a bad start, and to make matters worse, he then got clipped by another rider on the opening lap. It effectively ended his chances to fight for the points today, although he did still come really close thanks to his strong comeback. Morbidelli started from 17th, which is much further back than we would have liked, but he made up some positions in the race and finished 14th. Clearly, we have work to do as a team to make sure we get better results tomorrow. The Sprint has given us data and ideas of where we can improve. We will have a 10-minute warm-up session to quickly try some last setting amendments, and then we will look to make a strong comeback in the Race.
FABIO QUARTARARO
I had an issue with the launch control in the beginning and then also a touch with Joan Mir. I tried to make a comeback as far as I could, but it was not an easy job, and I tried to manage to get the best place possible. I did see in today's Sprint that my pace was good. Hopefully tomorrow we will have fixed the launch control, and over 25 laps I think we can be quite fast.
FRANCO MORBIDELLI
This afternoon was very tough for me. This morning I had a decent feeling, I was pretty good. This afternoon, we were planning on improving, but instead we got worse. We are investigating why.
More, from a press release issued by Aprilia:
SPRINT RACE AT PORTIMAO
IN THEIR FIRST WEEKEND WITH FOUR BIKES ON THE TRACK, APRILIA PLACES THREE IN THE TOP SEVEN FOR THE SPRINT RACE THAT KICKED OFF THE MOTOGP SEASON
CONSISTENTLY IN THE LEADING GROUP, THE RS-GP MACHINES FINISHED FIFTH WITH VIÑALES, SIXTH WITH ESPARGARÓ, AND SEVENTH WITH OLIVEIRA WHO LOST THE PODIUM POSITION ON THE FINAL LAP
ALEIX: "WE ARE FASTER THAN WE THOUGHT"
MAVERICK: "WE'RE HERE, AND WE'RE EXTREMELY FAST!"
The first Sprint Race in MotoGP history launched the 2023 season, providing spectators with a great show and showing that Aprilia is an absolute contender in the championship, occupying three of the top seven position at its début with four RS-GP machines on the track. After taking three bikes through to Q2 – the two factory riders, Espargaró and Viñales, were joined by Miguel Oliveira from satellite team CryptoDATA RNF – the RS-GPs proved that they are extremely competitive in the race. Maverick Viñales, starting from the third row, demonstrated a pace worthy of the podium, but questionable contact with Álex Márquez initially and then the accident ahead of him involving Marini and Bastianini cost him quite a few positions. Armed with a great pace, consistently at 1'38/low 1'39, he recovered positions, but the short, 12-lap race kept him from moving any farther up in the rankings. His final fifth place, just 1.8 seconds behind the winner, and the speed he demonstrated rank him among the favourites for the race tomorrow.
Aleix Espargaró, who started from the fourth row, executed a similar comeback to finish sixth, just behind Maverick. The outstanding seventh-place finish earned by Oliveira, of the CryptoDATA RNF satellite team is worth a mention – a nice placement, but Miguel lost the third-place position, which he had been occupying until the final lap, when he ran long just a few turns from the end.
It was a great test of strength for the Italian manufacturer, since even young Raul Fernandez, on the satellite team, cut a fine figure, finishing eleventh after a great comeback from the twentieth spot on the grid.
In short, Aprilia has confirmed its role in the spotlight of this MotoGP season.
Aleix
"I am truly satisfied, not only with the result, but because I am convinced that our speed is better than we thought. Unfortunately, the Sprint Race was conditioned by less than perfect qualifiers. Starting twelfth is not idea, although both Maverick and I were among the best in the race today in terms of pace. Not bad, since I always say that I like to learn from small mistakes and we'll exploit everything we learned today. Tomorrow things will be different. Rear tyre choice will be crucial and, looking at today, the RS-GP showed that it treats the tyres well."
Maverick
"I had fun in the race. We were extremely fast, especially in the second part. Unfortunately, I lost a bit of time after an accident ahead of me. From that moment on, I just focused on defending every position and giving it my all. From this first Sprint Race we learned above all that starting up front is crucial because in the beginning I had a lot of contact with other riders and that doesn't help. At the end, I had rubber marks all over my leathers. In any case, we're here and things are working properly! And that is the most important thing."
More, from a press release issued by KTM Factory Racing:
KTM CHARGE TO THE SECOND ROW IN FIRST MOTOGP™ QUALIFIER AND SEAL 4TH AFTER INAUGURAL SPRINT IN PORTUGAL
MotoGP 2023 – Round 1 of 21, Algarve International Circuit – Qualification and Sprint
The highlight of the first day of MotoGP qualification and the first ever 'Sprint' was Red Bull KTM Factory Racing's Jack Miller taking 5th position at a warm and sunny Algarve International Circuit. The first Saturday of the 2023 season was a hectic one with qualifying followed by the 12-lap Sprint in which the Australian led and finally finished 4th at the Grande Premio TISSOT de Portugal.
Jack Miller and Brad Binder end qualification with 5th and 15th positions on the grid respectively
The Australian and South African score 4th and 12th in the short and intense Sprint with the KTM RC16s
Miller shatters the lap-record on Friday during Practice 2 and goes quicker on Saturday
Jose Rueda 2nd fastest in Moto3™ and Pedro Acosta on the front row for Moto2™
Jack Miller smashed the lap record by one second during Practice 2 on Friday to head into Q2 as the top ranked rider. He then went faster again but was denied a third fantastic flyer at Pole Position by a slow speed crash at Turn 3. Miller will start the Grand Prix race from 5th and the middle of the second row. Brad Binder was dealing with a stiff neck and shoulder but logged a lap-time good enough to be 15th fastest after Q1 and less than a second from Pole Position.
At 3pm Red Bull KTM Factory Racing lined-up for the first ever MotoGP Sprint: 12 laps of intense action with world championship points at stake and early bragging rights. Miller and Binder filled their grid slots and went full-gas. Miller harnessed all the grip of his soft tire selection and moved up from the fringe of the top five to lead with a thrilling move at Turn 13. He couldn't quite keep Marc Marquez at bay and took 4th by the checkered flag. Binder was on the edge of the top ten after being bustled in the opening corners and was pipped to the line, eventually taking 12th.
The team and riders will now reset and review their configuration for the full-length 25-lap Grand Prix on Sunday at 14.00 GMT.
 
Jack Miller, 5th in qualification, 4th in the Sprint: "I was a bit nervous and didn't know what to expect but it's safe to say the first Sprint was a success. We threw our nose into the lead there for a little bit. I enjoyed that race a lot. The team and the engineers have been working tirelessly. I'm not a good test rider: I'm a racer! I enjoy risking when it's worth it. We've made some big improvements and we're showing some potential. It's been a progression and every time we go out it's getting better and better. More and more seat time is really helping me. We will have a different strategy for tomorrow and hopefully we can make that work."
Brad Binder, 15th in qualification, 12th in the Sprint: "The Sprint was a lot of fun. It was pretty wild and I was hung out to dry by other riders on the first lap and that cost me a lot of time. This weekend hasn't been easy for me so far but I know what I need to do: I have to get fit again because I have been really struggling with my neck and shoulder on the bike. I'll try and do a good job tomorrow and get some valuable points."
Francesco Guidotti, Red Bull KTM Factory Racing Team Manager: "A great Friday that allowed Jack to get to Q2 directly with the lap-record. Unfortunately, we know Brad is not in the best condition and we need to give him time to come back to his best level. Jack started well from the second row and fought for the podium until the end of the race: It was a good start of the season and a very good Sprint. It was strange for us to be on the grid on Saturday afternoon and we are trying to extract as much information as possible to see if we can use data for the Sunday race. We will see how this goes, but, I'm sure all the fans enjoyed this extra show! We'll see what we can do tomorrow."
Results Qualifying MotoGP Grande Premio TISSOT de Portugal
1. Marc Marquez (ESP) Honda 1:37.226
2. Francesco Bagnaia (ITA) Ducati +0.064
3. Jorge Martin (ESP) Ducati +0.228
5. Jack Miller (AUS) Red Bull KTM Factory Racing +0.323
15. Brad Binder (RSA) Red Bull KTM Factory Racing +0.879
Results MotoGP Sprint Grande Premio TISSOT de Portugal
1. Francesco Bagnaia (ITA) Ducati 19:52.862
2. Jorge Martin (ESP) Ducati +0.307
3. Marc Marquez (ESP) Honda +1.517
4. Jack Miller (AUS) Red Bull KTM Factory Racing +1.603
12. Brad Binder (RSA) Red Bull KTM Factory Racing +8.384
More, from a press release issued by Repsol Honda:
Magic Marquez converts 92nd career pole to debut Sprint podium
Marc Marquez surprised even himself as he secured a record-breaking pole and converted it into a history-making podium in the first MotoGP Sprint.
Saturday, March 25, saw history made as the MotoGP World Championship contested its first ever Sprint race. The morning started with pure excitement and elation for the Repsol Honda Team as Marc Marquez went through Q1 with just a single run, bettering the lap record set by Jack Miller the previous day. This was the converted into a truly spectacular performance in Q2 as Marquez again improved on the lap record to take a sensational pole position. Repsol Honda Team teammate Joan Mir narrowly missed out on the second transfer spot and secured 14th on the grid for his MotoGP debut on the Honda RC213V.
Tension filled the air as the MotoGP class lined up for the Sprint race, an incredible 12-lap contest awaiting them. From pole position, Marquez got an explosive start as he and his Repsol Honda Team RC213V rocketed off the line to lead the first lap. Defending well for the opening laps, the #93 was able to maintain his position in the leading group and waited as the riders ahead battled. In the final moments of the race, Oliveira and Miller opened a gap and the eight-time World Champion was able to attack – moving up into third.
With his 64th premier class pole, Marquez's 1'37.226 set a new outright lap record around the Portuguese circuit. This is Marc Marquez's first pole position since the 2022 Japanese Grand Prix and his first pole in dry conditions since the 2019 Japanese Grand Prix – some 1,253 days ago. Marc Marquez heads into Sunday with seven World Championship points, third in the World Championship standings.
From 14th on the grid Mir was immediately locked into a tense battle with the riders around him. Recovering positions and already showing a pace faster than those ahead, the #36 began to pick his way forward and passed several riders on the opening lap. Unfortunately Turn 13 would see Mir's race come to an end as he lost the front, colliding with Fabio Quartararo as a result.
Racing continues tomorrow, Sunday March 26, as the Portuguese Grand Prix is scheduled to run at 15:00 Local Time. This will be a full-distance race, 25 laps where Marc Marquez will again start in pole position.
Marc Marquez
THIRD 
"Well, today was really a surprising day but it was a great day, it helped to restore a lot of confidence for myself and the team. Starting with the pole, honestly, I don't know how I was able to find this time – it was much faster than I had been before. It's a good advantage to start from pole position and we were able to fight in the Sprint race. When I saw Oliveira and Miller go wide, I knew this was my chance and I attacked. The new format is very demanding, but I think this short race was a good show for the fans. Tomorrow is what really counts and will show where we are more I think."
Joan Mir
DNF 
"Starting in 14th is a lottery, you have a lot of riders around you who are very eager to recover positions as quickly as possible. It was a very aggressive start to the race because of this, I think if we were starting up higher then we could show our true pace. We have good pace for the race tomorrow, so this makes me feel more confident if everything is more calm at the start. I also want to apologise to Fabio for the contact."
More, from a press release issued by LCR Honda Idemitsu:
FIRST SPRINT FOR TAKAAKI NAKAGAMI AT PORTIMAO
2023 means the start of new formats during the MotoGP weekends, and the Sprint is one of them. LCR Honda IDEMITSU rider Takaaki Nakagami has pushed and fought throughout the 12 laps in Portimao and has finished 15th.
After qualifying 18th this morning, the Japanese carried out the first-ever kind of race and gathered valuable information to provide the team and HRC. On Sunday, he will occupy the same grid position and have another chance to keep pushing and progressing, as the season's first race will take place at 14.00 CET.
Takaaki Nakagami 15th
"The first lap of the Sprint race was particular, with many crashes. Everyone was aggressive; this is what I expected because it's only 12 laps, so you need to be very strong at the beginning of the race. Honestly, my performance was not the best, but we have another chance tomorrow, 25 laps. That's a long race, so I need to get some data from the sprint race to understand where to improve. We need to generate more rear grip."
More, from a press release issued by LCR Honda Castrol:
FIRST SPRINT FOR ALEX RINS AT PORTIMAO
2023 means the start of new formats during the MotoGP weekends, and the Sprint is one of them. LCR Honda CASTROL rider Alex Rins has pushed and fought throughout the 12 laps in Portimao and has finished 13th.
After qualifying 16th this morning, the Spaniard has carried out the first-ever kind of race with his Honda and has gathered valuable information to provide the team and HRC. On Sunday, he will occupy the same grid position and have another chance to keep pushing and progressing, as the first race will take place at 14.00 CET.
Alex Rins 13th
"We made a really good start, but many people were over the limit, so we tried to stay focused. The wind was so high compared to practice this morning and yesterday. In the race, at one point, I was trying to catch the riders in front, but I couldn't so let's try to give a little more tomorrow. We took much information from the Sprint because the conditions will be the same for the GP race, so let's see. Now, I am losing a bit in acceleration. In the Sprint, the grip from the rear tire didn't come, so I couldn't get the benefit of the soft tire."
More, from a press release issued by Ducati:
Ducati one-two in Portimão. Bagnaia wins the Sprint Race in Portugal ahead of Jorge Martín (Pramac Racing)
Enea Bastianini, involved in a crash on the second lap, will have to sit out tomorrow's race and the Argentina GP due to a fracture in his right shoulder blade
Francesco Bagnaia wrote another page of history today at the Autodromo Internacional do Algarve in Portimão, Portugal, stage of this weekend's opening Grand Prix for the 2023 MotoGP World Championship. The Ducati Lenovo Team rider was the first to win the new sprint race, introduced this year, thus taking the lead in the overall standings.
As he was starting with the second fastest time, Bagnaia took the lead soon after the lights went out. Overtaken first by the Desmosedici GP machine of Jorge Martín (Pramac Racing) and then by former teammate Jack Miller, Pecco managed to regain the lead on the last lap and win the first Sprint Race in MotoGP history. With Martín second, today was Ducati's first one-two for the 2023 season.
For the Ducati Lenovo Team, however, this was a bittersweet Saturday following Enea Bastianini's injury. Starting with the sixth fastest time, Enea had managed to stay in the fight for the top positions after the start, but on the second lap, he was involved in Luca Marini's (VR46 Racing Team) crash, suffering a fracture of his right shoulder blade. Bastianini will therefore be forced to miss tomorrow's race and the Argentina GP scheduled for next week.
Francesco Bagnaia (#1 Ducati Lenovo Team) – 1st
"Today, we had to adopt a completely different strategy than in a traditional race. Normally you have to wait for a few laps before starting to push and manage the tyres well, but in the Sprint Race, you must push right away. I struggled a bit in the first few laps because of the wind, but I saw that my rivals were also suffering, so I waited for a few laps to attack. When I saw that my front-end feeling was better than Martín's, I tried to close the gap and then pass him on the last lap. Now we have to stay focused on tomorrow's race. I am very sorry for Enea's injury, and I wish him a speedy recovery, hoping he will be back with us soon!"
Luigi Dall'Igna (Ducati Corse General Manager)
"Pecco did an incredible race, and I am happy that he took this win in the first Sprint Race of the season. Now we must stay focused and work to be just as ready for tomorrow's race. Unfortunately, with Enea's injury, it was a bittersweet day for us. We hope he can recover soon and get back on track with us as soon as possible."
The Ducati Lenovo Team will be back on track tomorrow at 9:45am for the warm-up, while the Portuguese GP will start at 2pm local time, over a 25-lap distance.