MotoGP Race Lap Record: Andrea Dovizioso, 1:23.827, 2019
MotoGP All Time Lap Record: Marc Marquez, 1:23.027, 2019
myWorld Motorrad Grand Prix Von Osterreich
2019 FIM MotoGP World Championship
Red Bull Ring
Spielberg, Austria
August 11, 2019
Race Results (All on Michelin tires):
1. Andrea Dovizioso, Italy (Ducati), 28 laps, Total Race Time 39:34.774
2. Marc Marquez, Spain (Honda), -0.213 second
3. Fabio Quartararo, France (Yamaha), -6.117 seconds
4. Valentino Rossi, Italy (Yamaha), -7.719
5. Maverick Vinales, Spain (Yamaha), -8.674
6. Alex Rins, Spain (Suzuki), -8.695
7. Francesco Bagnaia, Italy (Ducati), -16.021
8. Miguel Oliveira, Portugal (KTM), -16.206
9. Danilo Petrucci, Italy (Ducati), -17.350
10. Franco Morbidelli, Italy (Yamaha), -20.510
11. Takaaki Nakagami, Japan (Honda), -22.273
12. Johann Zarco, France (KTM), -25.503
13. Stefan Bradl, Germany (Honda), -31.962
14. Aleix Espargaro, Spain (Aprilia), -34.741
15. Karel Abraham, Czech Republic (Ducati), -48.104
16. Andrea Iannone, Italy (Aprilia), -1 lap
17. Tito Rabat, Spain (Ducati), -8 laps, DNF, crash
18. Jack Miller, Australia (Ducati), -21 laps, DNF, crash
19. Hafizh Syahrin, Malaysia (KTM), -26 laps, DNF, crash
20. Pol Espargaro, Spain (KTM), -27 laps, DNF, crash
21. Cal Crutchlow, UK (Honda), -27 laps, DNF, crash
World Championship Point Standings (after 11 of 19 races):
1. Marquez, 230 points
2. Dovizioso, 172
3. Petrucci, 136
4. Rins, 124
5. Rossi, 103
6. Vinales, 102
7. Quartararo, 92
8. Miller, 86
9. Crutchlow, 78
10. Nakagami, 62
11. Pol Espargaro, 61
12. Morbidelli, 58
13. Joan Mir, 39
14. Aleix Espargaro, 33
15. Oliveira, 26
16. Bagnaia, 24
17. Zarco, 22
18. Iannone, 21
19. Jorge Lorenzo, 19
20. Bradl, 16
21. Rabat, 14
22. Michele Pirro, 9
23. Abraham, 4
24. TIE, Sylvain Guintoli/Syahrin, 3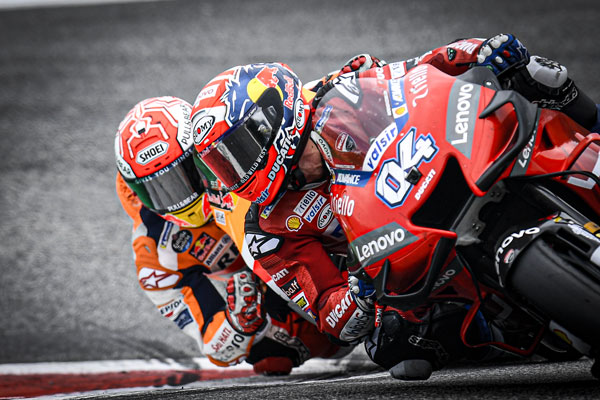 (Above) Andrea Dovizioso (04) and Marc Marquez. Photo courtesy of Dorna/www.motogp.com.
More, from a press release issued by Dorna:
Instant classic: the gloves come off as Dovizioso denies Marquez in Austria
The Italian turns the tables on the reigning Champion at the final corner for another stunner in Spielberg
Sunday, 11 August 2019
Do not adjust your set: that was Andrea Dovizioso (Ducati Team) slicing past Marc Marquez (Repsol Honda Team) at the final corner as the Italian turned the tables on the reigning Champion, the hunted turning hunter to keep Ducati's 100% winning record at the Red Bull Ring intact. After all-out war in Austria, 'DesmoDovi' became the first repeat winner since the venue's return to the calendar in 2016, with the gloves coming off early as a vintage Dovi vs Marquez duel lit up the Red Bull Ring. The Italian has won most of them, but in Spielberg he didn't play defence. Fabio Quartararo (Petronas Yamaha SRT) completed the podium after another impressive ride from the rookie, equalling Yamaha's best result at the track.
Polesitter Marquez was lightning off the start but so was Dovizioso as the two pre-race favourites headed into Turn 1 already locked together, despite Jack Miller (Pramac Racing) heading in slightly hot and almost clipping the number 4 Ducati ahead of him. But all's well that ends well and this was just the beginning, with the Italian and Spaniard even making slight contact on the run into Turn 3 at 300km/h. Marquez was on the inside and Dovi on the outside, but the number 93 went in hot and ran wide, the Ducati then also forced to sit up. That let Quartararo sweep through to lead, with Miller and Team Suzuki Ecstar's Alex Rins then also pouncing on the exit and Marquez having another wobble as he gassed it to try and slot back into the pack.
Dovizioso was behind Marquez after the shuffle, but he was back past into Turn 4 as Quartararo started putting the hammer down in the lead. The Frenchman was 0.5 ahead onto Lap 2, but Dovizioso and Marquez started to make up ground as they recovered from a frantic opening lap. Dovi was soon back up to second, with Miller holding off Marquez – for the time being – and fast-starting Valentino Rossi (Monster Energy Yamaha MotoGP) not far off, 'The Doctor' climbing his way up to fifth from P10 in the opening exchanges and initially in the battle for the podium.
Before long, Marquez had dispatched Miller and the top three started to edge away from the number 43, Rossi and Rins. Then on Lap 7, Quartararo was under serious attack: Dovizioso blasted past into the lead, before Marquez shot past the Yamaha moments later. The two were back in front, and the duel was just getting started.
The pin wasn't yet pulled, however, with the top five remaining within a second and a half before heartbreak struck for Miller as the Australian slid out at Turn 9. Just metres ahead on track, Marquez struck for the lead at the final corner, too, and then the duo started to pull clear. Not by a massive margin each lap, but Quartararo couldn't match the pace of the Ducati and Honda as another almighty Austrian battle started to take shape.
Marquez threatened to stretch away but the gap didn't rise above 0.4 seconds, with the number 93 strong in the first half of the lap and Dovizioso the stronger in the second part. The laps ticked by and there was nothing between them, Dovizioso shadowing the reigning Champion. Then, out of nowhere, a move was made with nine to go. Dovizioso powered alongside Marquez, and the number 93 even looked across at the Italian heading into Turn 1. But the Ducati made the pass stick and it was now the 2017 Austrian GP winner in control.
Tensions were bubbling to boiling point for the next five laps, with Marquez trailing Dovi by 0.1, 0.2. The question was not if, but when and where. Then, with three to go, we found out. Turn 7 was the unlikely location as Marquez stuck it underneath Dovizioso to take back the lead, and it settled back into strategic chess until Turn 1 on the penultimate lap as the number 04 went for it. Could he make it stick? Not quite, Dovizioso running wide and Marquez straight back through.
Onto the last lap, there was nothing separating the leaders and again, Dovi went for it at Turn 1 but ran wide, so it was Marquez who led going down into Turn 3. The Italian was close but not close enough around the final lap, and it started to look like the Borgo Panigale factory's stranglehold on the Red Bull Ring could be under threat. But it was far from over as down to the last sector, with the two glued together once again as the Ducati powered up the hill out of Turn 8. He was close, but no pass came at Turn 9. It was going down to the wire.
Heading into the last corner, the Ducati pulled out from behind the Honda as Dovizioso pulled a Marquez – pushing his machine into the gap and on the verge of creating space rather than using it. It was roles reversed from 2017 as the Italian lunged down the inside, keeping it perfectly pinned to deny Marquez and power towards the line ahead for his second win of the season. With no chance to strike back, Marquez was forced to settle for second.
Behind the duel, Quartararo took the chequered flag in a lonely third to claim his third MotoGP™ rostrum and bank another huge haul of points in his impressive 2019, coming home top rookie, top Independent Team rider and top Yamaha – equalling the Iwata factory's best result at the track from 2016.
Just behind him, Rossi had been caught by teammate Maverick Viñales and Suzuki rider Rins as the trio battled for fourth, with Rossi ultimately able to pull a tenth or two clear of Viñales as three Yamahas sat in the top five at a tougher track for them. Rins, meanwhile, was only 0.021 off the number 12, the number 42 running it close and only just fended off.
Behind the Yamaha train, Francesco Bagnaia (Pramac Racing) took P7 and a big haul of points after a much more positive weekend, finishing just ahead of fellow rookie Miguel Oliveira (Red Bull KTM Tech 3). The Portuguese rider finished as the best KTM on the Austrian factory's home turf, taking a sensational P8 and some serious scalps.
Danilo Petrucci (Ducati Team) will be disappointed with P9 on a Ducati-friendly circuit, with compatriot Franco Morbidelli (Petronas Yamaha SRT) completing the top 10 ahead of Takaaki Nakagami (LCR Honda Idemitsu) and the second KTM of Johann Zarco (Red Bull KTM Factory Racing).
Cal Crutchlow (LCR Honda Castrol), meanwhile, crashed out of contention on Lap 2 at Turn 3, the British rider hitting the back of Tito Rabat's Reale Avinita Racing Ducati after the Spaniard had to take avoiding action after a problem for Pol Espargaro's (Red Bull KTM Factory Racing) bike.
The 2019 Austrian GP will live long in the memory after another breathtaking Dovizioso vs Marquez battle, and it's the Italians who emerge victorious again. Can they repeat the feat in Silverstone next time out? Two weeks will tell us.
Andrea Dovizioso: "I think this is my best victory, for many reasons…we didn't have Marc's speed, we had to make a good strategy, we had to fight aggressively in the first few laps and the last four…and we're struggling a lot to fight for the Championship so this gives us a lot of energy for the future. And the work in the practice paid off in the race because at the end I had more grip, giving me the possibility to fight until the last corner.
"To win in this battle at the last corner in the opposite way to normal is so exciting, so nice…and when you have your friends there after the first corner, seeing them go crazy, screaming, it's so nice!"
Binder hits a stunning home run at the Red Bull Ring
The Red Bull KTM Ajo rider took to the top step for the first time this season, holding off Marquez in style
Red Bull KTM Ajo's Brad Binder battled to his first Moto2™ win of 2019 in the myWorld Motorrad Grand Prix von Österreich, getting the job done in style on home turf for both KTM and team sponsor Red Bull…and on his birthday no less. The South African held off a hard-charging Alex Marquez (EG 0,0 Marc VDS) as the Championship leader sliced through from P11 on the grid, with Jorge Navarro (Beta Tools Speed Up) completing the podium.
Binder took the holeshot from second on the grid and quickly began to bolt and break clear, settling into an early lead of just under a second. Behind, poleman Tetsuta Nagashima (ONEXOX TKKR SAG Team) dropped down slightly into third behind Xavi Vierge (Marc VDS EG 0,0), who made a great start from the third row, before the Japanese rider then hit back for second. The first bout of drama then hit as Vierge tried to retaliate into Turn 3 but went down, collecting Nagashima to make it an early heartbreaker for the polesitter.
That left an almighty scrap for second place and by Lap 8 it was heating up. Luca Marini (Sky Racing Team VR46), Tom Lüthi (Dynavolt Intact GP), Enea Bastianini (Italtrans Racing Team) and Remy Gardner (ONEXOX TKKR SAG Team) were battling it out like a last lap showdown and it was the Australian who was able to emerge ahead, then setting after Binder and closing him down.
Gardner's first attempt to grab the lead failed after he ran wide at Turn 1, the Australian then trying again but again running wide. With seven to go Gardner again got his front wheel in front, but Binder forced him the long way round into Turn 3, with the inside line seeing Binder hold on.
Meanwhile, Bastianini and Marquez were closing in and Gardner ran wide for a third time at Turn 1. This time, as he rejoined, the Aussie clipped the rear wheel of Marquez and crashed out as Marini managed to tag onto the back of the fight at the front. Sadly for the Italian, he also went down not long after…collecting compatriot Bastianini and leaving a duel for the win out front.
It came down to Binder vs Marquez and the Championship leader pushed the South African to the limit, shadowing him round a close final lap. But Binder held firm, taking his first win of the season on a perfect day for it. Marquez took second but extended his Championship leader out to beyond 40 points, with Navarro putting in another solid ride to complete the podium in third having avoided the carnage..
FlexBox HP 40 teammates Lorenzo Baldassarri and Augusto Fernandez came home fourth and fifth respectively, with second in the Championship Tom Lüthi (Dynavolt Intact GP) having a tough day at the races in sixth.
Red Bull KTM Ajo's Jorge Martin created more home glory at the Red Bull Ring after he took his best rookie result yet in seventh, a quarter of a second ahead of American Racing KTM's Iker Lecuona. Rounding out the top ten were Marcel Schrötter (Dynavolt Intact GP) after a solid comeback from P16 on the grid for the German, and Mattia Pasini (Tasca Racing Scuderia Moto2) who started P15.
Somkiat Chantra (Idemitsu Honda Team Asia), who started third, had a tougher Sunday but impressed to take P12, just behind Andrea Locatelli (Italtrans Racing Team).
That's it from Austria and Marquez now heads to Silverstone more than 40 points clear. Can the grid strike back in the UK? Find out in two weeks.
Brad Binder: "Today has been an incredible day, I knew we had decent pace, I didn't know if we could win or not but I knew we could give it a good try. To get the job done in front of all the fans of KTM and Red Bull is an insane feeling, I've never seen so much orange in my life! I'm super happy, a huge thank you to Red Bull, KTM and my team…they've worked incredibly hard and we've tried so many different thing this year…it was good to finally give them a good result."
Reboot complete: Fenati back on the top step in Moto3™
The Italian takes his first win since 2017 and the 250th for Italy in the lightweight class, with Arbolino and McPhee completing the podium
Romano Fenati's (VNE Snipers) 2019 reboot is complete after the myWorld Motorrad Grand Prix von Österreich, with the Italian veteran producing a sensational ride to claim his first win since the 2017 Japanese Grand Prix. The number 55 was pitch perfect to finish just over a second clear of teammate Tony Arbolino for a VNE Snipers 1-2, with John McPhee (Petronas Sprinta Racing) locking out the final place on the podium.
Despite plenty of rainfall in the morning, the track had mostly dried for the Moto3™ race as every rider went for slicks. There remained plenty of wet patches on the grid, however, and off the line it was Fenati who got the better of polesitter McPhee, with Arbolino slotting into second at Turn 1 to make it a VNE Snipers 1-2 on the run down to Turn 3. At said corner, Arbolino immediately pounced to take over in the lead and the trio of Arbolino, Fenati and McPhee started to pull the pin and create a gap to the chasing pack.
On Lap 2 the front three were well clear of fourth place Lorenzo Dalla Porta (Leopard Racing), with the gap up to 2.7 seconds despite Fenati and Arbolino exchanging the lead of the race as McPhee looked on. On Lap 7, Arbolino told Fenati to stick behind him, but the number 55 was soon back through and with the gap to the chasers up to over four seconds, it seemed set to remain a three-way fight for the win.
The lead had changed again but on Lap 9 Fenati took over again, then setting a 1:38.4 to stretch his lead to over half a second. It seemed the veteran was in the groove in the tricky conditions, and Arbolino and McPhee were also starting to come under pressure from those behind as Celestino Vietti (Sky Racing Team VR46) and Jaume Masia (Bester Capital Dubai) started to close in.
By then, Fenati was setting fastest lap after fastest lap and his lead was creeping up to the two-second mark. Vietti and Masia were also on fastest lap pace as the duo started to eat into the 3.3-second advantage McPhee and Arbolino had, with the latter two getting closed down half a second a lap.
With four to go, it was game on for the podium battle. A lap later Vietti set the fastest lap and Masia stuck with him, with Fenati still over 1.5 seconds up the road. Masia then made a move stick on Vietti at Turn 3 as the Spaniard eyed a first podium since Mugello but after attempting a move up the inside of McPhee on the penultimate lap, the number 5 went down. And then there were three.
Fenati crossed the line with just over a second of breathing space for his first win since 2017 and Italy's 250th win in the lightweight class, keeping incredible composure throughout despite the tough conditions – and a lot of pressure. Behind him, it was Arbolino from Vietti from McPhee on the last lap, with the trio line astern into the final corner and everything coming down to the drag to the line, but Arbolino was just able to keep second by a handful of thousandths. He took second, with McPhee able to pip Vietti to P3 by just by 0.015.
Five and half seconds back, Marcos Ramirez got the better of Leopard Racing teammate Dalla Porta as the two finished fifth and sixth respectively, meaning Dalla Porta retakes the Championship lead after title rival Aron Canet (Sterilgarda Max Racing Team) finished P10. Seventh went the way of Makar Yurchenko (BOE Skull Rider Mugen Race), the Kazakh rider picking up his best Moto3™ result as he edged out Jakub Kornfeil (Redox PrüstelGP), Niccolo Antonelli (SIC58 Squadra Corse) and the aforementioned Canet to the line.
Tatsuki Suzuki (SIC58 Squadra Corse) was an early crasher at Turn 1, with Can Öncü (Red Bull KTM Ajo) crashing twice – riders ok.
Dalla Porta now takes a one-point lead over Canet to the British GP. and Arbolino's second means he's out of the picture in third overall, only 42 off Dalla Porta. But Sunday in Austria belonged to one man: Fenati. After an incredibly tough year, 'FennyFive' is back on the top step to equal Enea Bastianini's Moto3™ podium count of 24. Can he produce more of the same at Silverstone in two weeks' time?
Romano Fenati: "It feels like a Championship win! It's nice to come back and win after two years, and in Austria where I've never been on the podium. For us it was a perfect weekend. This weekend we changed the job in the box, it was really perfect this weekend and I think it'll be difficult to repeat but we have to stay focused.
"For sure it's been difficult, but it's our story. We always have to go on, we write our own lives. Now, here we are, I won and I'm happy…tomorrow, I don't know. We'll see!"
More, from a press release issued by Red Bull KTM Tech3:
Oliveira claims home glory for Red Bull KTM Tech3 in Austria
With a stunning eighth position today at the Red Bull Ring, Red Bull KTM Tech3's Miguel Oliveira showed the best MotoGP race of his young premier class career so far, finishing as the top KTM rider on the manufacturers home soil.
After he started from 13th position, Oliveira built up a strong pace. He managed to pass one rider by another and eventually crossed the line just 0.185 seconds behind P7. On the other side of the Red Bull KTM Tech3 garage, Hafizh Syahrin also made up positions at the start, but unfortunately crashed out in the third lap, whereby he suffered a head concussion and was transferred to the local hospital in order to exclude any severe injury.
Miguel Oliveira
Position: 8th
Championship: 15th
Points: 26
"It was a great race today! Apart from the start, where we had some issues, so I couldn't go as fast as I wanted to. But the rest was quite funny, many overtaking. My pace was very good, as we saw yesterday already. I'm quite happy about this result, this first top 10 for me and for the team with the KTM bike. I'm really glad and I think we deserve this result, after we've been working really hard, understanding the bike and everyone has been very good at helping me, so I think this is a decent payback to KTM here in their home GP, being in top 10 and first KTM in the race, which is very positive for us. Now we go with a good feeling to Silverstone."
Hervé Poncharal
Team Manager
"Sometimes you see the light at the end of the tunnel and today clearly there was some good sunshine at the end of our tunnel. We have been working hard for a top 10 result and at the end, we could maybe have had this result a bit earlier, but today was just like a dream come true. This is the first time, Miguel got some upgraded parts that he can use in the race. This is the home Grand Prix for both, Red Bull and KTM and this is by far our best result of the season. We are very proud of what Miguel did. We are very thankful to KTM, because they never give up, they never stop working, they never stop supporting us and bringing new things and to be with a manufacturer like that is something that warms your heart. I think the whole team understands that. Clearly, the next step is to try to have a bit better Qualifying position, because we could see that from lap three, four, when the race started to establish itself, we had the pace of the group behind the first two. We almost did identical lap times like the guys from third to sixth position. I'm not saying we are going to be on the podium soon, but the next target is to try to qualify better in order to be with them and with the pace we have and the expertise Miguel is having in the race, I think we can be optimistic about the future. Clearly, the hard front tyre was a very good choice. It was a bit of a gamble, but great. All in all, I'm very proud of what Miguel did and what the whole crew did. On the other side, it's another DNF, which is a bit worrying for me, because recently since the return from the summer break, Hafizh feels a bit nervous and maybe pushing beyond the limit. He has been taken to hospital for a check, as he had a small head concussion. Outside from that, he seems to be ok, so we are just waiting for him to come back. But clearly, I think we need to sit down with him and again, tell him that the most important is to be safe and to be finish the race. I think he had another possibility to score points, but it was another possibility waisted. Anyway, let's concentrate on the positive feeling. Thanks to everybody, congratulations to Miguel, great result and great job from KTM! We keep on working!"
More, from a press release issued by Aprilia Gresini Racing:
ESPARGARÓ IN THE POINTS IN THE AUSTRIAN GP
SLOWED BY A PROBLEM IN THE FINALE, IANNONE FINISHES SIXTEENTH
Aleix Espargaró finished the Austrian Grand Prix in fourteenth place, picking up two championship points, whereas Andrea Iannone who, for most of the race was close behind his teammate, finished outside the points zone in sixteenth place following a technical problem that slowed him down in the final laps.
It was a difficult race for both the Aprilia Racing Team Gresini riders on one of the hardest tracks of the championship for the Italian project. After a good start which had placed him at the limit of the top 10, Aleix was involved in a series of contacts on turn 3 that cost him the positions he had gained. Finding himself dead last, the Spanish rider made up ground, but the difficulty overtaking limited his comeback.
ALEIX ESPARGARO'
This weekend, we were unable to be as competitive as we would have liked. I gave it my all in the race. I started well, but after a few contacts on turn 3, I found myself in "last place. I made up a few positions, but it wasn't easy to overtake. I tried to finish the race without making any mistakes. This track was one of the most difficult for us. We are confident that we will be more effective already at Silverstone."
ANDREA IANNONE
We did not exactly finish the race in the best way, but I am happy about the sensations I had in the saddle throughout the weekend. I rode to my full potential and " the result is not the one we had expected. It's a pity about the problem in the final clearlylaps, because I was right there with Aleix and Stefan Bradl and I had the potential to take some points."
More, from a press release issued by LCR Honda Idemitsu:
TAKA JUST OUTSIDE THE TOP 10 IN SPIELBERG
Takaaki Nakagami had to settle for 11th place in the Austrian Grand Prix after a demanding afternoon at the Red Bull Ring. The LCR Honda IDEMITSU rider produced his best-ever MotoGP qualifying performance on Saturday to ensure he started from the second row, but was unable to build on that as he struggled for rhythm throughout Sunday's event in Spielberg.
After rain in the morning, the race took place in dry but cool conditions and Nakagami opted to use the hard/front and soft/rear tyre combination that had served him so well in practice. However, he failed to find the same feeling and, having battled hard to maintain a position in the top 10, lost places towards the end, eventually crossing the line in 11th.
Takaaki Nakagami – 11th
"Of course I'm disappointed to finish outside the top 10. From the beginning, I really struggled with the feeling of the front of the bike, especially on the edge grip. It was my choice and we raced with the harder compound on the front and the soft on the rear. During the weekend this combination was really working well, but race conditions were quite a bit cooler after the rain, so it was different conditions to free practice. This was a negative for the feeling, especially the front and when I was turning I really struggled to find grip. So my lap times were a bit slower than I expected, but until the middle of the race I just tried to maintain P8. By the end I was not able to keep the pace because the rear tyre was dropping and the front tyre also. Of course I'm disappointed, especially with the second part of the race so we have to try and understand why we struggled so much. One problem was the choice of the hard front tyre, but that was my decision."
More, from a press release issued by LCR Honda Castrol:
FRUSTRATION FOR CRUTCHLOW IN AUSTRIA
Cal Crutchlow endured a disappointing day at the Austrian Grand Prix as he crashed out on just the second lap at the Red Bull Ring. The LCR Honda CASTROL rider came into contact with Tito Rabat and went down after a low-speed collision having only just completed the opening circuit.
With morning rain having cleared to leave cool conditions in central Austria, the race was in its early stages when Crutchlow got caught up with Rabat who was trying to avoid Pol Espargaro in front of him whose bike had seized up. It was a frustrating end to the weekend for the Briton who claimed fourth position in Spielberg last year.
Cal Crutchlow – DNF
"Obviously today we were really disappointed with what we can't even call a result. I only managed just over a lap of the race, I was unfortunate to be caught up in an incident when Pol Espargaro's bike stopped and the rider in front of me (Tito Rabat) hit the back of Pol and evidently I hit the back of Rabat. It was really slow speed when I hit him, his bike hit my handlebar and just took me down. I was feeling quite positive for the race and felt we could have got a good result here, so it's a disappointing way to end and not get information from a valuable race that I thought we could learn good lessons from. But that's the way racing goes sometimes and we now have to look forward to my home Grand Prix at Silverstone."
More, from a press release issued by Team Suzuki ECSTAR:
SOLID SIXTH PLACE FINISH IN SPIELBERG FOR RINS
Alex Rins: 6th (+ 8.695)
• Alex Rins brings home useful points and solid finish.
• Team pleased with the improvements made since the last Austrian GP.
The Red Bull Ring had a small surprise in store for morning Warm-Up, when the mountainous track suffered a rain storm. However, the race in front of 85,000 excitable Austrian fans remained dry and provided 28 laps of twists and turns.
Alex Rins, the solo rider for Team SUZUKI ECSTAR due to Joan Mir's injury hiatus, opted for the medium-medium tyre combination from his 7th place grid spot. The Spaniard got off to a good start and managed to swiftly get into 3rd place as some of his rivals made mistakes on the first corner. However, Rins struggled a little to get into his rhythm and he slipped to 7th place. Later in the race, whilst running in 6th, he was in a battle for 4th place with Rossi and Viñales. But with the tricky track taking its toll he opted to secure a 'safe' 6th place finish and close the gap to Petrucci in the championship standings.
For Team SUZUKI ECSTAR this finish marks an improvement in form on the unique and technical Austrian circuit, with Rins taking 8 seconds out of his gap to the race winner when compared to 2018, and his overall race time being shaved by 14 seconds.
Ken Kawauchi – Technical Manager:
"We couldn't fight for the podium here today, but we can call ourselves satisfied because this track is not one of our best and we are pleased to get some good points and a top six finish. Thanks to Alex for the work he's put in during this difficult weekend. It was strange for us to only have one rider here, and we're looking forward to seeing Joan again at the next race."
Davide Brivio – Team Manager:
"In the end, Alex had a very good race and we performed better than we perhaps thought beforehand. We did struggle a bit here, but we were still able to meet the target of the top six. We're looking forward to the next races, which will probably be more suited to our bike. We'll be happy to have Joan back with us in Silverstone too, hopefully he will be able to recover in these next 10 days and be fully recovered. Let's see what we can do there!"
Alex Rins:
"This race was really difficult for me, I suffered under braking. But our target was to improve my result compared to last year and we managed to do that. In 2018 I finished 8th here, and today I was 6th. I also narrowed the gap in the points standings. I always try to give my maximum at every race, and I'm motivated for the next round. I really enjoy Silverstone so I'm keen to arrive there."
More, from a press release issued by Pramac Racing:
#AustrianGP RACE. Pecco finishes in P7 his best race of the season. Jack fights for the podium until lap 7
Francesco Bagnaia concludes his best race of the season with a precious seventh place. Jack Miller crashed on lap 7 when he was fighting for the podium.
The Austrian GP, won in an extraordinary way by Dovizioso, gave many emotions.
Pecco didn't start well but from the first laps his race pace was incisive. In the last three laps the Italian managed to defend himself from the attack of Olivera and Petrucci to finish in seventh place.
Jack got off a great start lapping in second position on the first lap. After fighting with Marquez, he remained glued to the front group. On lap seven, however, after trying to attack Quartararo to get the third position, he made a mistake at turn 9 and crashed.
P7 – Pecco Bagnaia
It's been a good weekend. In Brno we did a great job and this helped us a lot. This is a great result, the best of the season. We have reduced the gap from the leaders. The feeling is very positive. We must continue in this direction to be consistent until the end of the season.
DNF – Jack Miller
I'm disappointed because if I'm to be honest, I felt like I had the podium in my hand. I tried to attack Quartararo and the feeling was very positive. Unfortunately I made a mistake and my race was over. It's a shame because we did a great job this weekend and for that I thank my team.
More, from a press release issued by Repsol Honda:
Scintillating second for Marquez in explosive Austrian GP
Another all-out ride from Marc Marquez at the Red Bull Ring saw championship leader fight for victory until the flag as Bradl continued his points run with an impressive recovery.
Saturday's sunshine eventually returned to the Austrian GP after a sodden Warm Up. Come the start of the MotoGP race, conditions were closer to what riders had experienced over the course of the weekend with 23°C air temperature and the track at 32°C.
When the lights went out, Marc Marquez's race got off to a hair raising start as he and Andrea Dovizioso battled into Turn 3 which saw the reigning World Champion run wide and down to fifth spot. Undeterred, Marquez put his head down and pushed on aboard his RC213V, quickly chasing down race leader Fabio Quartararo.
Lap eight saw Marquez move back into the lead for the first time, Dovizioso briefly challenging to take the lead. The World Championship leader was able to control the middle phase of the race before Dovizioso moved back through on lap 20. Biding his time, Marquez left it late to launch his counter attack and brought the 87,595 fans at the Red Bull Ring to their feet with a stunning set of final laps. Bradl will now head to Finland to sample the newly built Kymi Ring.
The battle went down to the final corner, Marquez taking second place by 0.213s as he tried to hold off Dovizioso. With his haul of 20 points, Marquez controls a healthy 58-point advantage in the MotoGP World Championship standings after finishing in the top two for eight straight races. Honda continues to lead the Constructor standings with 236 points.
With Saturday's troubles behind him, Stefan Bradl put in a spirited ride at the Austrian GP to make it four point-scoring finishes from four starts in 2019. The German quickly made up ground from 21st as the lights went out and was in the points within just a few laps. Ultimately taking 13th place after recovering eight positions, Bradl leaves Austria pleased with what he achieved.
The Repsol Honda Team now head for the United Kingdom and round 12 of the 2019 MotoGP World Championship at Silverstone, August 23 to 25. Jorge Lorenzo is set to make his racing return at the British circuit after recovering from the back injury he sustained in Assen.
Marc Marquez
2ND
"I'm happy because today we made a mistake with the rear tyre, immediately I saw all the soft tyres had better grip and even their consistency at the end was better than us. Even like this I tried because I'm Marc and I need to try! The second place is good, we missed in the last corner with a lot of sliding but Dovi did an incredible job. Still we are able to leave here with a 58-point lead so we will keep continuing like this. Even when we are not in the best shape, we are able to finish like this which is positive overall."
Stefan Bradl
13TH
"The target was to finish in the points after a difficult weekend for me, especially with qualifying. So to finish in 13th is quite a good result considering we started from the back of the grid and had the weather against us this morning. We weren't able to test what we wanted to in Warm Up due to the rain so being in the points is a happy end. Thanks to the Repsol Honda Team for all their support during these races and to HRC as well, we have achieved a lot."
More, from a press release issued by Monster Energy Yamaha:
MONSTER ENERGY YAMAHA MOTOGP SCORE 4TH & 5TH IN SPIELBERG
Spielberg (Austria), 11th August 2019
GRAND PRIX OF AUSTRIA
RACE
Monster Energy Yamaha MotoGP's Valentino Rossi rode from tenth on the grid to a solid fourth position at the finish of the myWorld Motorrad Grand Prix von Österreich. Maverick Viñales lost some positions in the dicey opening lap but chased after his team-mate to take fifth.
4th VALENTINO ROSSI +7.719 / 28 LAPS
5th MAVERICK VIÑALES +8.674 / 28 LAPS
Monster Energy Yamaha MotoGP's Valentino Rossi made good on his promise of great race pace today at the Red Bull Ring – Spielberg track, gaining six positions in the Austrian GP to take fourth place. Maverick Viñales lost some ground in the opening stages but recovered and showed solid pace to take fifth over the finish line.
Despite the first few corners getting a bit dicey at the start of the race, Rossi found a way to ride from P10 to P7. After crossing the line for the first time, he overtook his team-mate for sixth. The Italian continued to show great early pace, picking off Álex Rins that same lap. He followed it up by setting a provisional fastest lap of the race on lap 3 as he tried to close the gap to the front four riders, and he didn't need much time to do so.
With Jack Miller struggling to stay close to the top-3 riders, the Doctor was looking at a way to take over the fourth spot, but it was handed to him on lap 8 as Miller crashed out in Turn 9. The Italian was now spurred on by the thought of a possible podium result. However, he couldn't reel in Fabio Quartararo in third place as the two had a similar pace. With Viñales gradually approaching, the nine-time World Champion focused on maintaining his position, holding fourth over the finish line, 7.719s from first.
Viñales had a good start from P4 to his 150th Grand Prix but was pushed back to sixth in the very crowded first couple of tight corners. After Rossi overtook him, the number 12-rider found himself behind Rins on the second lap. He was trying to work his way past his compatriot, keen on following his team-mate towards the front of the pack. On lap 6 he succeeded and was able to start his chase.
The Spaniard had a 2.1s gap to close and started chipping away at it, riding mid to high 1'24s laps, all the while being stalked by Rins. However, with clear track in front of him, the Yamaha rider was in his element. Setting various personal best sectors, he upped his pace, gradually inching closer to Rossi. He spent the majority of the second half of the race 0.3s behind his fellow Monster Yamaha rider, but wasn't quite close enough to make a move. He took the chequered flag in fifth place, 8.674s from the front.
Today's fourth place sees Rossi take over fifth in the championship standings from Viñales again, with one point between them. Yamaha remains third in the constructor standings, and Monster Energy Yamaha MotoGP also stays in third in the team classification.
Viñales and Rossi will now enjoy one week off before they travel to the Silverstone Circuit for the GoPro British Grand Prix, held from August 23-25.
MASSIMO MEREGALLI
TEAM DIRECTOR
"We already predicted that the start would be fundamental for us today, because overtaking here is quite difficult. The race results really depended on where Vale and Maverick were positioned after the first lap. Valentino had a very good start and his determined work on race set-up this weekend paid off, especially in the early stages, allowing him to gain six places to take fourth. Maverick got the short end of the stick in the busy opening lap. He recovered well to fifth but lost some valuable time, which is a shame because he had the potential to fight for the podium. One important aspect is that we are 12 seconds faster than last year. To have three Yamahas in the top 5 shows that we're consistently making progress. We will try to make a further step at the next Grand Prix at the Silverstone Circuit."
VALENTINO ROSSI
"Fourth place is a good result after a quite good weekend. On paper we should have suffered more in Spielberg, but already on Friday morning we were more competitive here than we were in the past. The race was good because at the beginning I was able to recover some positions, coming from tenth on the grid. Unfortunately, the guys in front of me were a bit faster. Anyway, fourth place is good. Maverick and Rins were also recovering momentum, but I was able to stay in front of them, so it was a good race."
MAVERICK VIÑALES
"I made a good start, but in Turn 3 I got in a scrap with Jack Miller and we ran a bit wide and that opened the door for many riders. We used a completely different set-up compared to other races, trying to reduce wheelspin, but it worked out differently than we thought because the track had changed so much compared to yesterday. I don't think it was the best set-up, but we chose it thinking we could maybe solve some problems. The consumption of the tyre was very high, so I destroyed the tyre very quickly. Anyway, I'm pleased with fifth position, because we improved a lot compared to last year and we will keep working and trying to find a way to go faster. This weekend was just a trial run. In Silverstone I don't want to pay too much attention to what happened in Brno and Austria. It's a track I really like, and I will go for it 100%."
More, from a press release issued by Reale Avintia Racing:
The Reale Avintia Racing riders keep with their ascending progression
The Austrian race has left the MotoGP Reale Avintia Racing riders with a bittersweet taste. On the one hand, Karel Abraham has finished the race within the points (15th) despite having suffered some problems with the rear tire from the first third of the race. On the other hand, Tito Rabat crashed while riding in 13th position in what was being a good race from him who started 15th on the grid.
The next race will be held at Silverstone on August 23, 24 and 25.
Karel Abraham | P15
"It is good to get a point, although it was not the best race of the season. I tried to be fast from the beginning, but the start has not been good and, although i was with a group, from the first third of the race i had problems with the rear tire. From there on, I could not do anything, just try to finish the race. We deserve the point because we have not crashed and we have managed to be on the bike until the end. "
Tito Rabat | DNF
"It has been a weekend in which we have gone from less to more. We managed to improve the setting and made a decent classification (15th) and in the race we made a good start from where I tried to follow the leading riders. When I tried I made a couple of mistakes and when I tried to brake hard it hurt my wrist and I had to jump from the motorcycle just before reaching the wall. It's a shame but we had a positive weekend. "
More, from a press release issued by PETRONAS Yamaha SRT:
Another podium success for Quartararo in Austria
PETRONAS Yamaha SRT rookie Fabio Quartararo takes an amazing third podium of the season as team-mate Franco Morbidelli comes home in tenth
Austrian GP – 11 August 2019
Fabio Quartararo has taken his third podium finish of the 2019 MotoGP season for the PETRONAS Yamaha Sepang Racing Team at the Austrian Grand Prix, leading in the early stages of the race at the Red Bull Ring before coming home in third. Team-mate Franco Morbidelli helped round off a great day for the squad by securing another top ten finish.
Quartararo surprised himself with second in qualifying at a track he didn't expect to be as strong as some, and was able to capitalise on the grid position to lead in the early stages of the race. Eventually settling into a rhythm behind the leading duo, Quartararo was able to manage his tyres to the chequered flag to take a stunning third podium in only five races.
It was a tougher day at the office for Morbidelli, as the issues with corner entry that he's been struggling with all weekend continued to plague him in the race. Limiting the damage by taking a solid top ten finish, he's confident that he and his team will be able to bounce back stronger next time out.
The next event on the 2019 MotoGP calendar is the British Grand Prix at Silverstone, with practice starting on Friday 23rd August and the race on Sunday 25th August.
Wilco Zeelenberg
Team Manager
"It's been an amazing weekend, with podiums for both John and Fabio. We're very happy with the results, but that doesn't mean we're going to take it easy now, and we'll continue to work hard in the upcoming rounds. There's still nine rounds to go, and hopefully Franky and Ayumu can come back strong too, because we want all our riders at the front. On days like today, you feel excited and you feel blessed – but you always want more too. We want to do better every round, there's very high expectations and we're going to have to continue to work hard to meet them."
Franco Morbidelli
10th (+20.510)
"I was really worried about this weekend, but Michelin brought a rear tyre that suited the Yamaha a lot better than those we've had in the last couple of years. It shows with the third, fourth and fifth places from Fabio, Valentino [Rossi] and Maverick [Viñales]. For Fabio to be able to beat them is like a dream, even if he was lucky at the start of the race to be in the right spot when Marc [Marquez] made a mistake. Fabio was able to run to his own rhythm early on, then he was smart enough to switch to a safer electronic map and save the tyres to the flag. A top ten with Franco is also good for the team. He struggled a little bit to find feeling with the bike and we know this track is a difficult one for him."
Fabio Quartararo
3rd (+6.117)
"We struggled this weekend. I couldn't be as strong in braking as the other Yamahas, and I couldn't send the bike into the corner the way I wanted to. This was better in the race, and I was able to be decently fast for some laps in the race. We'll work to understand why this was happening though, and aim to come back stronger next time out at Silverstone. We'll make a plan based on what we've learned and what we know, and see how it goes."
"We never expected to be able to finish on the podium at this track, but I managed to get a good start and when Marc [Marquez] and Andrea [Dovizioso] went a little bit wide it let me through. The first five laps in the lead were the most difficult. Taking the soft tyre was a bet, but we learned many things in this race and it paid off. I knew that the leaders could always push each other wide or something, so I tried to push all race to stay close to them just in case – and I hope that next time I can be in the fight for the win with them!"
More, from a press release issued by Michelin:
MICHELIN PLAYS ITS PART AS RECORDS TUMBLE WHILST DOVIZIOSO AND MARQUEZ ACT OUT A SPIELBERG THRILLER
2019 11 GP Austria 00741
Michelin was a major player in today's thrilling MotoGP™ race as Andrea Dovizioso (Ducati Team) and Marc Marquez (Repsol Honda Team) fought with each other throughout the 28-laps of the myWorld Motorrad Grand Prix von Österreich at Spielberg in Austria before Dovizioso took victory on the last corner.
Almost perfect conditions on Friday and Saturday had seen the riders produce fast and consistent lap-times, all of which pointed to the possibility of a quick race today and the prospect of Michelin breaking the lap and duration records. With these conditions the first record to go was the outright lap-record, this was broken on Saturday afternoon, as Marquez set a new zenith in qualifying by recording a time of 1'23.027, a feat which also saw him rise to the top-spot in all-time premier class pole positions chart, as he took the 59th of his career, surpassing Mick Doohan in the process.
Starting from pole, Marquez got to the first corner at the head of the pack, but as the field settled down it was Fabio Quartararo (Petronas Yamaha SRT) that led over the line on the first circulation. The two main protagonists soon got to the front and shared the lead as the race progressed, with Dovizioso setting a new race fastest lap on the fifth time around with a time of 1'23.827, almost half-a-second quicker than the previous best. As the race drew to a dramatic climax the MICHELIN Power Slicks gave the riders the grip and control to push hard on the fastest track of the year, with the front two trading places with numerous overtaking manoeuvres. Marquez using a pairing of medium front and rear slicks looked to have made the decisive move, but Dovizioso used all the grip and drive from his medium front and soft rear tyres on the final corner to score a thrilling victory. His race time of 39'34.771 was a new duration record, nearly six-seconds better than 2018's race. The top-two also both broke the top speed record, with a new best speed of 316.7Km/h, which the pair recorded through the speed trap during the race.
Overnight rain and more precipitation this morning meant that warm-up was wet, meaning the MICHELIN Power Rain tyres were used for the second week running, following a similar weather pattern at Brno last weekend. All the front and rear rain compounds were used, which signified that again every single tyre was tested – slick and rain – as the riders worked to find the peak performance from the different Michelin tyres for their respective bikes. When the lights went out to signal the start of the race around the 4,318m circuit, it had dried fully and track temperatures were 32°C, all of which helped to produce the spectacle witnessed trackside by a crowd of 87,595. Taking the third place on the podium – and First Independent Rider – was Quatararo, a position which strengthens his lead at the top of the Rookie Championship and the Independent Rider standings. Fourth went to Valentino Rossi (Monster Energy Yamaha MotoGP), just ahead of his team-mate Maverick Viñales (Monster Energy Yamaha MotoGP), who in turn crossed the line just 0.021 seconds in-front of Alex Rins (Team SUZUKI ECSTAR). Seventh saw Francesco Bagnaia (Pramac Racing) score his best result of the season so far, a feat that was repeated by Miguel Oliveira (Red Bull KTM Tech 3), as he took eighth in front of KTM's home crowd. Ninth was Danilo Petrucci (Ducati Team), with Franco Morbidelli (Petronas Yamaha SRT) rounding out the top-ten.
Today also witnessed the second round of the FIM Enel MotoE™ World Cup. Following yesterday's E-Pole, Frenchman Mike Di Meglio (EG 0,0 Marc VDS) took the honours in the dry conditions as the Energica Ego Corsa machines produced faster lap-times than the Moto3™ bikes around the Austrian circuit. Following a heavy downpour just prior to the start of the race meant all the riders lined-up on the grid with symmetric soft front and extra-soft rear MICHELIN Power Rain tyres. An exciting race followed with many overtaking manoeuvres and changes at the front as the riders placed their trust in the grip of the MICHELIN Power Rain tyres, before Di Meglio took control and pulled a small lead over the chasing pack, he held off any pursuers and crossed the line to take victory and move to first place in the championship standings. Second went to Xavier Simeon (Avintia Esponsorama Racing), with Bradley Smith (One Energy Racing) in third. The next outing for MotoE will be at Misano in Italy next month, when a double-header will see a race of MotoGP's newest format on Saturday and Sunday.
Michelin and MotoGP will next head over the English Channel to the recently resurfaced Silverstone Circuit in England for the British Grand Prix which is scheduled for Sunday 25th August.
Andrea Dovizioso – Ducati Team:
"I am happy with the tyres because there was more grip than last year and this was better for us, so this is positive. We worked in the right way during the practice to be ready for the race and we were very consistent. I'm happy because we had a good grip at the end on the right side on the rear. I'm pleased to take the victory; it was important for us to get it and it to be here."
Mike Di Meglio – EG 0,0 Marc VDS:
"Michelin brought a harder slick rear tyre here to Austria and I did not know how it would work, but I was very happy with the grip as it was the same feeling as the soft one we have used. In the rain the condition was very peculiar as there was not quite enough water to make it fully wet and we had some spinning in the exit, but I was able to control it and take the win. I am happy with the result and I am looking forward to Misano."
Piero Taramasso – Michelin Motorsport Two-Wheel Manager:
"The range of tyres we brought here have worked well all weekend in all conditions. In the high temperatures of Friday, we saw fast and consistent laps from all the slick compounds and on Saturday with the track at 51°C the whole field produced some impressive lap-times in Free Practice 4 and then Qualifying, before Marc broke the outright record. Then this morning it rained and on the wet track and then with a drying surface, the rain tyres performed well. During the race, which saw a much cooler track from the previous days, we thought that records could be broken and they were, we have reached new heights for the four different records we aim for – best overall lap, fastest race lap, race duration and top speed – so this is fantastic result for Michelin and when you also see the durability of the tyres, so the top-two can push that hard on the last-lap, it again underlines what we are trying to do to provide better grip, more consistency and durability and to align this to performance. This has been one of our best weekend's and now we must continue this as we go forward this season.
"The MotoE race gave the riders their first experience of our wet tyres in a racing situation and they all adapted to them very quickly and were able to push right from the start. The race was again an exciting event and shows that a series featuring motorcycles that provide sustainable energy is shaping up to be thrilling racing series and provides the fans with a different category to enjoy. We provided a harder tyre for the dry conditions, due to the harder braking and faster nature of the track and it worked very well with some faster times, which were quicker than Moto3, so that was a very pleasing aspect for us as it was something we were aiming to achieve. We will now have two races at Misano, so will see how the bikes perform there."
More, from a press release issued by Ducati:
Fantastic victory for Andrea Dovizioso in the Austrian Grand Prix at the Red Bull Ring. The Ducati Team's Italian rider gets the better of Marquez at the final turn to take the chequered flag in first position. Ninth place for Danilo Petrucci
Andrea Dovizioso today won a spectacular Austrian Grand Prix with a last-corner pass on Marquez after a terrific sparring match with the Spanish champion that lasted from the first to the last lap. Dovizioso powered away well at the start from the front row, then overtook the provisional race leader Quartararo on lap 6. He was followed immediately by Marquez, with whom Andrea then had an amazing scrap that only finished at the chequered flag, with Andrea flashing across the line first by 0.213s.
It was a difficult race for team-mate Danilo Petrucci, who started from row 4. The Italian managed to get up to ninth place on lap 17, but was unable to improve any further and finished the race in that position.
With this victory, Ducati continued its unbeaten winning streak at the Red Bull Ring since the Austrian circuit returned to the MotoGP calendar. The red bikes from the Borgo Panigale factory won here in 2016 with Iannone, in 2017 with Dovizioso, last year with Lorenzo and again this year with Dovizioso.
In the overall Riders' championship standings, Andrea Dovizioso is still in second place but he has reduced the gap to leader Marquez to 58 points. Ducati is getting closer to Honda in the Constructors' standings, with 34 points separating the two, and the Ducati Team retains its first place in the special Teams' classification with 308 points.
Andrea Dovizioso (#04 Ducati Team) – 1st
"Today I'm so happy, because this victory was really important for me. Towards the end of the race I had good right-side grip on the tyre and this allowed me to successfully attempt that incredible overtaking move at the final corner. My strategy for the race was to be aggressive right from the opening lap, but Marquez was more aggressive than me. He immediately tried to impose his rhythm but I was always able to respond and in the final stages I think he had more wear on his tyres than me so I could stay right on his tail until the end, and attempt that crazy passing move on him at the final corner. I want to thank Ducati and my team because today we did everything just perfectly."
Danilo Petrucci (#9 Ducati Team) – 9th
"It was a complicated race: unfortunately, at the first turn I got bottled in and then after a couple of laps I was involved in Crutchlow's crash. I lost a lot of positions and had to get back up the field, pushing hard on the tyres and after half the race I didn't have anything left to offer. Pity because this weekend was a missed opportunity, especially yesterday when I made a mistake in qualifying and this conditioned everything. I'm sorry for the team, who worked as hard as they could: now we have to press the reset button after these two races and look ahead positively to Silverstone."
Luigi Dall'Igna (Ducati Corse General Manager)
"I believe that today we saw one of the best and most exciting races of the last few years. It was a fantastic and fair duel that saw Dovi put together an amazing final lap and a masterstroke in the last two corners, so my sincerest congratulations go out to Andrea. A difficult qualifying session and a bad start on the other hand clearly affected Danilo's race because it's never easy to recover on this track."
The MotoGP riders will next be out on track in the United Kingdom for the British GP, scheduled for the weekend of 23-25 August at the Silverstone circuit.
More, from a press release issued by Red Bull KTM:
OLIVEIRA SHINES AT AUSTRIAN GRAND PRIX AS BINDER MARKS BIRTHDAY WITH MOTO2 WIN
MotoGP 2019 Round 11 of 19, Red Bull Ring (AUT) – RACE
Red Bull KTM Tech3's Miguel Oliveira emerged from the myWorld Motorrad Grand Prix von Österreich with a personal-best 8th position as Red Bull KTM Ajo's Brad Binder celebrated his 24th birthday with a spectacular Moto2 success.
The eleventh round of MotoGP took place in the fast, scenic and splendid surrounds of the Red Bull Ring in Spielberg but the Grand Prix provided a twist with the weather. Two hot and sunny days of practice and qualification were replaced by much cooler conditions (by ten degrees) and light rain before the Moto3, Moto2 and MotoGP sprints on Sunday. By the time of the premier class outing at 14.00 the Austrian asphalt was dry and the race commenced without delay.
Pol Espargaro set off from 11th place on the grid but the Spaniard's race lasted less than two laps before he was forced to stop with a technical problem at Turn 3. The onus then fell onto Red Bull KTM Tech3's Miguel Oliveira, who had been quick through the weekend and set the 6th fastest lap-time in the damp warm-up. The Portuguese worked his way into a solid top ten slot ahead of factory Ducati rider Danilo Petrucci and then tried to close the deficit to former Moto2 rival Francesco Bagnaia. He ended up in 8th (his first top ten) and just two tenths of a second behind the Italian by the flag.
Johann Zarco completed a largely solitary race but still clocked his second-highest classification of 2019 with 12th. Hafizh Syahrin was an early faller.
Pol Espargaro: "I felt a problem with the engine and these bikes are so complex now that when the sensors find an issue they stop completely. Luckily when it happened I was just overtaking [Takaaki] Nakagami on the inside so I could just pick up. It's a shame. We were in the top ten all weekend and with the race pace in FP4 we showed good potential. We chose the same tyre and strategy as Miguel and it was the correct one. Miguel was fast all weekend so congratulations to him and it's great there was a KTM in the top ten. I just want to think about Silverstone, that's all I have on my mind right now."
Johann Zarco: "From the start I was good; from the first three-four corners on that track and in the group is always very tricky. It was nice to feel that adrenaline and control it. I could see the group of four riders ahead and was really hoping to catch them. I expected to have a second breath and a good pace until the end of the race. The pace remained very constant but I was not fast enough. I'm not disappointed but I am cannot say I am super-happy because I was twelfth. I felt it was the best I could do."
Miguel Oliveira: "It was a great race today! My pace was very good as we saw yesterday already. I'm quite happy about this result, the first top 10 for me and for the team with the KTM bike. I'm really glad and I think we deserve this after we've been working really hard, understanding the bike and everyone has been very good at helping me. So I think this is a decent payback to KTM here at their home GP. Now we go with a good feeling to Silverstone."
Mike Leitner, Red Bull KTM Team Manager: "It was an intense weekend and a busy time for the team but we managed it and the riders in a good way. The sessions went well for us and Pol went directly to the Q2 and this was positive but he had an electrical problem early in the race which was very painful because I'm sure he could have achieved a good result today. Luckily we could count on Miguel with a very good performance on our bike. He did great, and took his first single-digit result in MotoGP. We gave him some small updates after the GP in Brno and for the test and he translated it here into a good result. Johann made it into the points. Again we had some decent sessions but he could not enter into the same group as Miguel. 12th is not a wonderful result but it was a nice weekend overall and good to show many people from KTM what we are doing here. We want to go to Silverstone now and make a good result."
Moto2 & Moto3
Brad Binder, who turned 24 on race day, rode to his first Moto2 victory of the season with a strong and defiant performance at the Red Bull Ring. The South African repelled a number of challenges from other riders after making a great start from the front row of the grid and held on for the RC12's maiden win in 2019 (also his third podium appearance). Teammate Jorge Martin captured his best result of a debut Moto2 year by finishing 7th.
Brad Binder: "This is definitely better than buying myself something for my birthday! It was a great race and a great day in front of all the KTM fans and Red Bull here at their home grand prix. It has been a difficult year but for the last few races we have been moving in the right direction and I hope we can finish the season strongly."
The Moto3 Grand Prix was won by Romano Fenati after an unusually compact three rider fight. The top KTM RC4 runner was SKY Racing Team VR46's Celestino Vietti in 4th position. Red Bull KTM Ajo's Can Öncü crashed out while his twin Deniz made it to 17th in only his second Grand Prix. Aron Canet classified 10th but remains in title contention; slipping to 2nd in the standings behind Lorenzo Dalla Porta.
After back-to-back events MotoGP will break for a week before heading to the UK for the GoPro B