Editorial Note: Watch video from the ride here.
Vive la vitesse ! Quartararo & Zarco lead fabulous fan parade in Le Mans
From city to circuit, the home heroes head up a parade of 1000s of fans ahead of #GP1000
Wednesday, 10 May 2023
MotoGP™ celebrates the 1000th Grand Prix in history this weekend and the occasion got off to a fitting start in France as 1000s of fans joined their home heroes for a ride in. Fabio Quartararo (Monster Energy Yamaha MotoGP™) and Johann Zarco (Prima Pramac Racing) led the incredible convoy home, with the route starting in the centre of Le Mans and heading to the circuit – finishing up with a lap of the famous venue.
The parade began at Place du Jet d'Eau, with the riders getting suited and booted before taking to the fanzone stage for a quick Q&A to welcome the crowd. Then it was showtime as Quartararo and Zarco headed over to their bikes and got ready to lead the huge convoy off through the city.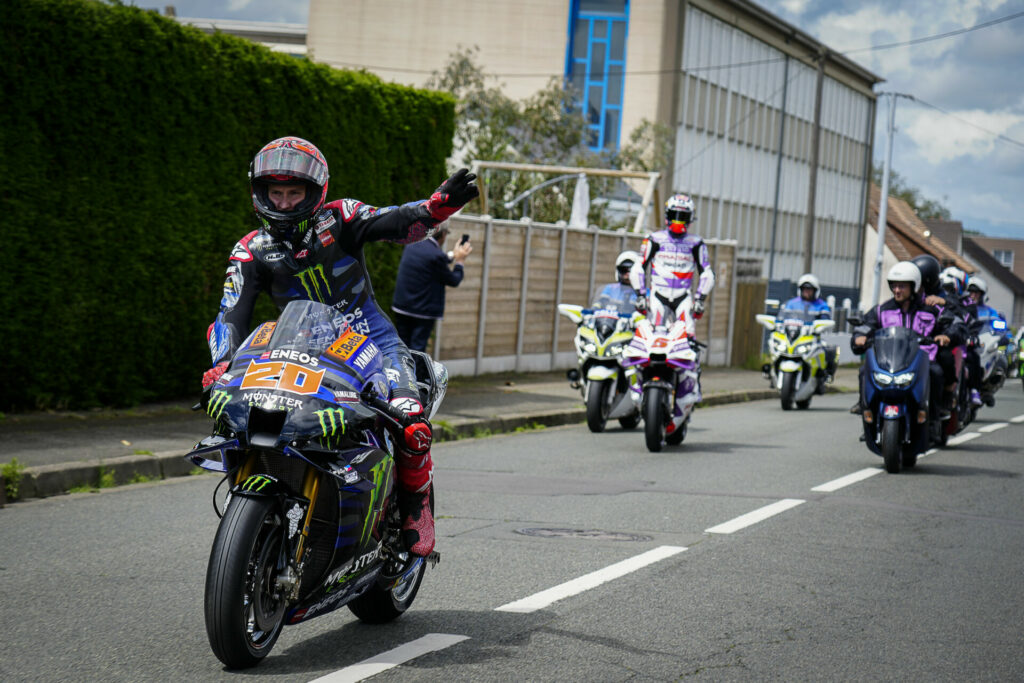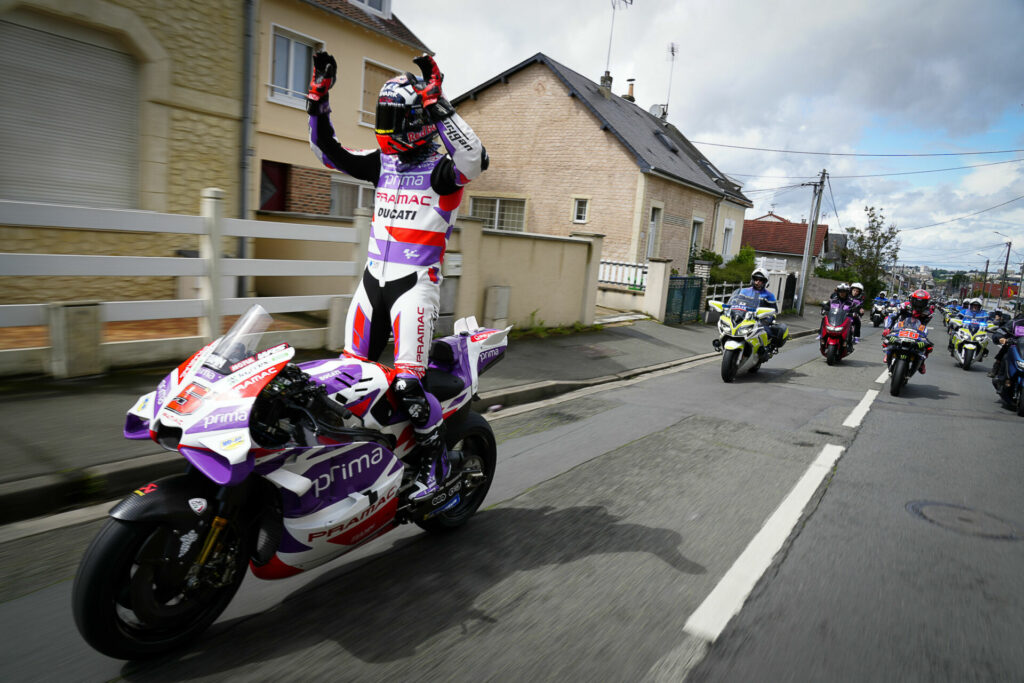 With a police escort and fans lining the streets en route, the sound of 1000s of motorcycles made sure everyone knows MotoGP™ is in town this weekend. And with the 1000GP flags flying high, they all know history is about to be made!
On arrival at the circuit, the convoy headed onto the hallowed ground at Raccordement, the final corner complex, and then the fans set off for a very special lap behind their Grand Prix heroes.
The bikes kept streaming past the start-finish line even as the home duo got a fair few corners into the lap, making for quite a photo opportunity once they were all back on the main straight. With Quartararo and Zarco centre stage, flanked by our gendarmerie escort and a whole lotta fans, it's a snapshot for the scrapbook as MotoGP™ prepares to make even more history this weekend.
Save the date, set your alarms and get ready for the Shark Grand Prix de France: Friday decides entrants to Q2, the Tissot Sprint starts on Saturday at 15:00 (GMT +2) and the Grand Prix race gets in gear at 14:00 on Sunday!