Fernandez to try conditions in Le Mans, Savadori jumps on RS-GP
With a tough Spanish Grand Prix fresh in their minds, the CryptoDATA RNF MotoGP Team tries to take the positives to this weekend's French Grand Prix in Le Mans. The world-famous Bugatti Circuit, which usually is a magnet for fans from all over the country and above, is welcoming the MotoGP World Championship with most likely changing weather conditions this weekend for round five in 2023.
Yet, the CryptoDATA RNF MotoGP Team has to compete the weekend without Miguel Oliveira. The Portuguese, who was sent to the ground again through no fault of his own last time out, dislocated his left shoulder while crashing. The impact also caused a fracture on the humerus head of his left shoulder, which sidelines him for the French round. Oliveira is trying his best at home to recover and come back to action as quick as possible.
In the meantime, Lorenzo Savadori is going to take over his Aprilia RS-GP this weekend. The Italian Aprilia test rider already got accustomed to the team and surroundings during one day test in Jerez de la Frontera, whereas he knows the Aprilia RS-GP well. The 30-year-old who last rode the Aprilia in Le Mans two years ago, is eager to get back to competitive racing.
On the other side of the CryptoDATA RNF MotoGP Team garage, Raul Fernandez, who was suffering from pain in his right arm from the beginning of the season, did some further checks last week after the Spanish Grand Prix, which he still managed to finish with a point. After being examined, the Spaniard had surgery on nine muscles in his arm to fix the compartment syndrome, that was giving him pain. Better known as arm pump, he got under the knife last Thursday and used the weekend to try to get to be fit enough to compete at the French GP this weekend.
Fernandez will have to undergo a medical check on Thursday in order to find out, if he can start the fifth round of the season. In any case, the 22-year-old is relieved to have been able to find the source of his pain and to resolve the issue for the future. At the same time, he is impatient to start the first Practice session this Friday at 10:45 local time.
At the same time, this weekend marks the first of eight rounds with two races respectively for the FIM Enel MotoE World Championship. The Italian Andrea Mantovani and the Spaniard Mika Perez are representing the newly formed CryptoDATA RNF MotoE Team throughout the electrifying season.
RAUL FERNANDEZ
"Honestly, I'm very relieved that I was finally able to find the issue with my arm together with the doctors of Quiron Salud and that I had the surgery last week to resolve it and hopefully feel at 100% soon. For Le Mans this weekend, I know I'll have to do the medical check first to find out if I can compete or not. I feel good to ride and I hope I can get at least the chance to try my RS-GP and find out how my arm feels on the bike. This weekend, we don't have to talk about results at all, the main thing is, I will be able to ride and try to get back to shape and enjoy."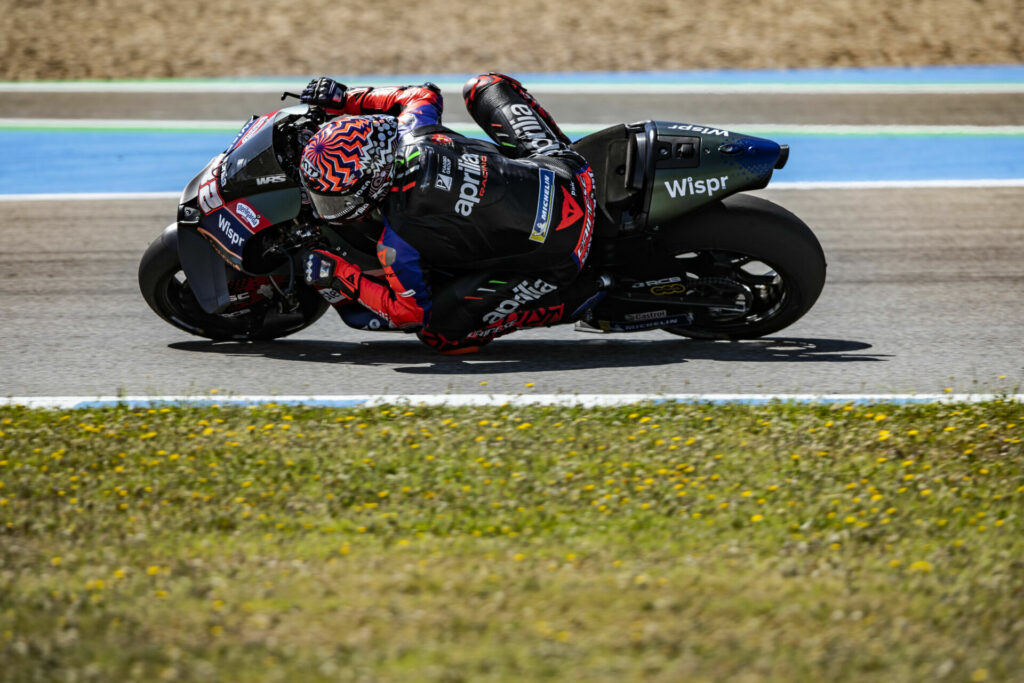 LORENZO SAVADORI
"First of all, I hope to see Miguel on track again very, very soon and I really wish him a speedy recovery! Regarding the race weekend, I can say that the Bugatti Circuit in Le Mans is a nice track. To be honest, I didn't' race for about one year though, because last time, I was competing a MotoGP weekend was in the Austrian Grand Prix in 2022. But I can't wait to start the weekend and work with this fantastic team and people. I will try to do my best!"