More, from a press release issued by Dorna:
Marquez withdraws from Gran Premio Red Bull de Andalucia
The reigning Champion will not race in Jerez, despite being classed fit to ride on Thursday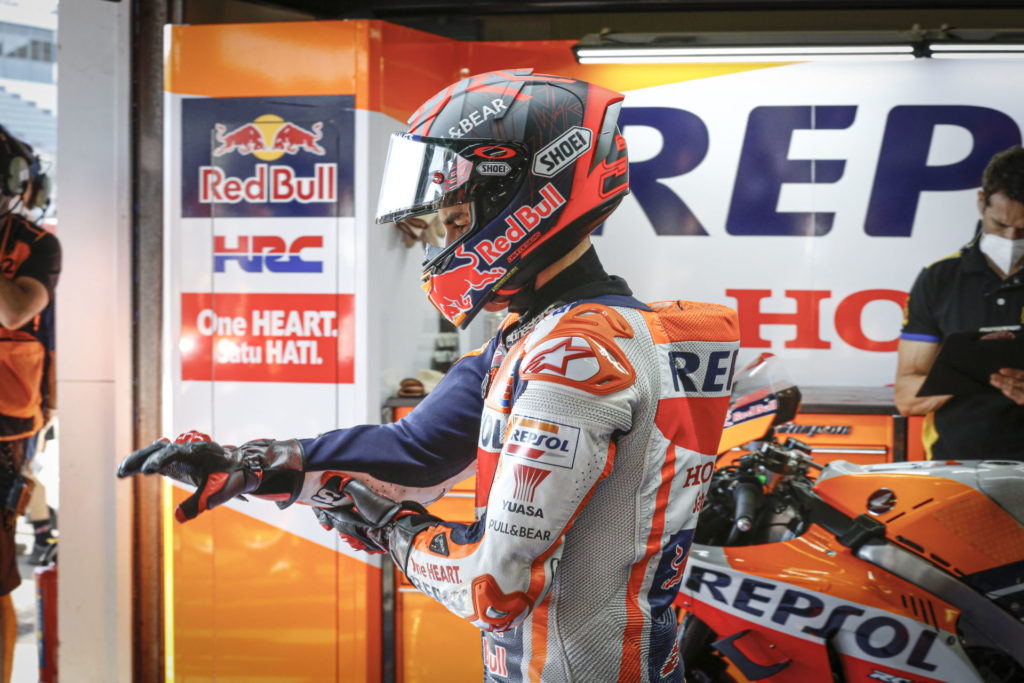 Reigning MotoGP™ World Champion Marc Marquez (Repsol Honda Team) has confirmed his withdrawal from the Gran Premio Red Bull de Andalucia. Marquez, who broke his humerus in a crash during the Spanish GP, was declared fit to ride on Thursday but ultimately will not race due to the risk and pain caused by doing so.
After putting in his first laps back on track in FP3 and continuing in FP4, the number 93 then left his garage during Q1. The Repsol Honda Team confirmed he would take no further part in that session, before it was revealed he would in fact take no further part in the race weekend.
Marc Marquez: "Of course, it's something that I'm here. I already understood it would be very difficult to ride the bike, and to be able to finish the 25 laps in the race but honestly speaking after surgery I saw there was a small possibility so I needed to try. When you are a sportsman and you have a passion for something, you try, and today I will sleep well, because I tried. It wasn't possible but what I did is only follow my body, my body said that I must try and that's what I did.
"I spoke with Honda and this was the plan, try on Saturday morning, check the level and condition on the track and it was really good! I was surprised to ride a 37 and ride in a good way, but in the afternoon I started again, and in the first round I felt good, I was kind of surprised by the rhythm on used tyres! But for some reason I stopped in the box and when I went out again, immediate it went down, in the elbow; more than the bone it was the elbow, the nerve or something. I lost power and this becomes dangerous.
"What I did is what I did already all week – follow my body and my body in that moment said stop. I stopped in the box and said to Honda I will try one lap in Q1, and if I have the same feeling I will stop and we give up. And it's what we did but I want to say thanks to all the doctors, the physios, to my team, because they did really hard work. We tried, it wasn't possible, but already in the next hour I will start to work for the Brno GP."
Alberto Puig, Repsol Honda Team Manager: "This morning the objective was to make first contact with the bike and we saw that Marc could still be fast. In the afternoon the plan was to do a longer run. Either due to the heat or fatigue from the morning, he experienced more problems and found it more difficult. Obviously we have understood that it was better not to take more risks. We have followed the plan, which was to miss Friday and see how Marc felt today. Now we have analyzed the situation and made the decision not to participate in tomorrow's race.
"We have followed the plan, always checking the physical condition of the rider. Marc has tried to listen to his body, to see how he responded. When he saw that he could not, we have all decided not to race tomorrow. Marc is very strong. He wanted to try, and we wanted to give him the opportunity to do it, we have supported him at all times. I think we have made the right decision at all times. A champion cannot stay at home if he thinks he has the option or a slight chance. Now he has a lot of inflammation, but it will pass. There are many races ahead and the goal is to arrive in Brno in the best way."
Quartararo vs Viñales: the duel for pole goes down to the wire
Last minute drama, amazing pace from Independent Teams and some big reveals for race day characterise Saturday at Jerez
Saturday, 25 July 2020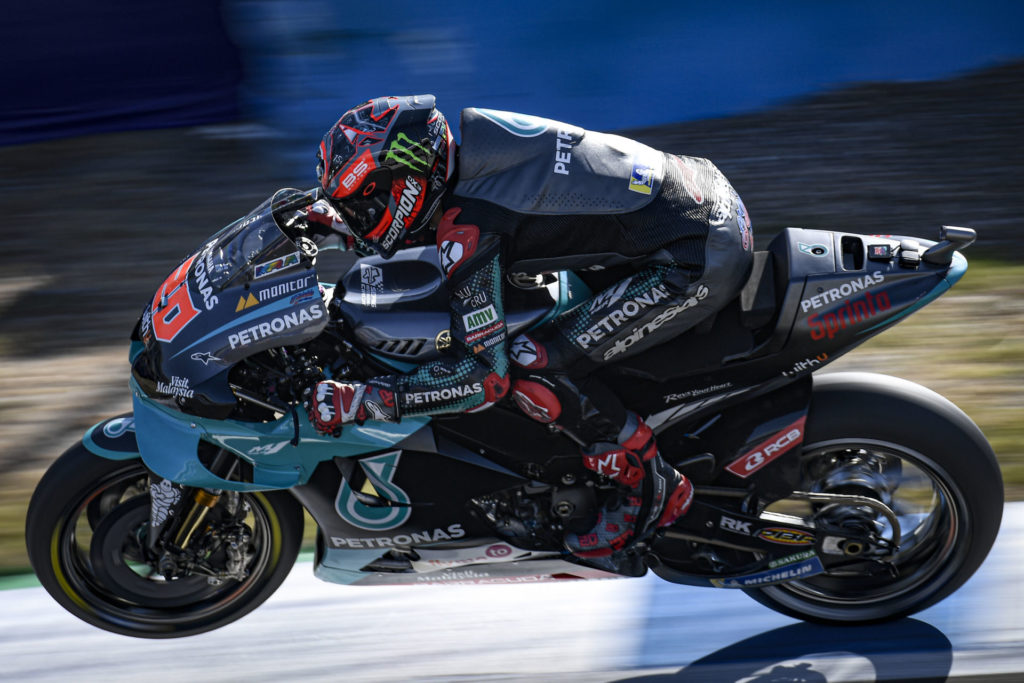 Fabio Quartararo (Petronas Yamaha SRT) has claimed back-to-back pole positions at the Circuito de Jerez-Angel Nieto thanks to a 1:37.007 at the Gran Premio Red Bull de Andalucia, beating Maverick Viñales (Monster Energy Yamaha MotoGP) to the honour as the number 12 had his fastest effort cancelled for exceeding track limits. The last minute slice of drama makes it three poles in a row at the venue for Quartararo after his rookie heroics in last year's Spanish GP, and his fourth pole in a row stretching back to Sepang 2019. Completing the top three was an impressive performance from Francesco Bagnaia (Pramac Racing), with the Italian taking his first premier class front row start and doing it as top Ducati to boot.
The session was set up for a duel from the off, and that's what we got. Quartararo was hitting first and ultimately it all came down to Viñales: the gauntlet was thrown, a 1:37.007, but could the Spaniard hit back? The answer appeared to be yes and it was advantage Viñales, but not long after he crossed the line, the drama hit and the lap suddenly disappeared off the timing screens. Where he had seemed a tenth clear, the Spaniard was pushed down to second and the replay showed why: track limits. A small infraction but a clear one, the pole was handed to 'El Diablo'.
Behind that, Bagnaia's impressive pace from last weekend has only been increasing and the Italian made another step forward with a landmark first premier class front row, and less than a tenth off Viñales. He was also a nice little chunk of time clear of mentor of sorts Valentino Rossi (Monster Energy Yamaha MotoGP), with the 'Doctor' bumped down to head the second row.
That second row is nevertheless a big leap forward for the nine-time World Champion after a tougher time out in the Spanish GP at times, and he beat a stunning performance from Miguel Oliveira (Red Bull KTM Tech 3) to keep the Portuguese rider in fifth by only a couple of thousandths. It's Oliveira's best, however, and he's top KTM after a slightly tougher Saturday afternoon for the Austria factory than promised. Franco Morbidelli (Petronas Yamaha SRT) completes the second row.
Jack Miller (Pramac Racing) will be looking for revenge against his less experienced teammate Bagnaia from P7, and the Australian having only narrowly missed out on a podium last week so he'll want a good launch off the line with, which his machinery may help. Takaaki Nakagami (LCR Honda Idemitsu) had another impressive session to join Miller on Row 3, with Brad Binder (Red Bull KTM Factory Racing) locking that out in P9. The South African didn't quite replicate his searing Friday, but he seems one to watch once the lights go out, with serious speed. He has also won from the back at Jerez in Moto3™ – a stat that becomes even more impressive considering no one has ever won from pole in the class…
Joan Mir (Team Suzuki Ecstar) leads the Suzuki charge in tenth, with Hamamatsu factory teammate Alex Rins on the superhuman comeback from injury and starting 20th after managing a few more laps on Saturday. 11th went the way of Danilo Petrucci (Ducati Team), with P12 filled by Pol Espargaro (Red Bull KTM Factory Racing) after a heartbreakingly-timed crash in Q2. Rider ok, and ready to light it up again on Sunday as KTM's pace continues to impress.
Cal Crutchlow (LCR Honda Castrol) put in a mammoth effort to go from surgery on a broken scaphoid only a few days ago to almost getting through from Q1, and he'll start P13, ahead of a difficult day at the office for Andrea Dovizioso (Ducati Team), who'll be looking to launch forward. Johann Zarco (Hublot Reale Avintia Racing) starts P15.
That's it from another scorching Saturday in Jerez, tune in for more action on Sunday with MotoE™ at 10:05 (GMT +2), Moto3™ next, Moto2™ after that… and then another stunning MotoGP™ battle at 14:00.
MotoGP™ front row 
1 Fabio Quartararo – Petronas Yamaha SRT – Yamaha – 1:37.007
2 Maverick Viñales – Monster Energy Yamaha MotoGP – Yamaha – +0.095
3 Francesco Bagnaia – Pramac Racing – Ducati – +0.169
Fabio Quartararo: "At the end today was really a good day for us, FP4 was so positive, we did 10 laps in a row with good pace which was important for us. But today I was so surprised to get pole position. I did a 36.9 and I thought 'this will be a front row'. And at the end it was pole! So, happy. The conditions were strange because in FP4 it was really great, then in quali it was a bit windy and not so good, but I'm happy we got pole and have really good pace for tomorrow."
Bezzecchi scorches to first intermediate class pole
The Italian is back on top, beating Lowes and Bastianini to pole in Jerez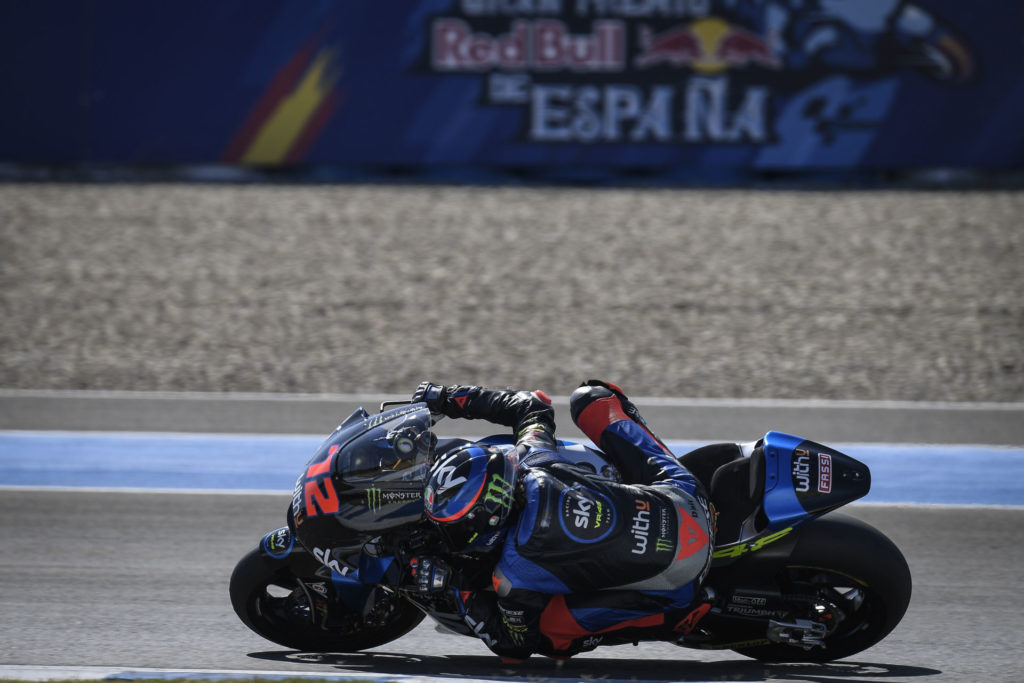 Marco Bezzecchi (Sky Racing Team VR46) took his first Moto2™ pole position on Saturday in the Gran Premio Red Bull de Andalucia, ending Q2 0.037 ahead of Sam Lowes (EG 0,0 Marc VDS) to take the honour and show more top pace in 2020. Behind Lowes, who has won at the venue before, it's Enea Bastianini (Italtrans Racing Team) who completes the front row – and after coming through Q1.
Under the scorching Andalucian sun, it was Bezzecchi and Sky Racing Team VR46 teammate Luca Marini who were at the summit from the off, with the Italians working well in tandem once again, but Jorge Navarro (Beta Tools Speed Up) then hit back to get in the mix. Bezzecchi wouldn't be denied though and the Italian put in another stunner to take back the provisional pole, with Bastianini then shooting up to P2. Lowes looked like the last man to threaten but ultimately just fell hundredths short and takes second.
Navarro starts fourth and will be hoping his luck will change after his Turn 1, opening lap crash at the Spanish GP last week. He's joined by Spanish GP winner Marini, who couldn't improve on his last run, and last weekend's polesitter Jorge Martin (Red Bull KTM Ajo) on the second row.
Aron Canet (Openbank Aspar Team Moto2) had another strong showing in P7, with the impressive rookie set to lead the more experienced Nicolo Bulega (Federal Oil Gresini Moto2) and Tom Lüthi (Liqui Moly Intact GP) away from the third row. Lüthi's teammate Marcel Schrötter rounds out the top 10 having had an off-track excursion at Turn 1 in Q2.
Championship leader Tetsuta Nagashima (Red Bull KTM Ajo) had to settle for P15 in Q2, and he'll be one looking for some points and progress on Sunday. The Japanese rider is on the comeback from a heavy FP3 crash, and may be set on damage control in the Sunday heat.
Tune in for the Moto2™ race at 12:20 local time (GMT+2) in Jerez as Bezzecchi goes all in to change pole to victory!
Moto2™ front row
1 Marco Bezzecchi- Sky Racing Team VR46 – Kalex – 1:41.728
2 Sam Lowes – EG 0,0 Marc VDS – Kalex +0.037
3 Enea Bastianini – Italtrans Racing Team – Kalex – +0.117
Marco Bezzecchi: "It's important to be here, especially for me, because I had a difficult season last year and the injury, so a tough period, but today I was very strong. I'm very happy for this because the team worked really well, and this this pole is for the Sky Racing Team, they saved me. I'm very happy so I want to thank the team, the academy, Vale, everyone. And now I'm focused for tomorrow because it will be difficult with the hot conditions and my foot, but for the moment I'll enjoy it and I'm very happy!"
Suzuki stuns again for third consecutive pole
The Japanese rider heads Ogura and Rodrigo as Moto3™ get ready for another battle in Jerez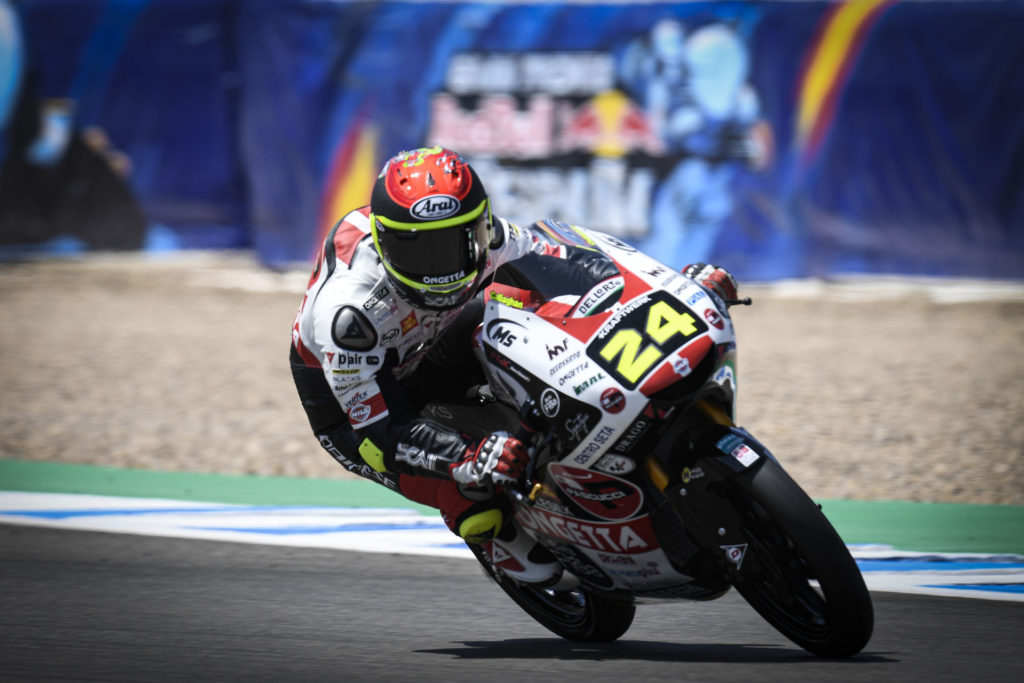 Tatsuki Suzuki (SIC58 Squadra Corse) showed three is very much a magic number for the number 24 in 2020, taking a third consecutive pole position in the Gran Premio Red Bull de Andalucia in style. The Japanese rider also had an even bigger gap than last week as he got the better of compatriot Ai Ogura (Honda Team Asia) by 0.285, with Gabriel Rodrigo (Kömmerling Gresini Moto3) completing the third row, just a further 0.011 in arrears.
Hot temperatures and clear skies were once again the name of the game, and once again Suzuki came out on top and stamped some authority on Saturday. The gap back from the front row to the second was nearly two tenths too, with Raul Fernandez (Red Bull KTM Ajo) putting that in for fourth. He's joined on Row 2 by Spanish GP podium finisher Tony Arbolino (Rivacold Snipers Team), only thousandths off, with Championship leader Albert Arenas (Solunion Aspar Team Moto3) in sixth just 0.002 off Arbolino.
Reigning FIM Moto3™ Junior World Champion Jeremy Alcoba (Kömmerling Gresini Moto3) took seventh and got the better of veteran John McPhee (Petronas Sprinta Racing), with Celestino Vietti (Sky Racing Team VR46) making a big move forward on Saturday to take ninth. Jaume Masia (Leopard Racing) completes the top ten.
Andrea Migno (Sky Racing Team VR46) was one crasher in the session, and the Italian paid the price as he starts 18th. Two more riders to likely look out for on Sunday coming from a little further back will be previous Jerez winner Niccolo Antonelli (SIC58 Squadra Corse), who just missed out on moving into Q2 after he sat out the final couple of minutes of Q1 and starts 20th, and Darryn Binder (CIP Green Power), who's in 25th but stormed through the pack last week. Can they get back in the mix?
Tune in for Round 3 of Moto3™ on Sunday from 11:00 (GMT +2)!
Moto3™ front row
1 Tatsuki Suzuki – SIC58 Squadra Corse – Honda 1:45.410
2 Ai Ogura – Honda Team Asia – Honda +0.285
3 Gabriel Rodrigo – Kömmerling Gresini Moto3 – Honda +0.296
Tatsuki Suzuki: "I don't know how I took this pole position. You know, usually I'm fast on Saturday and struggle a bit on Sunday in the race, so this weekend we concentrated on race distance and I'm very surprised about this laptime, especially in the hot conditions. The laptime makes me more confident, tomorrow I hope I'll fight for the podium and stay as far forward as possible."