More, from a press release issued by Dorna:
Pure class: Oliveira makes history on home turf to take first Portuguese pole
The Red Bull KTM Tech 3 rider storms Portimão in some serious style to head the grid for his home Grande Premio MEO de Portugal, joined by Morbidelli and Miller on the front row
Saturday, 21 November 2020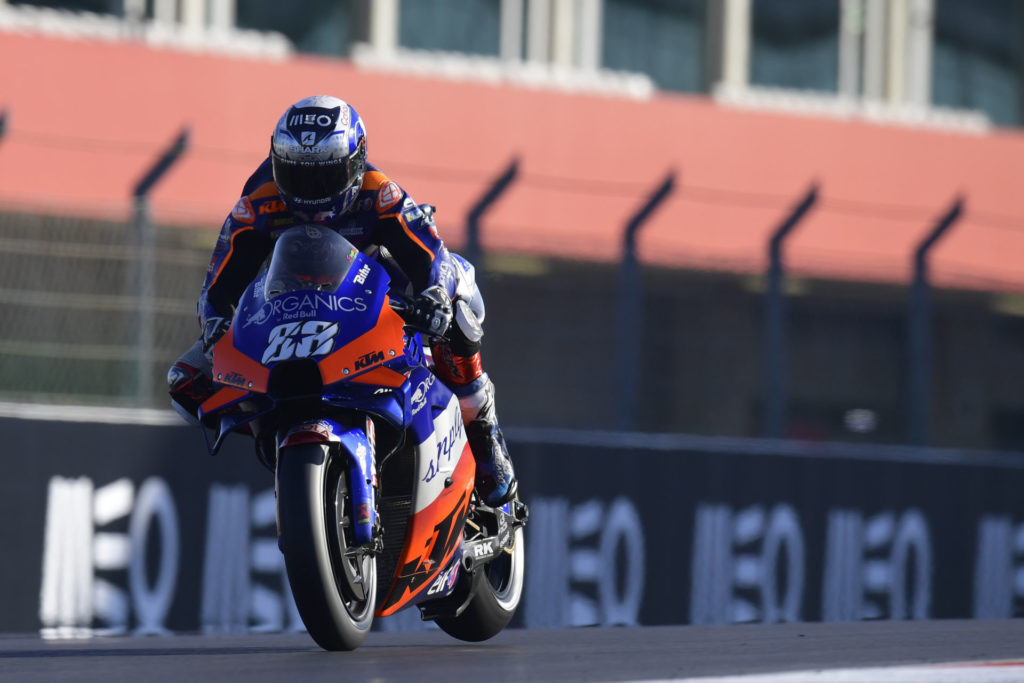 Miguel Oliveira (Red Bull KTM Tech 3) became Portugal's first premier class winner earlier this season, and what better place to become the nation's first premier class polesitter than home turf? With a spectacular final lap, that's exactly what he did – making a little history and putting himself in the best possible position for his first MotoGP™ race on home soil. Franco Morbidelli (Petronas Yamaha SRT) was the man just denied, with Jack Miller (Pramac Racing) completing the front row.
In Q1, it was close but in the end Cal Crutchlow (LCR Honda Castrol) came out on top as he started his final MotoGP™ qualifying on top form, just a few hundredths ahead of Morbidelli. Morbidelli had a tense end to the session, however, pulling into pitlane with a minute still on the clock and left to wait and see if Brad Binder (Red Bull KTM Factory Racing) could knock him out. The South African was setting red sectors until the final sector, where the lap just went away and he ended up third; 13th on the grid as he aims to secure Rookie of the Year.
Behind the fight for the top, newly-crowned MotoGP™ World Champion Joan Mir (Team Suzuki Ecstar) equalled his worst ever premier class qualifying after a very difficult Saturday at the office. Not able to pull anything out the hat in Q1, he starts P20 and third to last on the grid.
Next up, Q2 was ready to go and the stage was set. The majestic Algarve International Circuit was the perfect host for the last qualifying dance of 2020, but who would come out on top? Zarco was the first man into the 1:39s, but there would be plenty more where that came from. Fabio Quartararo (Petronas Yamaha SRT) and Maverick Viñales (Monster Energy Yamaha MotoGP) exchanged P1 in quick succession before Morbidelli shot to the top with a 1:39.245, sitting provisional pole position after the first runs.
With six minutes to go, most of the riders left pitlane for their final time attack of the season. Quartararo was up in Sector 1, so was Crutchlow and so was Zarco. Morbidelli was under his own time in Sector 2 as well. Coming over the line, Quartararo moved himself up to P5 from P9 and Morbidelli improved his time once more.
Stefan Bradl (Repsol Honda Team) then shot into an amazing second, but it didn't last too long as Crutchlow then demoted his fellow HRC rider to third and Quartararo moved onto the front row. Morbidelli and Miller, however, were flying. The first 1:38 was slammed in from the Italian, but could Miller snatch it away? Not quite, although the Aussie took over in second.
Then though, all eyes turned to the local hero. Oliveira was one of the last men who could deny Morbidelli and giving it his all on home soil, more than in touch. Rising over the brow of the hill, the number 88 got it done and crossed the line to set a new all-time lap record, a phenomenal 1:38.892. The celebrations couldn't be too vigorous just yet though, with fellow KTM rider Pol Espargaro still out on a charge. The number 44 was faster in Sector 1 and 2 but by the end of the lap, the time faded away for the Spaniard and that was all she wrote: the dream was realised for Oliveira, Tech3 and Portugal. His maiden MotoGP™ pole, Portugal's first MotoGP™ pole and Tech3's first pole of the year.
Morbidelli's qualifying was outstanding, however, the Italian turning Q1 into just 0.044 seconds off pole. Miller takes third and his fifth front row of the season, with his great mate Crutchlow next up. P4 is the British rider's best qualifying result since his Aragon front row, can he fight for a dream goodbye podium from there?
Another man hoping to end the season on a high will be Quartararo from P5 on the grid, which also hands the Frenchman the BMW Qualifying Award for 2020. In addition, his fifth ensures the top five in qualifying are all Independent Team machines. In terms of the Independent Team rider standings, meanwhile, it's Morbidelli vs Quartararo with the Italian ahead by 17 points…
In sixth place, it's hats off to test rider turned increasingly impressive stand-in Stefan Bradl. The German HRC rider has been quick all weekend and was less than two tenths away from the front row, set to start the season finale as the top factory rider to boot. He beats Zarco by 0.034 seconds as the Frenchman took seventh despite a crash, with Viñales set to line-up in P8. Both he and ninth place Pol Espargaro finish just three tenths away from pole, but lock out the third row – showing once again how close the margins are in MotoGP™.
Alex Rins (Team Suzuki Ecstar) is going in search of P2 in the overall standings and the Constructor title for Suzuki, but he's got a bit of work to do from P10. However, we've seen Rins reach the podium from further back in recent times, so never say never! The top Ducati – with the Borgo Panigale factory equal on points with Suzuki in the constructors' standings – is Miller on the front row, however.
Takaaki Nakagami (LCR Honda Idemtisu) had a big FP4 crash and will line-up 11th on tomorrow's grid, the first time he's been off the front row in a few weeks, with Andrea Dovizioso (Ducati Team) finishing Q2 in P12 – 0.695 away from pole position and suffering a lap cancelled.
What a way for MotoGP™ qualifying to end in 2020. After seeing their man grab a first win in Styria, Portuguese fans now have a premier class pole position to celebrate thanks to the superb efforts of Oliveira. The job isn't done yet though, can the Portuguese superstar end the season in fairytale fashion with a race win?
The final premier class battle of 2020 kicks off at 14:00 local time (GMT). The Constructor title is up for grabs, second in the riders' Championship is up for grabs and the final bragging rights of 2020 are very much up for grabs as well. Don't miss a single lap of action as MotoGP™ go racing in Portimão for the first time!
MotoGP™ front row 
1 Miguel Oliveira* – Red Bull KTM Tech 3 – KTM – 1:38.892
2 Franco Morbidelli* – Petronas Yamaha SRT – Yamaha – +0.044
3 Jack Miller* – Pramac Racing – Ducati – +0.146
*Independent Team rider
Miguel Oliveira: "I'm feeling really good and enjoying every moment on track, happy with every lap. Tomorrow we want to finish the job! That's for sure, that's the goal. We need to keep our feet on the ground and do a good job. I think for everyone it will be unknown territory because we had a lot of tyres to test and to work on the setup of the bike at the same time, so you know… we just hope we've done a good job and can finish the season well!"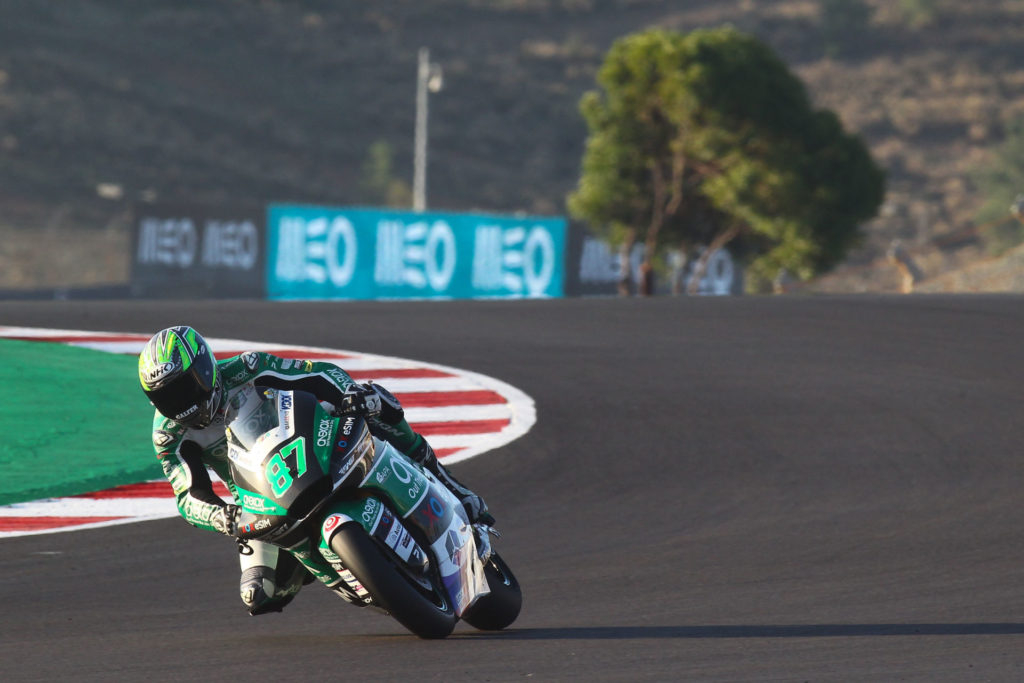 Gardner grabs pole as title challengers take second, fourth, fifth and 12th in Portimão
The Aussie heads Marini, with Bastianini fourth, Lowes fifth and Bezzecchi down in 12th ahead of pivotal Sunday
Remy Gardner (ONEXOX TKKR SAG Team) stormed Saturday at the Grande Premio MEO de Portugal, the Australian taking his second pole of the season as he beat Championship challenger Luca Marini (Sky Racing Team VR46) to the top by a tenth. Fabio Di Giannantonio (Beta Tools Speed Up) starts third, with Enea Bastianini and Sam Lowes (EG 0,0 Marc VDS) shuffled back to head the second row and Marco Bezzecchi (Sky Racing Team VR46) down in 12th.
In Q1 it was all eyes on Bezzecchi as the man fourth overall – who needs to win to have any chance at the crown – found himself on the back foot, but the Italian moved through with Bo Bendsneyder (NTS RW Racing GP), Jorge Martin (Red Bull KTM Ajo) and Nicolo Bulega (Federal Oil Gresini Moto2) joining him, the fight for the top 18 on.
Job done for Bezzecchi, Q2 began. Right at the start, there was drama at the exit of Turn 8. Aron Canet (Pull&Bear Aspar Team Moto2) crashed and slid down the hill but thankfully, no one collected the Spaniard or his stricken Speed Up machine; disaster avoided.
Q1 graduate Bulega sat top of the tree in the opening stages before Augusto Fernandez (EG 0,0 Marc VDS) then took over, but it wasn't long until some key title contenders began a charge. Marini was first of them to the summit before injured Lowes produced a wonderful 1:42.759 to go provisional pole instead. Fernandez made it an EG 0,0 Marc VDS 1-2 with seven minutes to go, before Hector Garzo (Flexbox HP 40) shoved Marini off the front row. However, the man third in the title race was on a flyer: three red splits came before an orange fourth sector for Marini put the VR46 Academy rider in P2. On his next lap, Marini changed the number next to his name to a one to take back provisional pole.
The new time to beat was a 1:42.710 with just over two minutes to go, with Bastianini floundering down in P16. Lowes pulled into pitlane sitting P3, his afternoon's work seemingly done as the Brit waited to see how the dice would roll.
That's when Gardner struck as the Aussie then suddenly shot to pole, but there seemed to be an absolute stunner coming in from Di Giannantonio. The Italian was three tenths under and looked like he would challenge, but Gardner's stunner of a final sector was a gauntlet thrown down too far for the Italian. He ultimately stayed third as Bastianini began his comeback just down the road.
The Italian improved to eighth to leap up into at least a better postcode, but he wasn't done yet. Despite the enormous pressure, the Championship leader kept it calm and collected to improve yet again on his final lap. It looked to challenge for pole as the 'Beast' was 0.004 off in Sector 3, but over the line the number 33 slotted into fourth. A job well done and, crucially, ahead of closest challenger Lowes.
That was it, and no one had an answer for Gardner. The Australian bags his second pole of the season and his fourth front row of 2020 to beat Marini as the Italian returns to the front row for the first time since his Catalan GP pole. Di Giannantonio will line-up on the front row ahead of the top two in the title race: Bastianini and Lowes. Three of the top four will battle it out on Sunday from the front so the stage is set for an absolute thriller!
Martin comes through Q1 to pocket a second row start in P6, the Valencia GP winner edging out Bulega by 0.047 seconds. The latter will spearhead the third row and is joined by Fernandez and Marcos Ramirez (Tennor American Racing), with Tetsuta Nagashima (Red Bull KTM Ajo) completing the top 10. Garzo was 11th ahead of the final title contender: Bezzecchi. The Italian came through Q1 and will start from P12 in an outside bid to claim the World Championship on Sunday afternoon, the race a true hero or zero as he has to win to stand any chance at the crown.
Four riders, 23 points, one race and one World Championship. Points leader Bastianini is in a good position, but anything can still happen. Tune in for absolute thriller of a Moto2™ race as we witness a Champion being crowned from 12:20 (GMT).
Moto2™ front row
1 Remy Gardner – ONEXOX TKKR SAG Team – Kalex 1:42.592
2 Luca Marini – Sky Racing Team VR46 – Kalex +0.118
3 Fabio Di Giannantonio – Beta Tools Speed Up – Speed Up +0.129
Remy Gardner: "The fourth sector has been positive for us all weekend! We struggled yesterday a bit in Sector 3 so we studied telemetry and the videos really hard, we managed to improve Sectors 2 and 3. Sector 1 we're not the strongest yet, hopefully tomorrow morning we can find a little bit more in Sector 1, maybe change my riding a bit through Turn 1. But I knew if I could get to Sector 3 at +0, I could get pole because Sector 4 is quite good for us. The team worked really well over the last two day, I love the track, it's just so much fun and I enjoy riding the bike every lap round here. It's a good starting position for tomorrow, let's see what we can do and hopefully finish back on the podium to give the team the result they deserve."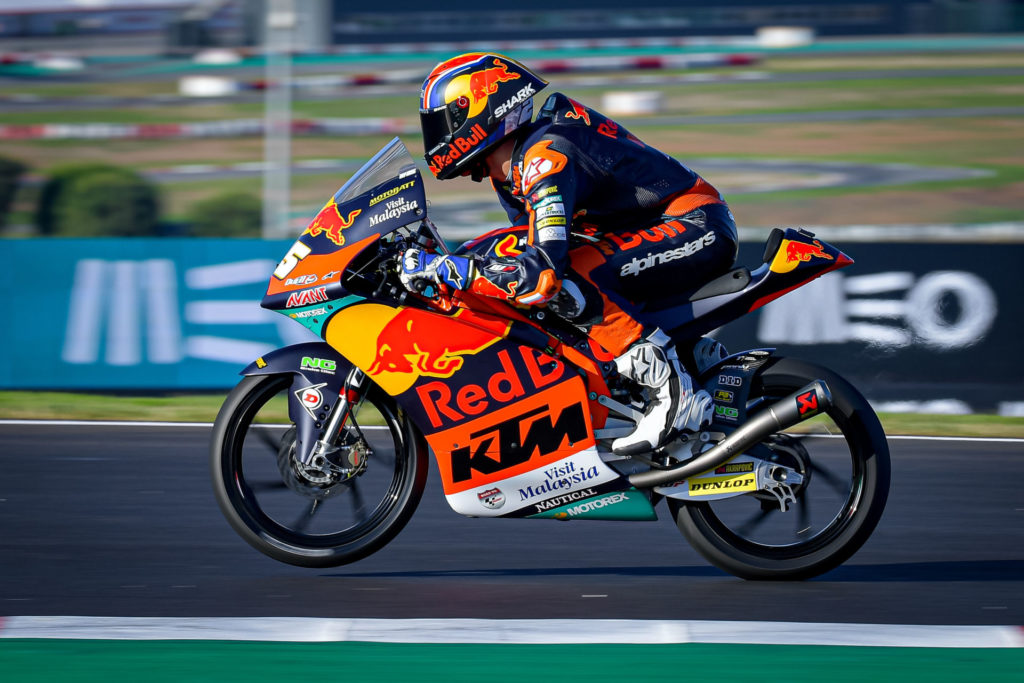 Fernandez signs off with pole; Ogura and Arenas start fifth and sixth… and Arbolino faces a fight back on Sunday
The Red Bull KTM Ajo rider heads the grid once again as Ogura and Arenas put in a solid Saturday – and Arbolino ends up on the back foot after not making it through Q1
Raul Fernandez (Red Bull KTM Ajo) will sign off his brief but successful Moto3™ career from another pole position, the Spaniard hitting the competition for six in the Grande Premio MEO de Portugal for pole number six. Rookie of the Year Jeremy Alcoba (Kömmerling Gresini Moto3) will start second, with Ayumu Sasaki (Red Bull KTM Tech 3) taking third and his first front row of the year.
There were some big Championship dramas just behind that. Tony Arbolino (Rivacold Snipers Team) didn't make it through Q1 and faces a fight for the crown from P27 on the grid, and Ai Ogura (Honda Team Asia) left it until a last lap dash to move through. The Japanese rider kept it together to take fifth in Q2 however, and will start just ahead of Championship leader Albert Arenas (Gaviota Aspar Team Moto3).
Q1 was a tense one right to the last as lady luck looked kindly on one contender and not the other, Ogura slicing through on his final attempt – when he'd not even set a time before that – to take third and move through, and Arbolino not managing to pull anything out the hat, trapped in traffic and rolling off. And so, the Italian starts P27. In the end, Darryn Binder (CIP – Green Power) topped the session from Tatsuki Suzuki (SIC58 Squadra Corse), with Niccolo Antonelli (SIC58 Squadra Corse) fourth behind Ogura.
Q2 saw chaos reign for many as well, but Fernandez started and ended the session on top. The Spaniard set the first fastest lap before Sasaki hit back and then Alcoba, the three asserting their pace from the off, but Fernandez had something left in the locker as he put in a 1:48.051 for provisional pole. That remained unchallenged to the end, an impressive lap and ahead of that aforementioned chaos.
For one big group of riders, the intention was to cross the line for their final push right before the flag. The reality was that most missed the cut by millimetres, and lost the chance at a final push. One of the only men to improve late on was Ogura, however, as the Championship contender once again proved his mettle with a late dash. It was enough for fifth, just ahead of Arenas and behind fellow Q1 graduate Tatsuki Suzuki on Row 2.
Antonelli heads Row 3, another Q1 runner getting the job done, with Leopard Racing's Dennis Foggia and Jaume Masia in eighth and ninth, respectively. However, both the Leopard machines must do two Long Lap penalties in the race for irresponsible riding in FP2 on Friday.
Gabriel Rodrigo (Kömmerling Gresini Moto3) took tenth despite a crash, with Deniz Öncü (Red Bull KTM Tech 3) and Sergio Garcia (Estrella Galicia 0,0) joining him on Row 4. Barry Baltus (CarXpert PrüstelGP) took a best ever P13 on the grid, with Celestino Vietti (Sky Racing Team VR46) alongside him. Yuki Kunii (Honda Team Asia) was 15th fastest, although he is another with a penalty to serve in the race, although a single Long Lap in his case.
And so, Ogura heads the challengers on Sunday – just – with Arenas for close company and Arbolino facing down a rollercoaster and a mountain. Who will take the 2020 Moto3™ crown? Sunday will decide as Fernandez leads them away at 11:00 (GMT).
Moto3™ front row
1 Raul Fernandez – Red Bull KTM Ajo – KTM 1:48.051
2 Jeremy Alcoba – Kömmerling Gresini Moto3 – Honda +0.185
3 Ayumu Sasaki – Red Bull KTM Tech 3 – KTM +0.240
Raul Fernandez: "It's amazing, incredible. I end my life in Moto3 with a pole position, I hope tomorrow we can do minimum a podium, I will fight for the victory and I'm very happy to be here in my last race here. It was important to start from the first place. It was a really difficult session, windy, and it was difficult to ride with the wind but I'm happy. For the race we need to enjoy it!"