KTM GP ACADEMY WELCOMES FERNANDEZ MOTO2 GRADUATION FOR 2021 AS RED BULL KTM AJO BRING ACOSTA INTO MOTO3
MotoGP 2020 news
The KTM GP Academy structure is now set for 2021 with recent Grand Prix winner Raul Fernandez joining Remy Gardner in Moto2. The Spaniard's vacant saddle on the Red Bull KTM Ajo KTM RC4 will be filled by 2020 Red Bull MotoGP Rookies Cup Champion Pedro Acosta, who lines-up alongside Jaume Masia in Moto3.
20-year old Fernandez has shone in his first year with the Red Bull KTM Ajo team in the Moto3 division. Prior to the season-ending Grand Prix in Portugal, the Spaniard has used the KTM RC4 to clock five Pole Positions and register three podium finishes, including his maiden victory at the Ricardo Tormo Circuit in Valencia. The former Red Bull MotoGP Rookies Cup race winner and FIM CEV Repsol Moto3 Junior World Champion has moved from outside the top twenty in the Moto3 standings to the fringes of the top five and after two full seasons is now ready for the next stage of his development in the intermediate category and the second level of the KTM GP Academy and Ajo Motorsport career 'ladder'.
KTM are keen to give a window of opportunity to another shining Spanish prospect in the form of Pedro Acosta. The 16-year old decimated the 2020 Red Bull MotoGP Rookies Cup, claiming the title with two rounds before the end of the contest. Acosta showed pace, adaptation and tenacity to blitz the competition with six consecutive wins at two very different circuits and a further three podium results from the fourteen outings. He also posted four victories in the 2020 FIM CEV Repsol Moto3 Junior World Championship, finishing 3rd overall. Acosta could well learn from Jaume Masia; the promising 20-year old Spaniard has already climbed the rostrum seven times during his three-year Moto3 tenure so far.
Raul Fernandez: "I want to thank the whole team, KTM, Red Bull and, above all, Aki for believing in me. It is an important step in my sporting career and I am very happy to continue growing with this structure. It is a great opportunity that I know I will enjoy a lot alongside some incredible people. This is a new stage, which brings me closer to every rider's dream: to be in MotoGP. Red Bull KTM Ajo are the best team in Moto2, so this announcement is an honor for me. I only have words of thanks for them and for my family, who have always been by my side supporting me."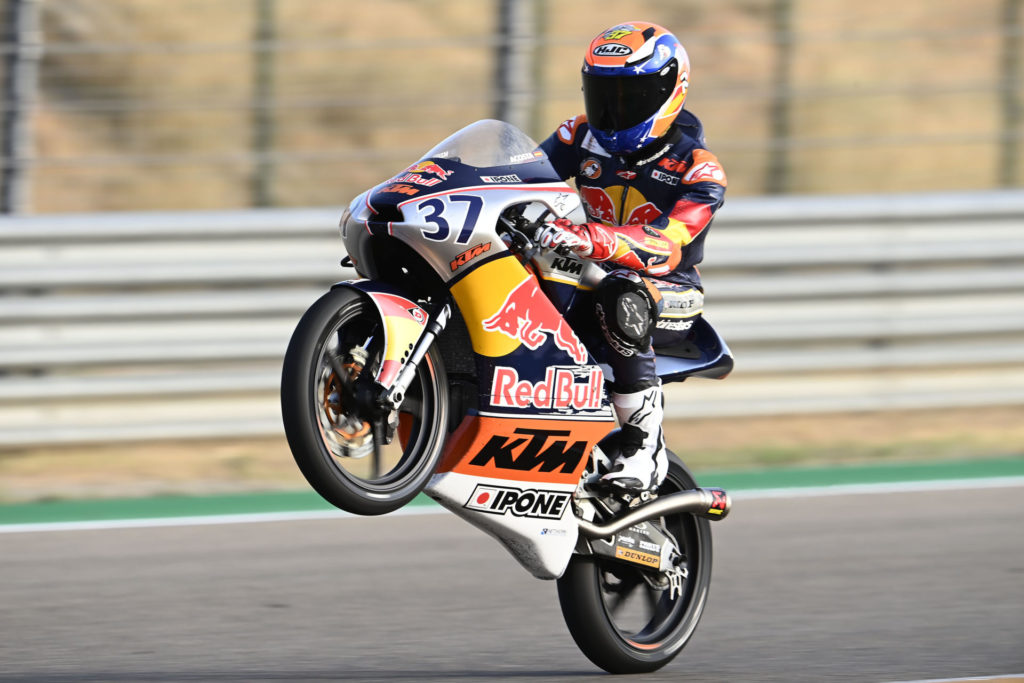 Pedro Acosta: "It's incredible to receive this opportunity from Red Bull, KTM and Ajo Motorsport. I want to thank all of them. For me, being on this team means being part of the best Moto3 team around. It will be my first year in the FIM World Championship, so we will have to wait for the first race to see where we are and then set realistic goals. During the first half of the season we will have to focus our efforts on adapting to the workload as it will be different to what I am used to in the Red Bull MotoGP Rookies Cup and in the FIM CEV. I am going to do my best to make this learning process fruitful."
Aki Ajo, Red Bull KTM Ajo Team Principal: "We are very happy to announce that Raul will make the move up to Moto2 next year. Despite having been a hectic year, he has been able to show a strong pace and rapid progress. We feel now is a good time for him to start in Moto2. We know he has a great future ahead, although we have to give him time to adapt to the new class. We have established a really strong relationship and he is a very hard-working kid. The project with Raul is very important for Red Bull, KTM and our whole racing family. We had good rookies in our projects in the past, and having a new talent with us again is a very positive thing. We have met and talked to Pedro [Acosta] on several occasions and I've seen something in his way of working that resembles an old-school style that I really liked. I feel that with him we have a good chance of success in the future, although we mustn't forget that he will need time."
Pit Beirer, KTM Motorsports Director: "We couldn't be happier with the shape of our KTM GP Academy for 2021. We have an exciting mix and we know that every single rider from Moto3, Moto2 and MotoGP has the possibility to deliver the results and racing stories for the company. They will have the best possible support from us to achieve their goals. I want to thank Aki again for the excellent structure he puts in place to help us make a strategy and a program. We have already shown that we are ready to bring riders all the way from the Red Bull MotoGP Rookies Cup – and hopefully other feeder series like the Northern Talent Cup – to the pinnacle of MotoGP and we are ready to excel, as demonstrated by the two victories and seven podiums between three riders so far in 2020. We'll be looking for the KTM GP Academy to bring us more very soon."